After a half term of lockdown, summer sun is more than welcome. Click HERE for photos from summer 2019 (London and Abruzzo), HERE for photos from Summer 2018 (Budapest, Le Marche, and Northern Ireland), HERE for photos from 2017 (Paris and London), HERE for 2016 (festival and chaps), HERE for 2015 (reunion and wedding), and HERE for 2014 (meeting the stars).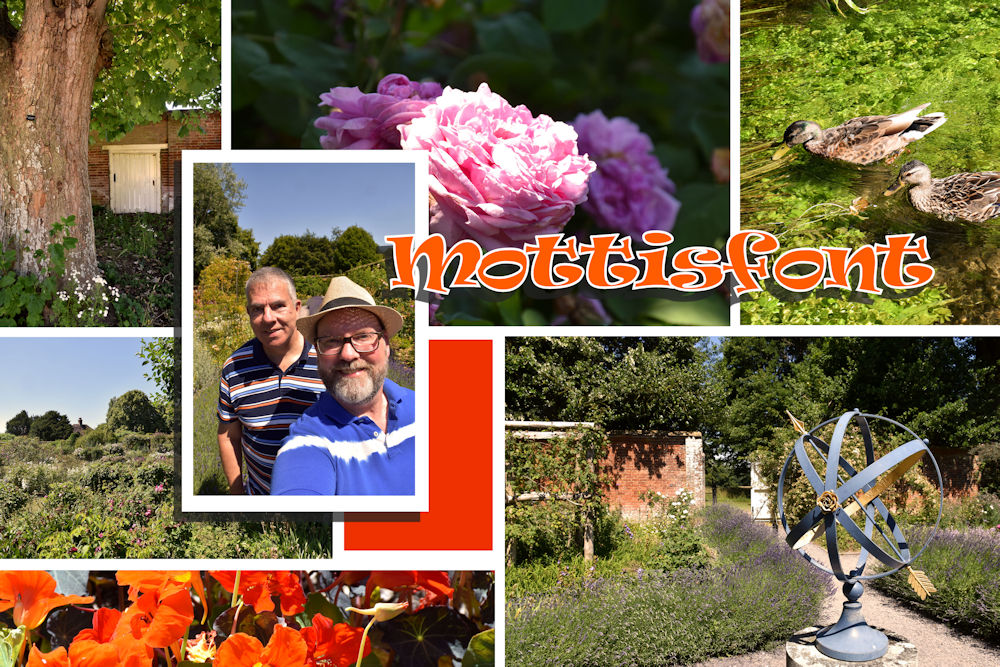 After weeks of being only at home, we enjoyed going to our local National Trust property.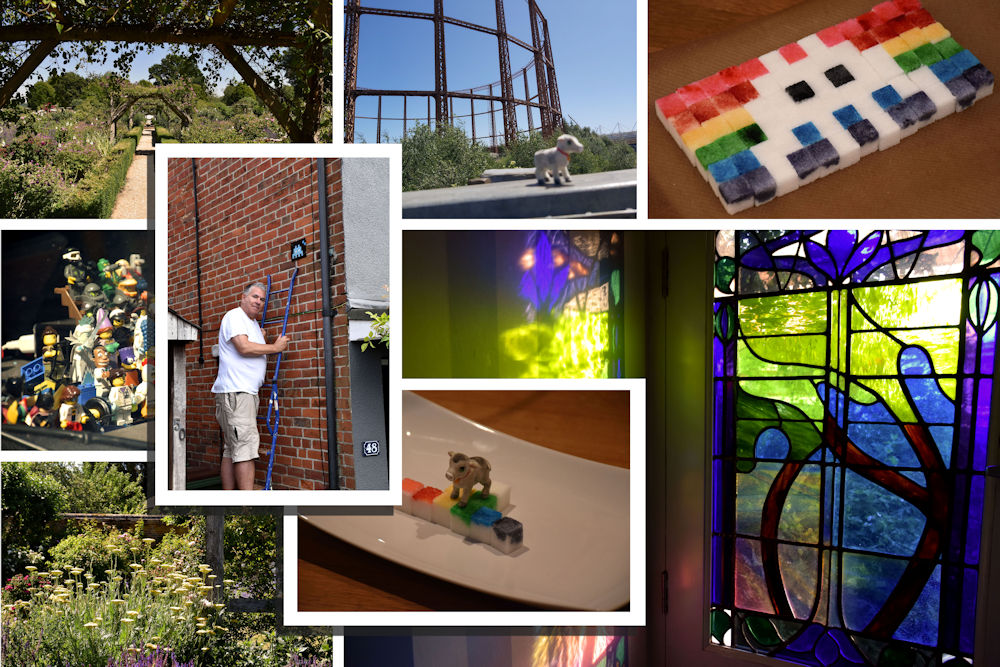 More National Trust plus some of our Zoom Taskmaster tasks, our home-grown Invader and our lovely stained glass door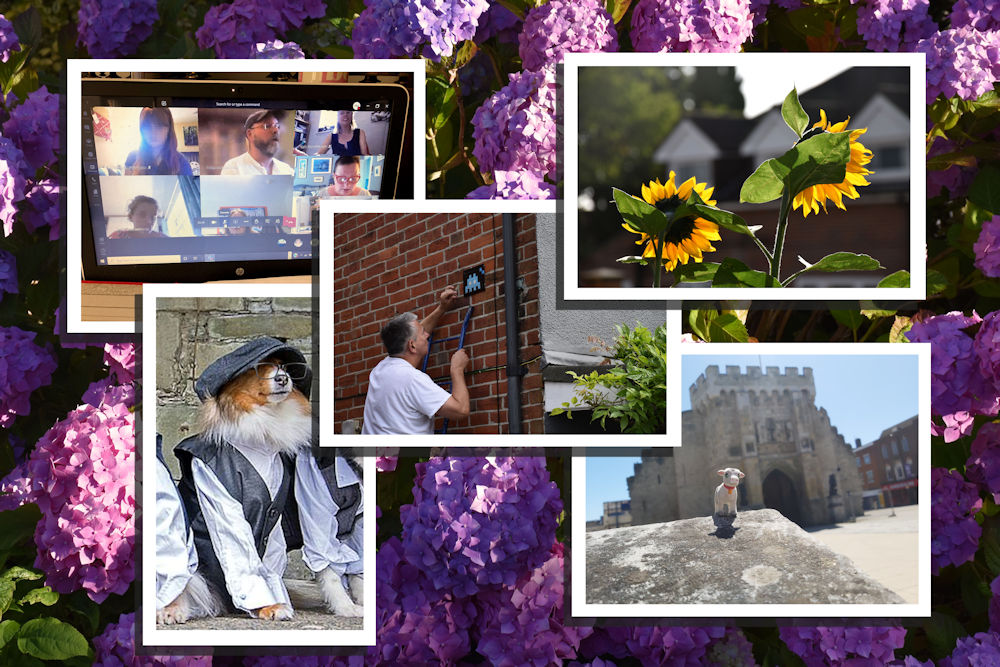 Choir rehearsal at school, scenes from our walks, and more Taskmaster tasks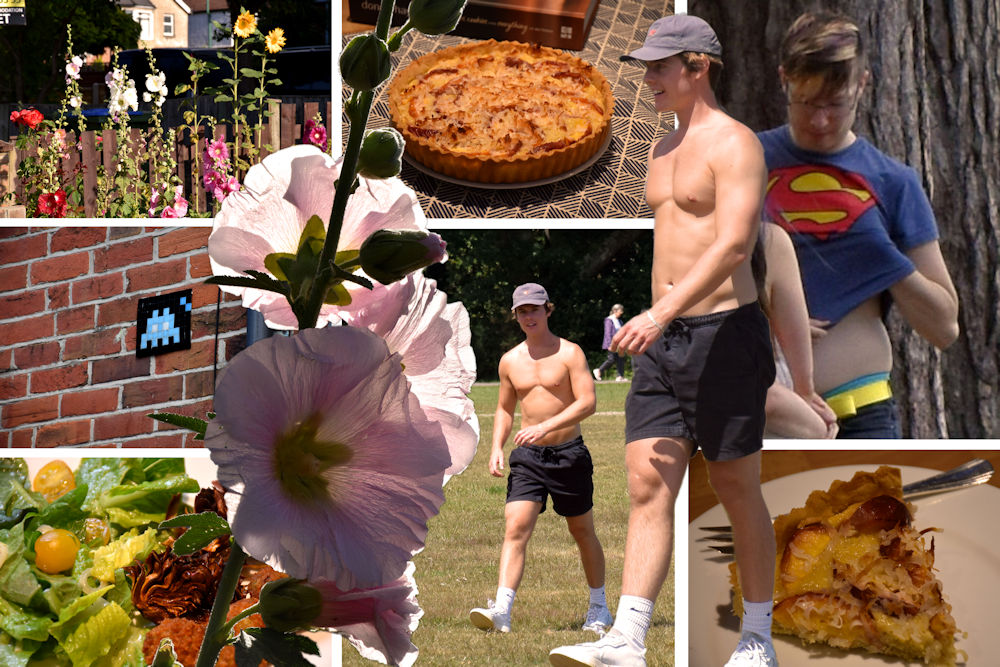 Coconut and nectarine tart, a Superman, fried artichokes and olives, and our Invader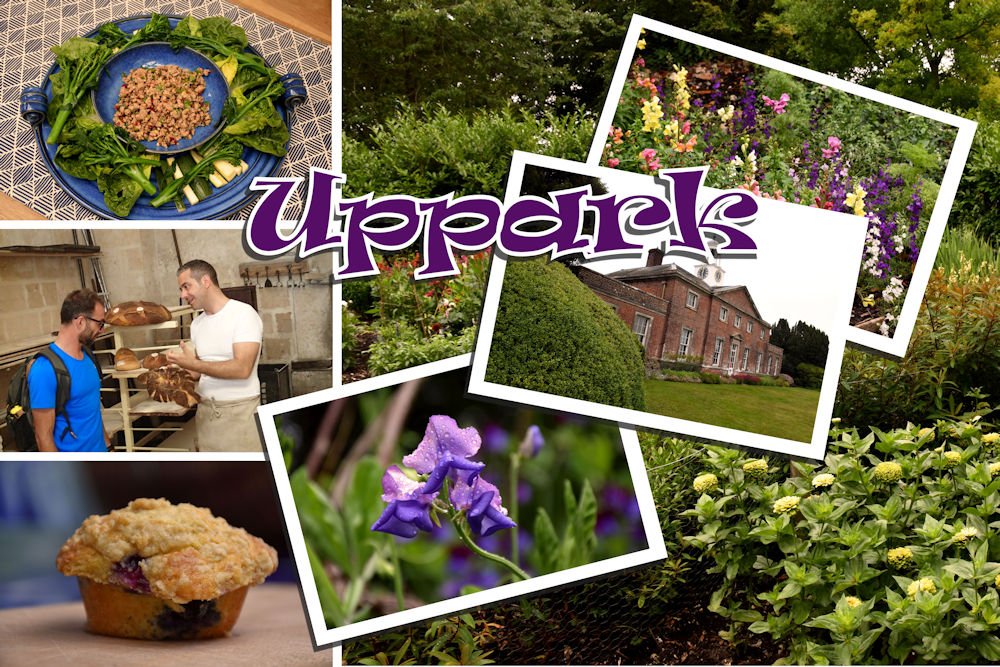 Delicious pork larp and blueberry muffins with home-grown blueberries, a photo of an Altamura baker I discovered when researchng our holiday to Calabria, and a rainy day out at Uppark.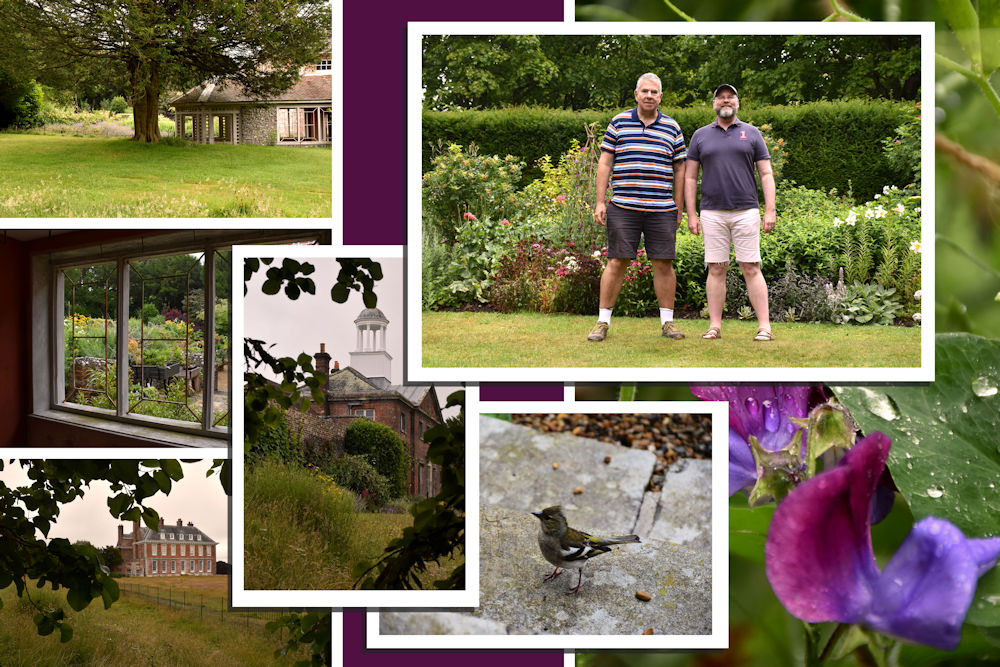 During lockdown, we visited National Trust properties on Thursdays, five weeks in a row. It rained on all but the fifth of those occasions, but we still picnicked every time.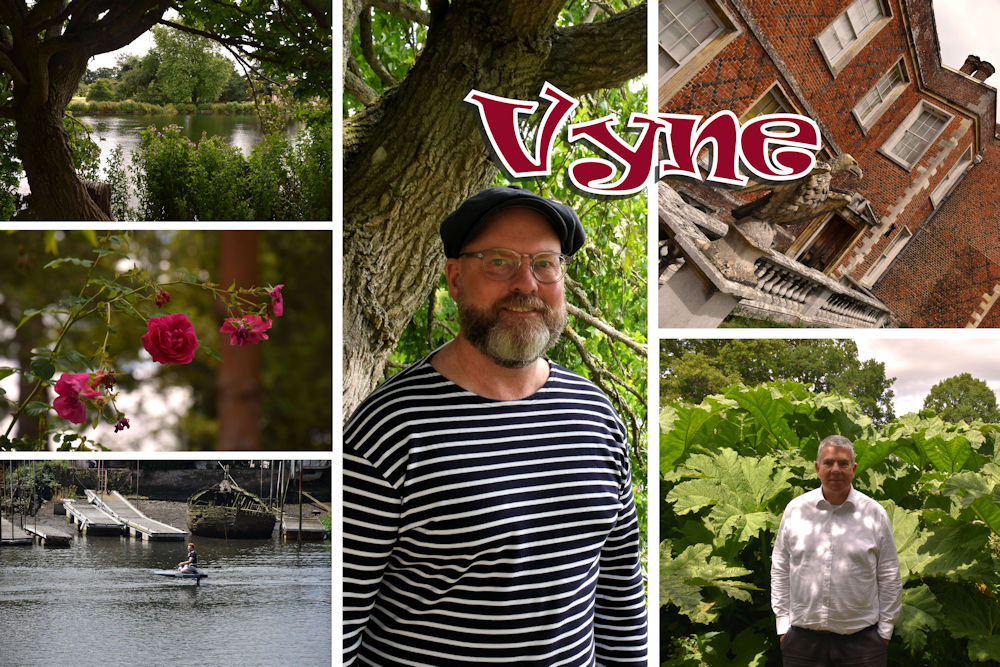 The one Thursday it didn't rain!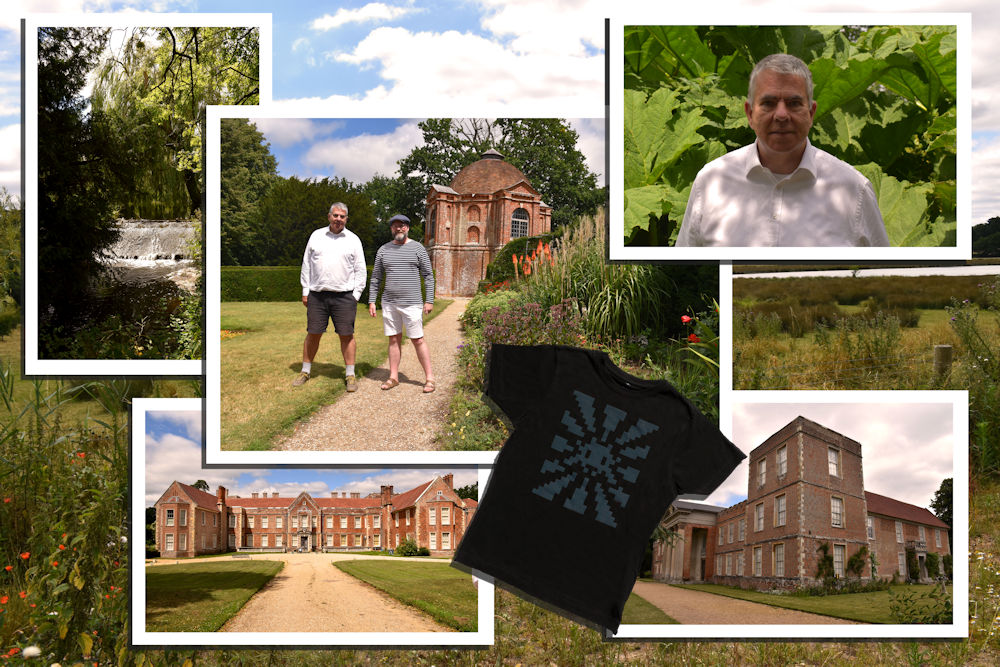 We had our picnic on the bench shown in front of the house and I spent much of the afternoon trying to buy things from Invader's website.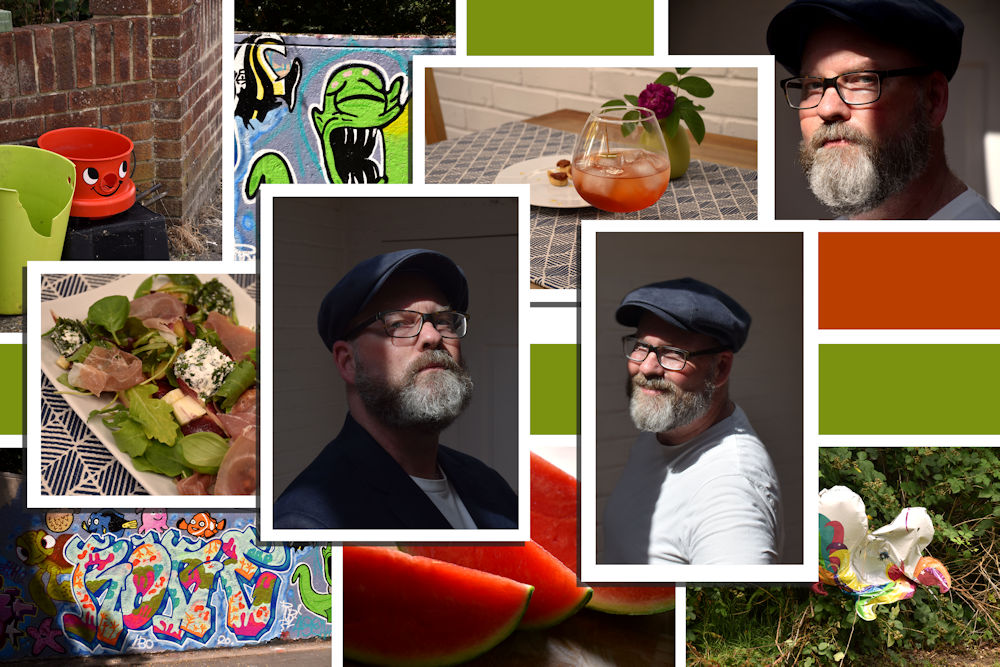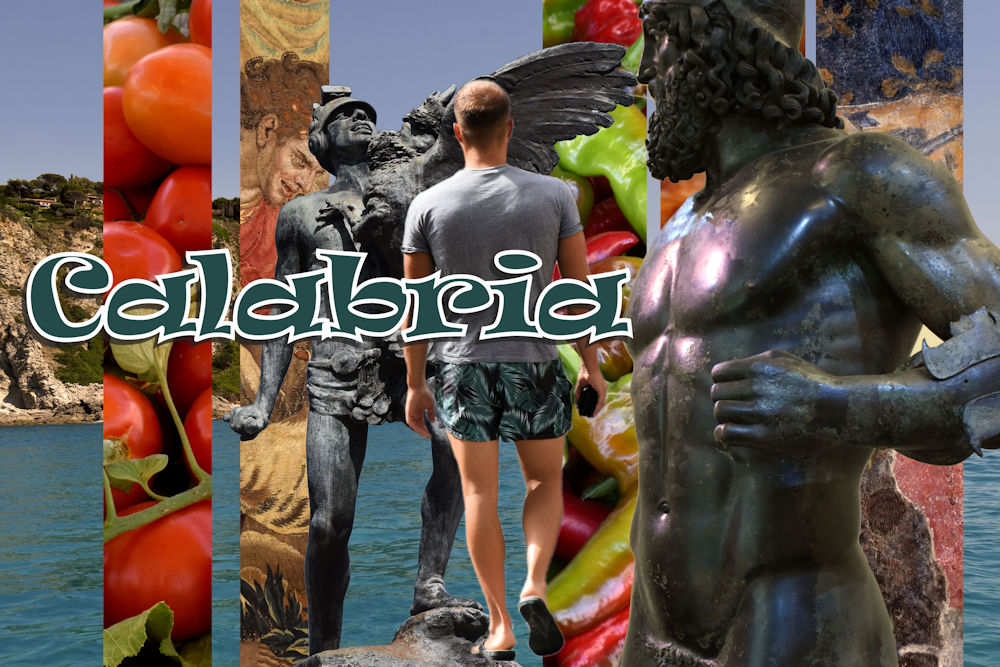 After months of Corona virus lockdown, we decided to follow through with our plans to visit Calabria, in Southern Italy. The airports and airline took all precautions and it felt safe enough to us to make the journey to the very toe of Italy, a land of unspoiled seas, Byzantine churches, ancient frescoes, and wood-fired pizzas. Click HERE to see last year's trip to Abruzzo.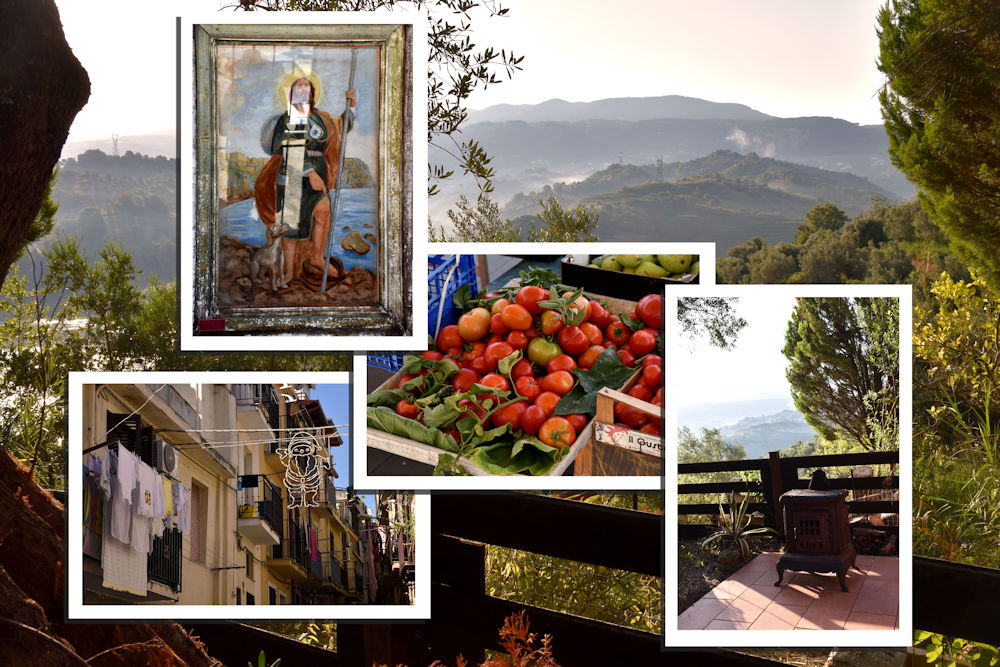 We stayed in two remote locations, the first being a lakeside house on the west coast, near Pizzo and Tropea. We flew into Lamezia Terme, a town we'd never heard of, after our flight to Reggio Calabria had been cancelled a couple of days before our trip.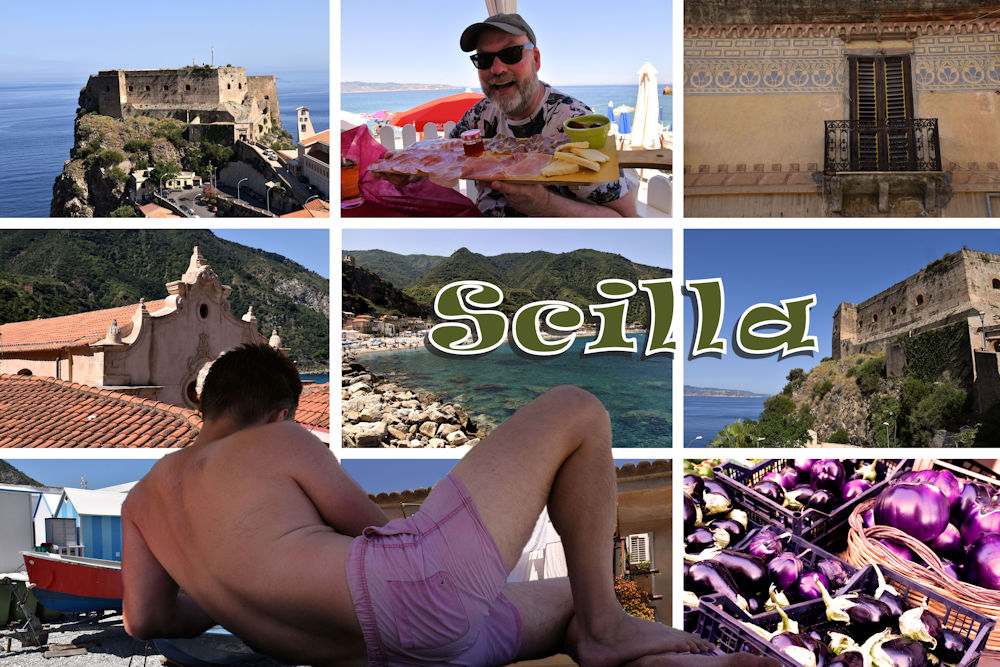 After reading Madeleine Miller's Circe with my book group, it was exciting to visit Scilla, home of the multi-headed sea monster that lurked on the edge of the Strait of Messina, luring sailors to their deaths. In contrast, we encountered antipasto plates, sunbathers, and the town's cliff-top castle.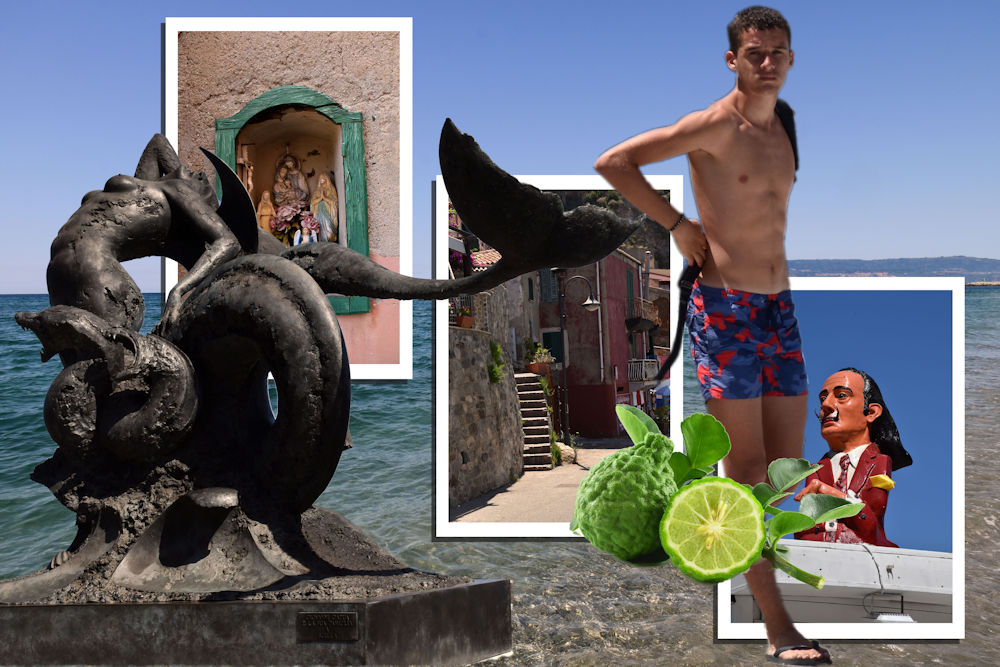 A statue of Scylla that overlooked the small Friday market and a statue of Salvador Dalí which presided over the café where we ate.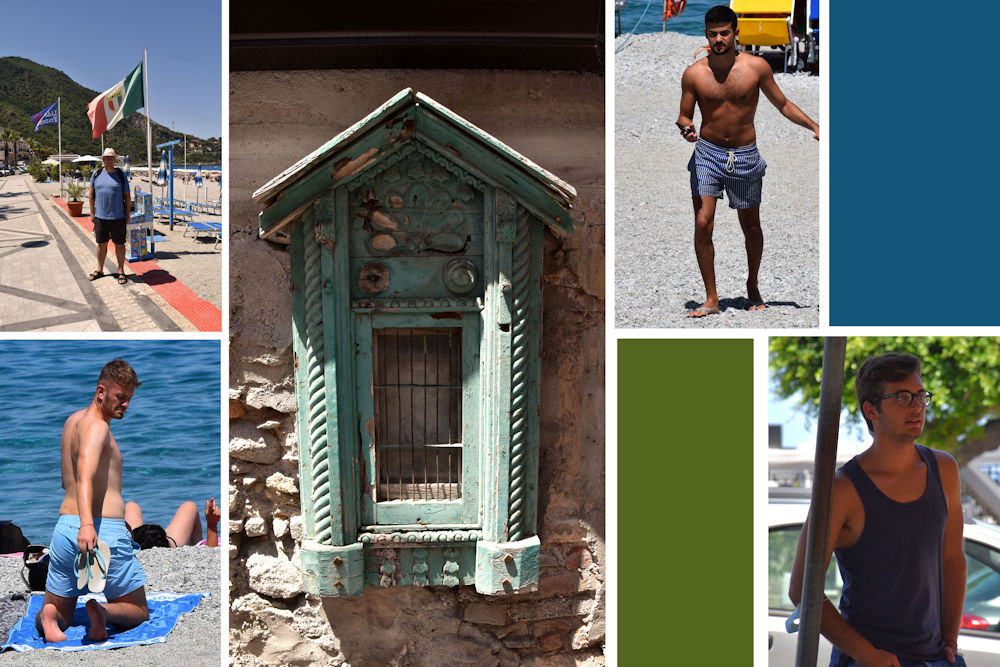 Sights from Scilla's waterfront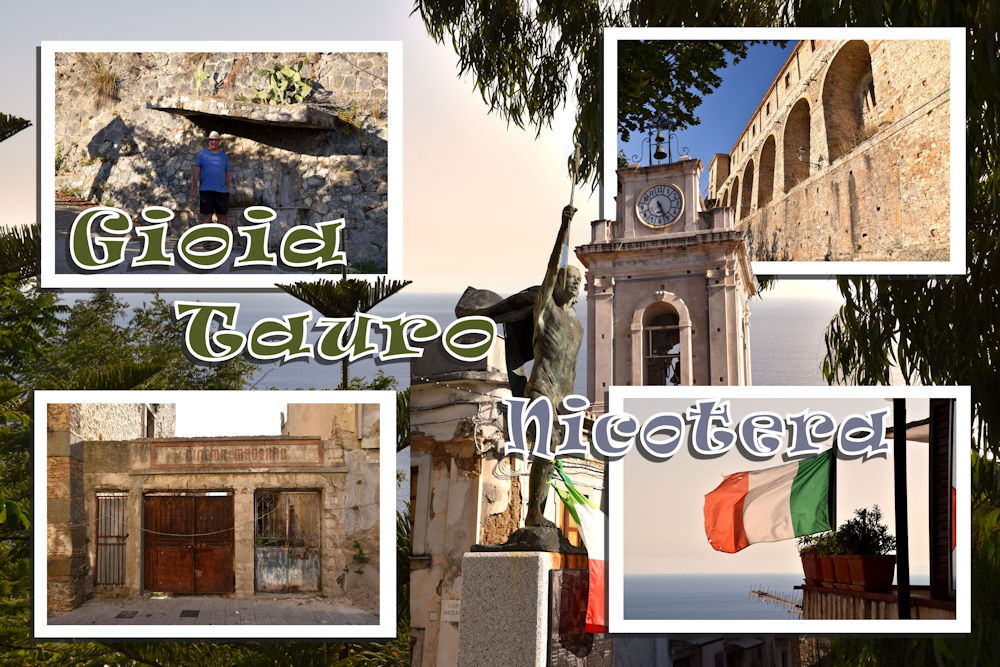 We visited these two towns on our way back home from Scilla. There was a church service in Gioia Tauro being broadcast over loudspeakers.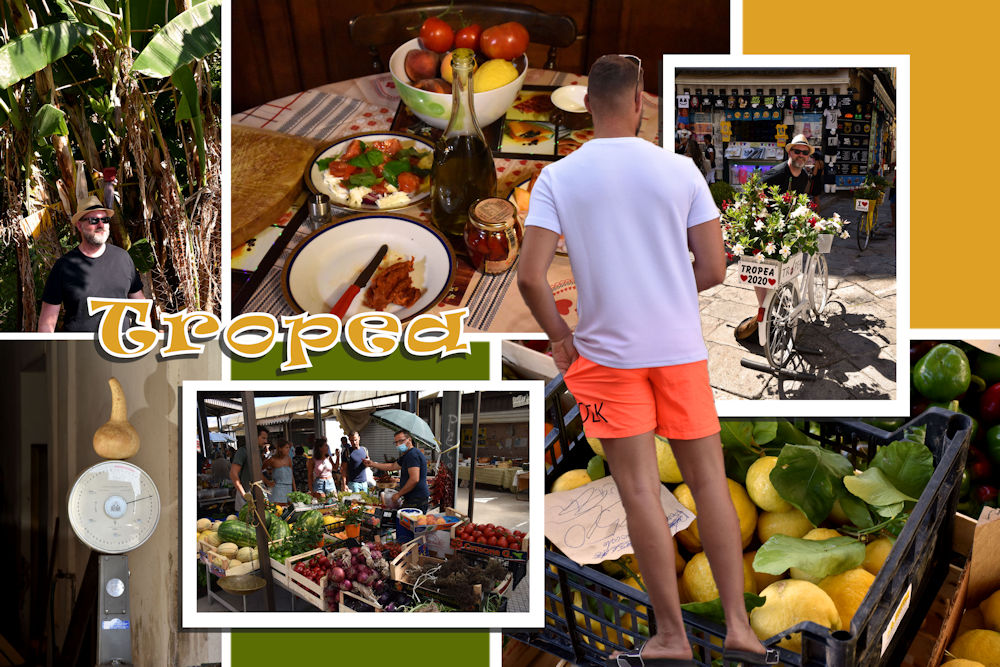 It was market day in Tropea, where we bought the first of the famous Tropea onions. We had lunch outside with 'nduja panini and sparkling bergamot drink.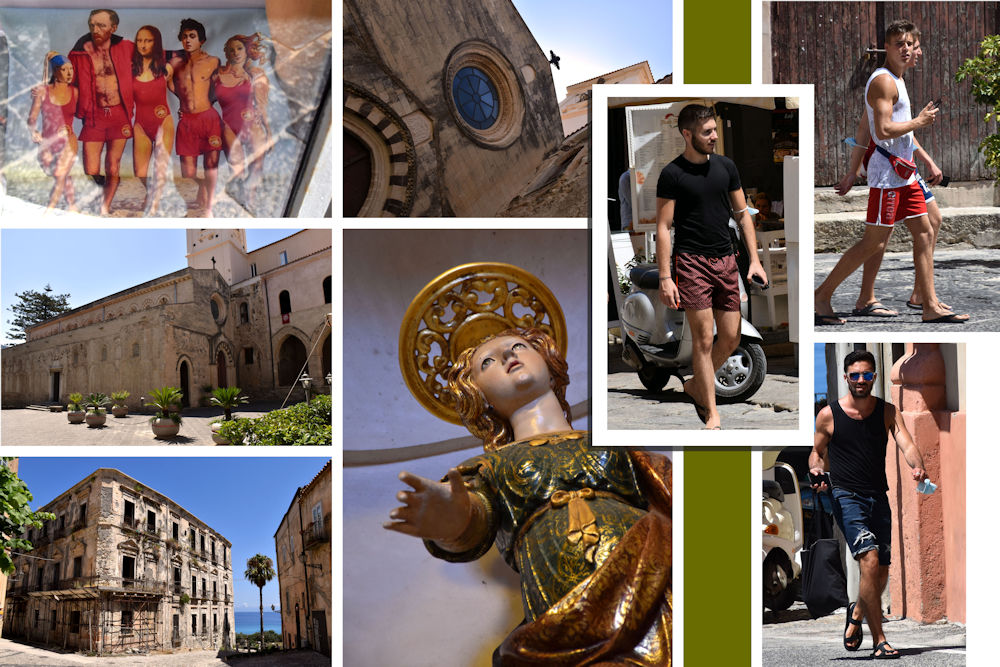 Calabria was nothing like the bleak, bandit-ridden place our guidebooks described, though there were lots of picturesque, abandoned buildings that I felt compelled to photograph.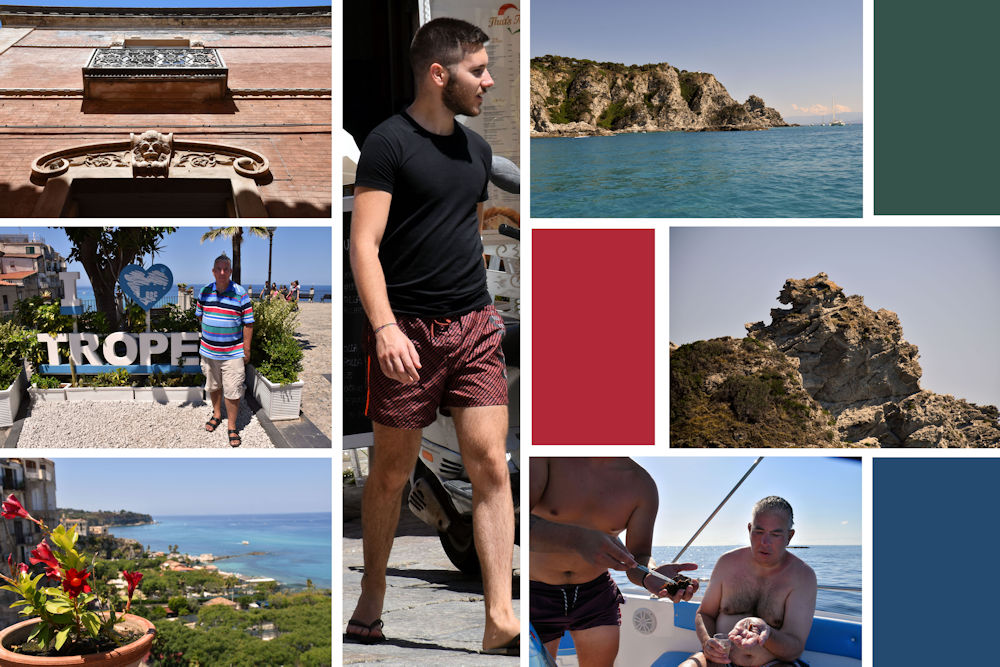 We took an unexpectedly guided boat trip from Tropea along the Coast of the Gods to Capo Vaticano. At one point, we stopped to snorkel and our guide, Federico, collected sea urchins from the sea bed for us to eat.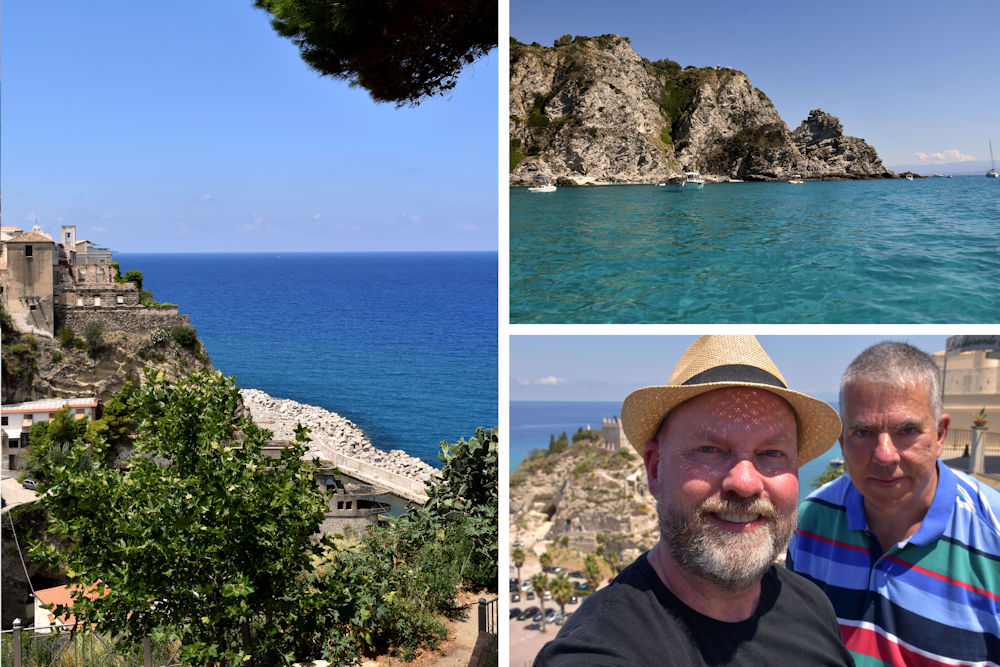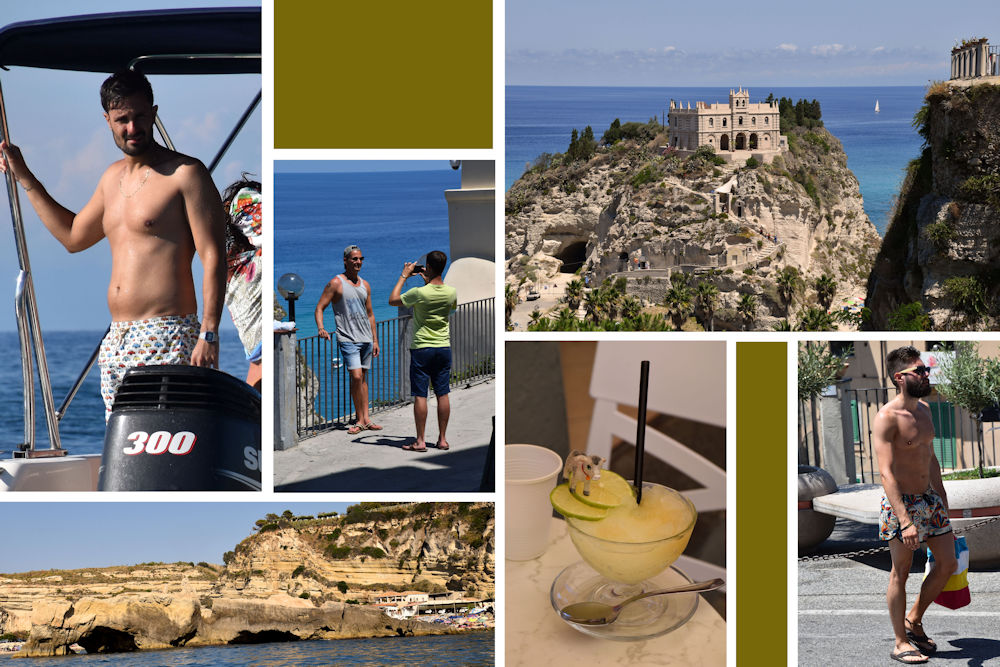 Back in Tropea, Tiny Cow enjoyed a cooling lime granita.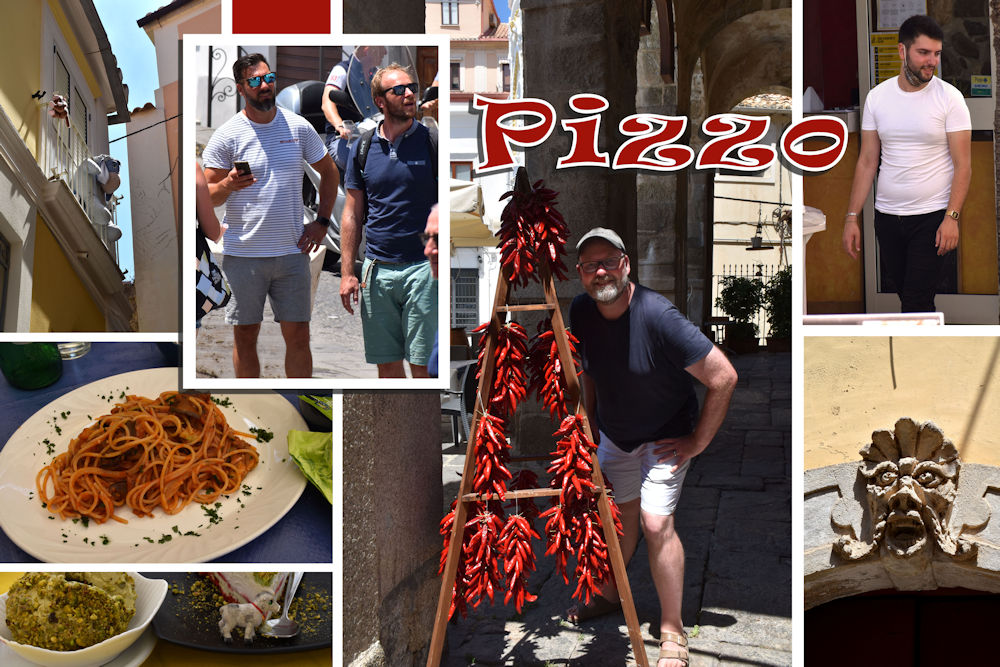 Pizzo was our closest town and we enjoyed the best pasta of our trip there, simple plates of Mediterranean vegetables and fiery peperoncini, another speciality of the area. Pizzo is also renowed for its tartuffo, an ice cream ball with a sometimes-liquid centre found all over the region.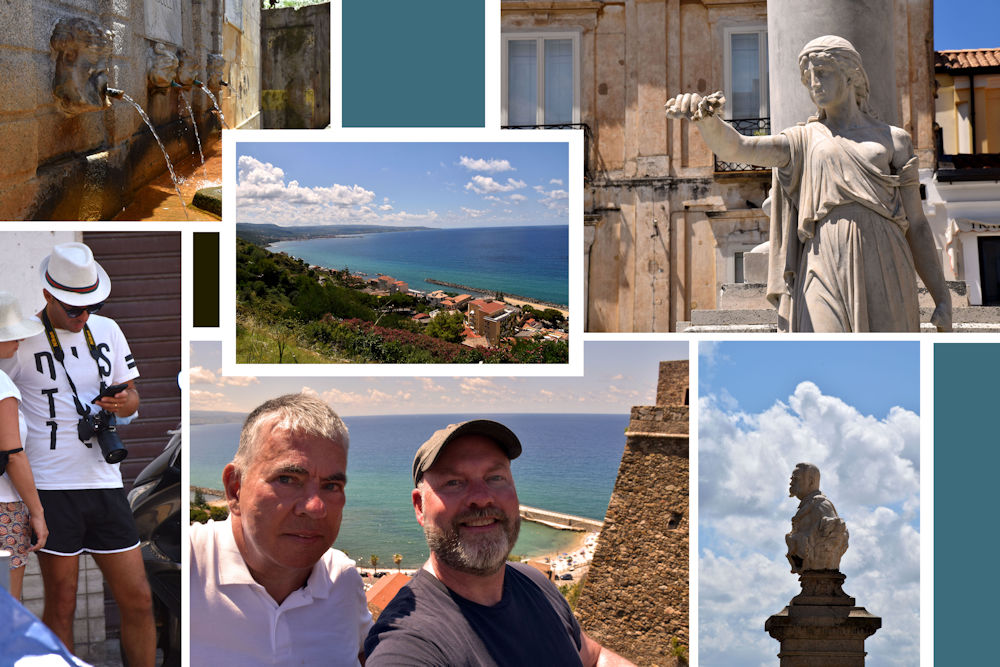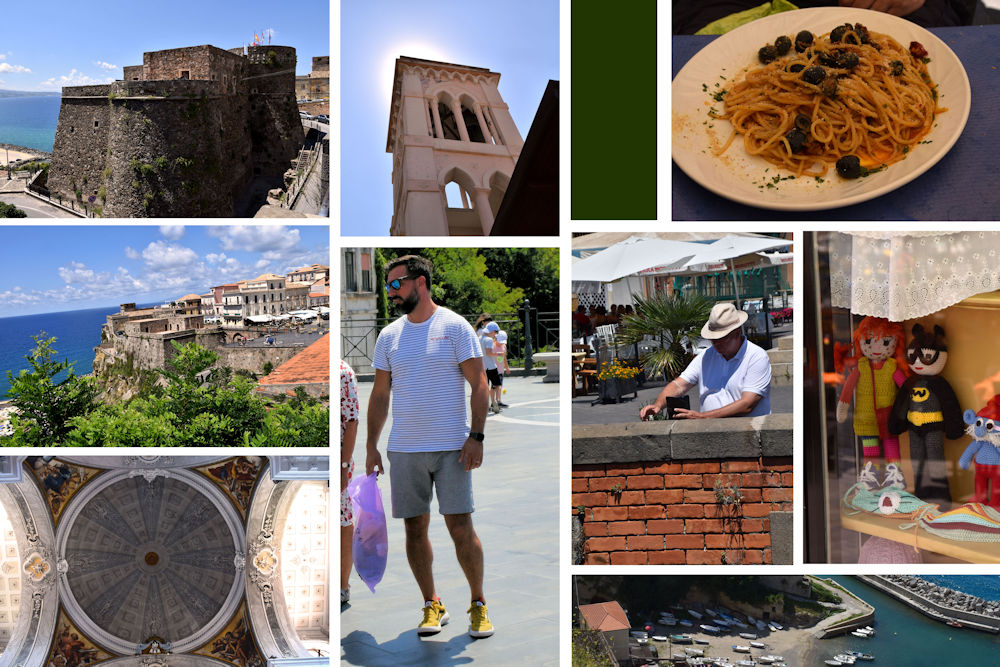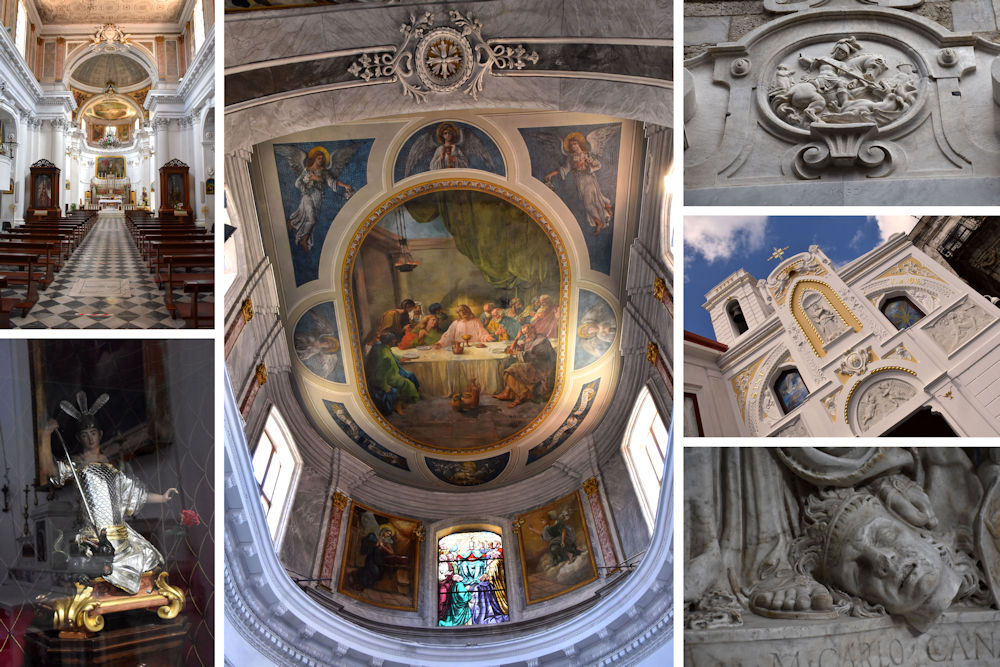 We saw many, many churches as always, and the base of statues often provides the most interesting subject matter.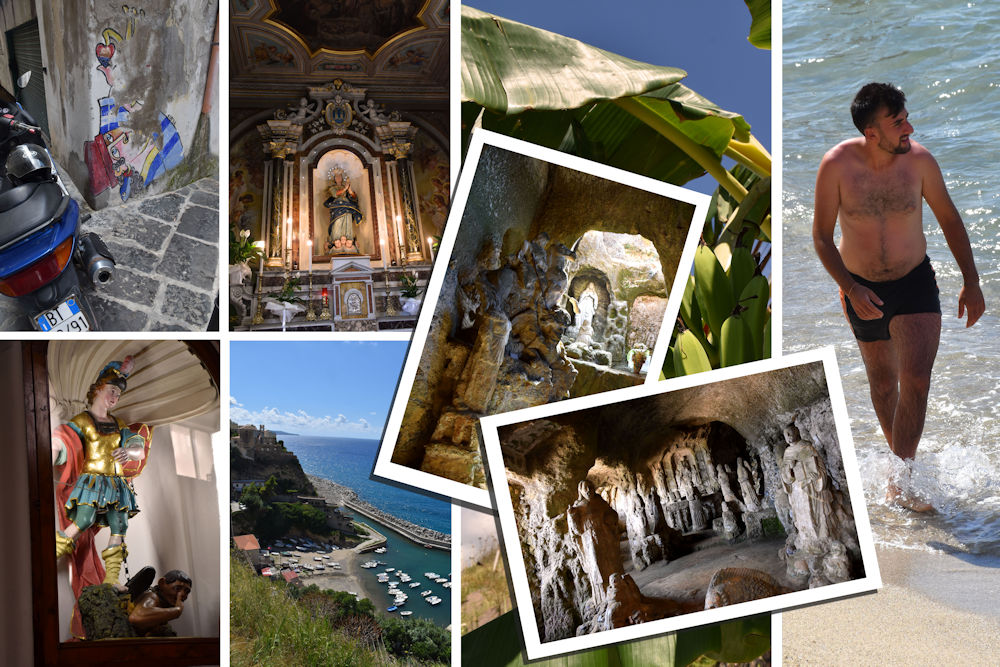 According to legend, during a storm in 1665 a ship from Naples was about to crash against the rocky cliffs below Pizzo. The captain was devout to Saint Mary of Piedigrotta, and put his life in her hands, praying in front of the picture he had on board. When he and his men arrived safe and sound on land, they placed the holy image inside a small chapel carved out of rock, right where they had miraculously reached the shore. Two hundred years later, local shopkeeper Angelo Barone and his son Alfonso dug new caves in that location and carved dozens of magnificent religious subjects in the tuff stone.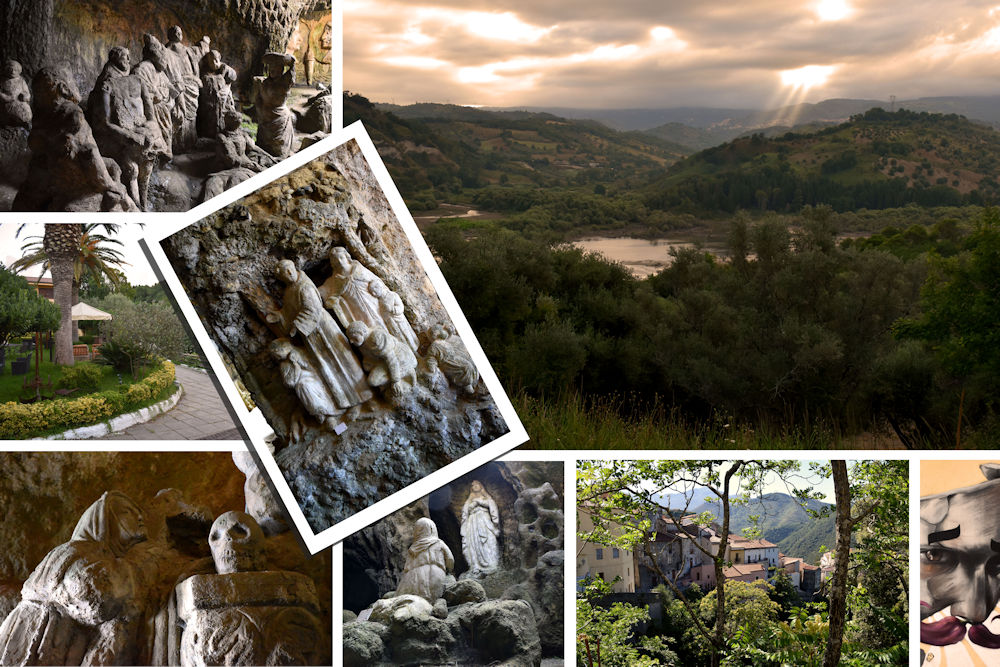 More of the Piedigrotta statues, our local agriturismo, where we ate one evening, celestial sunlight as we set out in the morning, and our first view of Tortora, up north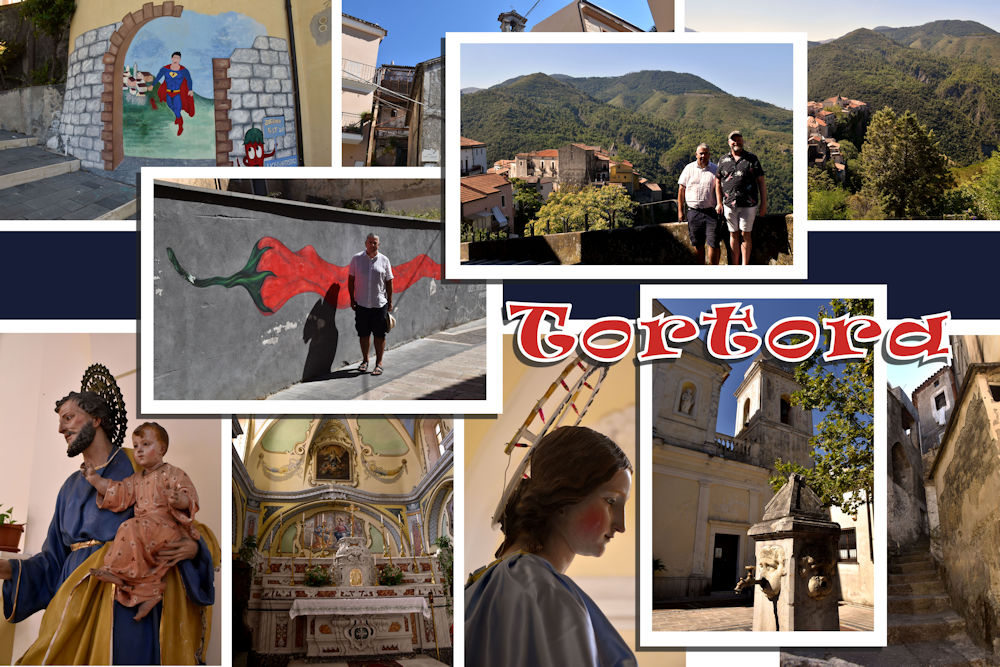 Tortora was the first of two mountainside eyries recommended by our guidebook.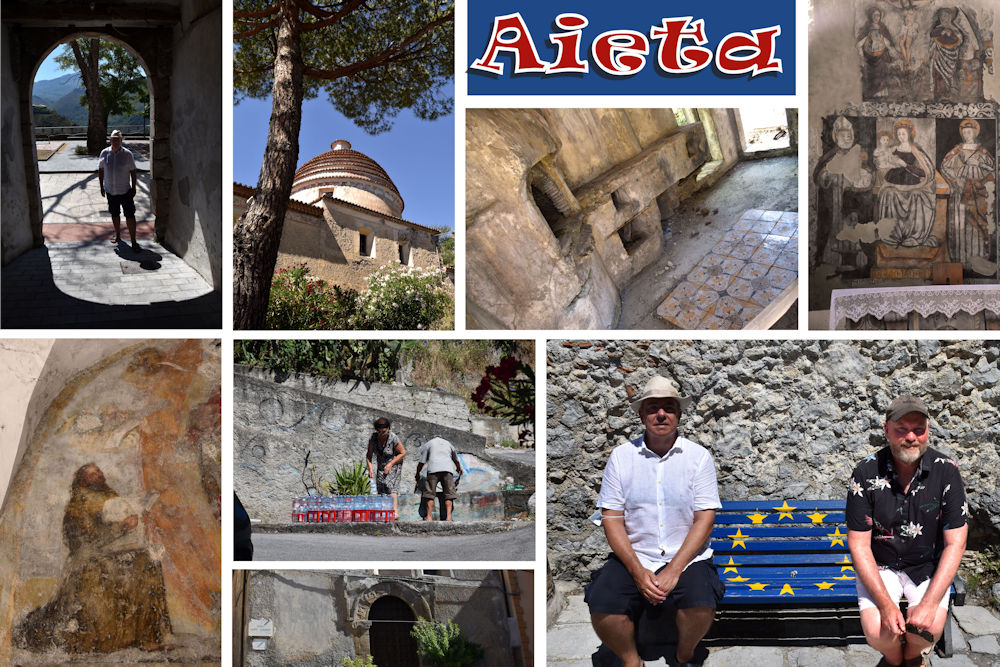 Aieta had some ancient sights including the abandoned bake-house and frescoes pictured above. We honoured our last remaining months of European citizenship on this bench while the locals stocked up on water.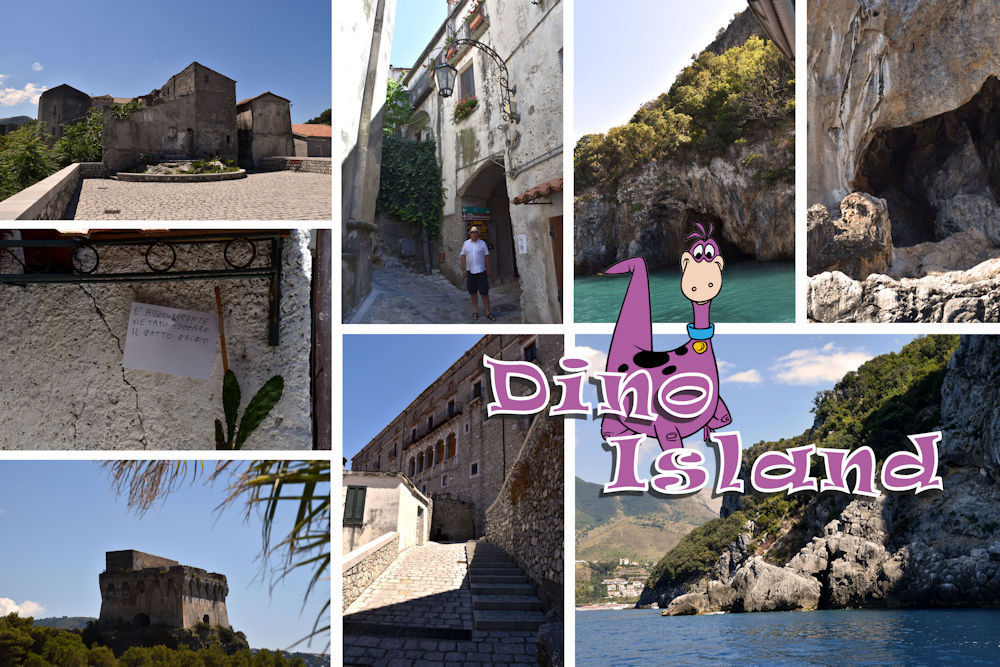 Dino Island was potentially beautiful, with blue grottoes to rival Capri.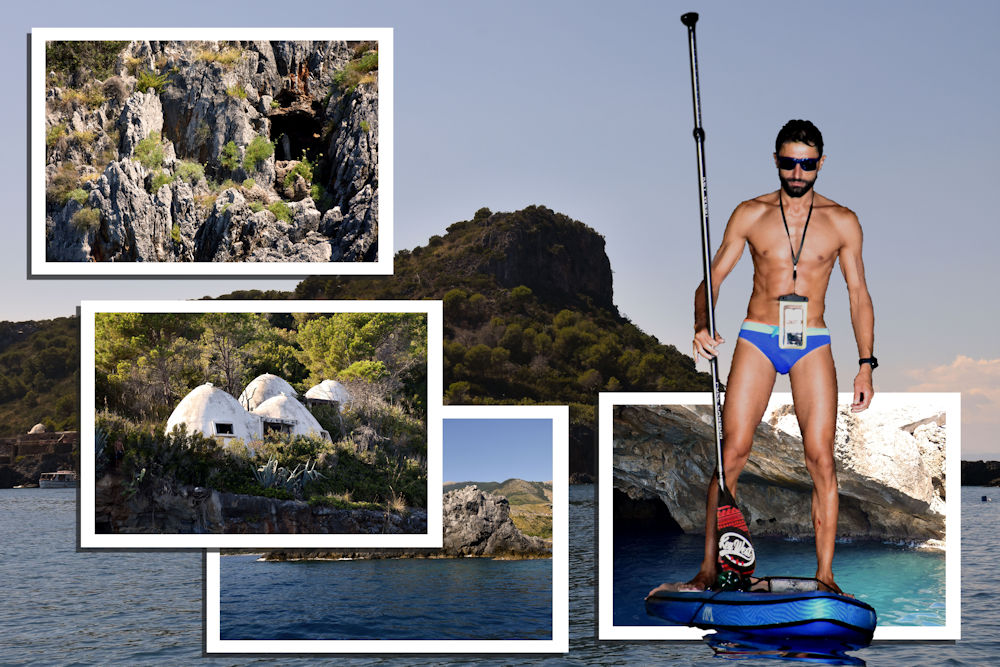 They'd shoved a Madonna statue into a cave, which made our fellow boat passengers gasp. The trulli-like houses are from an abandoned hotel enterprise. The triton was seen in the back of the Blue Grotto.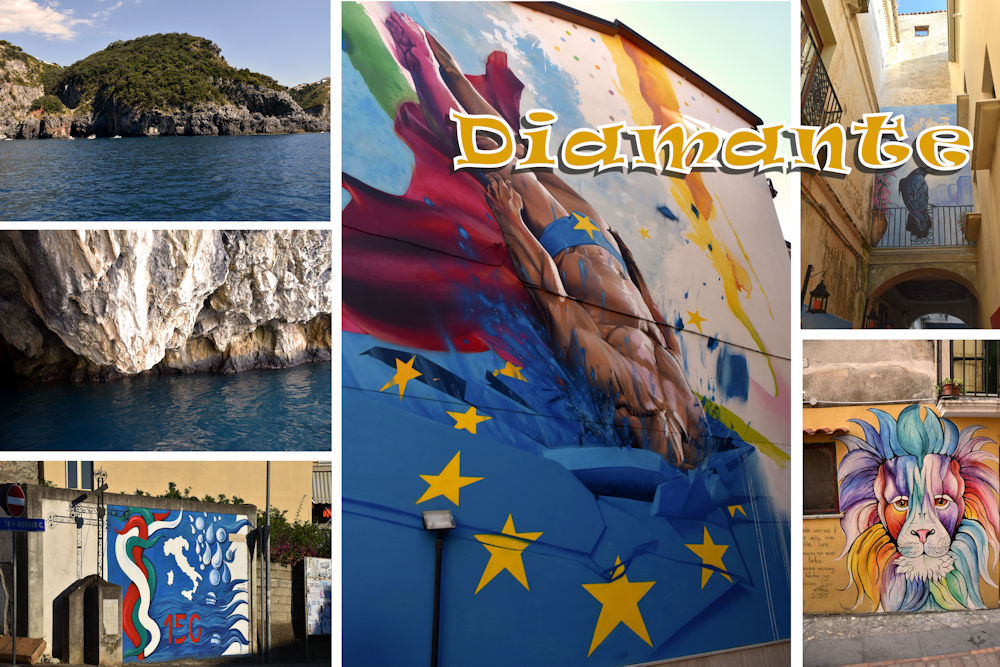 Diamante is home to over 300 street murals, a project begun in 1931 by painter Nani Razetti and 80 painters from all over Italy. The diver was my favourite one.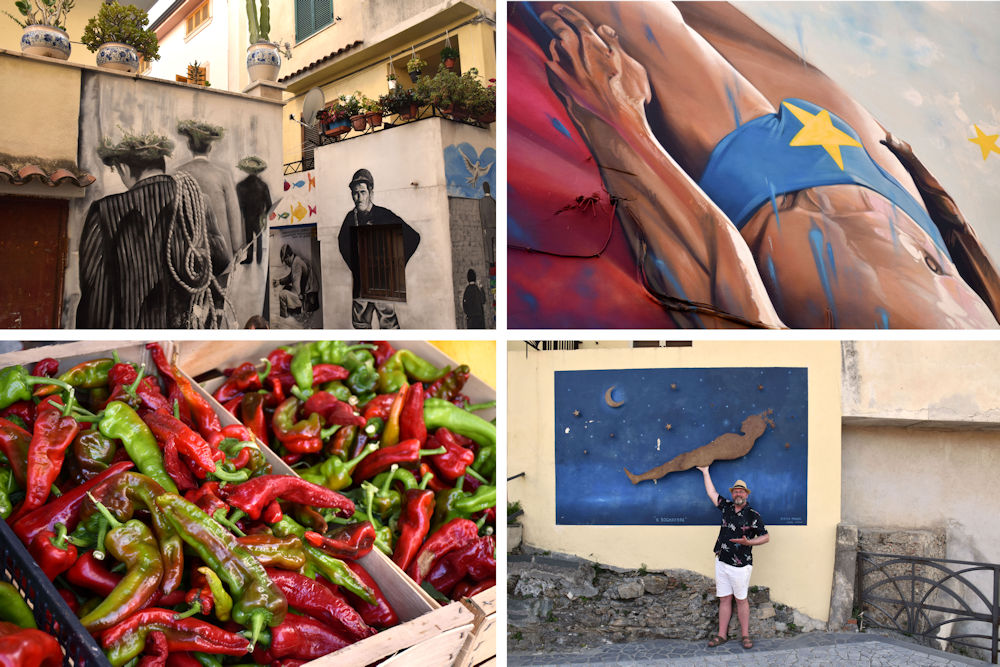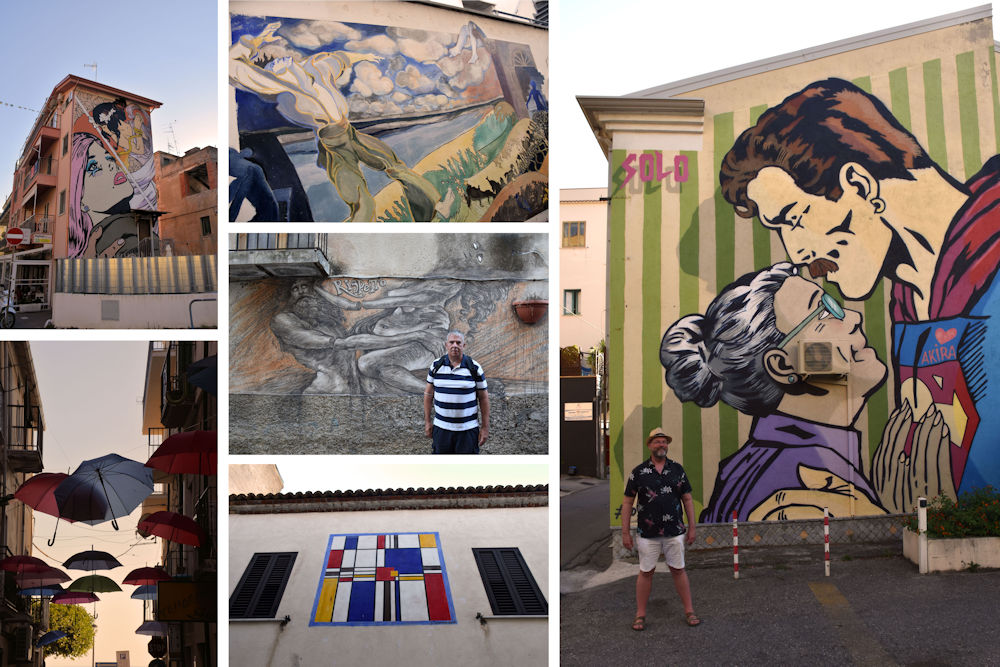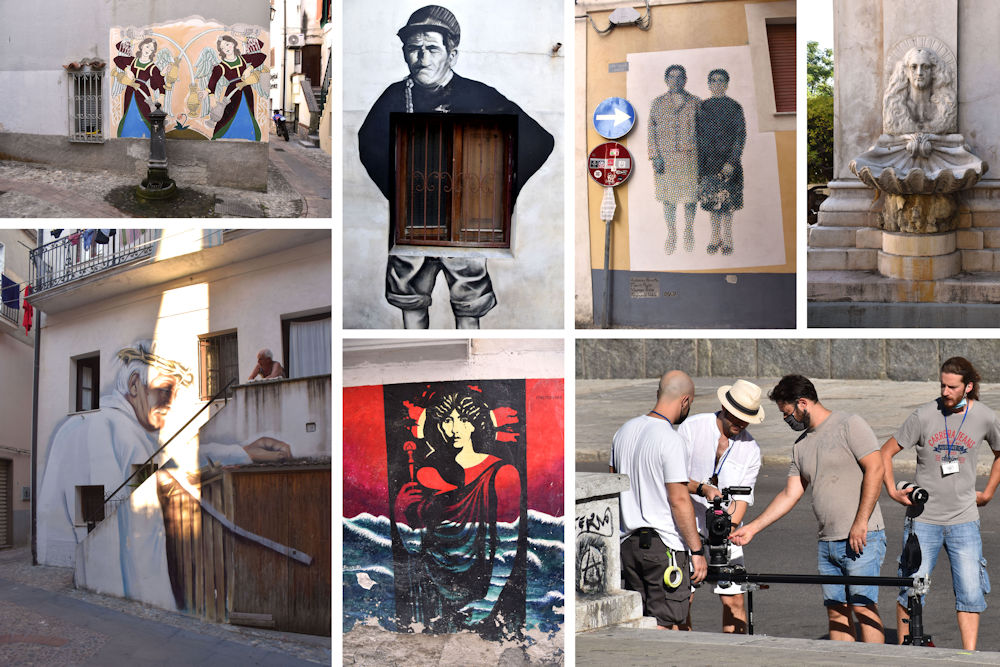 A local man on his balcony suggested to us where to stand to get the best photo of his mural. Also shown is a film crew in Reggio Calabria, making a promotional video for the museum to entice people to come back after lockdown.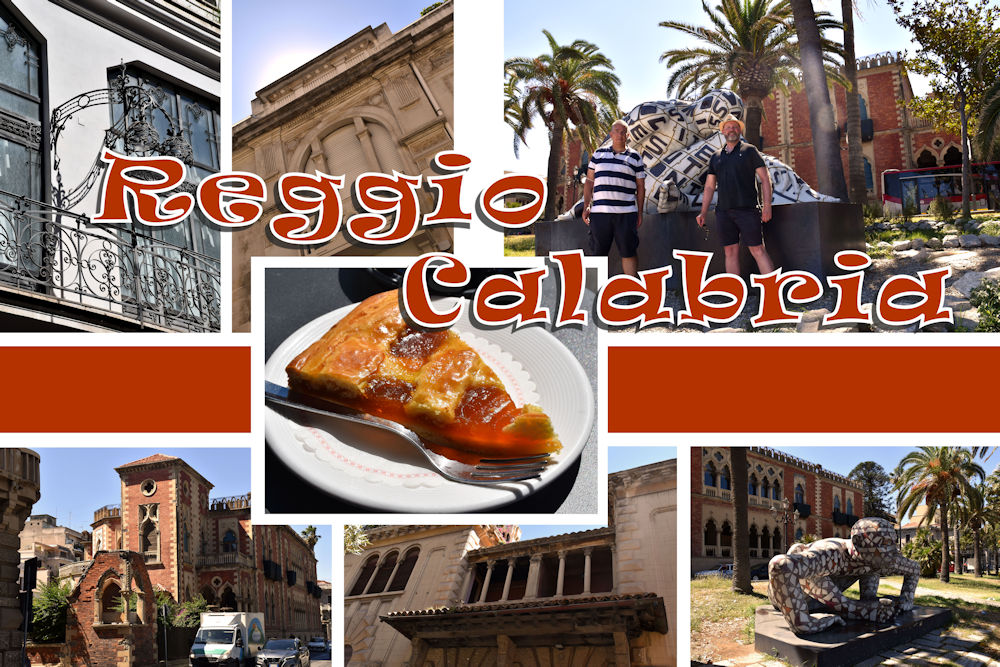 We enjoyed searching out Liberty style architecture, crostata from the recommended Malavenda café, and the statues by contemporary female artist Rabarama. The skins of her subjects are always decorated with patterns, symbols, letters, glyphs and other kind of figures, in a great variety of forms.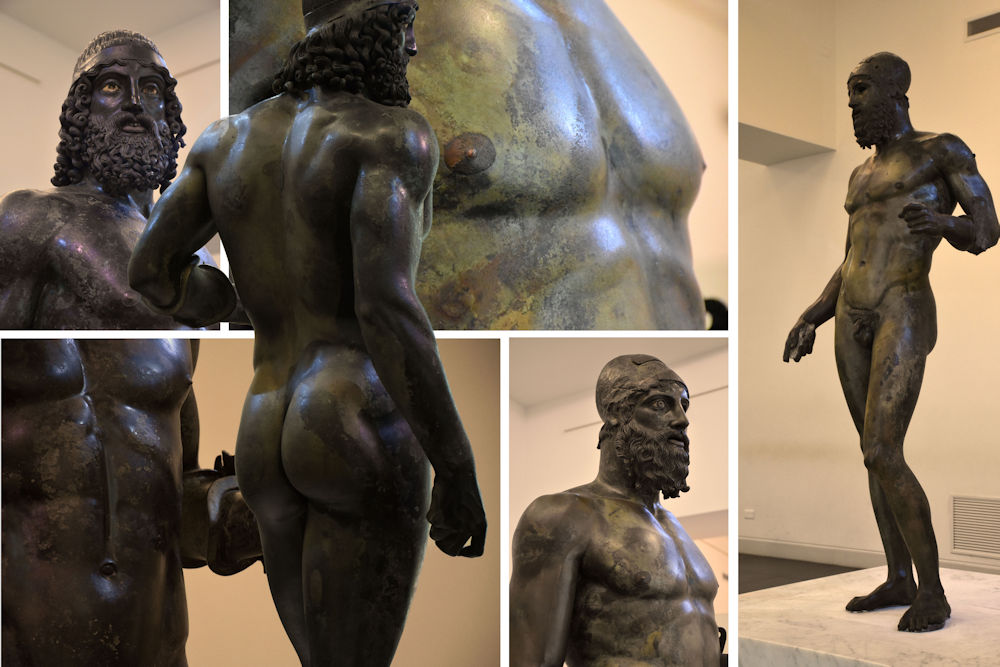 After learning about them from Andrew Graham-Dixon on Italy Unpacked, the magnificent Riace Bronze Warriors were the main reason we wanted to visit Calabria and the main thing we wanted to see. They are two full-size Greek bronzes, cast about 460–450 BC that were found in the sea near Riace in 1972. They are two of the few surviving full-size ancient Greek bronzes (which were usually melted down in later times), and demonstrate superb technical craftsmanship and exquisite artistic features that were achieved at this time.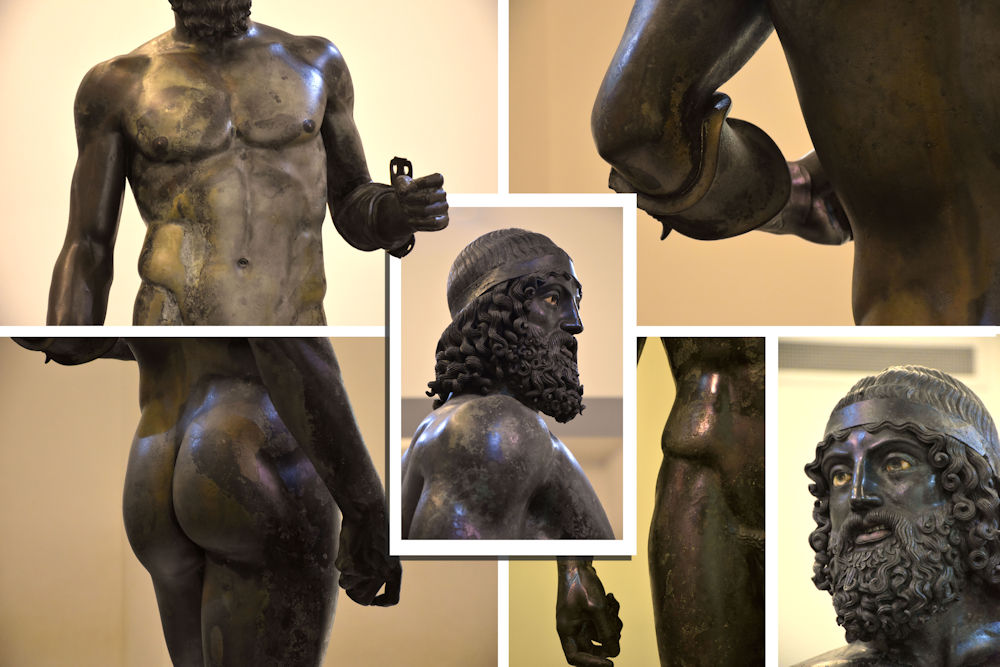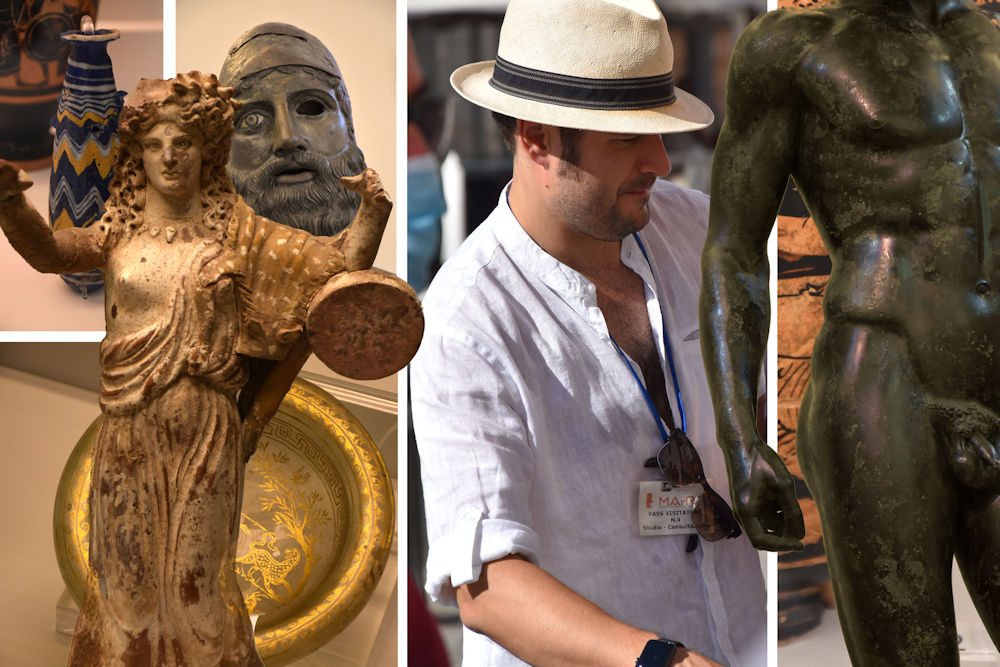 Other sights in the museum include the colourful vial from Iran, I think, the menacing Medusa, a glass and gold bowl, and the film director in his unbuttoned linen shirt.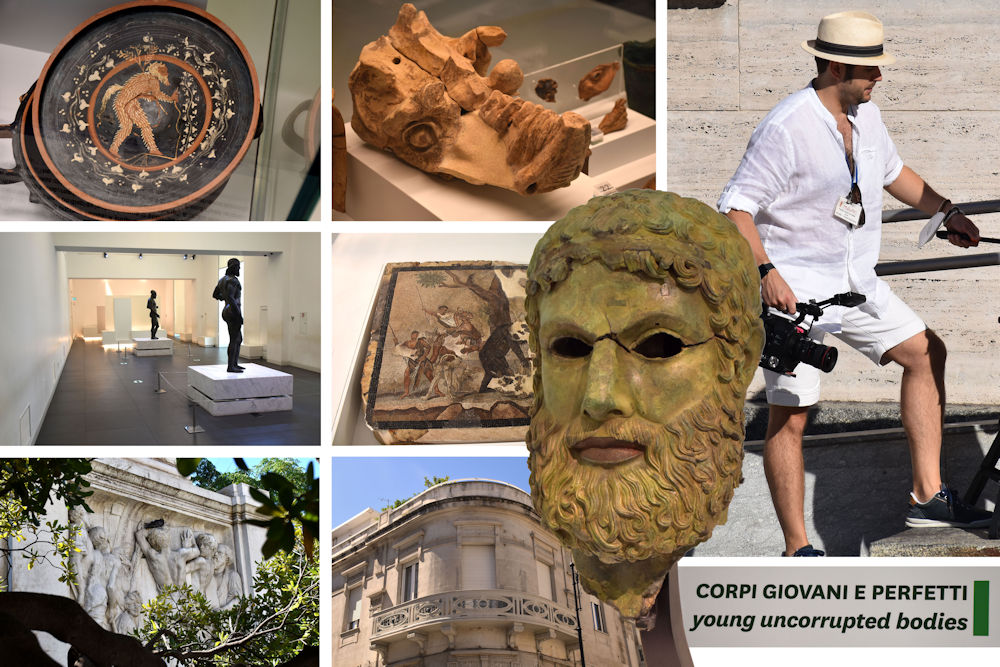 More museum treasures: a bear hunt mosaic, another priceless bonze head, a funny translation, and more of the stylishly casual film director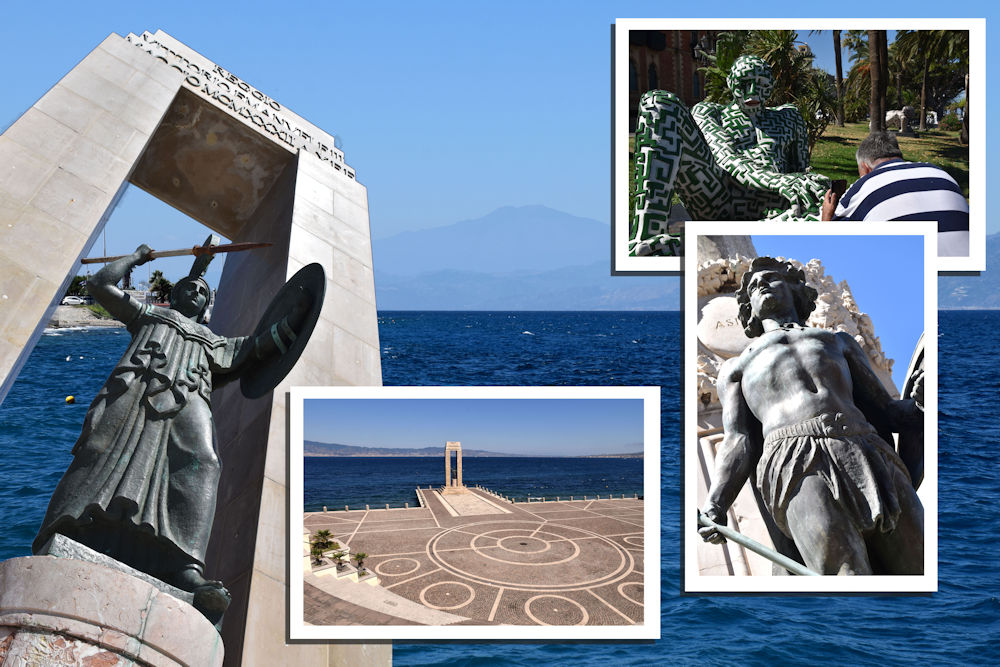 The seafront of Reggio with its Falcomatà promenade is called "the most beautiful kilometer in Italy", due to the optical phenomenon of the fata morgana, visible only from the Calabrian coast, from which the myth originates, thanks to which it is possible to see close-up images of Sicily, including Etna, reflected and from the sea.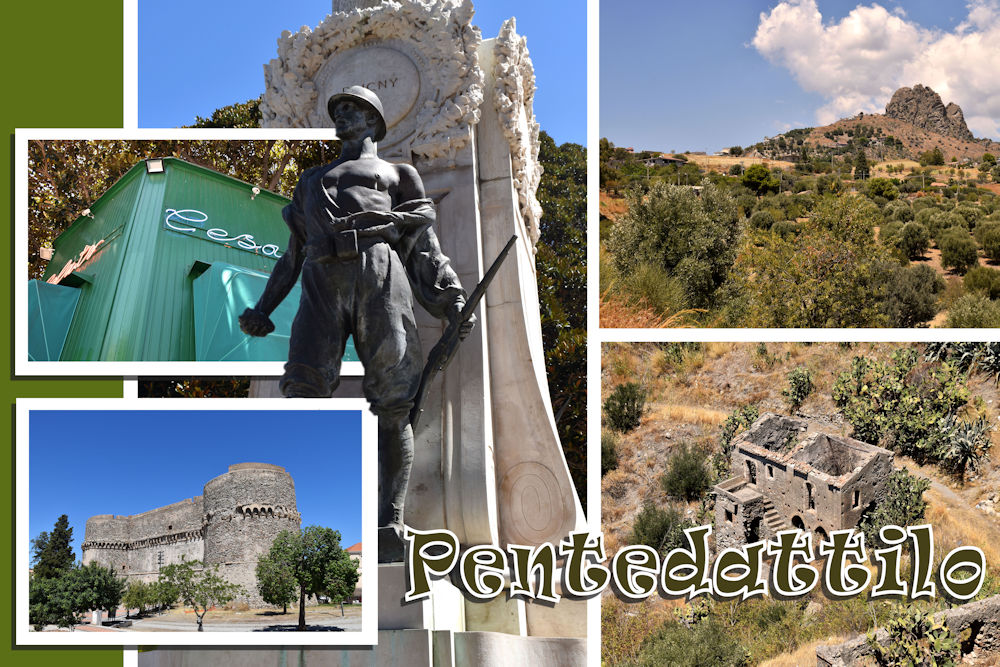 Cesare was recommended as the Best Gelato in Italy and we enjoyed zucchini flower pizza in the shadow of the castle before moving on to our next destination, Pentedattilo, a ghost town situated 250 metres above sea level, on the Monte Calvario, a mountain whose shapes once resembled that of five fingers.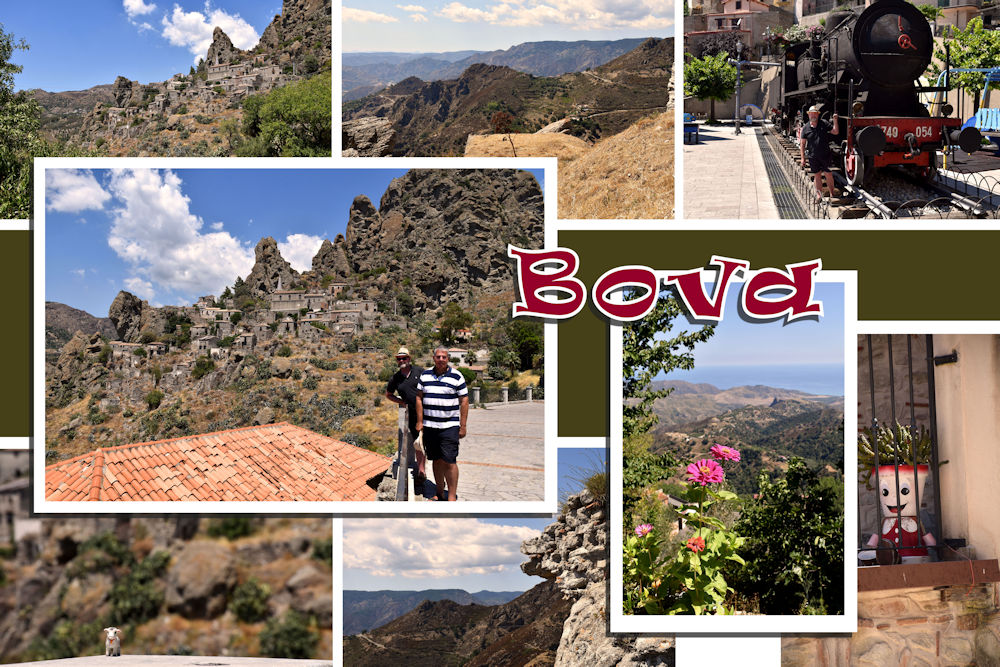 Bova is another town, high in the mountains, identified as one of the "most beautiful villages in Italy". It was such a long, winding drive up, we were shocked to find a full-size locomotive sitting in the main piazza.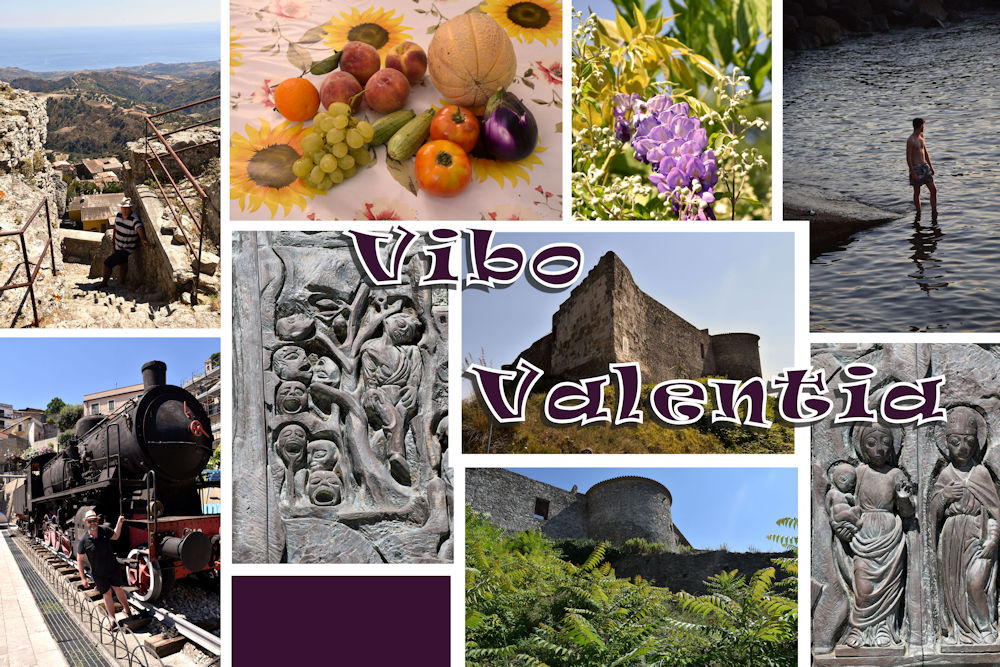 Bova was very hot. The best bit was sitting in the cool Lovers' Grotto before climbing further to the theatre at the top. Back home, we bought all the produce shown for €7.20. We opted for a gentler following day and visited the Roman castle in Vibo Valentia before descending to the coast for a granita and secluded swim.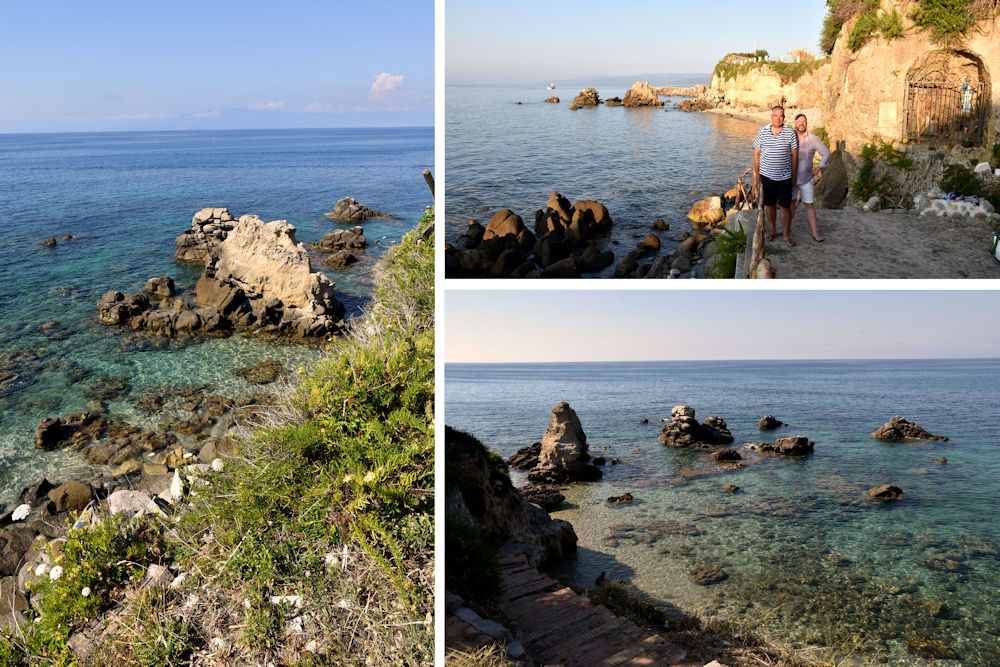 As with many museums, churches, and even whole towns on this trip, we had this beautiful beach to ourselves. where we snorkled and enjoyed the oncoming sunset.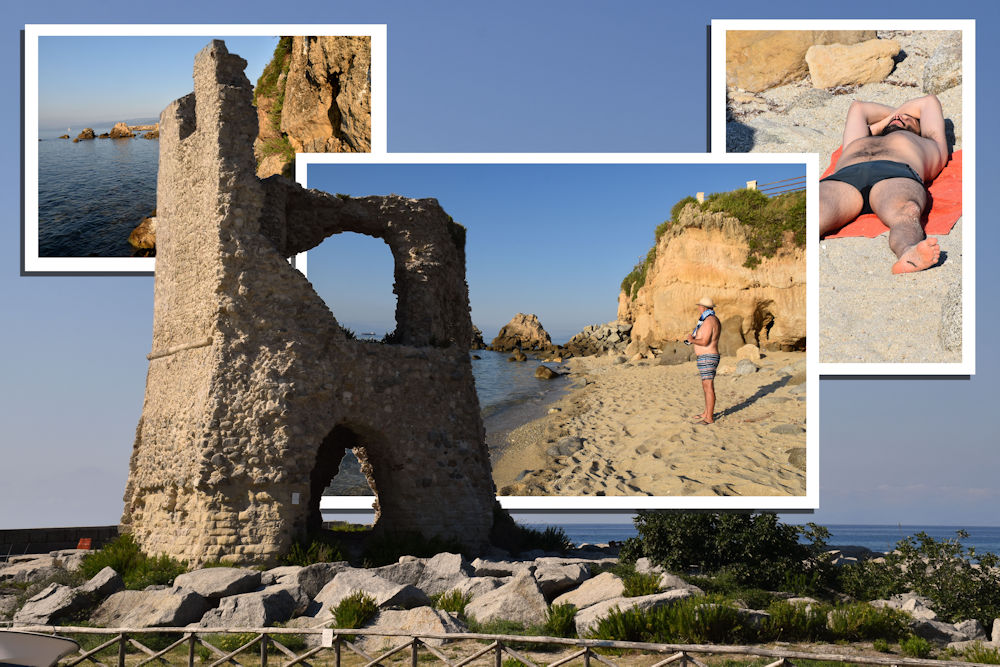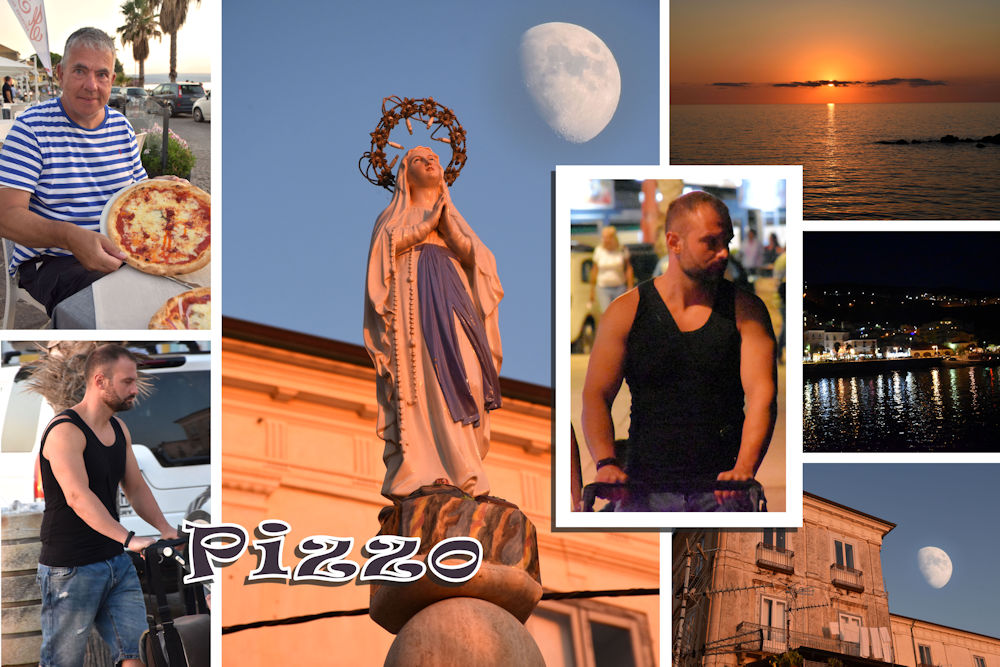 We returned to PIzzo marina for pizzas, including local tuna and Tropea onion, as the sun set and the passaggiata entered full swing.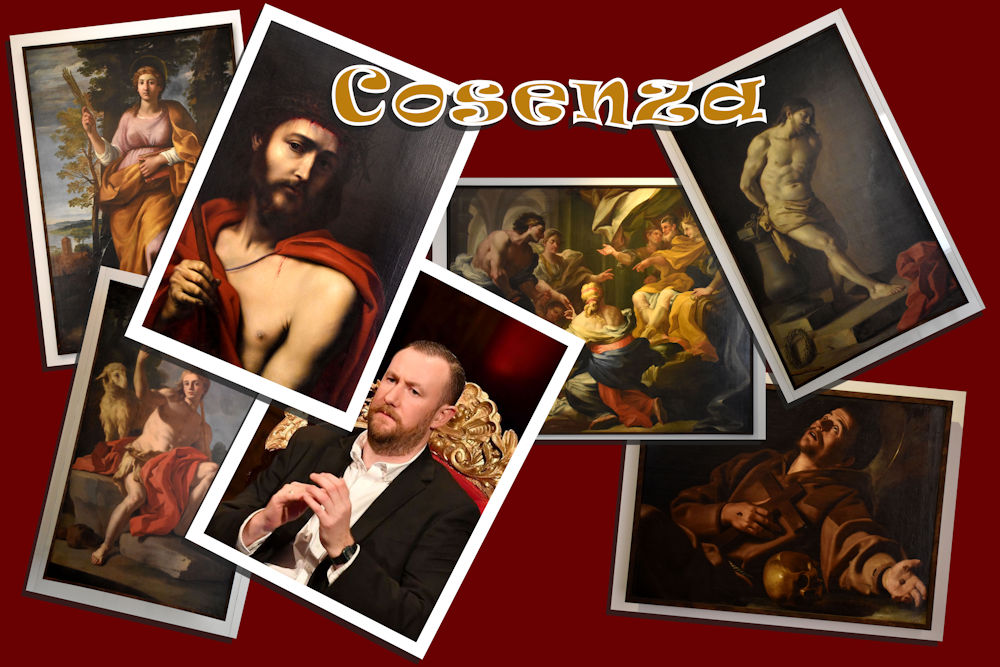 We had the National Gallery of Cosenza to ourselves and I found my Alex Horne lookalike for my bingo card.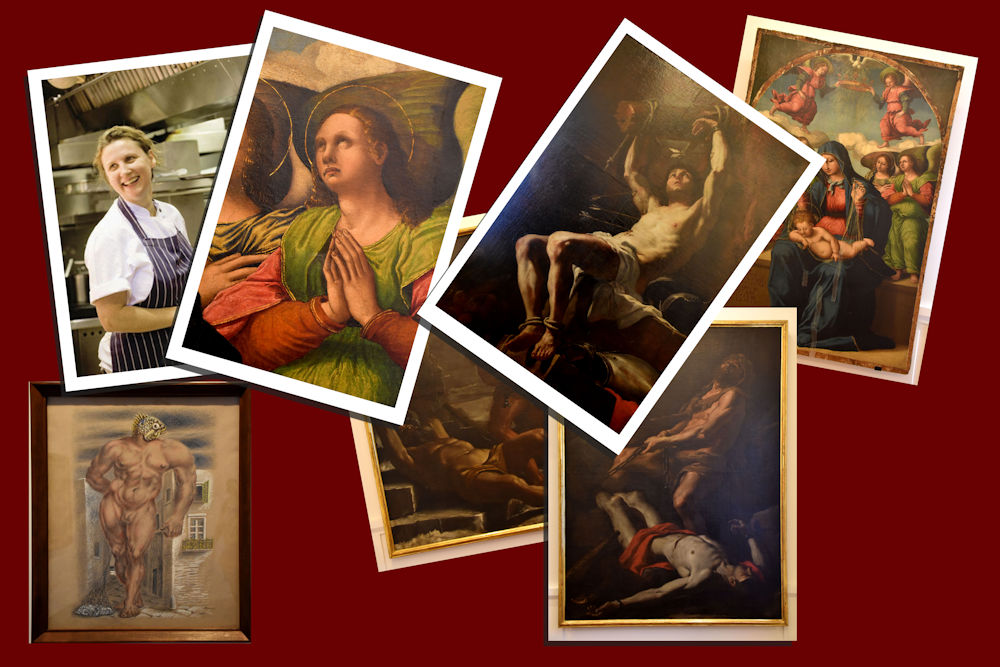 Also seen was an Angela Hartnett lookalike and a Saint Sebastian painting.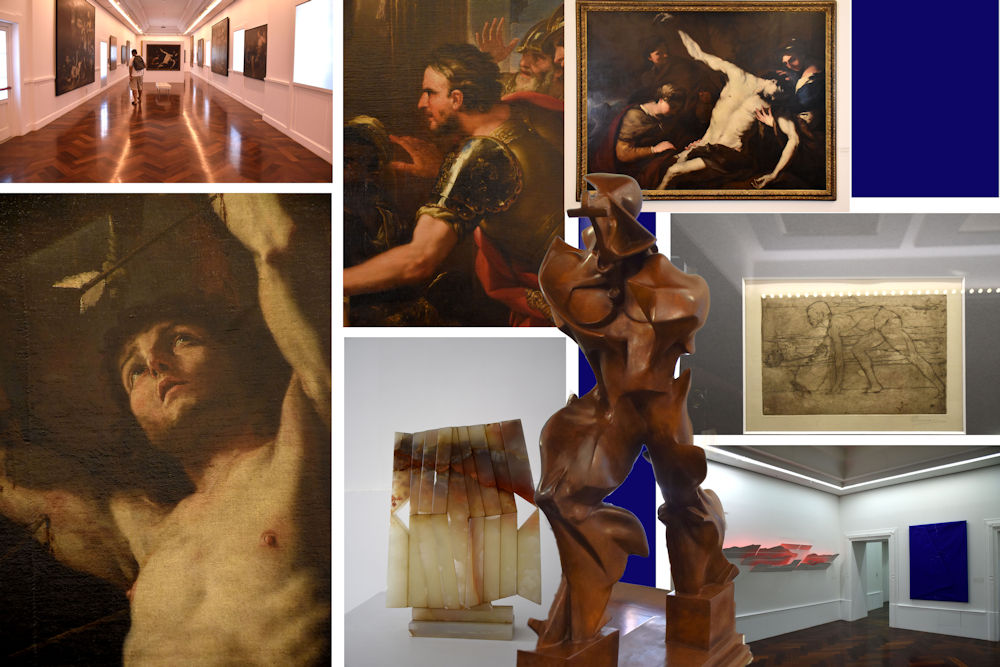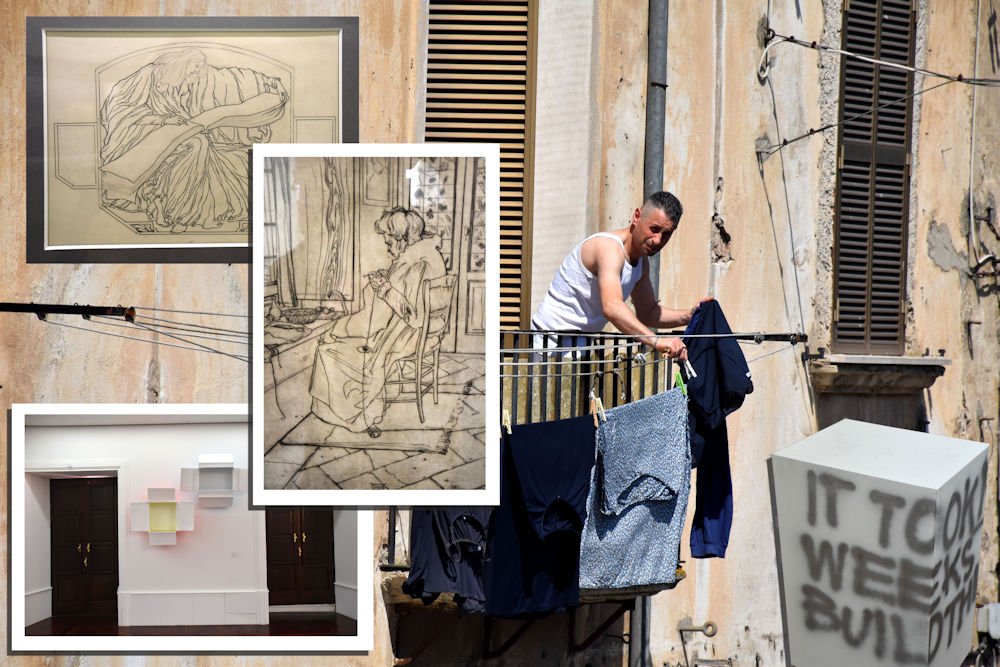 Mixing life and art. There were a couple of Art Nouveau sketches in the museum, and the cardboard box installation is entitled Crucifixion. Note the art at the bottom right.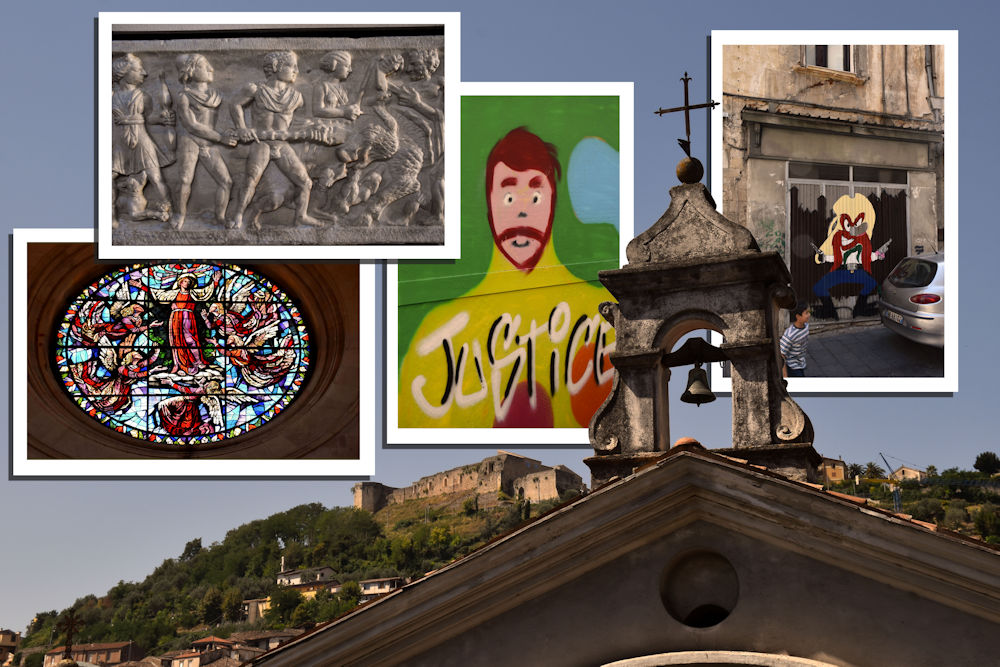 A ginghiale hunt on the side of a sarcophagus, another possible Alex Horne lookalike and the Cosenza castle, which we didn't even attempt to reach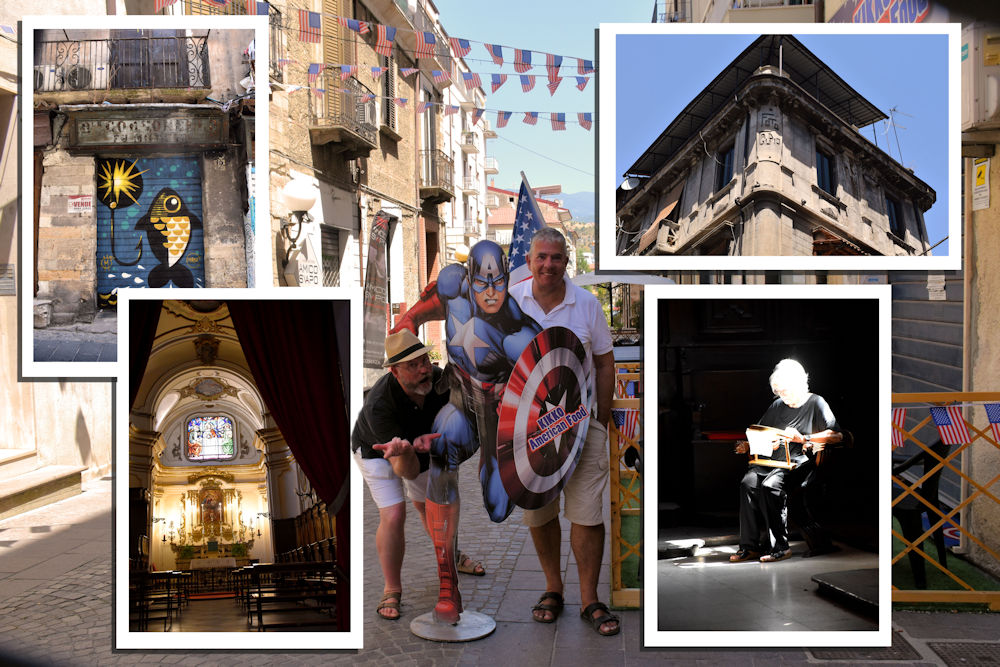 Web slinging with the Captain. The woman embroidering in heavenly sunlight was a striking image in person.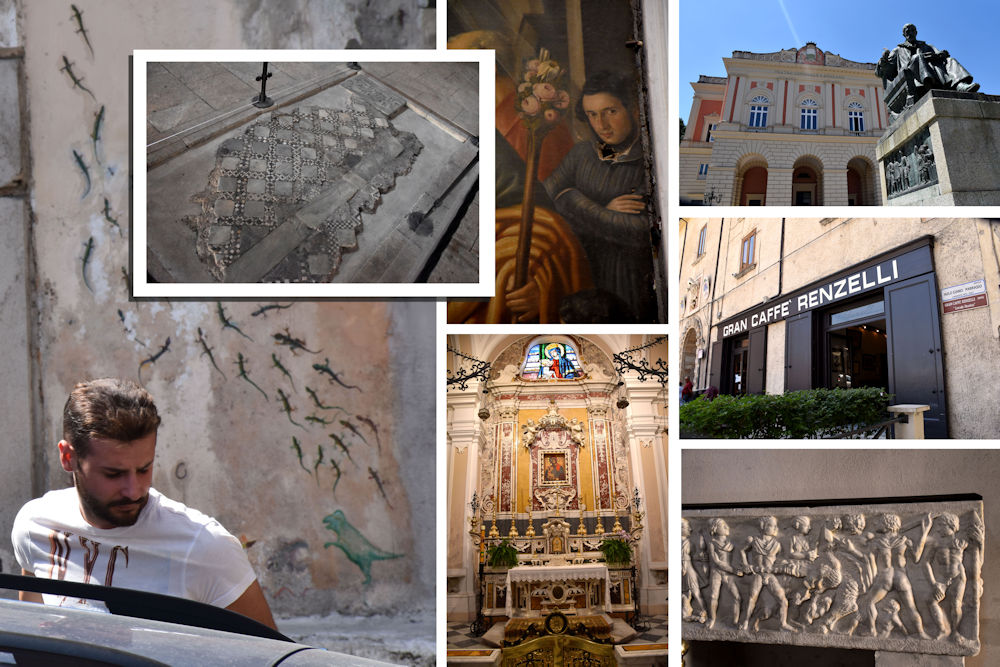 I like the shadowy figure skulking on the side of the painting, above, surely an artist's self-portrait. Gran Caffè Renzelli, since 1803, was a guidebook recommendation.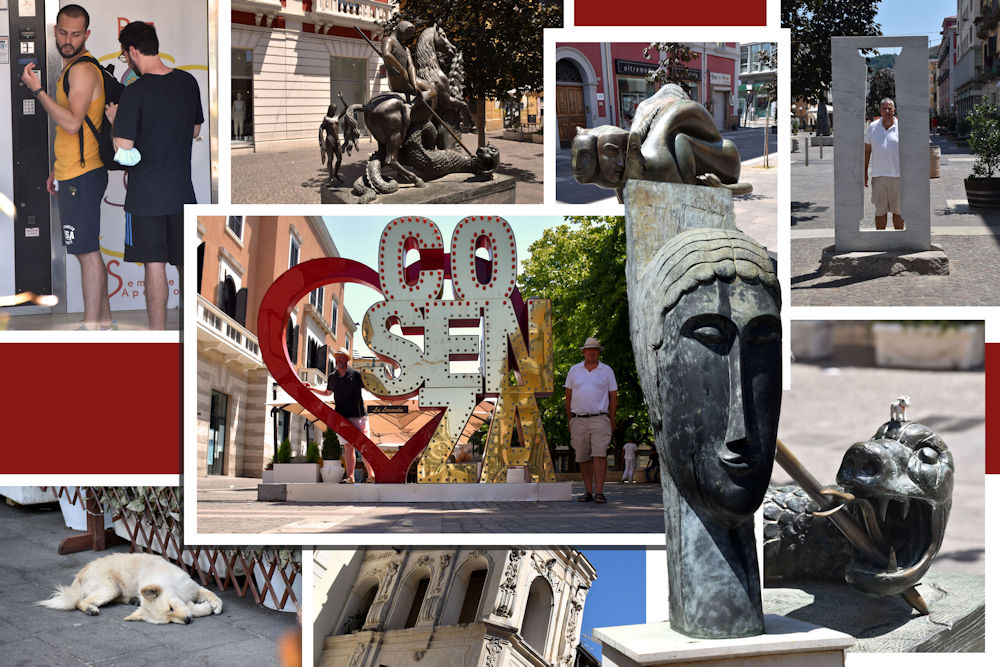 Cosenza has a fantastic outdoor statue collection, including this one of Saint George by Salvador Dalí.and another by Modigliani.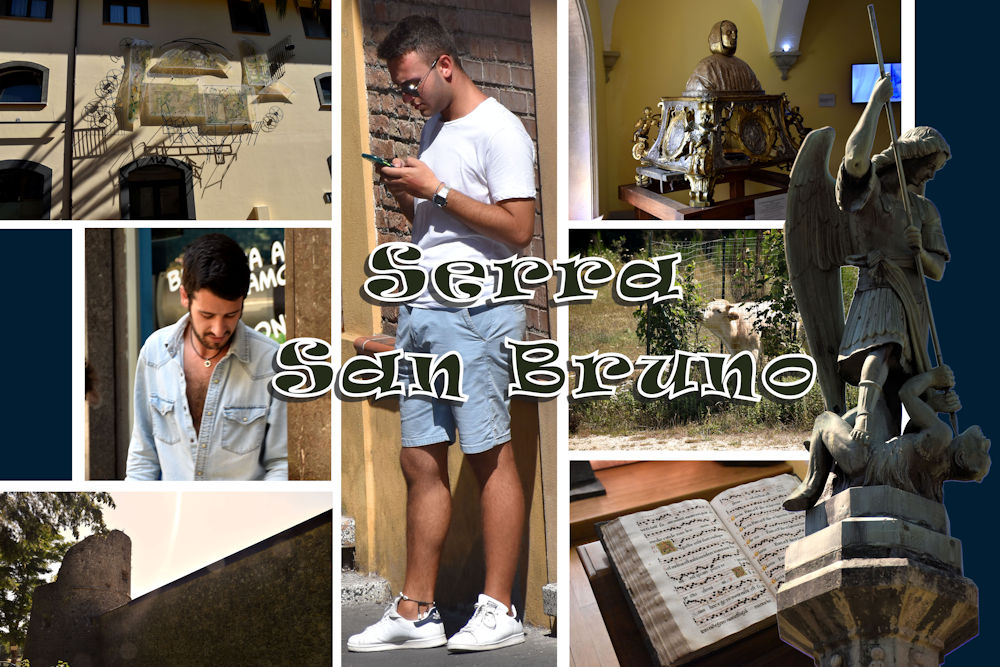 A couple of final Cosenza photos before setting off next day for Serra San Bruno.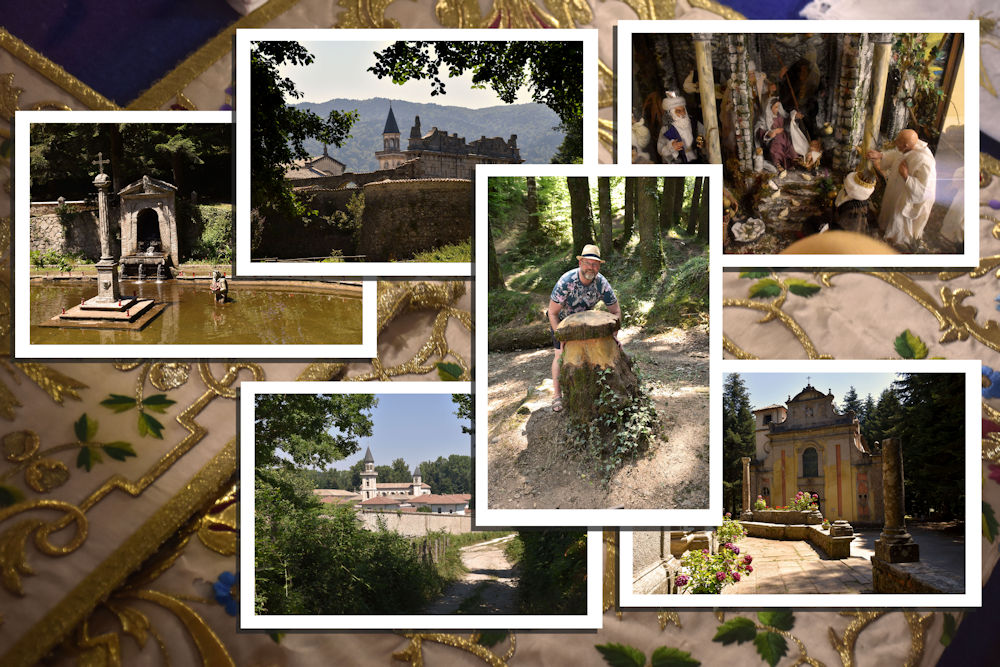 Serra San Bruno is named after Saint Bruno of Cologne, who founded the Carthusian Order in 1053 and the Grande Chartreuse (we tasted some of the green liqueur), mother house of the Carthusians, near Grenoble, in France. He built the charterhouse of Serra San Bruno in 1095, and died there in 1101.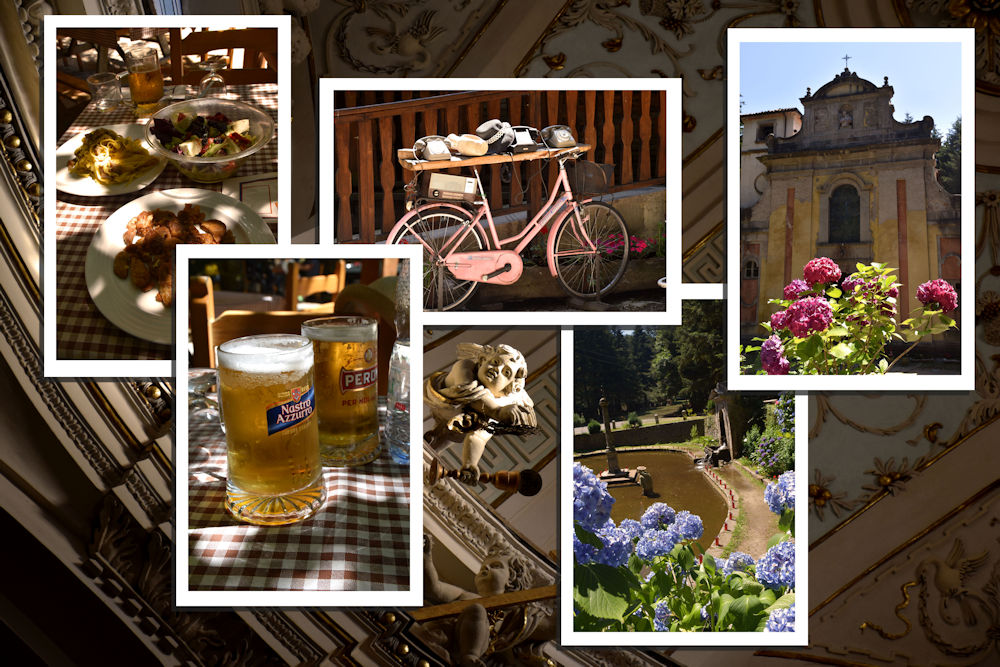 We ate local porcini specialities at the nearby restaurant.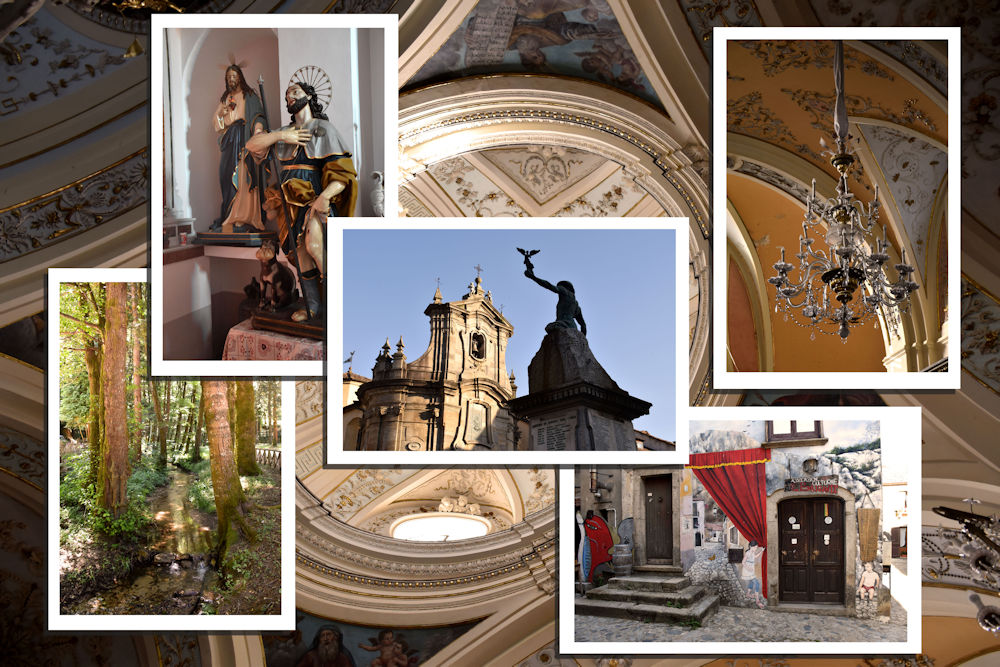 We stayed overnight in the town, where one of the trip's many Saint Rocco statues was to be found.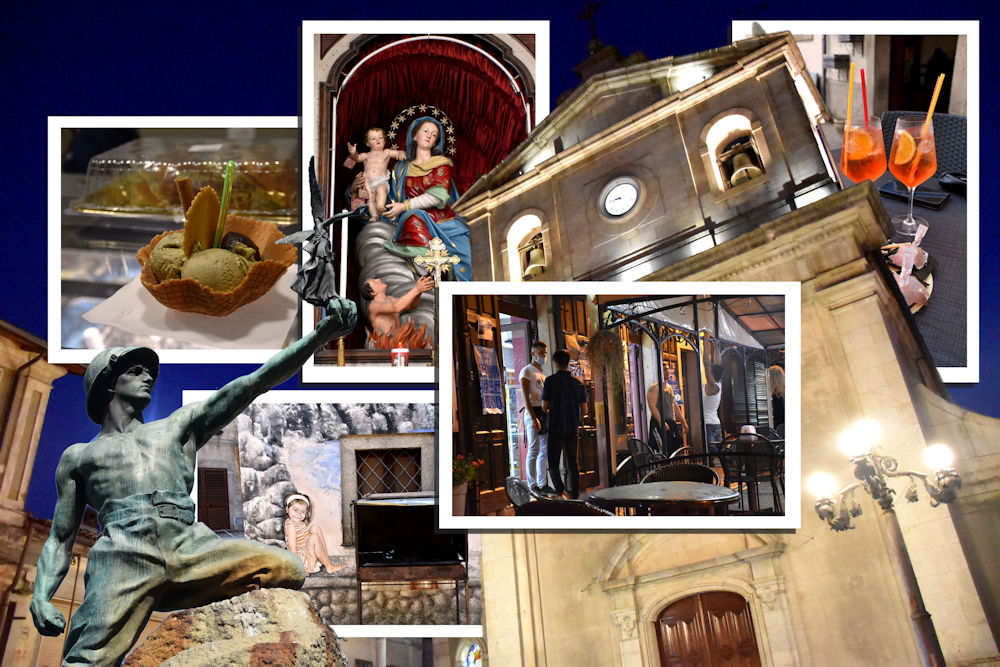 Serra San Bruno had one of the most entertaining passeggiatas we've ever experienced. The bar boys were competing to do chin-ups.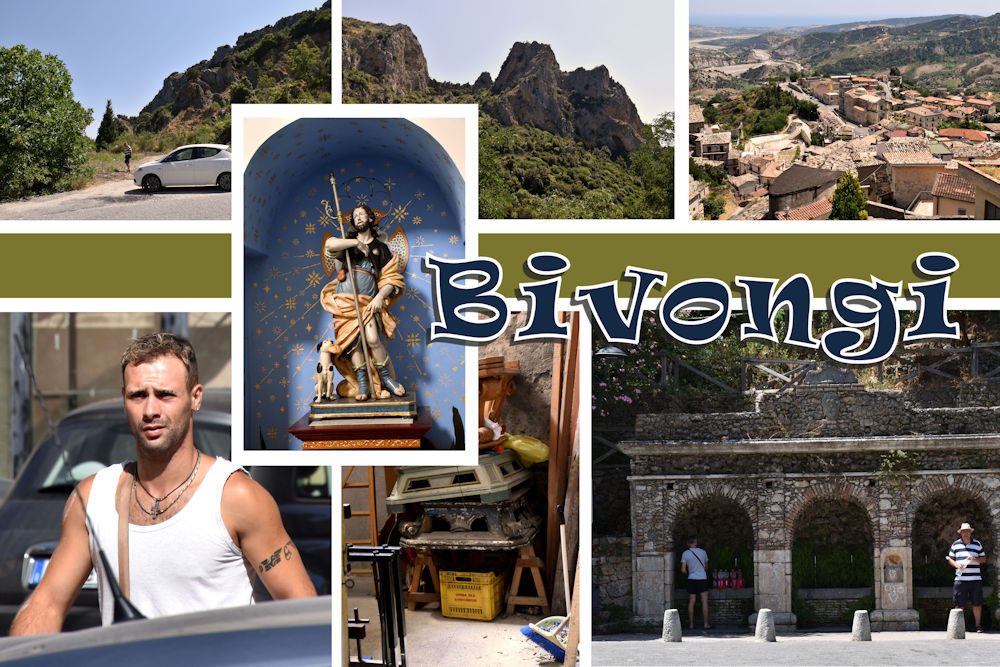 The following day, we stopped on in Bivongi, where we discovered a place selling cheap arancini. I mistook their miners' fountain for a minotaur's fountain. Also, another Rocco.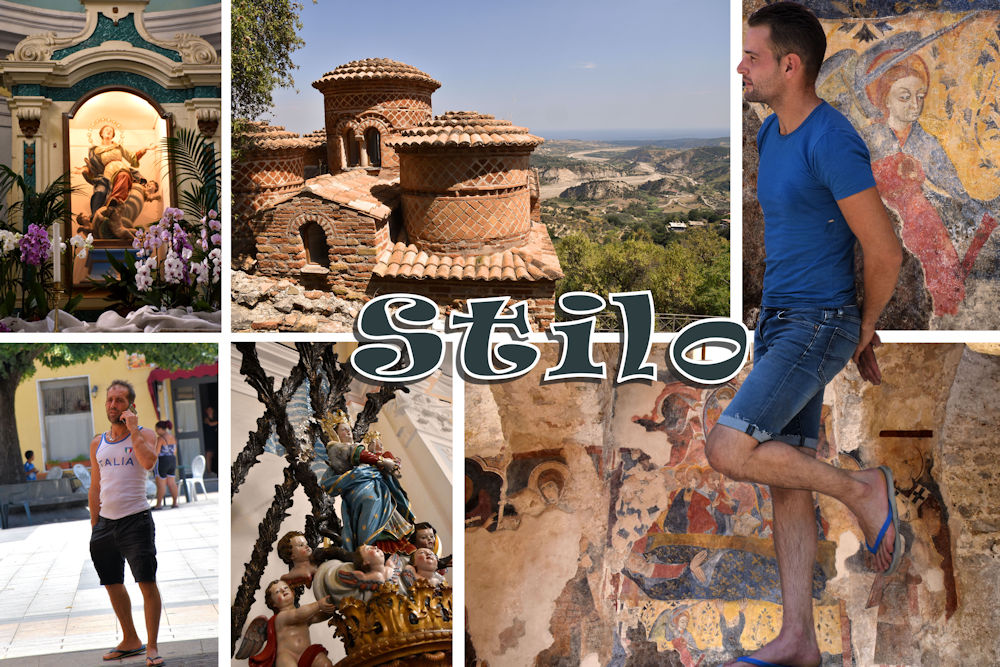 Stilo's Cattolica was another highlight of our trip and our visit coincided with its infrequent opening times. The church was built in the 9th century, when Calabria was part of the Byzantine Empire. It is one of the most important examples of Byzantine architecture, and was once almost entirely covered in frescoes inside.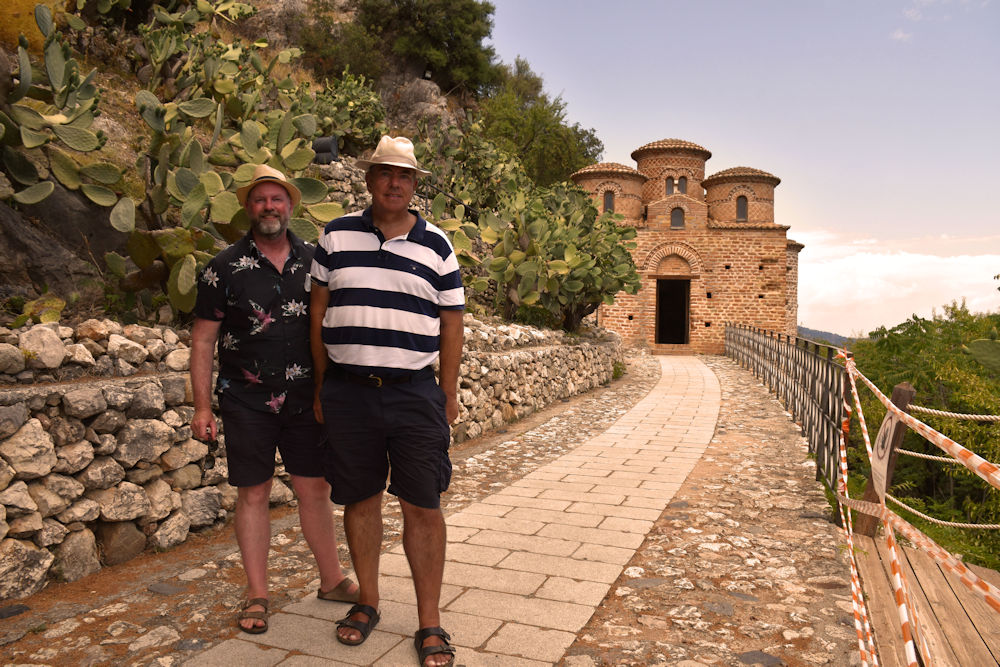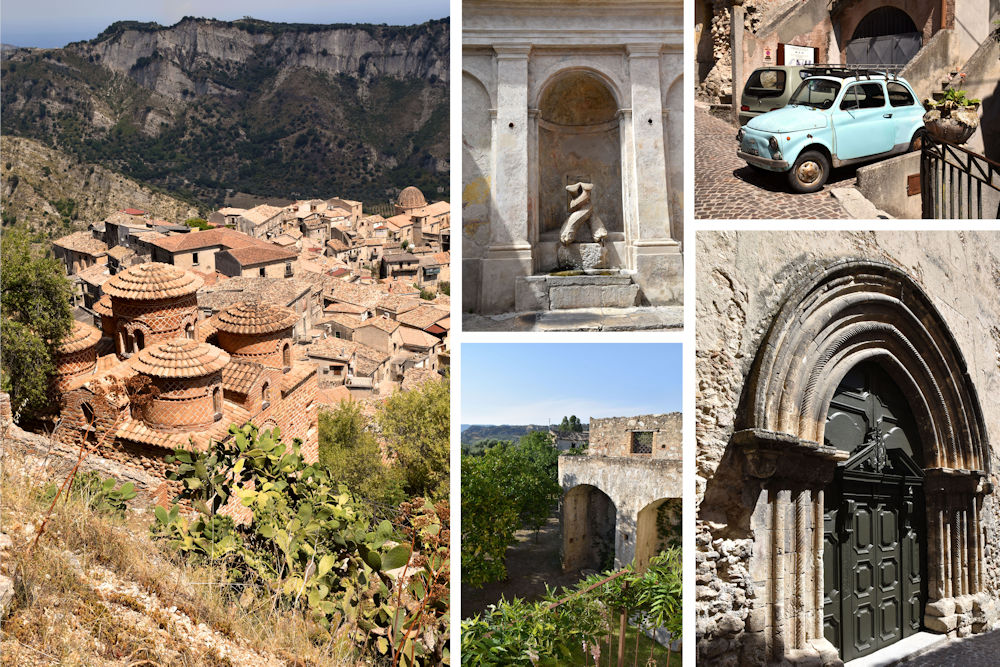 Our first views of Stilo town, the Dolphin Fountain, and our masseria home for the next week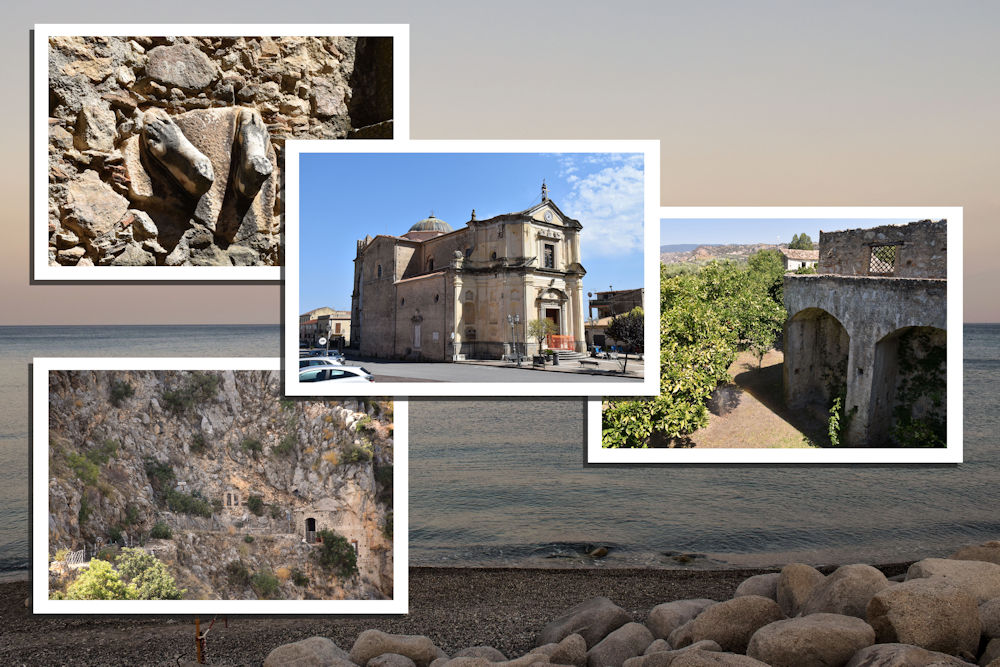 Wallside feet, Madonna della Pastorella."laura", Stilo's church, our citrus grove (with mini rainbow), and Guardavalle beach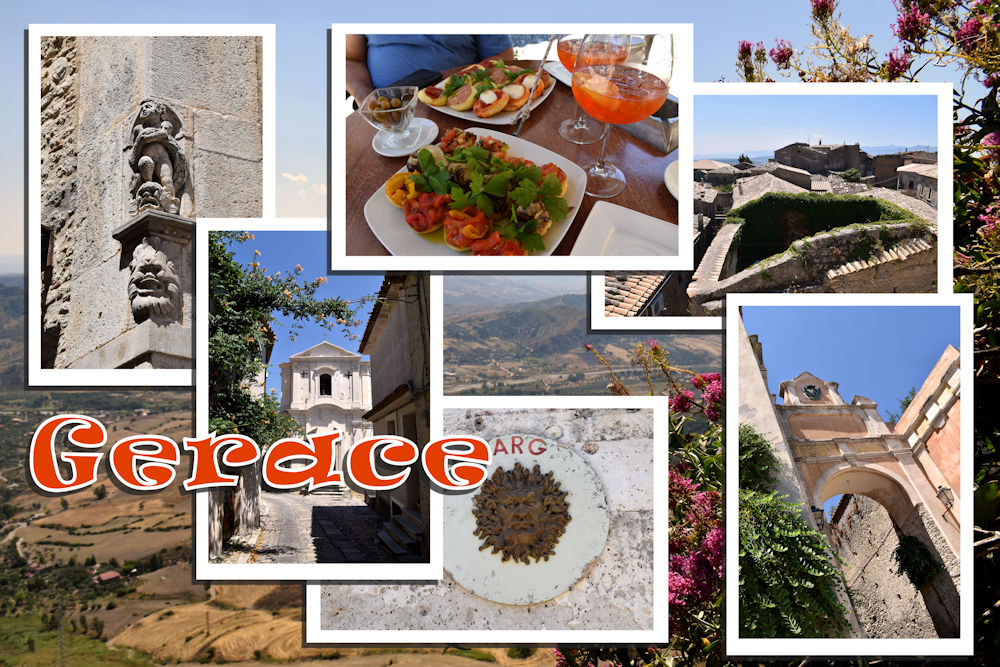 Gerace was settled by the Greeks from Locri, who moved to the hills after Sarcen attack. We couldn't get through all of our Spritz snacks.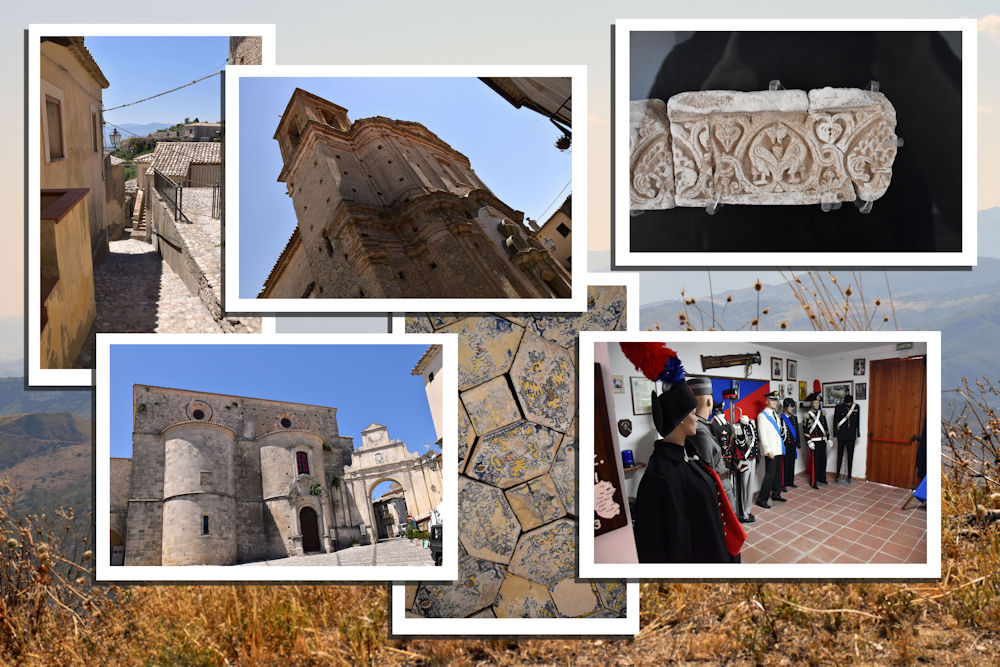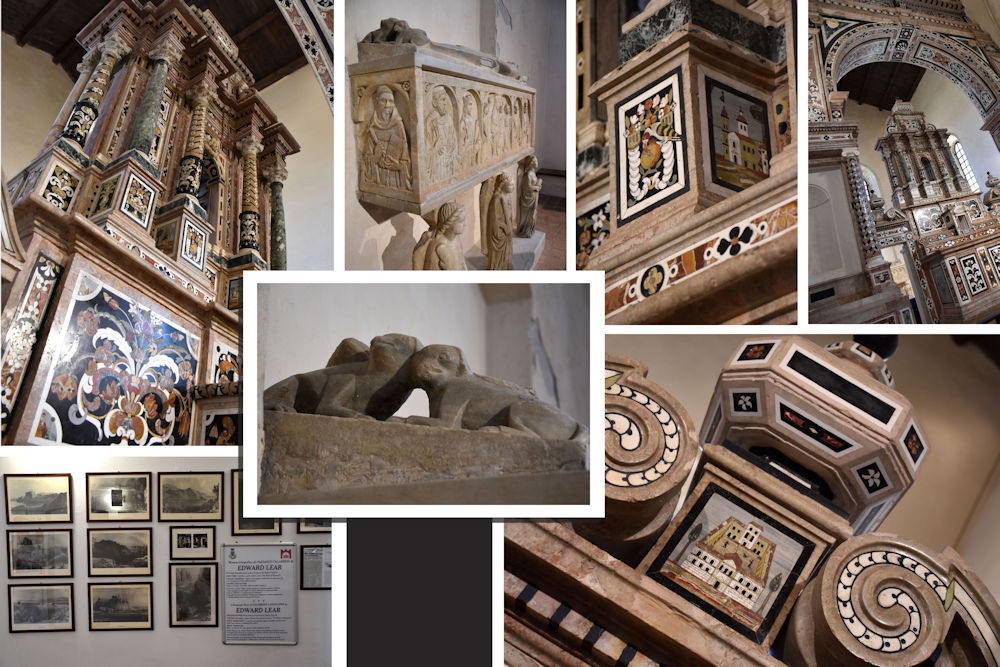 Gerace's Church of San Francesco d'Assisi was built in 1252 and features a sumptuous seventeenth-century high altar in inlaid polychrome marble, which constitutes one of the highest documents of the Calabrian Baroque. Also shown are Edward Lear's revered sketches of the area, on display at the local museum.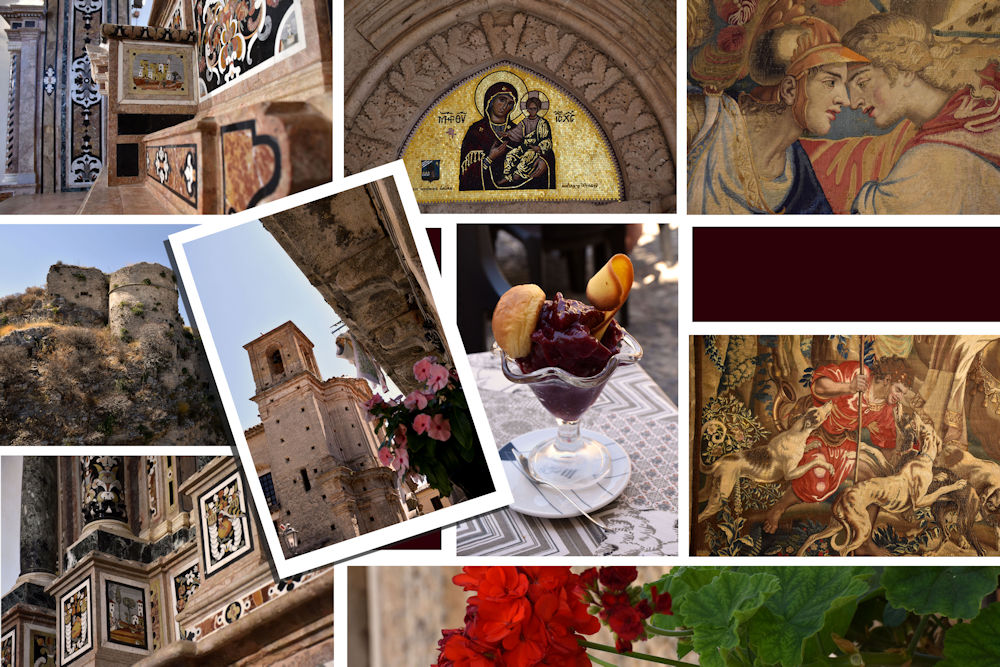 The tapestry in Gerace's cathedral was very fine. We later discovered that the Italian word "more" means blackberry (granita).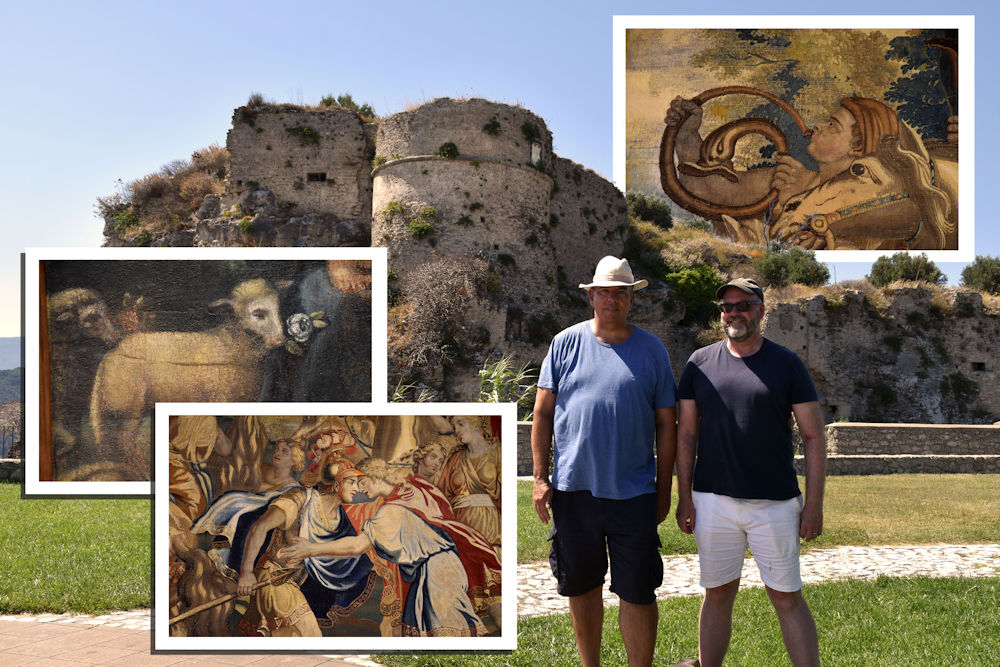 It seemed like everwhere had a Norman castle.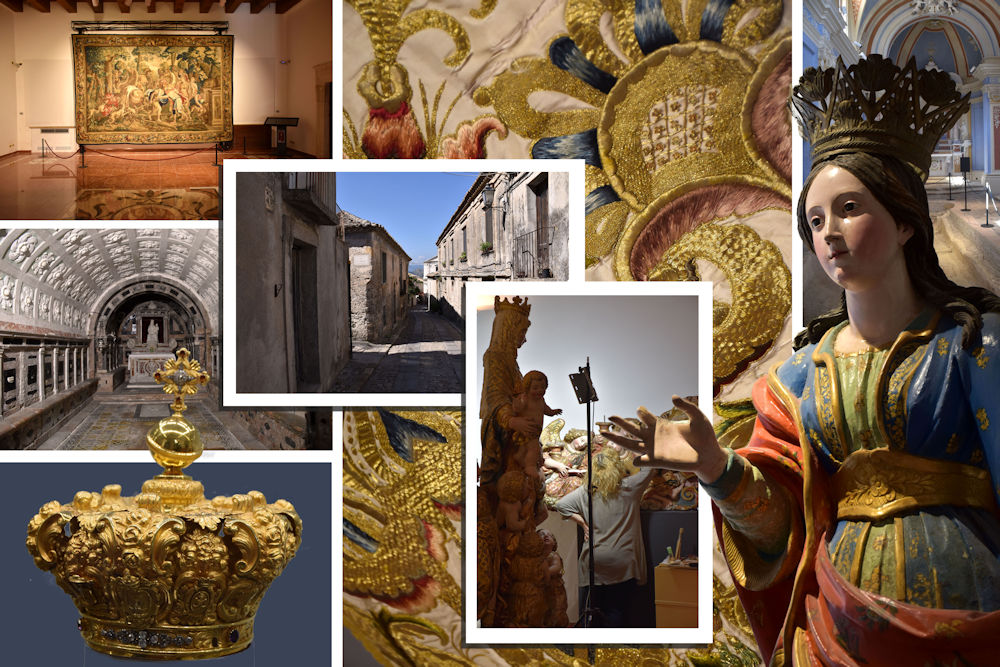 There was lots of art restoration going on inside the cathedral.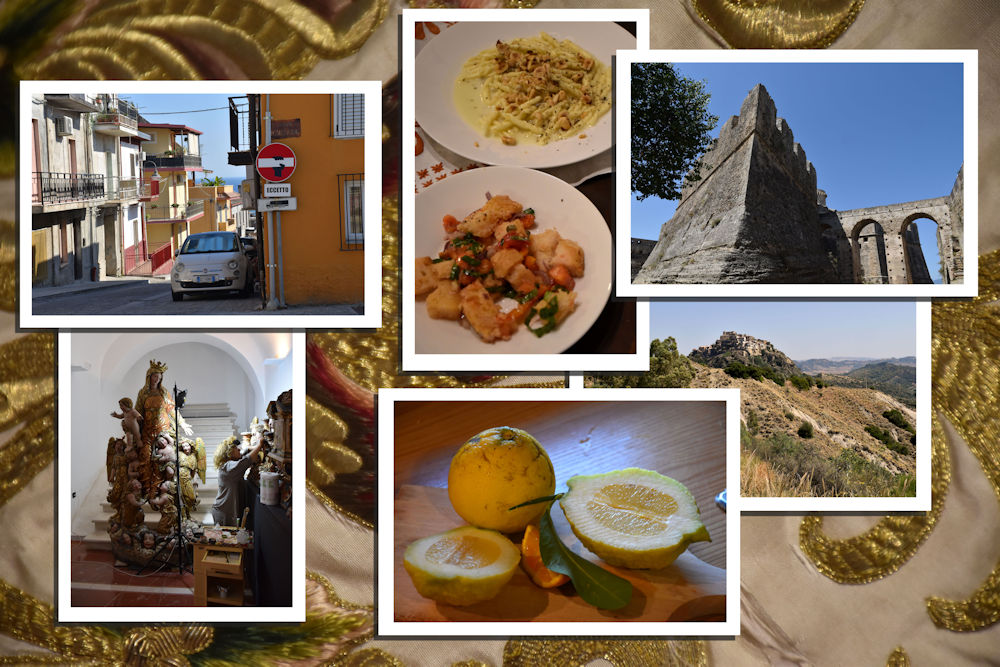 A Clet sign, as seen in Florence and some homemade food, including gorgonzola and hazelnut pasta with outstanding panzanella, and bergamot and cedro (?) fruit picked from our citrus grove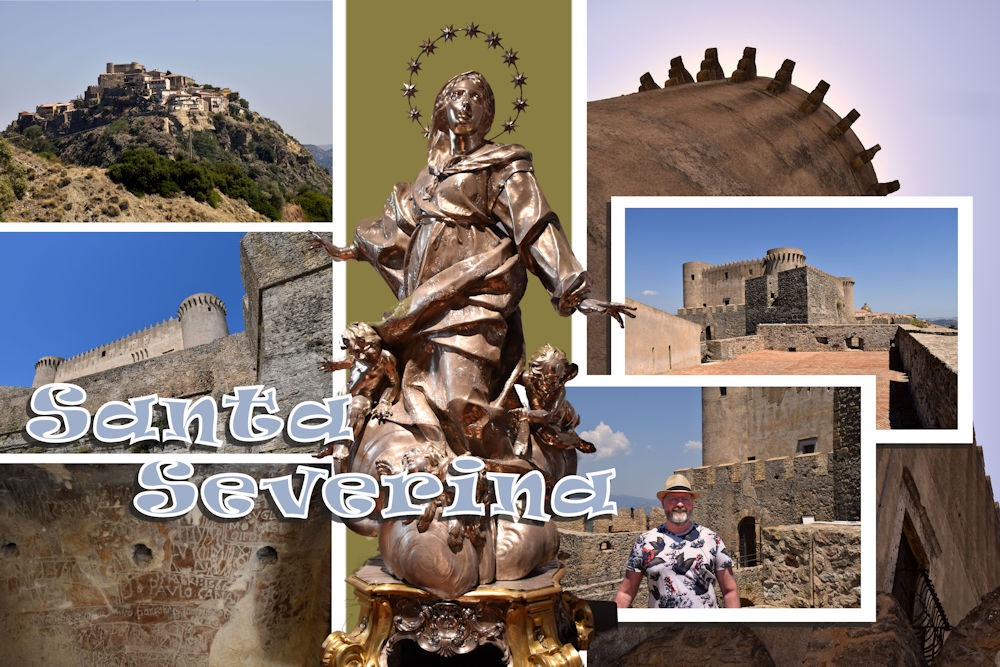 We hadn't planned to visit Santa Severina, but there was lots there to see.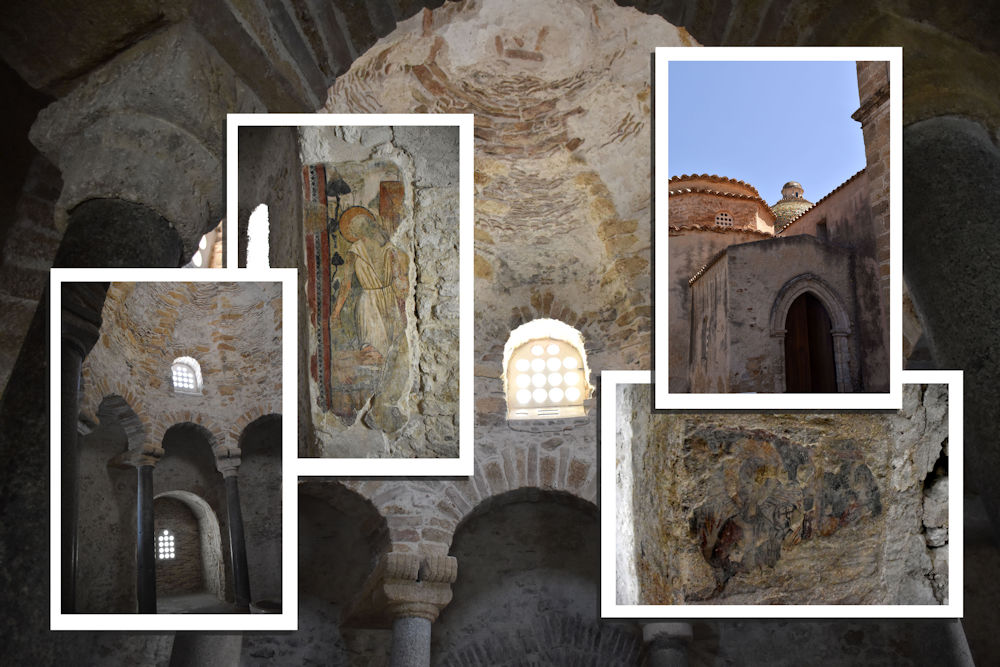 Most impressive was the baptistery, which dates back to the 8th century and it is the most remarkable Byzantine evidence in Santa Severina.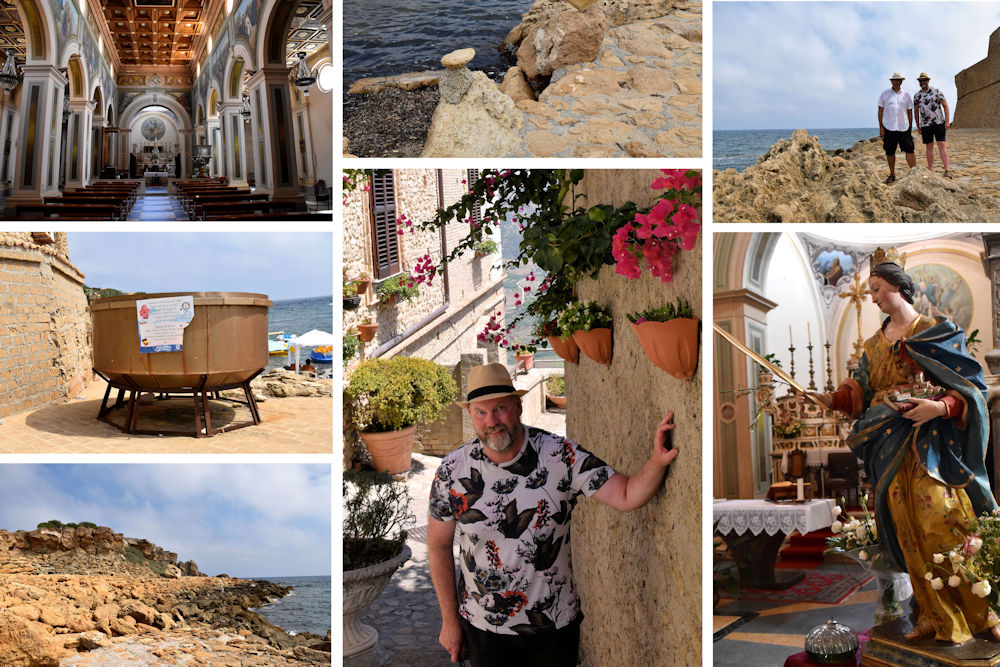 On the way home, we stopped in Le Castella, which set a world record for largest fish soup in 1998..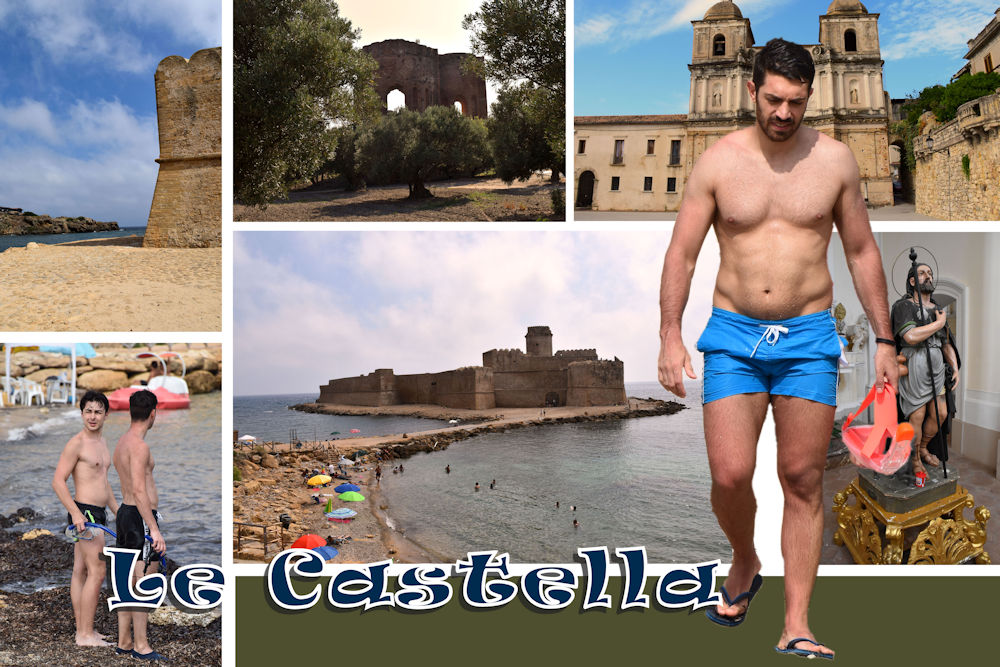 Apart from the Le Castella sights, shown above are the ruins of the Basilica of Saint Mary 'della Roccella', and another church with Saint Rocco in Stilo.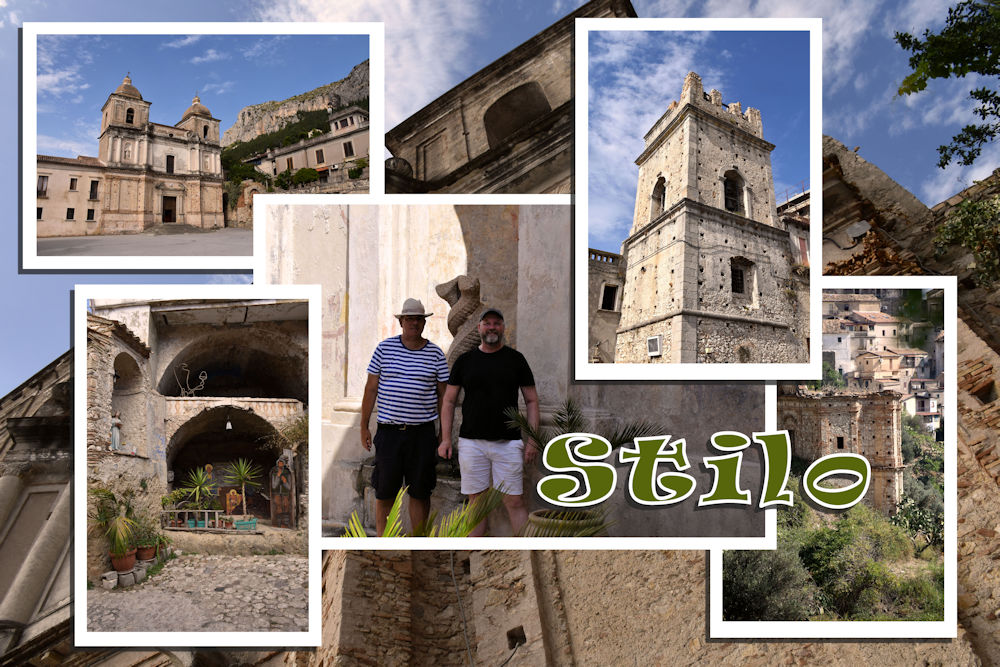 We revisted Stilo, where we saw an unseasonal nativity and cooled ourselves in the Dophin Fountain. An old woman sitting outside wished us a Buongiorno and commented on what a hot day it was.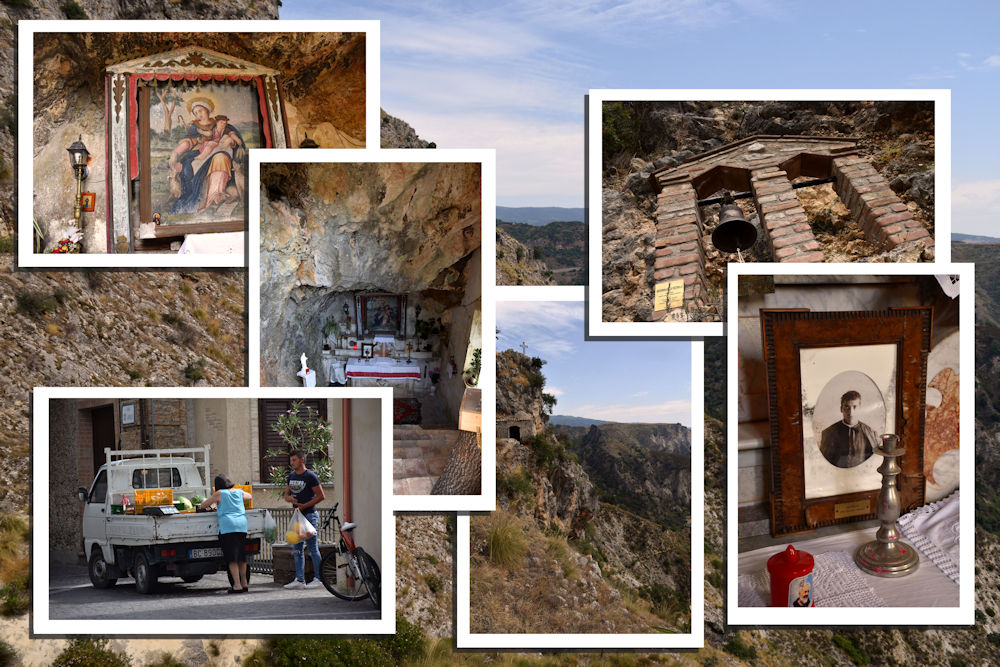 The Italian word 'laura' means a grotto or shrine carved into the rocks. This one was the Madonna della Pastorella.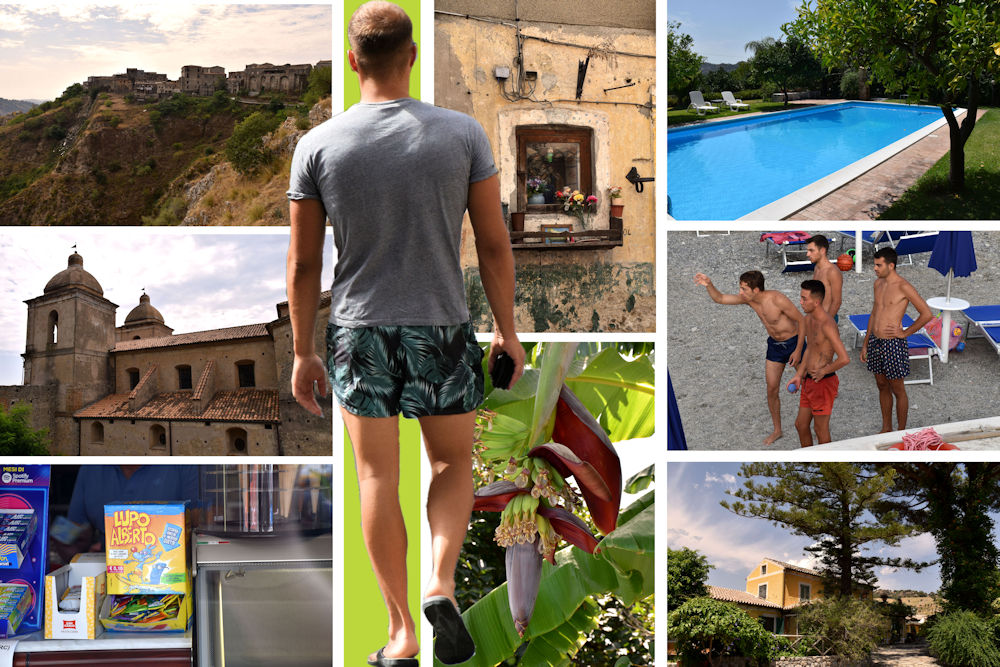 Flip Flop Boy, our lovely pool, locals on the beach, the agriturismo with bananas, and Lupo Alberto (for bingo purposes)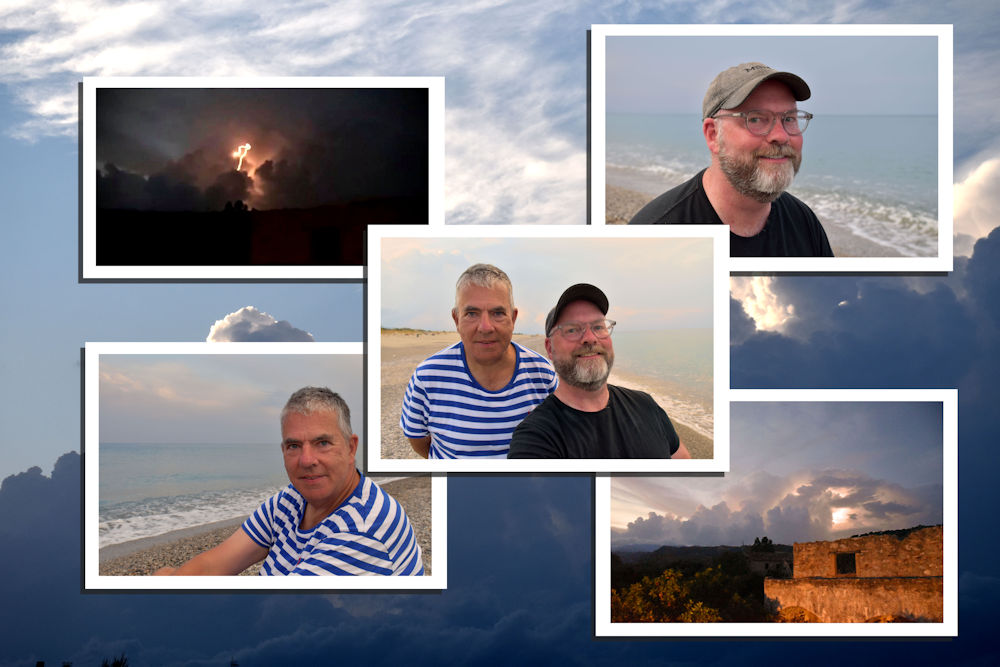 We took drinks and Fonzies down to the beach to watch the sunset. A thunderstorm was brewing and we made it home in time for me to Zoom call my book group to show them the approaching lightning.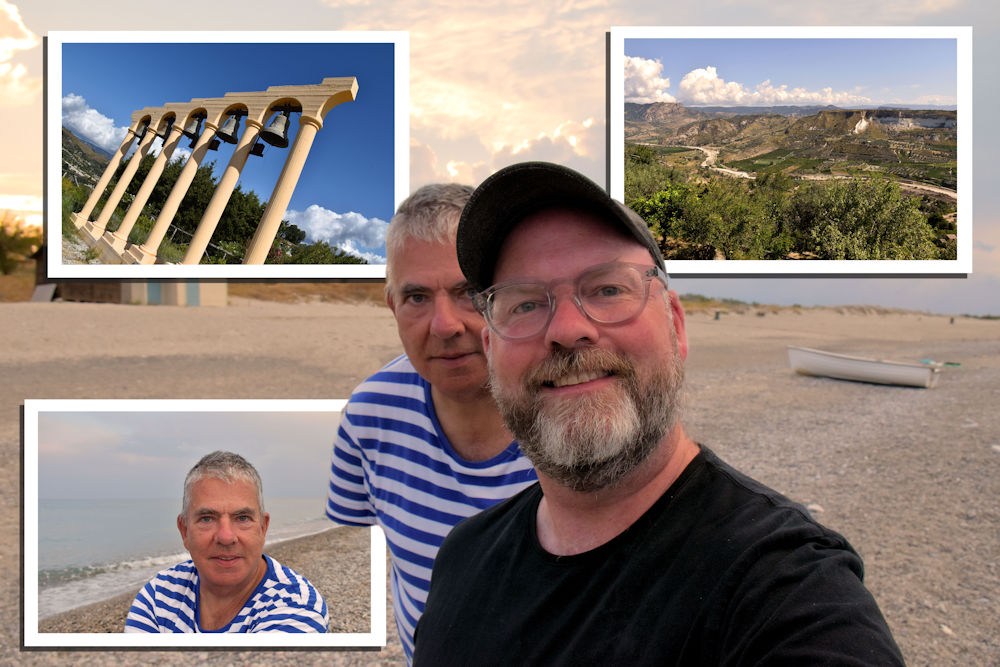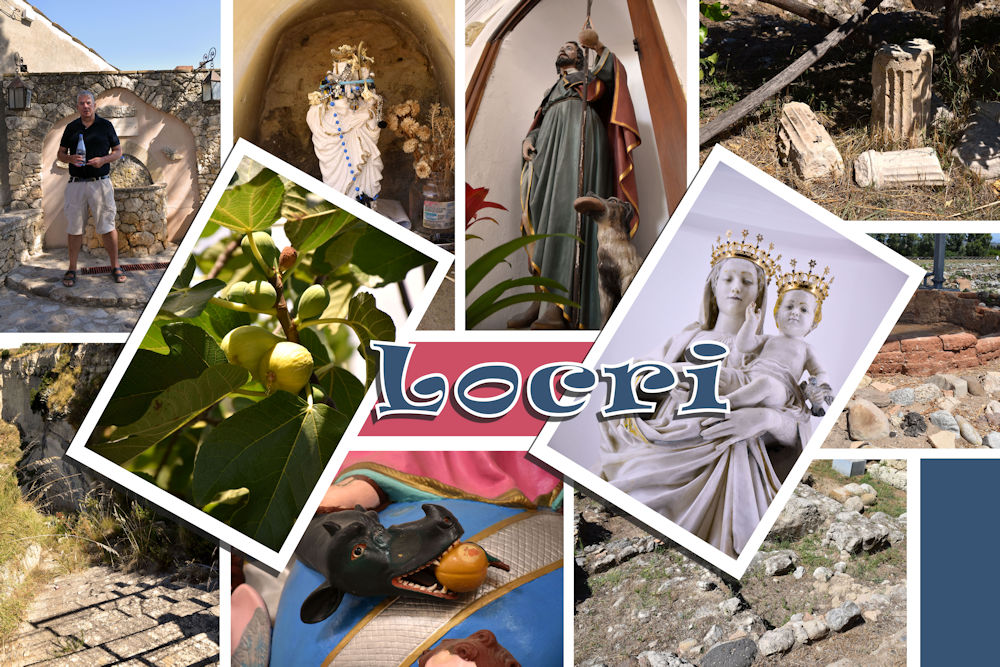 We attempted to visit the Santuario della Madonna della Grotta di Bombile, another grotto carved into the mountain, but, despite signs still pointing the way, we arrived to discover that it had been destroyed by a rockslide years ago. The high-quality marble statue was rescued and is housed in the (very hot) church in the town. Onwards to Locri...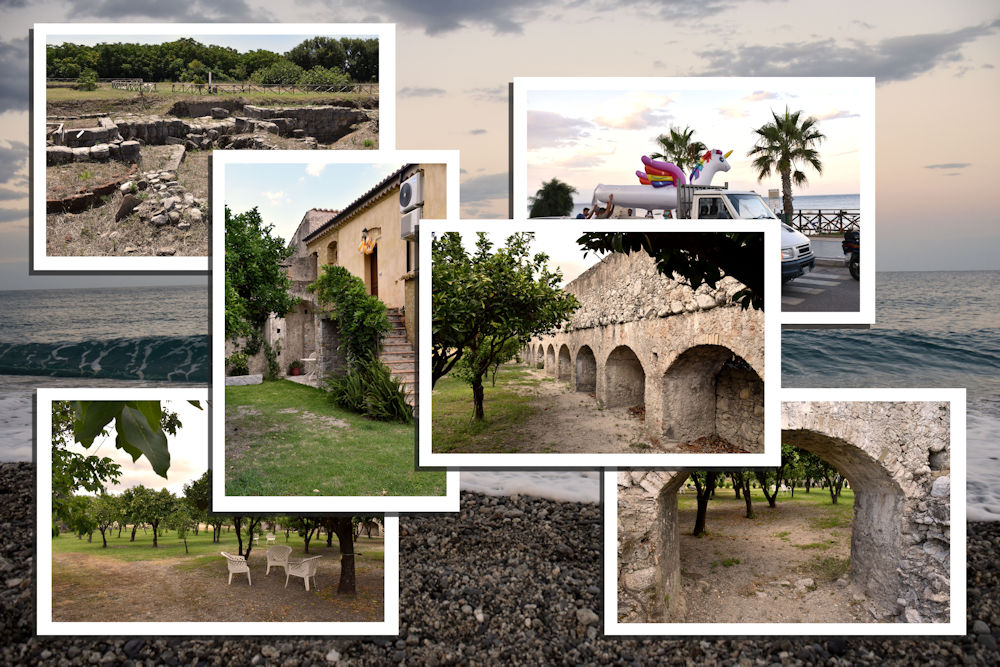 Locri Epizephyrii was an ancient city on the eastern side of Calabria, founded by Greeks c. 680 BC. It was the first Greek community to have a written code of laws, given by Zaleucus c. 660 BC. We picked and ate ripe figs while walking among the ancient ruins, which included a large area where pottery was manufactured. The other photos are taken back at our home base.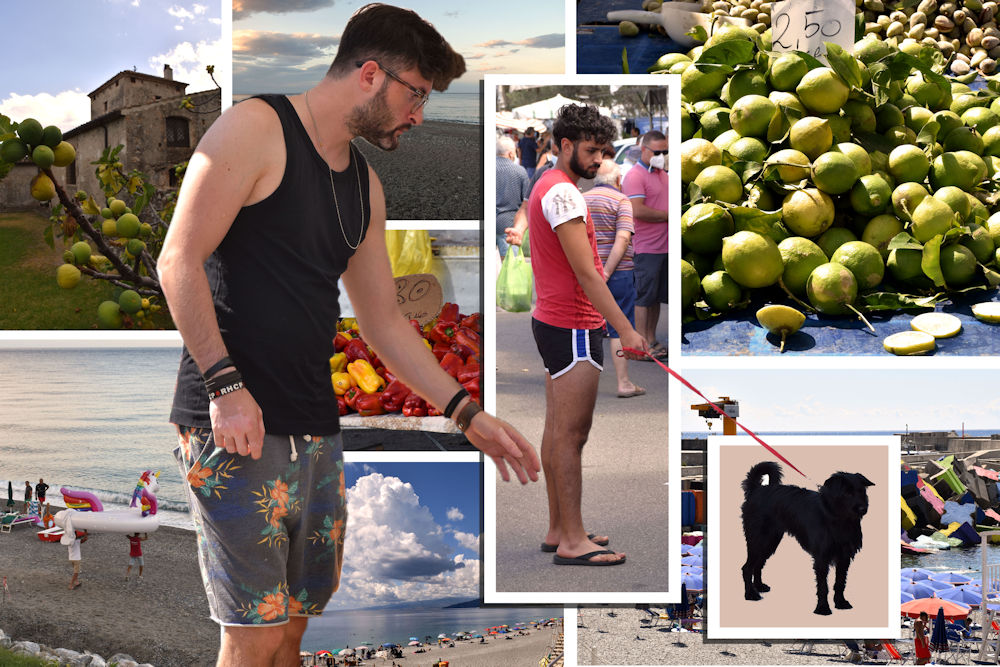 Mostly Catanzaro market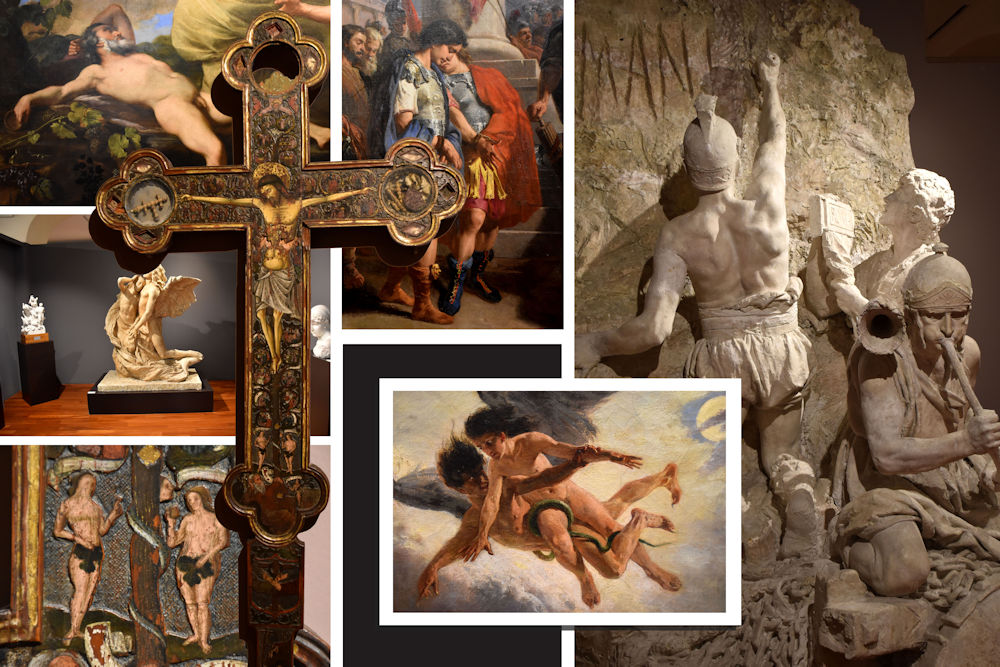 Another museum that we had entirely to ourselves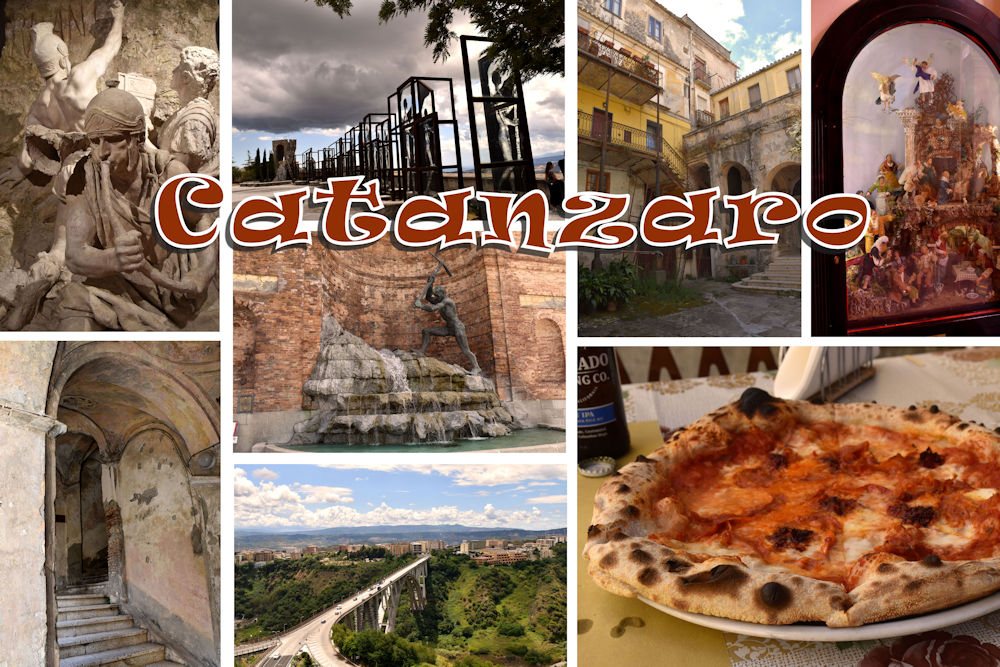 It was refreshing to see some more modern, secular art in Catanzaro, as well as having one of the Top Five best pizzas ever, and certainly the best of our trip, at lunchtime, where even the welcome rain on our outside table didn't spoil the event. Was this our Number 1 pizza of all time?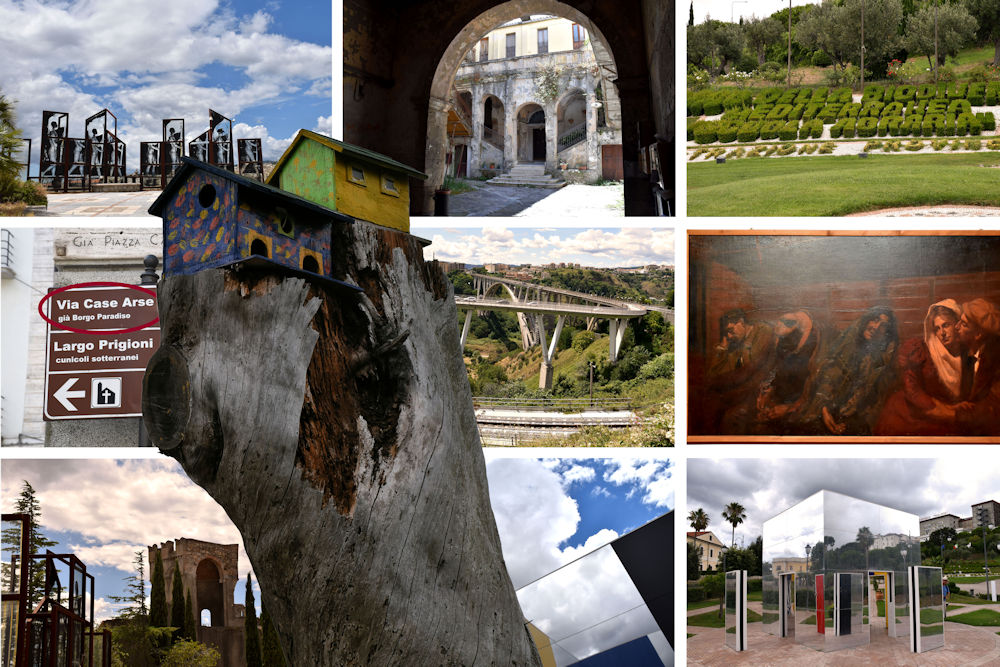 More scenes from Catanzaro, including the Park of Mediterranean Biodiversity which was completely free, completely empty, and full of glorious sculptures by the likes of Marc Quinn and Antony Gormley.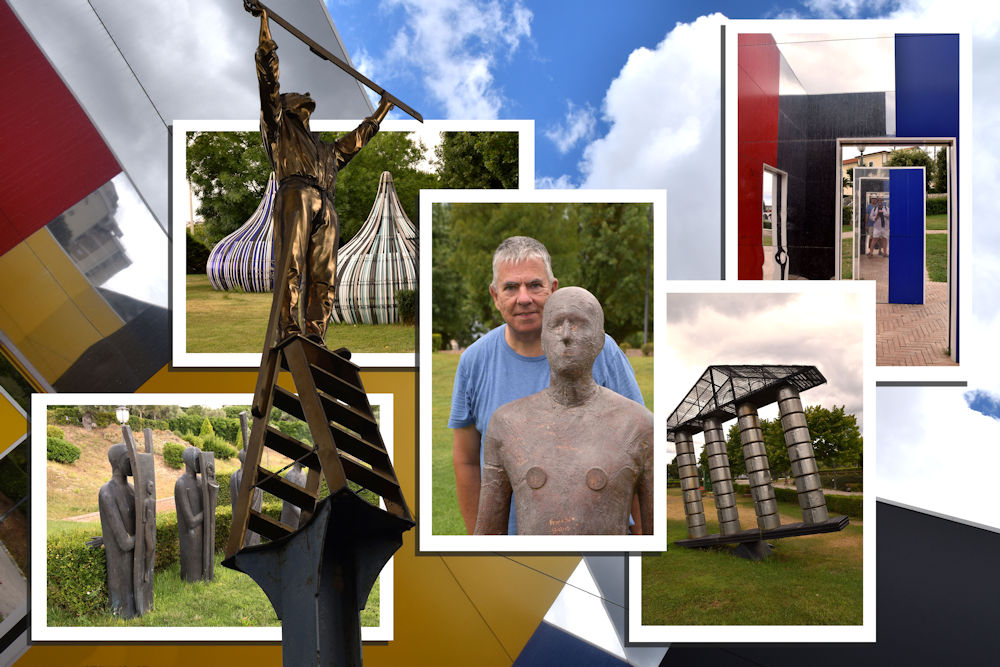 We loved seeing all the sculptures, but our favourite was Gormley's Seven Times. Click HERE to see his Another Place in Liverpool and HERE to see his monumental Angel of the North.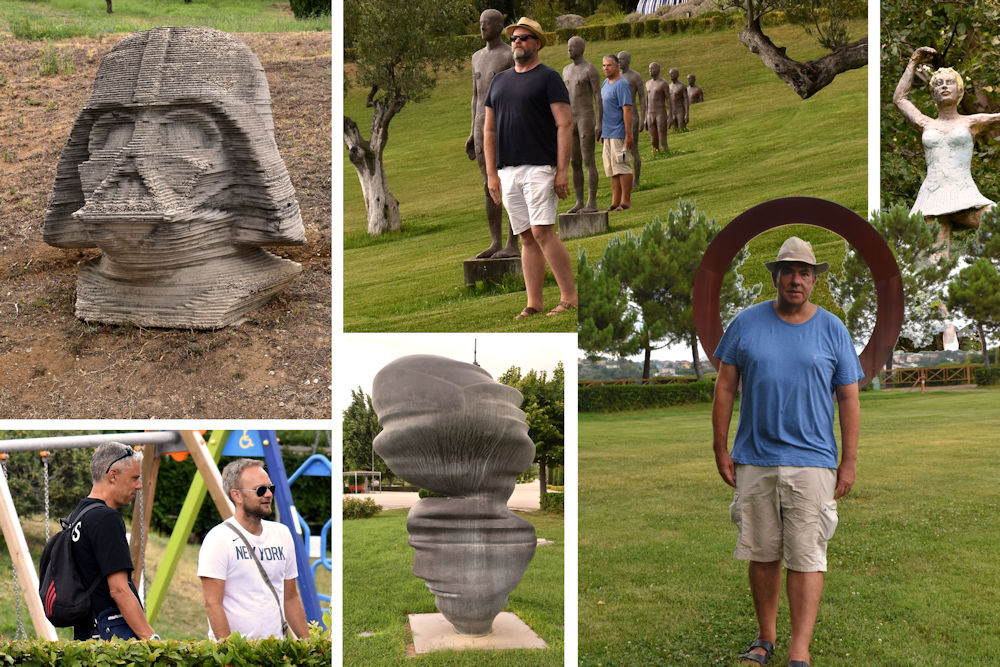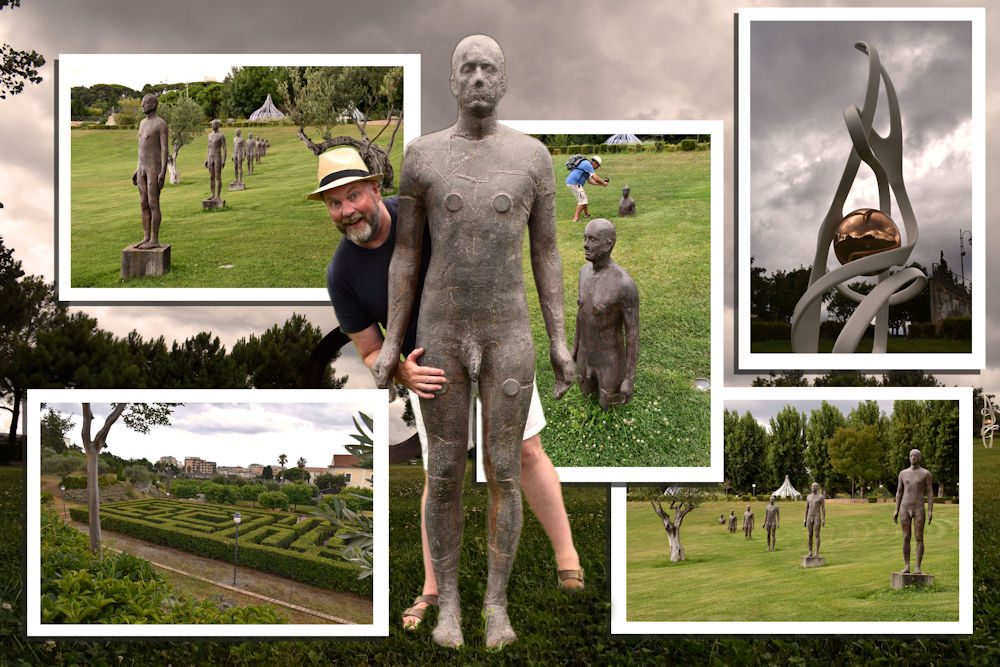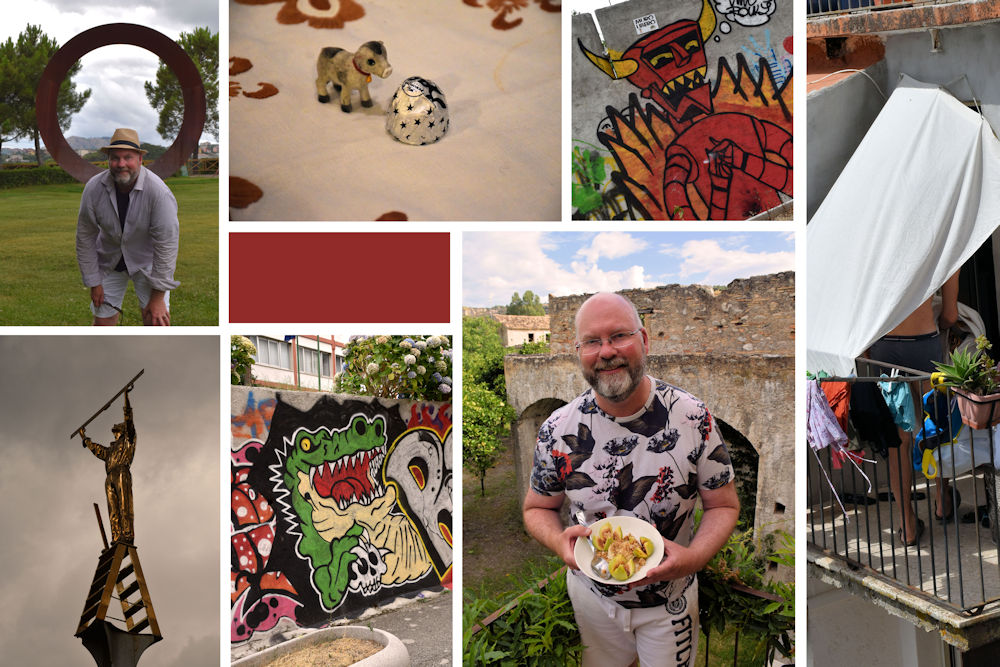 Tiny Cow celebrated his third birthday with a Bacci. Click HERE to see his first day with us. Also spotted: Man in Underwear on Balcony, a bingo bonus!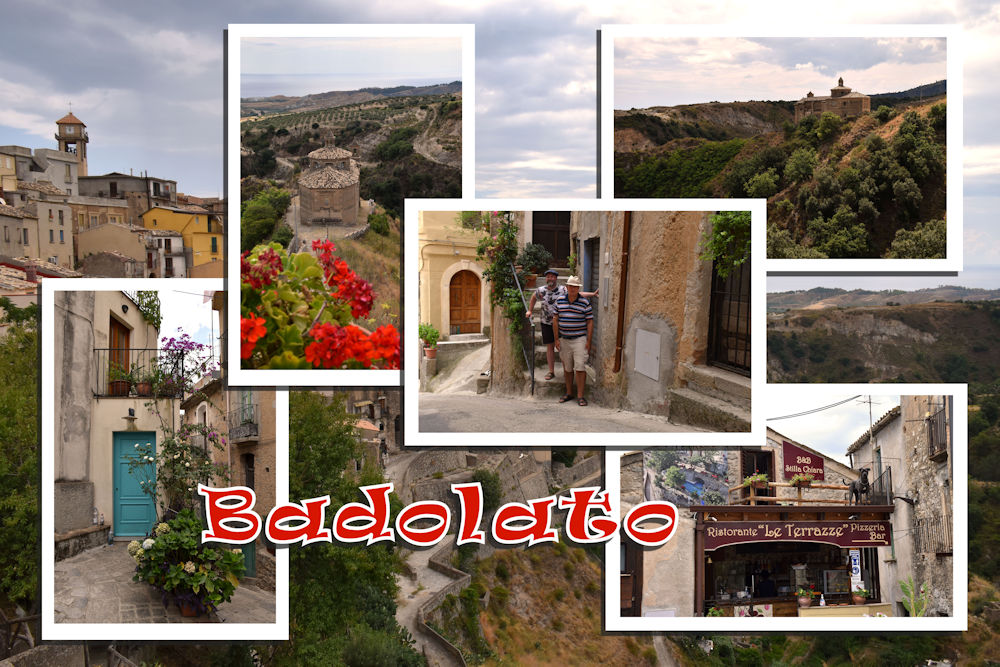 Not on our itinerary, Badolato was recommended by our host, and it proved to be a wonderful town to discover.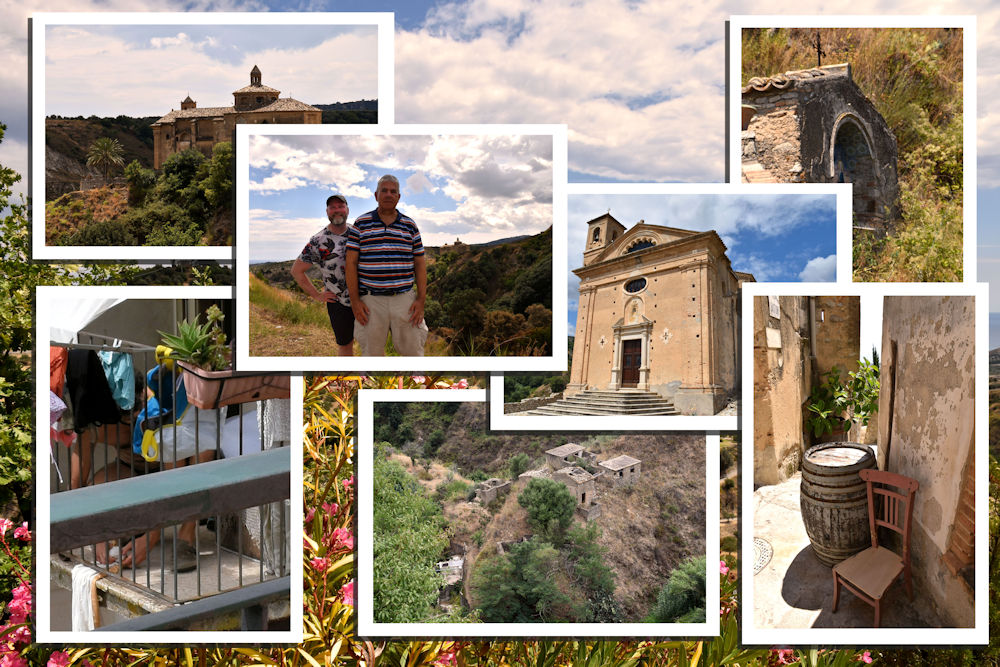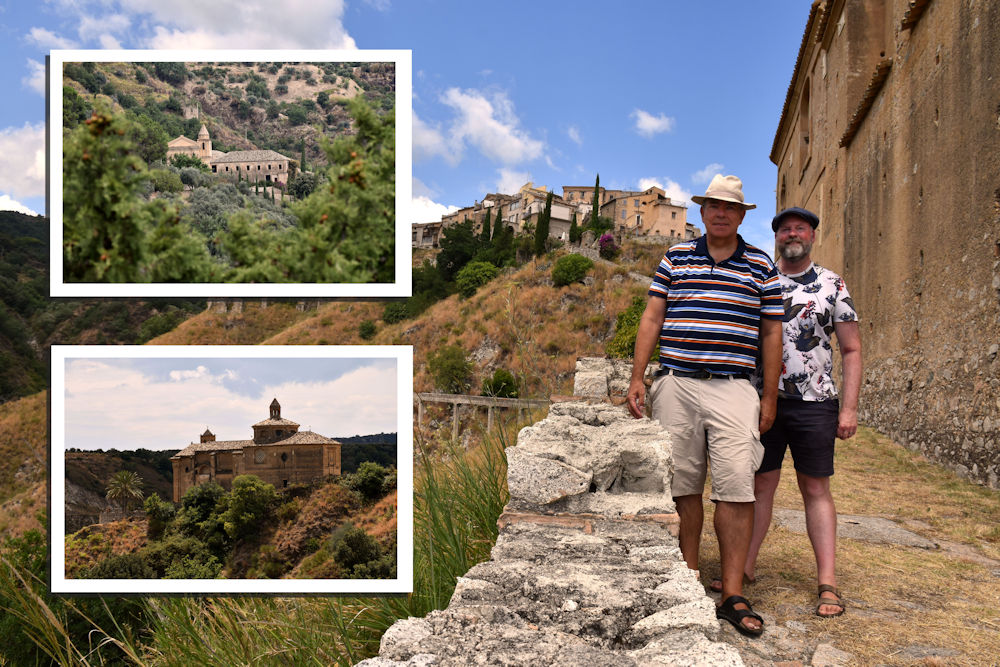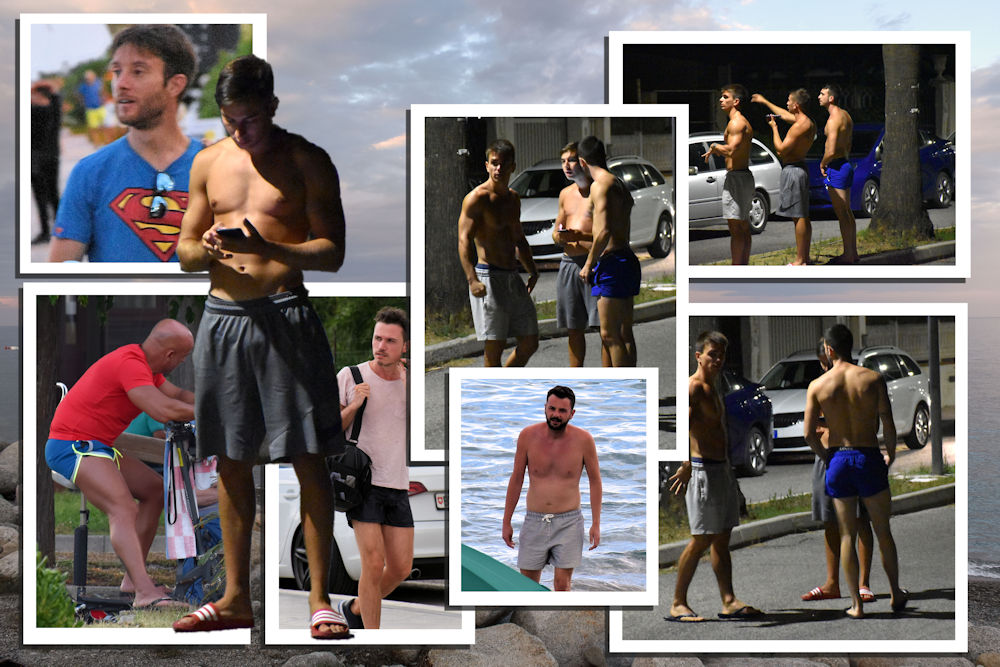 Our last evening at Guardavalle beach, including Superman (click HERE for more).
Advent



The fun started in Spring 2020. .