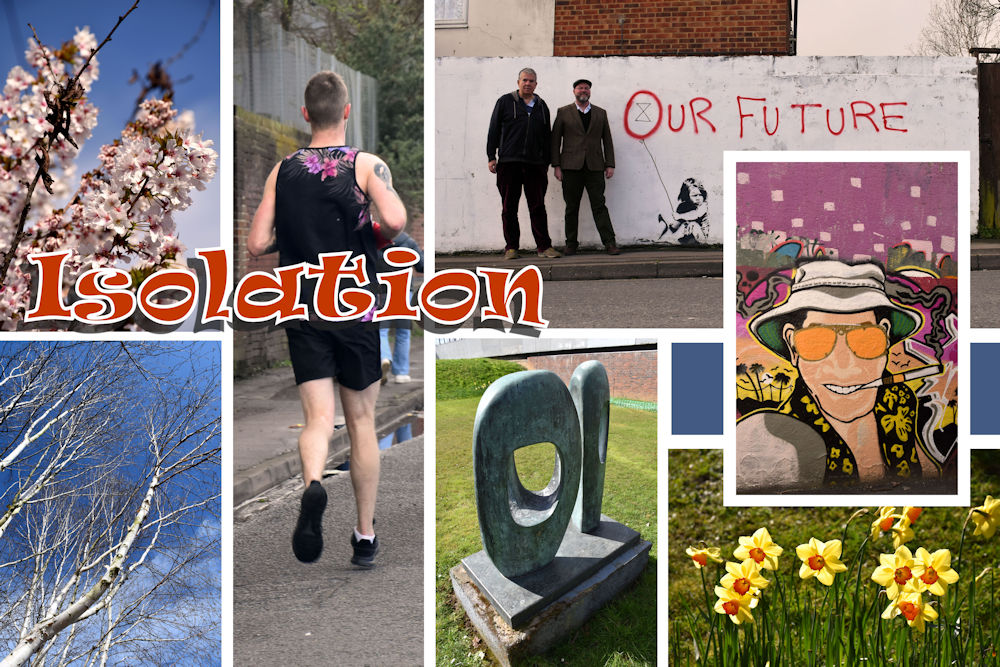 Like the rest of the world, we spent April in relative isolation, hiding from the dreaded virus. We were allowed out for walks and shopping and we made the best of things, discovering beauty and fun along the way. Photos above include a suspected Banksy in our town and a Barbara Hepworth sculpture at the university. Click HERE for earlier photos from Spring 2020, including our trips to Paris and the Isle of Wight. The fun continues on our Summer 2020 page.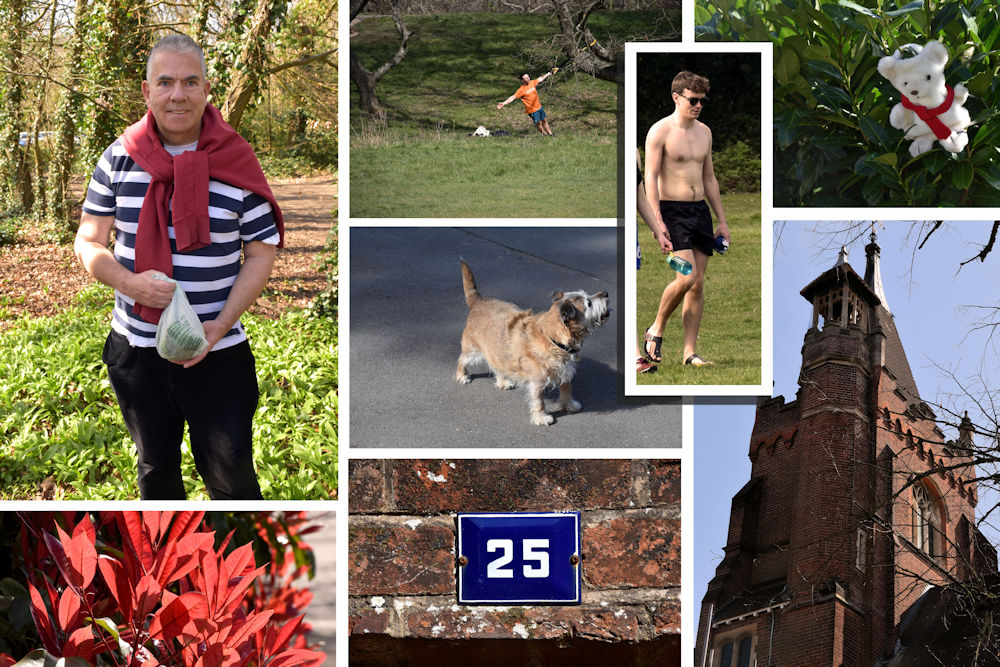 Our walks to the Common coincided with wild garlic season. Tyson, our neighbor dog, was there one afternoon, chasing after men in shorts.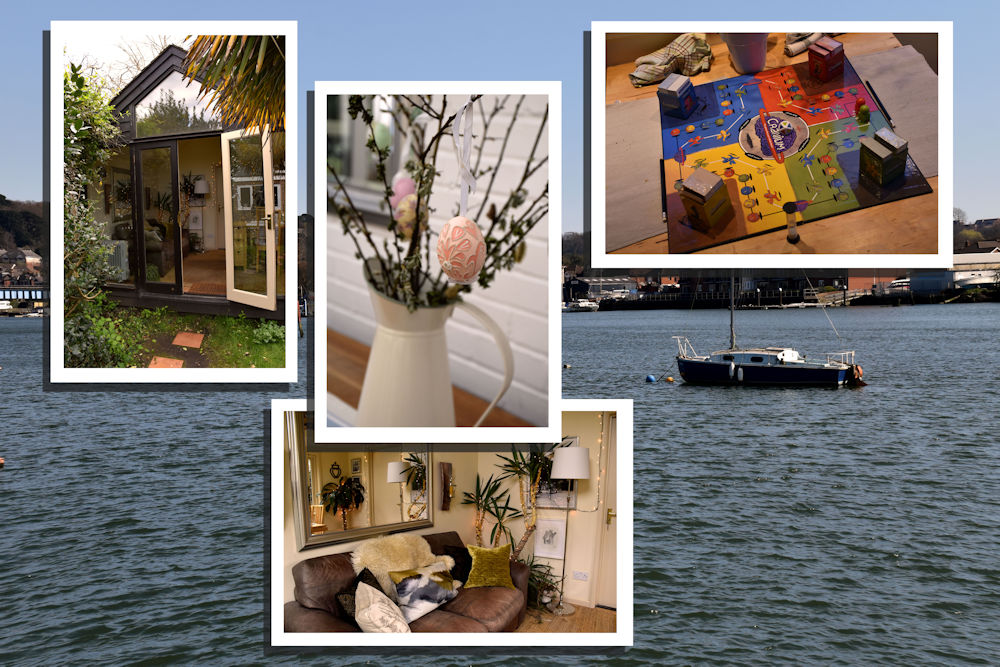 At home, we got value from our garden studio, where we shared meals, played games, and watched quality television.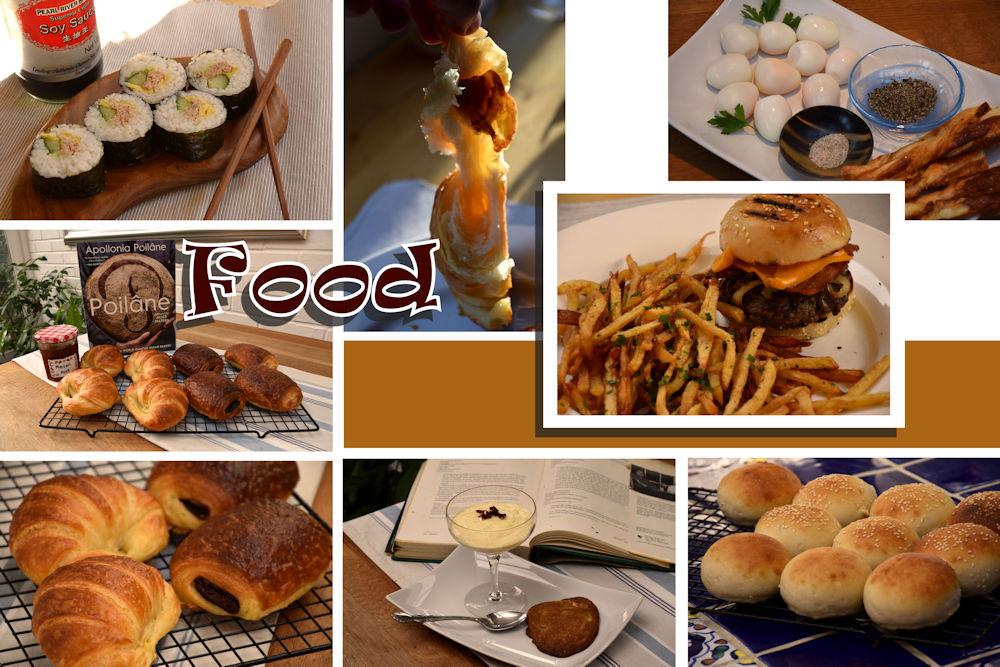 Having more time at home meant being experimental in the kitchen. I finally managed good croissants, the quails' eggs were free from the farm where Nick's workplace is, and the mousse was made from a single Meyer lemon brought back from California by a book group friend.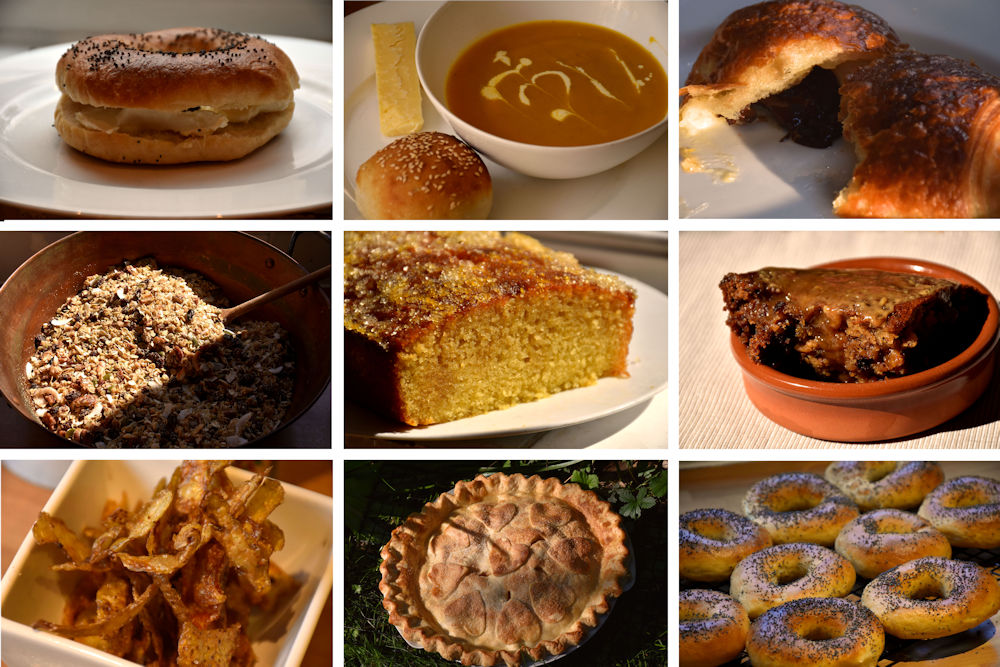 Bagels, Felicity Cloake's lemon drizzle cake and sticky toffee pudding, and even potato peel crisps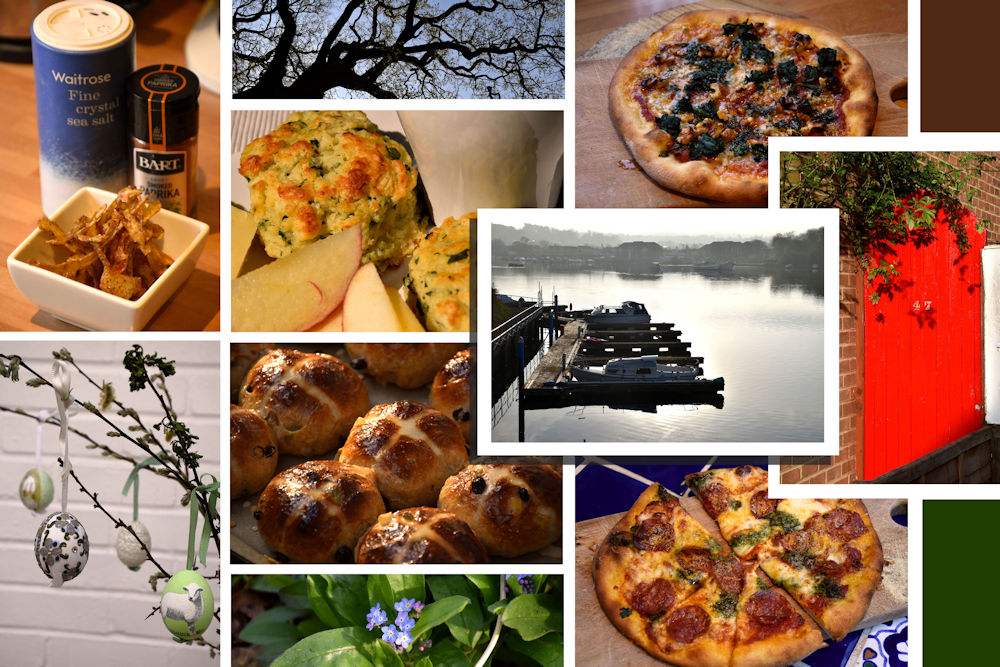 Easter came along and we had homemade hot cross buns and pizzas with wild garlic and hazelnut pesto, both made with ingredients brought back from Sicily.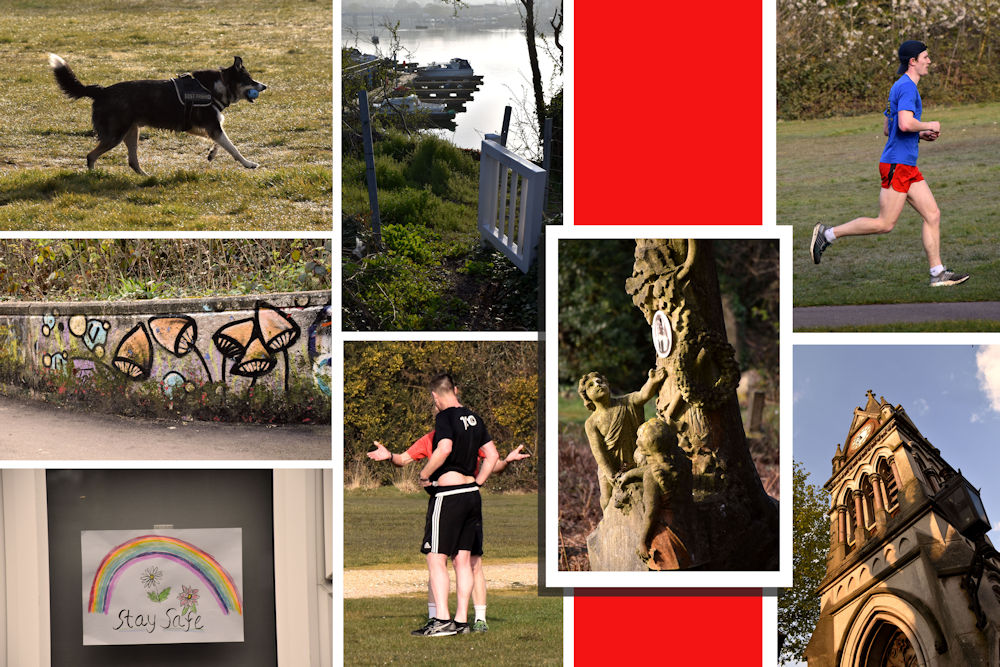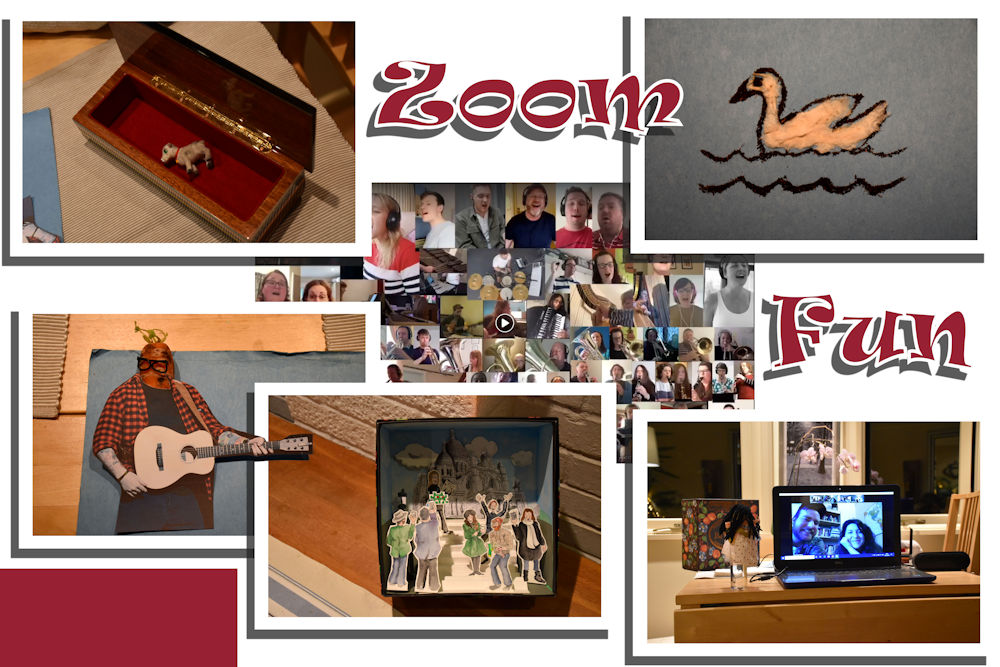 One of our funnest discoveries was Zoom and making videos. I contributed to a Music Teachers Virtual Orchestra project and we met up with friends and family from our Paris Christmas, completing Taskmaster tasks. We were asked to "Have something unexpected wrapped in a dishcloth". I created a diorama depicting our group in Montmartre and Nick hid Tiny Cow inside his box from Sorrento. We also had to "Make a fruit or vegetable into a person" (Nick's Ed Sheeran carrot, above) and "Make something beautiful out of a teabag".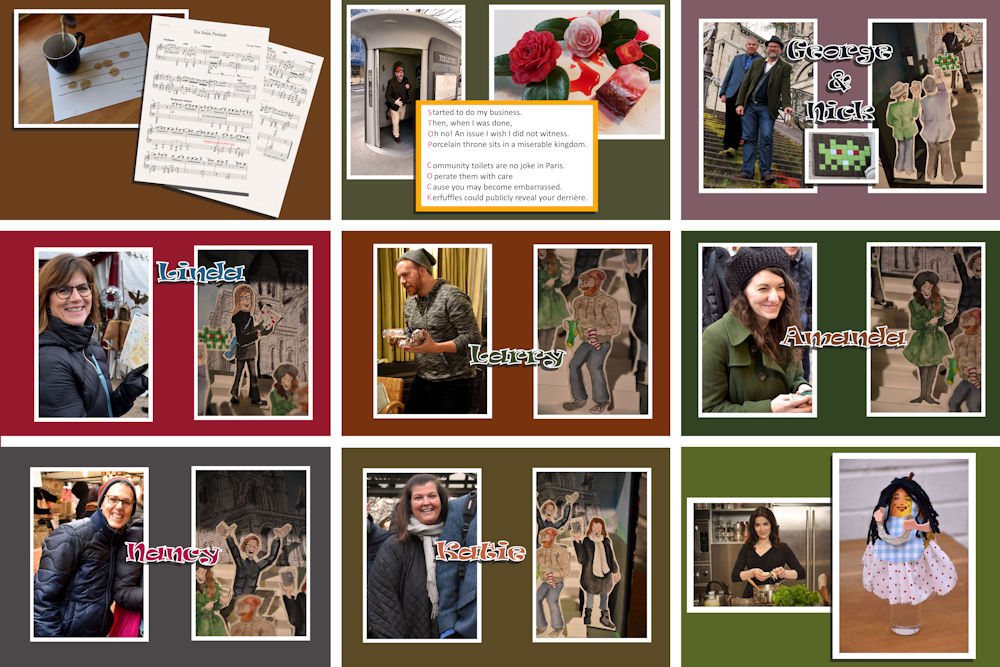 Above is my Tea Stain Prelude, Larry's contribution to "Write a poem about plumbing in which the lines start with the letters S T O P C O C K", Amanda's tea bag art, my Nigella Lawson pear, and details from the Paris diorama.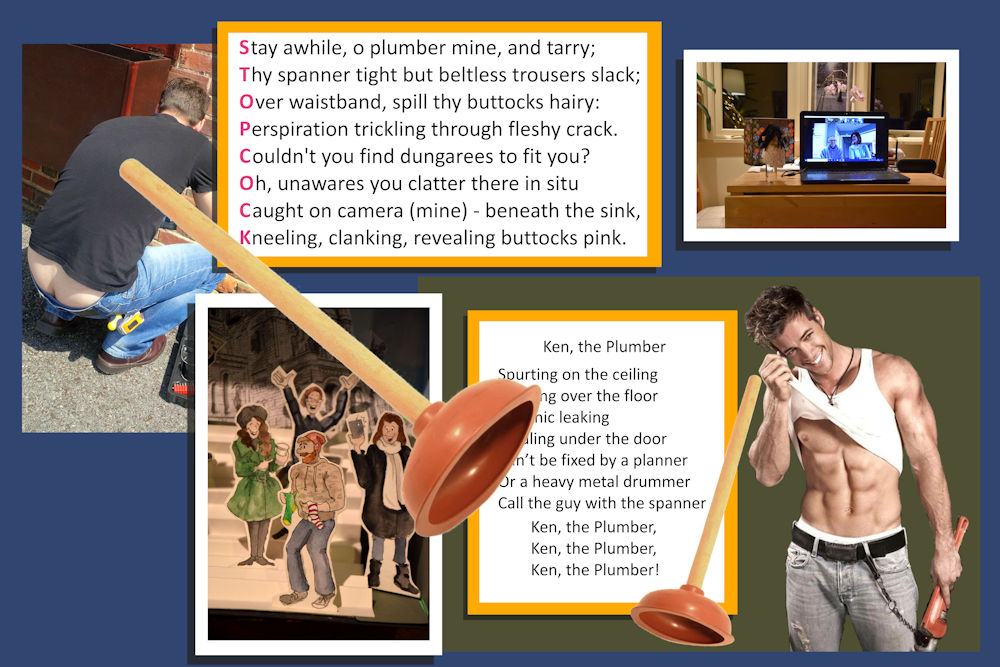 Our plumbing poetry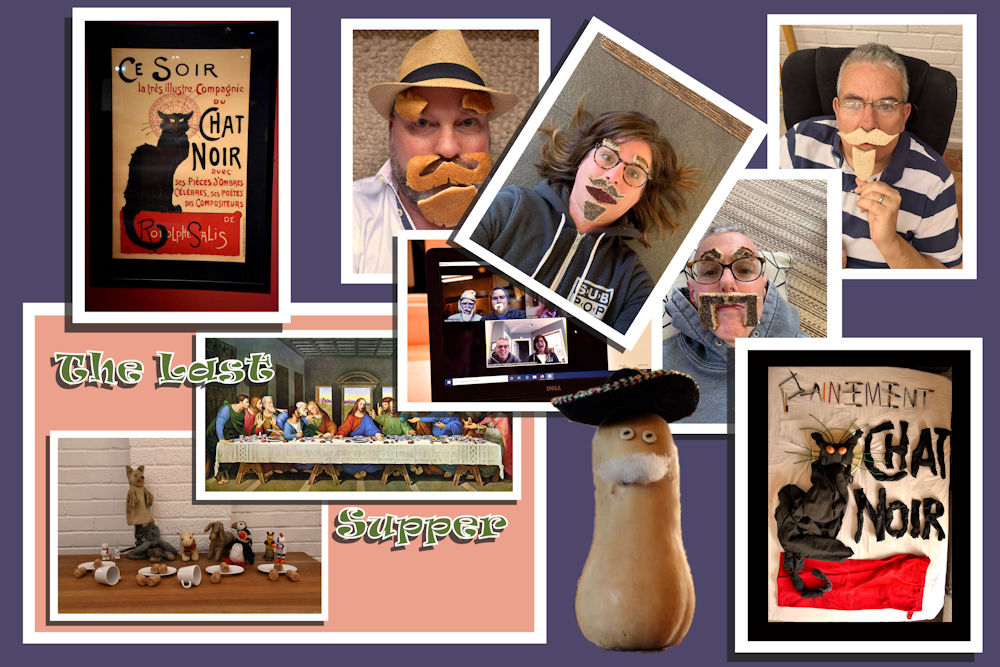 Our second week of tasks had us "Using only a slice of bread, make yourself the best eyebrows, moustache, and beard, then capture them with a selfie" and "Re-create a well-known painting (or one we saw together in Paris) using household objects".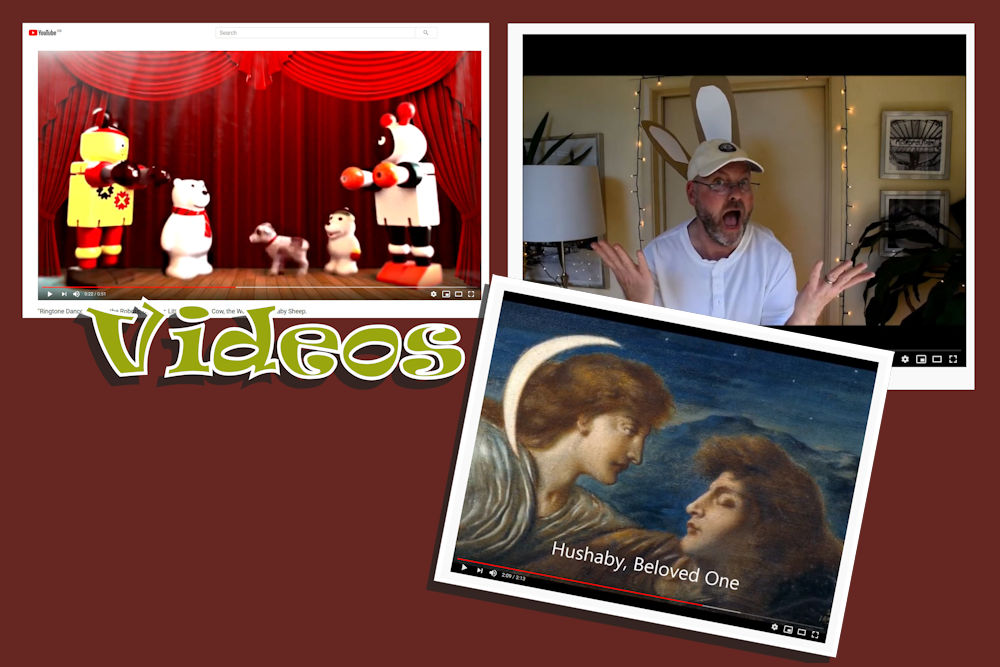 We were also asked to "Perform the best choreographed dance to a cell phone ring tone, either live or video". Here is Nick's video and here is mine. For the bottom picture, we created an original lullaby.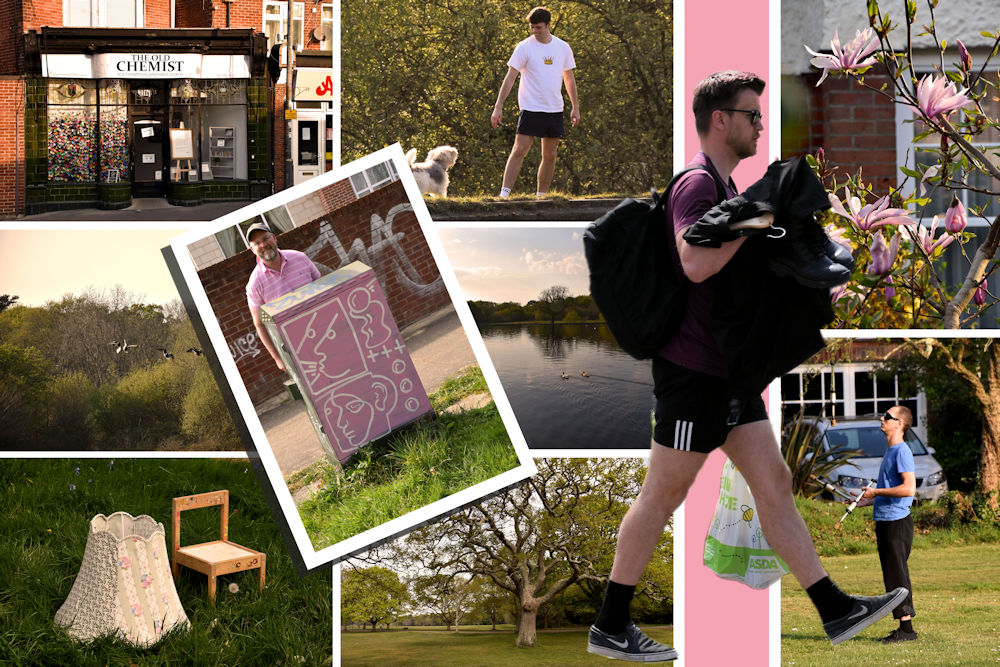 Meanwhile, back on our walks...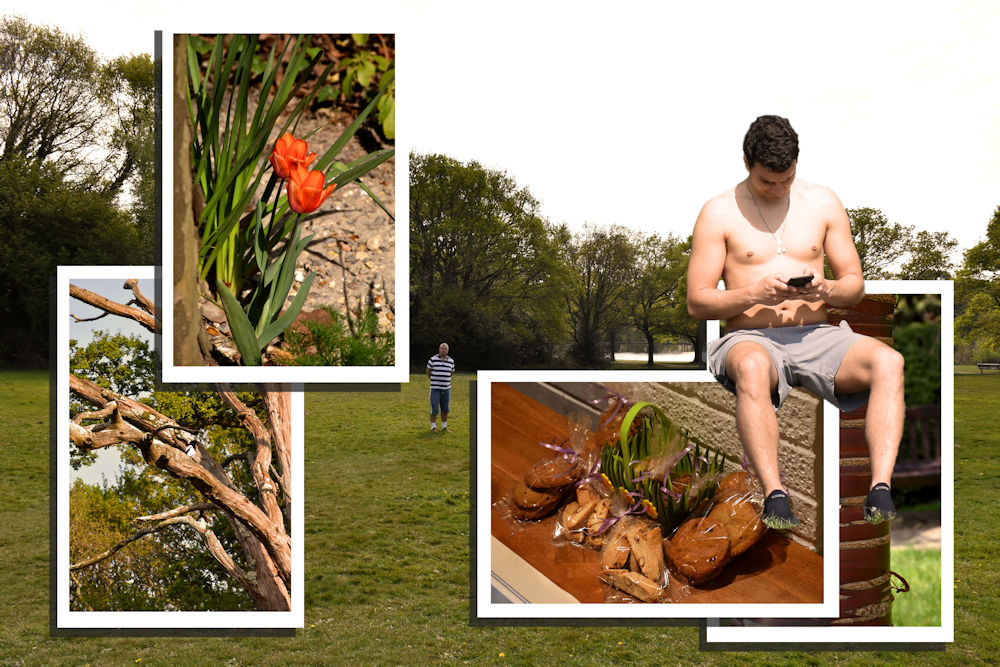 Nick's Easter basket contained Toll House chocolate chip cookies and almond cantucci.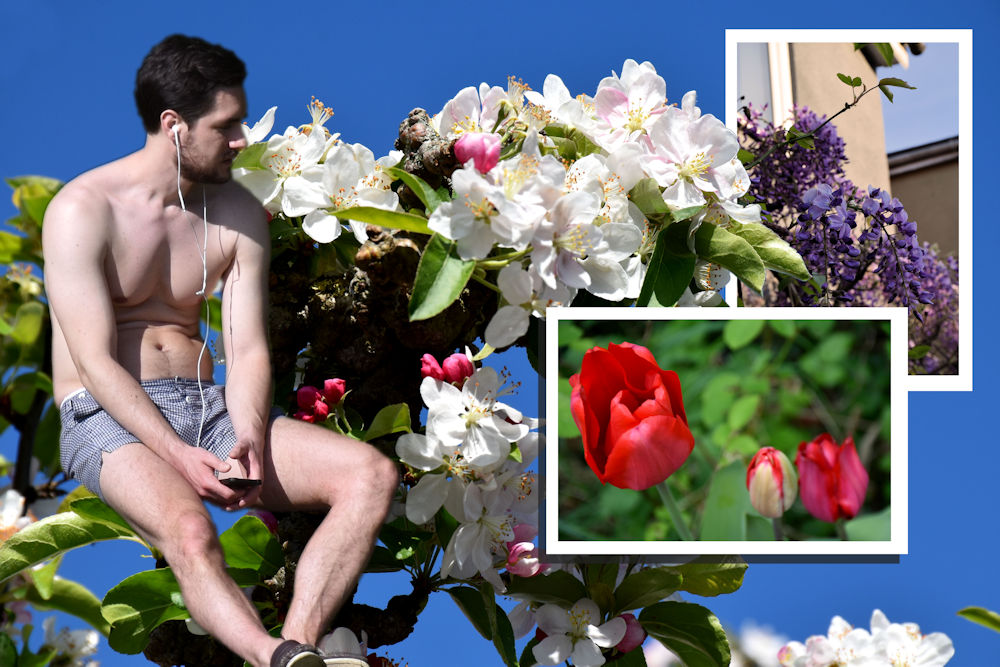 I am reminded of the cow, Milky White, from Into the Woods. The tulip bulbs (Red Impression) were bought in Amsterdam and the wisteria, which now covers our house, was once a birthday present. It is my favourite scent.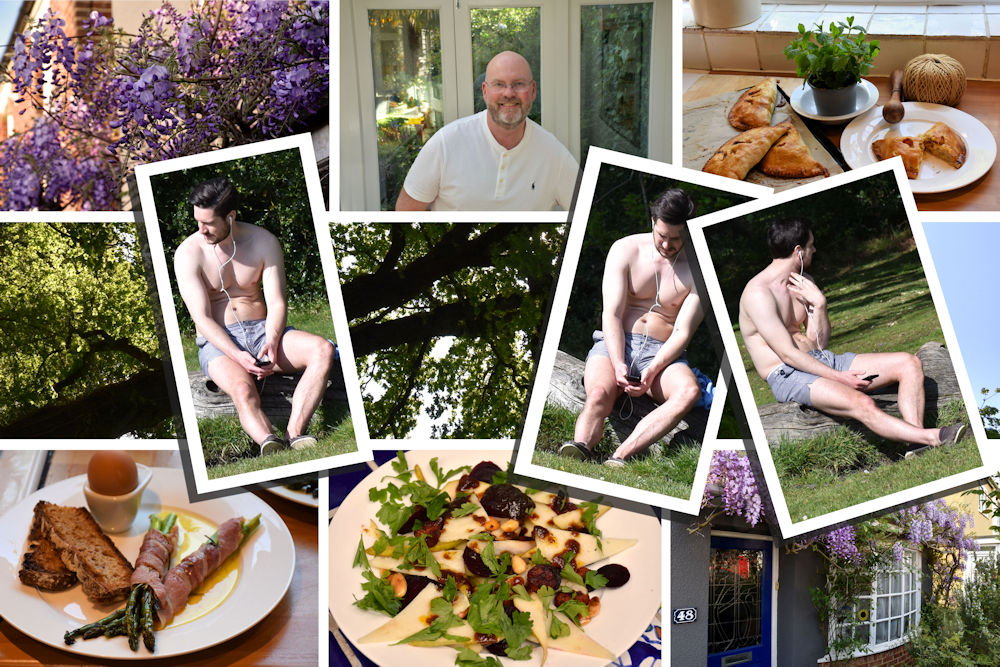 More shots of Milky White plus some of our home cooking: vegetable pasties (made for an instructional video for school); asparagus wrapped in bacon with rosemary and anchovies, served with a boiled egg and homemade sourdough toast; and chorizo, pear, and almond salad with membrillo and sherry vinegar dressing.

For our next Zoom call, we were asked to create a food that would last until we next meet in person. Nick made sage liqueur and I made candied orange peel. We also had to broadcast our call "from an exotic location". We chose Paris, Amanda and Larry went Under the Sea, and Linda and Nancy channelled the Tiger King.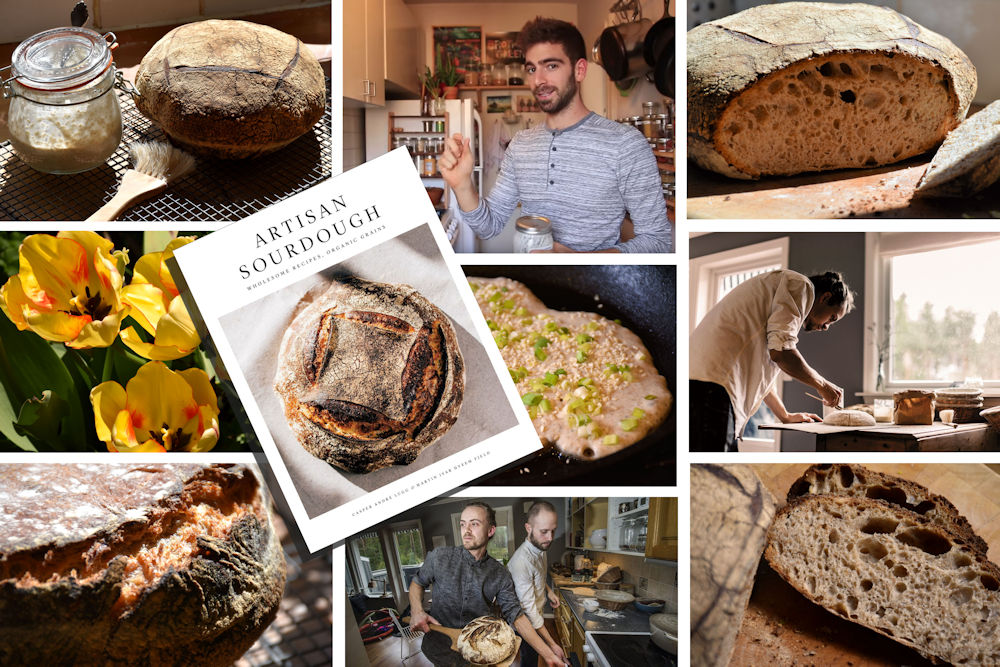 Pictured above is my first really successful sourdough baking, courtesy of the Artisan Sourdough book by Martin Ivar Hveem Fjeld and Casper Andre Lugg and Mike Greenfield's scallion pancakes.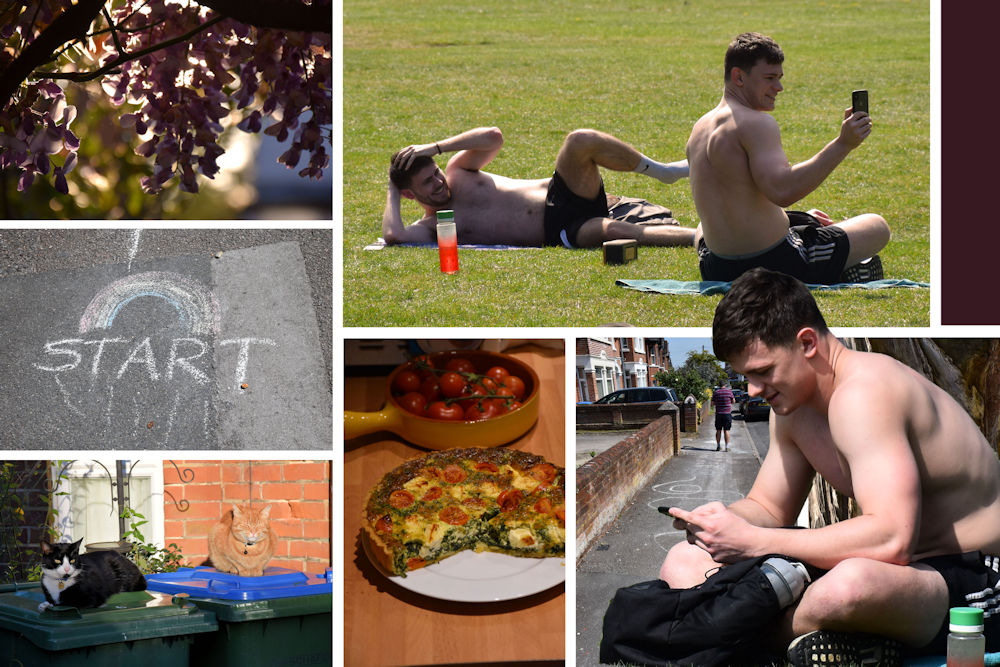 A few more sights from our infrequent walks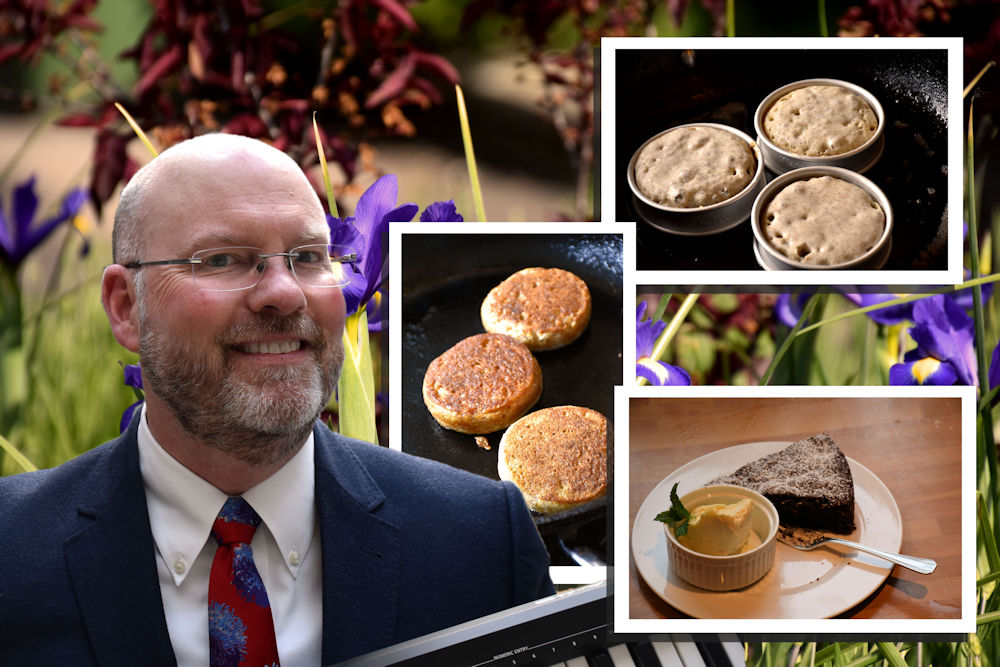 More baking, plus a rare spring photo of me in something other than a t-shirt and hoodie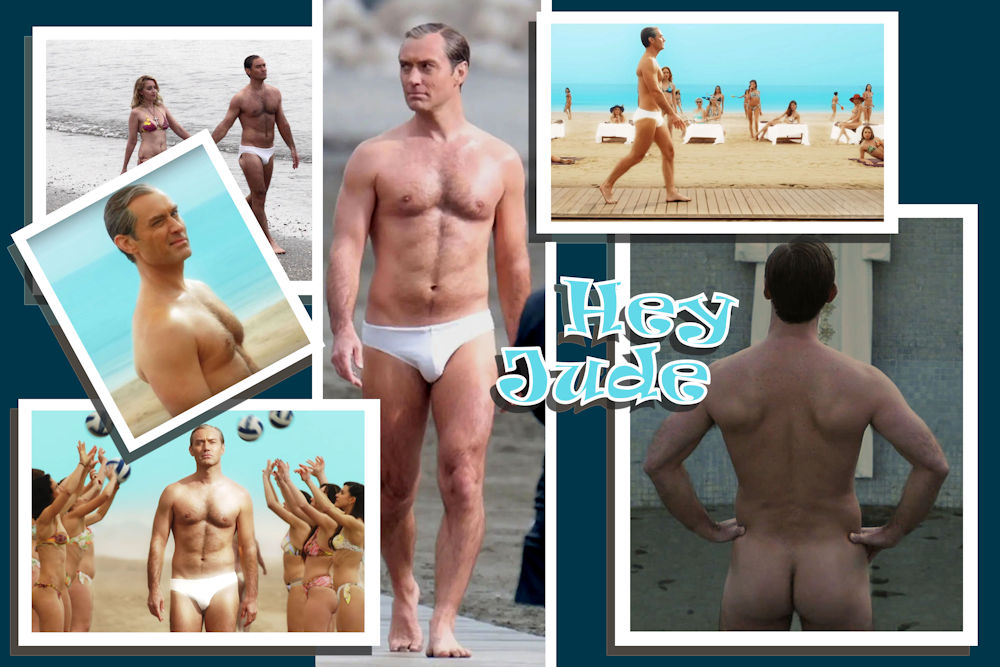 Nights at home made watching Jude Law in The New Pope a necessity. Other actors appeared in the series.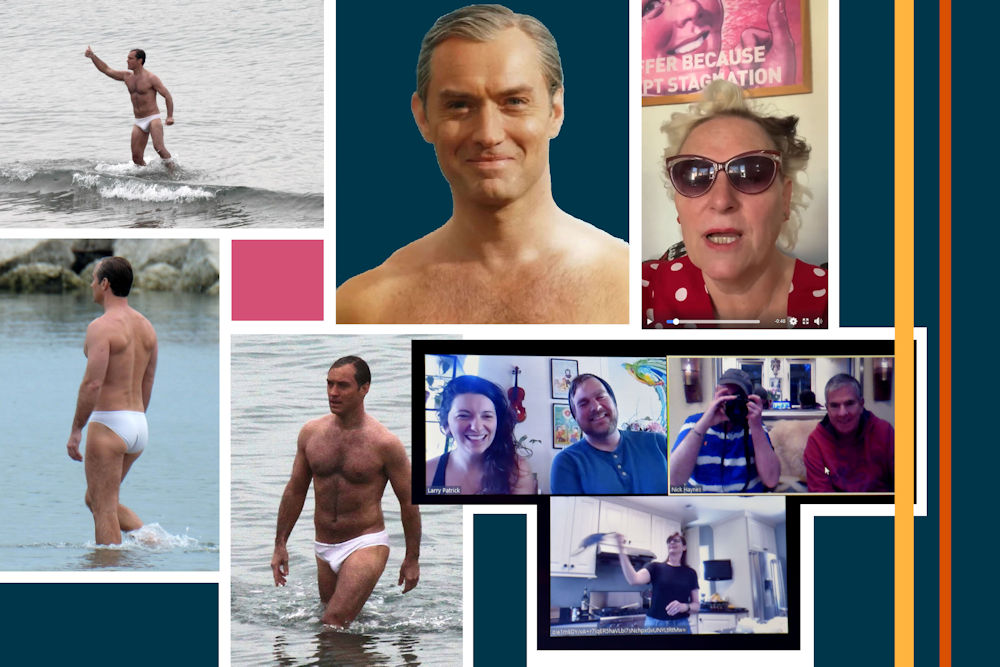 More Jude Law popery and back to Zoom. Our Taskmaster tasks this week included 1) During our call, make something spin for the longest period of time, and 2) Watch this video of the woman giving a short autobiography. After the video, try to guess what her childhood ambition was.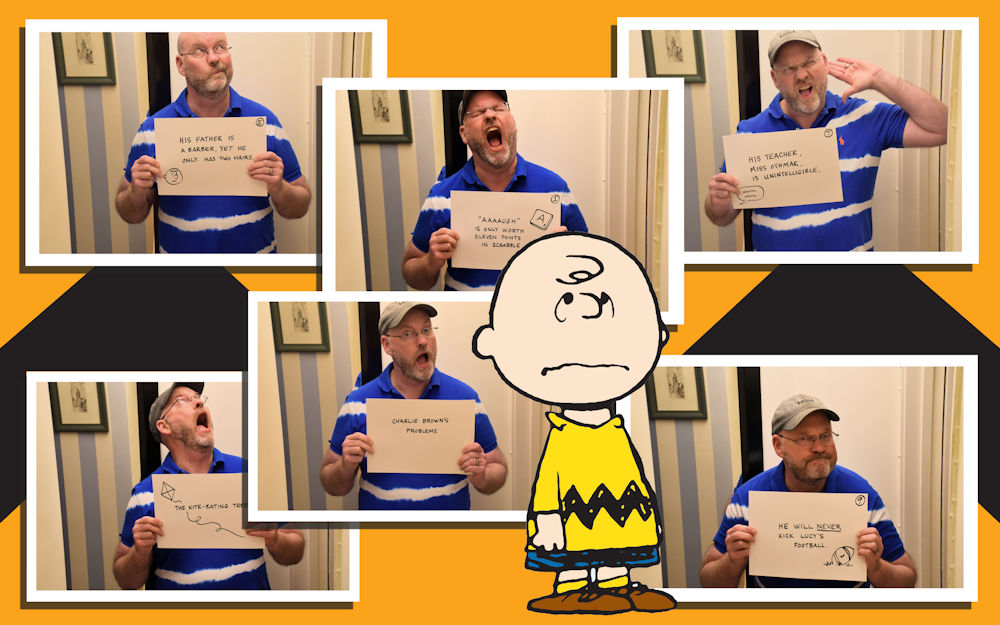 Our third Taskmaster task was to 3) Take 10 photos yourself holding different things, each thing smaller than the last. I thought outside the box and presented the Top Ten Problems Facing Charlie Brown. Nick's video of animals in descending size is HERE.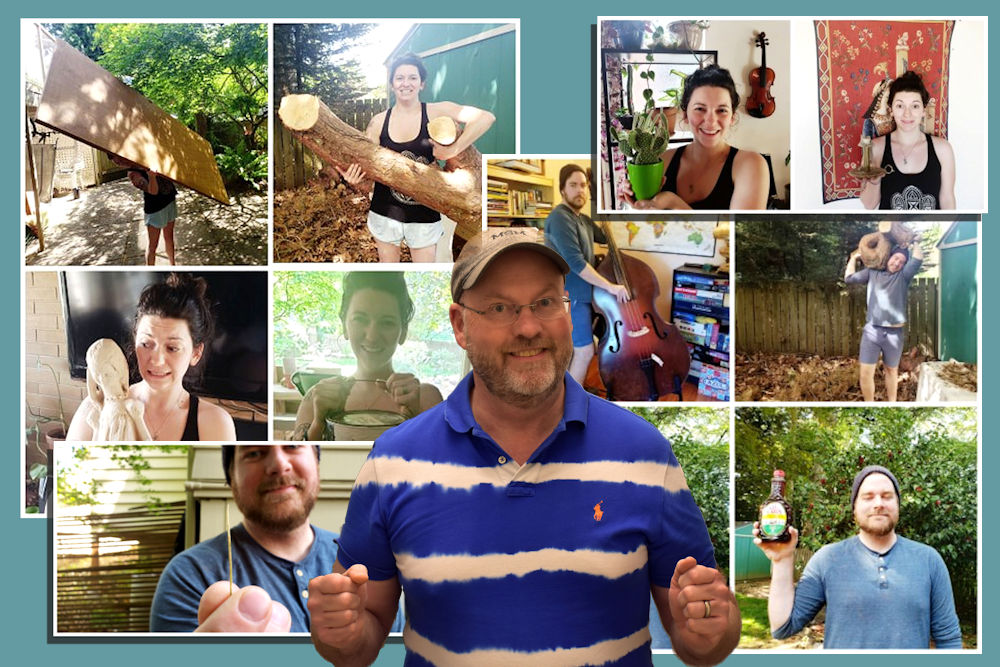 These are Amanda and Larry's 10 things in diminishing size.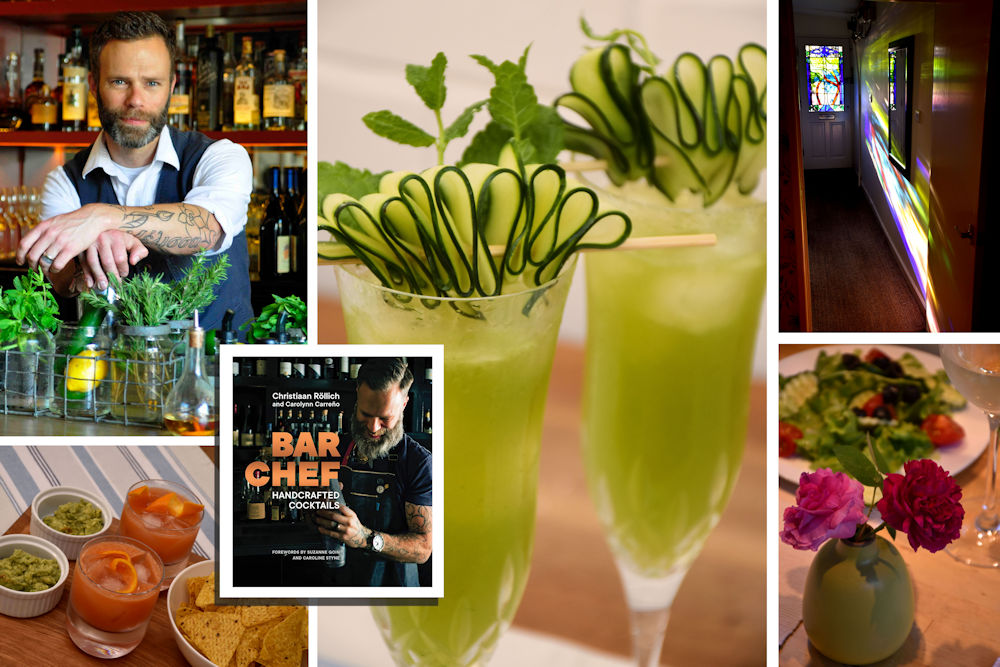 Rus gave us an ambitious cocktail book by Christiaan Röllich which inspired us to steep licorice and chile de árbol, juice cucumbers and jalapeños, and use mezcal and absinthe. The roses from our garden smelled Turkish Delight lovely, and Kate's stained glass continues to fill us with awe.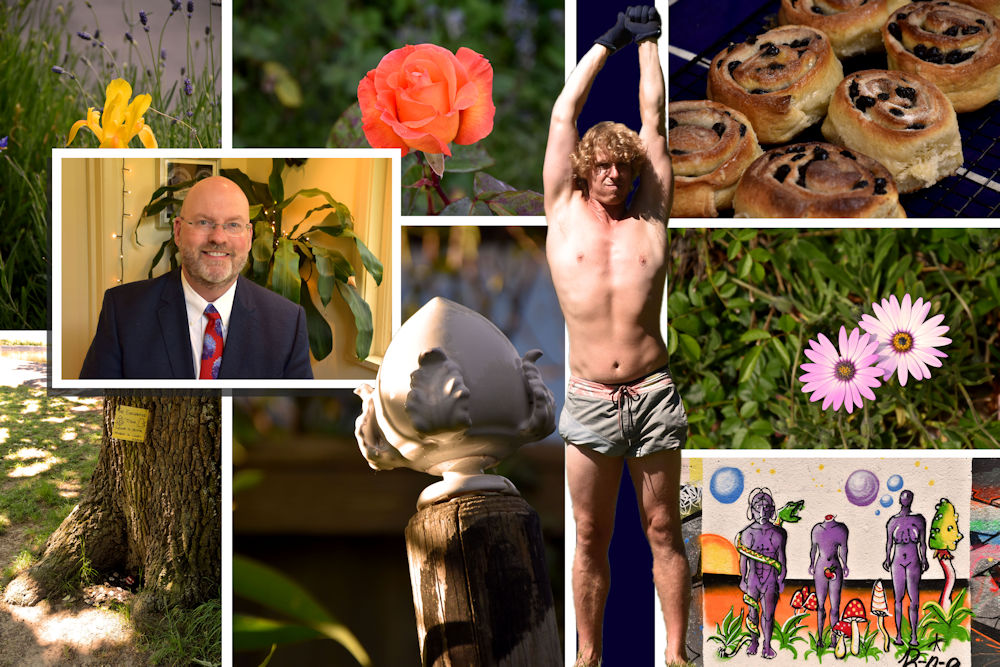 A wishing tree and the shirtless man I saw immediately afterwards, me making work videos, Nick's Chelsea buns, new graffiti, and our pumo from Puglia.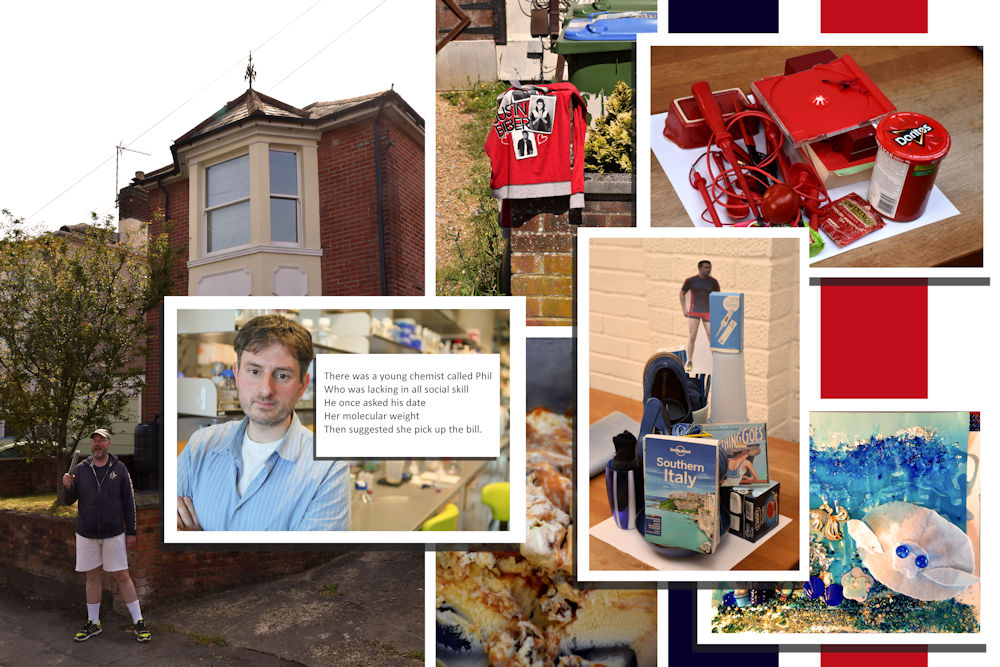 Brandishing a cucumber outside Neil's house, some Justin Bieber cast-offs, and three Taskmaster tasks: 1) Draw a 12 X 12-inch square. Put the most different blue/red things inside your square. 2) Write the best limerick that starts with the line, "There was a young chemist called Phil…" and 3) Design the best new ice cream and give it a fabulous name.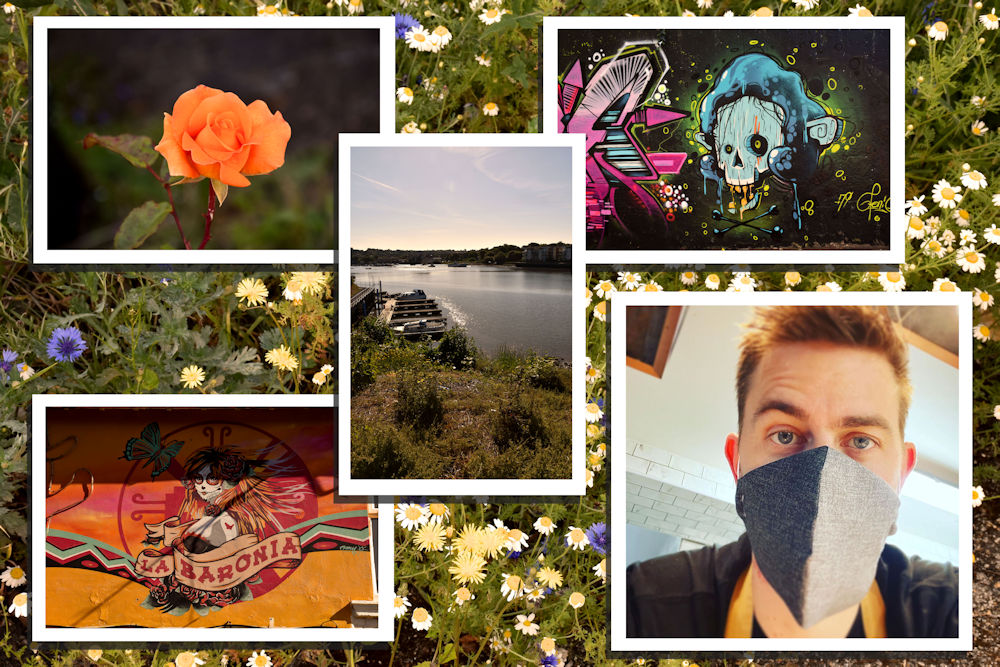 Scenes from our daily walk, plus our Cute MaskedChef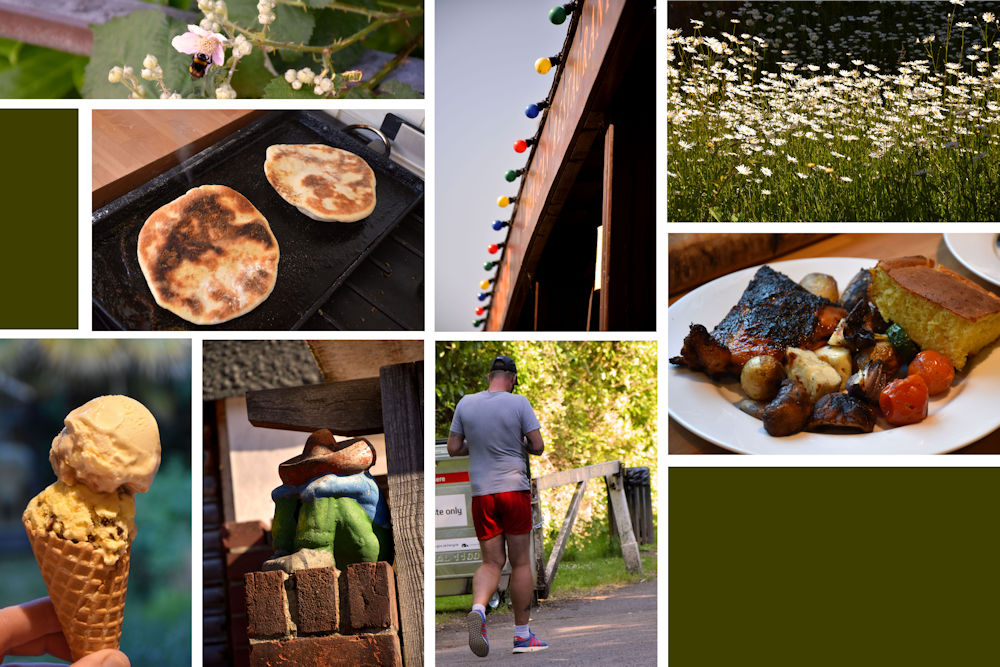 More of our ice creams, pita bread, and a barbecue meal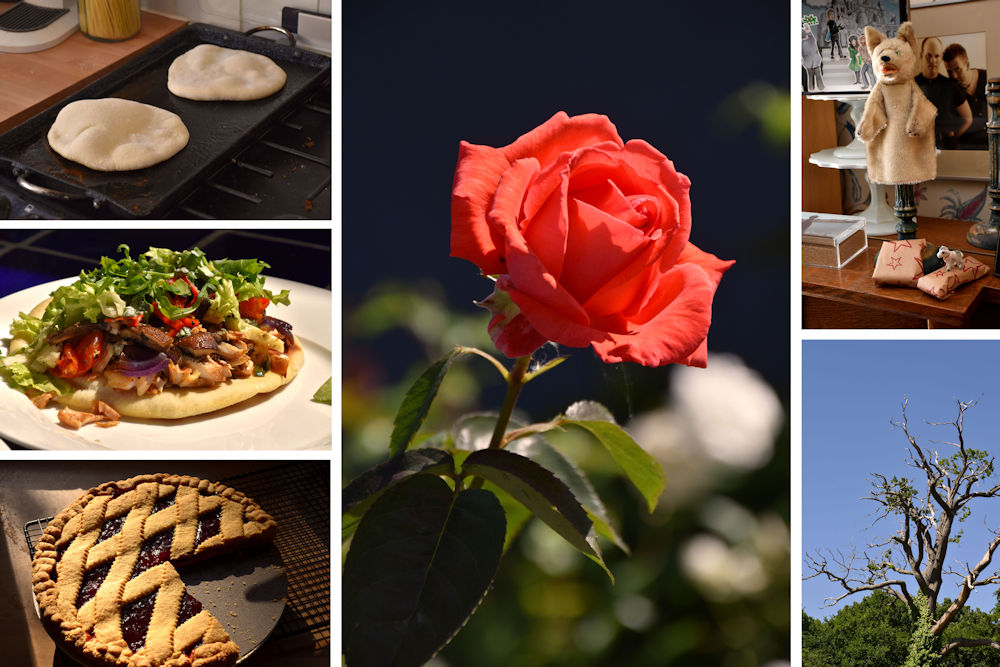 Birthday treats! Italian-style crostata, Greek souvlaki using barbecue leftovers, and gifts from The Wolf and Tiny Cow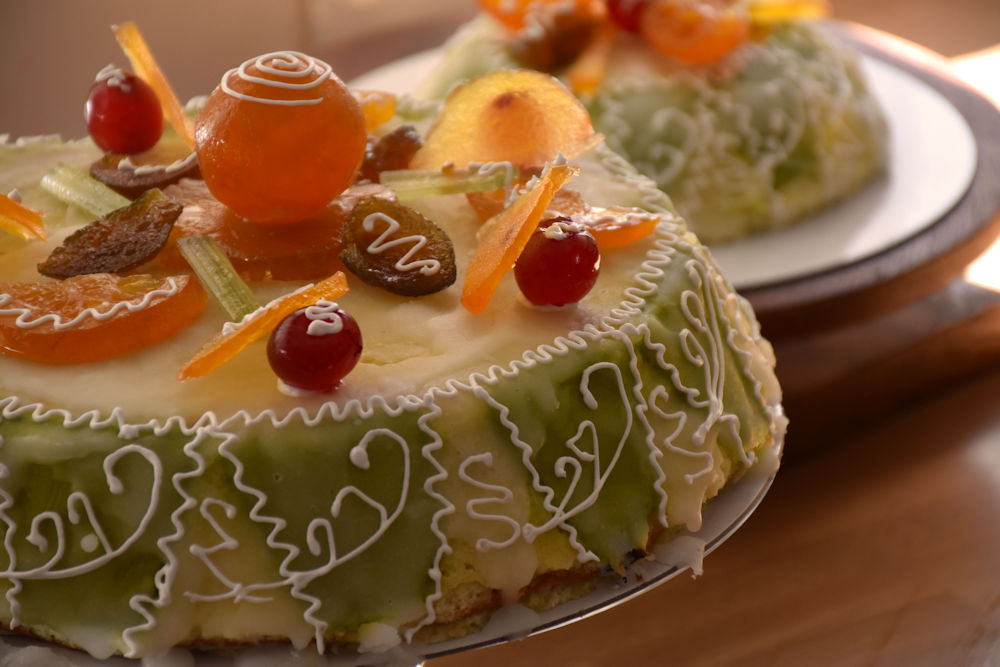 I was determined to make my own authentic Sicilian cassata for my birthday cake. These are the finished ones. Chef Giorgio Locatelli says that when decorating them, "the gaudier the better". I modelled these after one we bought last year for my birthday in Sicily.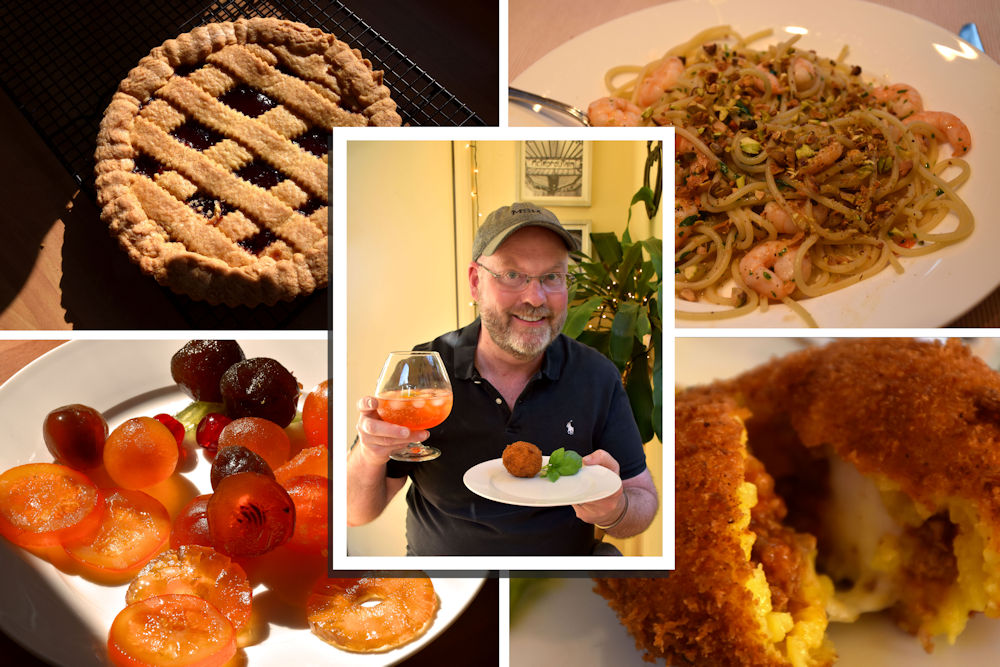 Candied fruits from Confiserie Florian in Provence, where we visited in 2006, another crostata, Girogio Locatelli's spaghetti with prawns and pistachios, arancini, and Aperol spritz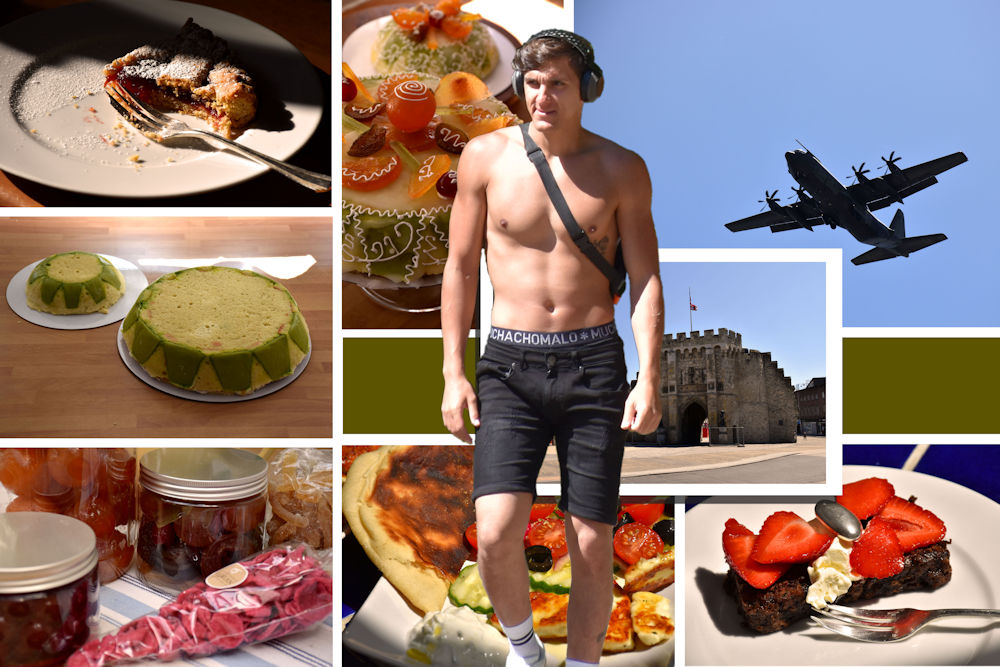 All the candied fruits Nick ordered from Florian, cassata in the making, sights around town, zucchini bread with strawberries and Sulmona confetti, Greek salad ans shirtless man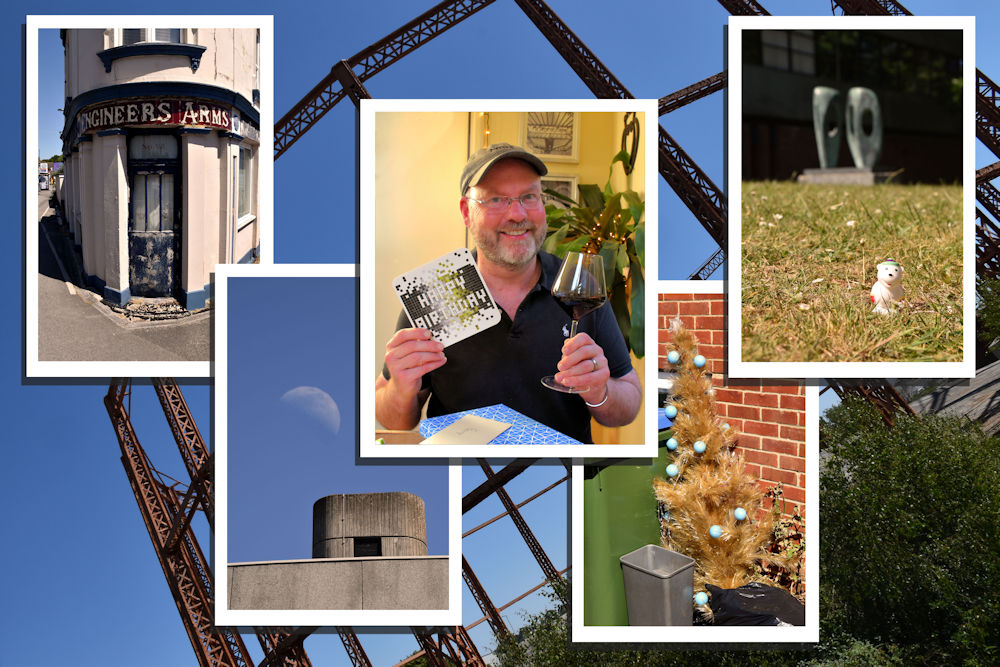 Scenes around town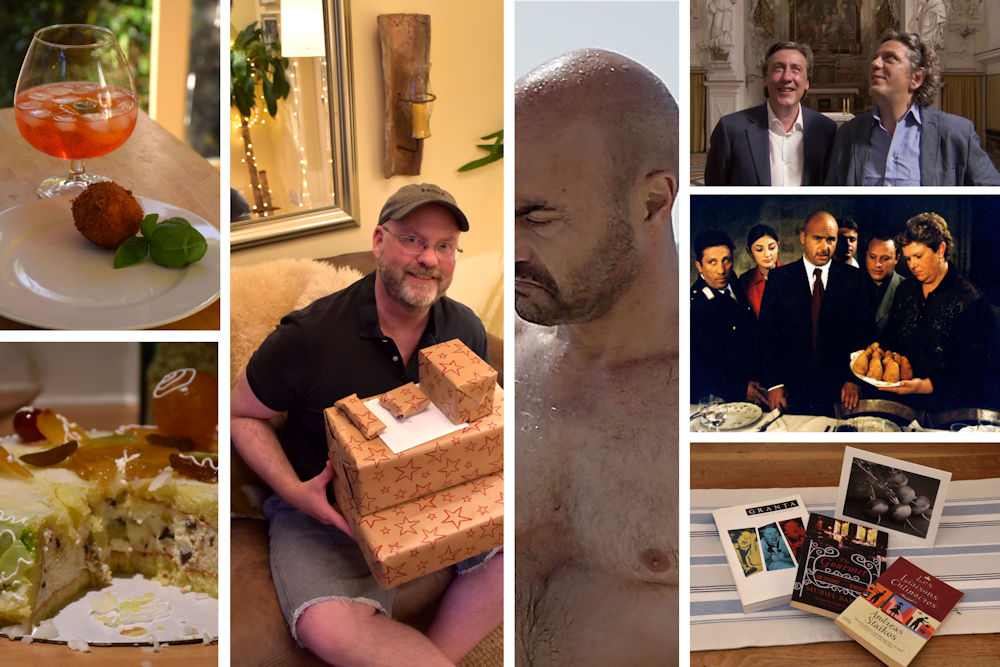 Arancini and cassata like Montalbanom gifts from Nick, Sicily Unpacked, and more gifts from a book group friend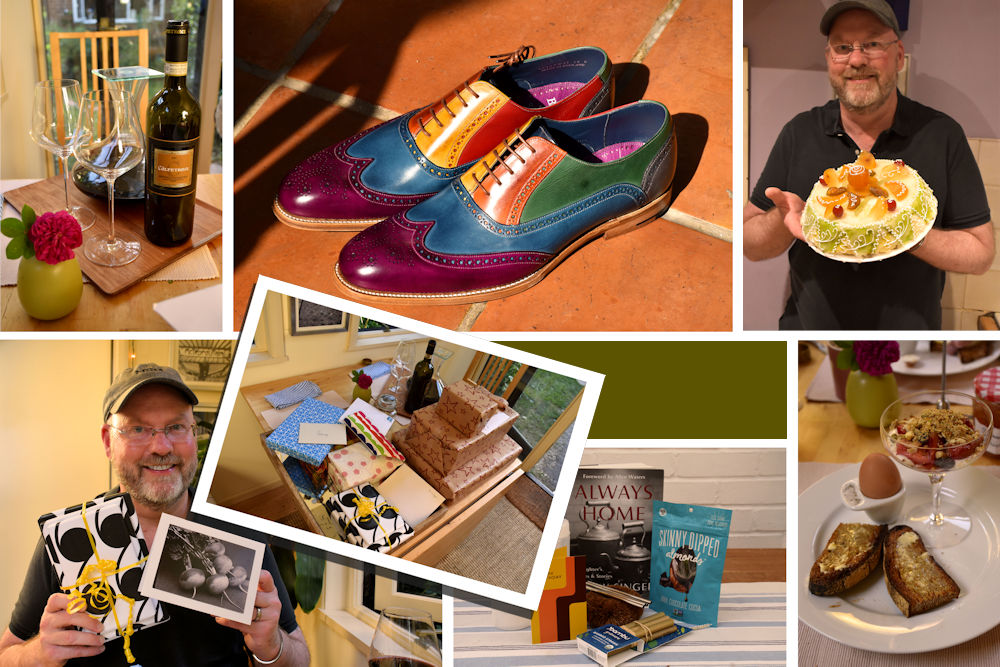 Gifts, Montefalco di Sagrantino wine, my New Shoes, cassata, and breakfast on the 30th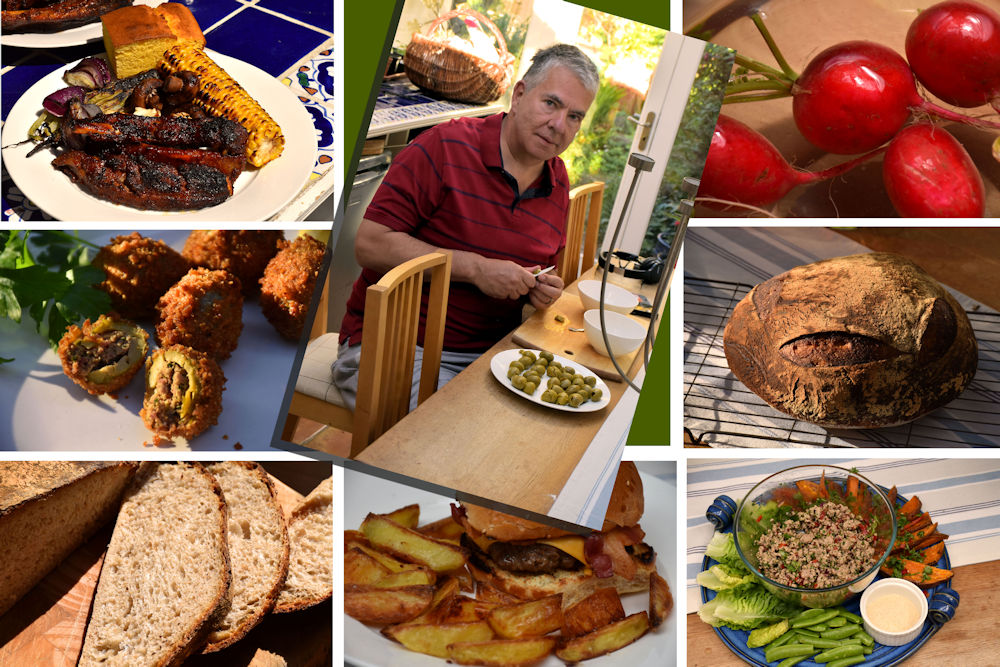 Barbecue, olive ascolane, just like we had in Le Marche, pork larp, and other springtime treats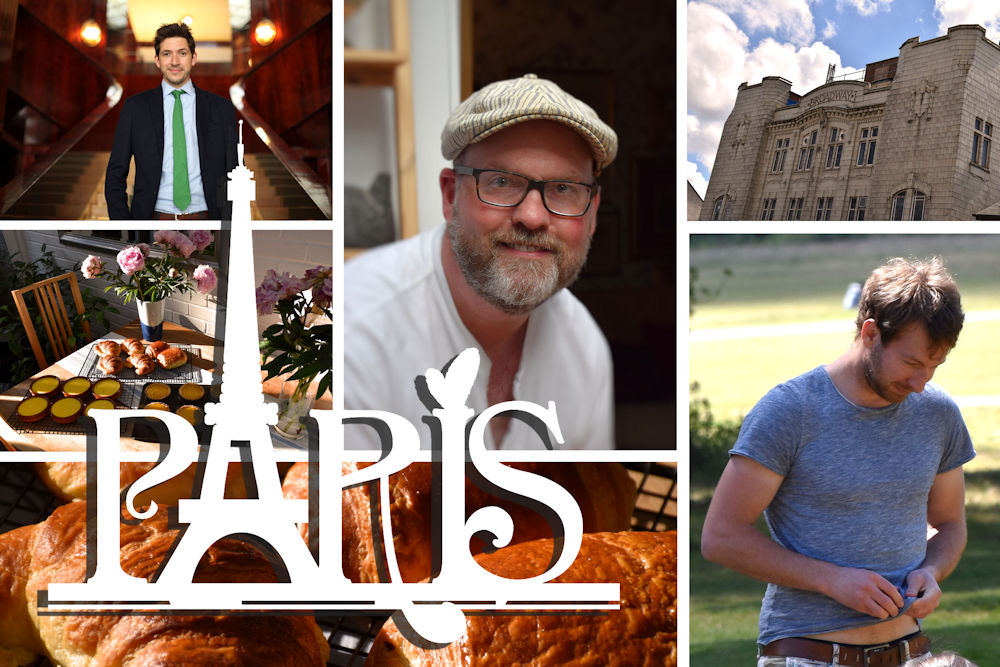 We had a virtual weekend in Paris, with patisserie, Dr James Fox, and a long walk into town.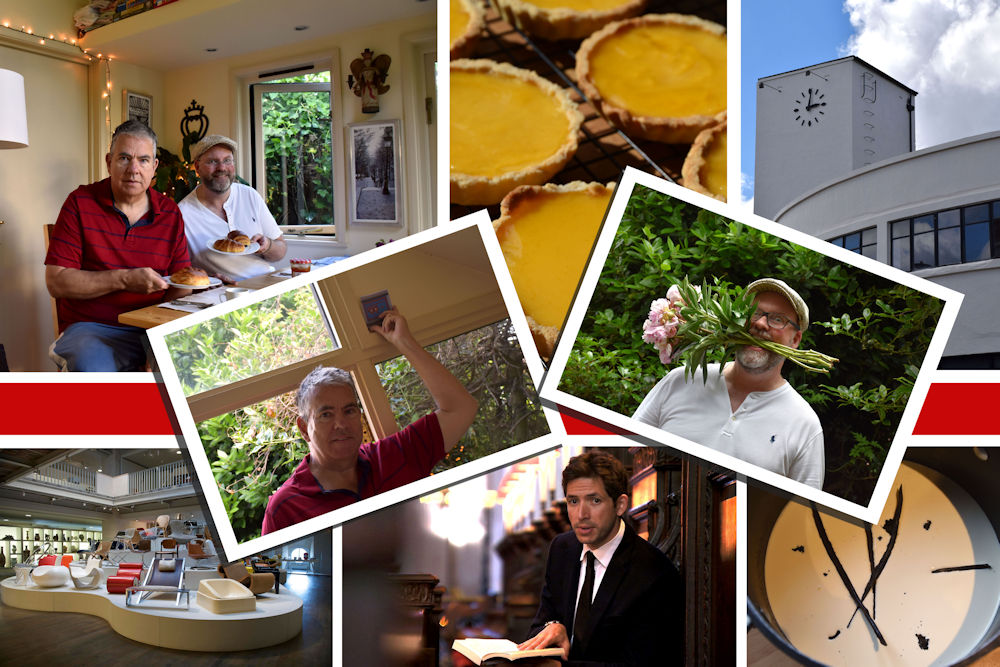 Breakfast in our garden studio, where Nick spotted the first of twelve Invaders hidden in our house.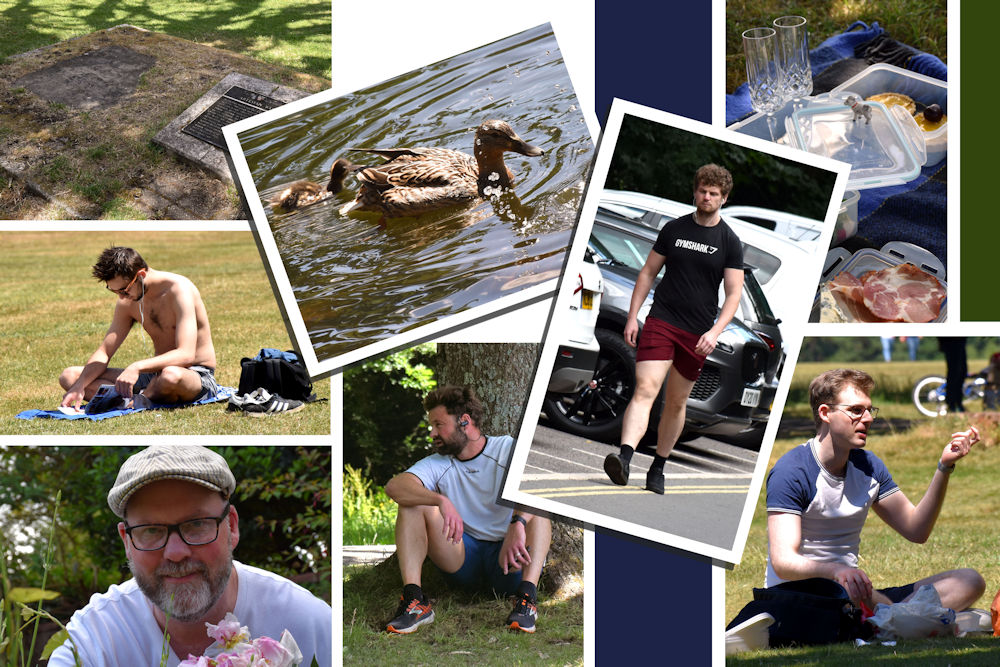 We enjoyed our first picnic since February on the common.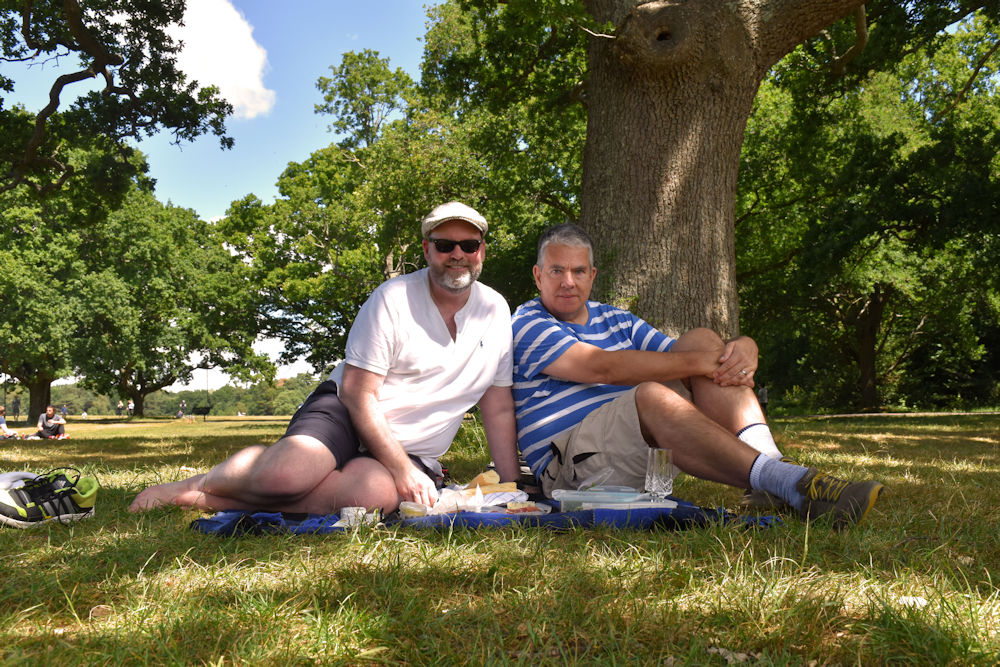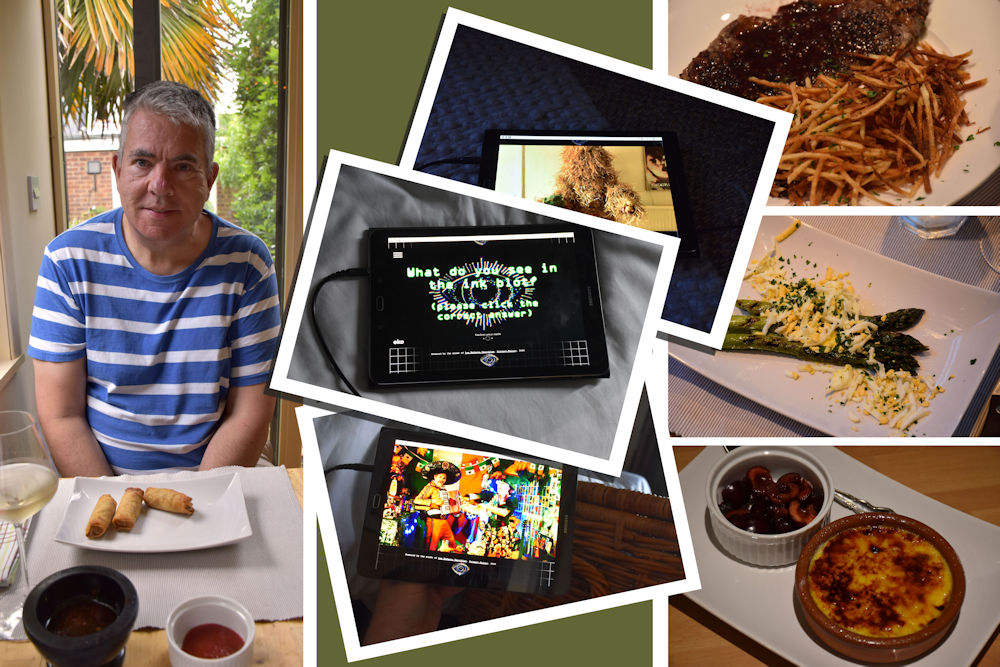 Spring rolls, steak au poivre and frites, asparagus, and crème brûlée, like in Paris. We enjoyed the interactive adventure, Prism, by the theatre company Les Enfants Terribles, whose Alice's Adventures Underground we saw in 2015.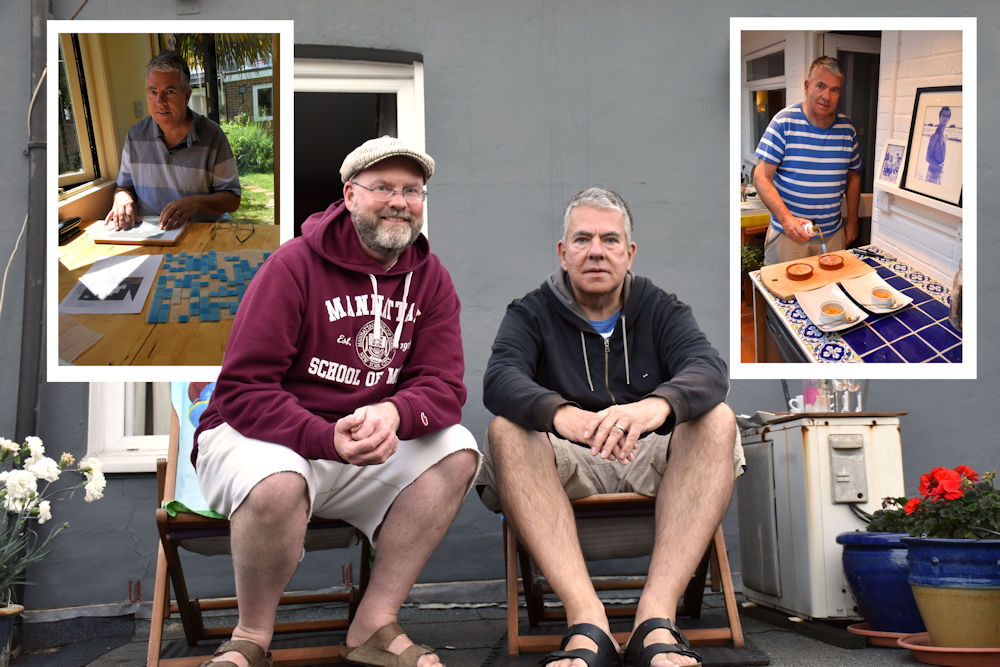 We've enjoyed many evenings on our rooftop, watching bats and stars in the night sky. Also shown: Nick making one of our Invader tributes like the one in Guardiagrele and torching the crème brûlée next to a photo of Salt Boy. who is probably in his late 30s by now.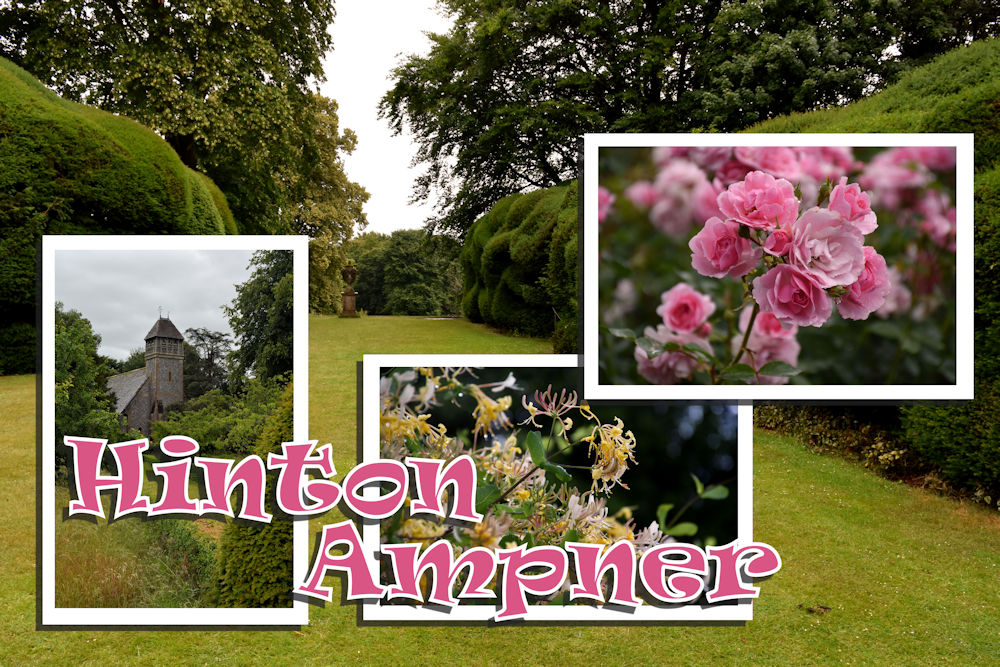 My first trip anywhere for three months, we had a rainy day picnic in the car before enjoying the grounds of Hinton Ampner.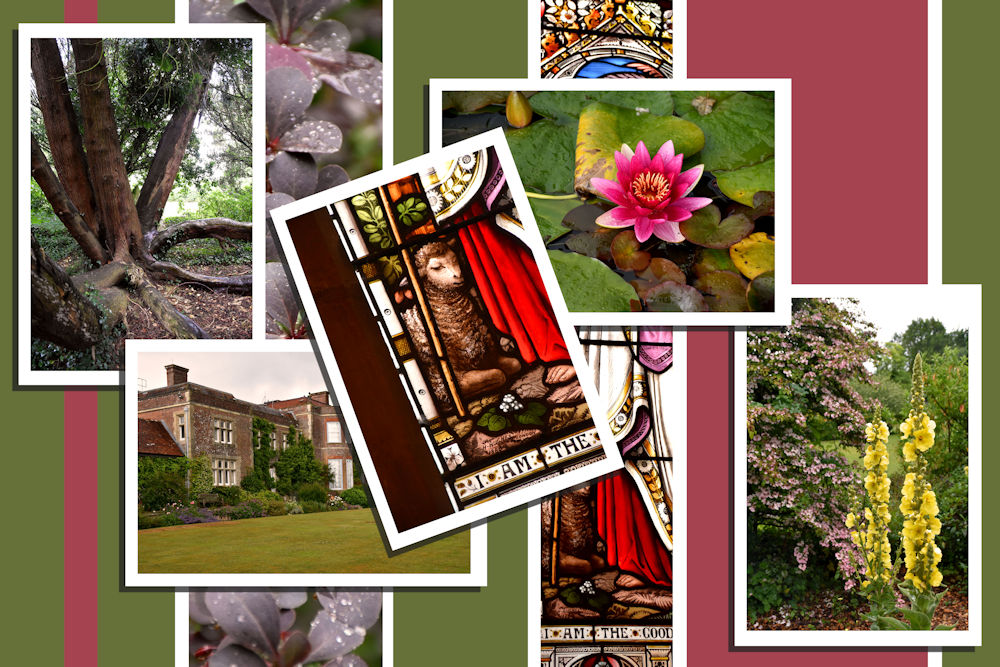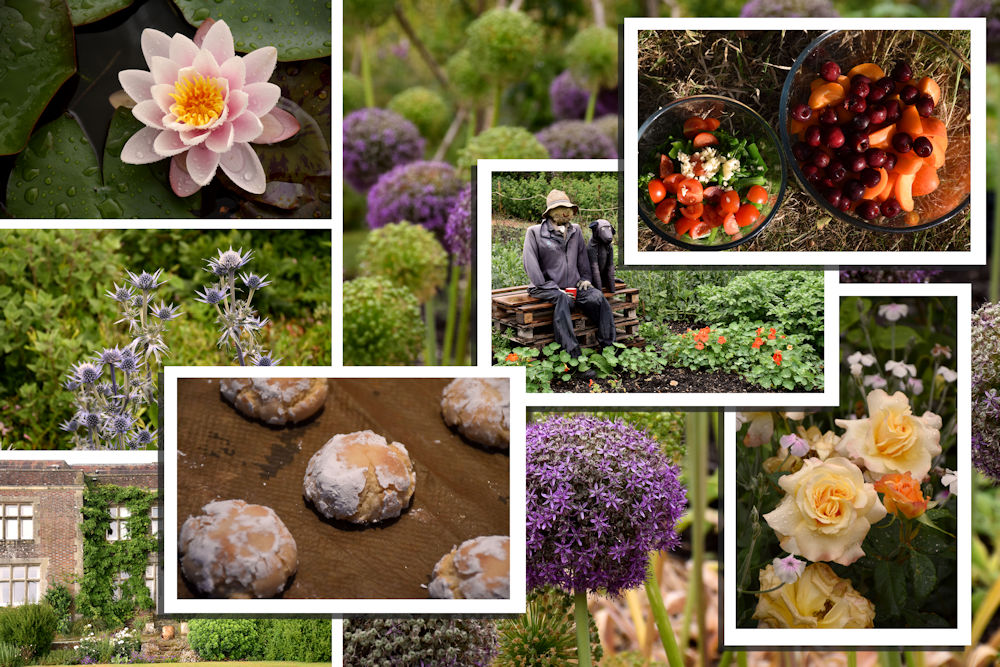 Back home, we had Sicilian-style pasta with broccoli, tomatoes, and garlic, and cherry and apricot crumble. With the apricot kernels, we made authentic-tasting amaretti, that were just like the ones we found in Mombaruzzo.



The fun continues on our Summer 2020 page. .