After spending last summer in Abruzzo, we moved to the "heel" of Italy by going to Puglia for our summer holiday. Click HERE to see other photos from summer 2016.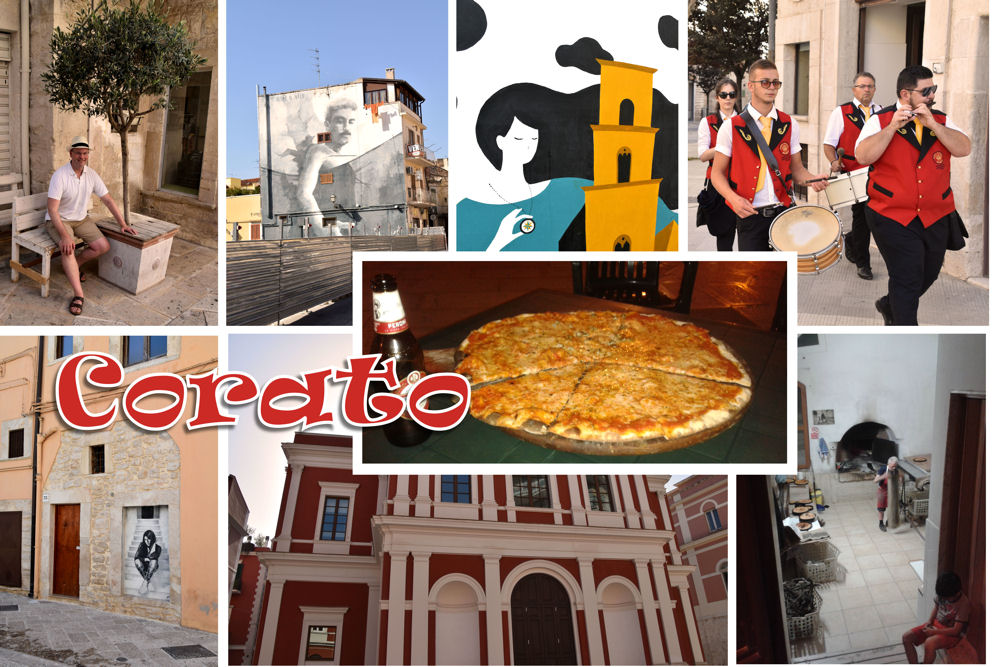 Our first stop was Corato, where we had the best pizza of our trip and enjoyed participating in an authentic passeggiata. ..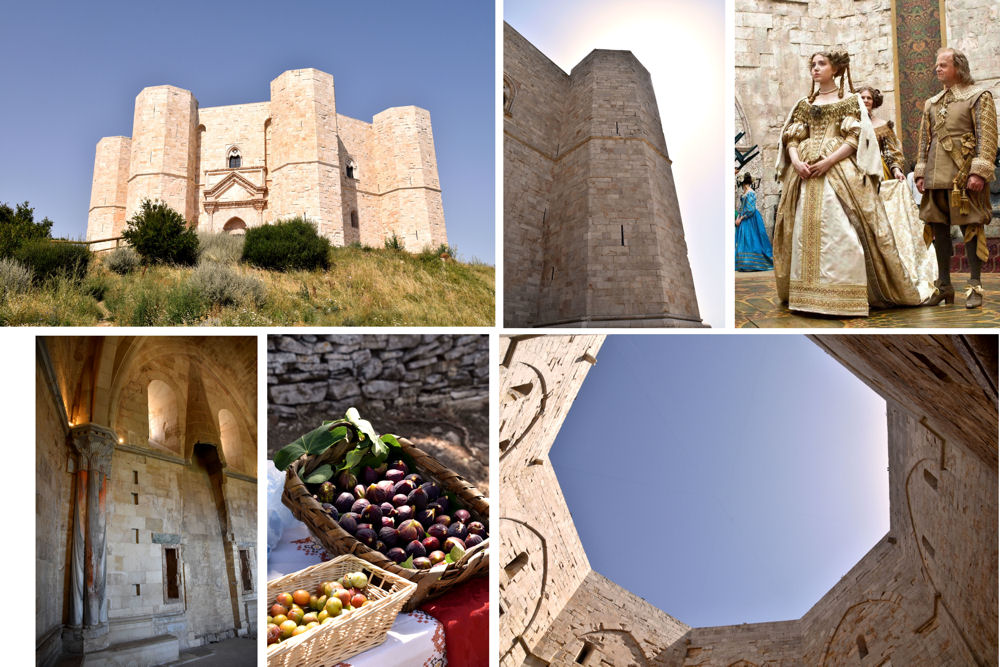 The next morning, we visited Castel del Monte, featured in the film Tale of Tales with Toby Jones as the king. We bought figs from a vendor there.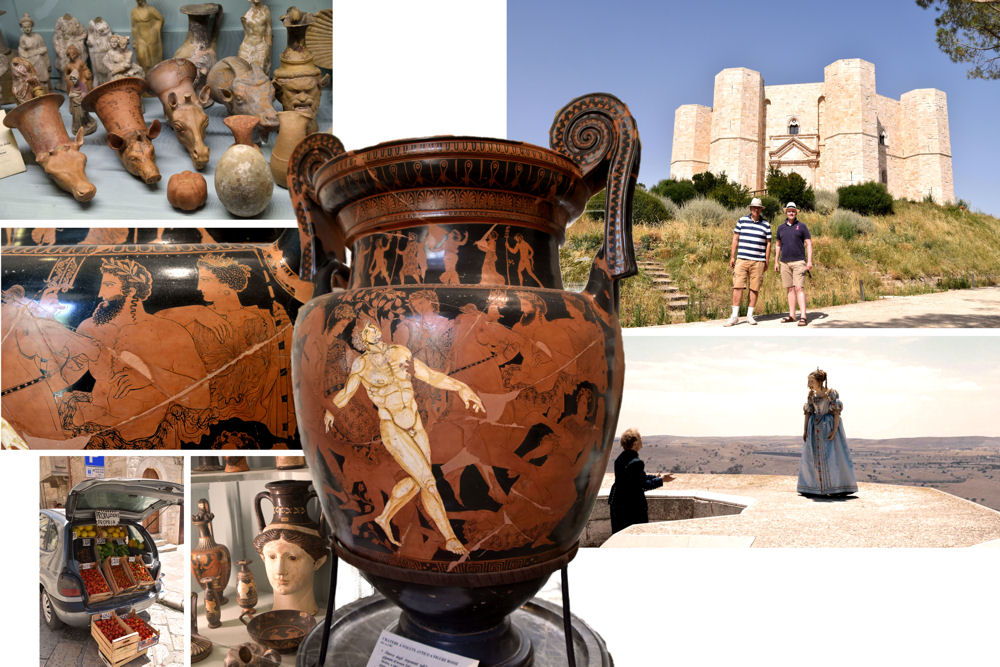 We were amazed to have the Jatta museum, as featured on Italy Unpacked, all to ourselves and to see these priceless artifacts up close . We bought our first produce from the back of a car, and it cost us two Euros.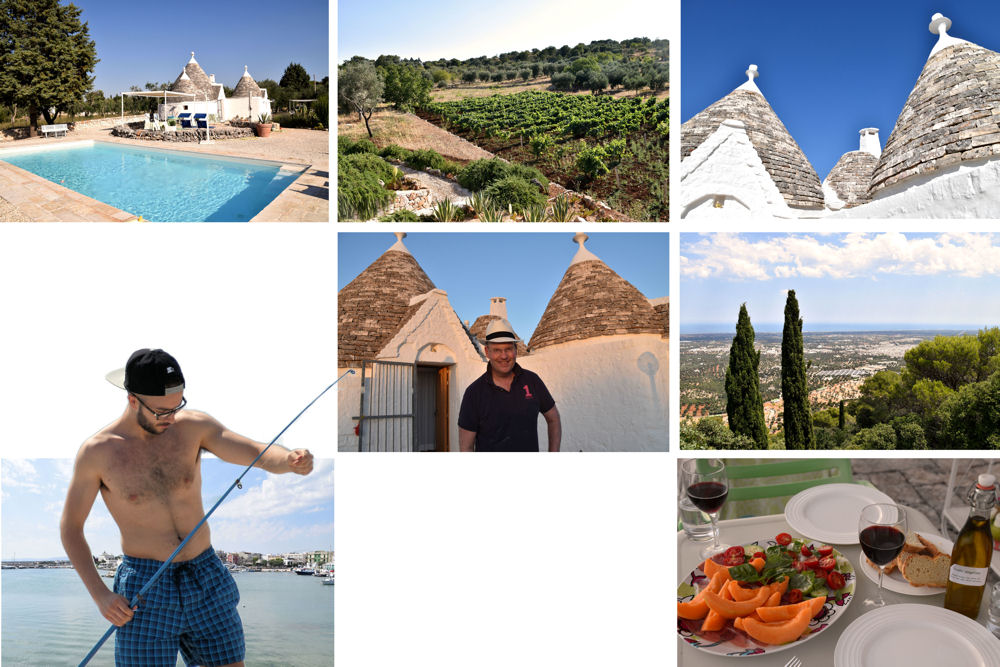 This was our glorious Trullo Angelino, home for two weeks..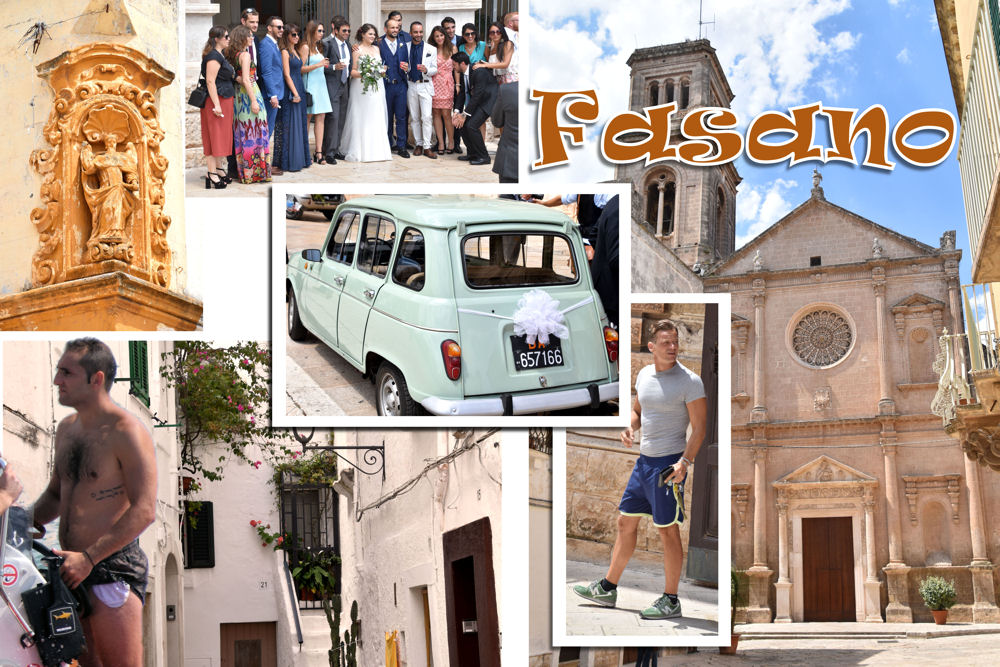 We drove to the sea and made a stop in Fasano, where a wedding was taking place.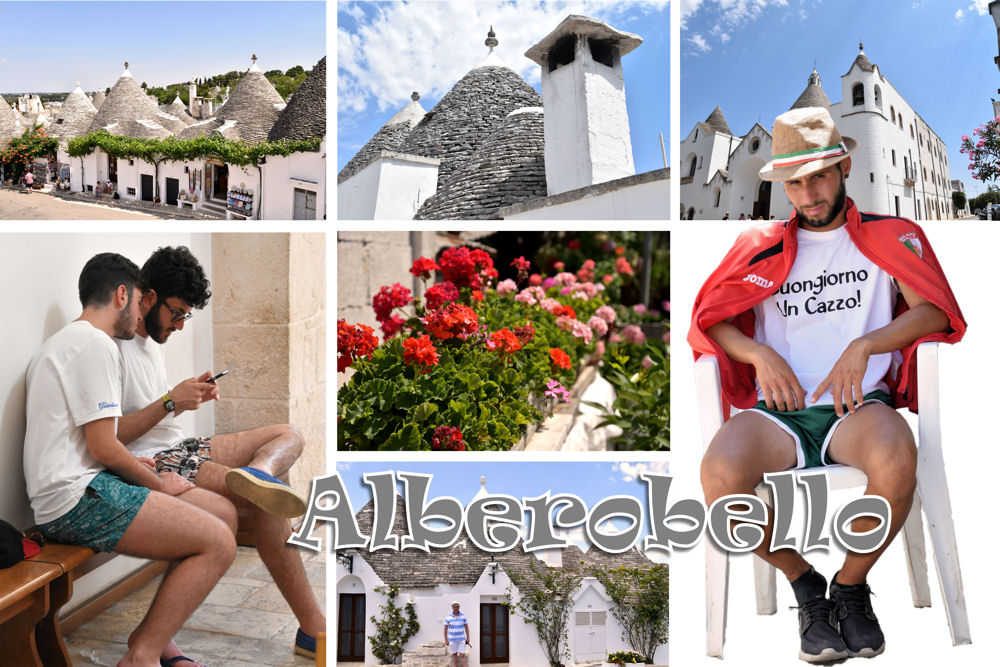 Alberobello is home to a great number of whitewashed, picturesque trulli .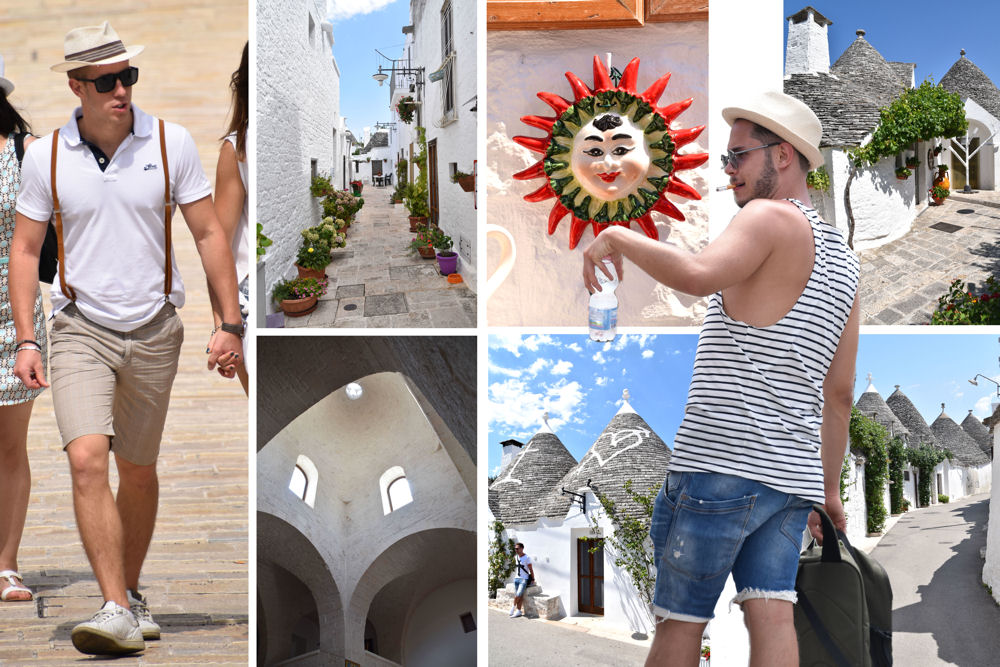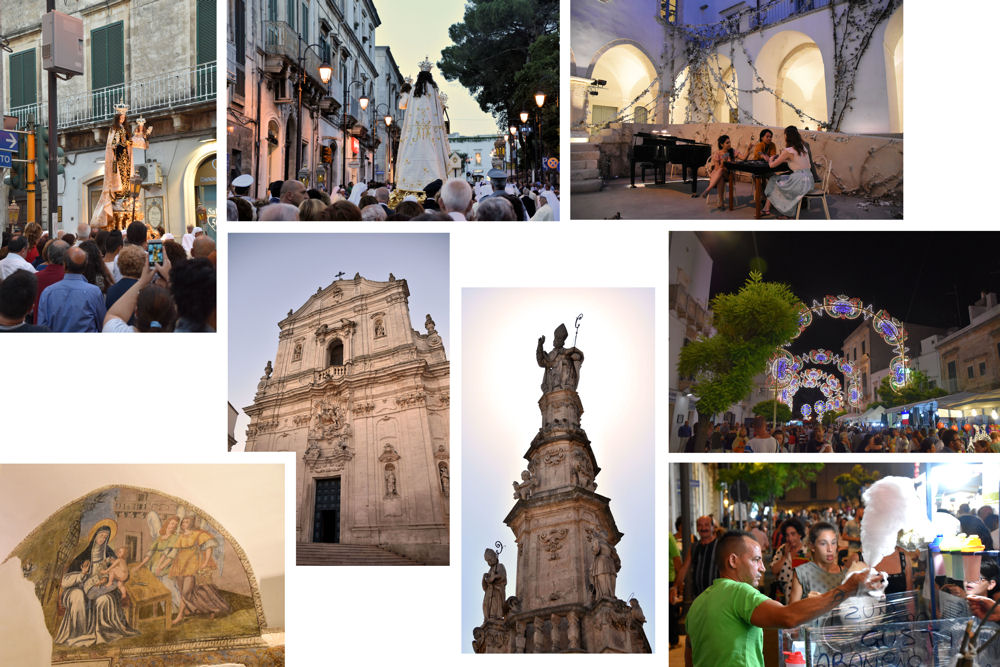 In Martina Franca, we happened upon a religious processon on our way to see Samuel Barber's A Hand of Bridge and William Walton's The Bear as part of the opera festival. It took place in a cloister, under the stars, and we saw the streets come alive afterwards.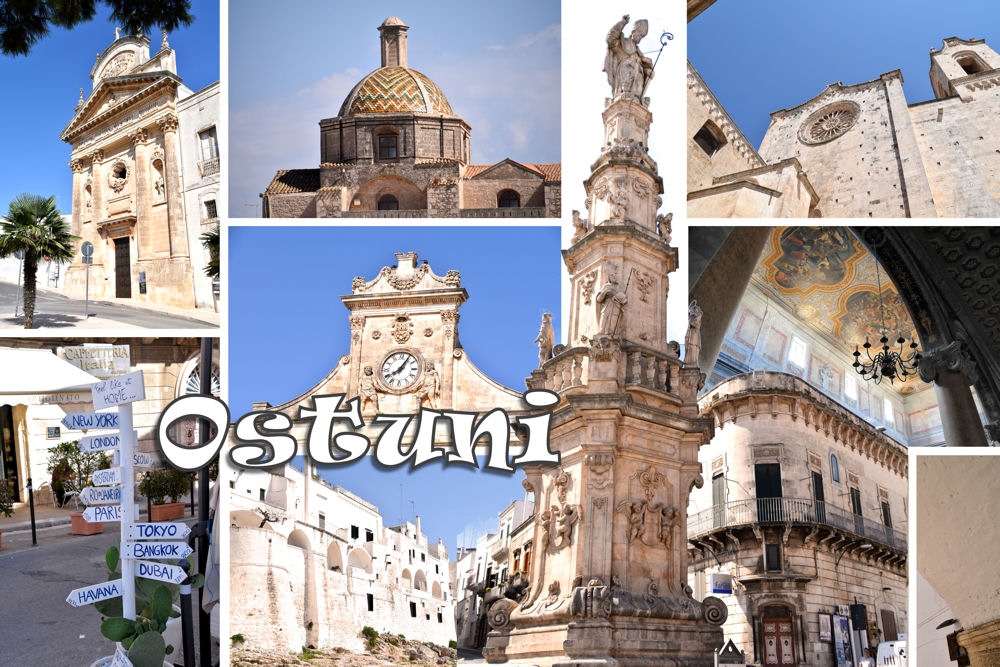 We stayed only eight miles from Ostuni, a beautiful "white town" reminiscent of Mykonos.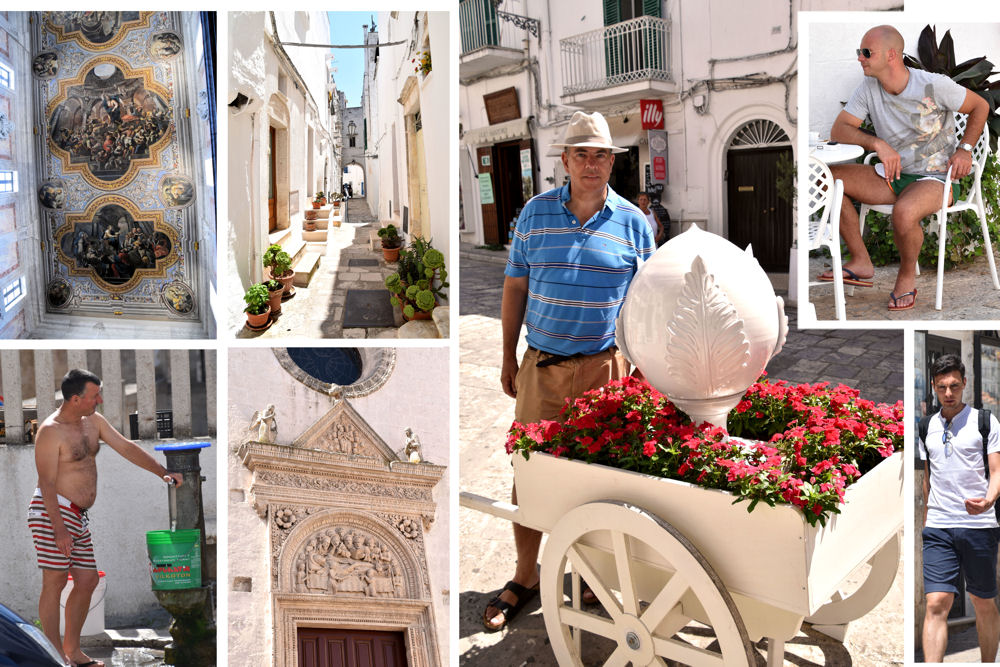 The ceramic pumo is a symbol of the region and we later bought three in Grottaglie, but not as large as shown here.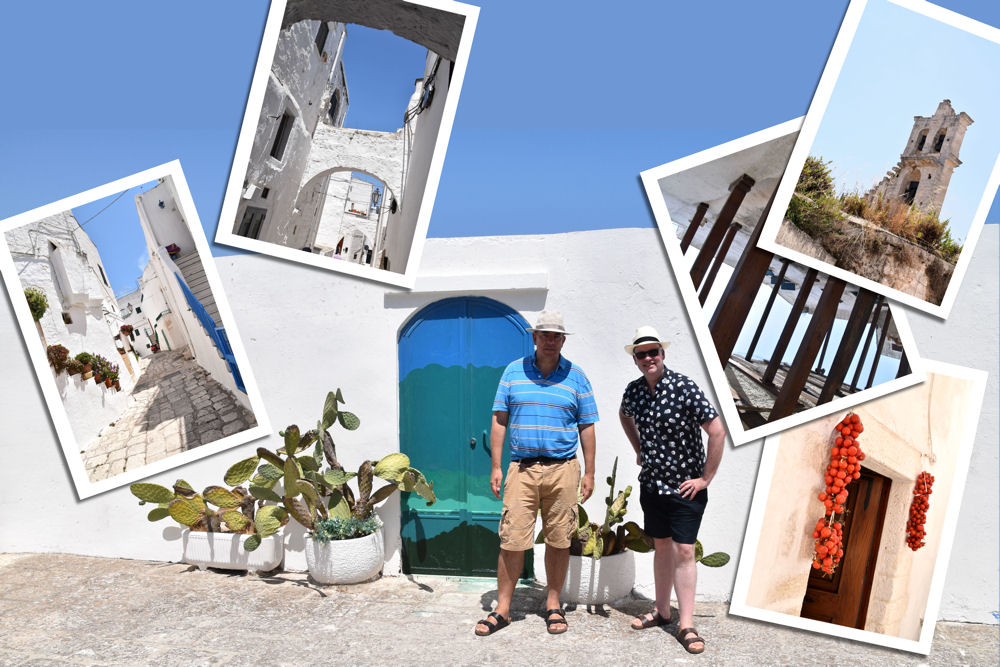 When we returned to Ostuni on Friday, there was a sign on these tomatoes that said "NO PHOTOS". Why?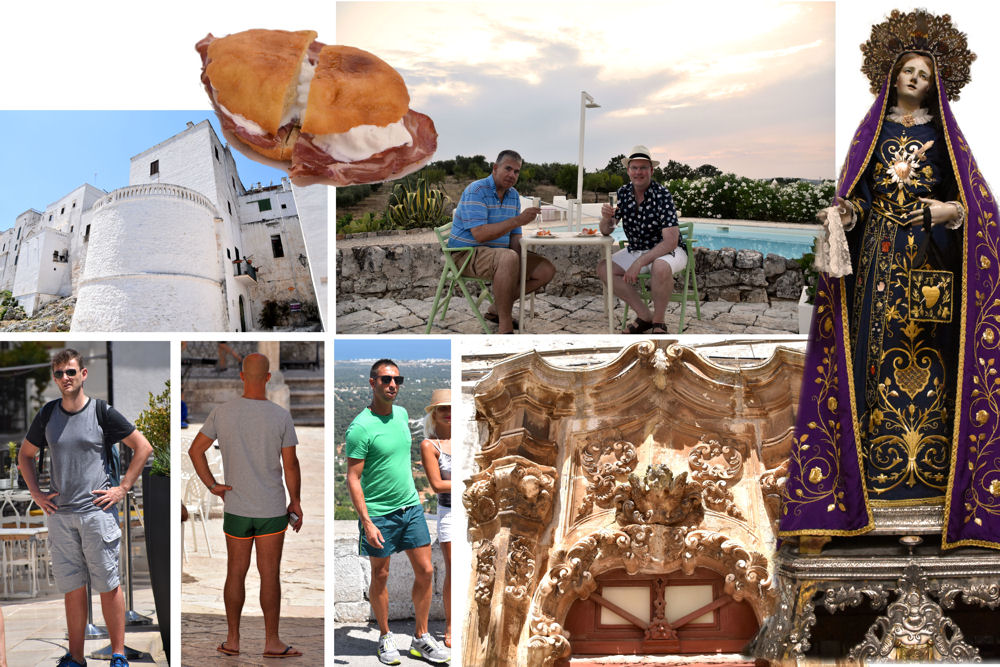 Our sandwich lunch was local capocollo salami from Martina Franca with stracciatella cheese.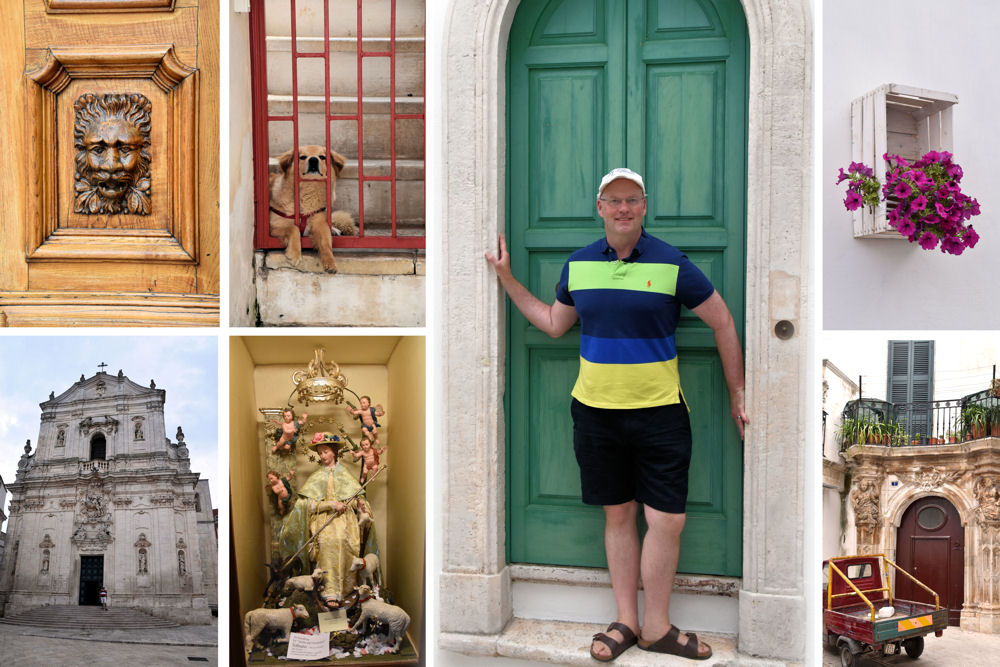 We arrived early in Martina Franca to look around and take photos, such as this "Pastoral Madonna".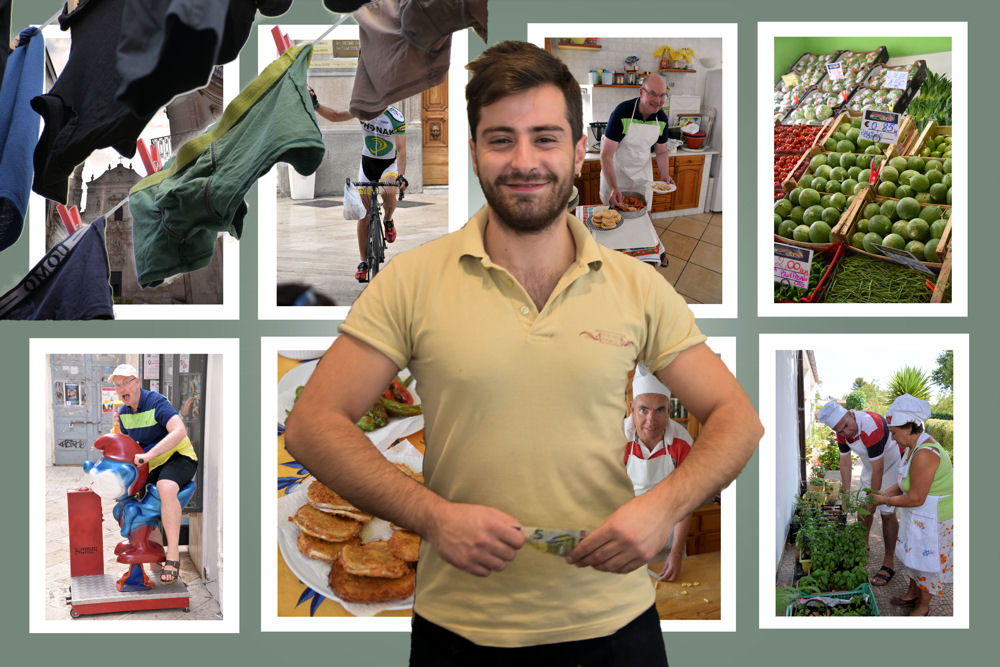 Our main purpose for the day was a cooking course with Mamma Anna on Saint Anna's Day. She took us shopping (driving up one-way streets and parking haphazardly) and we met Andrea, who knew a few words of English, learned from Anna. Green underwear was on my bingo card.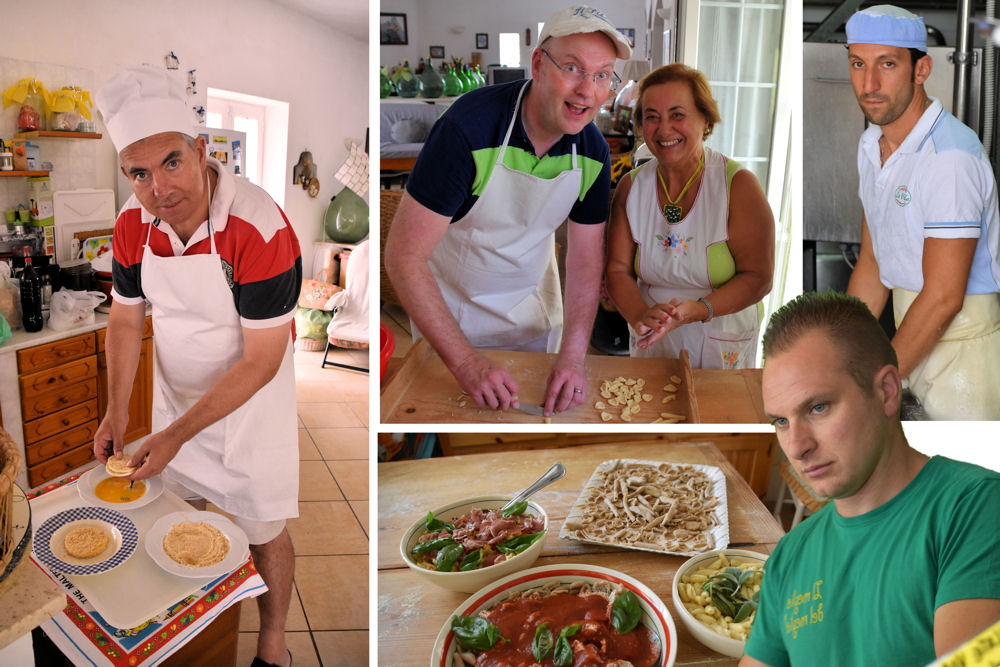 Nick is breading aubergines filled with smoked scamorza for frying, and I am making orecchiette with Anna. We had three sauces: vegetables with capocollo, passata with basil, and sage-infused olive oil. .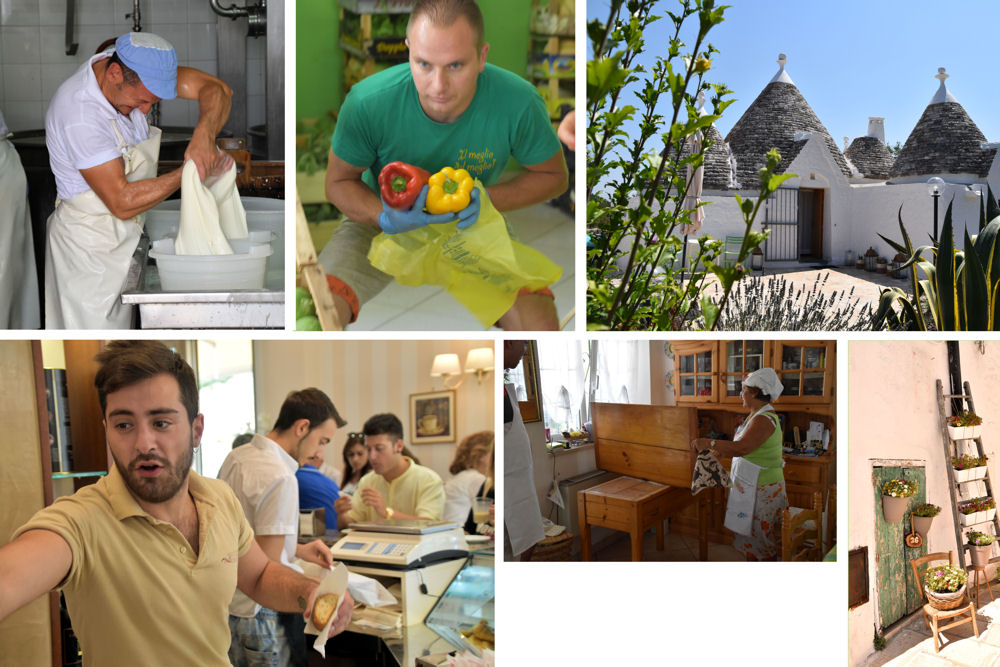 We got to see mozarella being made, just like on TV, and bought vegetables from this blue-eyed man. Andrea's café was packed, but Anna summoned him with sharp "Andrea!". The library table folds out for making pasta.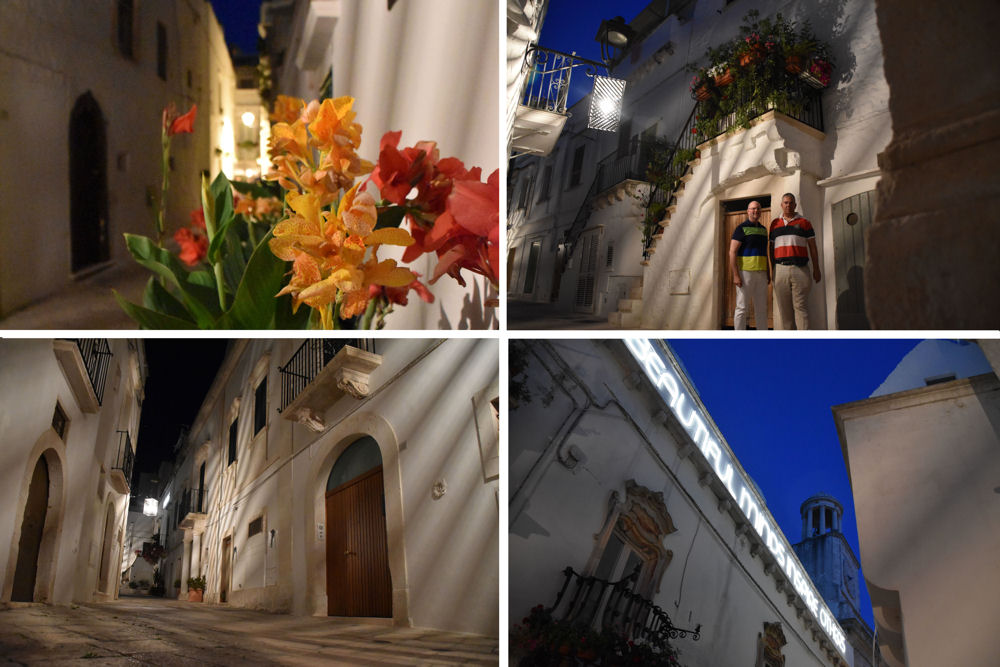 On a whim, we drove to local Locorotondo in search of a passeggiata. Our guidebook said the town was one of the "most beautiful in Italy", which we doubted at first, then we found the historical centre, which was magically it and full of life.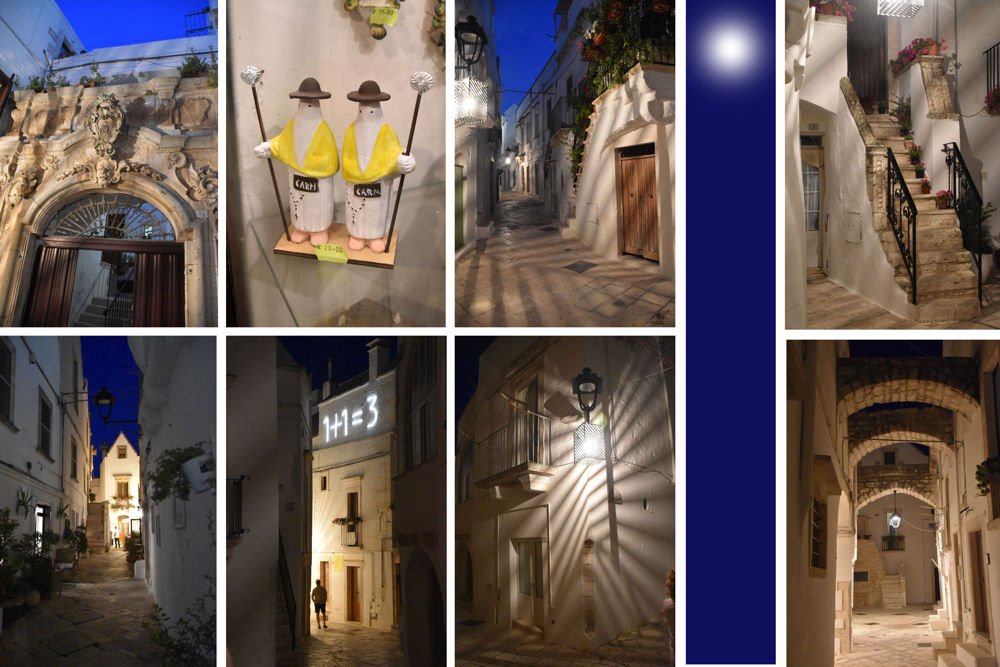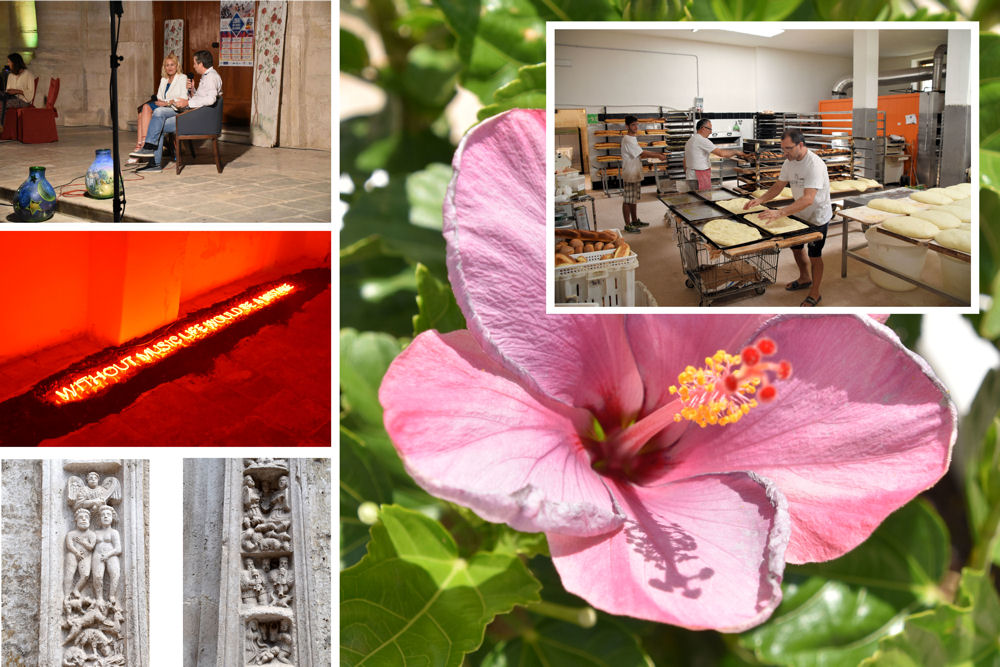 Top left: the author of Donne Pericolose was being interviewed. The next day, we drove to Altamura, home of the best bread in Italy. Jamie Oliver filmed an episode here. We tracked the bakery down, and although it wasn't officially open, we were invited in and bought two fresh loaves and bags of simple, but wonderfully delicious semolina biscuits.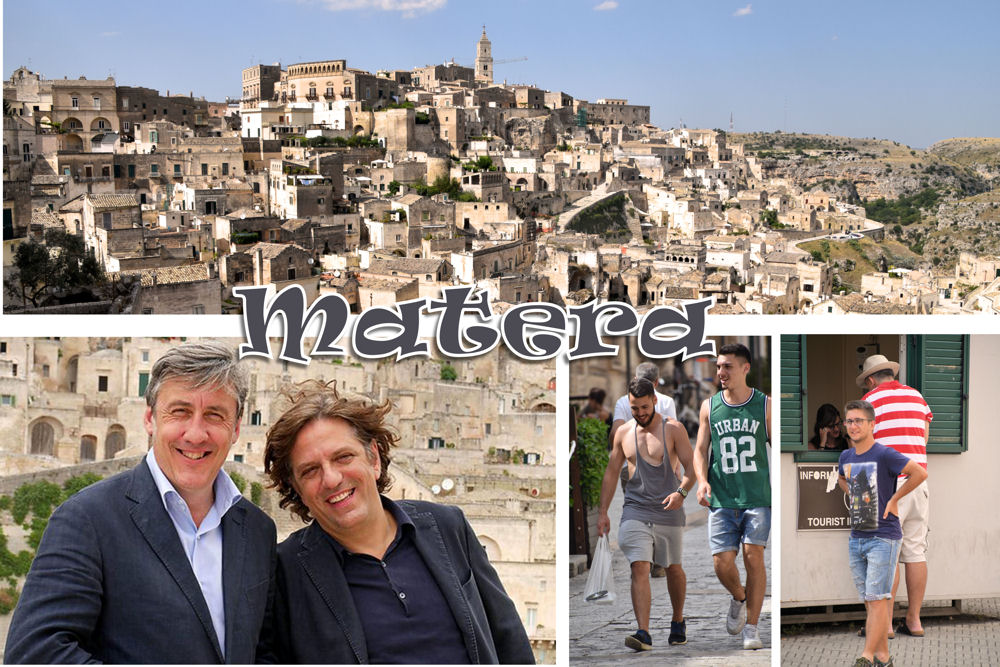 Matera was known to us from Italy Unpacked. It was more developed than we expected but still an awe-inspiring and sobering sight. We didn't take Fred Plotkin's advice to "hire a boy" to show us around.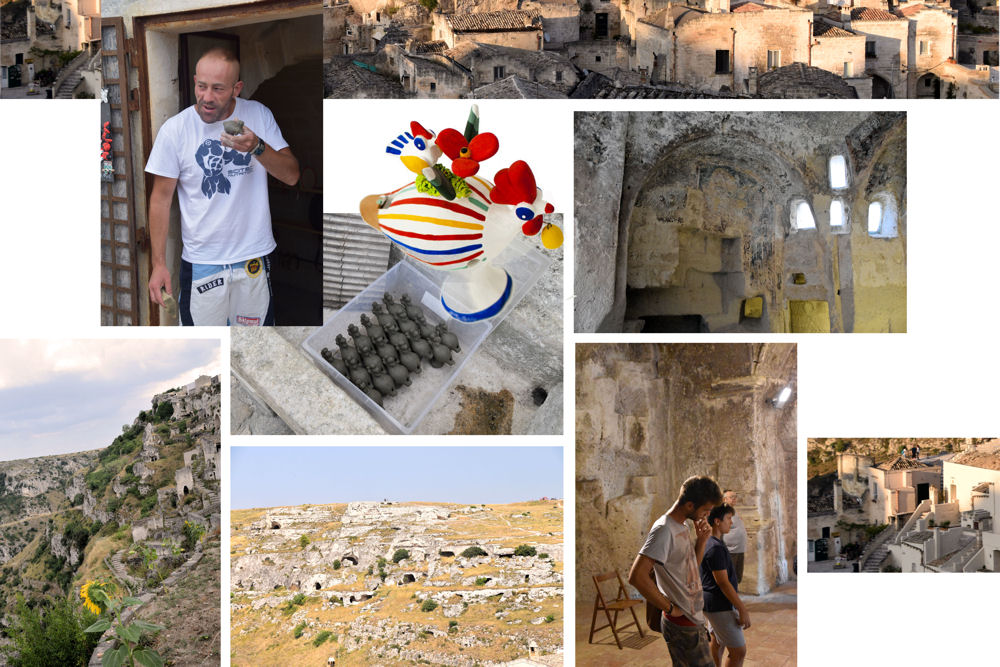 The man who sold tickets to the cave churches made pottery cucu whistles, which he explained used to be put into children's beds as a way of warding off illness. He also demonstrated a loud friction drum for us.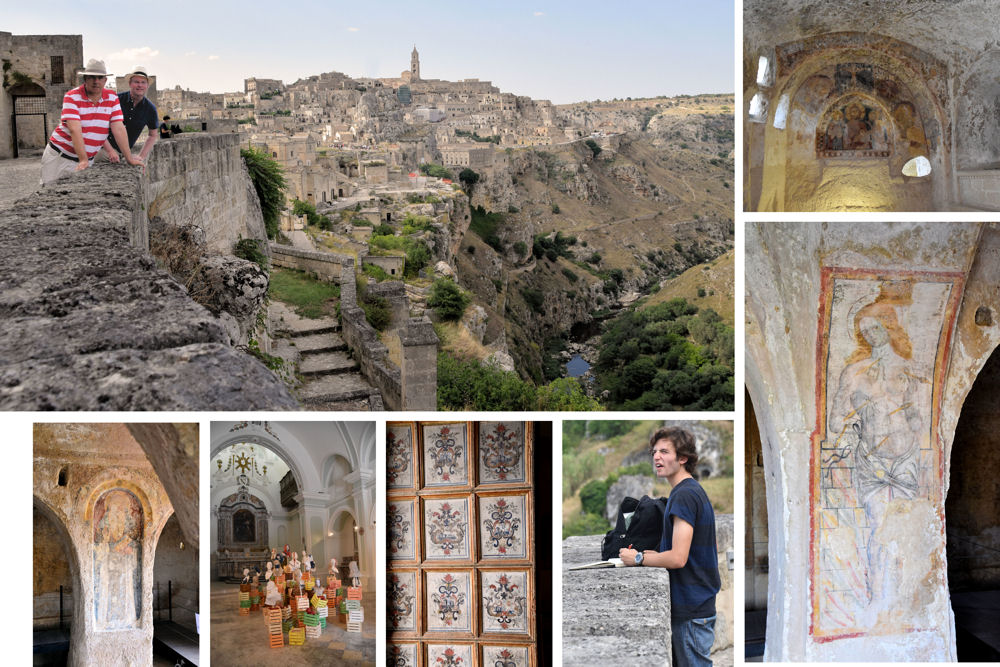 There was a Saint Sebastian fresco in one of the churches and one that looked like a wizard. The modern art installation was about immigration, I think. .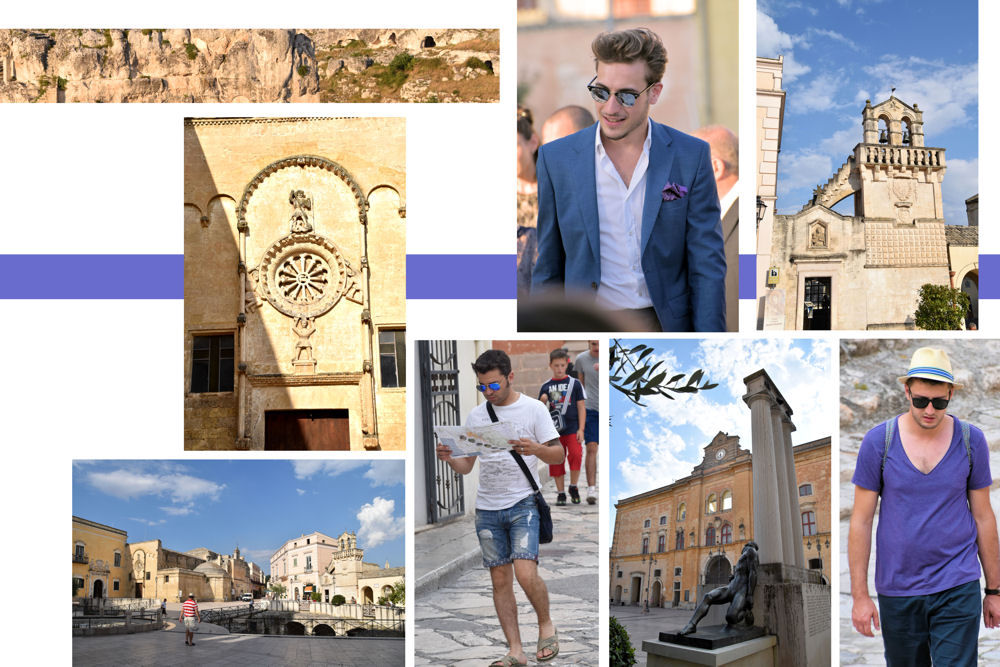 Matera's more modern town was full of people, including the trendy wedding participant above. .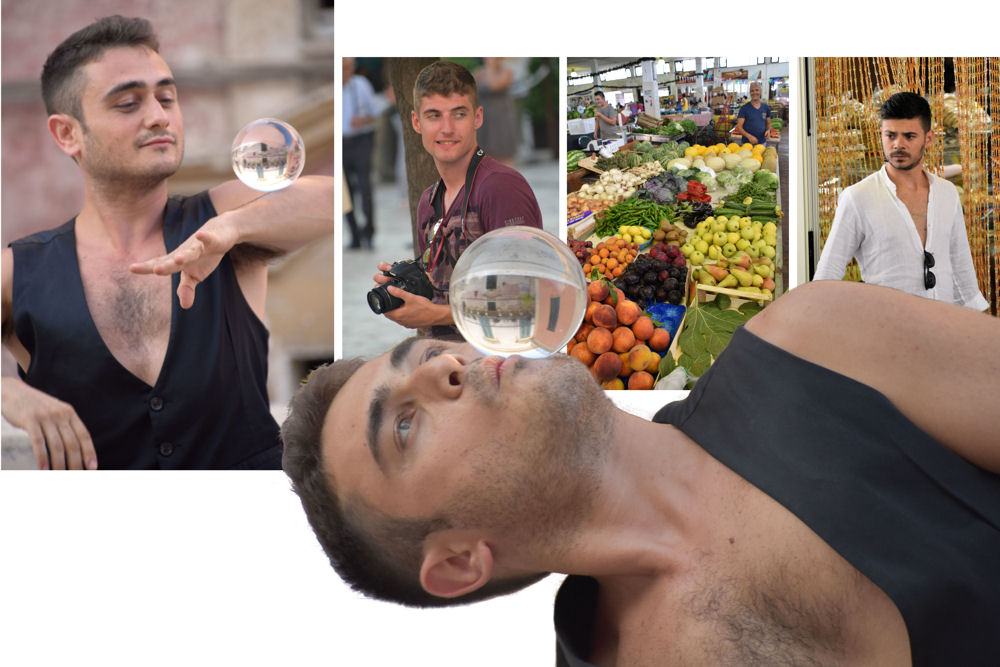 The street performer skills were mesmerizing.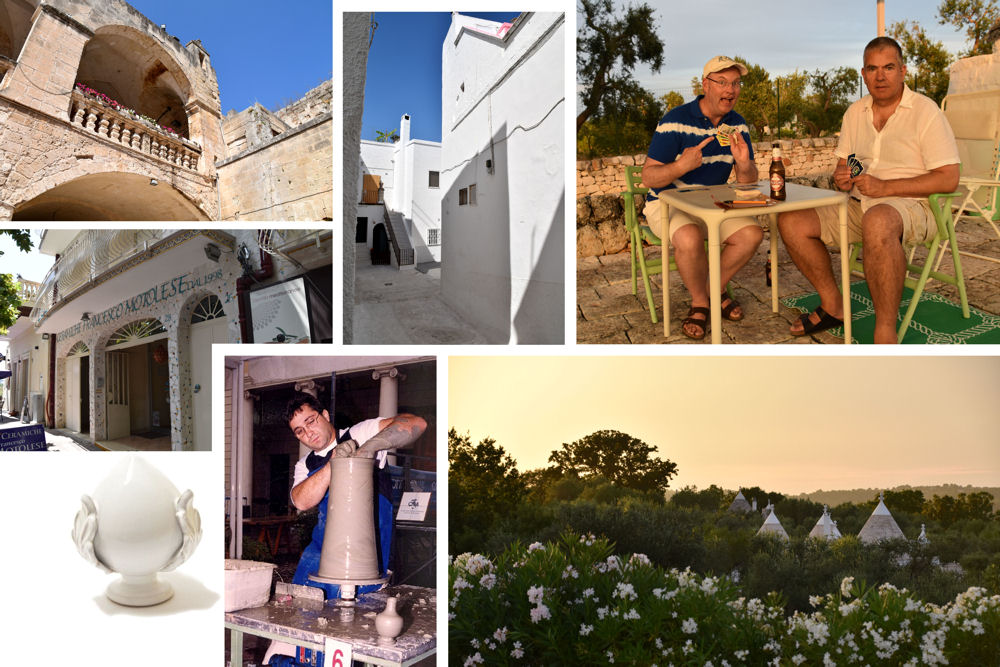 Grottaglie is famous for its ceramics, and we bought three pumi from Francesco Motolese, a world champion, whose shop was founded in the same year that we met. Our pumi will adorn the Venetian-inspired striped poles in our garden.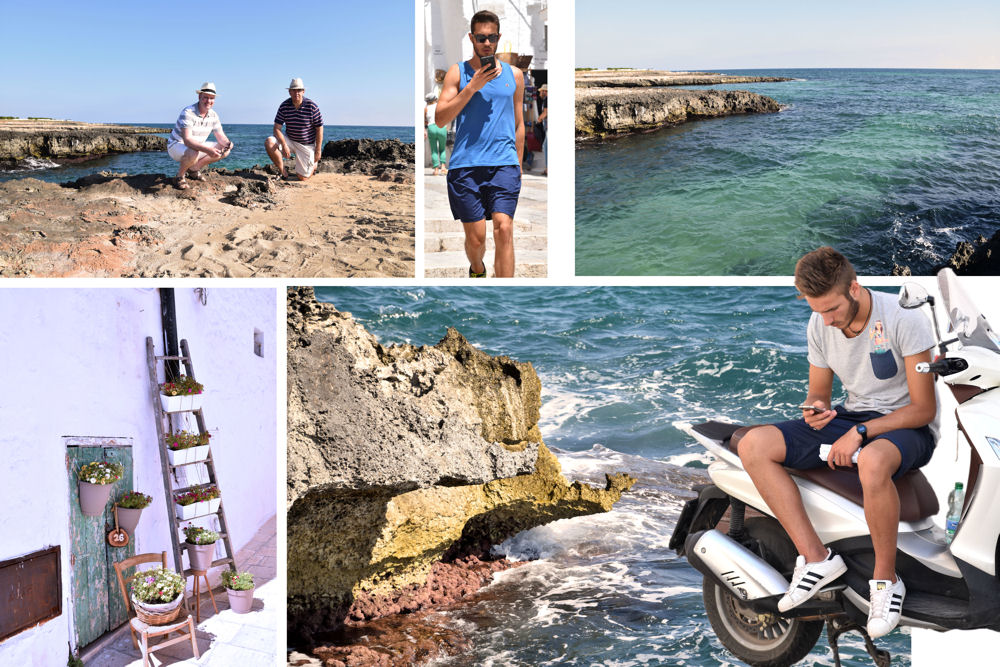 The next day, we drove to the seaside near Ostuni for an early morning walk. We encountered a man who was massaging octopuses that he caught (below).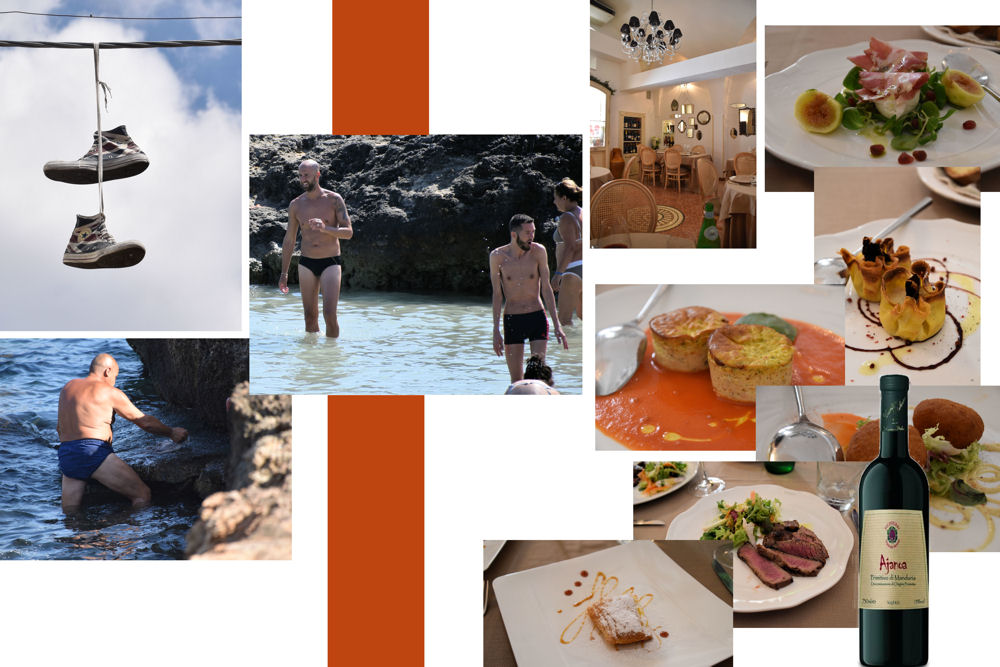 We ate an excellent lunch at the Osteria Piazzetta Cattedrale, recommended by our guide book.Highlights were the burrata with figs, the perfectly grilled steak, and the revelatory Primitivo wine, recommended by our waiter.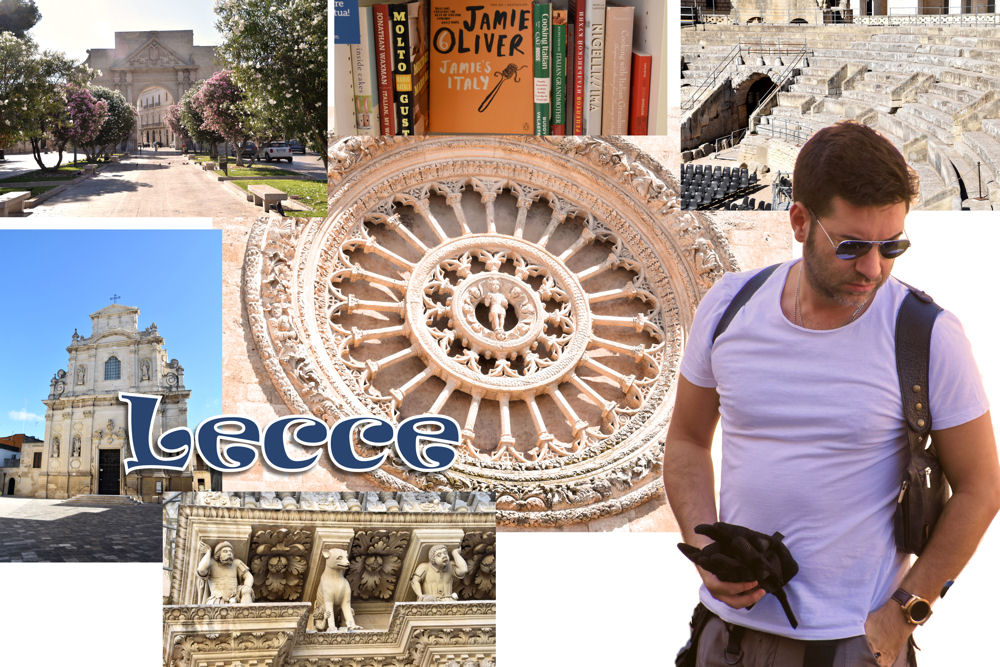 Our busy Friday started by visiting the region's capital, Lecce, home of ornate baroque architecture and a Roman ampitheatre.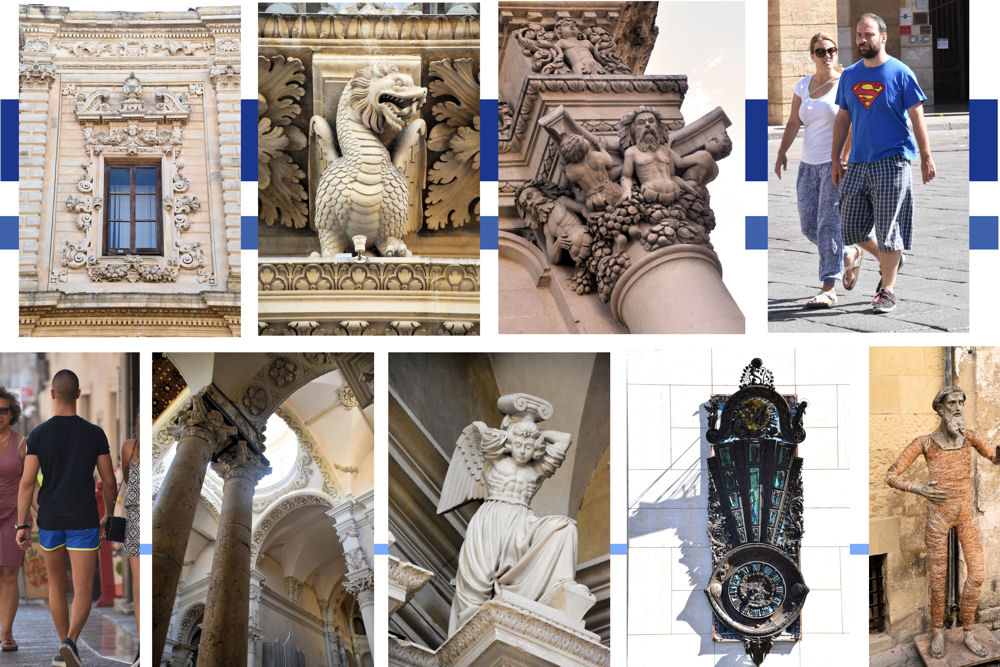 Above: the basilica in Lecce, complete with the "Angel with Abs" sculpture. Lecce is known for its papier mâché. For more Supermen sightings, click HERE.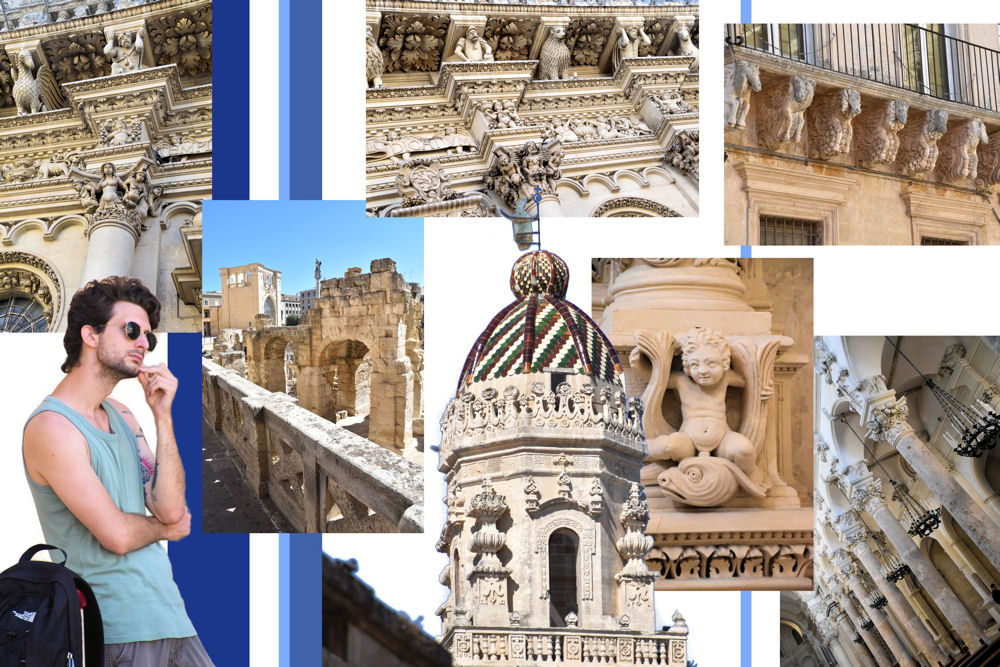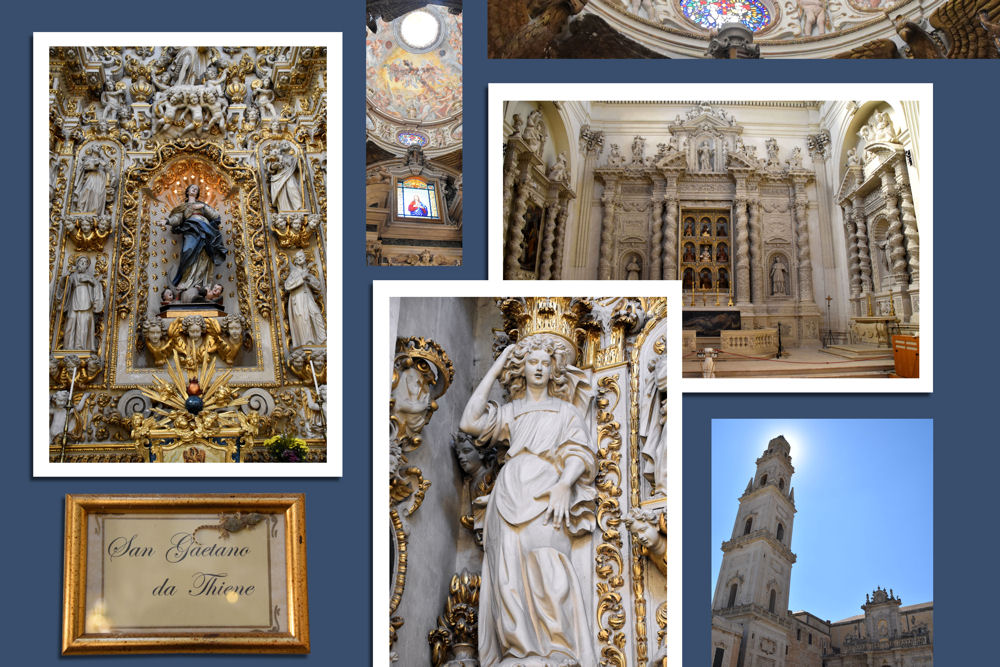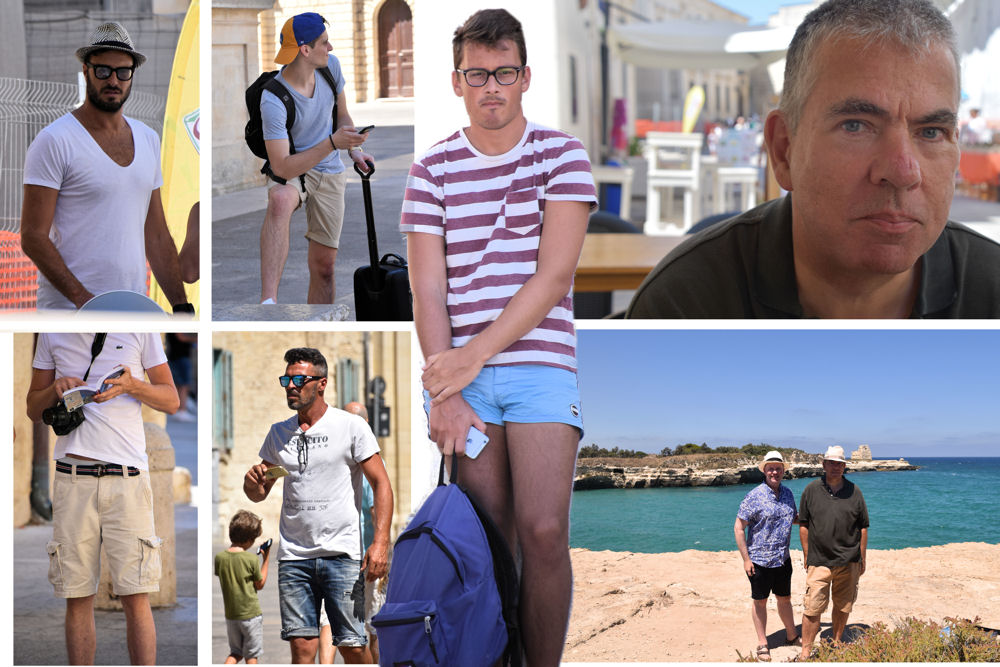 Next stop was the Grotta della Poesia, where we enjoyed watching the death-defying cliff jumpers.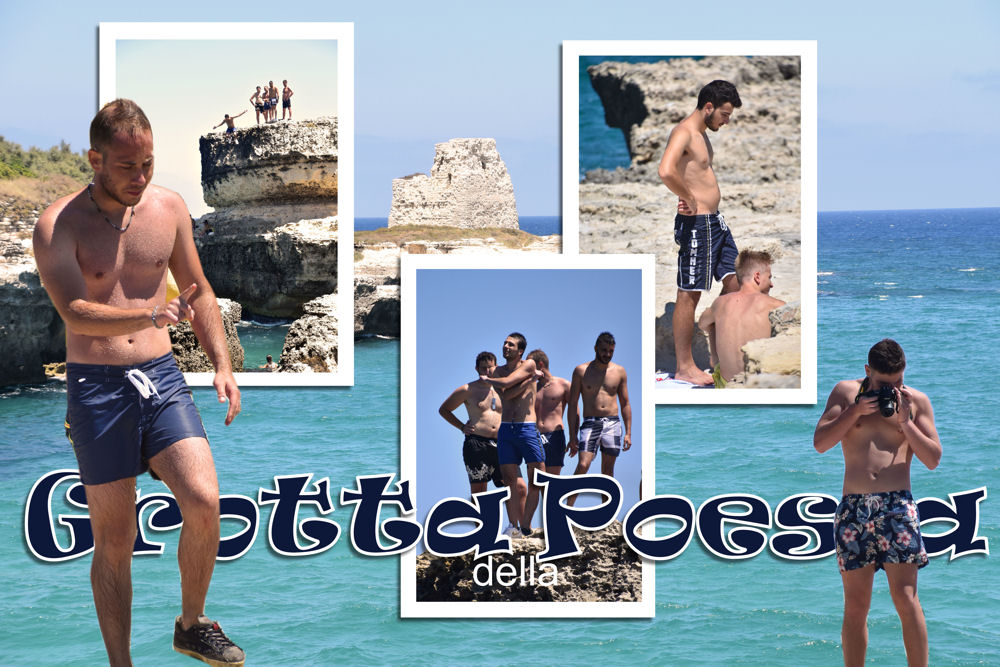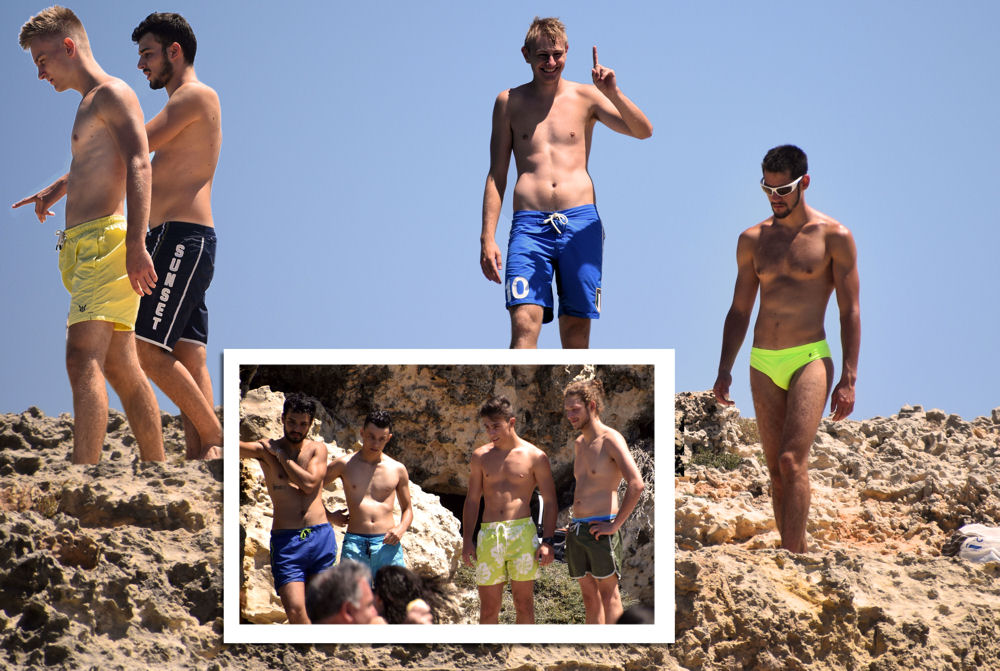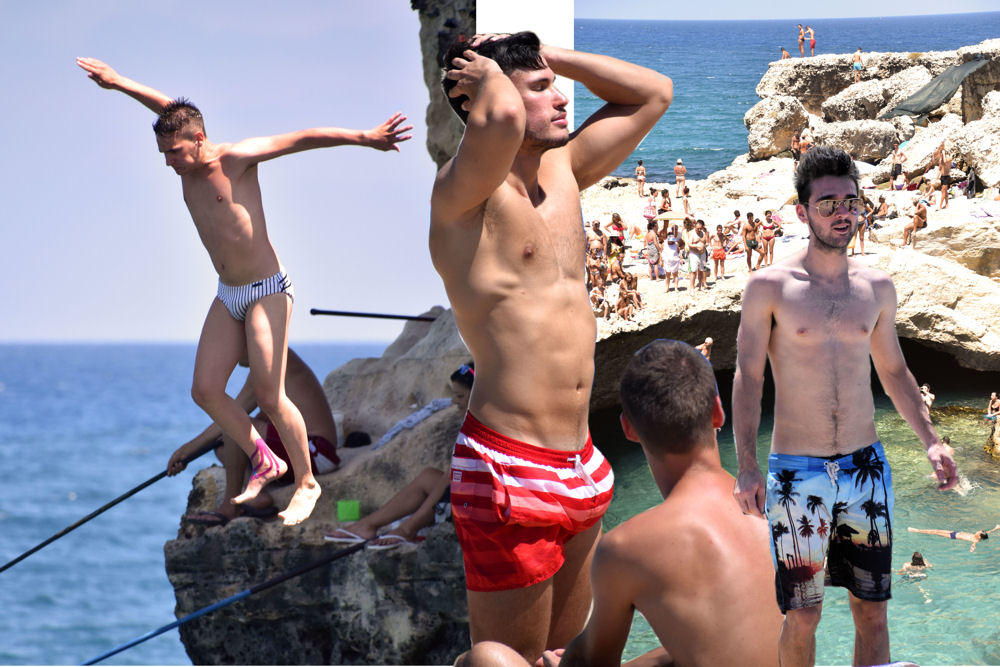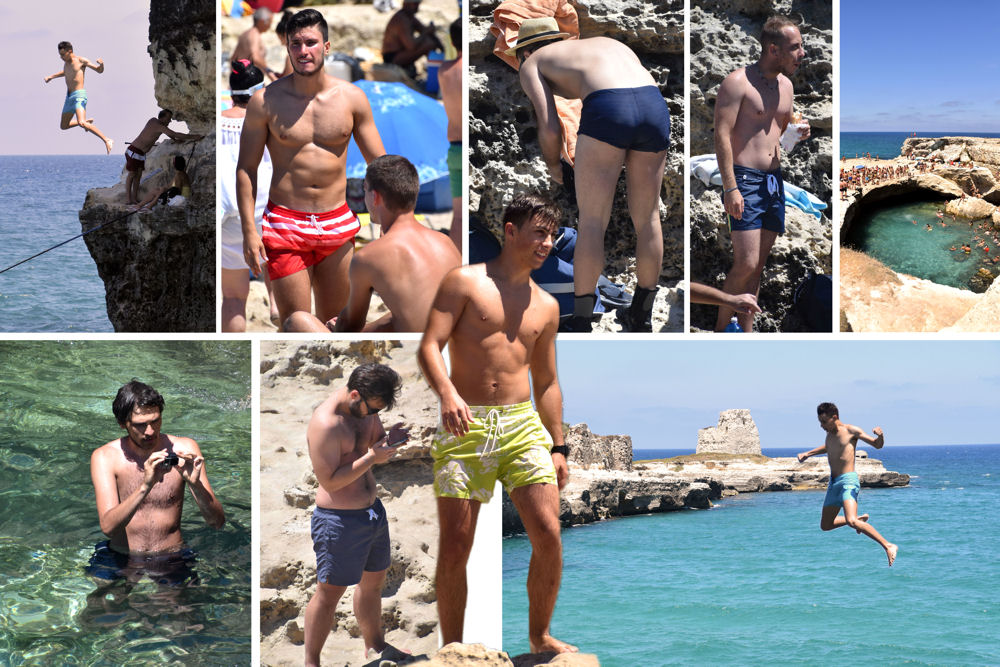 We drove south to Otranto, where we were lucky enough to grab two last-minute spaces on a three-hour boat cruise with Lorenzo and Antonio of Hydra Escursioni . We were taken up the coast and had two opportunities to swim in the clear water and admire the caves in the cliffs.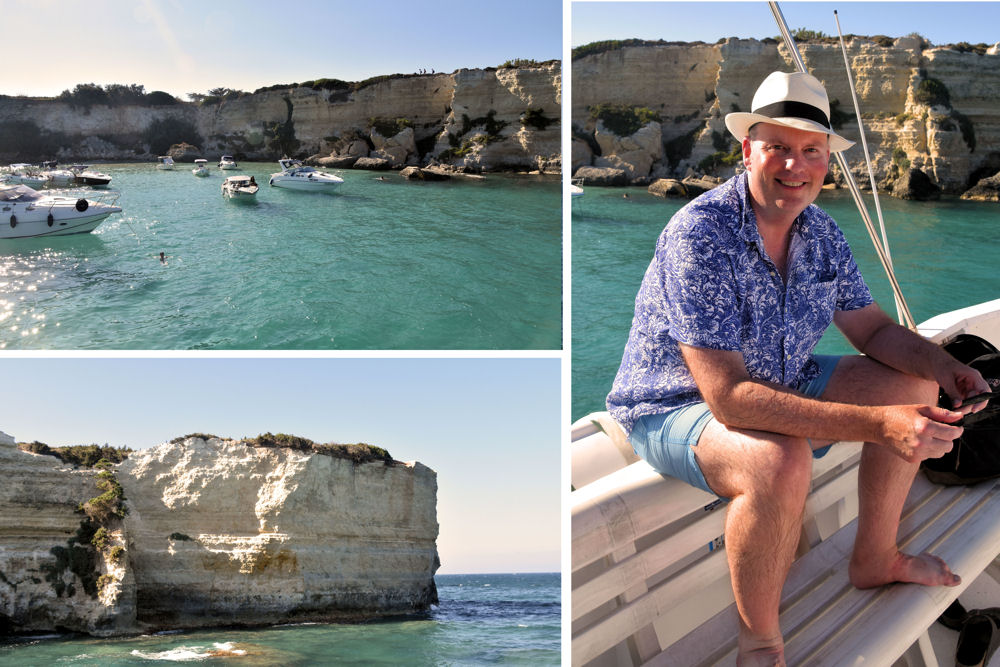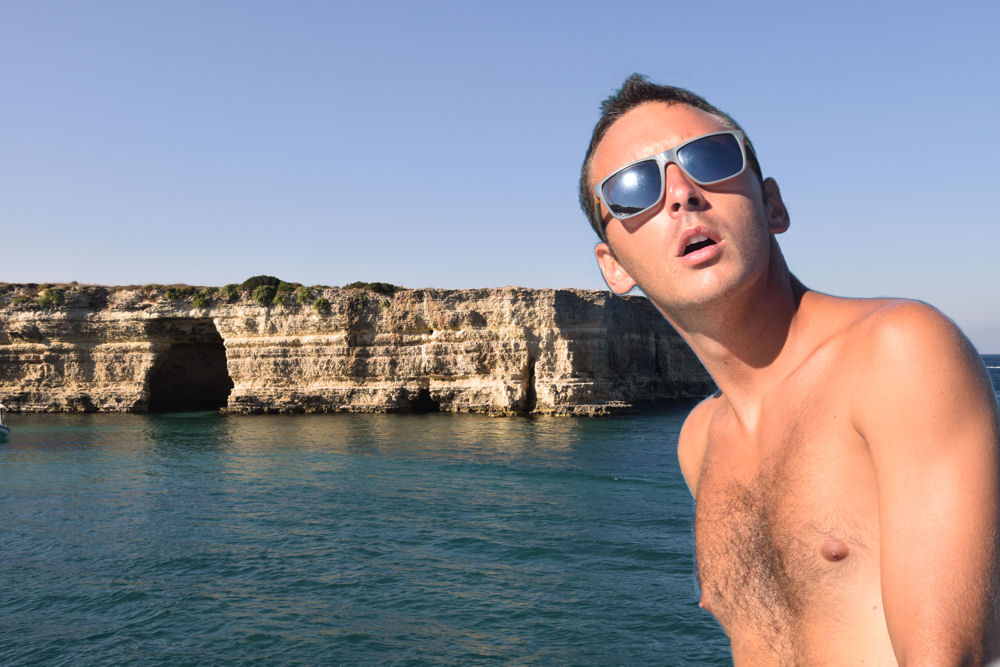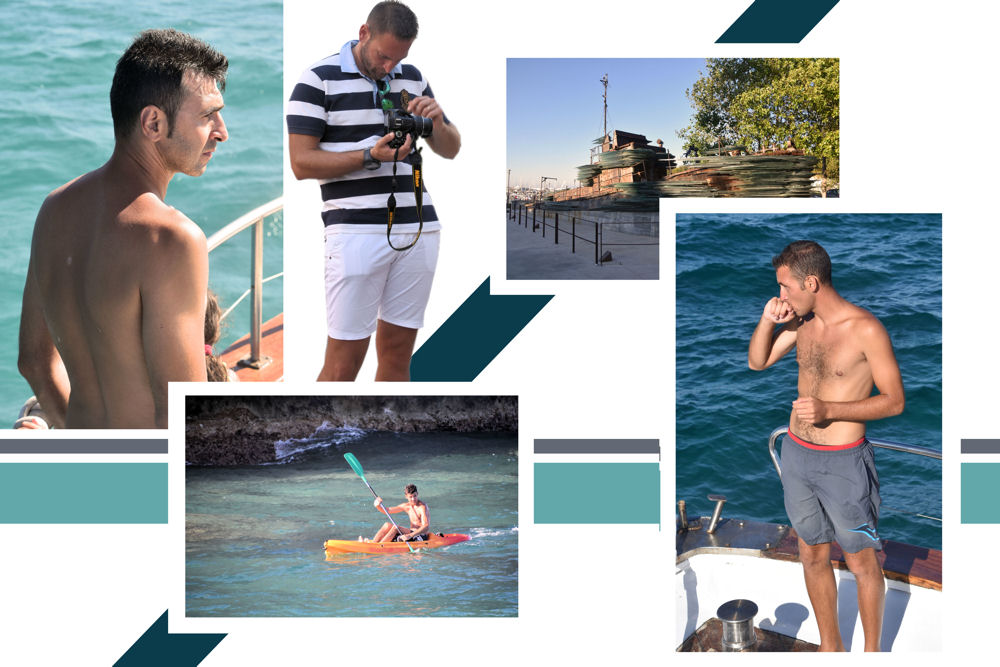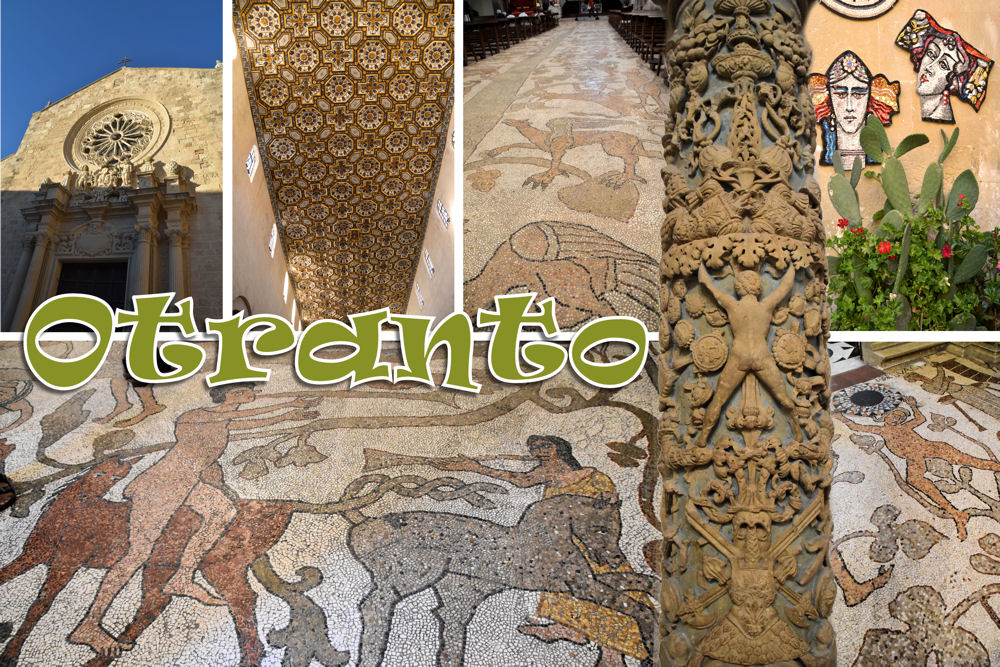 Otranto's mythical and relgious mosaics in the cathedral and impressive and ornate, and cover the entire floor.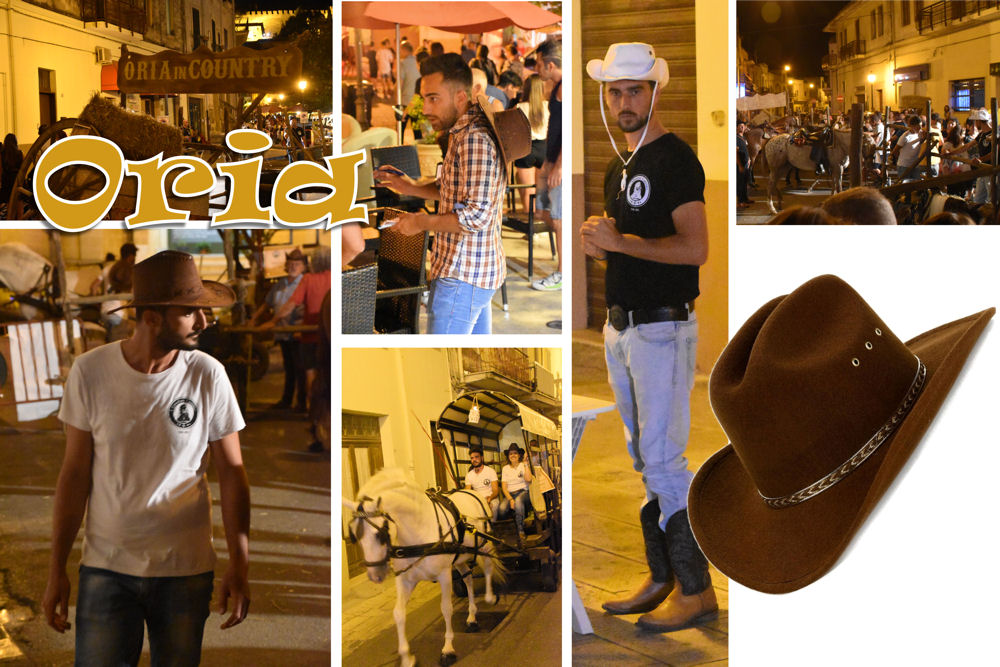 Our final stop for Friday was cowboy night in Oria. We had sausages and found a great gelato place, then headed home, exhausted.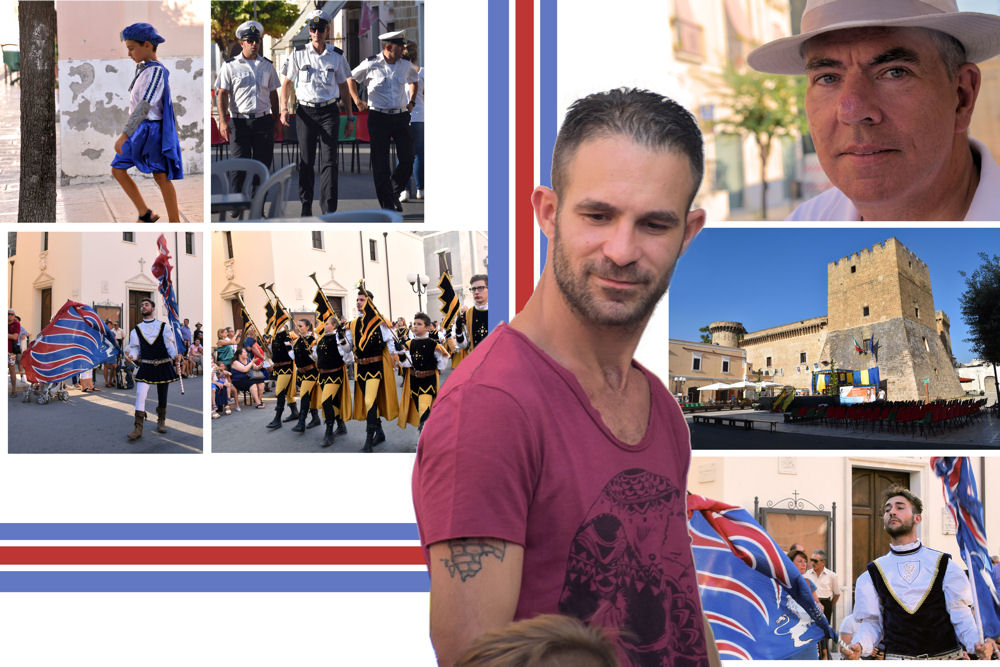 As on most holidays, we found a medieval festival on Saturday night, complete with flag tossers and musicians from rivalling towns. Click HERE to see similar festivities in Abruzzo last year.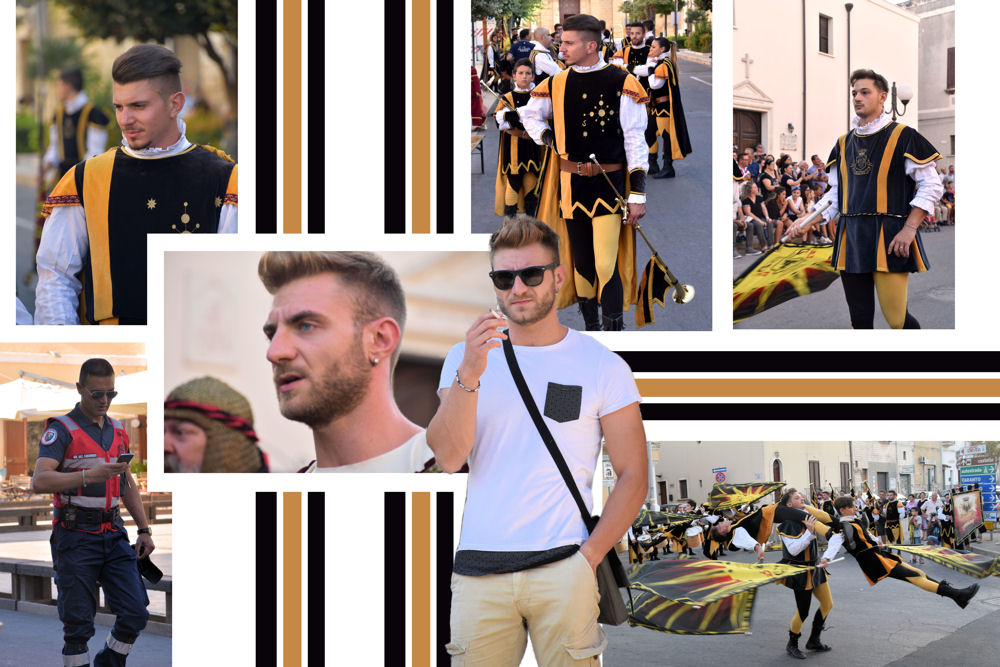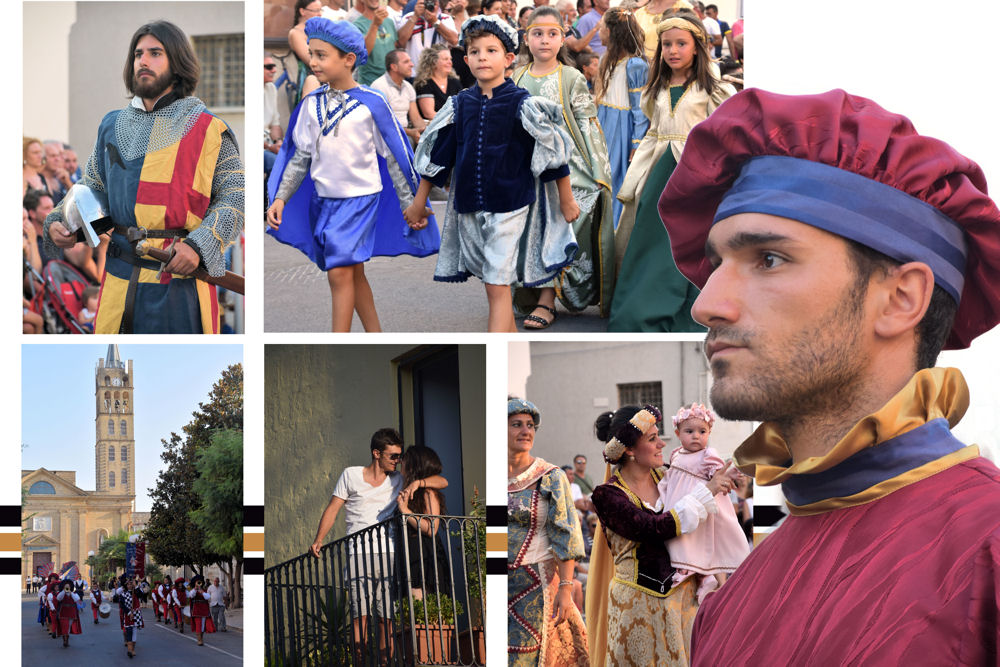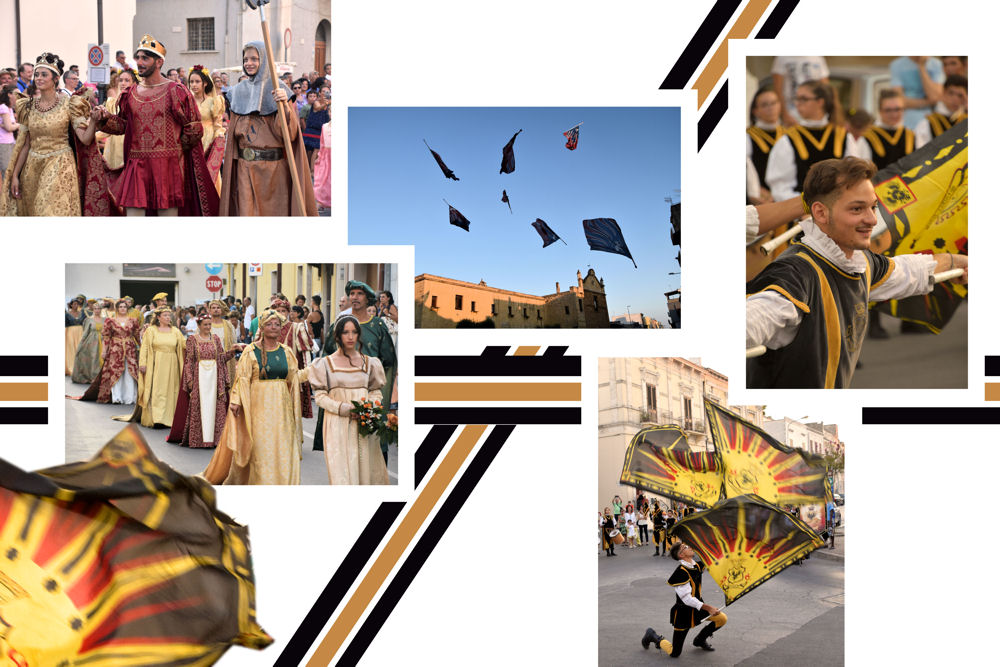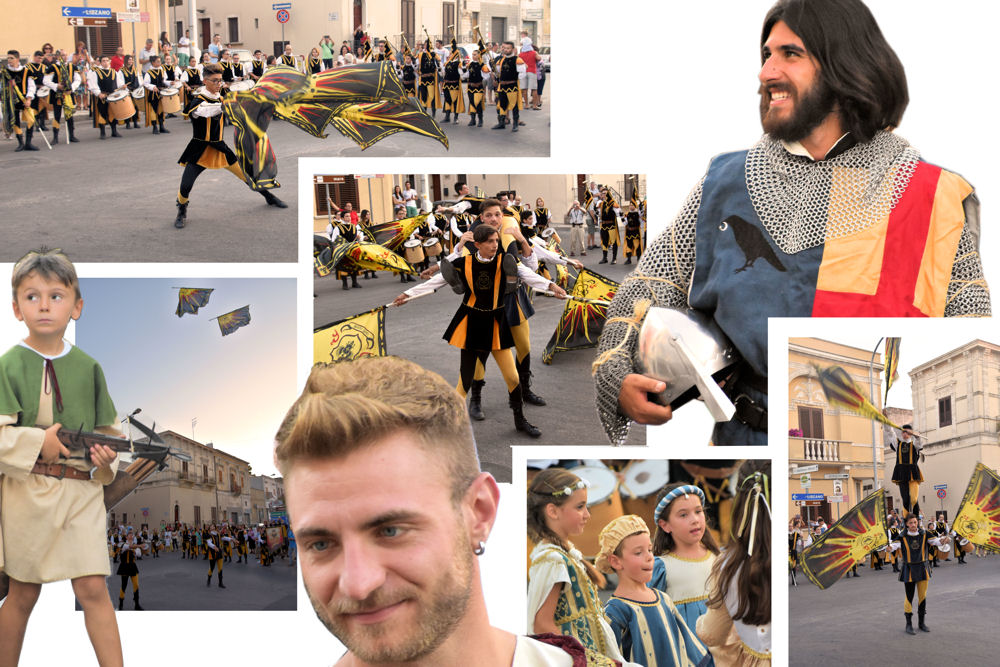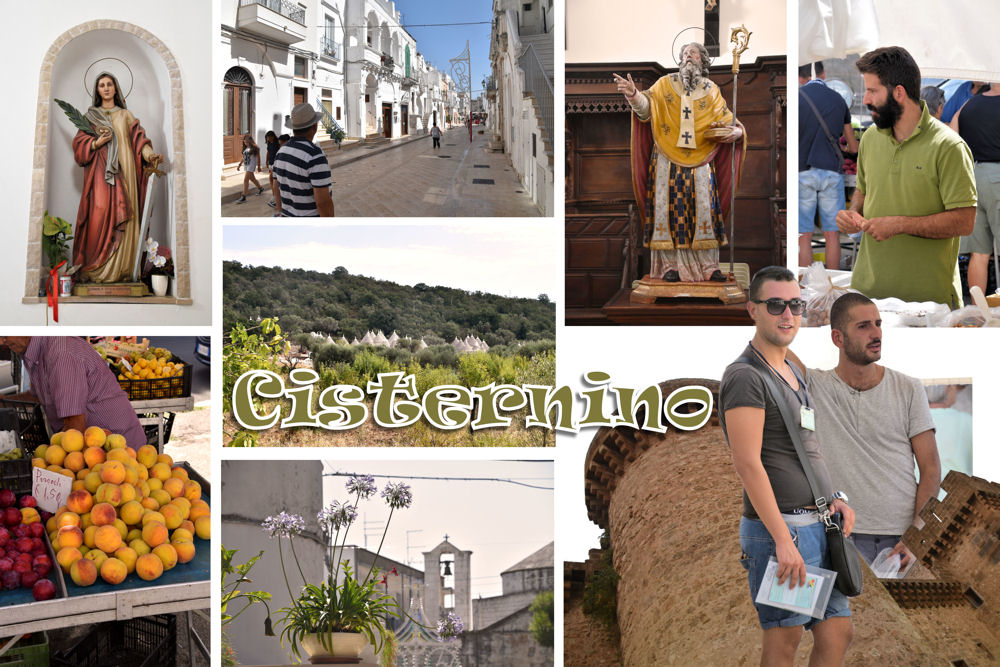 On Sunday, we went to the market in Cisternino and saw statues of the patron saint of eyesight and Saint Nicholas.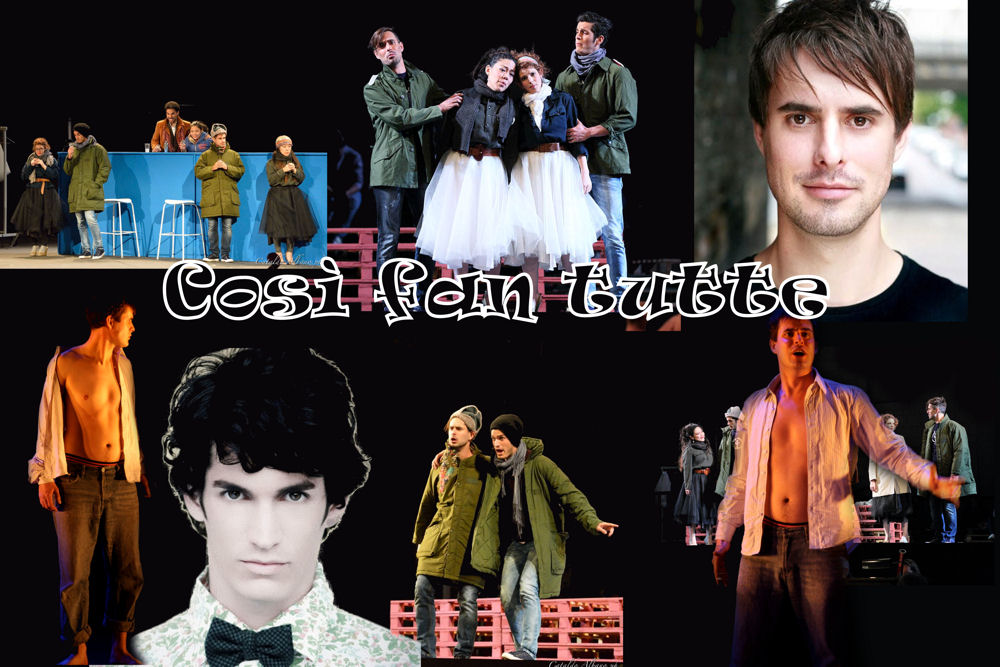 We were just getting ready for dinner on Monday when we realised that our tickets for Così fan tutte were for that night in two hours' time. Though rushed, we were glad we went. The orchestra and singers were excellent, and the two leading men, Laurence Meikle and Bryan Lopez Gonzalez dispelled the short, fat opera singer myth.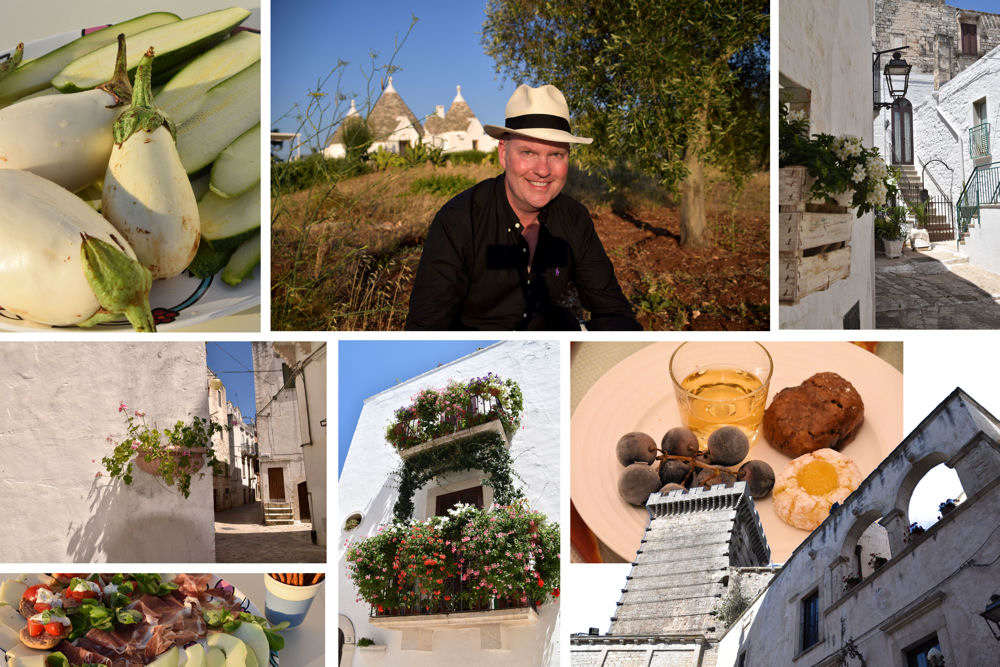 Above: some treats we enjoyed on our trip. White aubergines are seemingly seedless and we loved the melon-like carosello cucumbers. The real taste sensations were the local soft almond biscuits with various fillings and frozen grapes.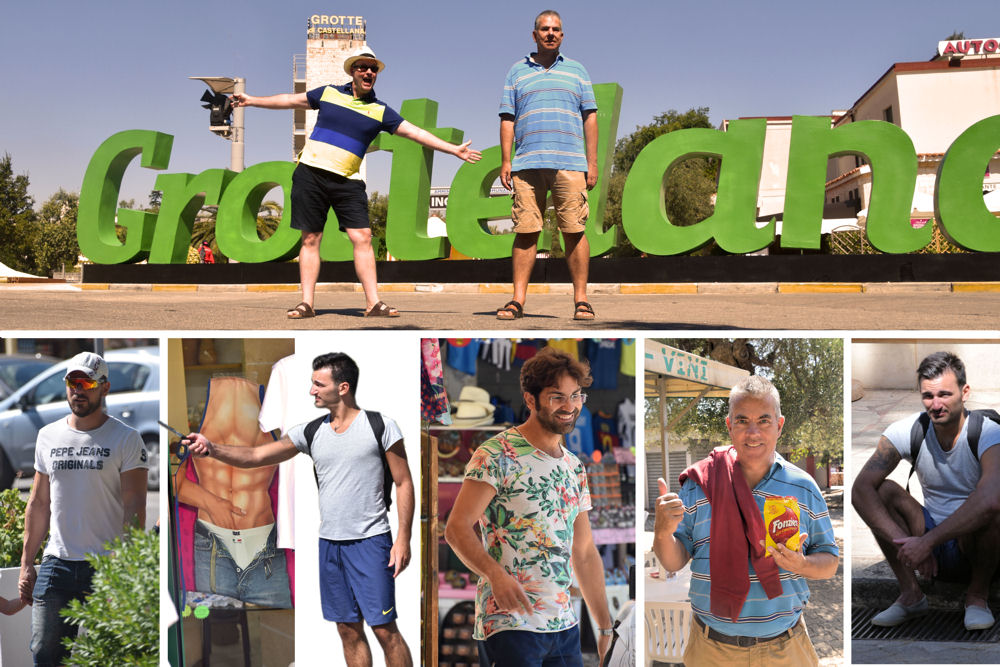 No trip to Italy is complete without visiting a cave. The Grotte Castellana is the biggest in the country and the three-kilometre walk underground was magical.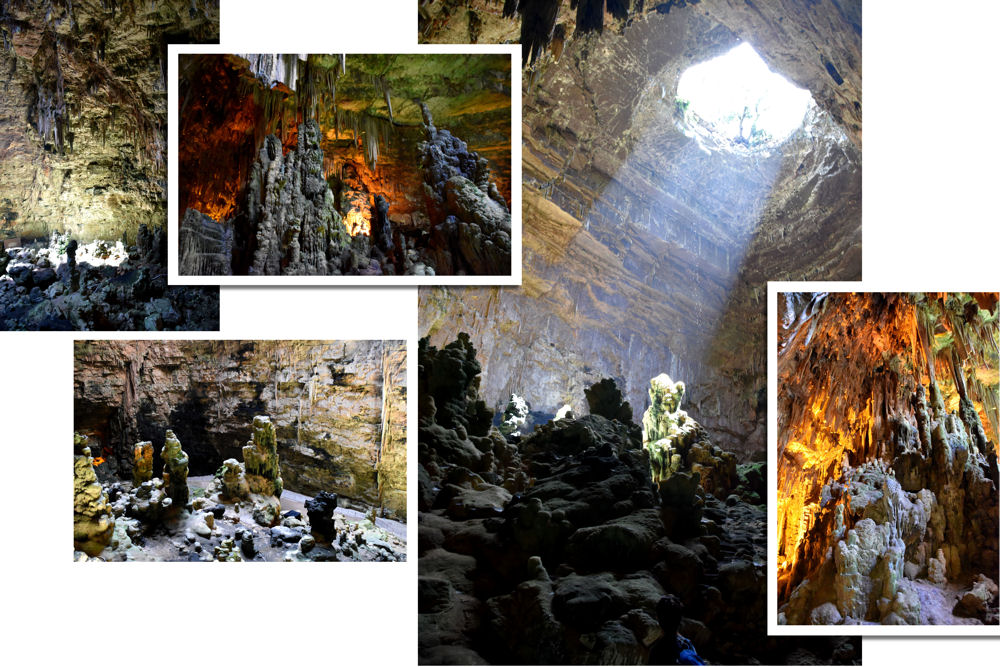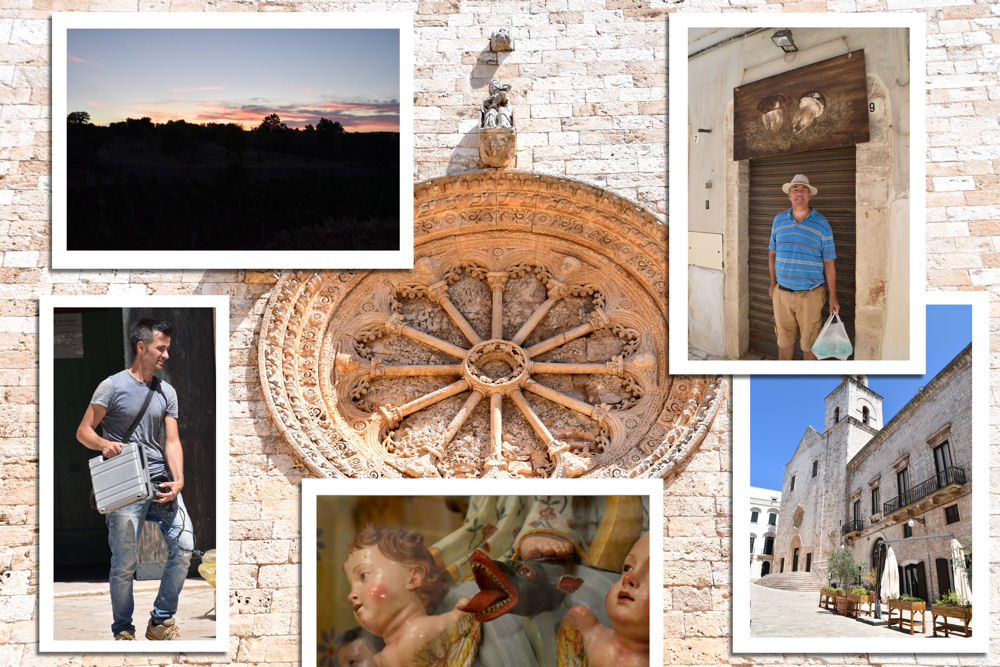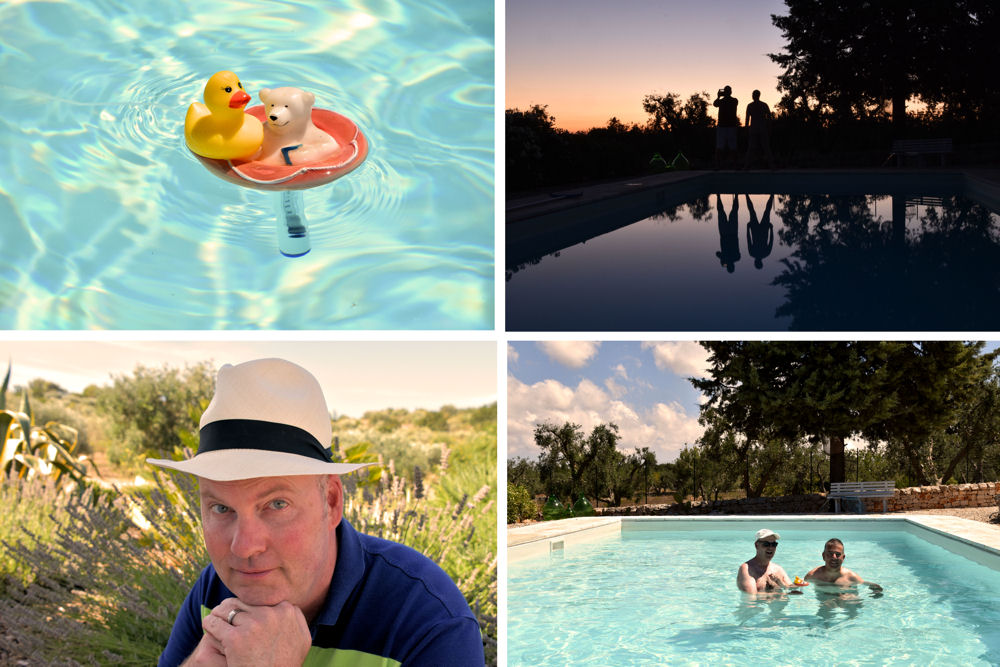 Some of our favourite moments at home: Geordie the Duck (inspired by the original from Umbria) and Beppe the Bear, watching the sunrise, and playing in the pool.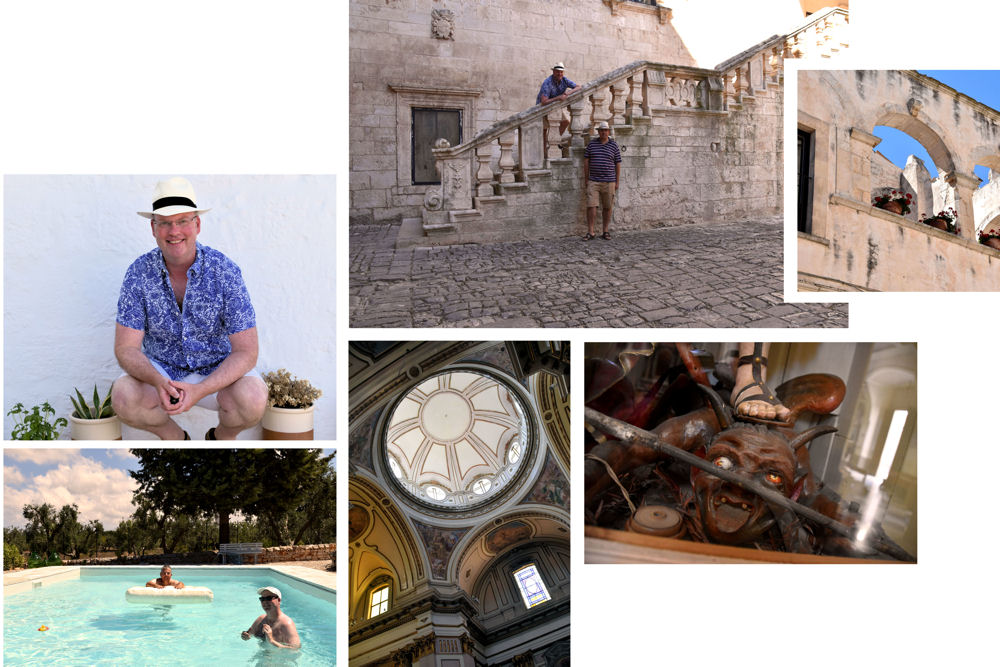 Ceglie Messapica is a nearby town well-known for food.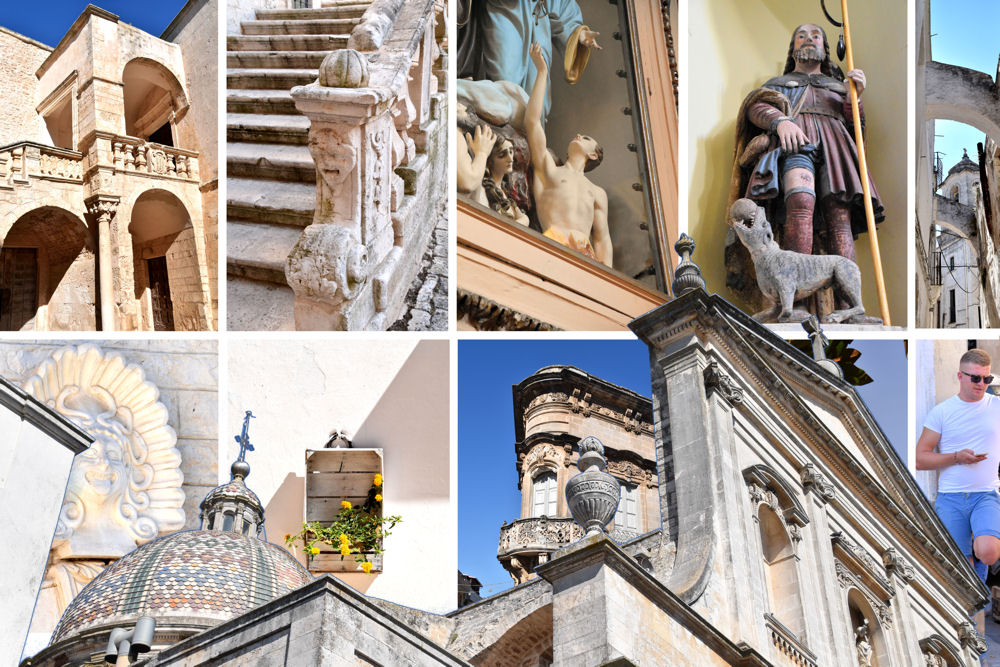 We discovered Saint Rocco, whose dog provided him with bread.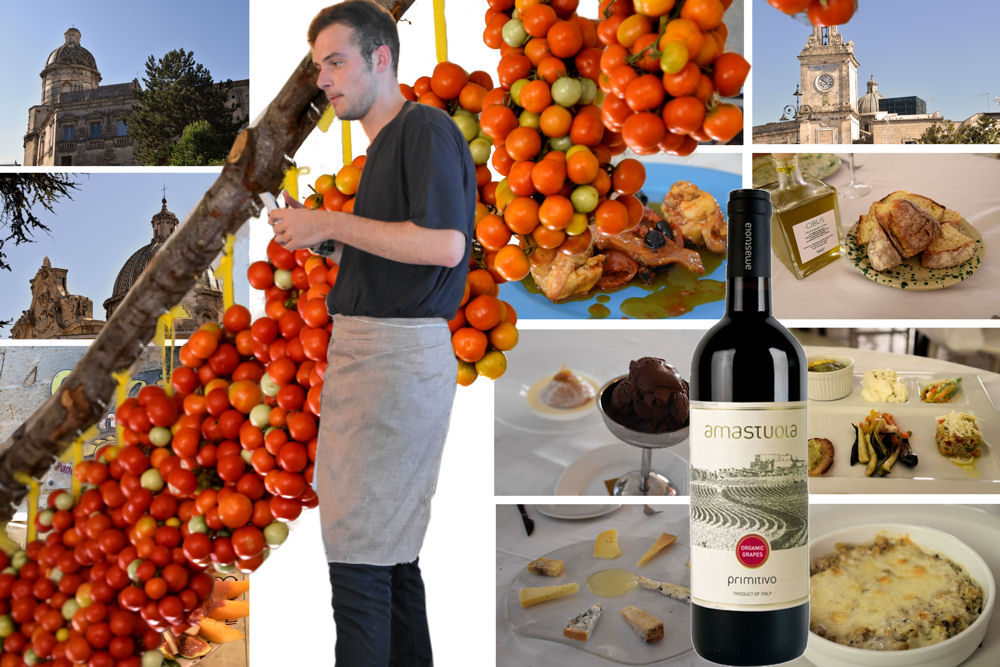 A culinary highlight was provded at Cibus, where our favourite dishes were the amazing "wheat pie" with cheese and truffles and the cheese course, made primarily of pecorino, including blue, servied with honey and another bottle of Primitivo wine.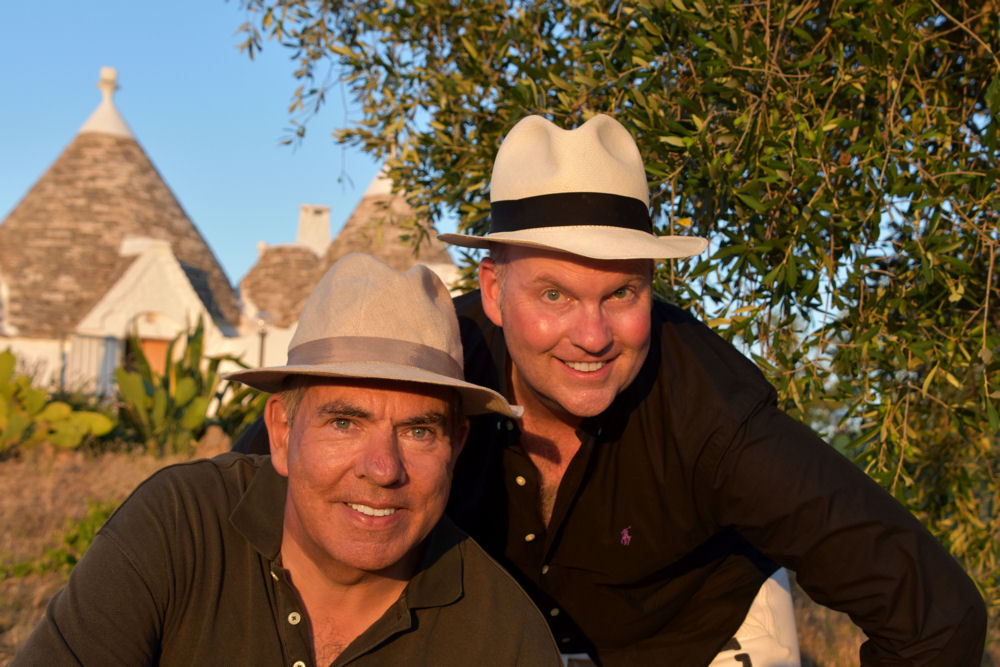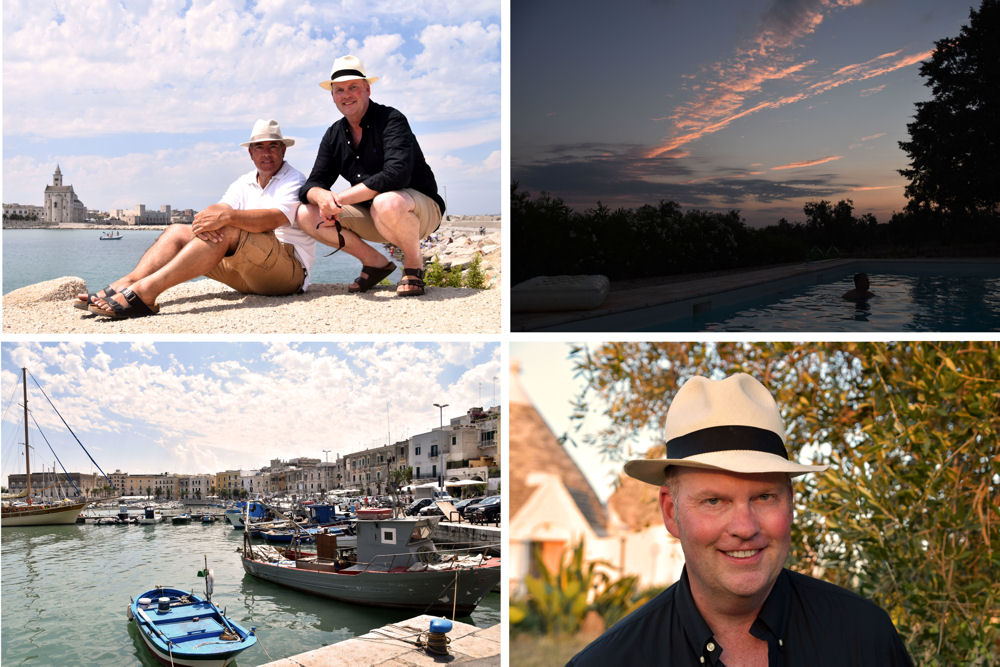 After enjoying a final night by the pool watching shooting stars and bats and hearing owls, we checked out and headed north to seasideTrani.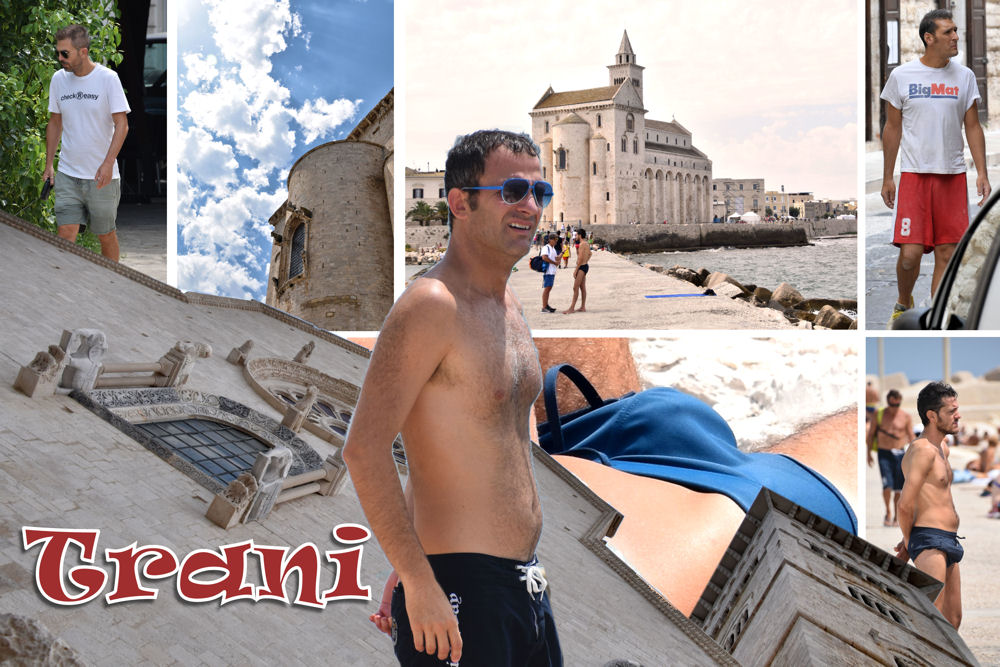 I got a bit trigger happy here.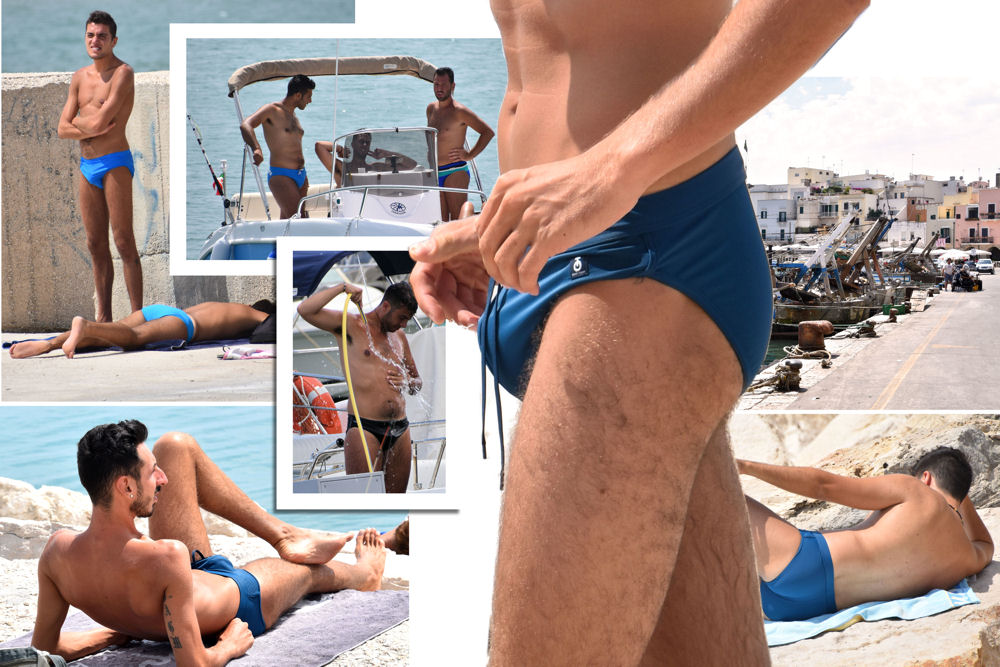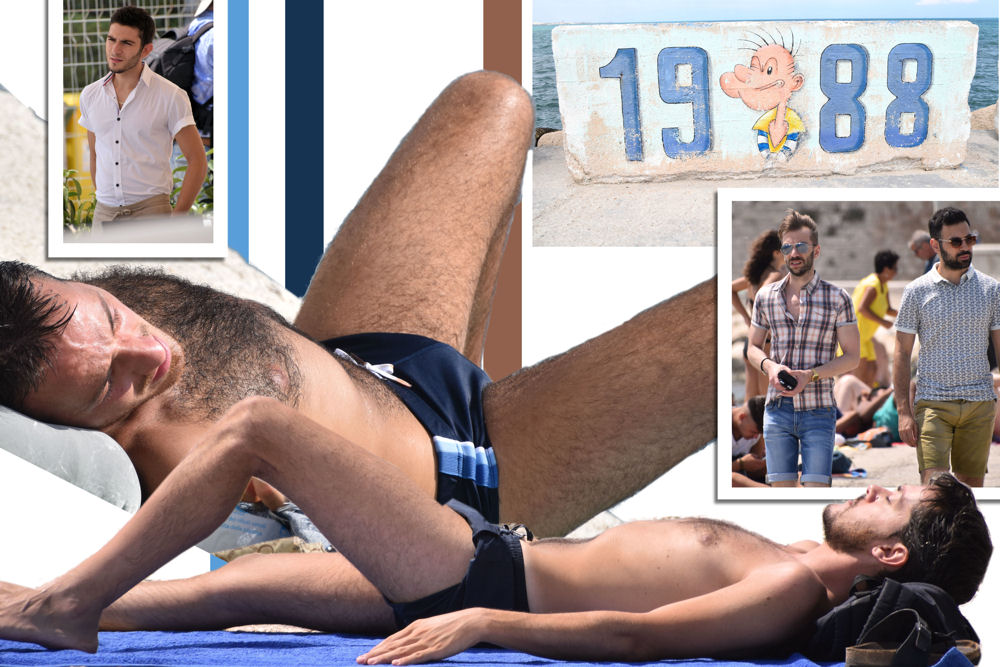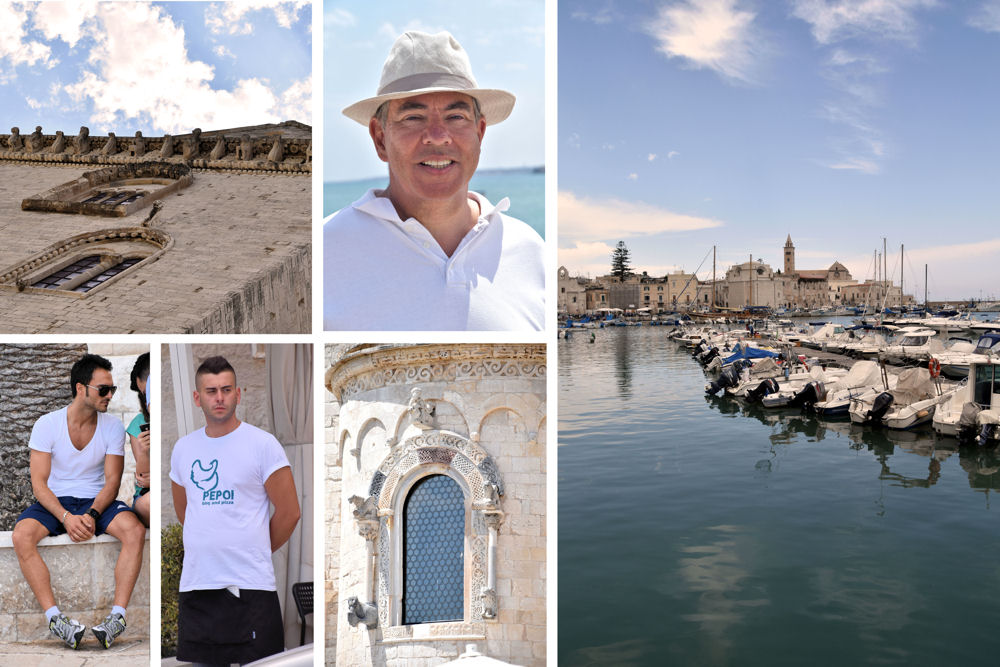 Arrivederci, Italia! George will see you again in October and we'll both be back next May.