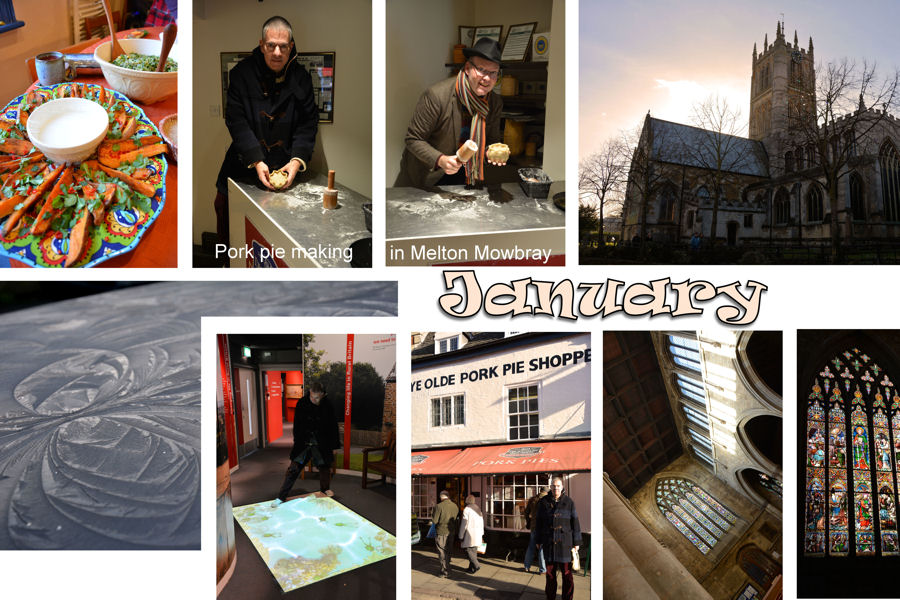 Nick's birthday surprise involved a trip "oop North", with a stop in Melton Mowbray, home of the famous pork pie.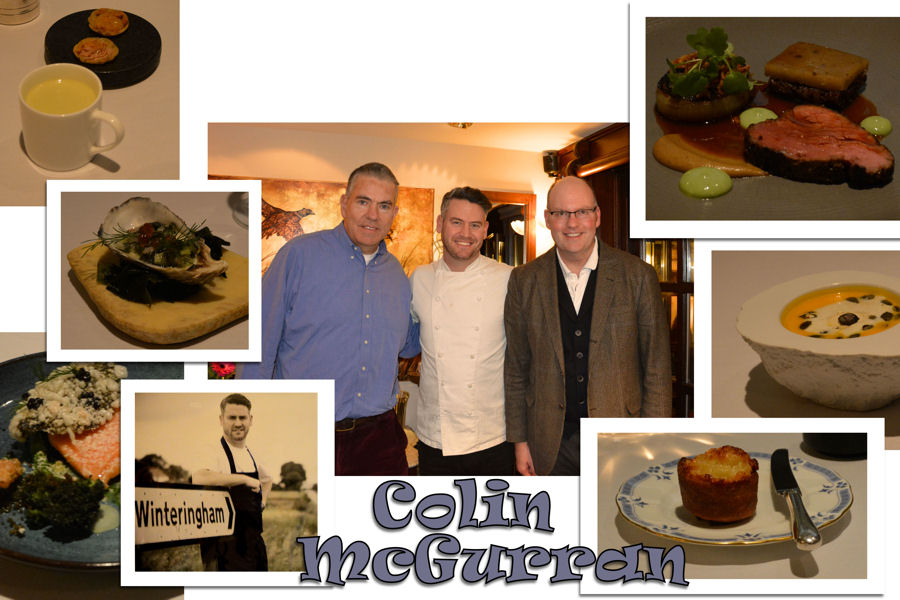 We stayed at Winteringham Fields and had a meal prepared by two-time Great British Menu winner, Colin McGurran.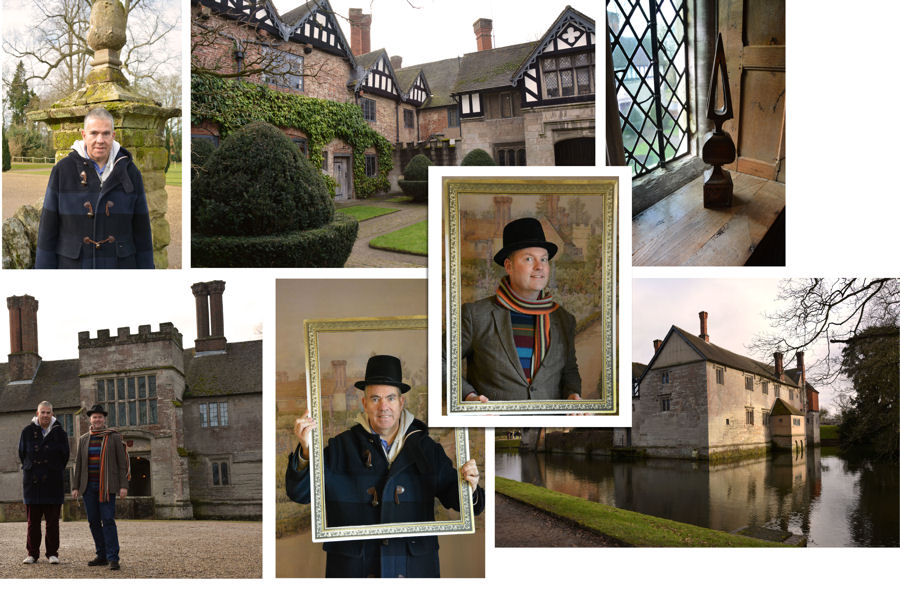 On the way back home, we stopped at National Trust property Baddesley Clinton, for a dose of Victoriana.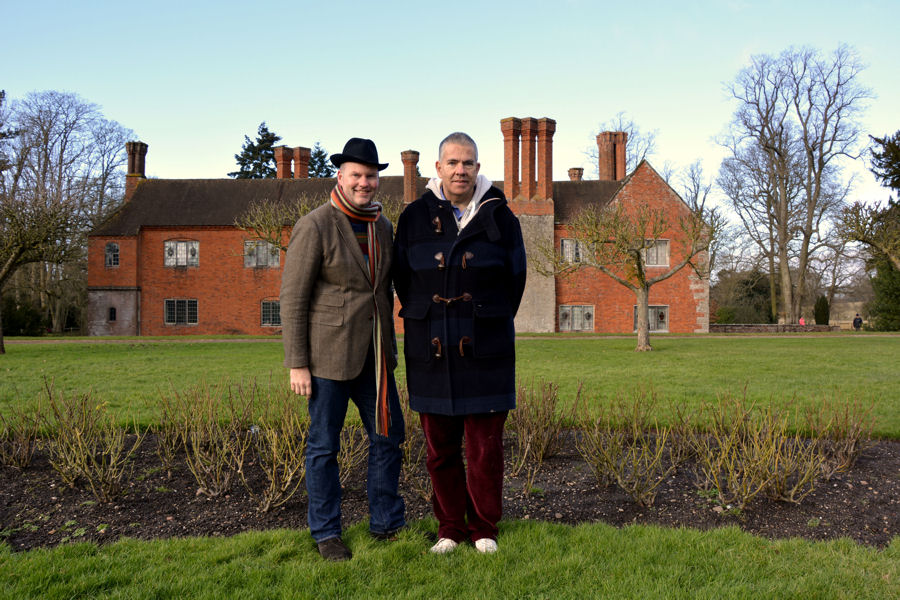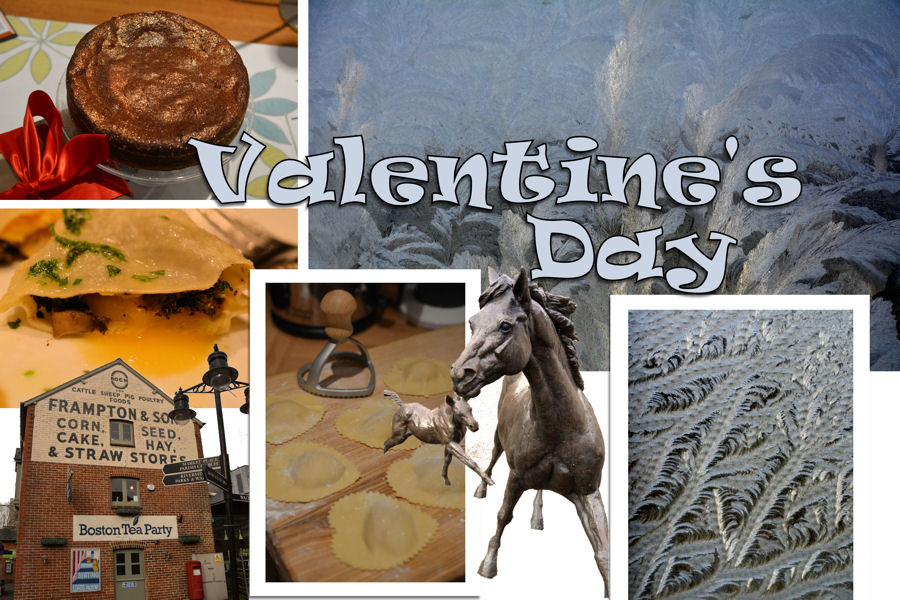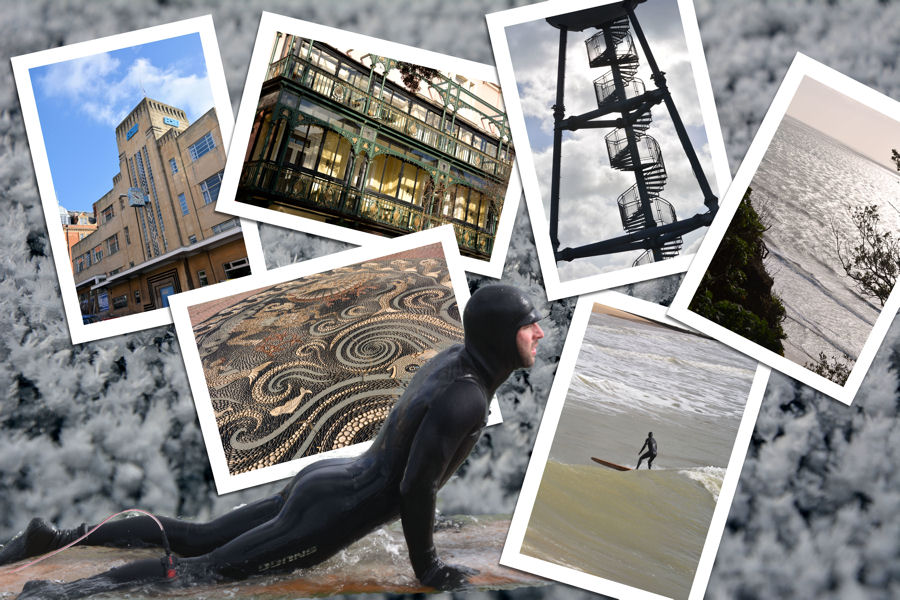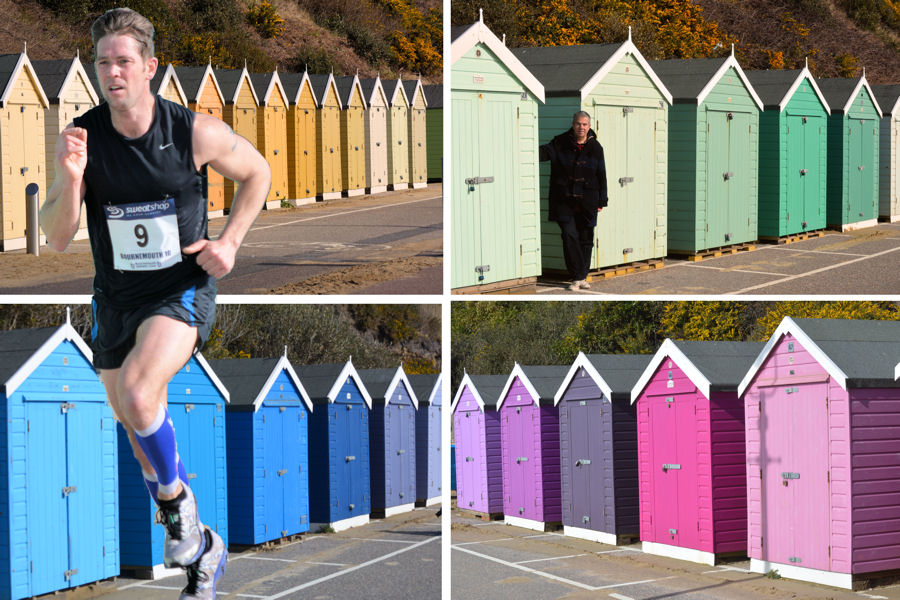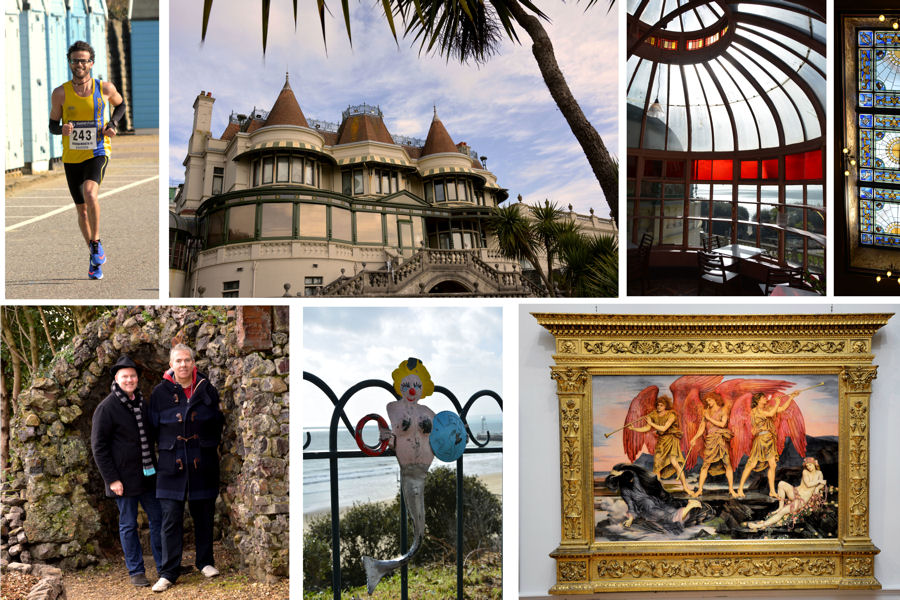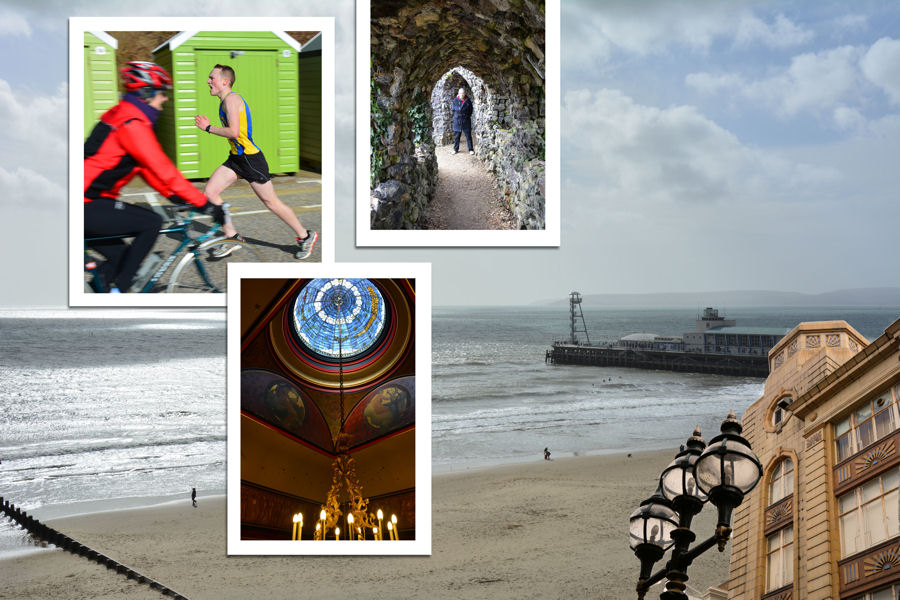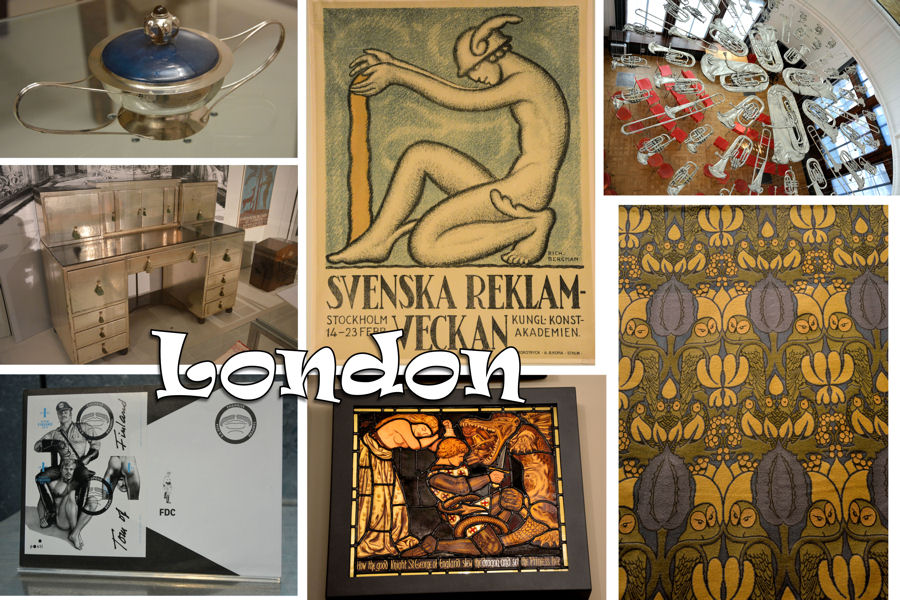 On a weekend trip to London, we went in search of Art Nouveau at the Victoria and Albert museum. The Tom of Finland stamps posted to Russia amused us both.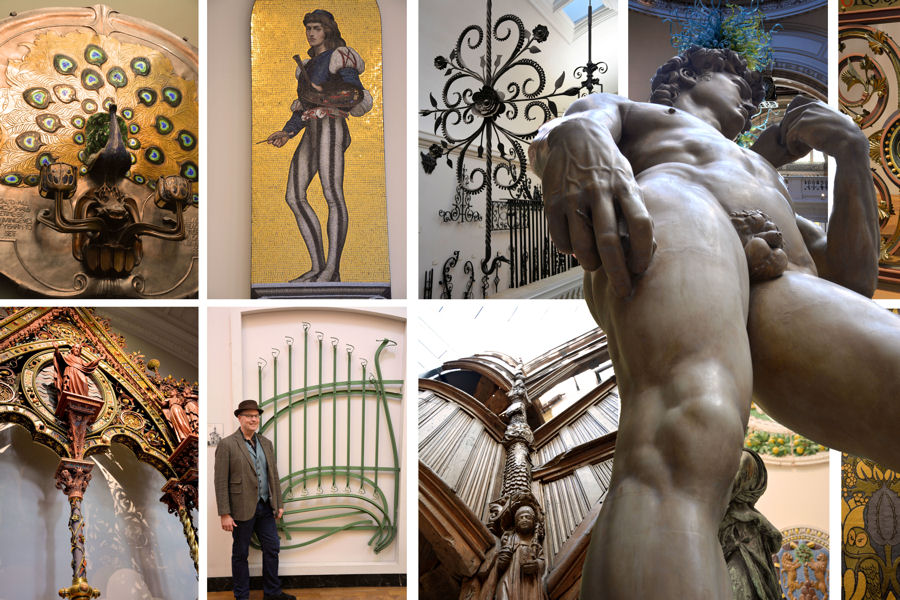 Among the treasures in the V&A, we spotted a gate by Hector Guimard (click HERE for Guimard in Paris) and a copy of Michelangelo's David (click HERE for the Florence version).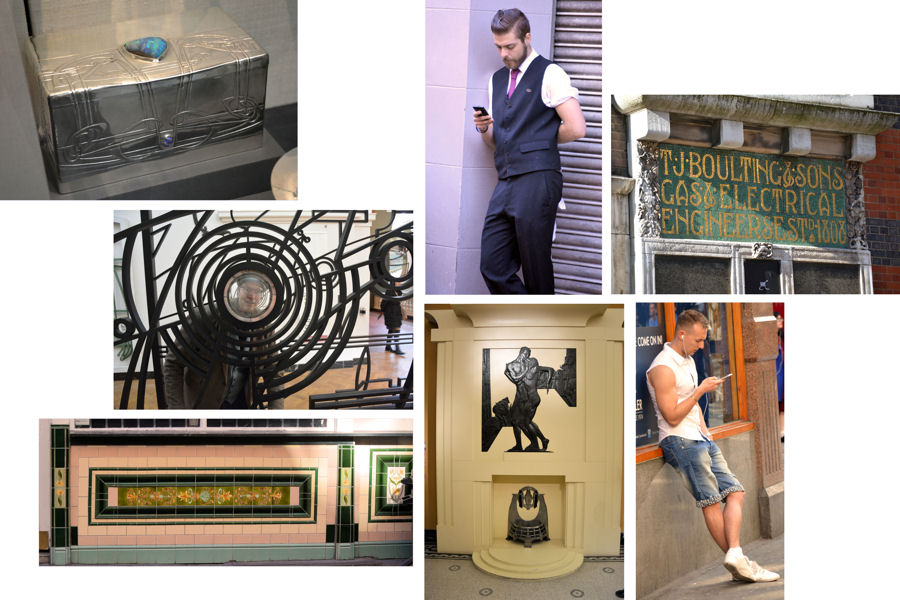 Above: the Art Nouveau box I want for my birthday and a fireplace "suggesting the ménage à trois between the artist and two others".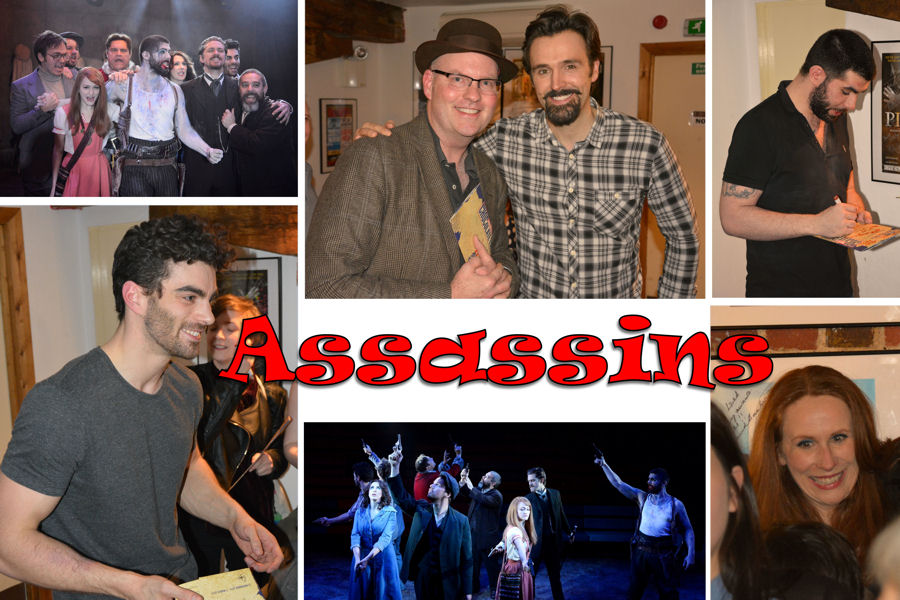 Our main reason for going to London was to see Sondheim's brilliant Assassins at the reliably outstanding Menier Chocolate Factory. In the bar afterwards, we were delighted to meet actors Stewart Clarke, Simon Lipkin (last met HERE in 2006), Catherine Tate, and Michael Xavier, whom we had seen before in Regent's Park's Into the Woods. Also in the bar were Tim Minchin and Jonathan Ross. A starry evening!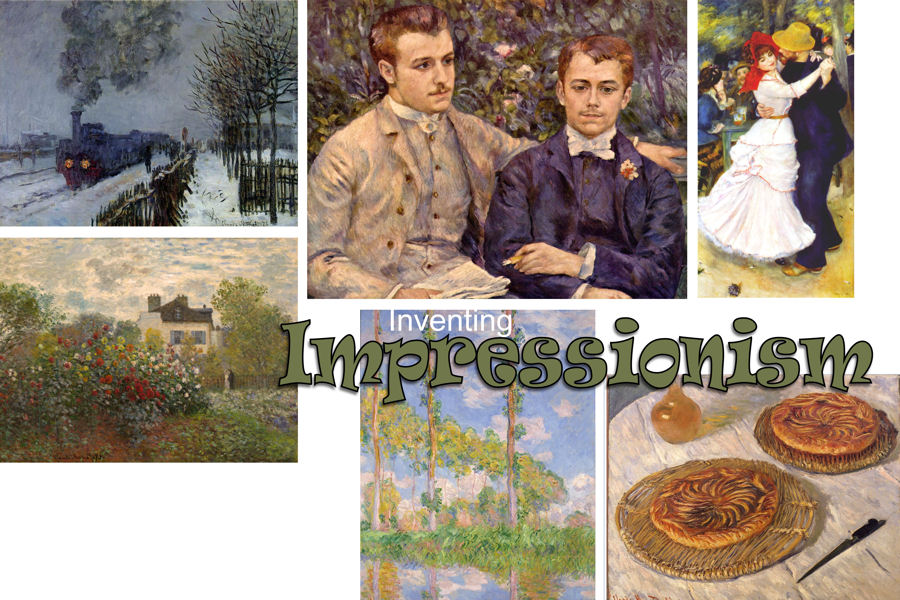 The next day, we went to the Inventing Impressionism exhibition at the National Gallery, one of the best shows I've ever seen. Above are my favourite images, with the top being the painting of Charles and Georges Durand-Ruel, by Renoir.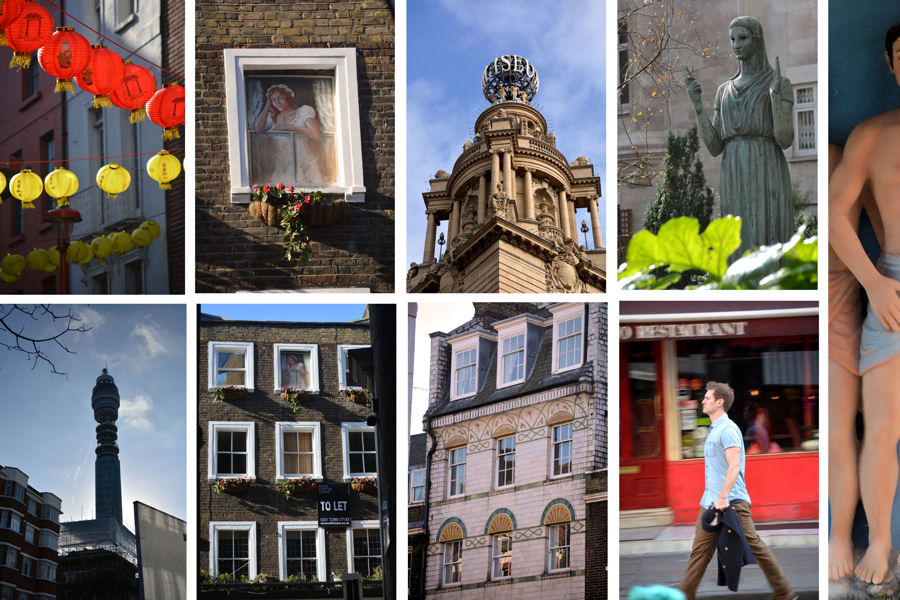 A man stopped us in Fitzrovia and told us that we must photograph the window above, where students had placed a Botticelli painting.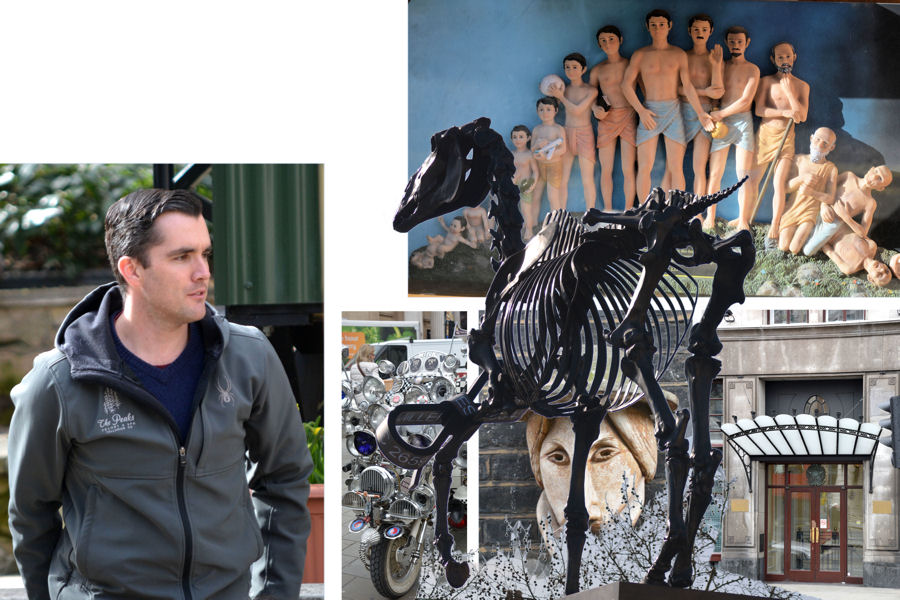 Final London images: a cute dad, dinosaur, Harley bling, and the seven or more ages of man.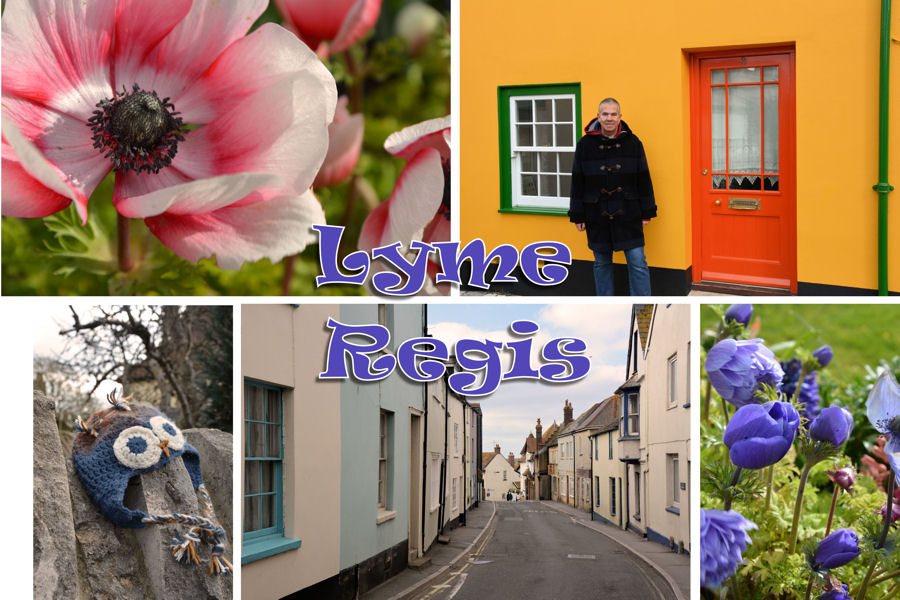 On a whim, we returned to Lyme Regis one Sunday morning for a fun visit.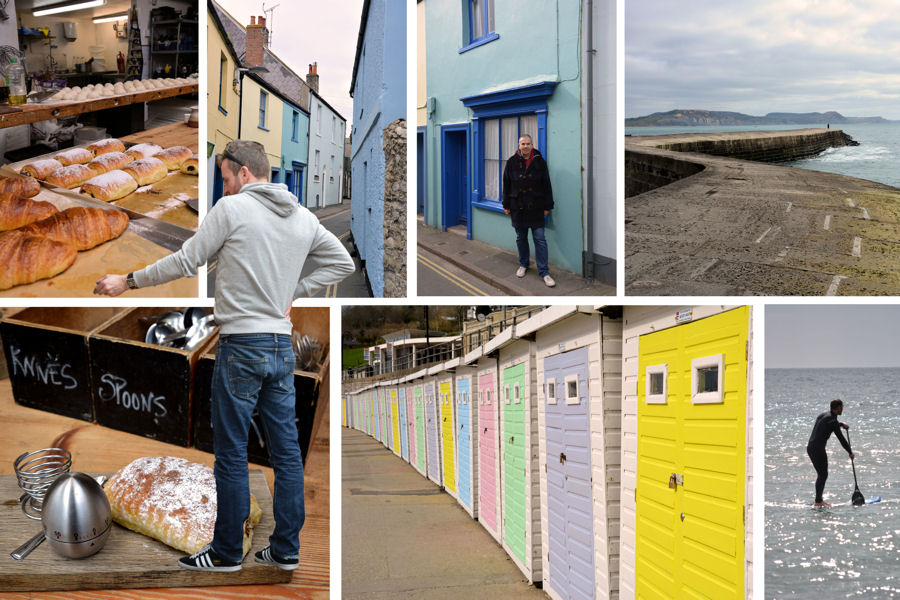 We enjoyed visiting our favourite destinations: the Town Mill bakery, the Cobb, and the colourful town streets..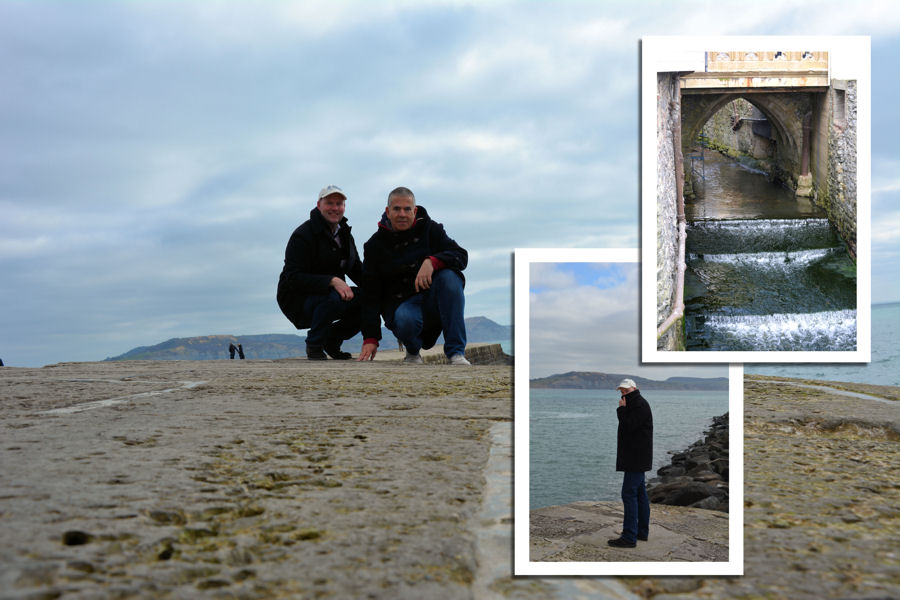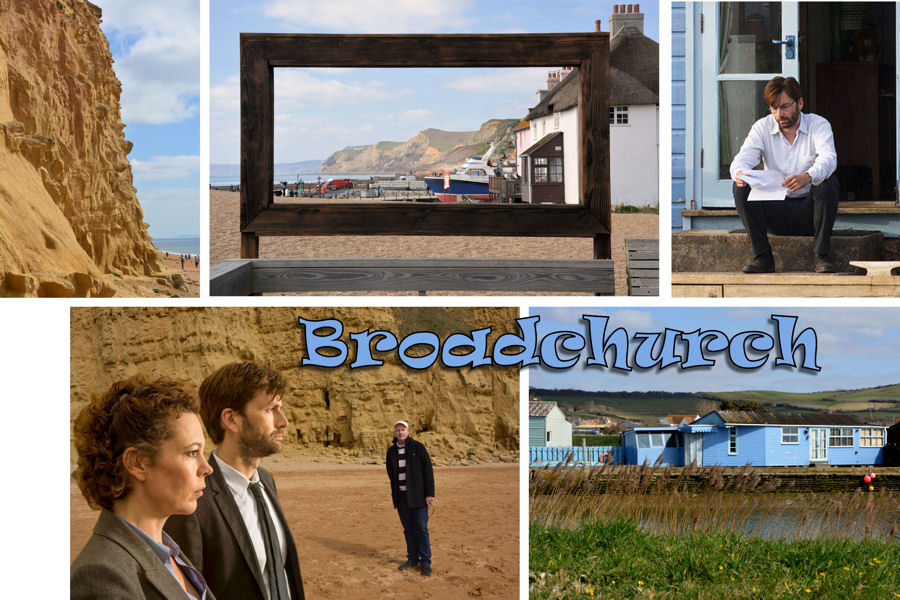 On the way back home, Nick discovered that West Bay was the location for the fantastic television series, Broadchurch, so we stopped to trace the footsteps of David Tennant on the red, sandy beach. We were excited to discover that the little blue chalet used as Alec Hardy's residence was a real place, just near the main town square.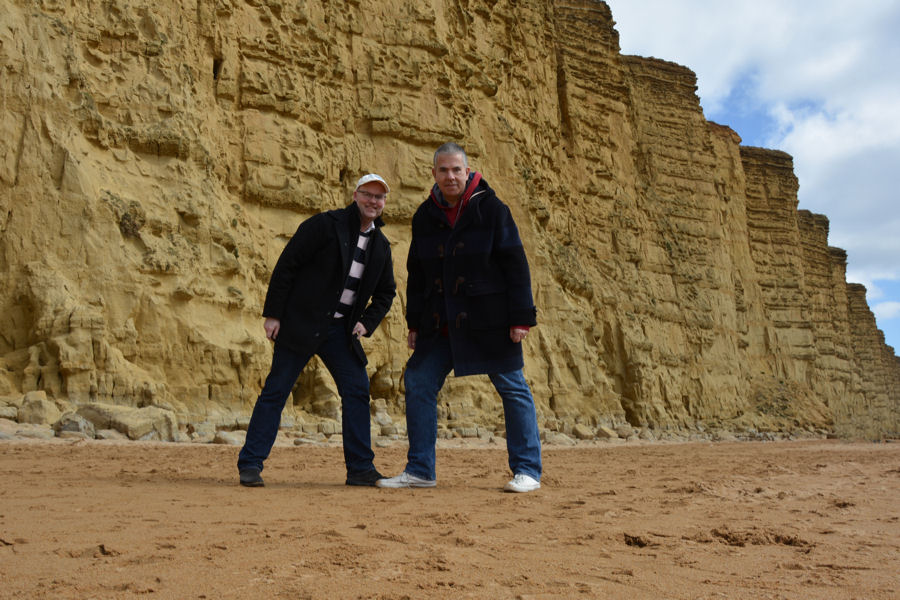 Looking for clues on "Broadchurch" beach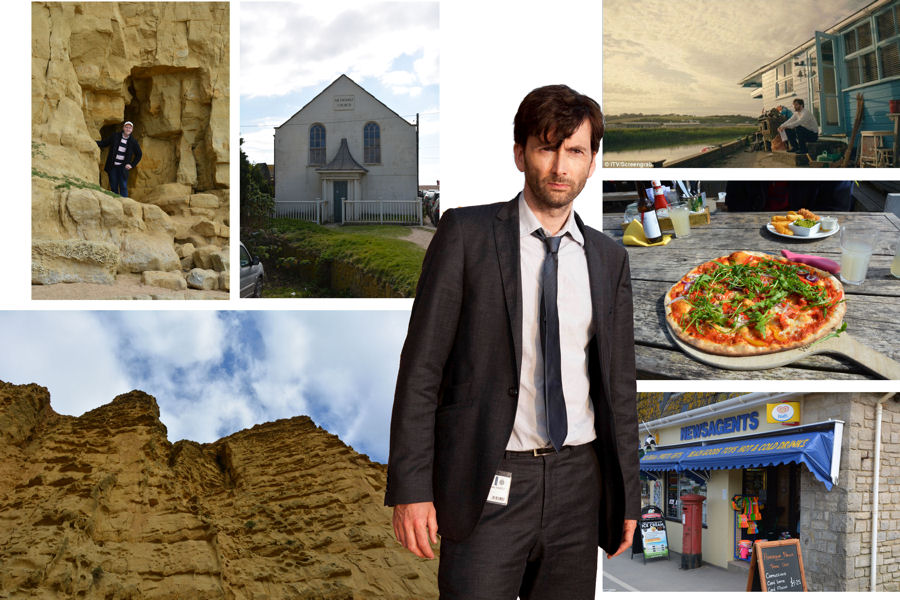 Above: the Methodist church was dressed and used as the exterior for the Sea Brigade Hall and the newsagent was used in series 1. Click HERE to see our real life encounter with David Tennant in Stratford.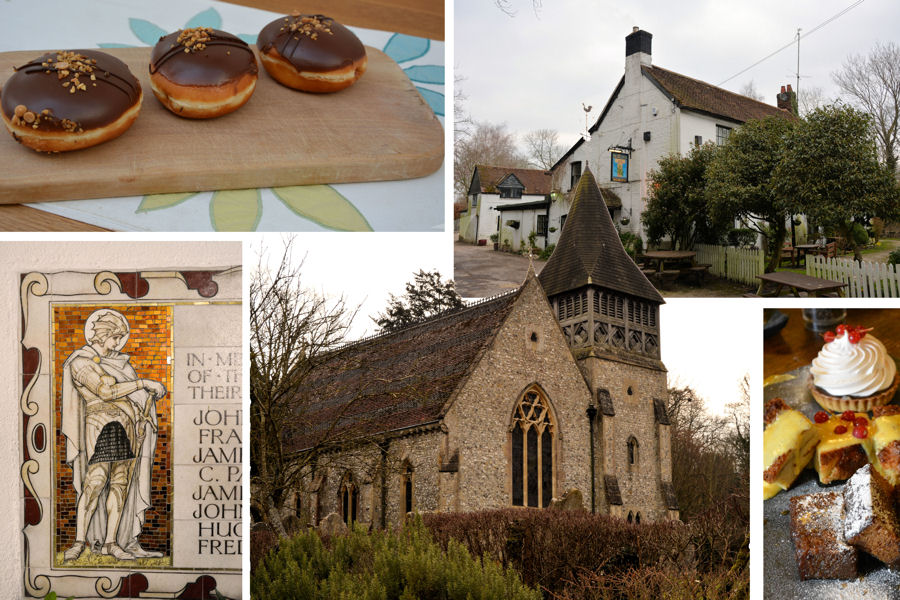 Closer to home, we made a pilgrimage to Krispy Kreme to sample their new Reece's Peanut Butter doughnuts. Afterwards, we met friends for lunch at a country pub.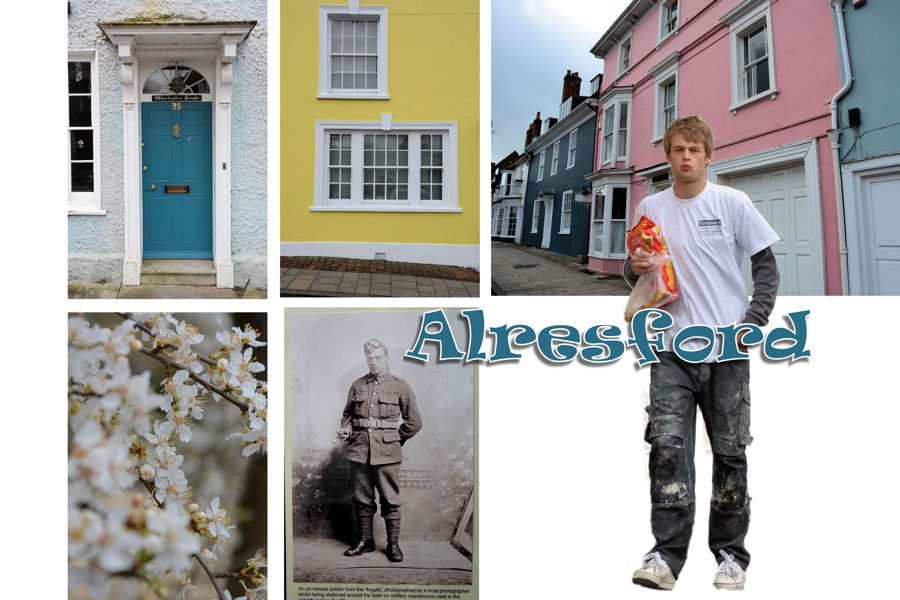 We stopped in Alresford, home to the Watercress Festival, and bought picnic supplies for our visit to Uppark.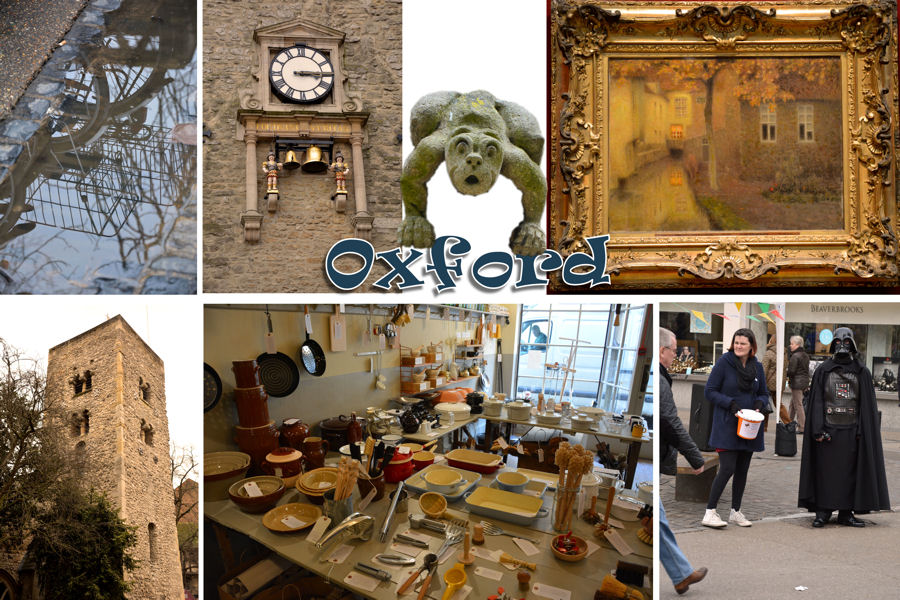 George visited Oxford with friends early in the Easter break. Click HERE to see the last visit with Rus.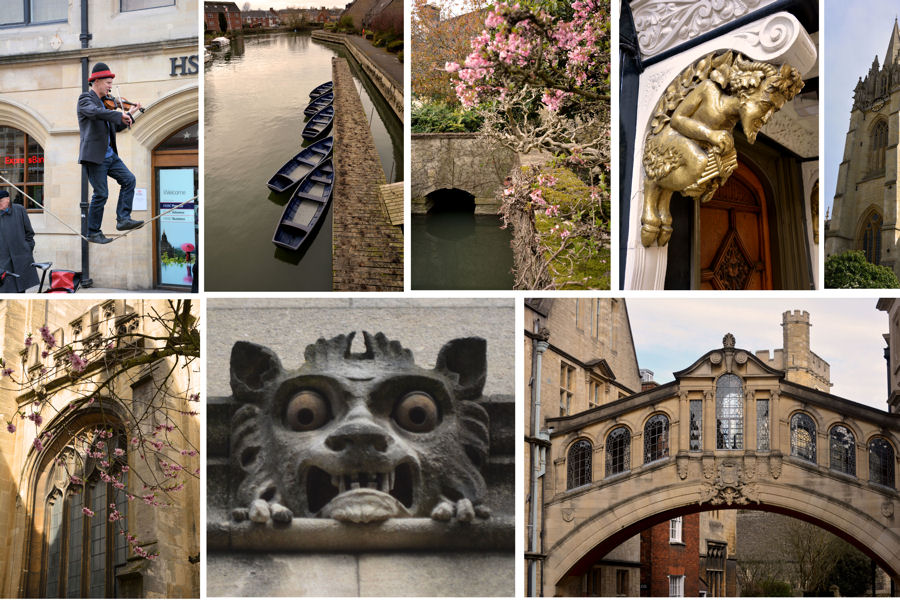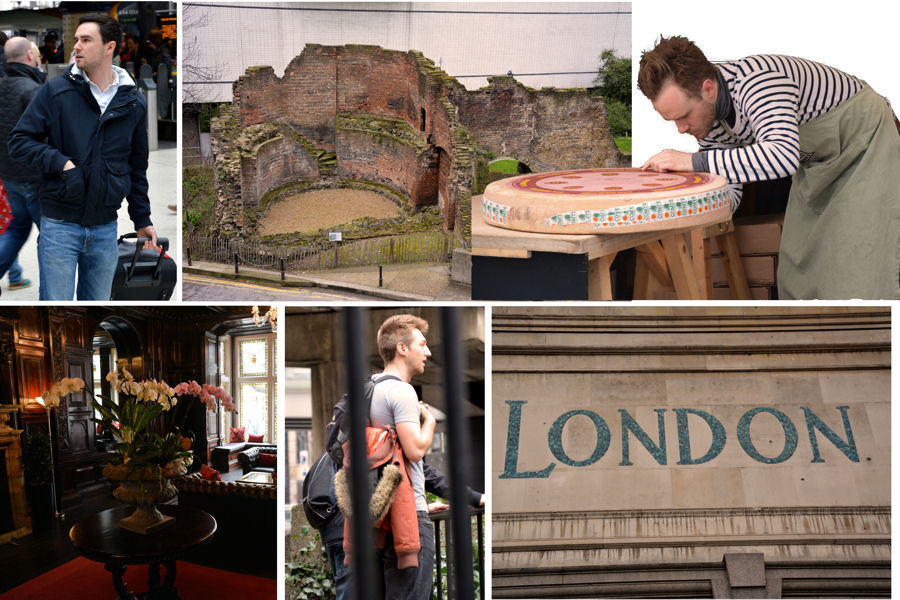 Back to London where Nick did a songwriting course and we both did some fun sightseeing. .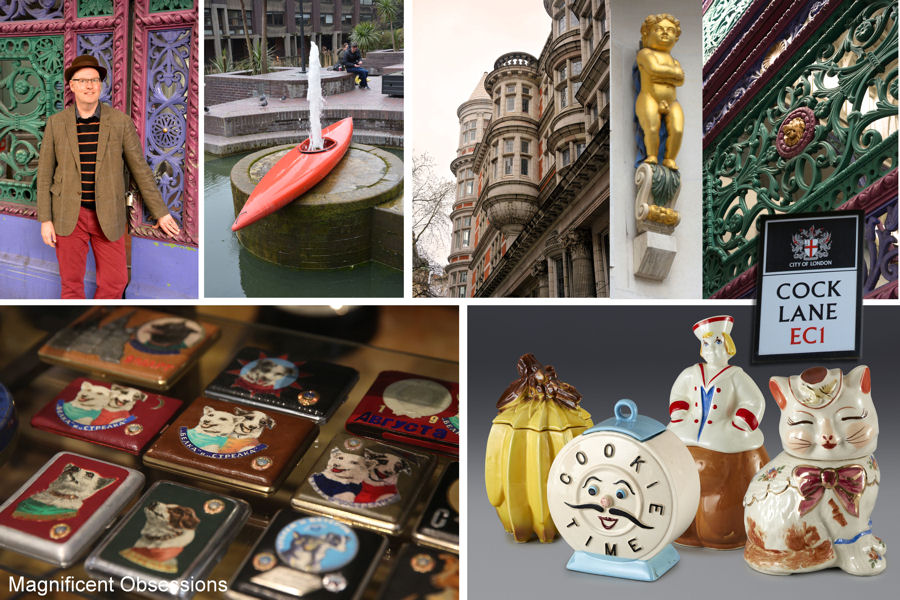 We enjoyed seeing a range of memorabilia collected by various artists at the Magnificent Obsessions exhibition, particularly the Russian Space Dogs.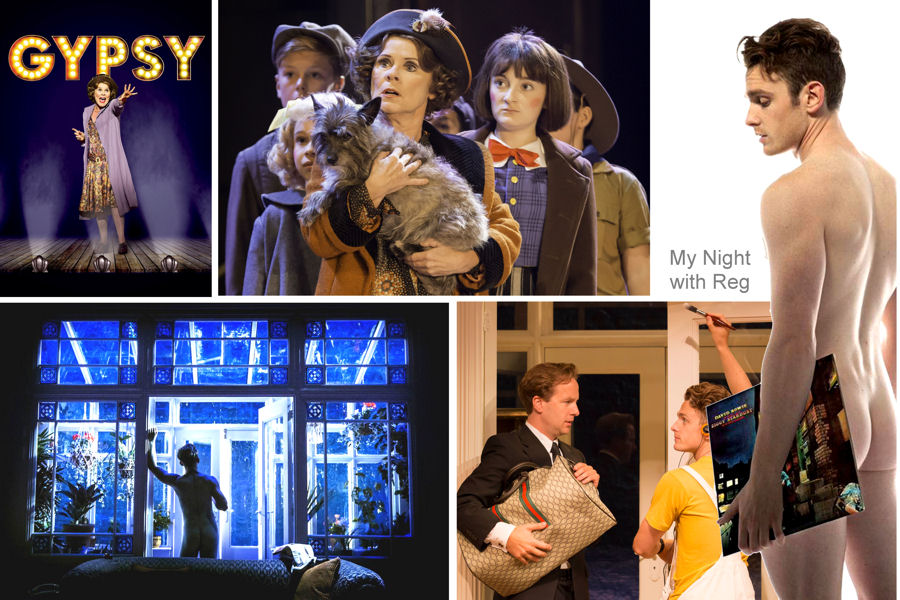 We went to see two West End revivals: Gypsy, with Imelda Staunton, who brought new depths to Mama Rose, and My Night With Reg, which featured a naked Julian Ovenden.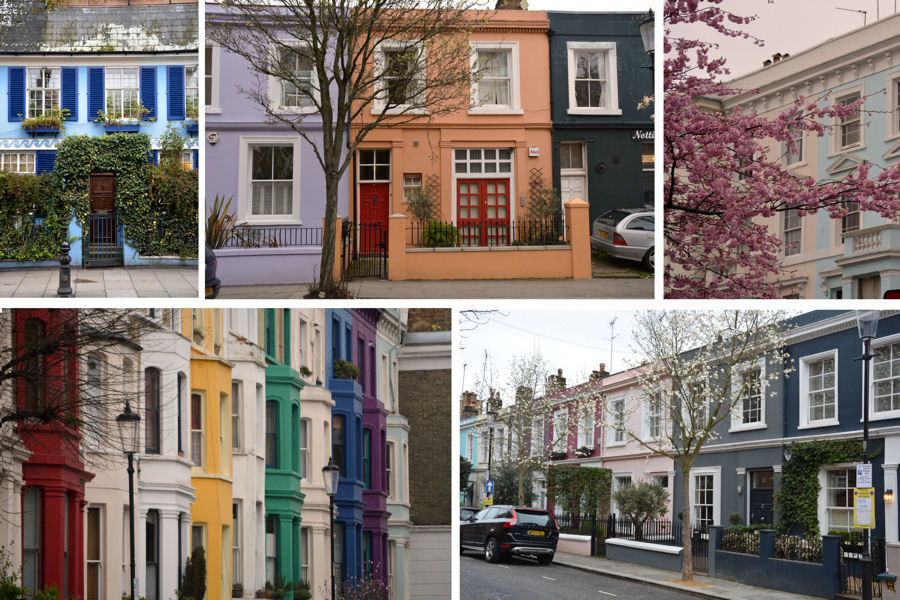 Above: colourful houses on Portobello Road and nearby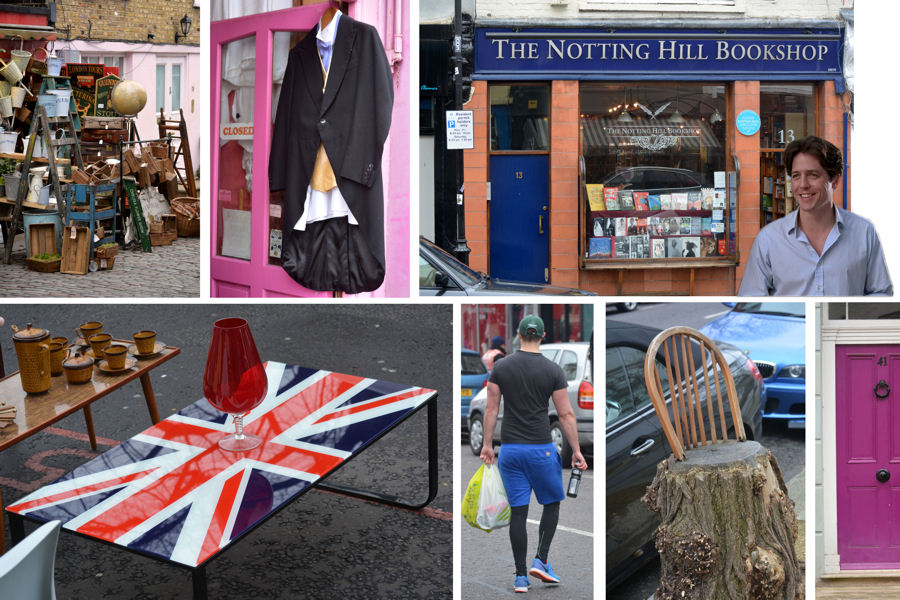 Above: the bookshop that "inspired" the film Notting Hill, plus other sights from the area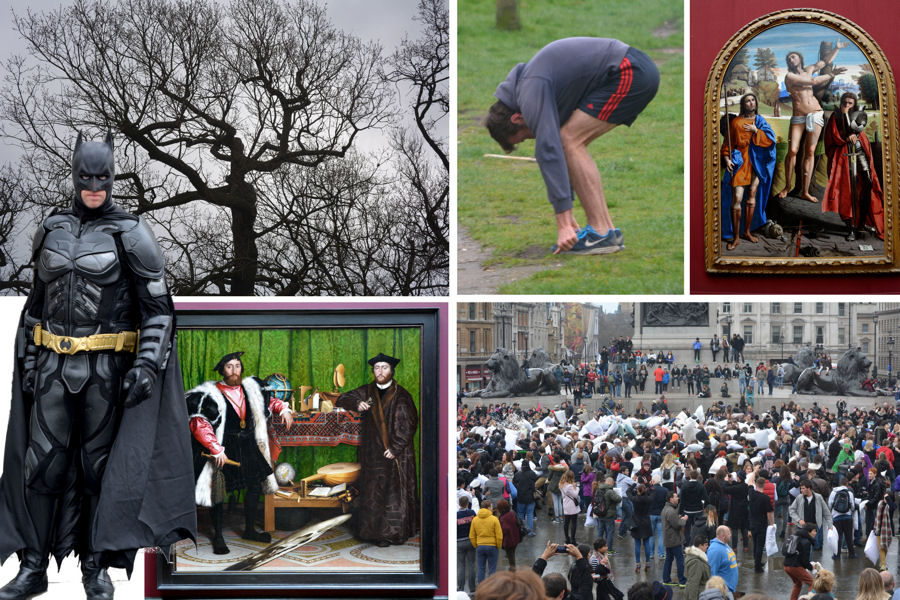 Batman was spotted in Trafalgar Square, where a mass pillow fight was in progress. Inside the National Gallery, I admired Holbein's painting and another St Sebastian. More St Sebastian art HERE.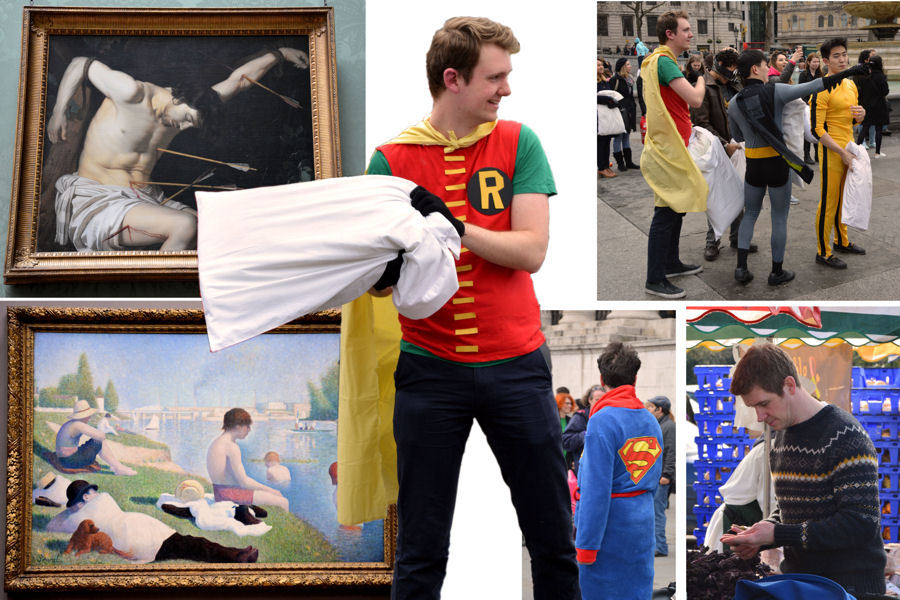 Where there's Batman, you'll find Robin. Also more Sebastian and one of my favourite works by Seurat.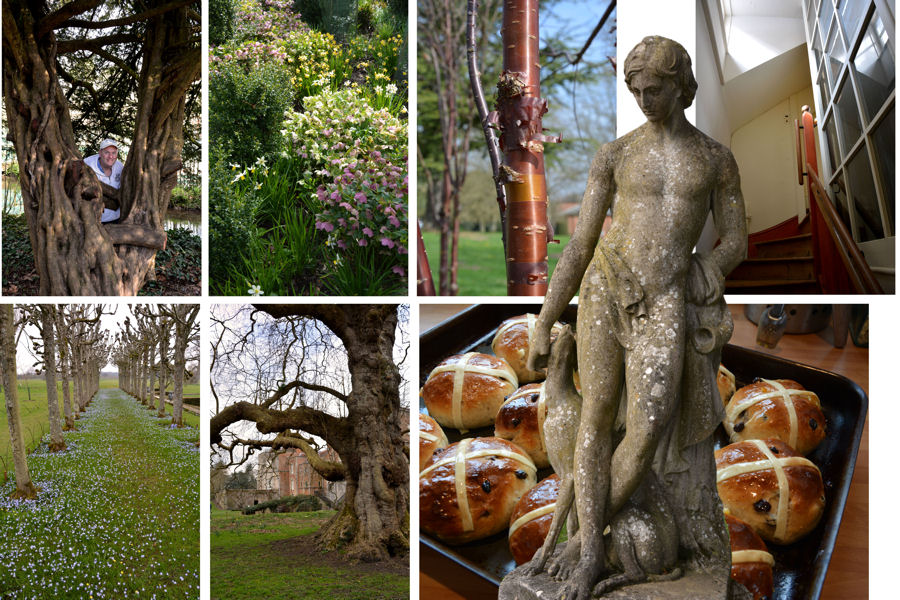 Easter at our local National Trust property, along with homemade hot cross buns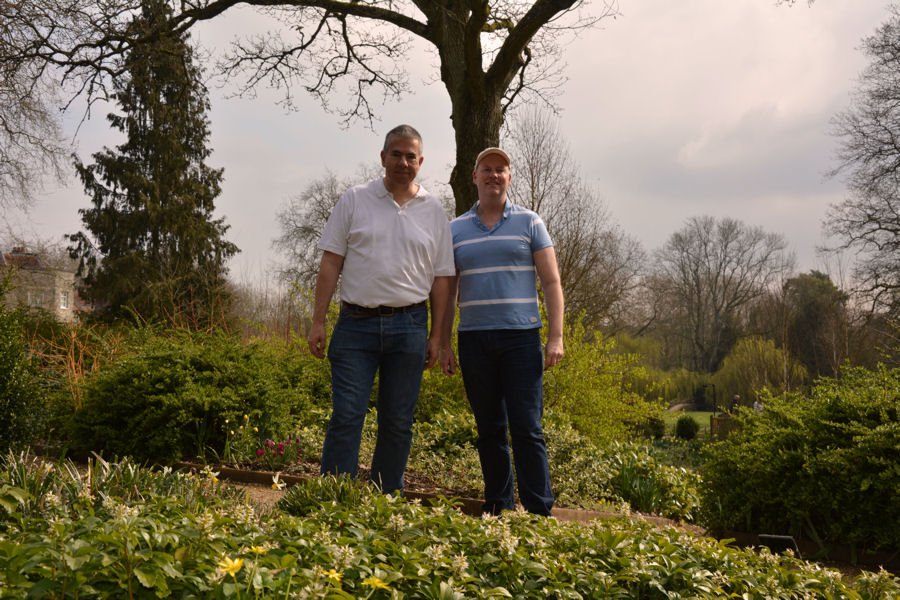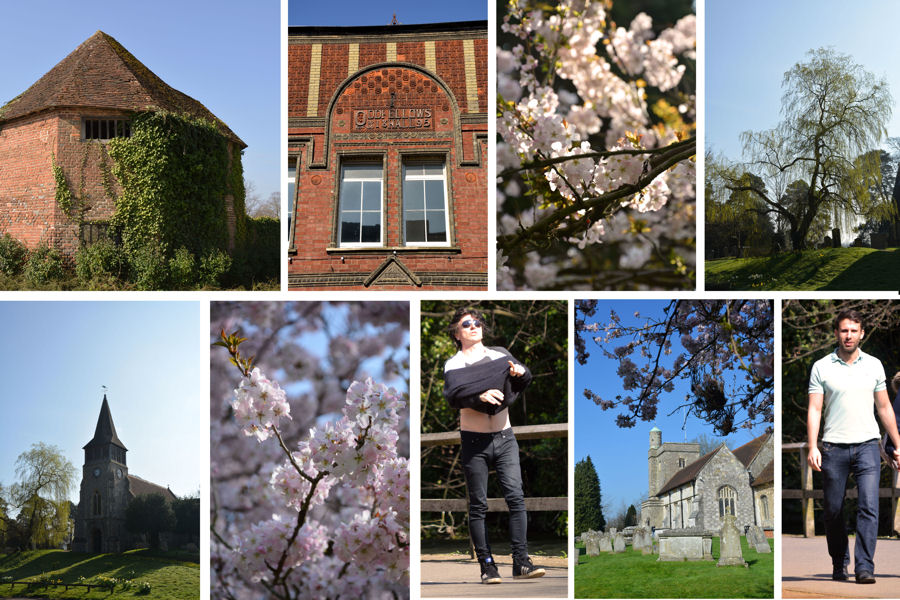 Sunny tmes in Hampshire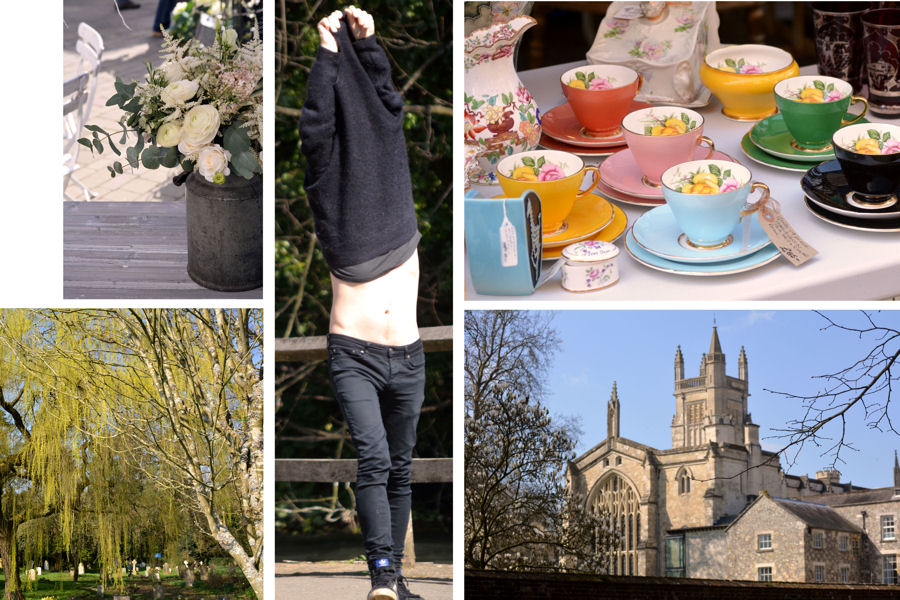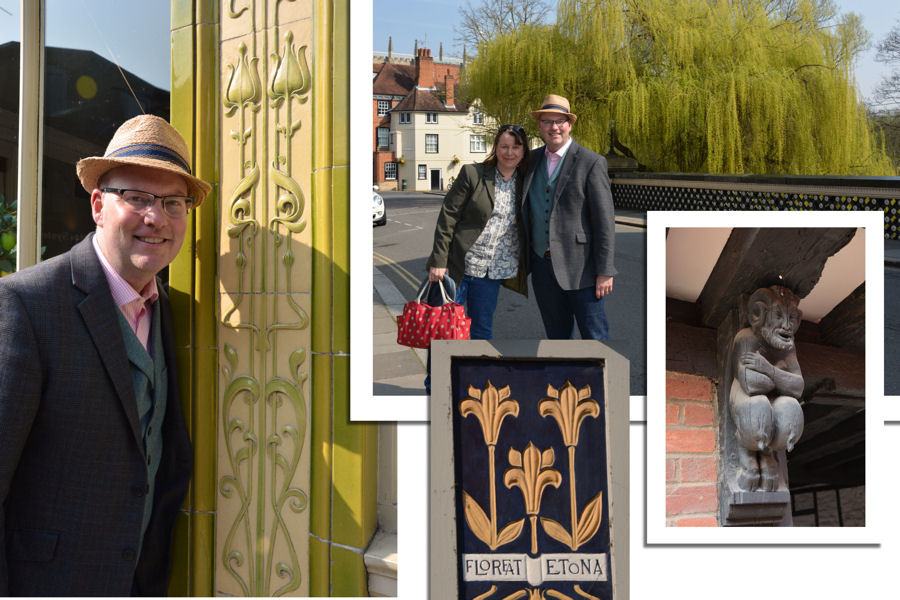 Went to Windsor with my friend Julia. We walked into Eton and discovered a willow tree and some Art Nouveau-looking things.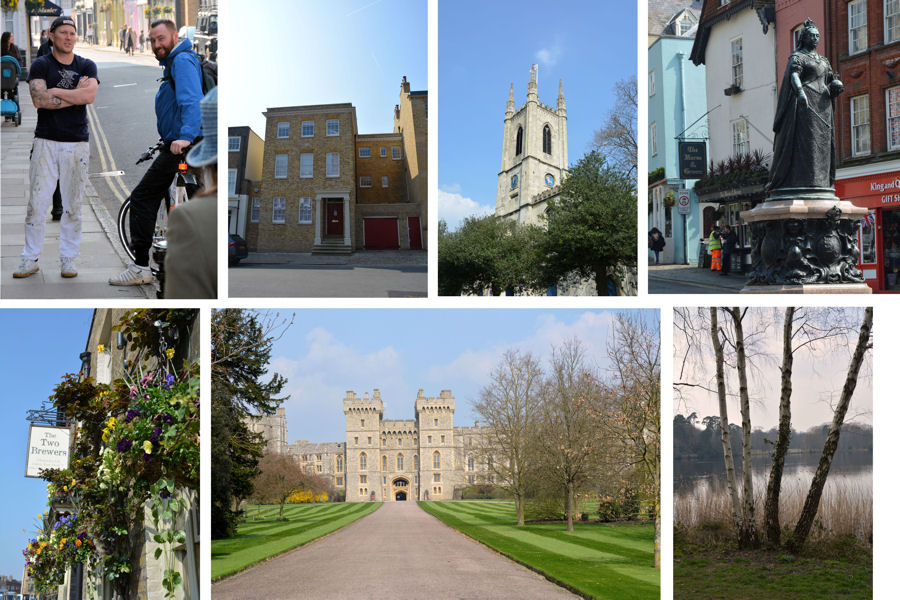 Very familiar Windsor sights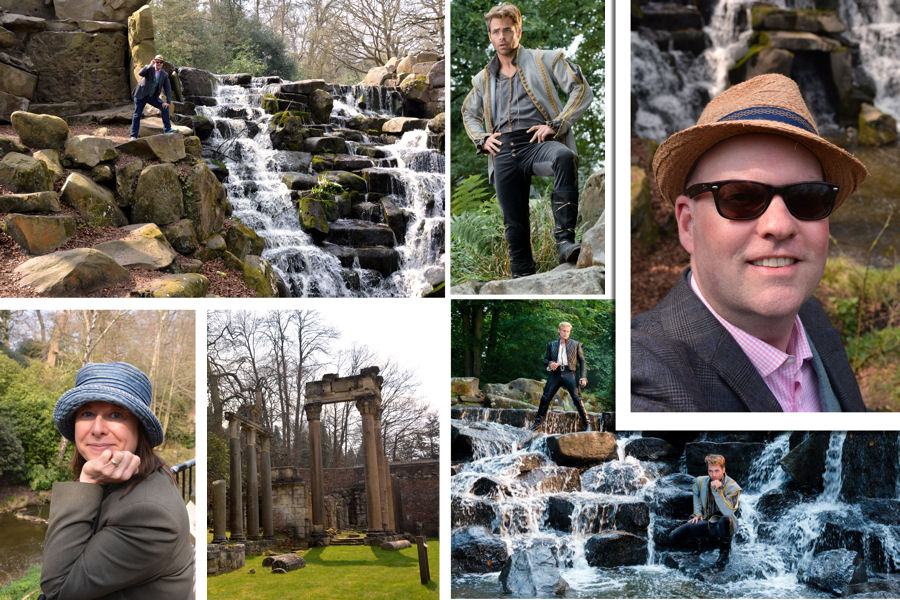 I was keen to visit the waterfall in Windsor Great Park where the Agony song was filmed from Into the Woods. I was not disappointed!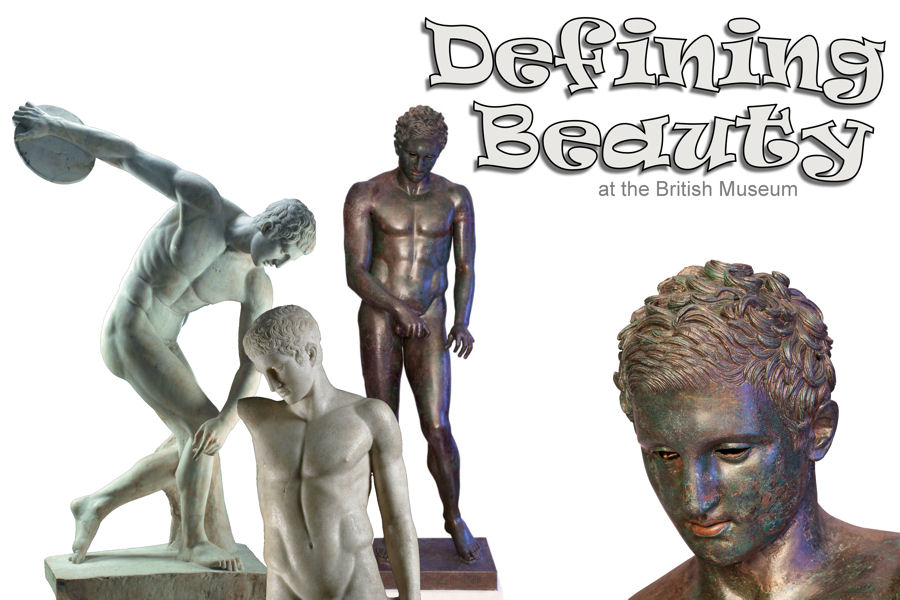 Back to London for the Defining Beauty exhibition of ancient Greek and Roman sculpture and pottery. Amazing stuff that was thousands of years old. The bronze, above, was recently discovered in the sea near Serbia, I think.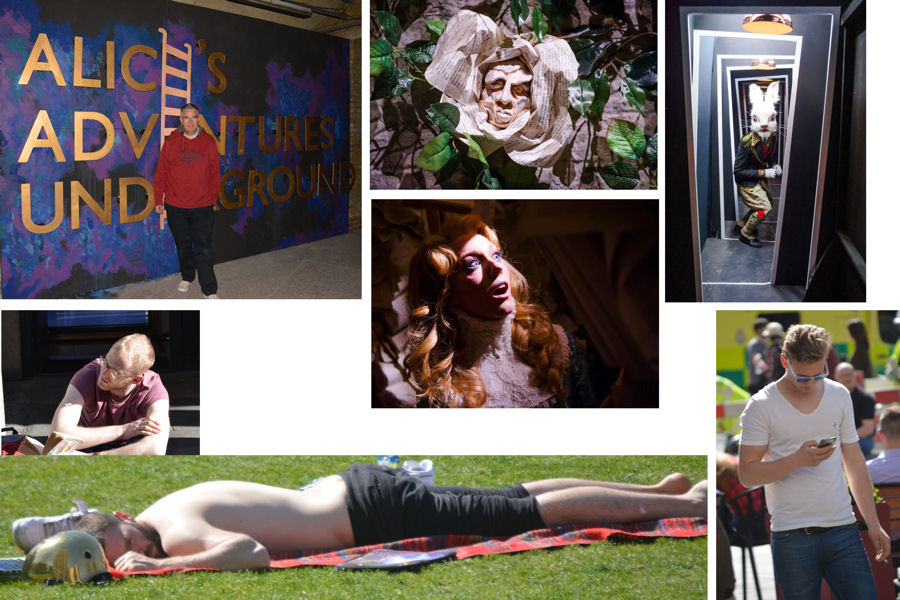 Les Enfants Terrible's immersive production, Alice's Adventures Underground, had us following the White Rabbit through the vaults under Waterloo Station. Not quite as good as Punchdrunki's The Drowned Man or Dreamthinkspeak's amazing Before I Sleep, but it was good all the same.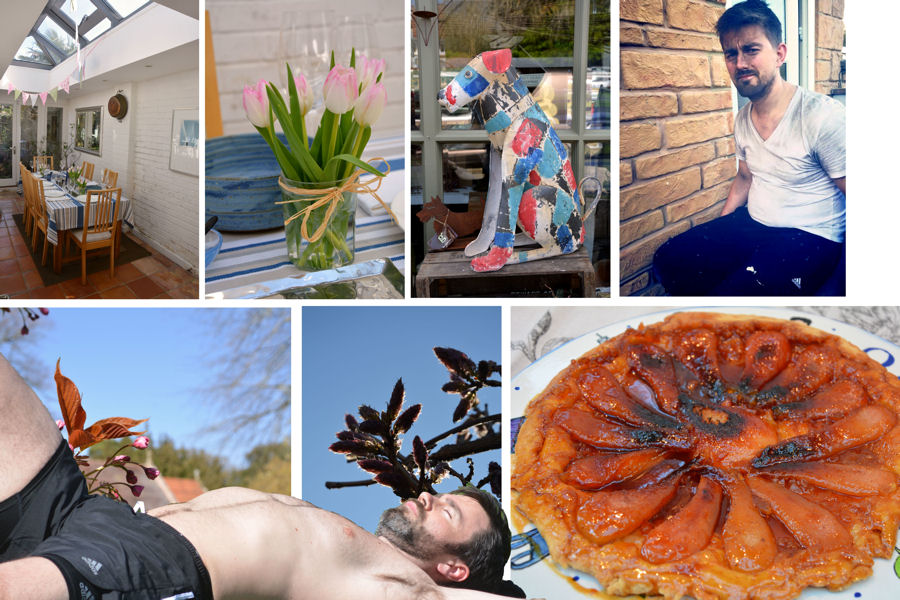 Above: our conservatory set for an Italian lunch, our favourite chef looking a bit grubby, a random sunbather, my wisteria, and pear tarte tatin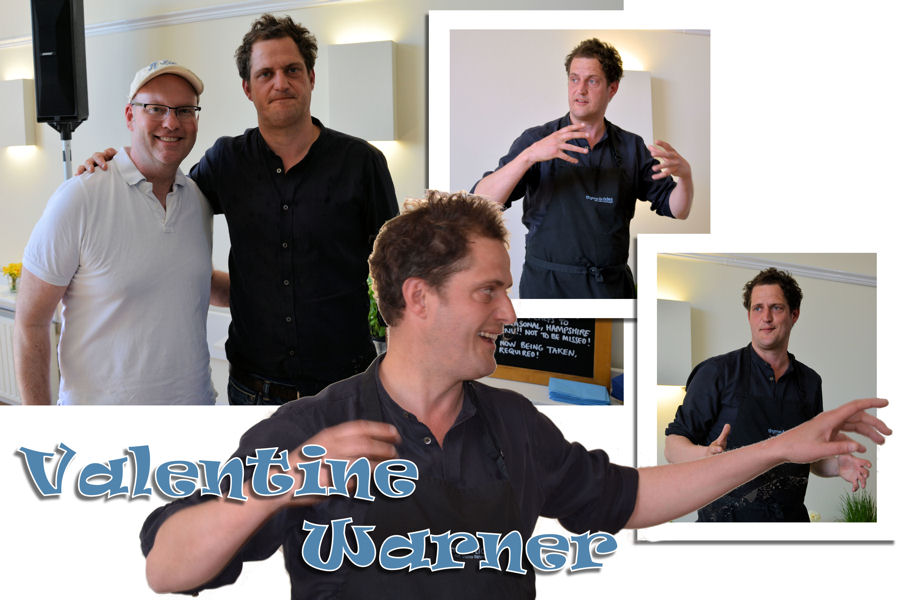 A chance to watch the posh whirlwind, pell-mell antics of chef Valentine Warner couldn't be missed. He did everything with a tiny frying pan and failing electric hob.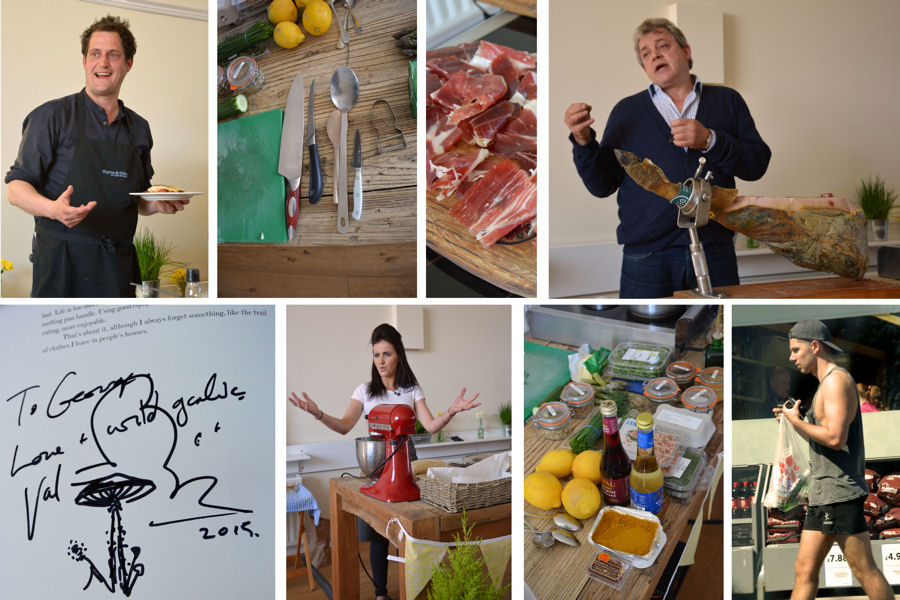 Complimenting his artwork gained a hand-drawn mushroom in my signed cookbook. We also heard an interesting talk on Iberico ham and saw a demonstration of cinnamon buns, complete with tasting!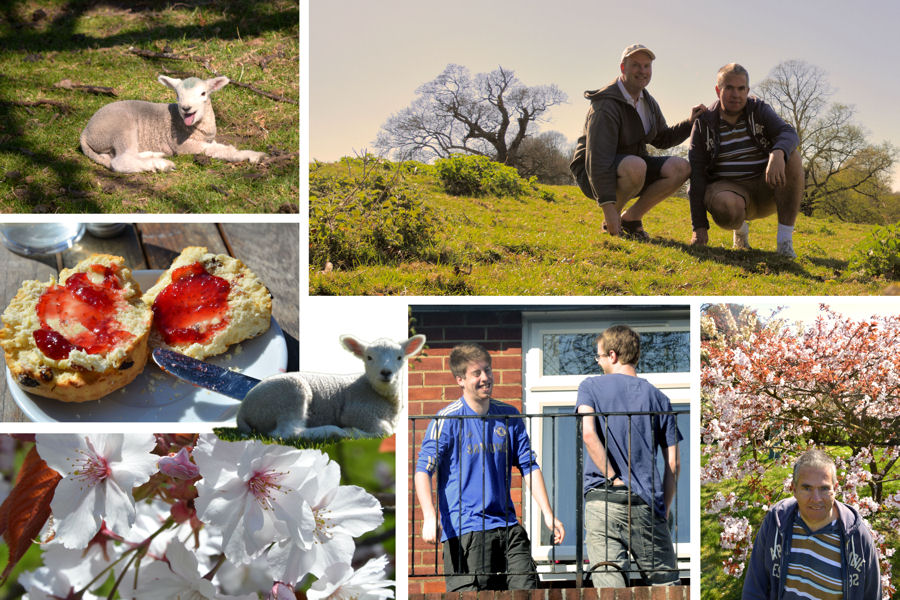 Our search for cute lambs took us up the road to the National Trust property. The two boys often entertain on their balcony overlooking Waitrose car park.