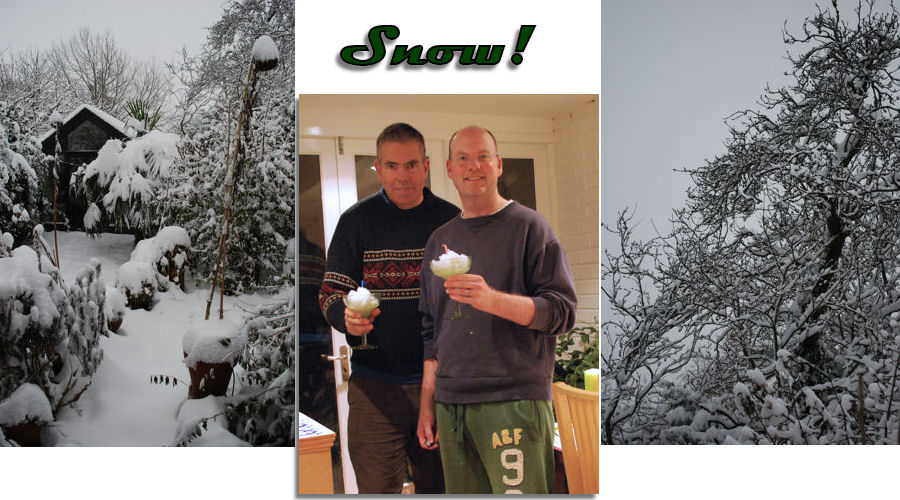 Heavy snow provided a back garden winter wonderland, a welcome couple of days off work, and a chance to invent snow margaritas.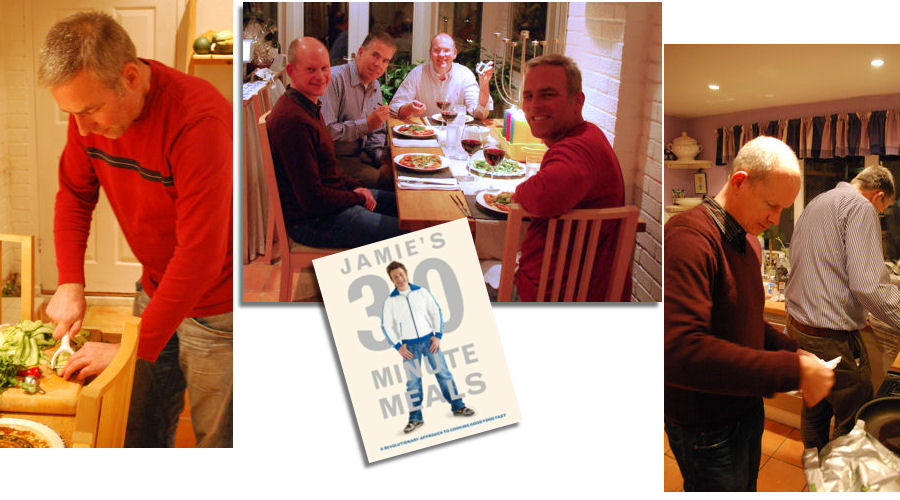 Inspired by Jamie Oliver's 30-Minute Meals, we made a fabulous Thai meal with Gordon and Neil in (just over) 30 minutes.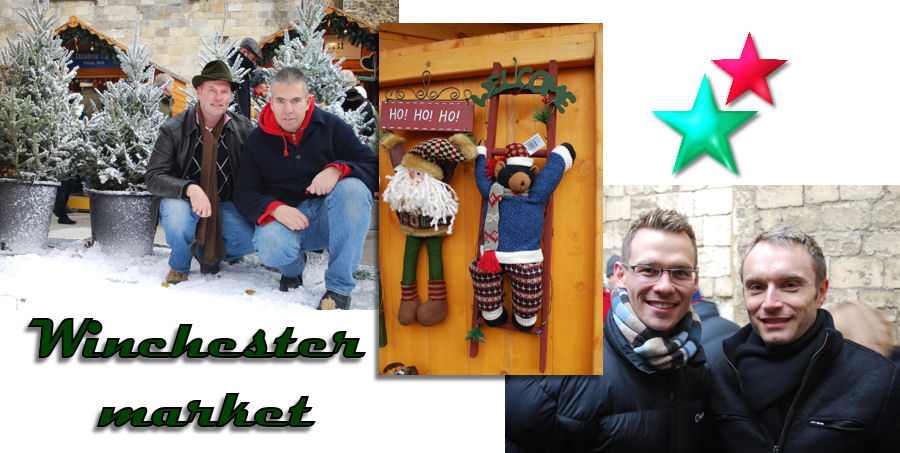 Shopping at the local Christmas market always puts us in holiday mood. We met friends Bryn and David there.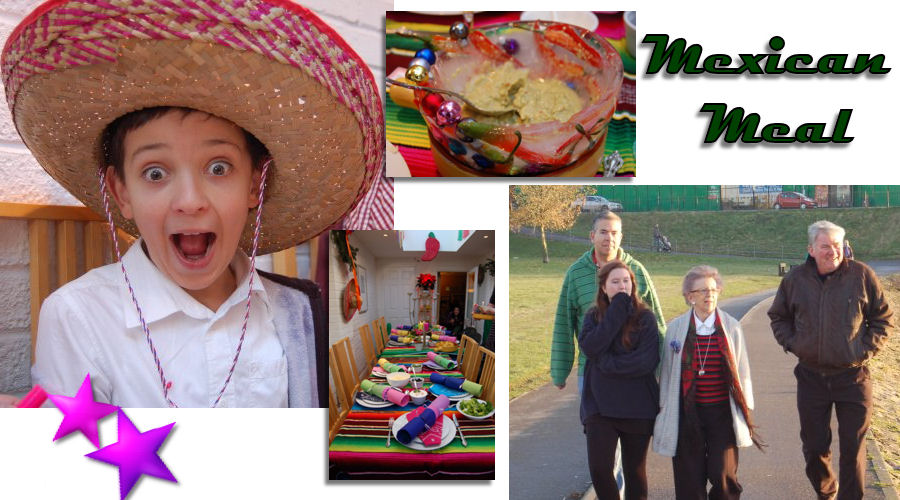 It was our turn to host the annual family Christmas meal and we turned it into a Mexican fiesta.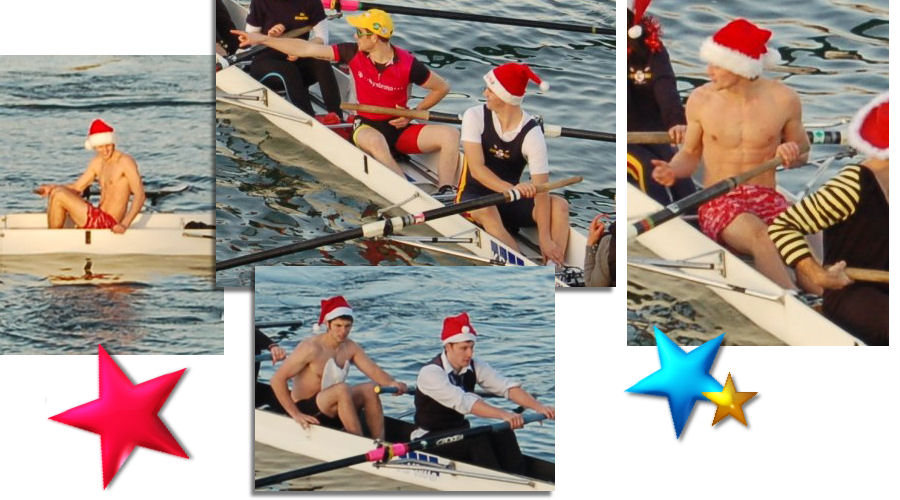 During our after meal walk, we encountered this rather crazy group of rowers braving the very cold weather in very little clothing.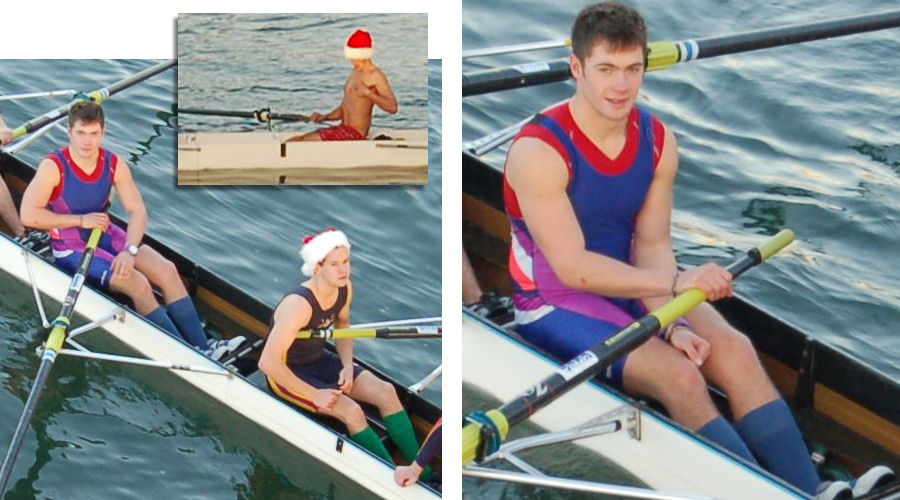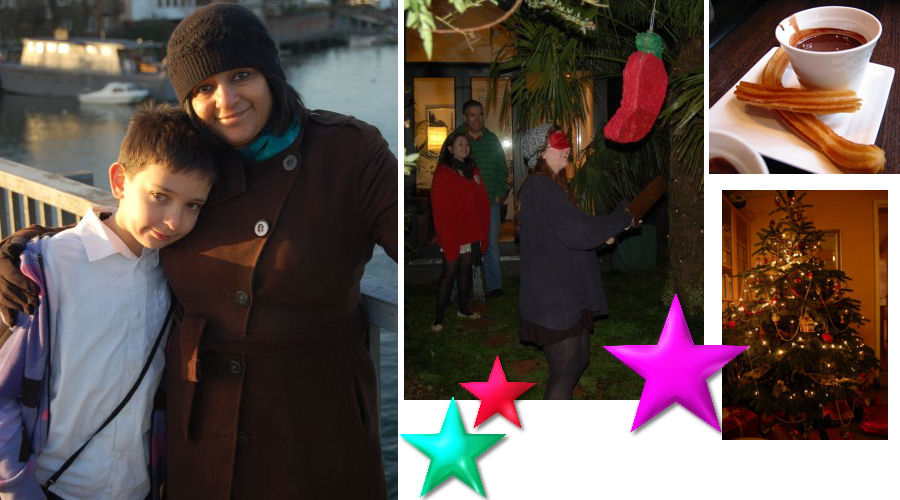 We had a piñata in the back garden and churros for dessert, surely a reason to purchase that deep fat fryer.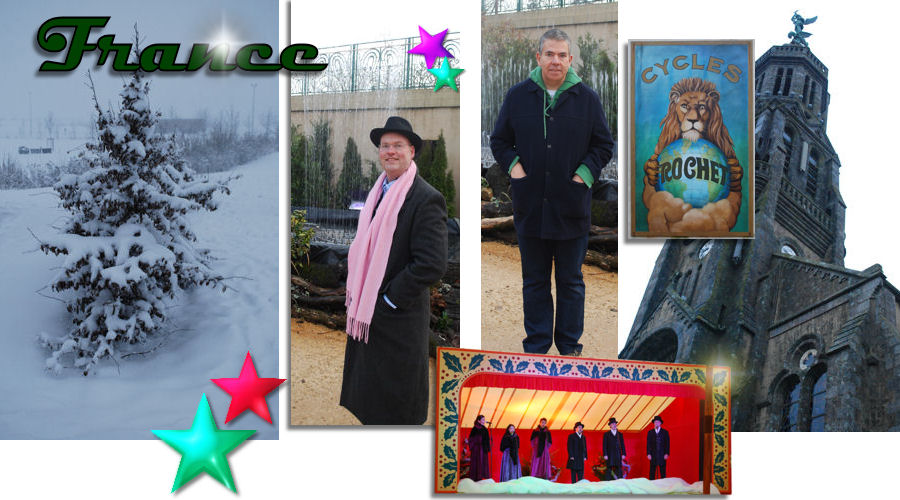 Next stop, the Vendée, one of our favourite places to expierence Christmas. We drove through heavy snow getting there, but we made it.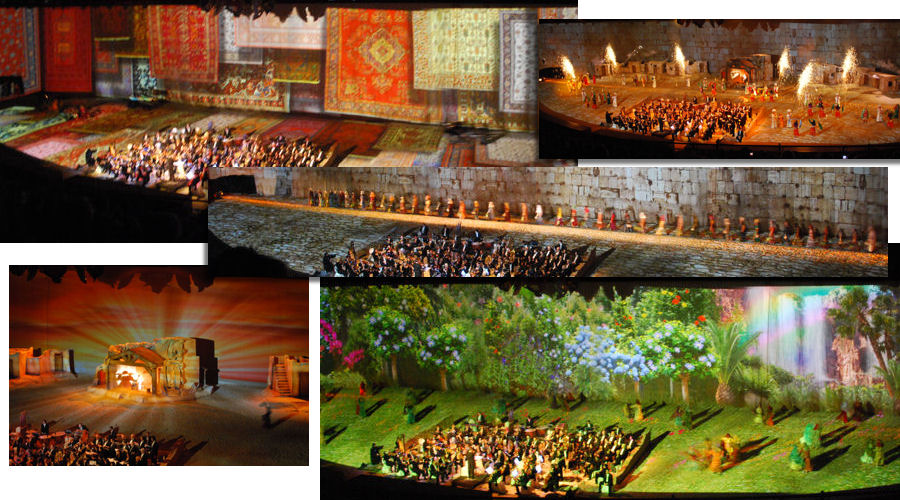 This is a huge Christmas spectacle at Puy du Fou. I marvelled at the projected backdrops, shown above. At one point there were 80 actors (I counted) playing tambourine in a line across the stage.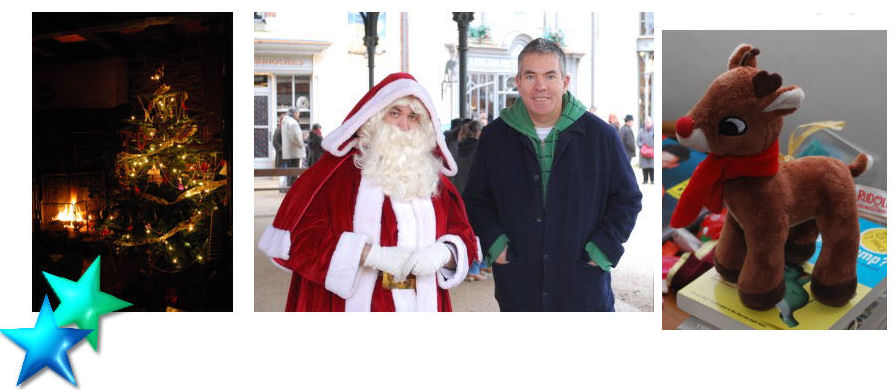 Our special Christmas tree, with our collection of ornaments from around the world, Nick with Père Noël, and Rudolph, George's favourite.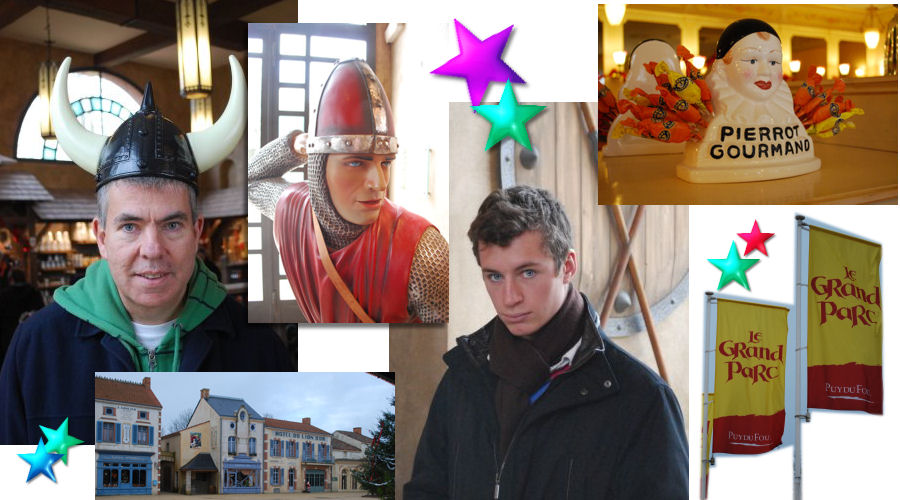 Sights in the Puy du Fou gift shop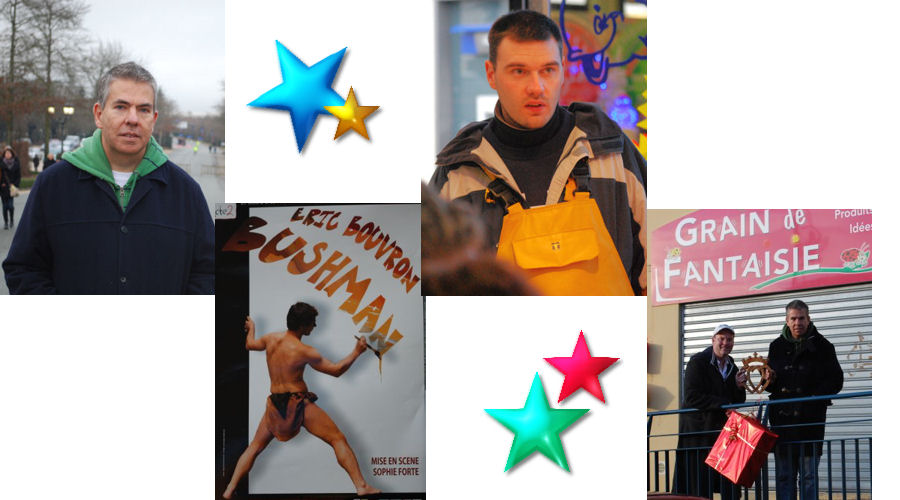 Nick at Puy du Fou, a poster for a show we missed, a market seller, and the source of our long searched for a Vendéen wooden heart, symbolizing the local people's allegiance to the king during the French revolution. Napoleon's armies put a bloody stop to all that, but the local pride remains.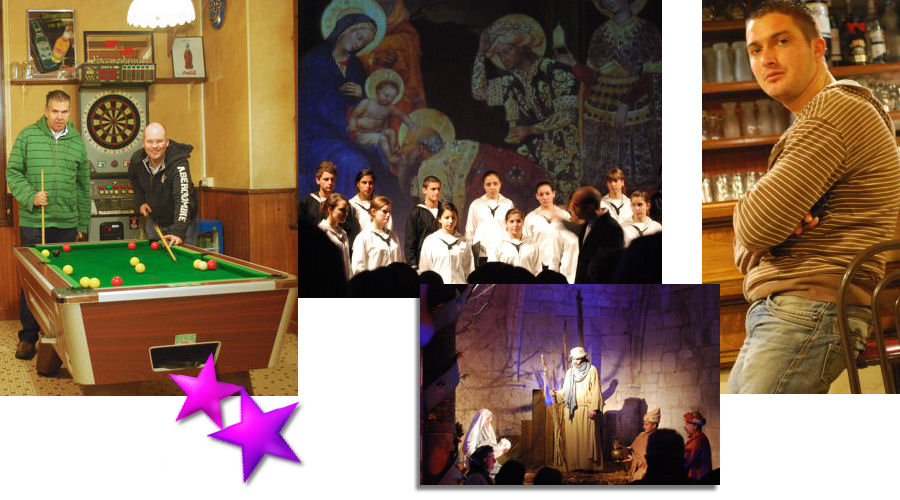 Playing pool beforehand, we later heard a wonderful youth choir at the ancient Nieul-sur-l'Autise abbey.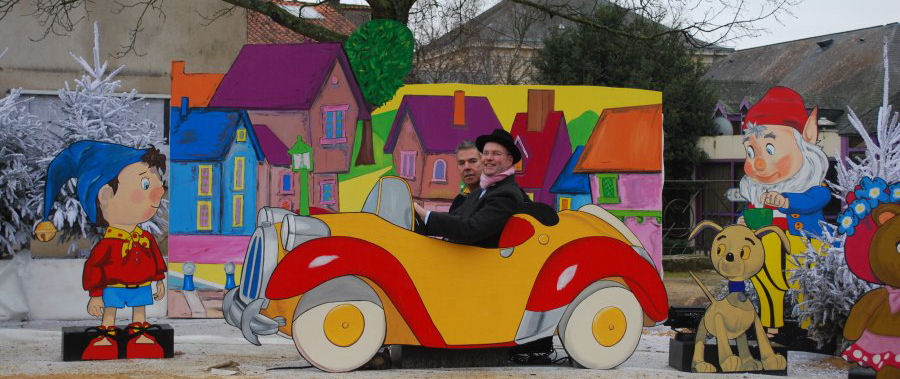 Frolicking in Fontenay-le-Comte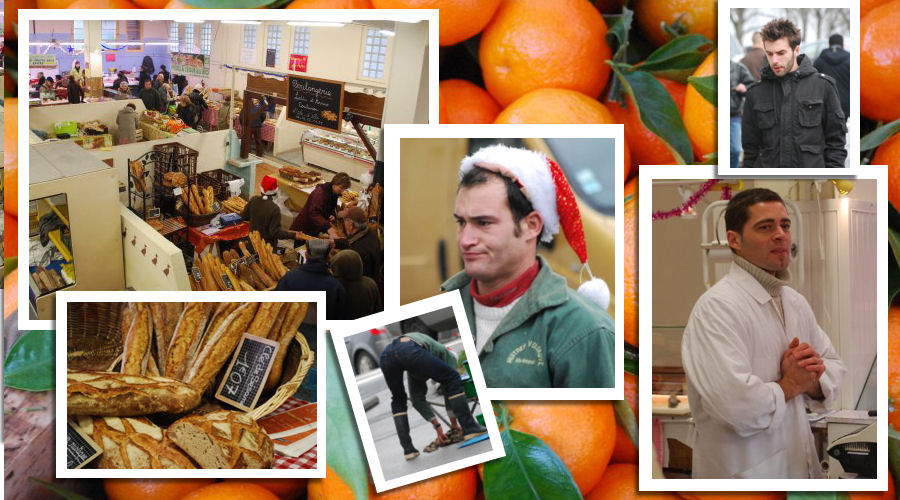 The Fontenay market was moved to Friday from its usual Saturday because of the holiday. Here we bought organic pork and Turkish delight.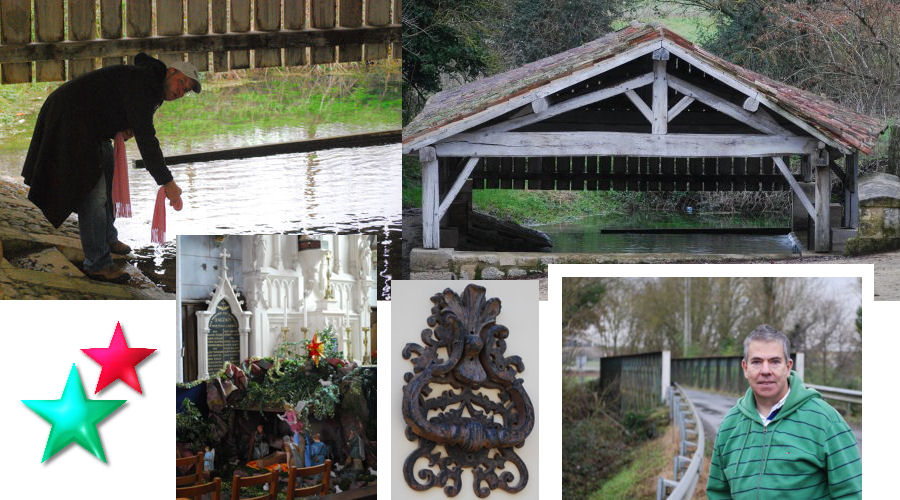 An ancient laundry site, a typical manger scene (with sheep on rooftop), and Nick beside an iron bridge designed by Gustav Eiffel.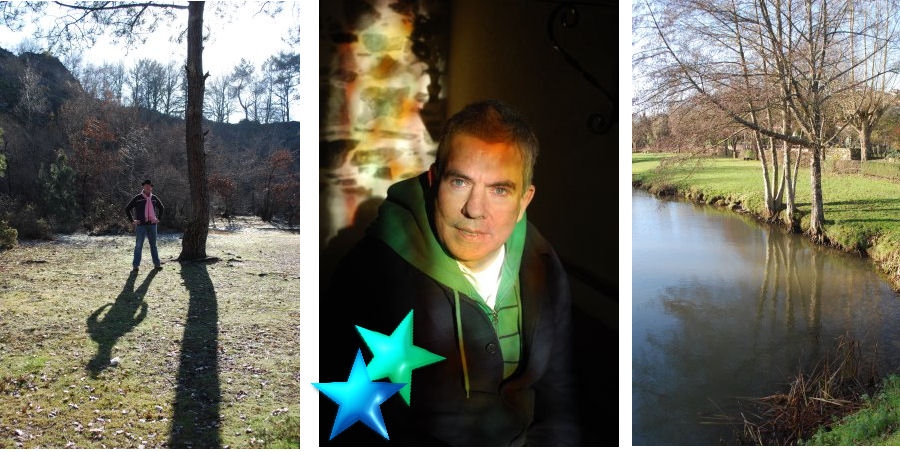 Beside the deep, dark lake in Cheffois, inside it's little chapel, and the river in Vouvant


One of hundreds of crèche scenes in Vouvant's church, this one shows the bustling rural Vendée community. We never saw this many people out.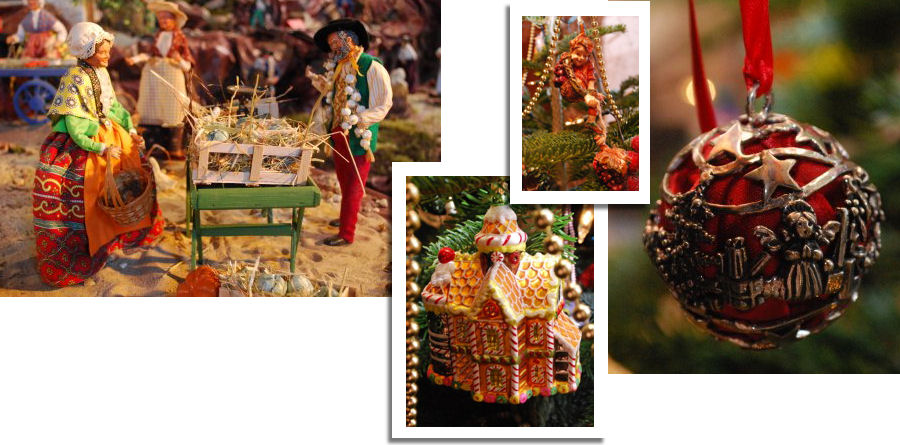 Detail from the Vendée crèche and some of our favourite ornaments; these are from New York, Dijon(?), and Naples.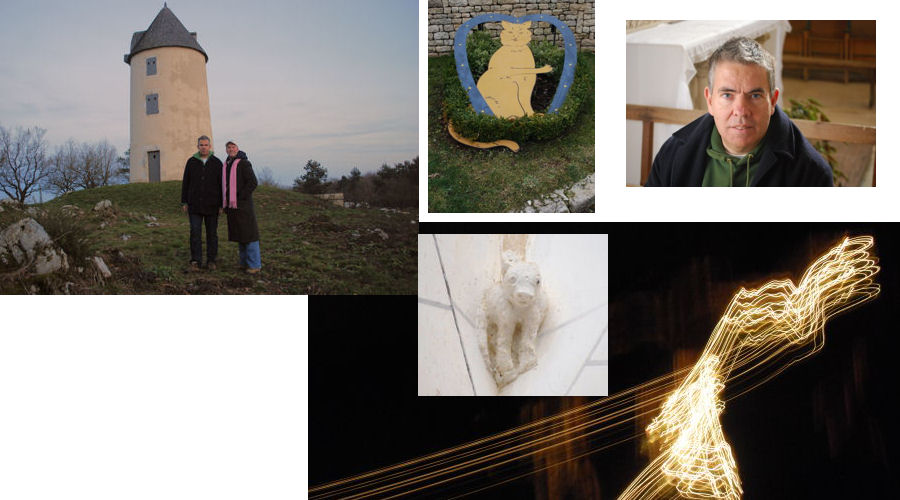 The Mouilleron windmill(s), The Pétosse were-cat in the church that dates from 1003, and photographing our Christmas tree from outside.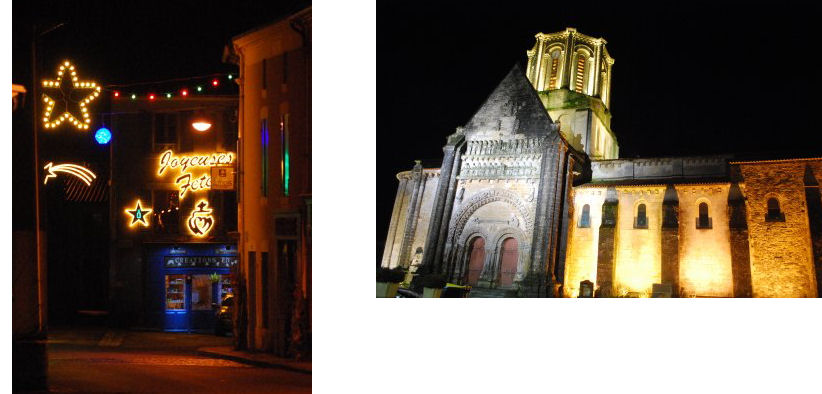 The streets of Vovant at night, about as lively as they are during the daytime.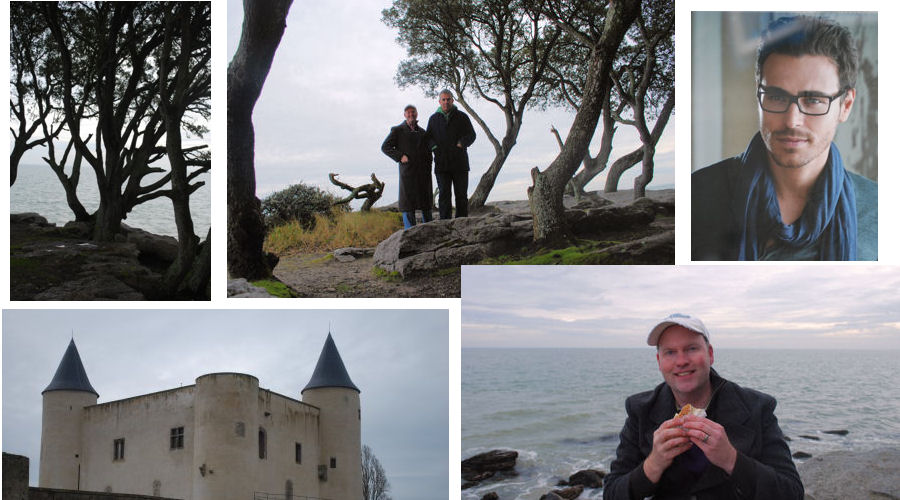 We had the seasonally crowded Plages des Dames on Noirmoutier all to ourselves for a winter picnic. Also shown are the château and a glasses ad.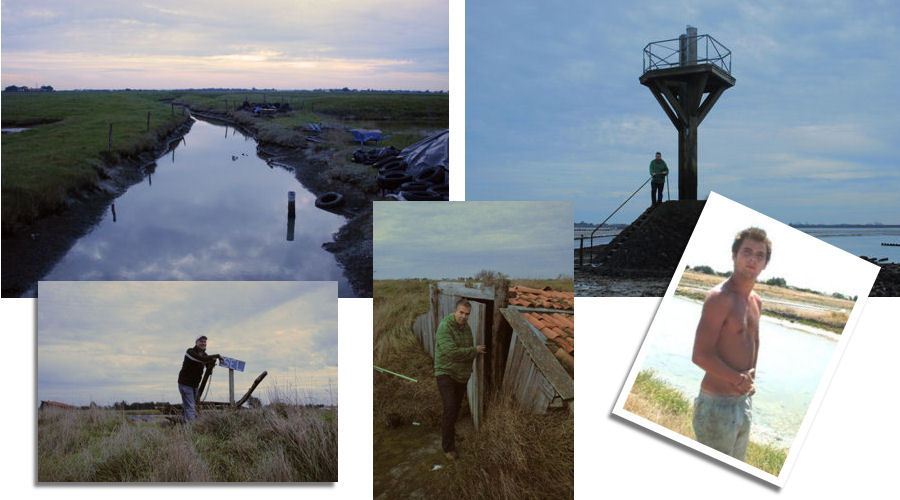 The domain of the fabled Salt Boy, always worth a pigrimage. We waited for low tide to drive across the Gois, a natural causeway.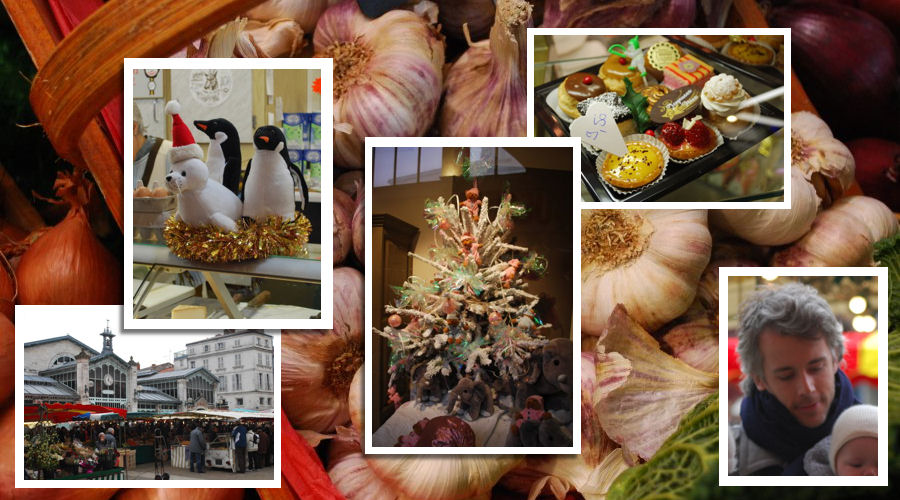 The market hall in La Rochelle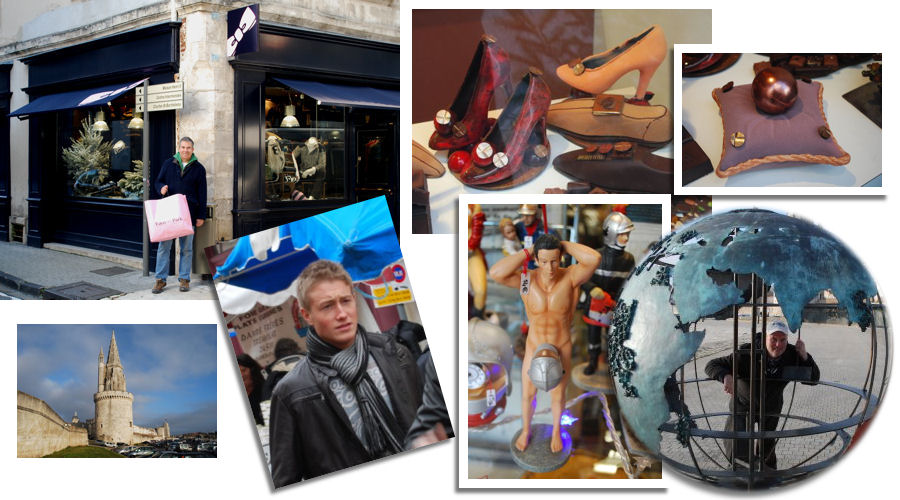 In La Rochelle, Nick bought a wonderful Eden Park duffel coat, we spotted these chocolate shoes, and observed the French love of firemen.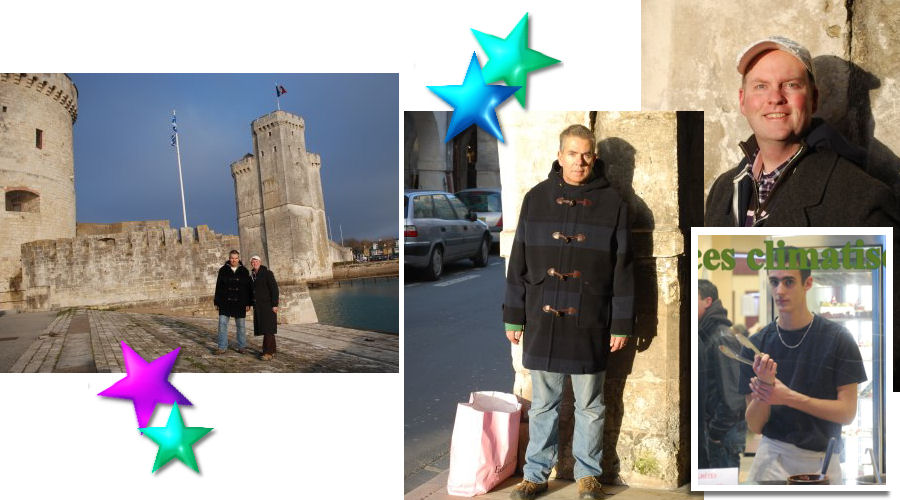 I lost my zoom lens after leaving it near this shot, but returned half an hour later to find it still there. Luck-ee.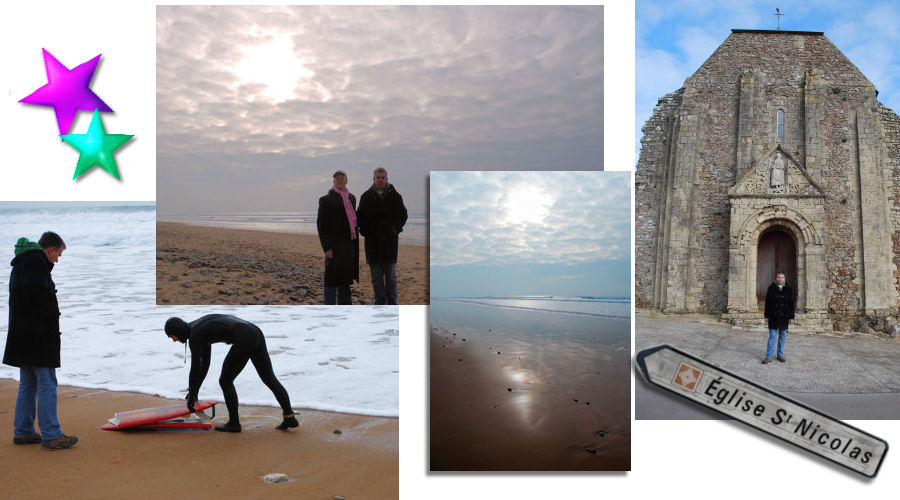 A trip to Sauveterre beach, where Nick sympathized with a surfer whose board snapped. We also saw the Église de Saint-Nicolas-de-Brem, which dates from the 12th century.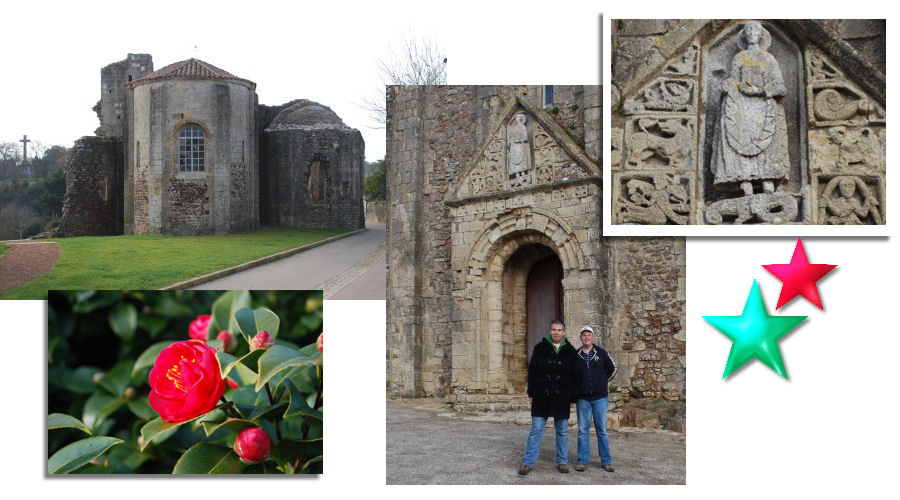 Église de Saint-Nicolas-de-Brem. The statue is of St. Nick, surrounded by acrobats so our guidebook tells us.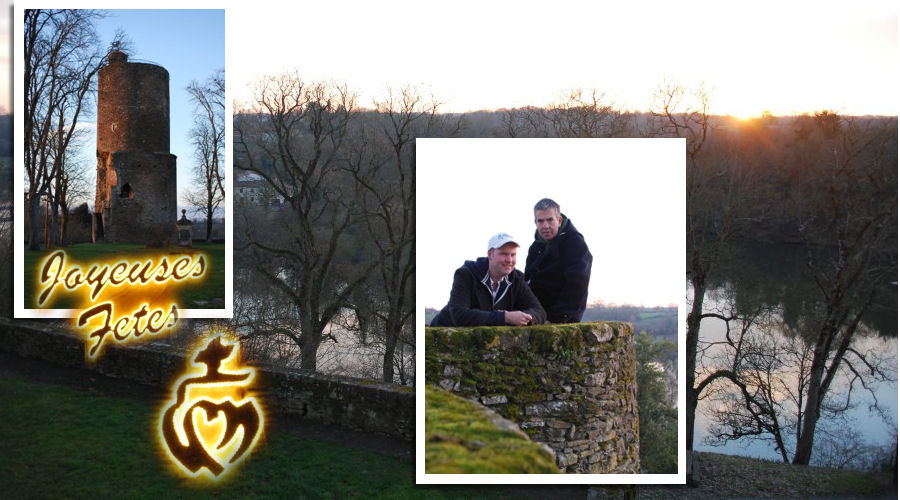 Back to Vouvant for our final day, sipping hot chocolate and cider in the local café. We'll be back again one day!