Click HERE for photos from Spring 2016.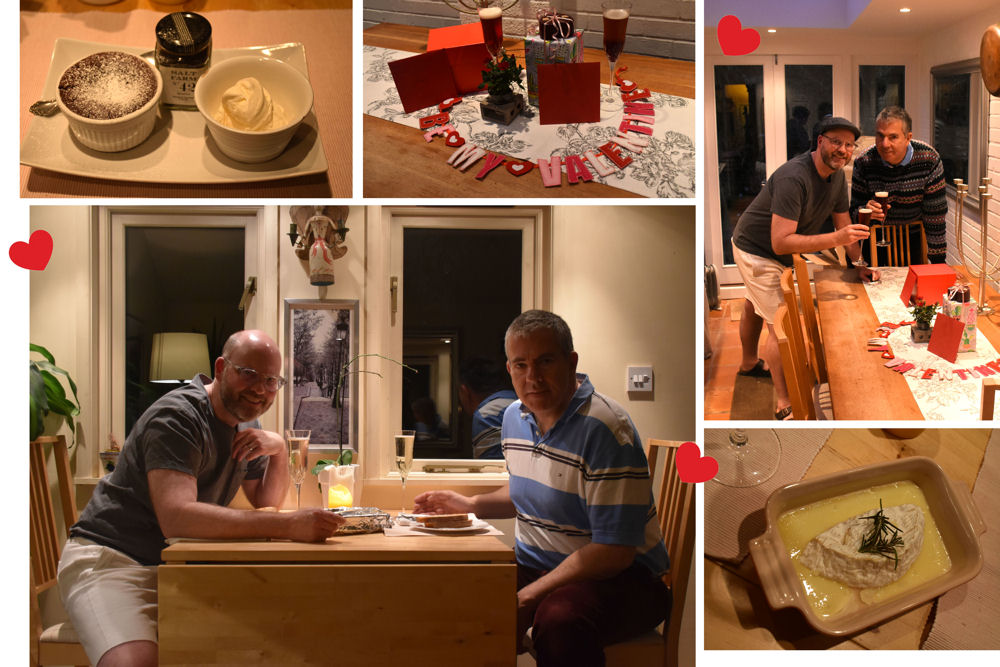 Never too early to start celebrating springtime, we enjoyed Valentine's Day dinner at home in our garden studio with a delicious meal including molten Tunworth cheese and chocolate fondants with smoked salt.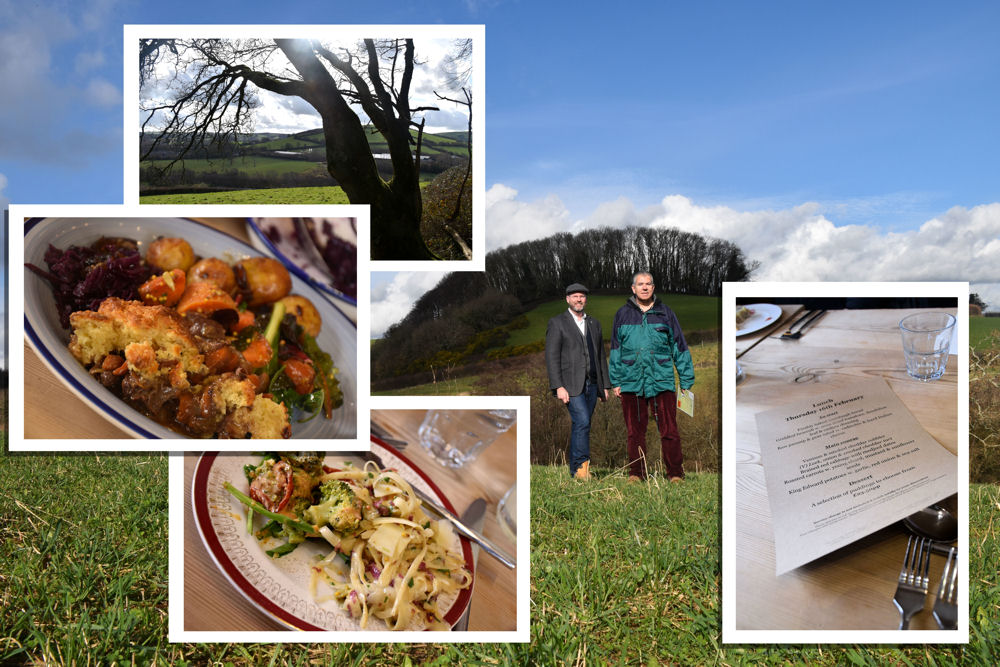 En route to Cornwall, we stopped at Riverford Farm in Devon (last visited in 2016) for a wonderful lunch that included venison stew with smoked cheddar cobbler. As usual, we walked up to the iconic hill before our meal.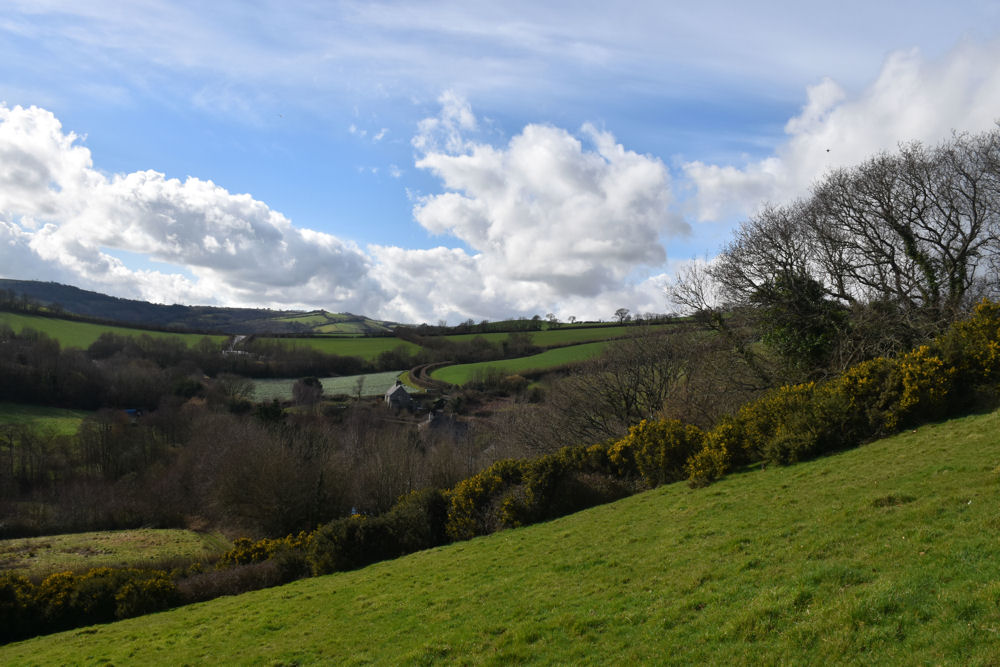 The view from Riverford's hill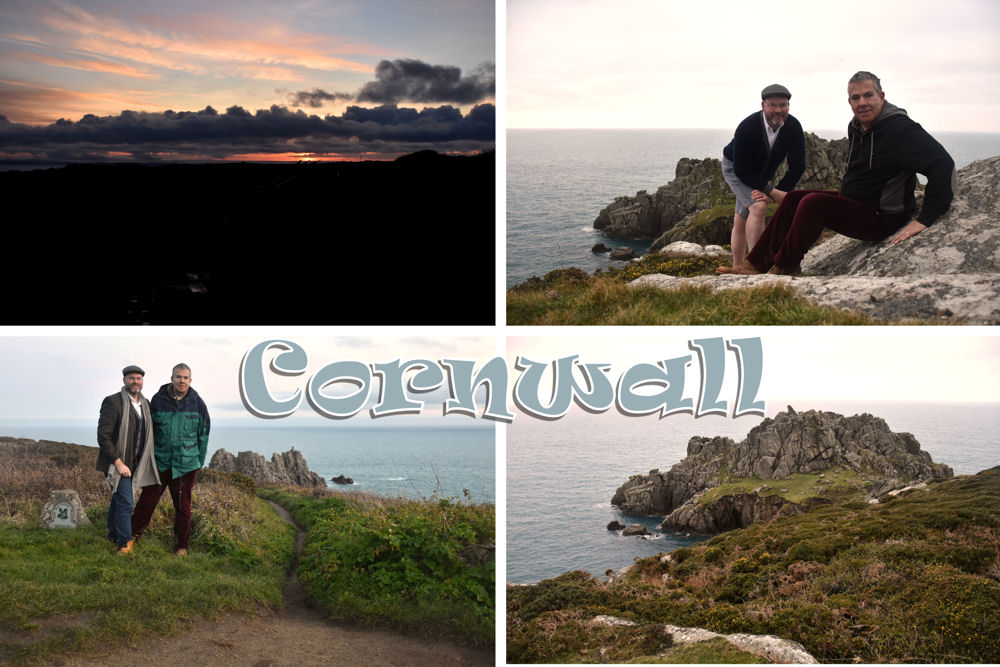 Our destination for the weekend was Cornwall, last visited in 2002. We stayed on an organic dairy farm, near an ancient pub and within walking distance of this view of Logan's Rock. We woke up early and went to see the sun rise.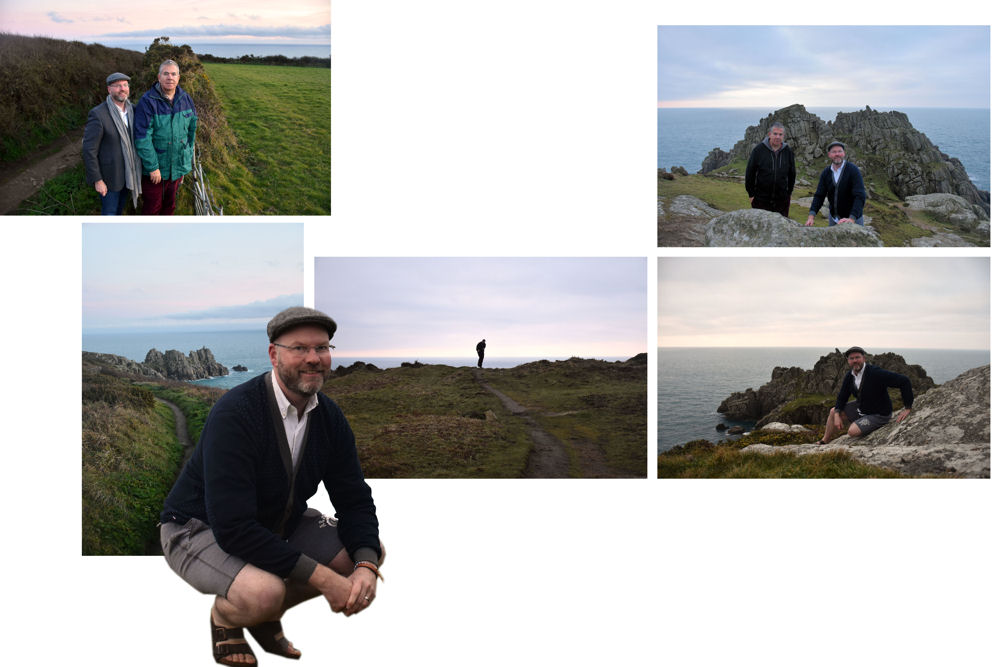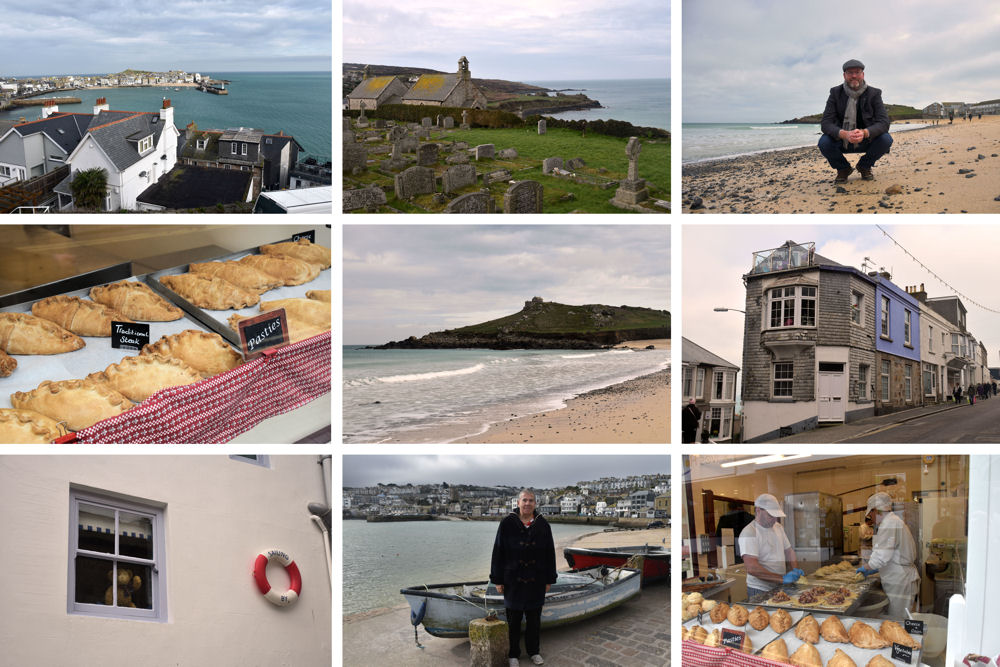 We returned to St Ives where we enjoyed walking around the harbour and eating Cornish pasties.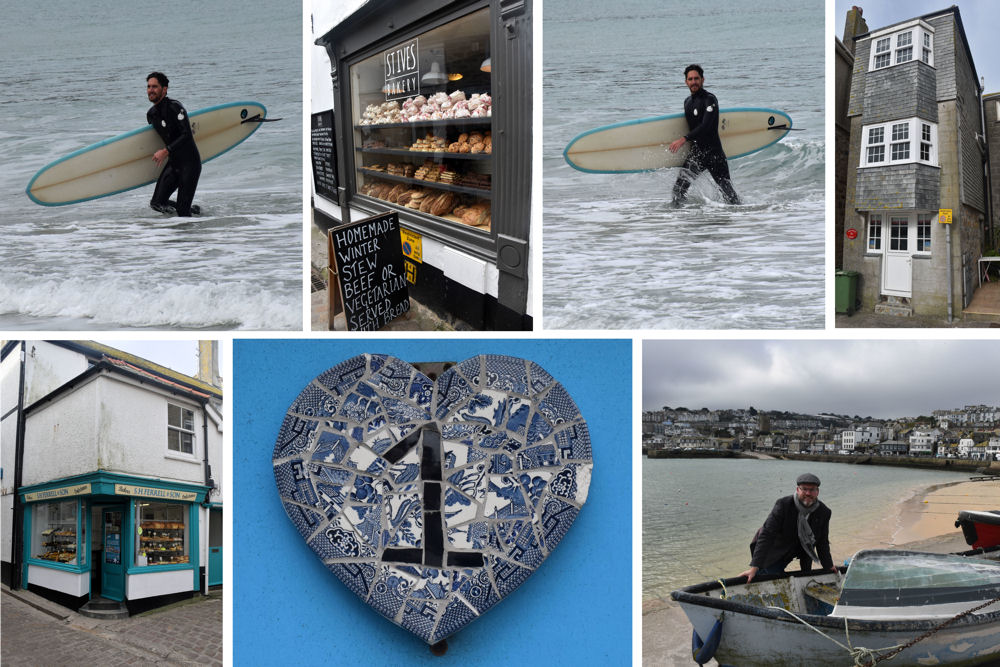 As exemplified in Biarritz at Christmas, surfers are endlessly fascinating. We also appreciated the baked goods, old boats, and quirky buildings.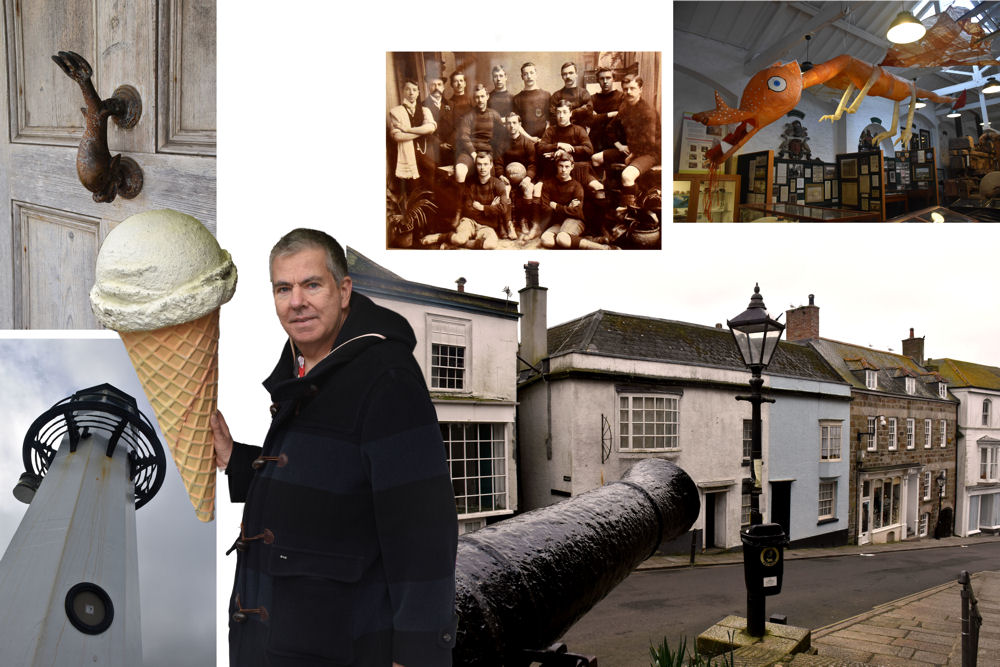 We particularly liked the museum in Helston.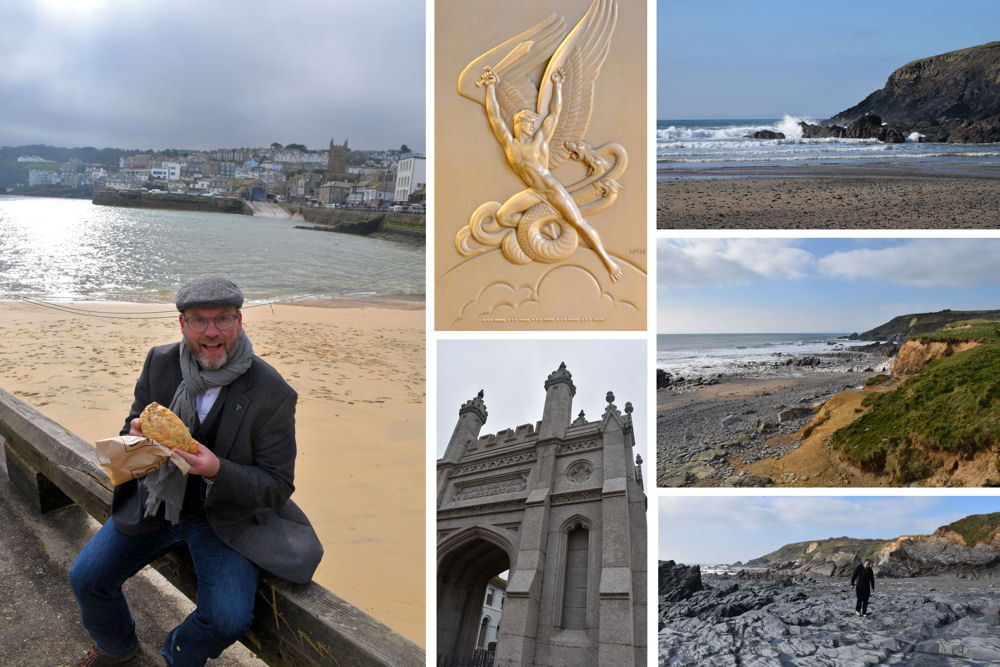 Although we've not read or seen Poldark, we used a film locations map to discover lots of beautiful coves and beaches.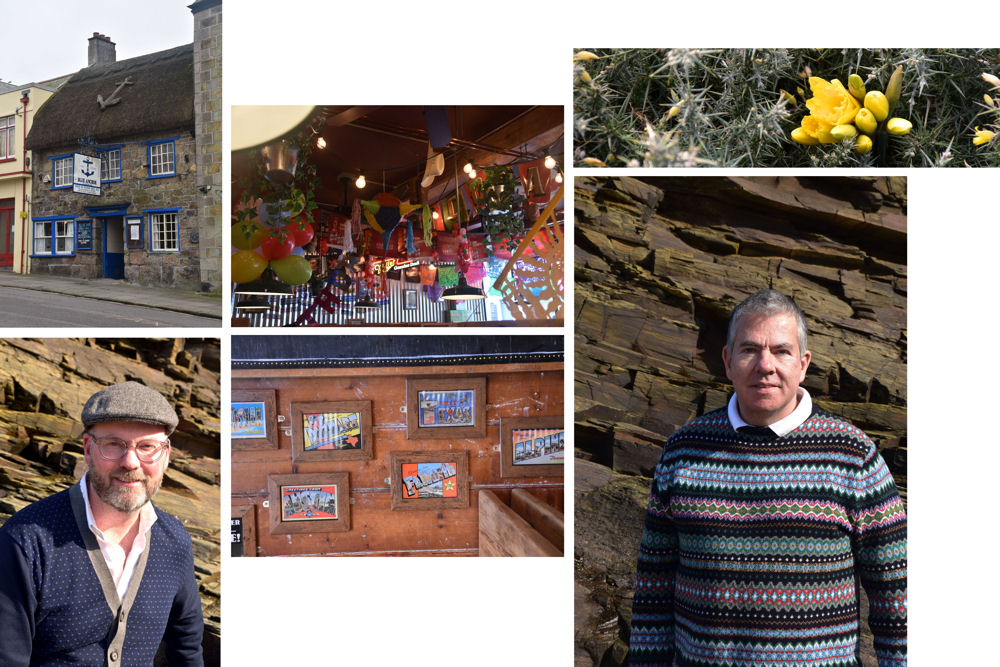 Micobrewery beer, a great Mexican restaurant with postcards from West Texas, and daffodils among the gorse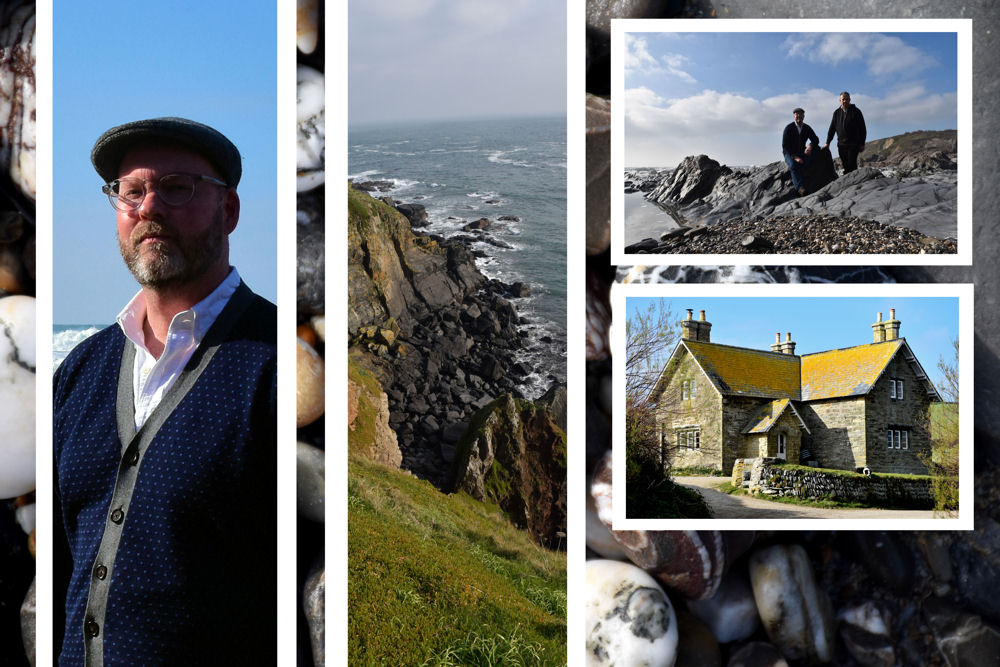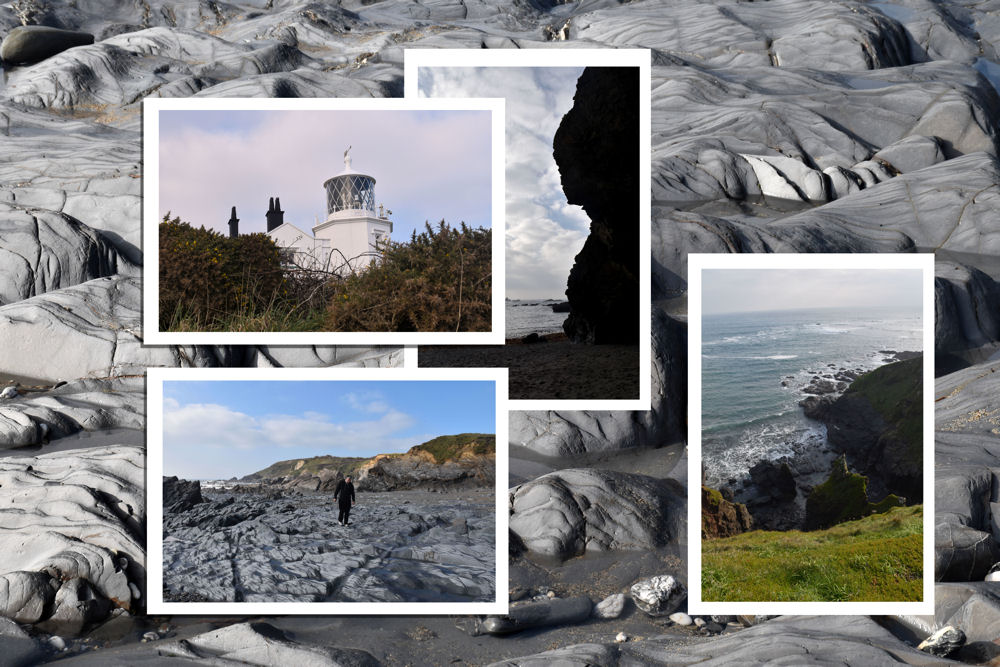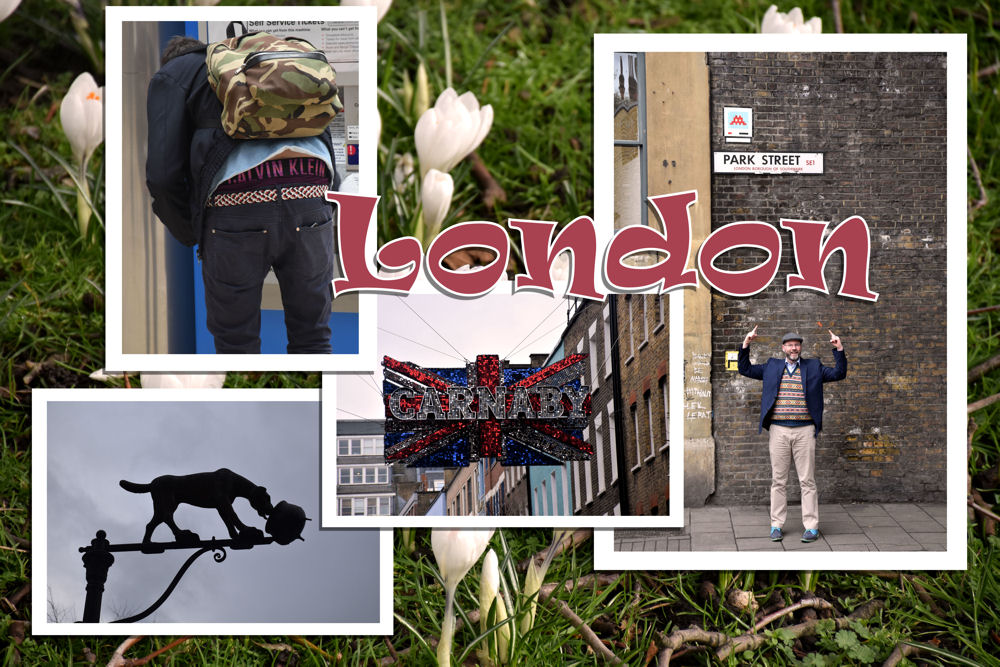 After an arduous week at work, we had an invigorating and inspirational weekend in London, tracking down Space Invaders and soaking up culture.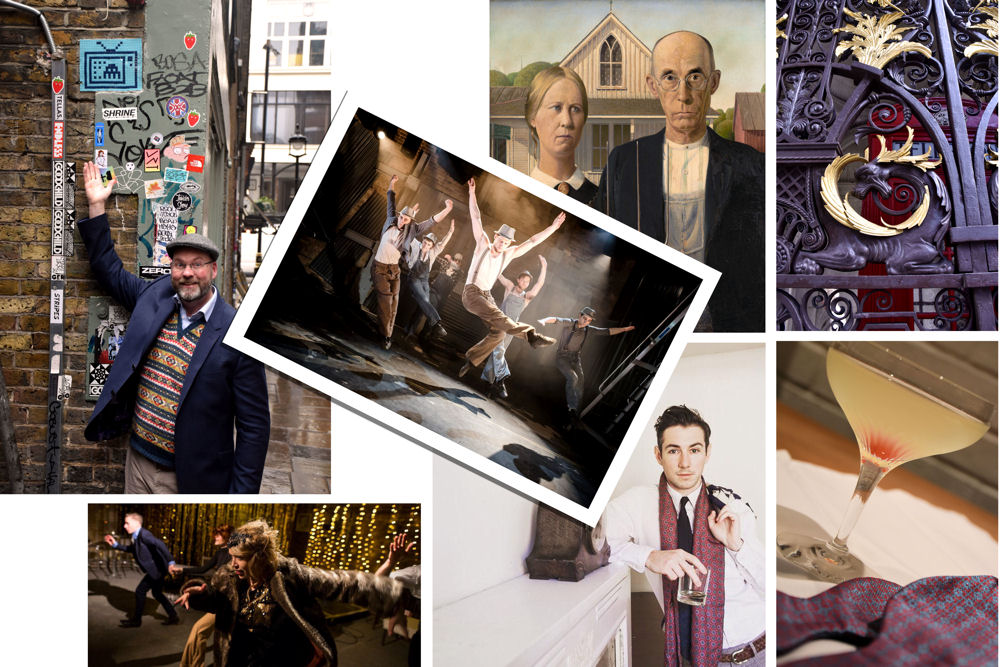 Highlights included a production of Sondheim's Anyone Can Whistle at the Union Theatre, the immersive theatre experience of The Great Gatsby at the Vaults by the Guild of Misrule - we got to watch Jay Gatsby (Oliver Tilney) undress twice and help him fasten his cufflinks after dancing the Charleston. We also discovered the Green Light cocktail - and an exhibition at the Royal Academy of Art, America after The Fall, which contained the famous American Gothic painting, among others.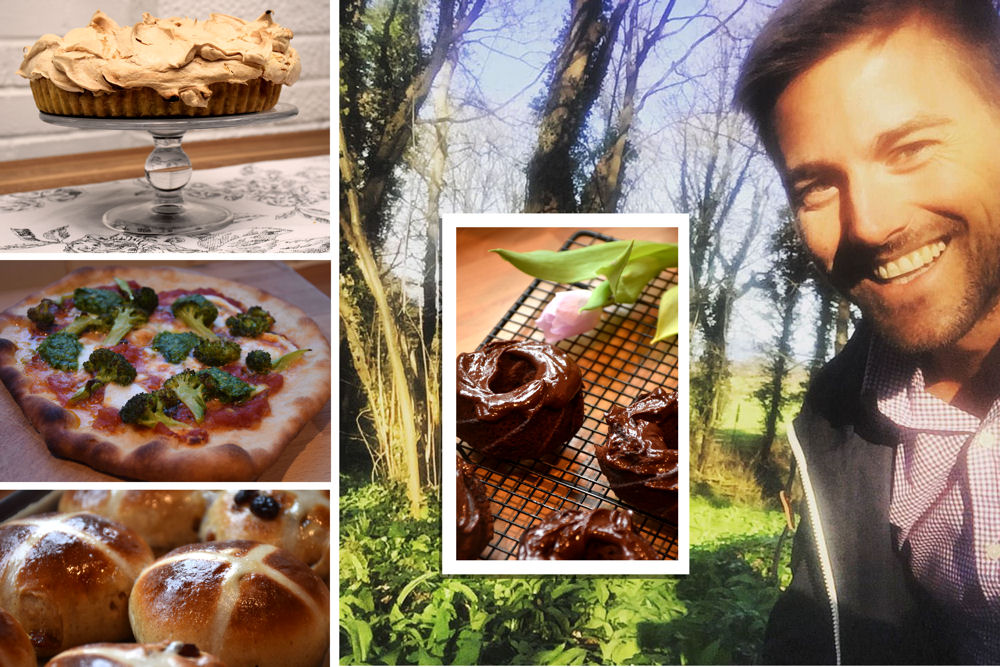 Springtime baking included a lemon meringue pie on my mother's birthday, pizza with wild garlic and hazelnut pesto, hot cross buns, and cardamom, chocolate, and coffee Bundt cakes. Our favourite sexy chef is shown here, foraging for his own wild garlic.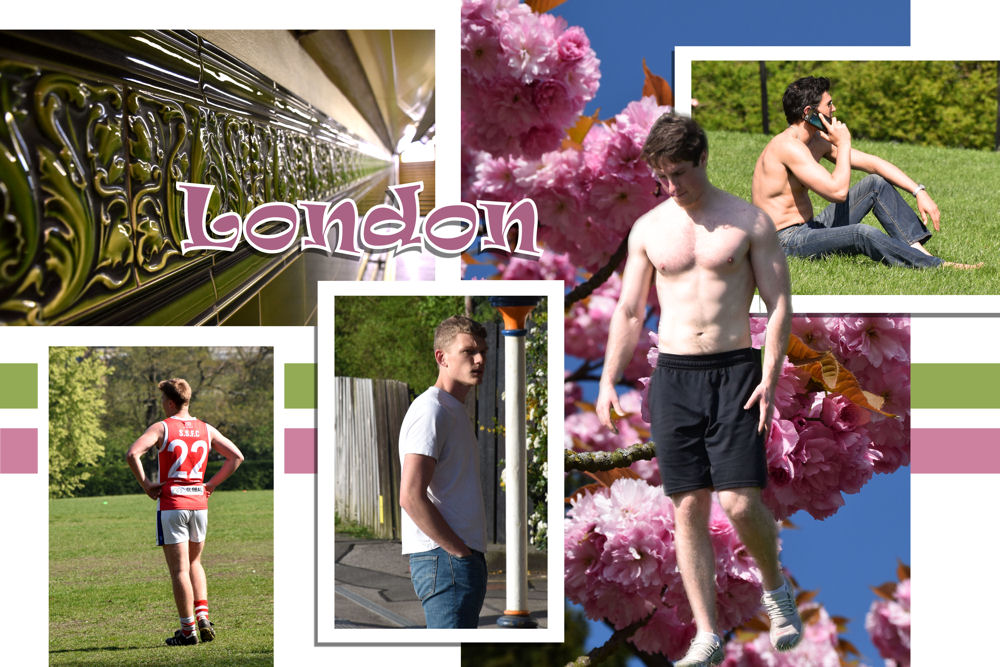 What a difference a month makes! We return to London a month later and the blossoms are out and the shirts are off.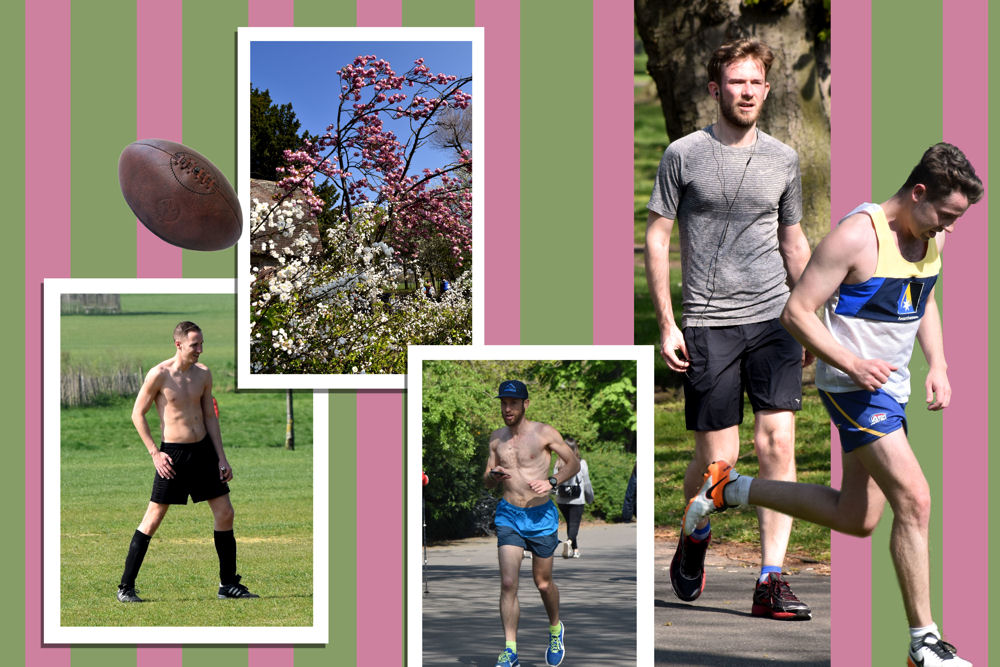 The Regent's Park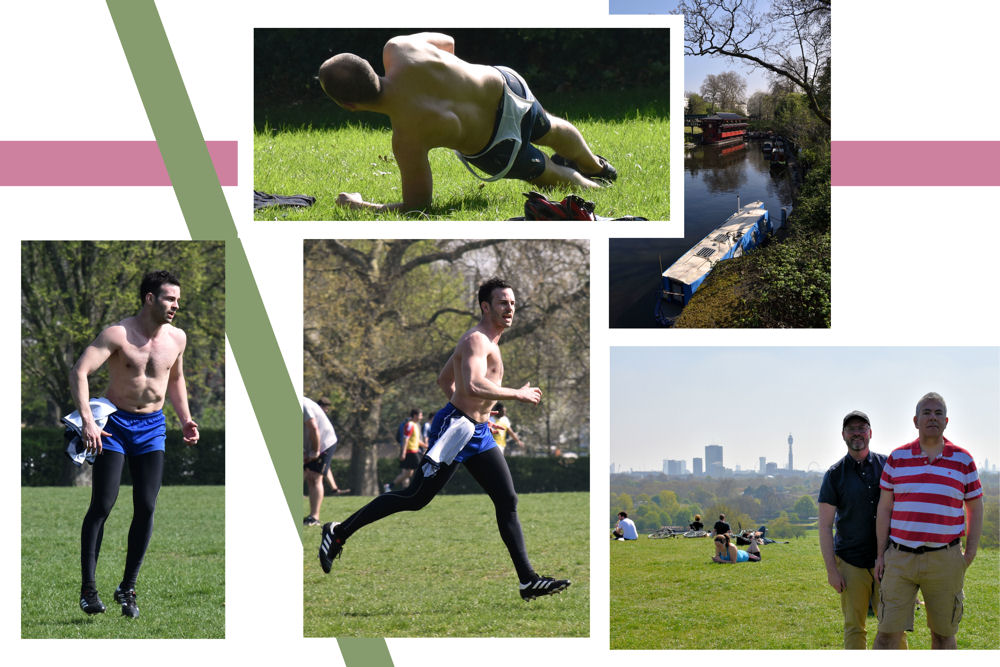 We picnicked at Primrose Hill and walked along the canal.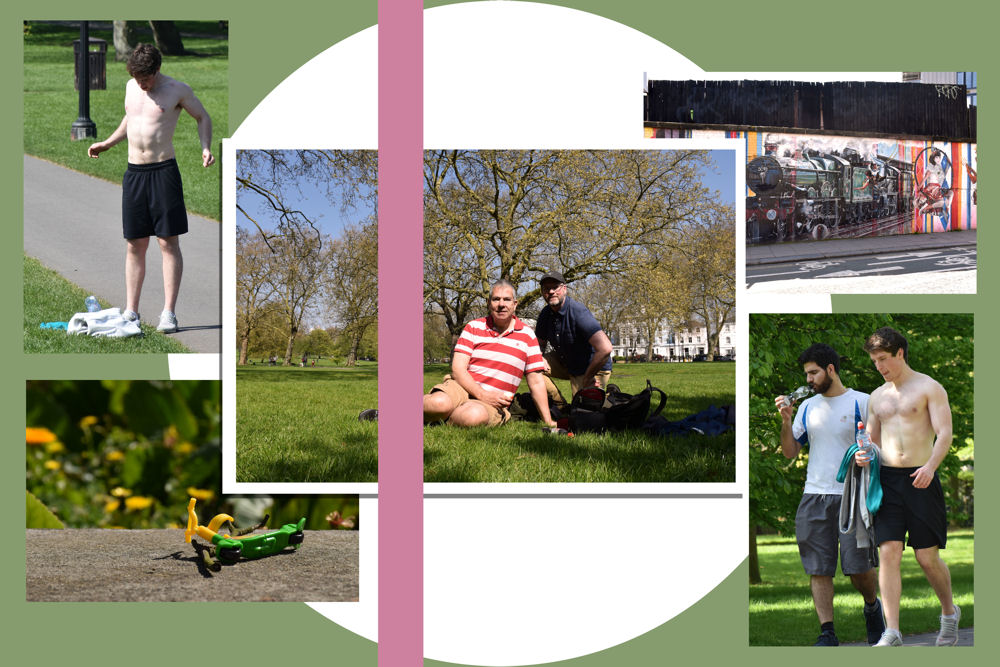 Primrose Hill area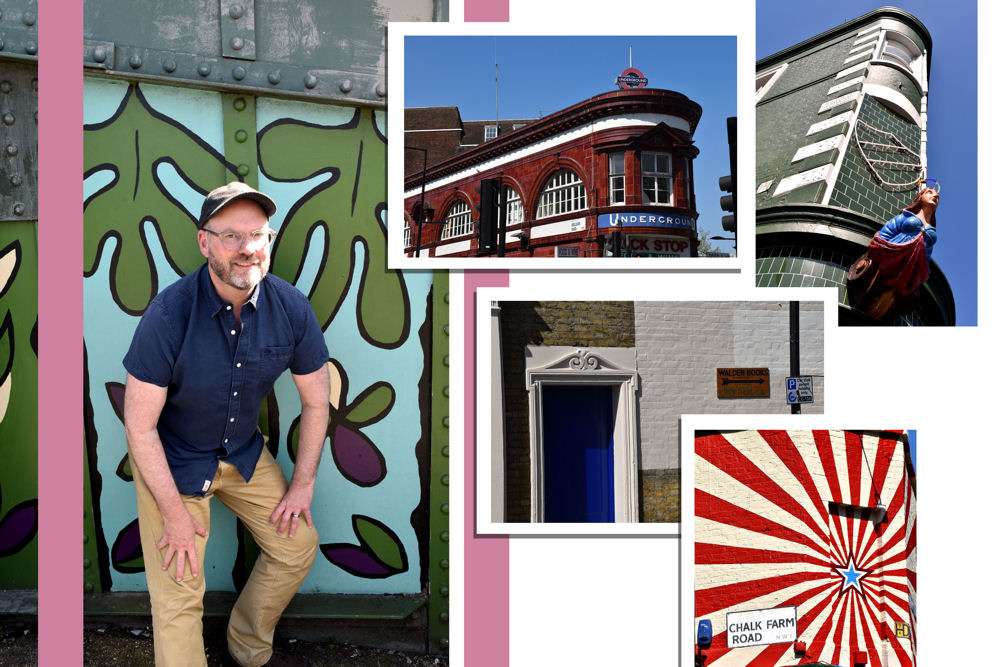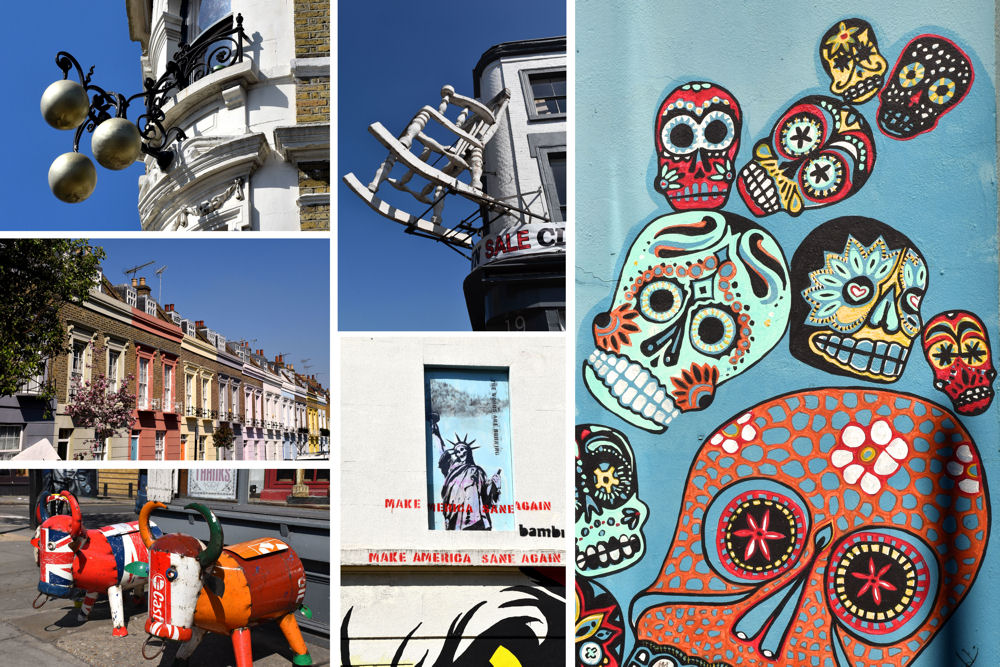 A friend of mine said the three golden balls are a symbol of the Medici family, money lenders of their day.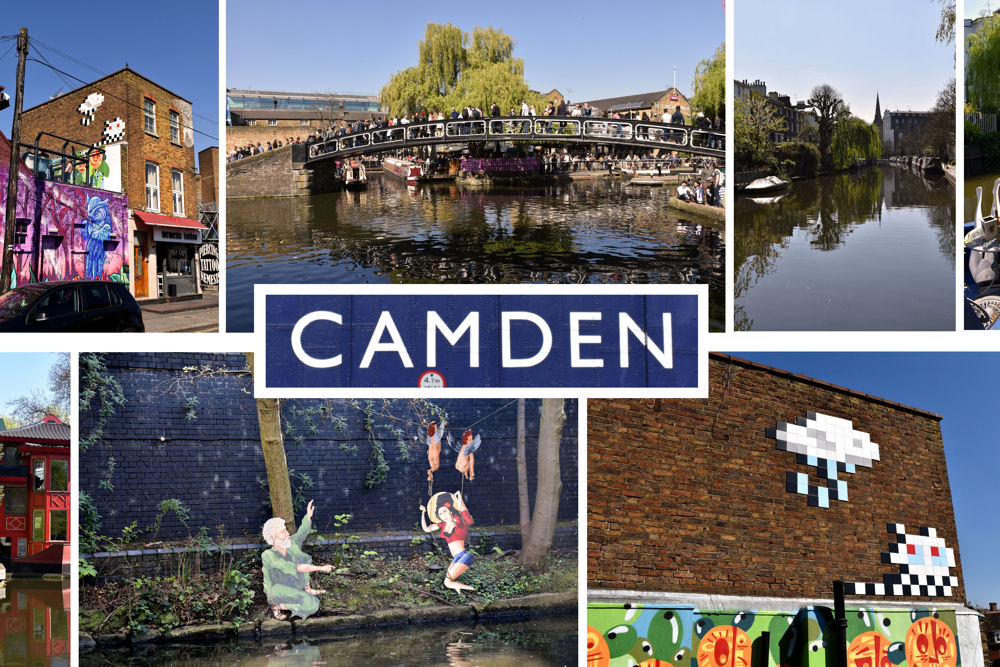 Our search for Space Invaders was rewarded in Camden, where we also saw more of the canal including an Amy Winehouse and angels tribute.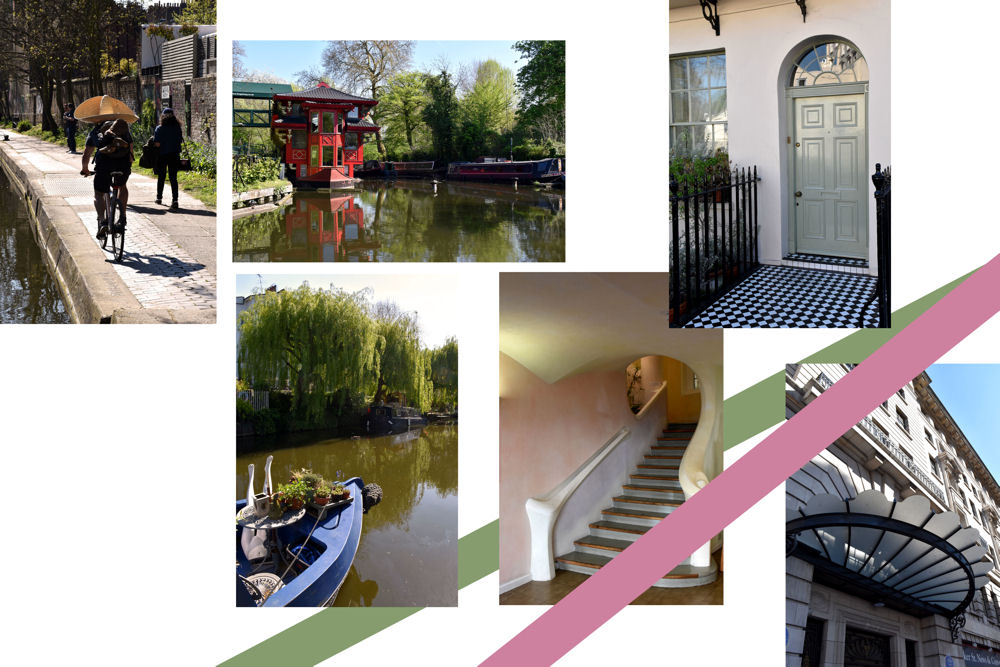 Joseph Steiner's house has an Art Nouveau staircase.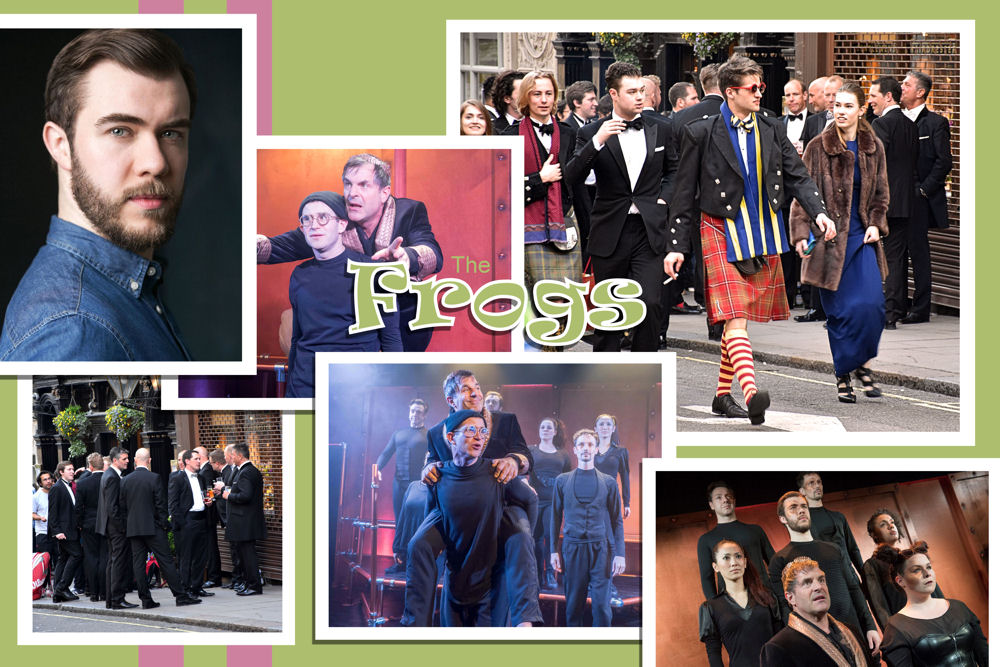 Jermyn Street Theatre triumphed again with the UK premiere of Nathan Lane's version of Sondheim's The Frogs. We sat in the front row and had a spectacular view of bearded Chris McGuigan's Herakles, kitted out in kilt and leather harness.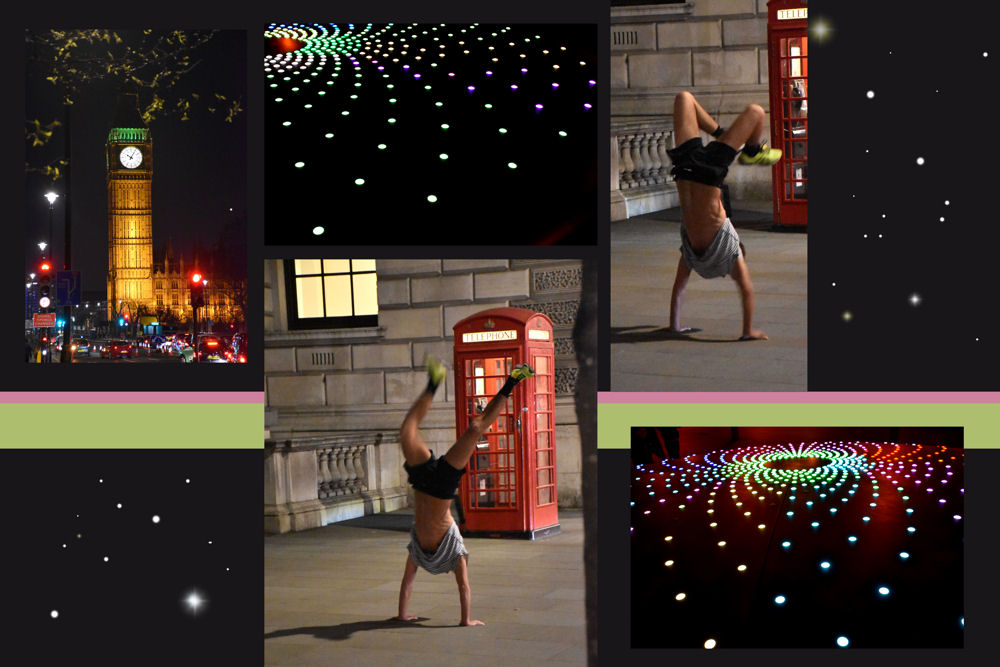 After the show, we strolled back to our hotel via the back of Downing Street and Parliament. This jogger stopped every few feet to perform a handstand.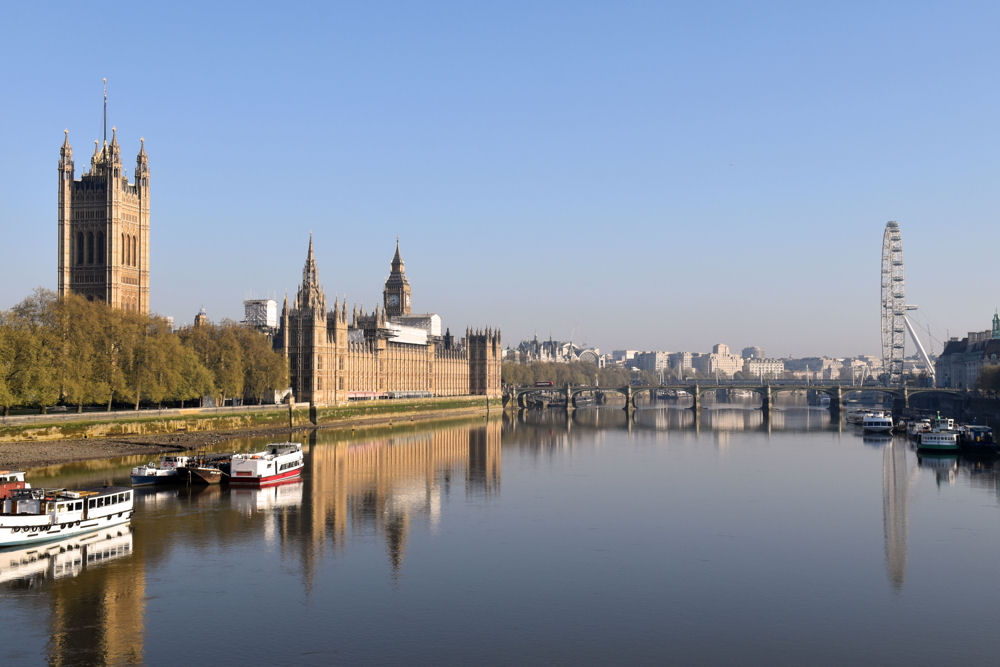 Sunday morning on the Thames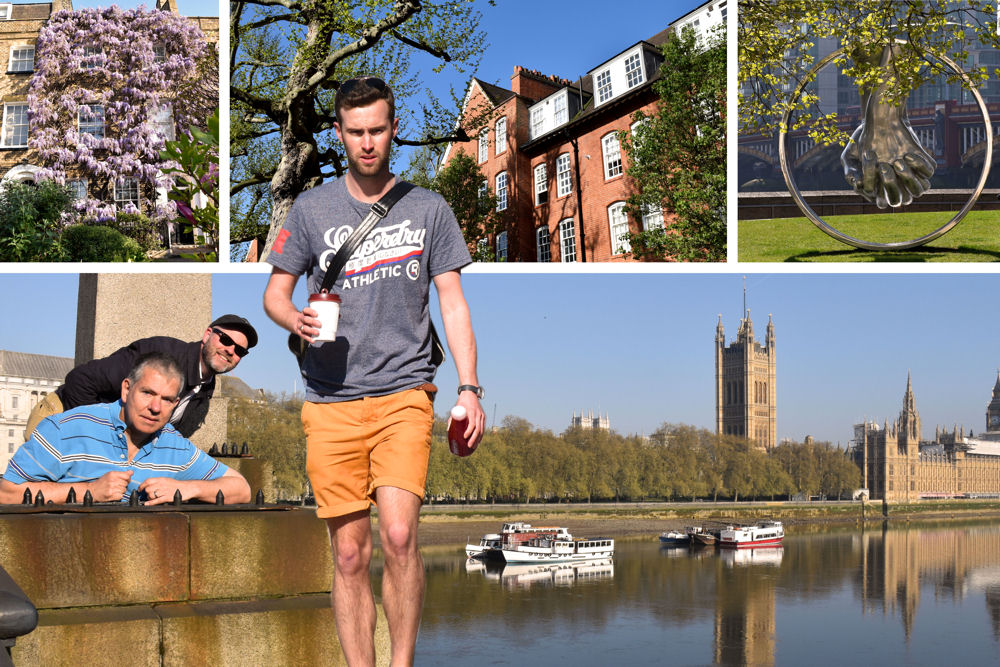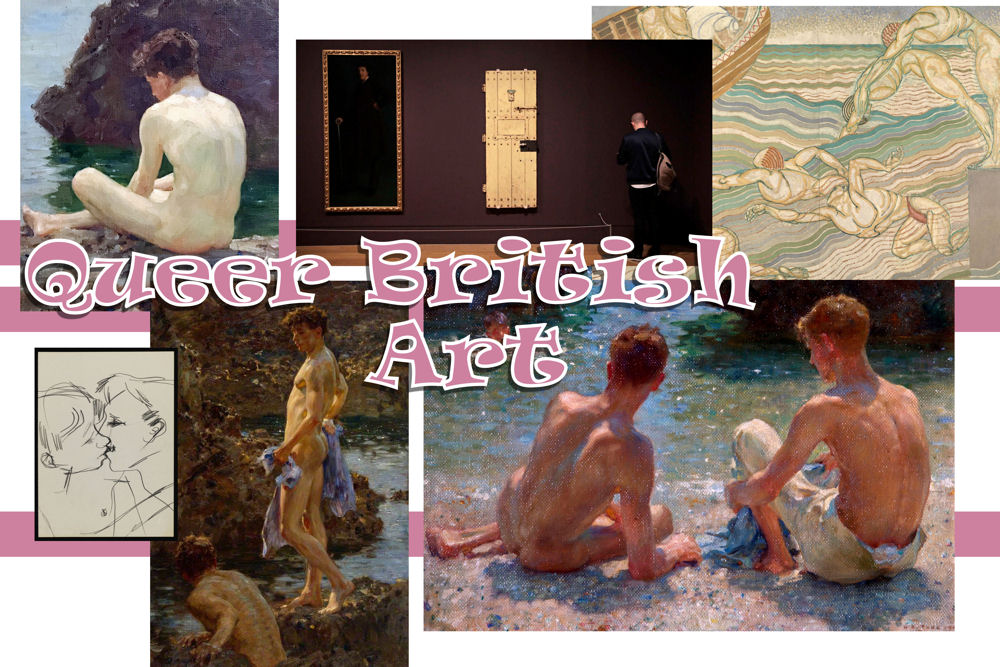 It's reassuring how far society has come. Tate Britain put on a Queer British Art exhibition. My favourite work was that of Henry Scott Tuke. Seeing Oscar Wilde's prison door was sobering for both of us.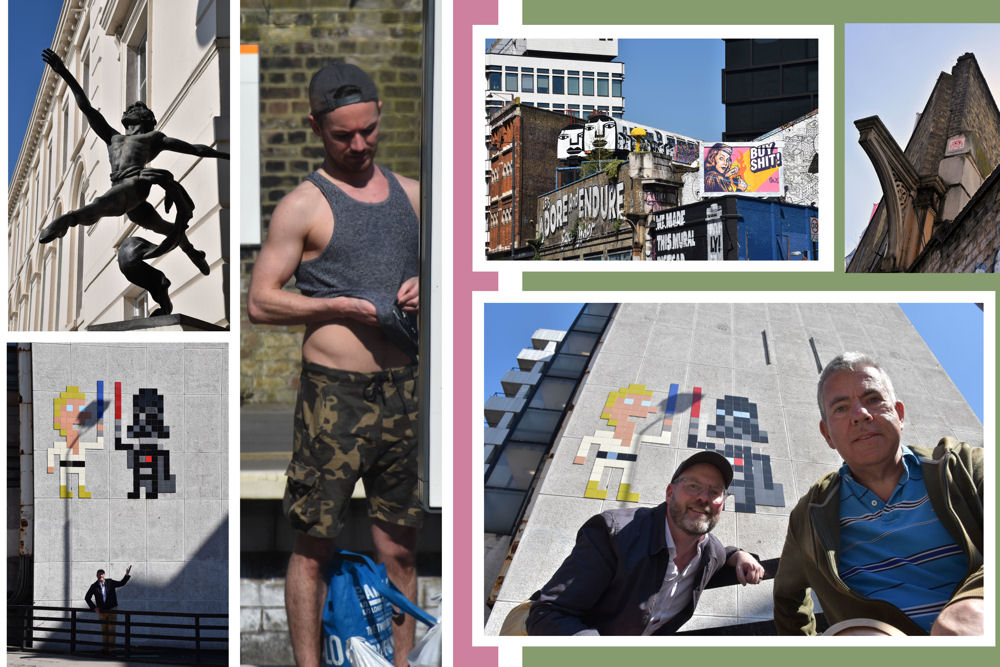 Onwards to Shoreditch, where we tracked down Invader's large Luke and Darth Vader mosaic. Fantastic!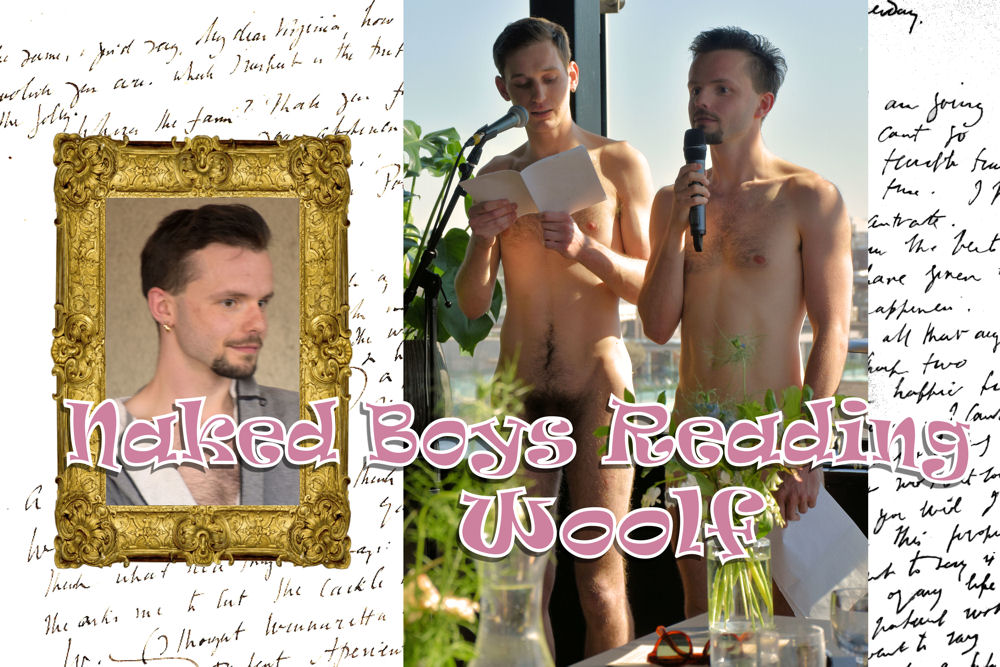 Naked Boys Reading Virginia Woolf with a Bloomsbury lunch and rooftop view was the perfect way to spend a Sunday afternoon. We last saw them read in Autumn 2016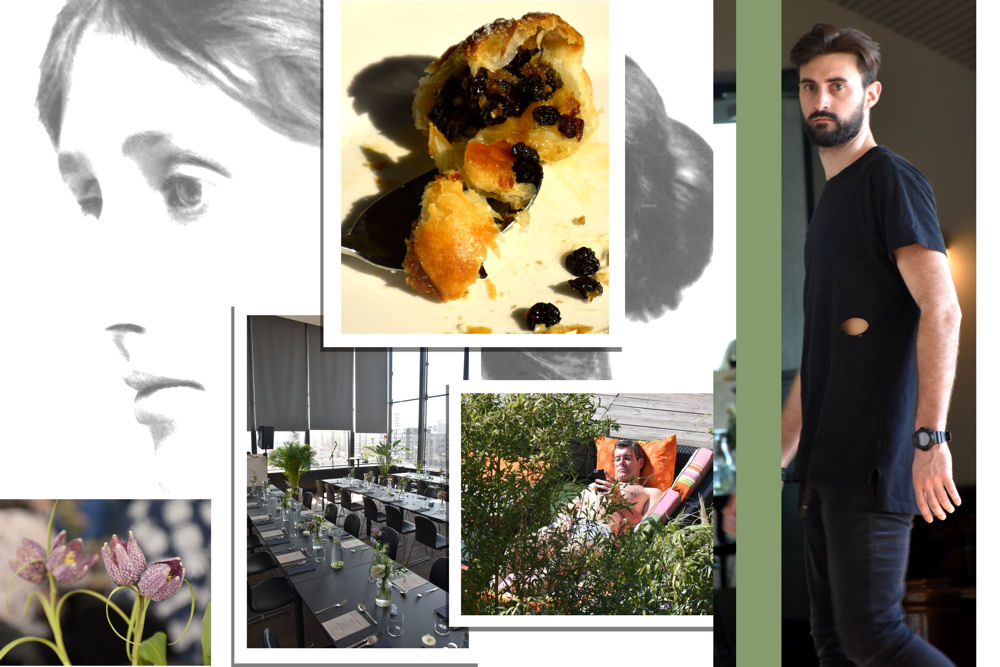 The eccles cakes served by our cute and friendly waiter were a highlight.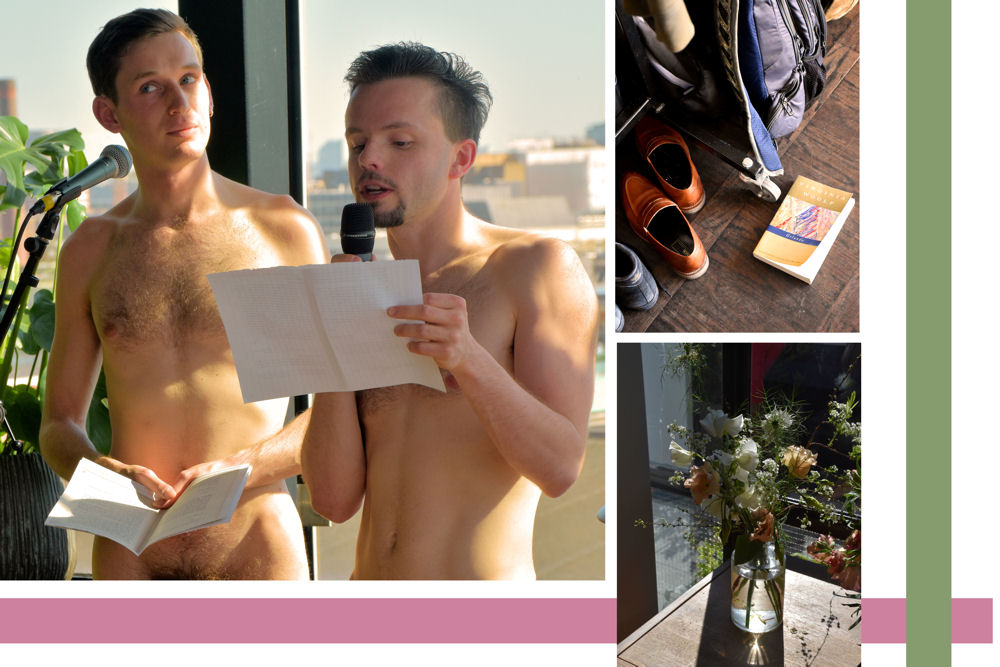 We heard excerpts from Orlando, letters between Virginia Woolf and Vita Sackville-West, and a description of Woolf written by E.M. Forster.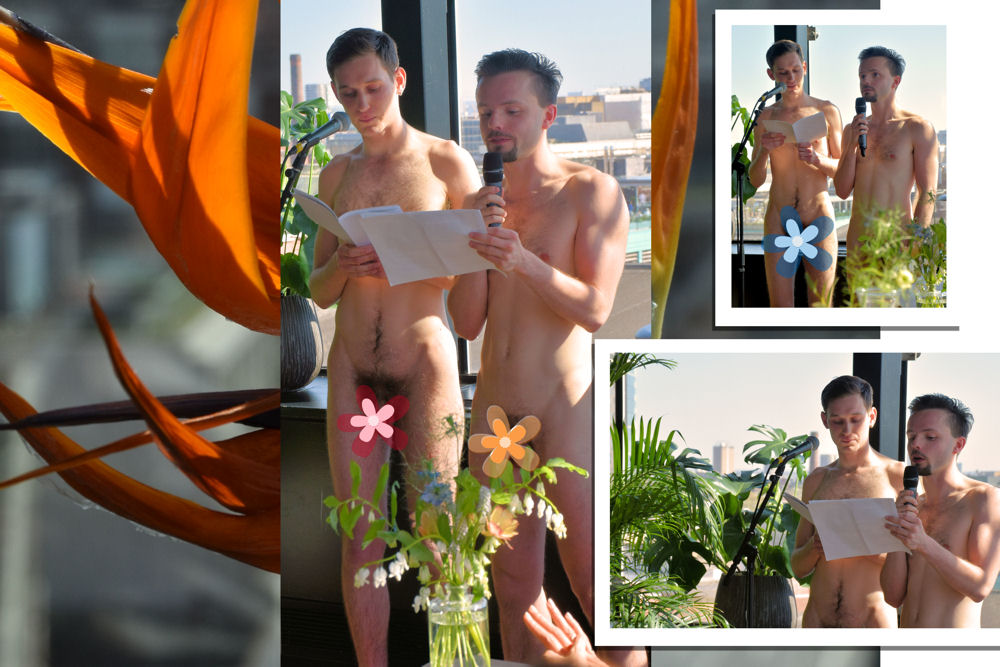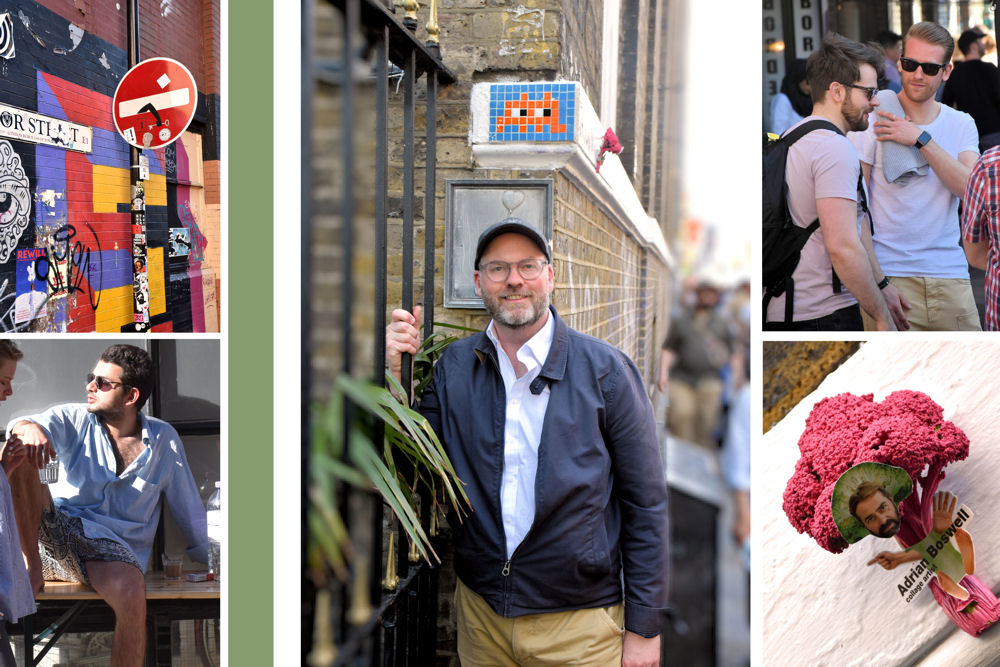 Last stop Brick Lane for more invaders and a healthy dose of eccentricity.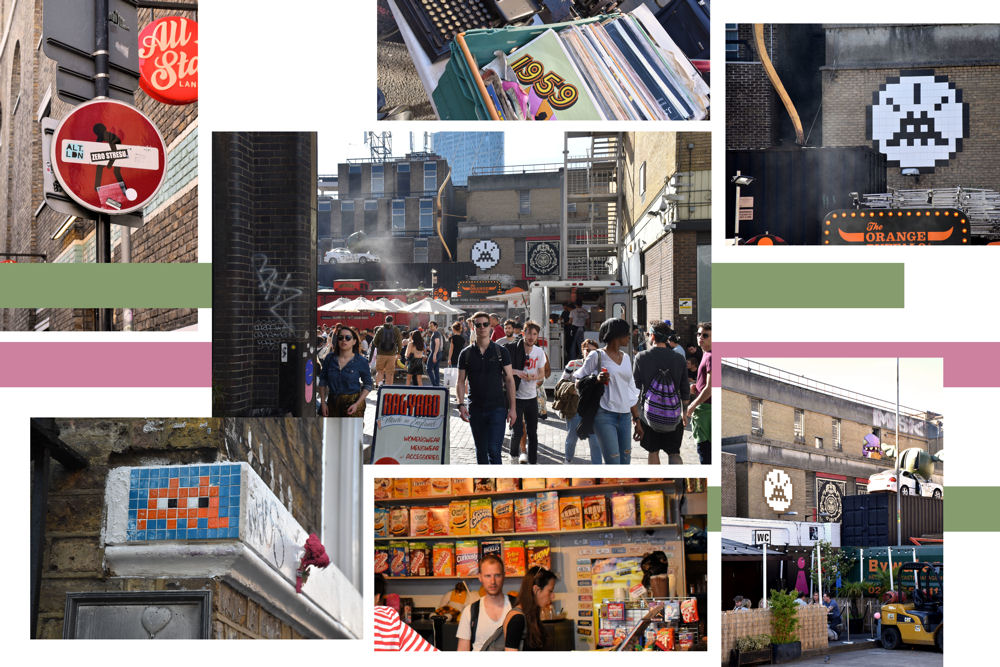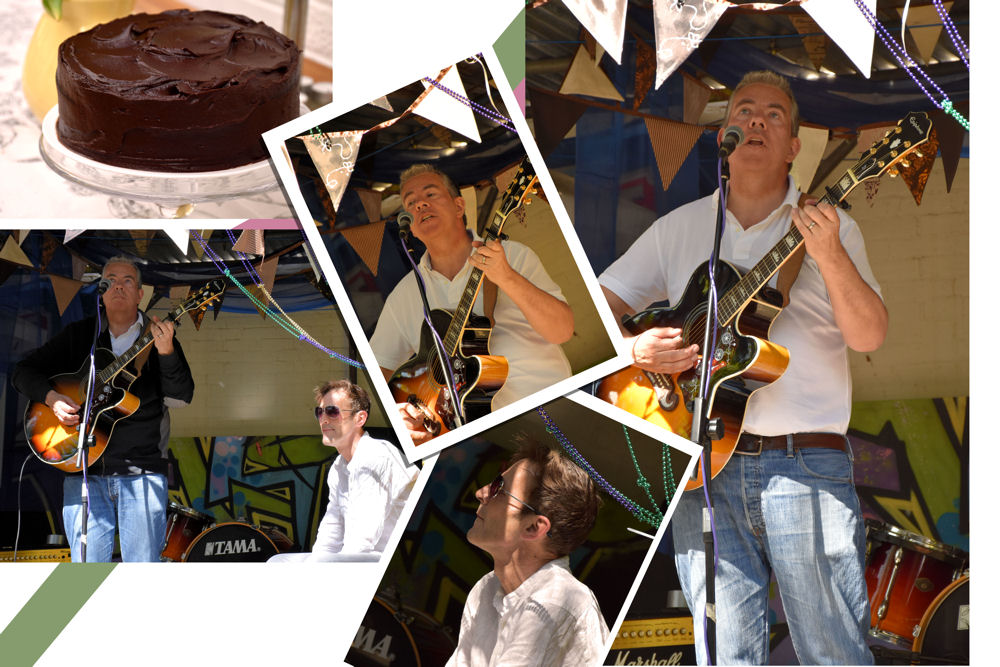 Nick singing at a local festival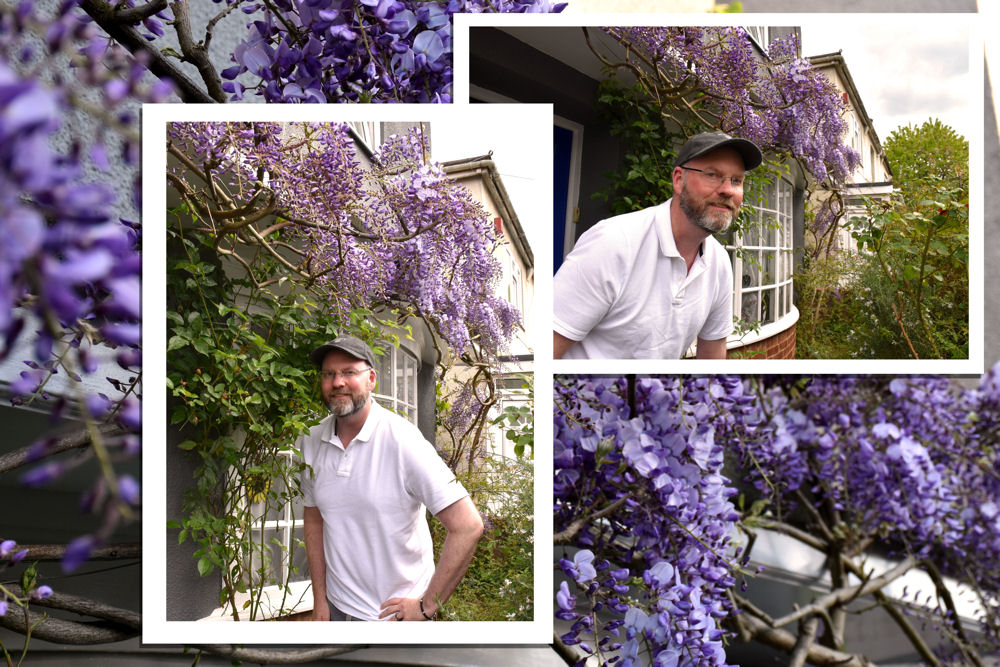 Several years ago, Nick gave me a wisteria plant for the front of our house. It blooms every springtime.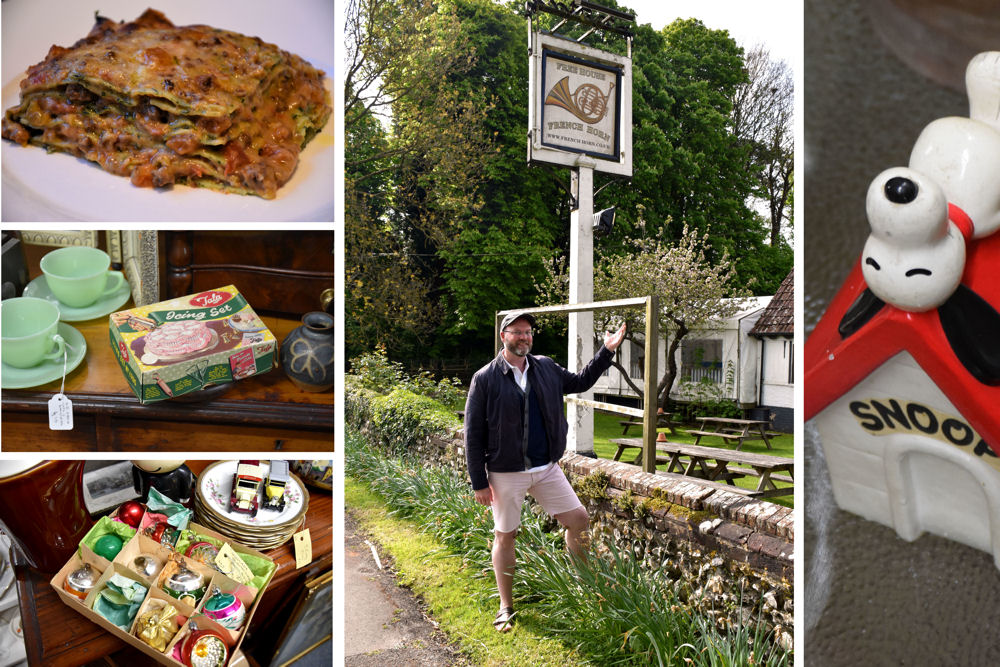 Above: homemade lasagne with wild garlic, antique shop finds, George and French horn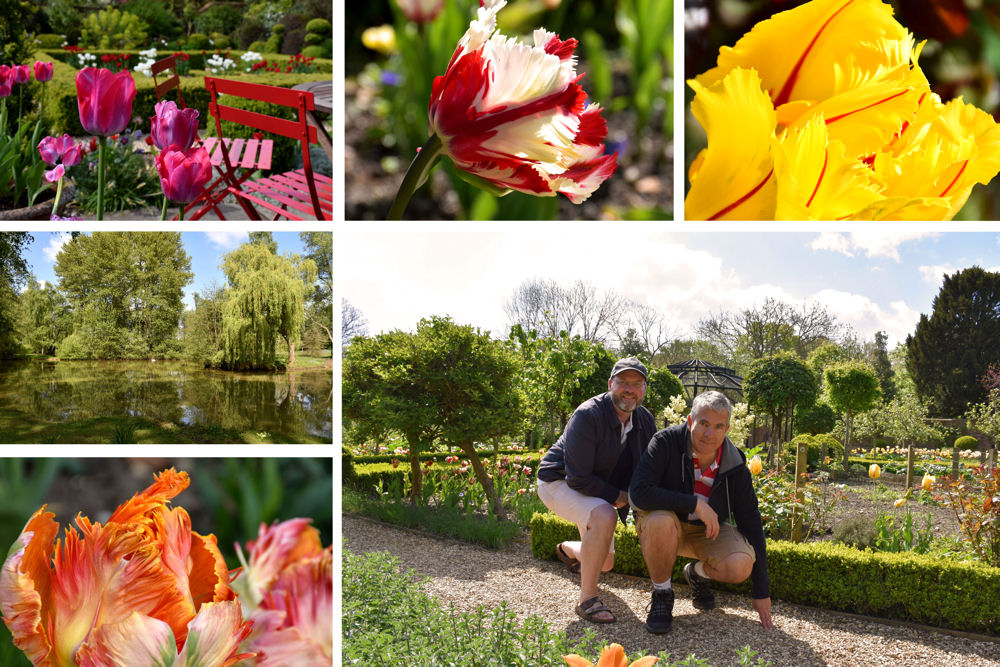 Flowers in boom at West Green House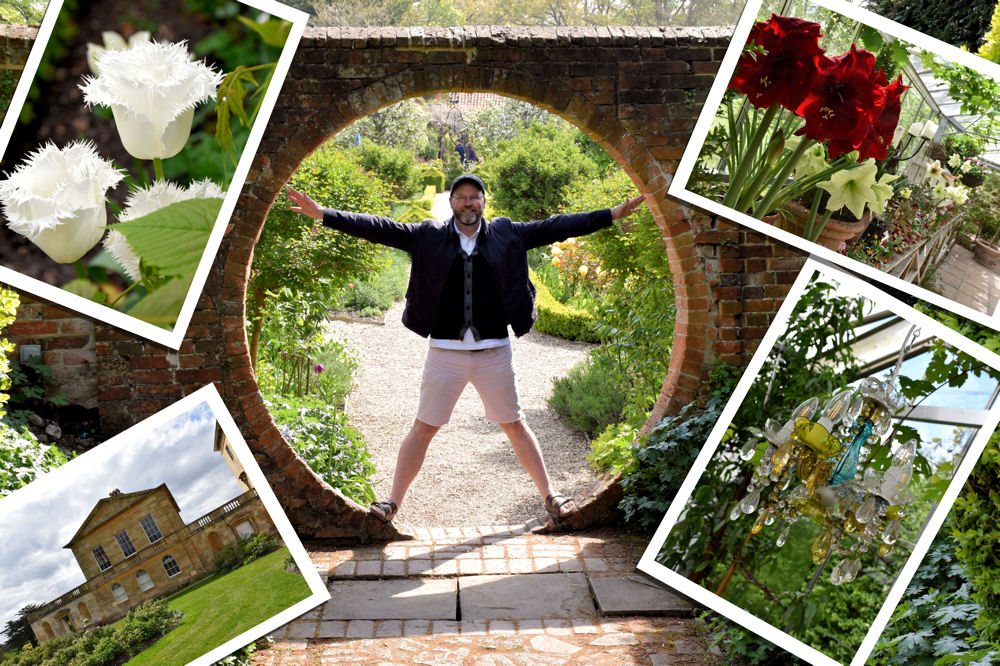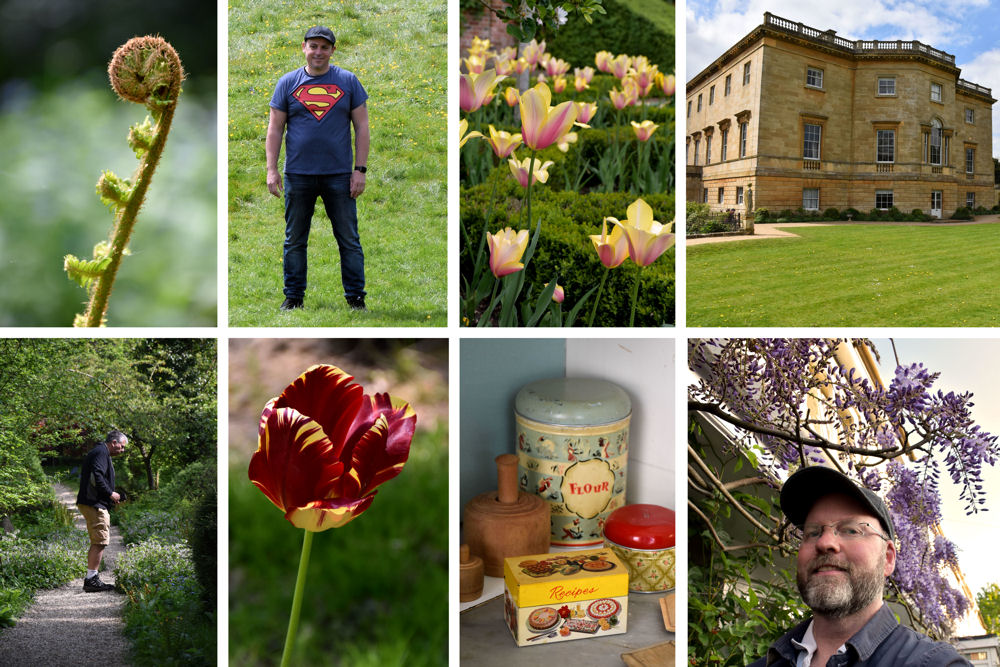 West Green House and Basildon House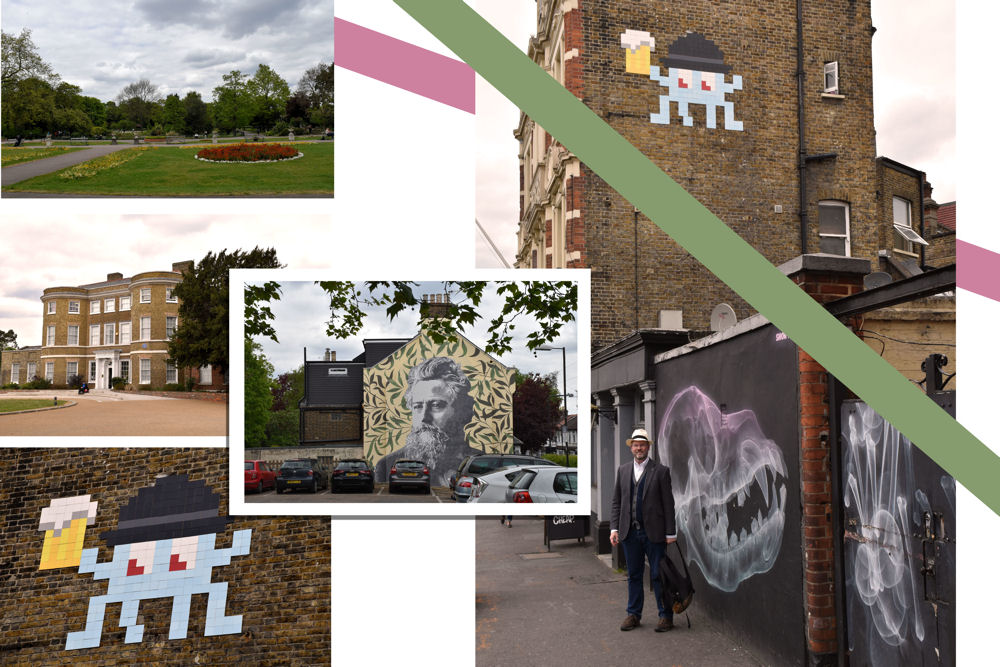 We returned to London on bank holiday weekend and sought out the largest Space Invader in London, on the side of a pub in Walthamstow.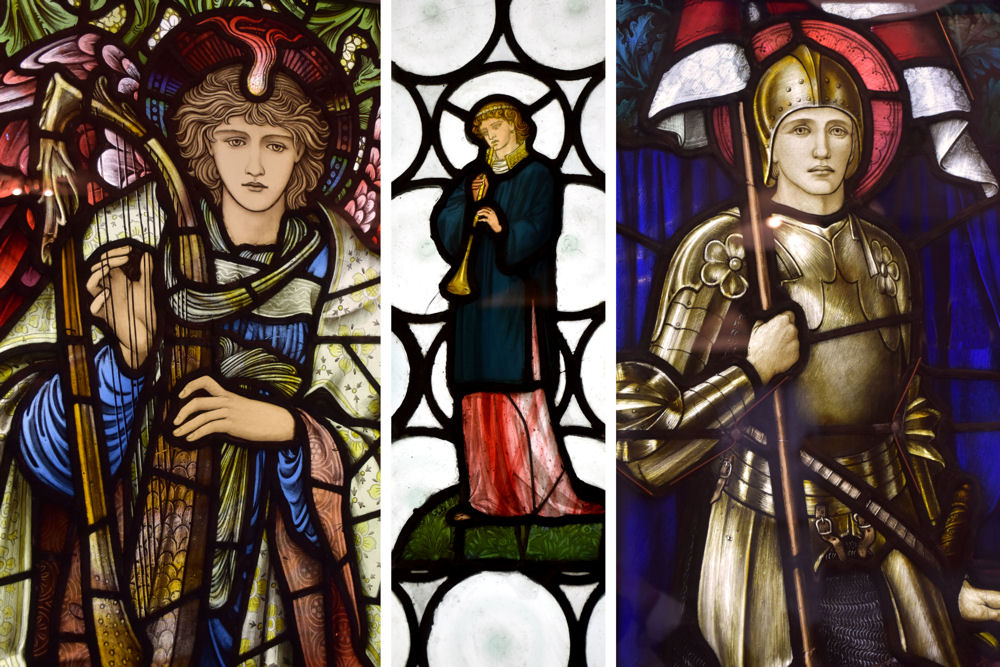 We also visited the William Morris Gallery in Walthamstow and admired the textiles, stained glass, and wallpaper his company designed.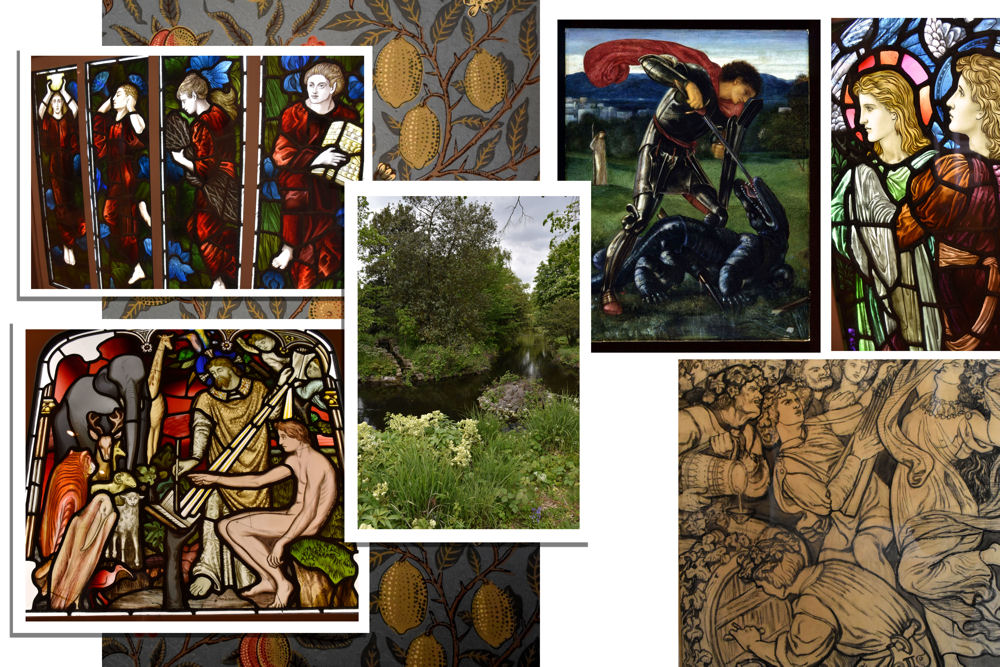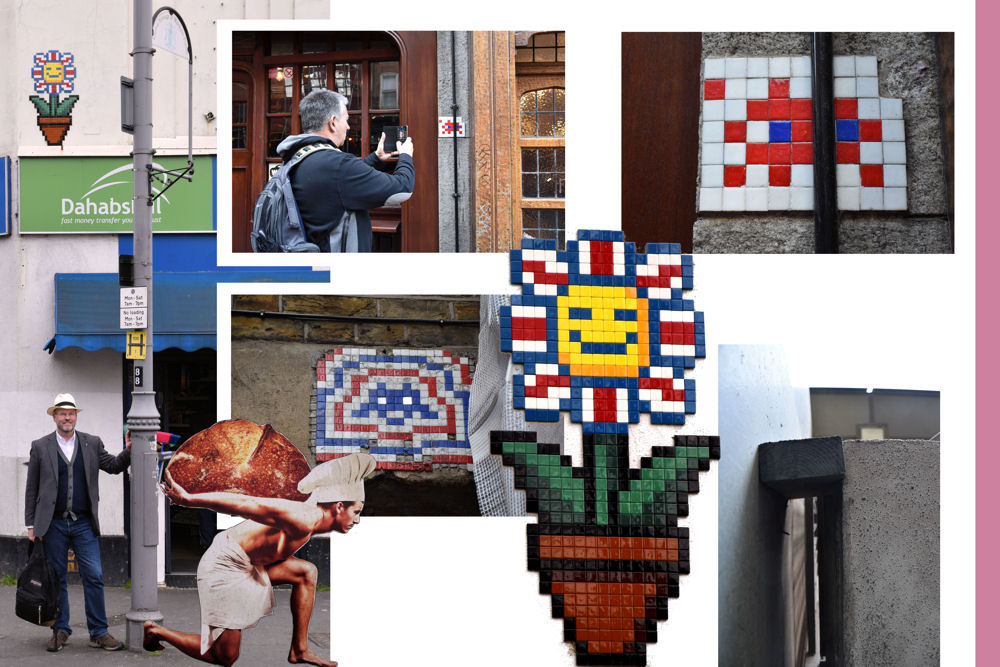 The flowerpot Invader is also in Walthamstow. We started using the Flash Invader app and got points for all of the above, including the one hidden behind construction work.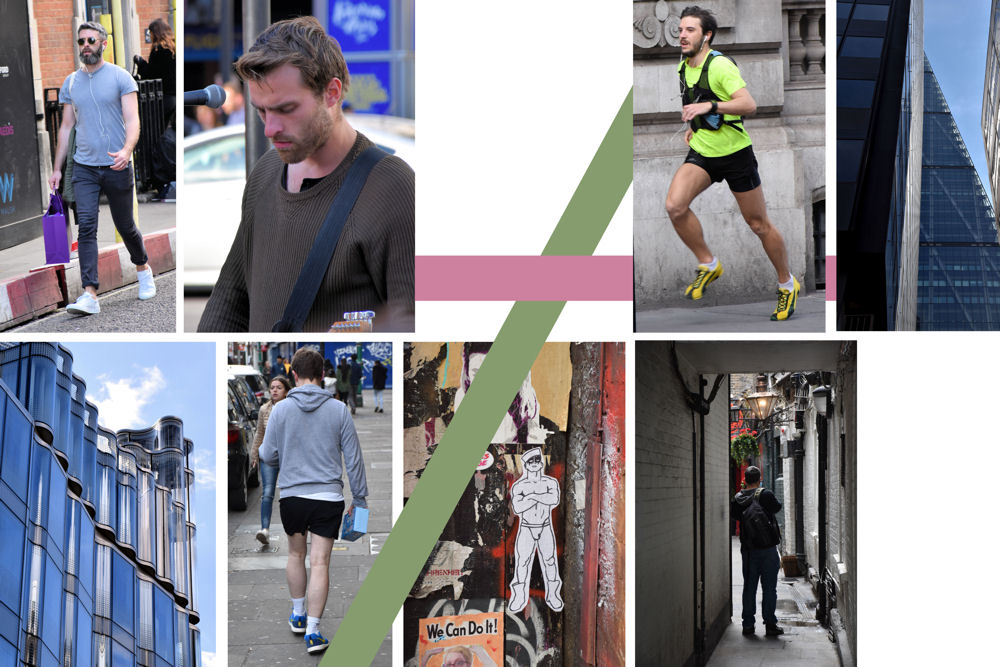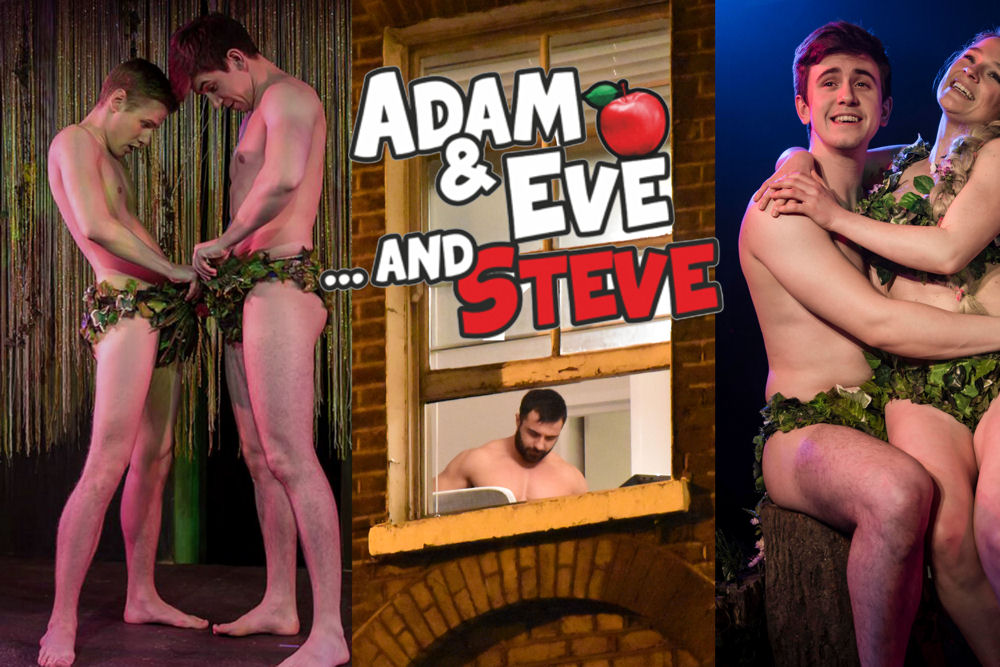 We sat in the front row of Adam & Eve...and Steve at the Kingshead Theatre and spotted a muscley bear-type man changing his shirt in a window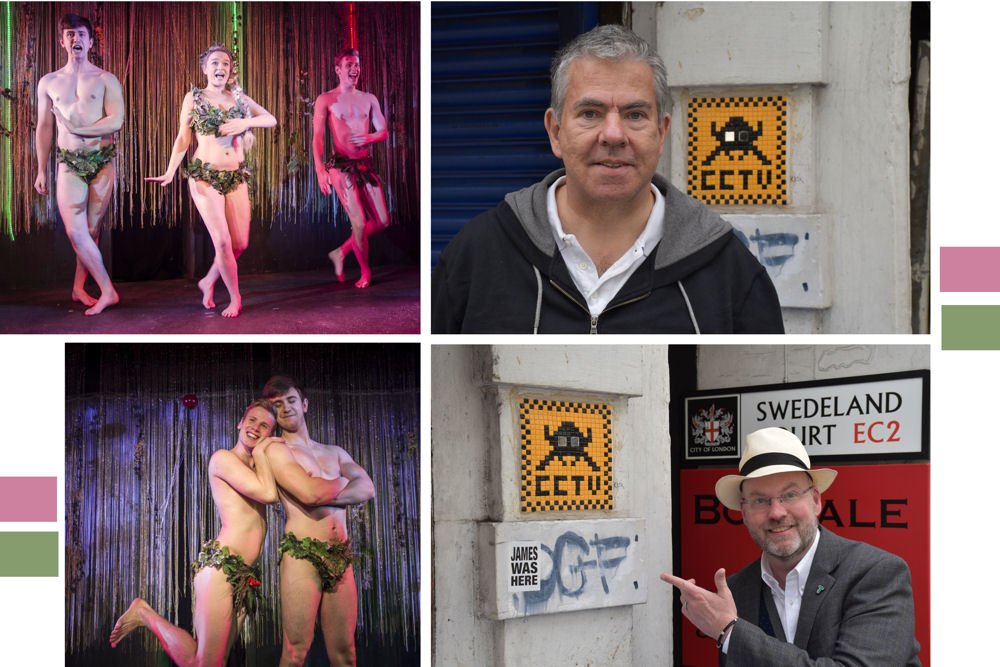 More Invaders near Liverpool Street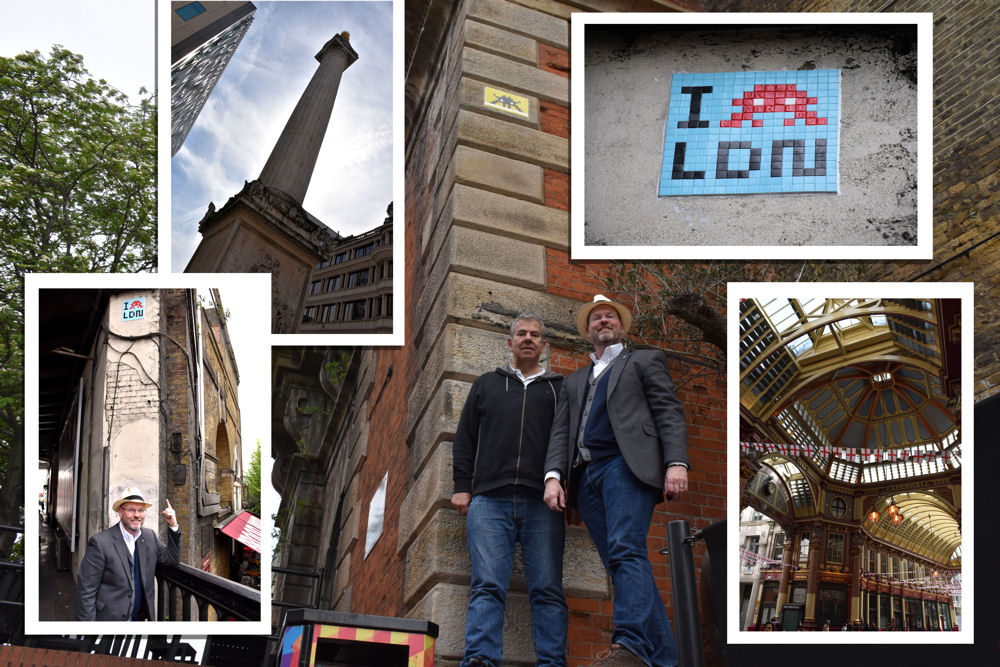 Southwark and London Bridge area and Leadenhall Market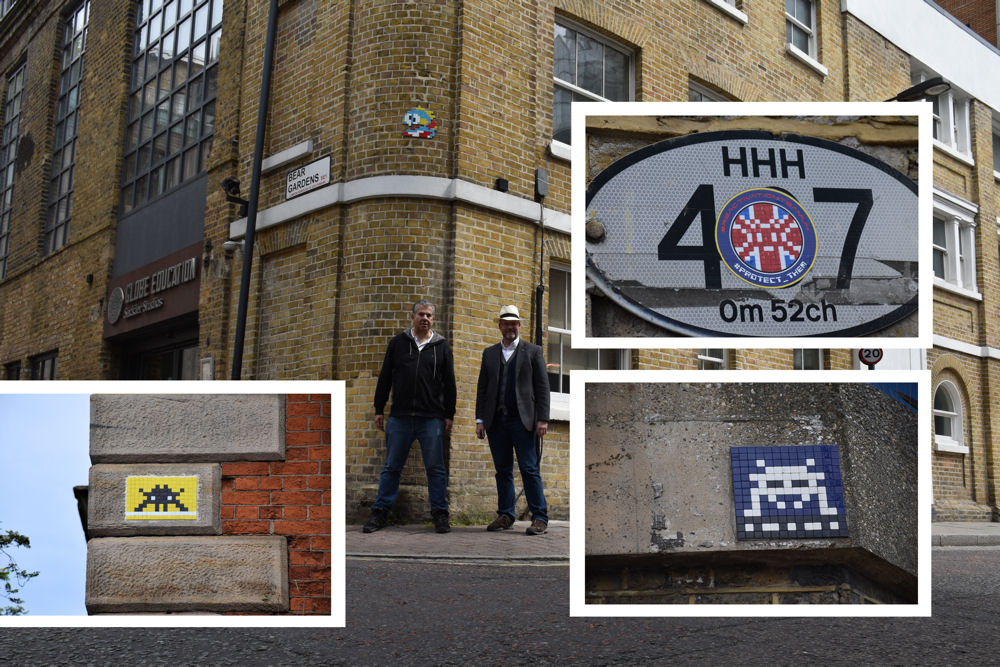 Bear Gardens, near Southwark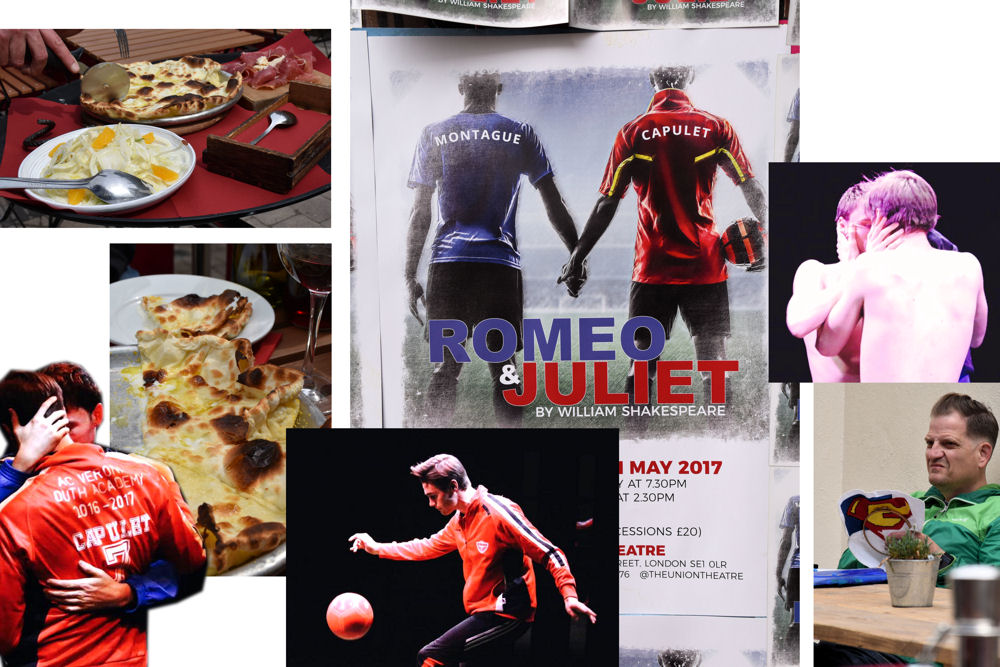 We went to see Romeo & Juliet with two excellent male leads at the Union Theatre. Romeo put his hands on my shoulders while delivering the balcony scene. The Ligurian restaurant next door made authentic Recco-style focaccia, just like we had with Rus in 2013. A father waiting for his daughter to finish drama lessons embroiders a Superman logo. Click HERE to see more Supermen.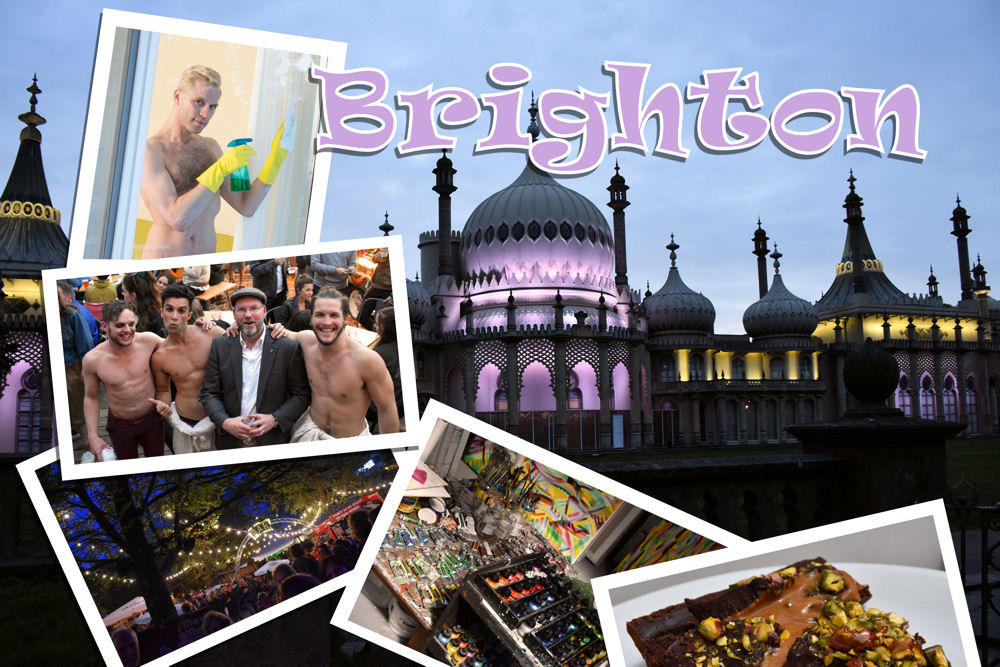 Back to Brighton in May for Festival season. Click HERE to see last year's Brighton Festival photos.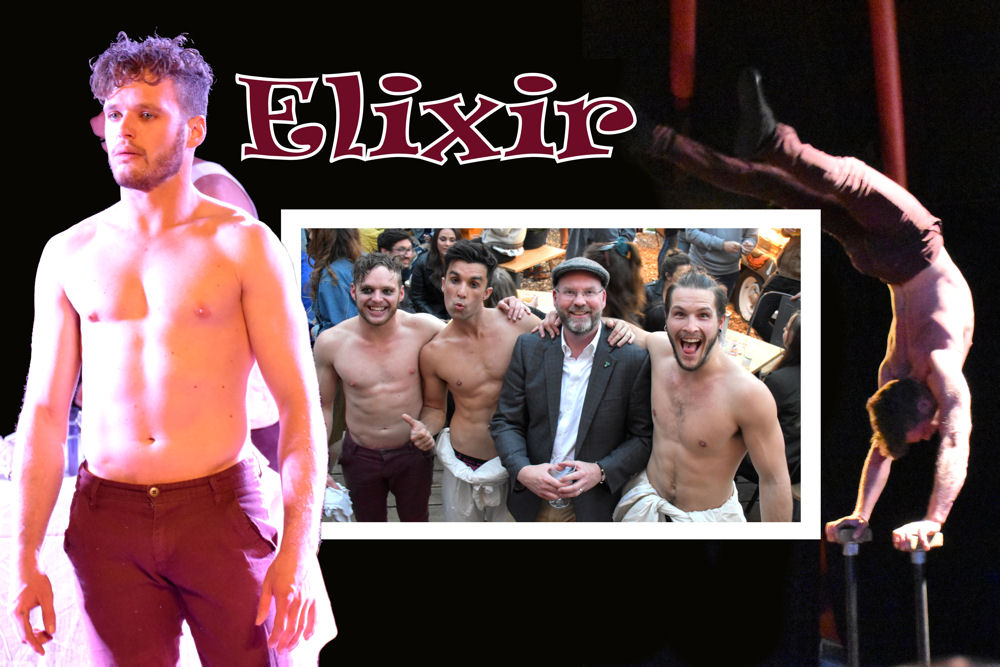 Last year, we missed the first part of Head First Acrobat's Elixir because we went to the wrong tent. We booked again this year and weren't disappointed.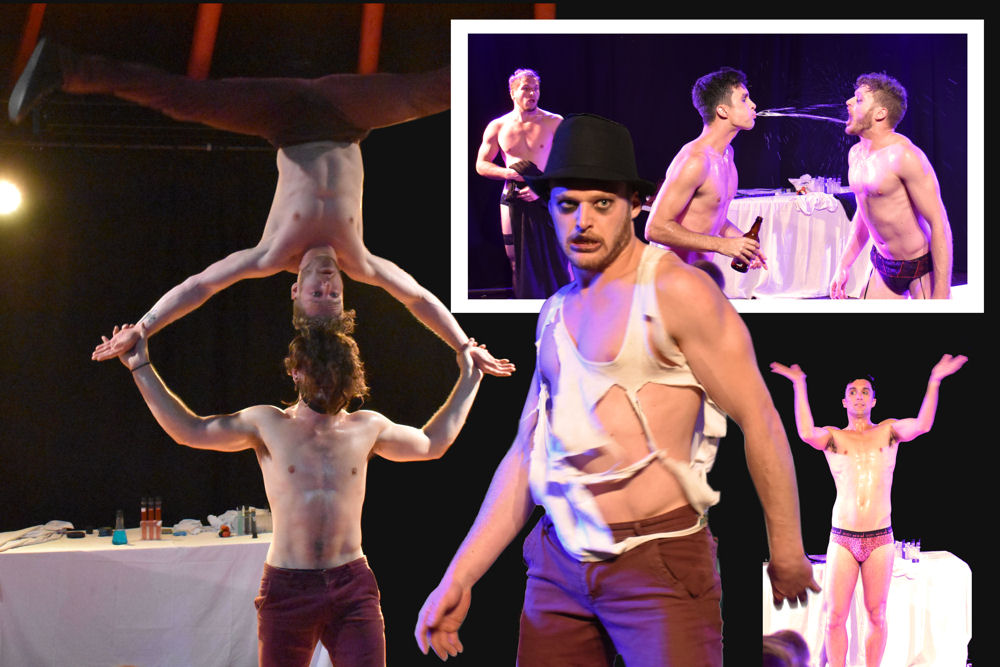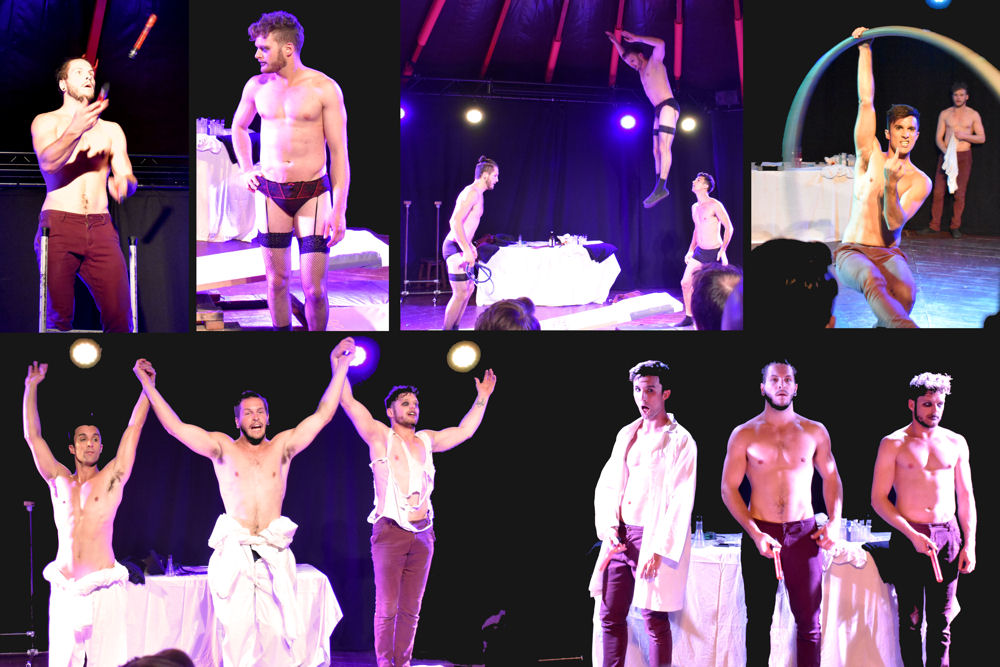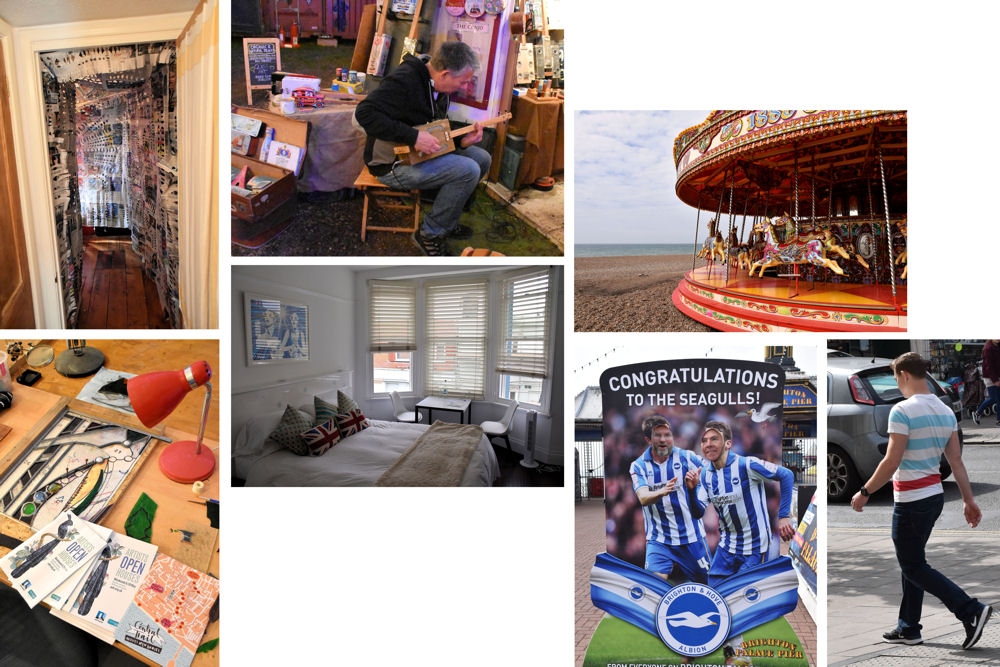 Above: a newspaper cutting installation in an artist's open house, Nick tries a handmade guitar, our room at Hotel Nineteen, and celebrating the Seagulls' success.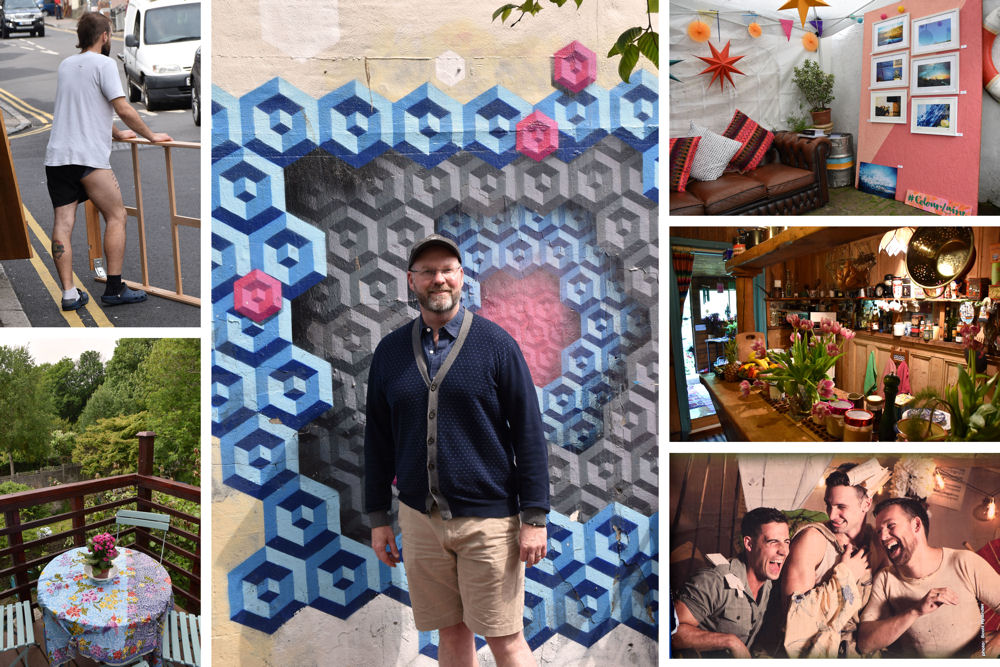 More artists' open houses and a poster for an all-male Mikado.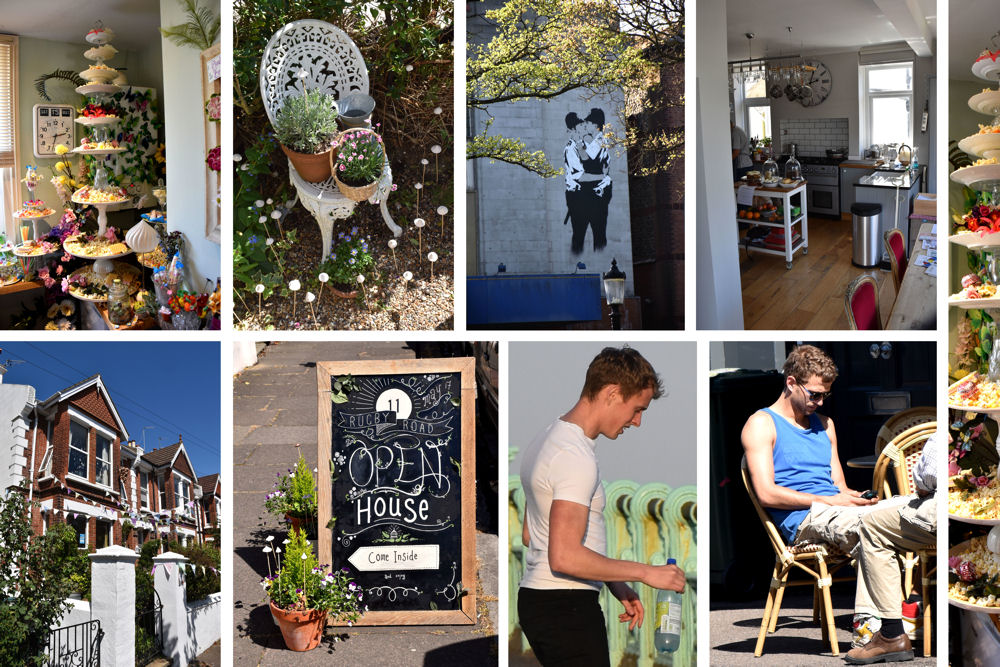 Number 11 Rugby Road is one of our favourite houses. Is that a real Banksy?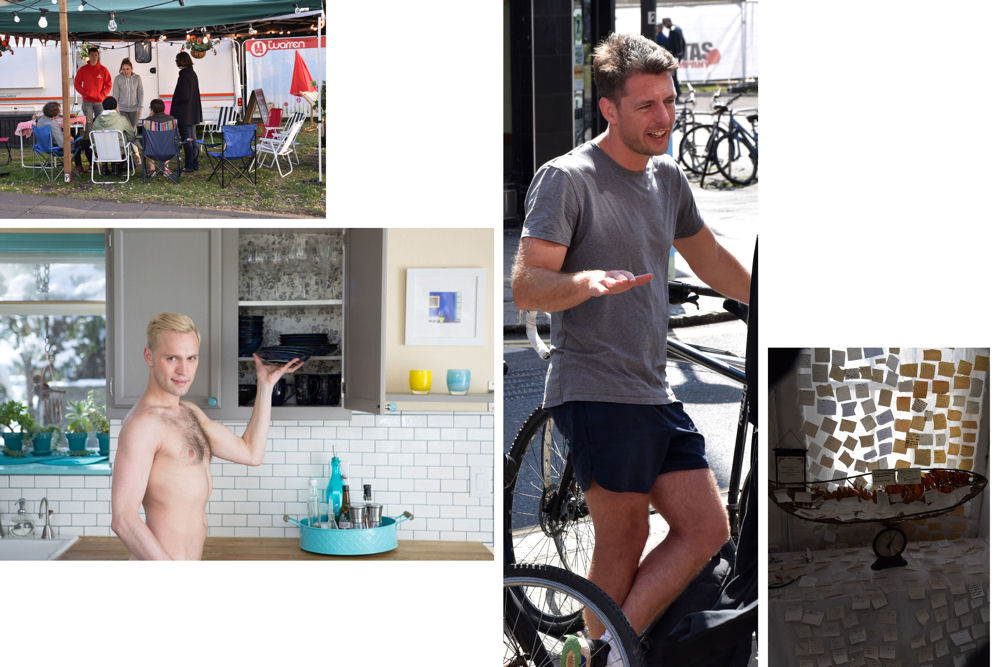 We saw some fun and thought-provoking Fringe shows again this year, including Mobile and Coming Clean. The art installation above asks to write down a childhood dream and place it on the scale.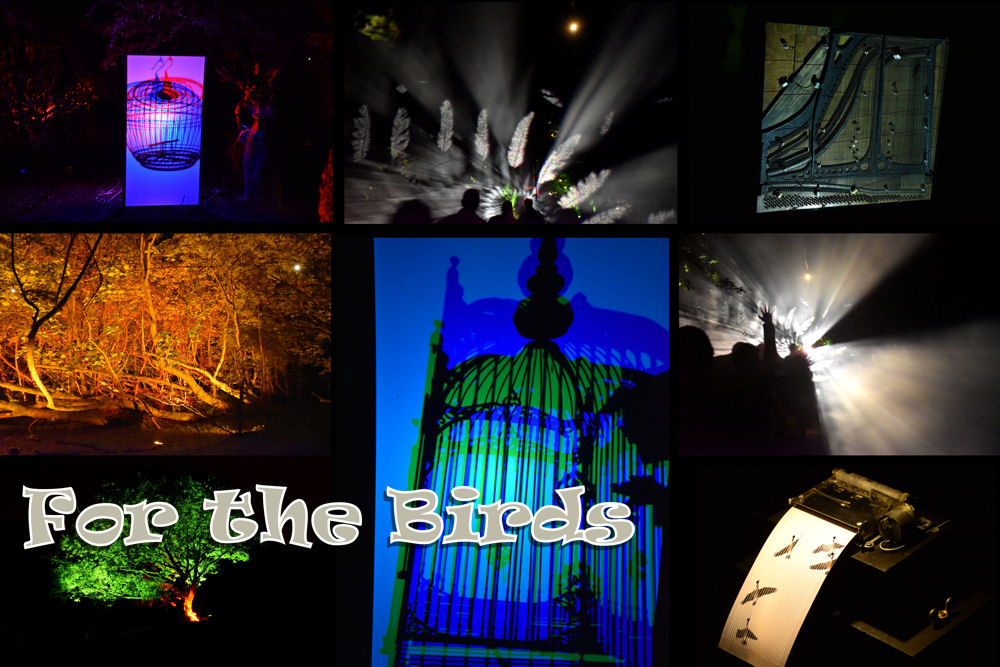 On Saturday night, we saw a promenade installation of For the Birds. Many of the effects were seen and heard at the Inside Out Hengistbury Headlines in autumn 2016, but there were lots of new things to discover.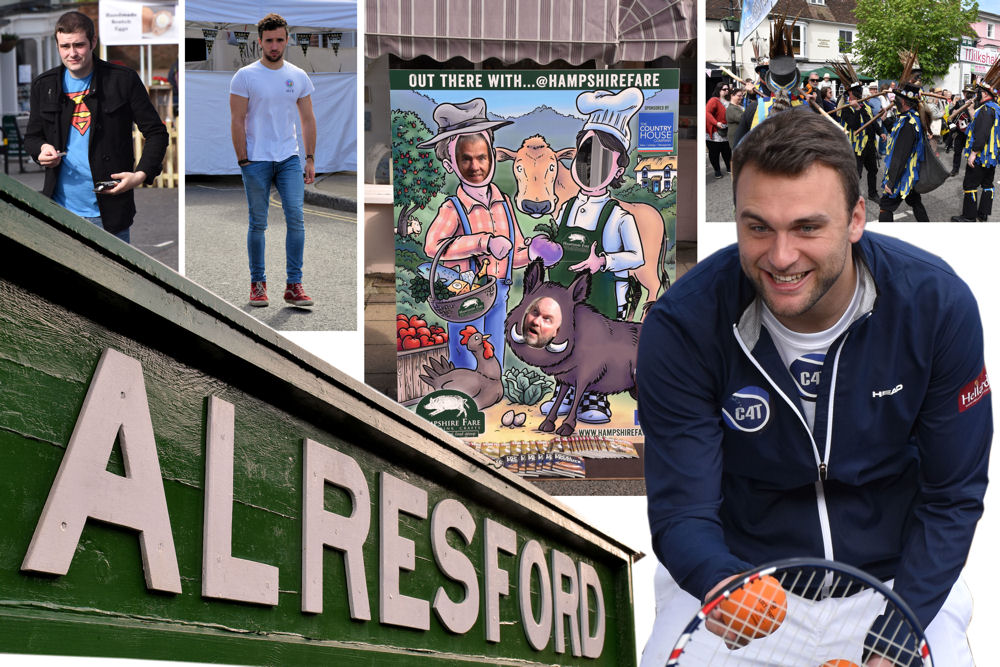 We visit the watercress festival most years, last in 2015. It's like Midsomer Murders, with Morris dancers, Pimms, and the village tennis pro lobbing oversized balls.