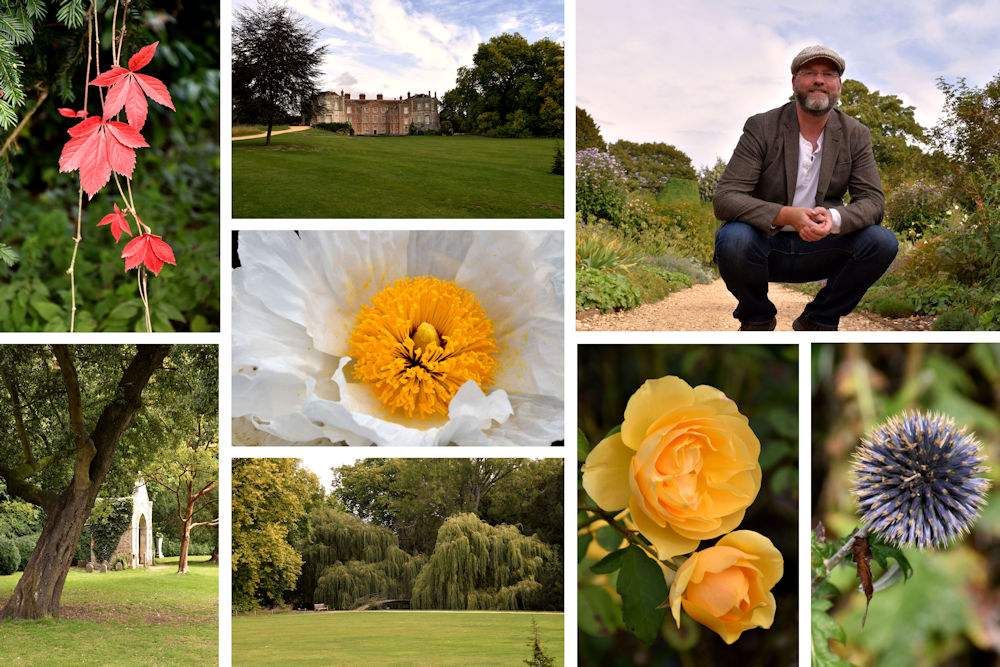 Yes, autumn means back to school, but it also means foraging for mushrooms, colourful leaves, cooler weather, and unpopulated visits to our local National Trust property..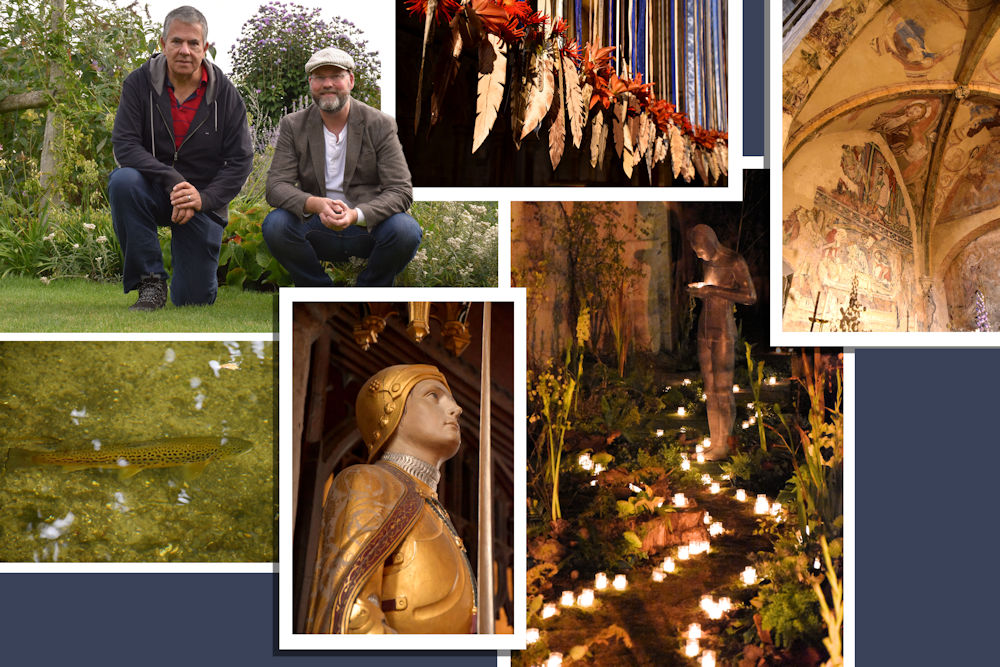 The flower festival in Winchester was beautiful to see. I especially liked the re-working of the Anthony Gormley sculpture in the cathedral's crypt.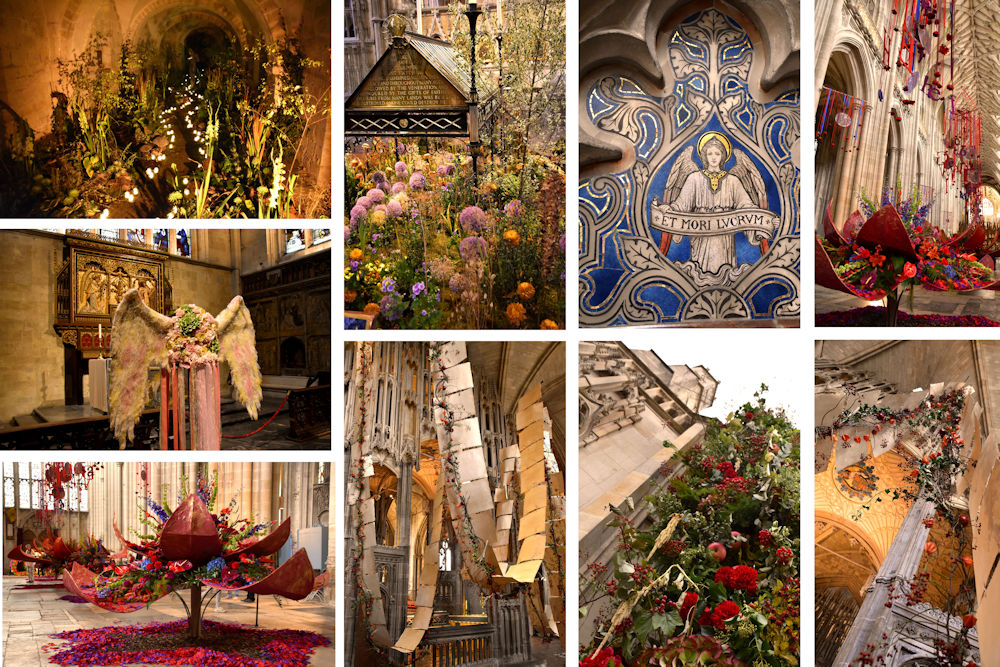 Scenes from the cathedral and the flower festival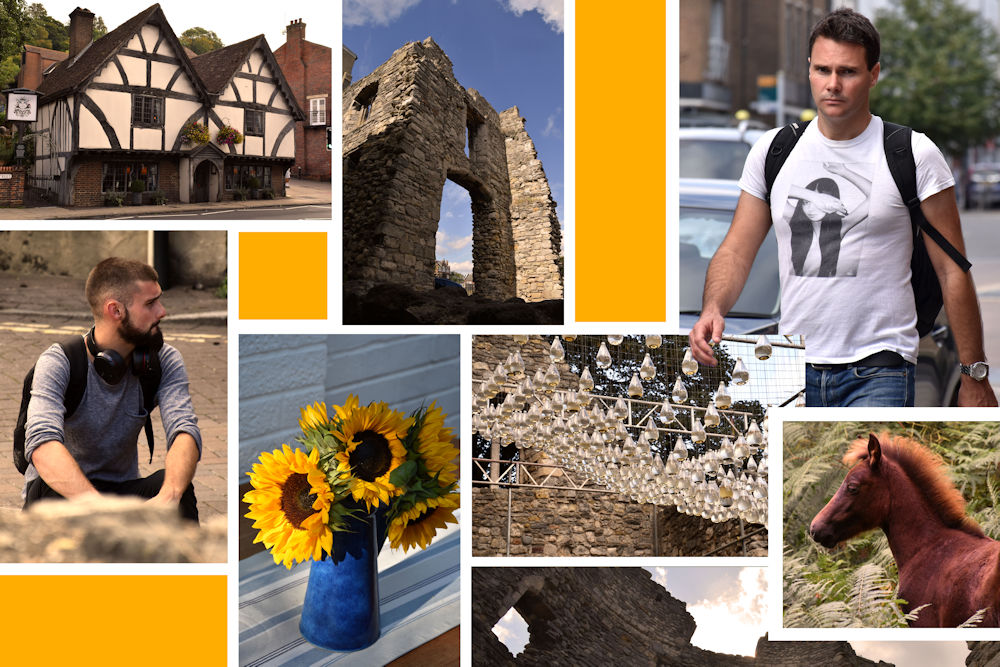 In our town, there was an art installation in Canute's Palace.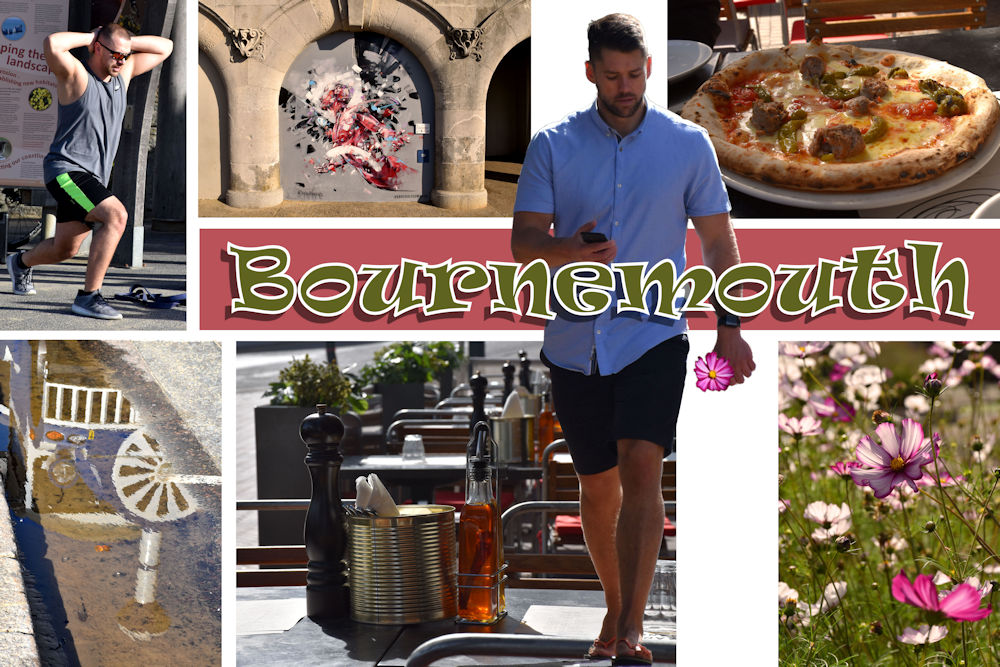 Our usual beach walk was sunny in September and we enjoyed a pizza in Bournemouth.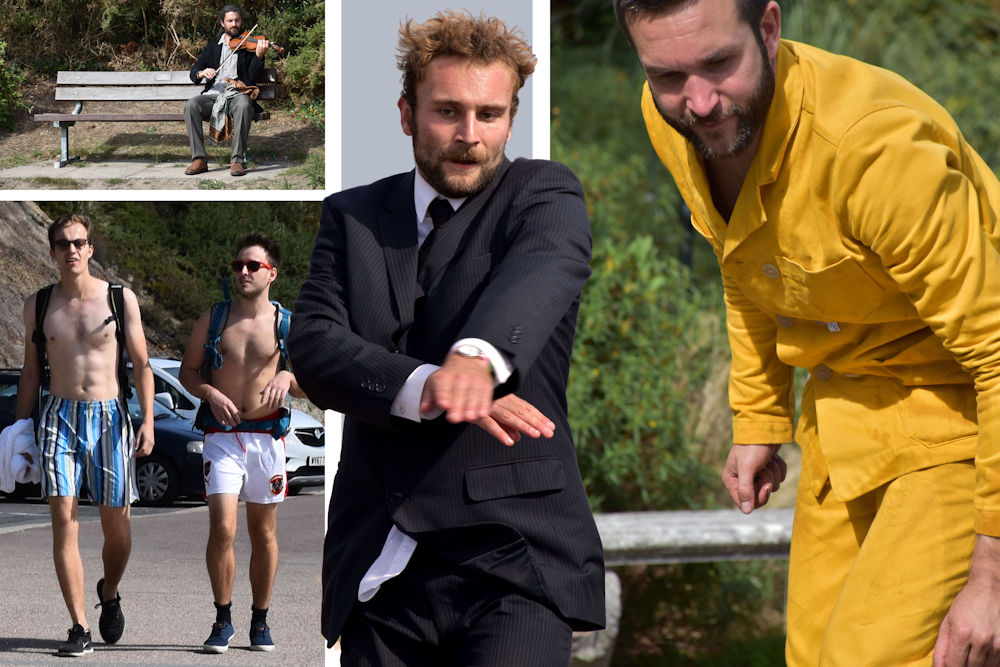 The Inside Out Dorset festival is a free event that has featured sexy dancers both times we've been. Click HERE to see our visit two years ago. The Dutch man in yellow presented Olie Collectief Walden, an installation that investigates how greed, specifically around the mining and consumption of oil, can influence, inform and damage the landscape around us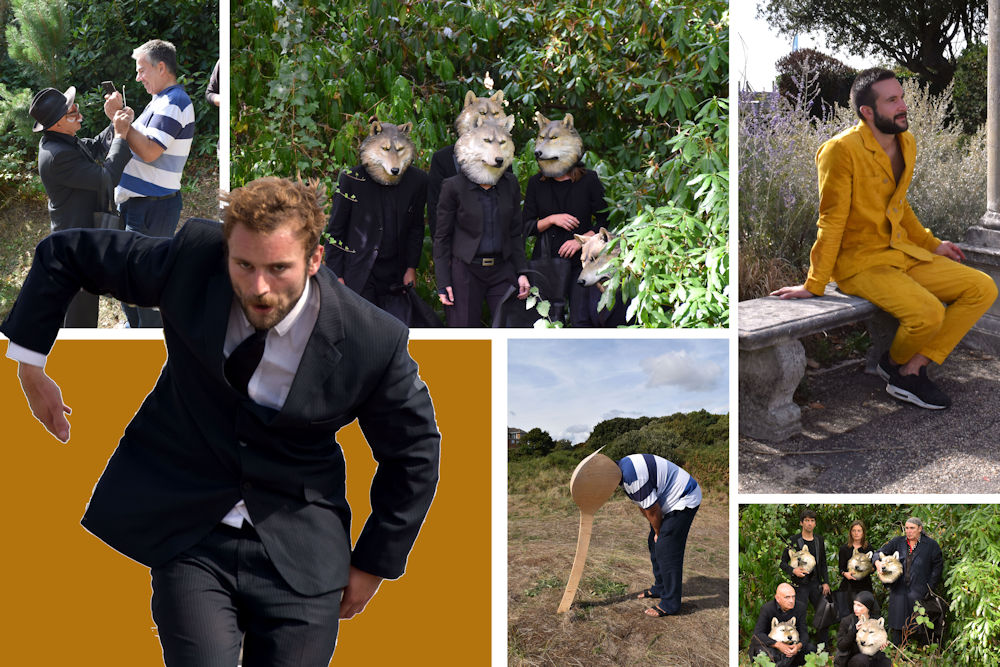 The draw this year was Les Souffleurs commandos poétiques, whose eerie human-to-wolf transformations had us chasing around the woods. The bearded, suited dancer (Jack Sergeson) from Stacked Wonky Dance, was part of the Coastal Encounters project, which animated some of the many commemorative benches that are placed along the coastal path. The weird wooden construction is De Weide Wereld a bird-song sound installation by Dutch group Waterlanders.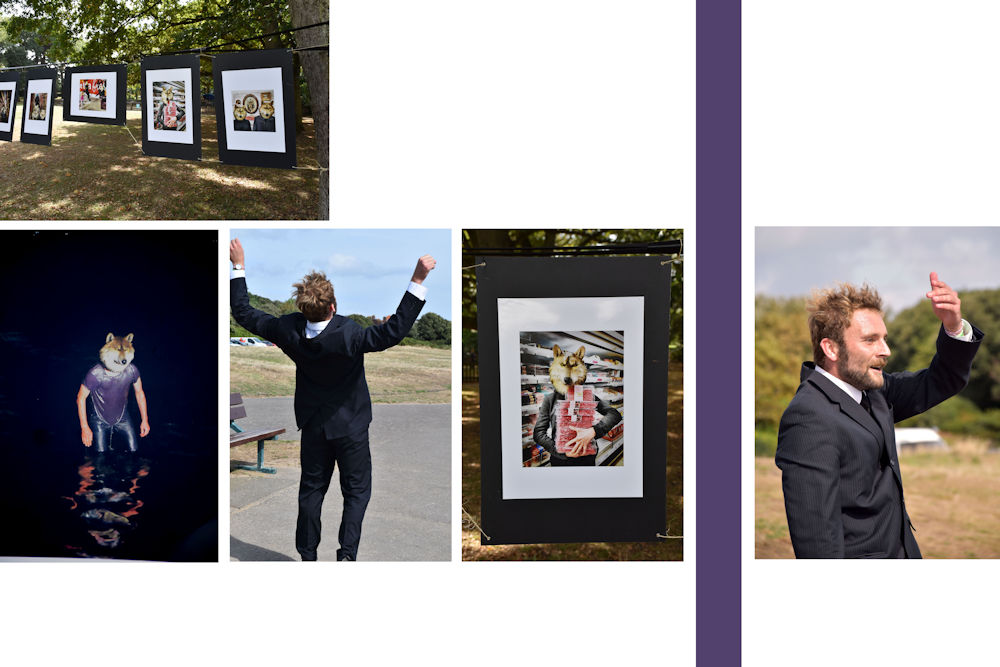 A few more photos of the wolves and Dancing Jack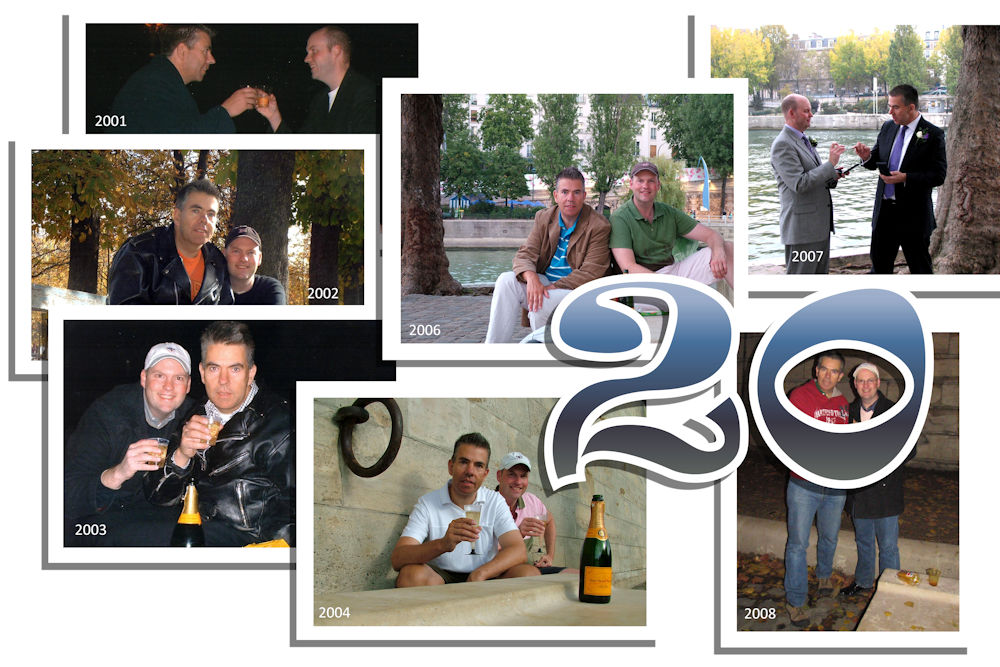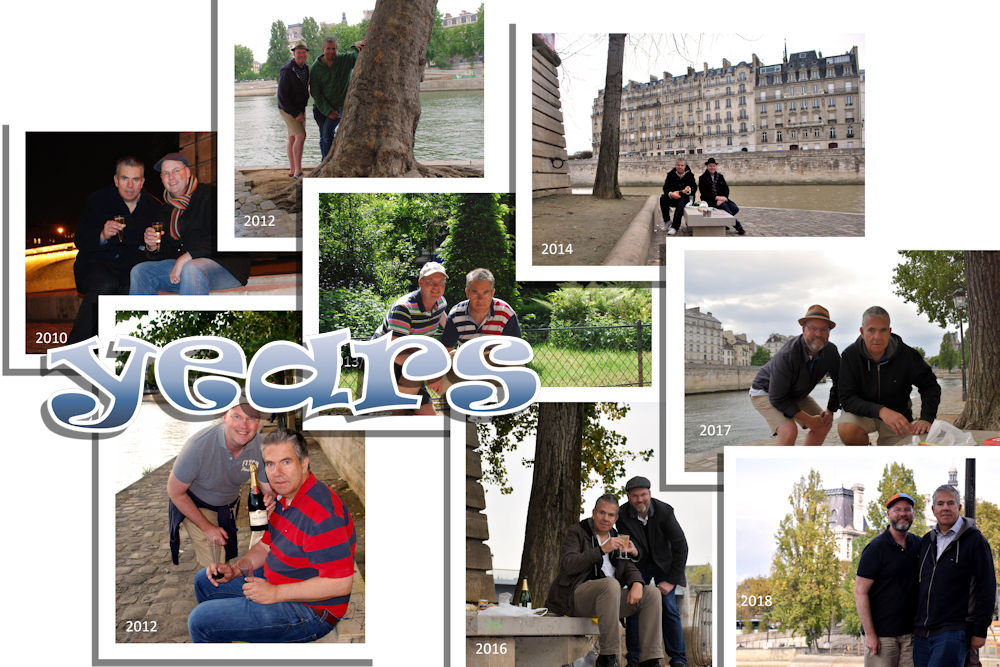 We met in 1998 and celebrate our anniversary in October every year, often in Paris, with a picnic on "our bench" at the end of the Île Saint-Louis.
We returned this year to celebrate 20 years together.

We arrived on Saturday, and before checking into our beautiful fifth-floor AirBnB apartment, we spotted two Invaders while Tiny Cow enjoyed a pain au chocolat.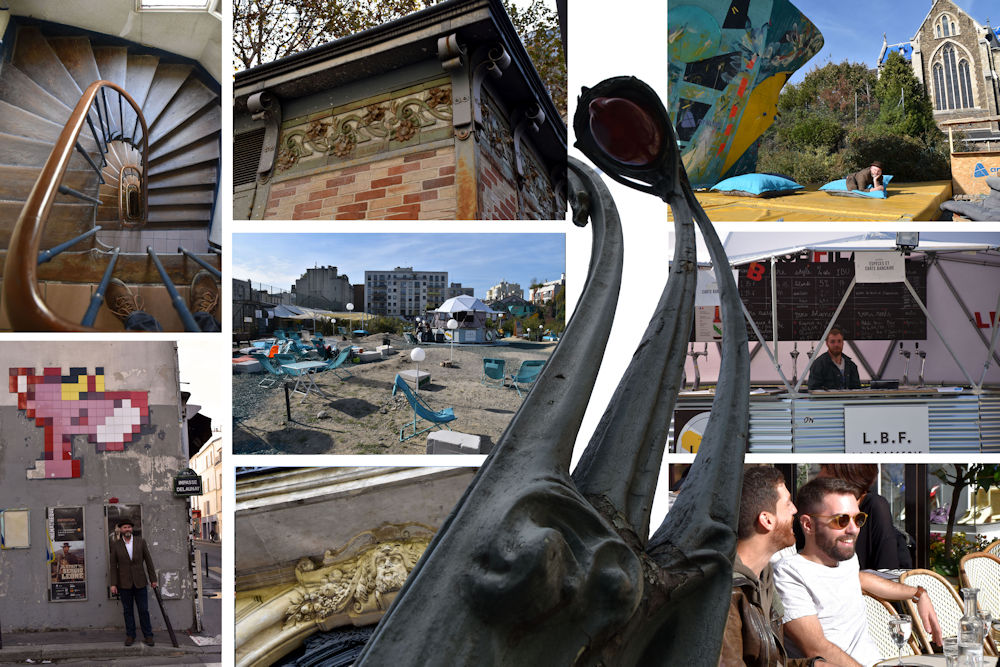 Above: The spiral staircase to our apartment, Art Nouveau, an outdoor bar near Père Lachaise, where we enjoyed a beer, a Guimard metro light, and beloved Pink Panther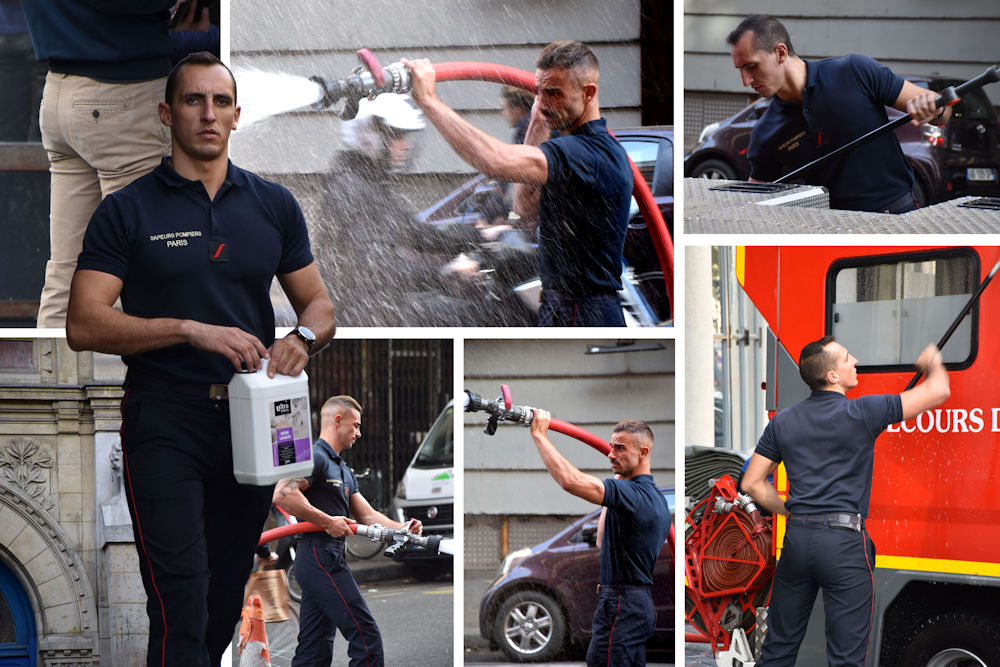 Parisian firemen (Sapeurs Pompiers) are a real treat, as experienced most memorably in 2012, and this was the first of three delightful encounters on this trip.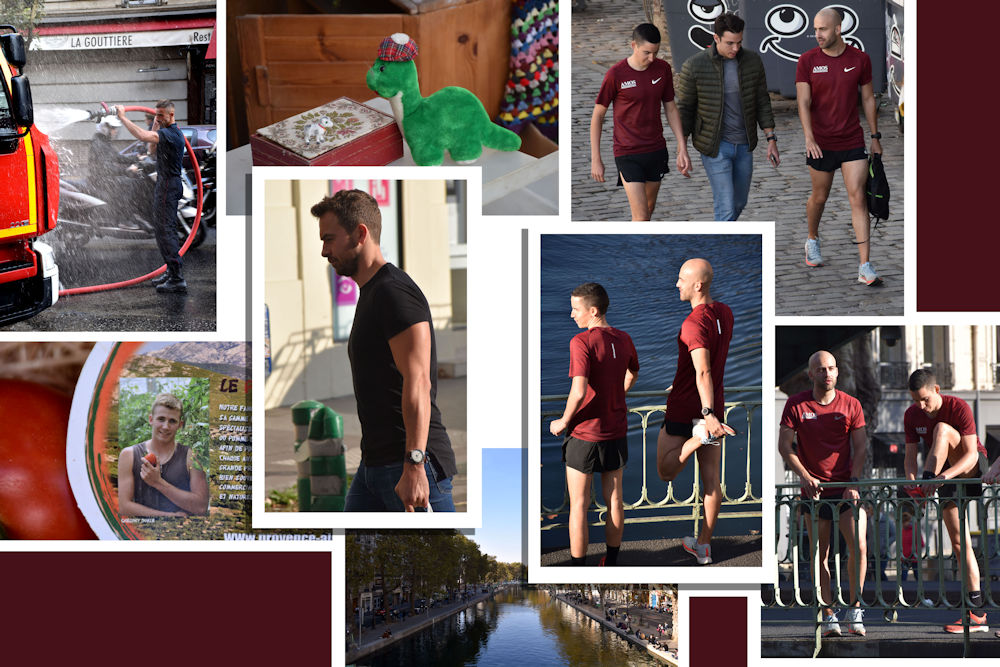 We found Nessie discarded near the Canal Saint-Martin, where tiny, tiny running shorts are de rigueur. .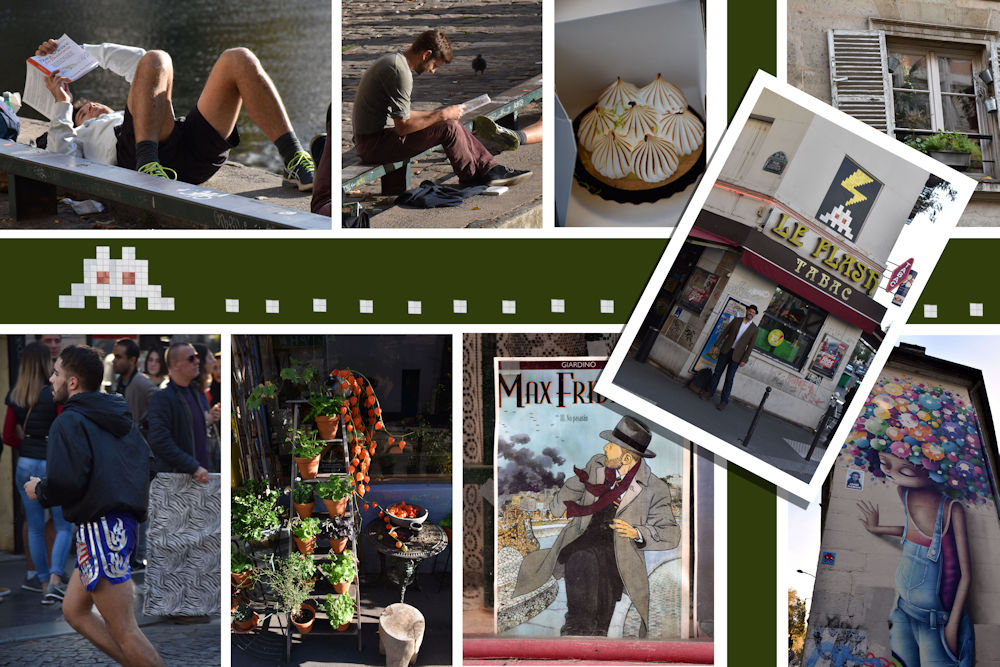 Sights near the Canal Saint-Martin, including my first tart au citron.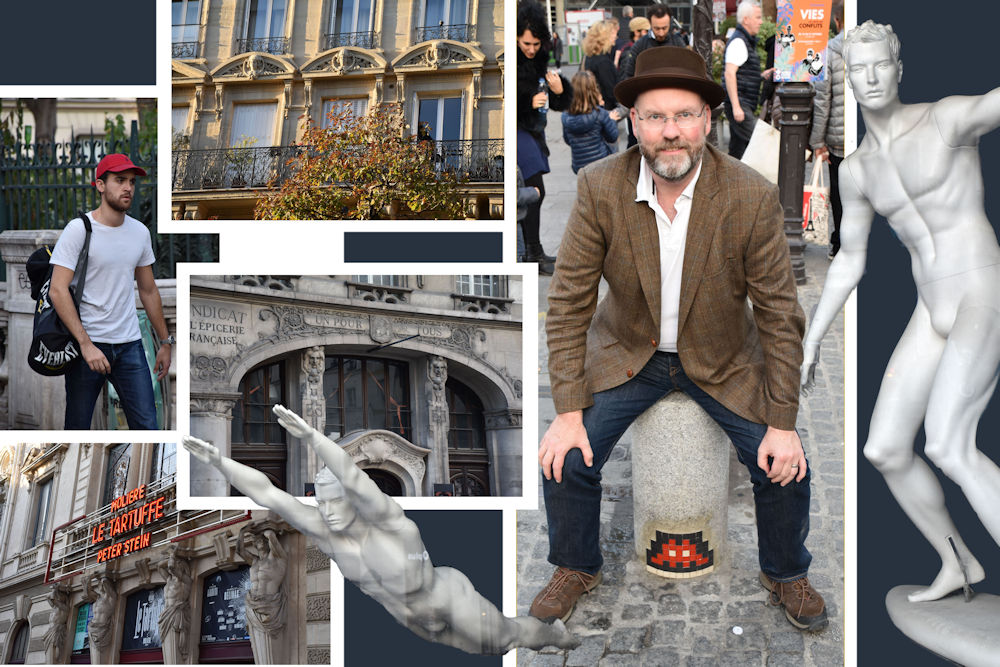 We walked (and walked and walked) from the canal, through the Porte Saint-Denis area we used to stay, and into the Marais, where we discovered Invaders and sporty mannequins near the Pompidou Centre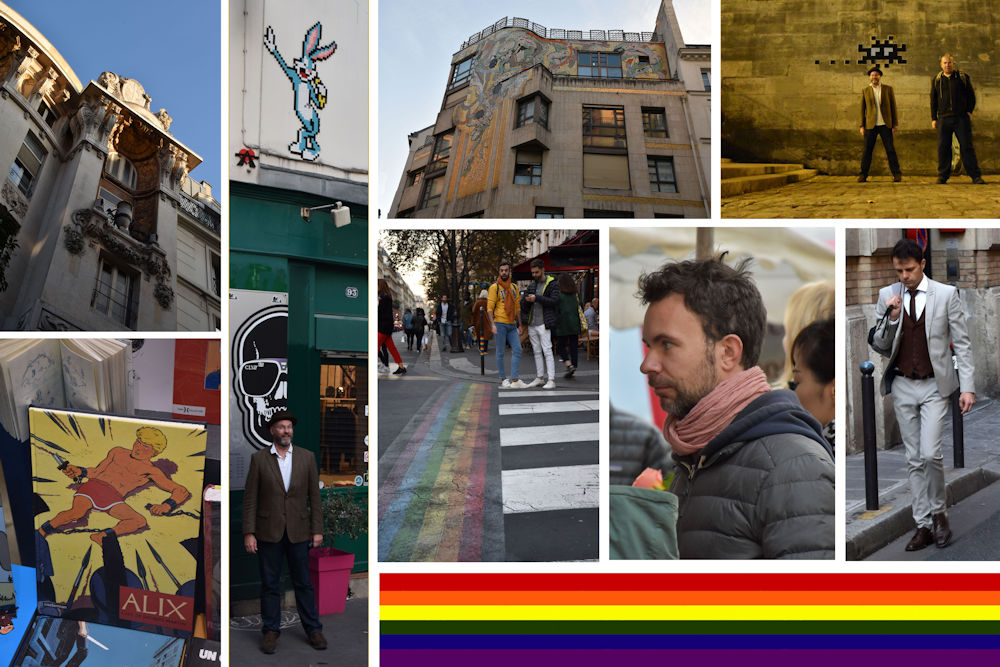 The Rue des Archives and many of the Marais streets have been rainbowed in support of the LGBT community. We delighted in finding Bugs Bunny, among others, and making the first visit to our bench.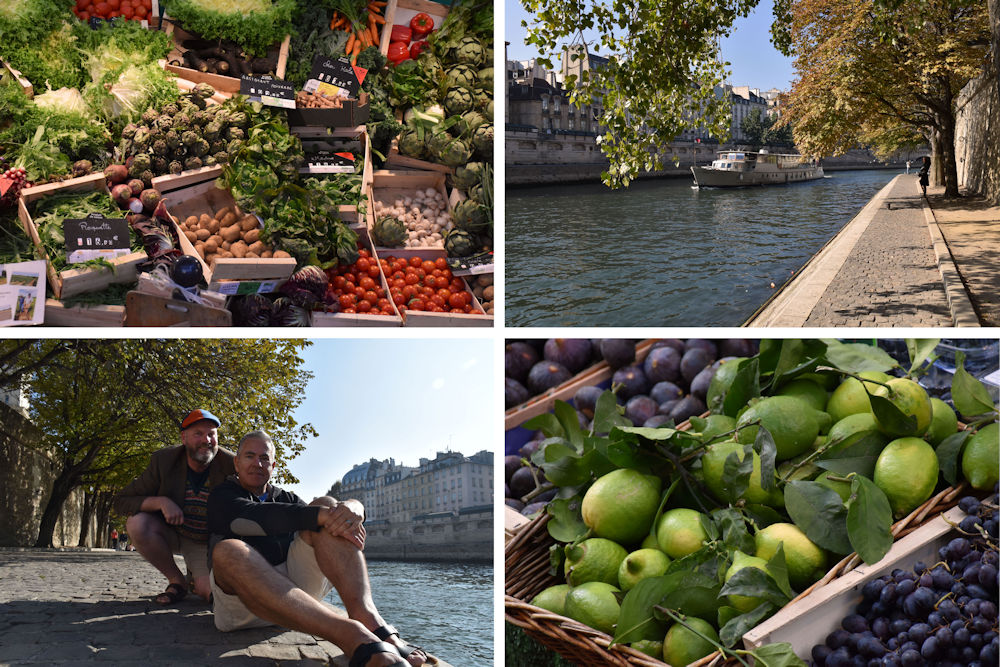 Sunday is organic market day on the Boulevard Raspail. I bought two scarves from a seller who seemed to recognise me from last year and we carried on to Montparnasse, where we inadvertently got ourselves blocked from the Flash Invader app. It was a mini disaster that clouded our trip but made us determined to return next Christmas.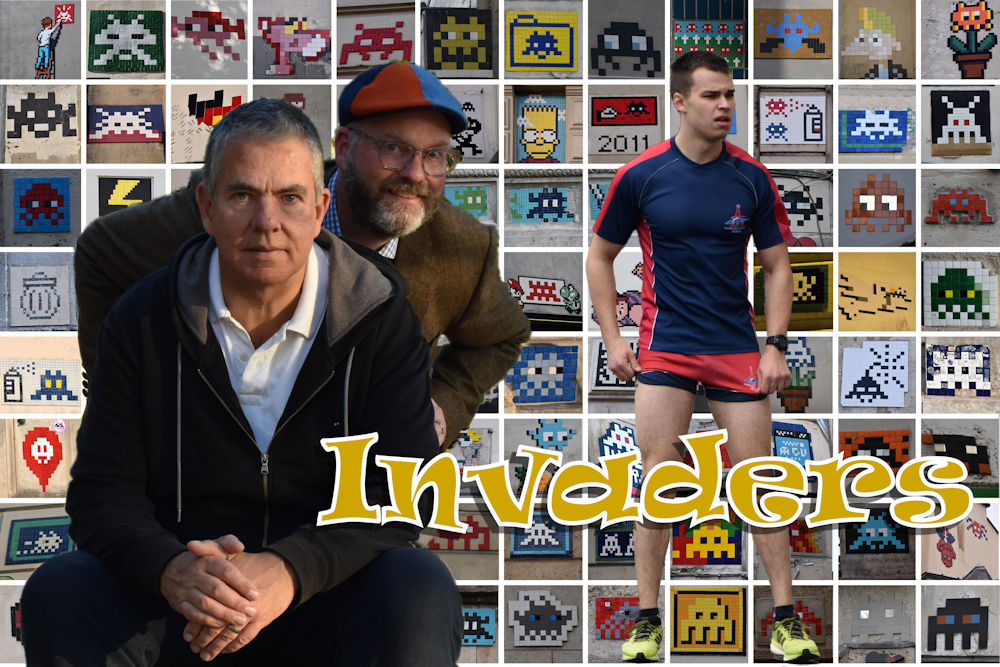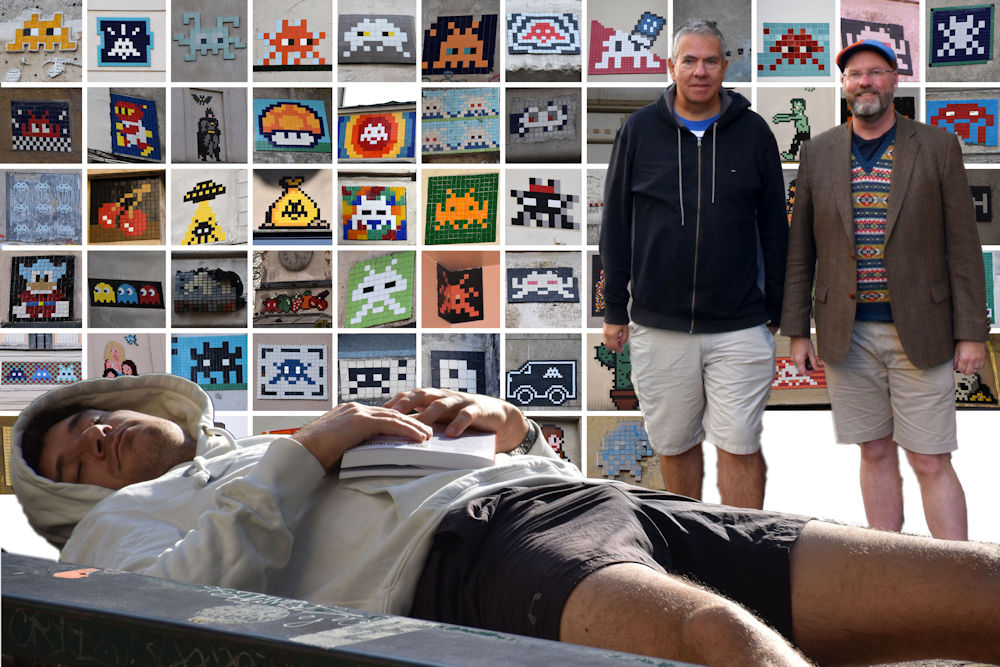 These are all the Invaders (and a couple of cute men in shorts) that we found on this trip. Click HERE to see the ones we found in Ravenna and HERE for London and our last Paris visit.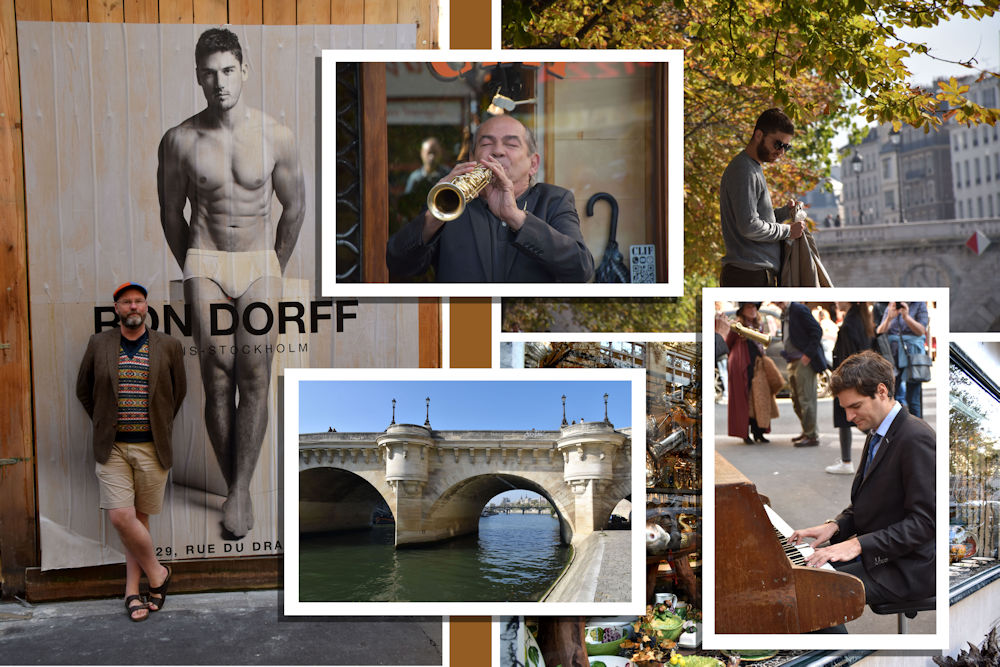 Ron Dorff's underwear model was all over Paris. Olivier Franc's soprano saxophone playing in the Saint-Germain area sounded just like the soundtrack to Woody Allen's Midnight in Paris.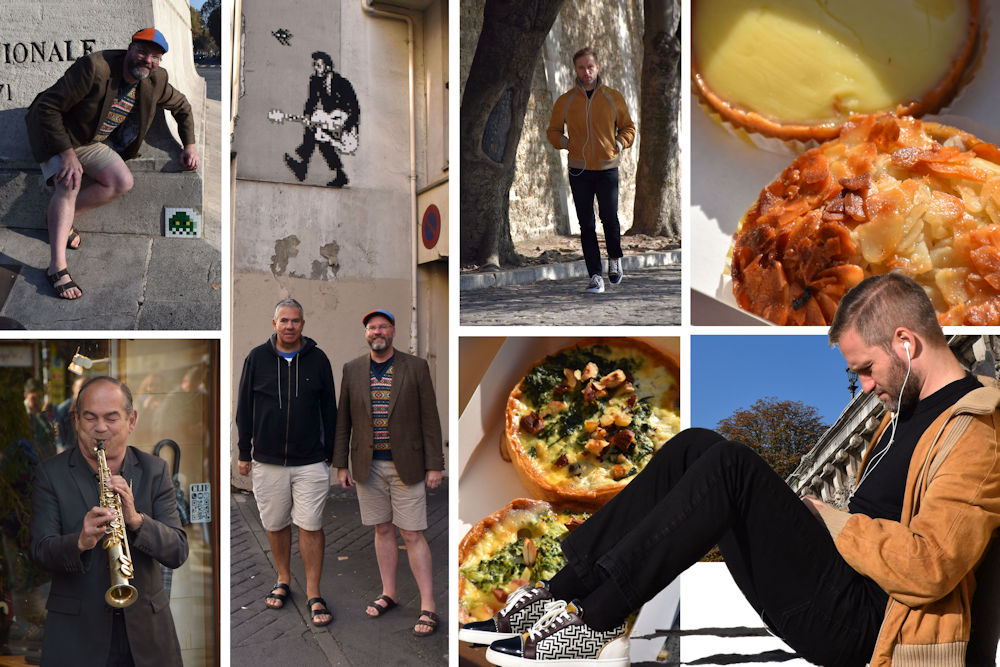 The last flashable Invader, Chuck Berry in mosaic, and a picnic along the Seine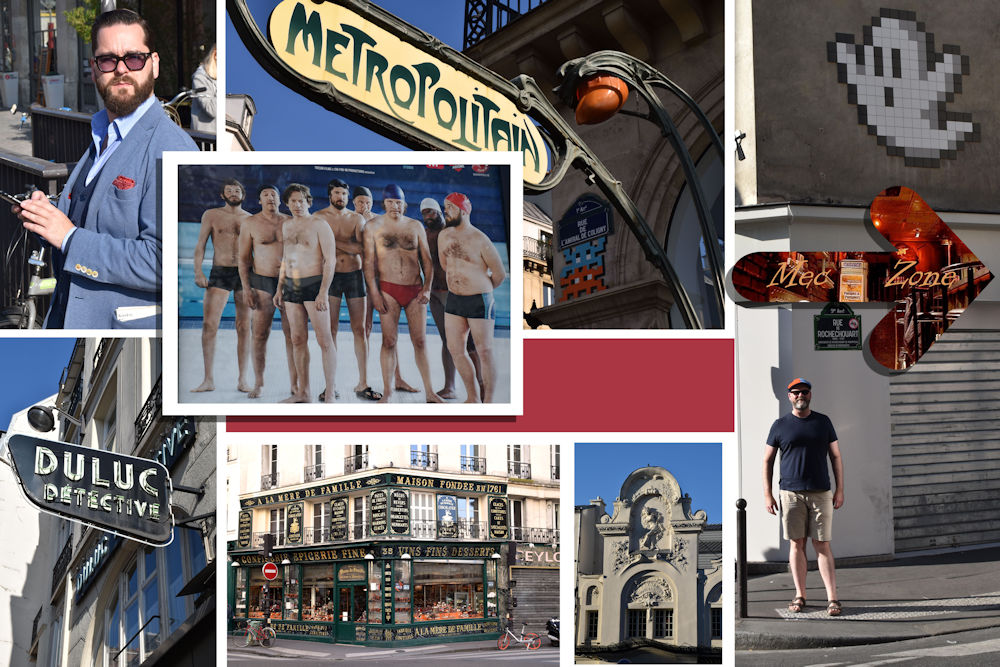 Hunting down more Invaders near the Louvre, we found Duluc's detective agency, also featured in Midnight in Paris. Moving north towards Montmartre, we found La Mere de Famille and the Halloween ghost Invader before our traditional visit to the Mec Zone.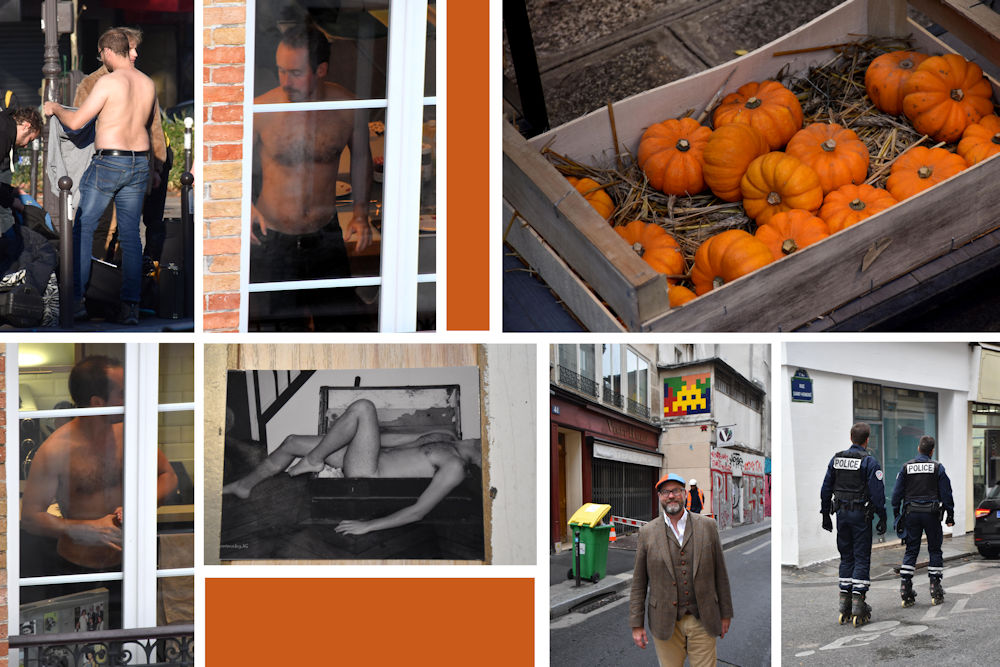 Above: shirtless man in Montmartre. Our neighbour had a regular routine of loading the dishwasher at 8.00 a.m. and compulsively arranging his dishes and tea towels while wearing jeans, a towel, or boxers without a shirt. Much more of him, below. The sofa model is from our host's family photos collection. Back to the streets for more Invading and policemen on roller blades.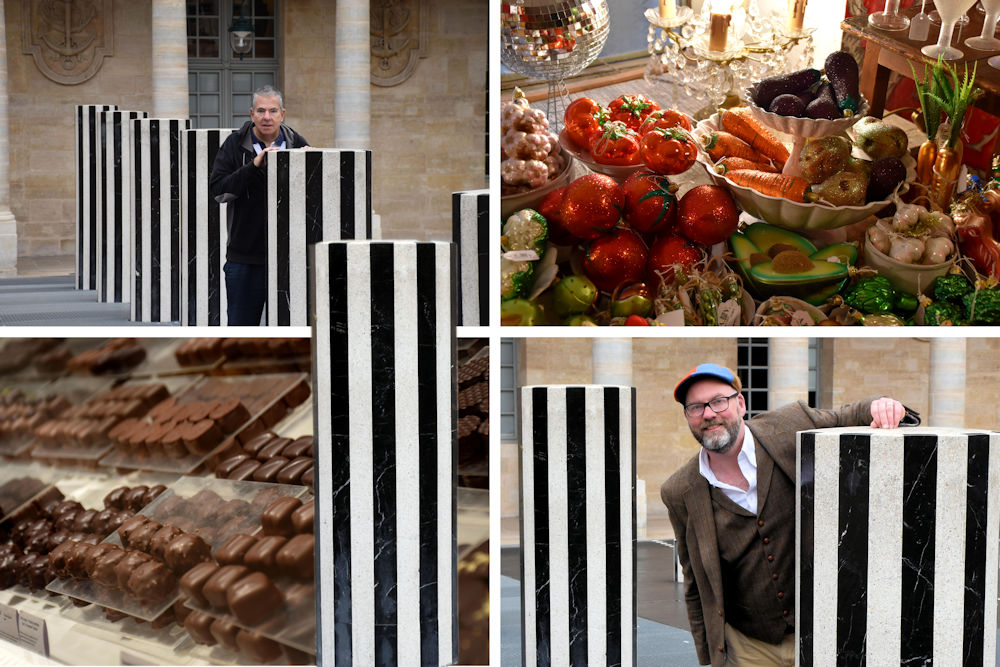 Near the Louvre, we revisited the black and white Colonnes de Buren and then found a shop with glittery Christmas vegetables to add to our collection.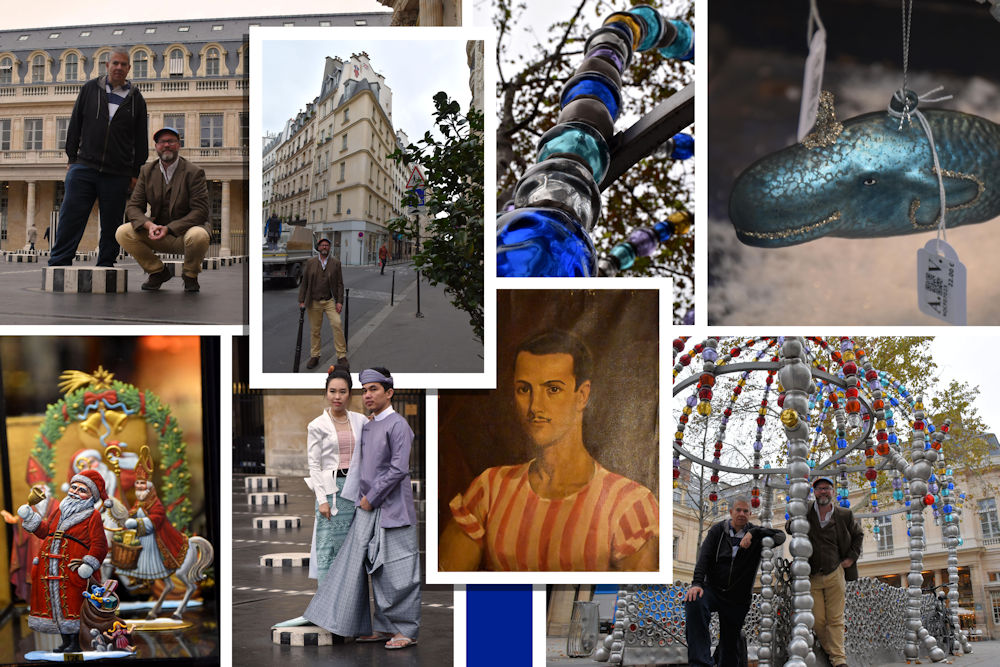 The Spider-man mosaic was the one I most wanted to see. We re-visited Les Drapeaux de France and the Palais Royal metro stop, where an art student asked me to record a one-word response to my feelings at the moment: "celebration".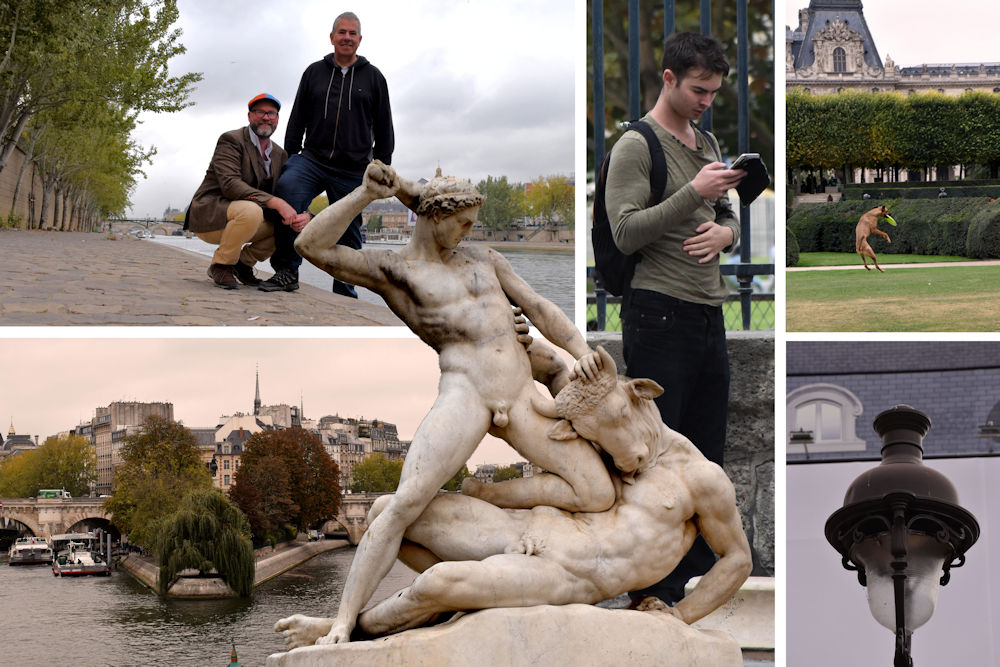 To relieve tired feet, we relaxed in the Tuileries Gardens, where dogs played Frisbee. Also shown are Pont Neuf and a cool street lamp looking like a Greek soldier.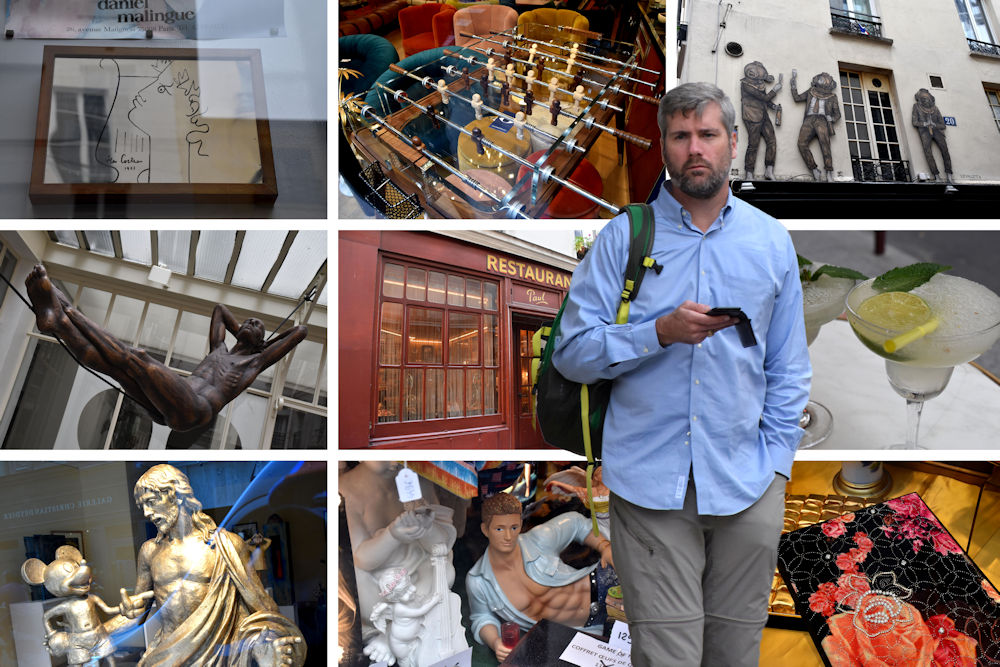 A shop in Saint-Germain seemed to specialise in Cocteau. Next time. We had our best meal at Restaurant Paul. We had margaritas near Odeon and saw some controversial art.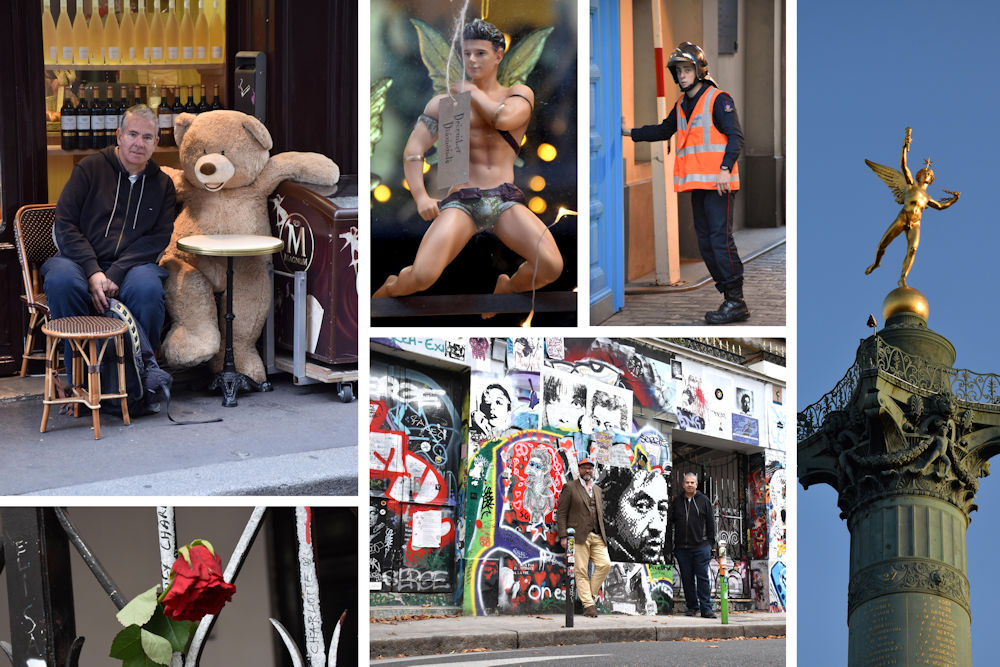 Nick's big new friend, camp Christmas oranments, a fireman in the Marais, the Bastille, and Serge Gainsbourg's graffiti-covered house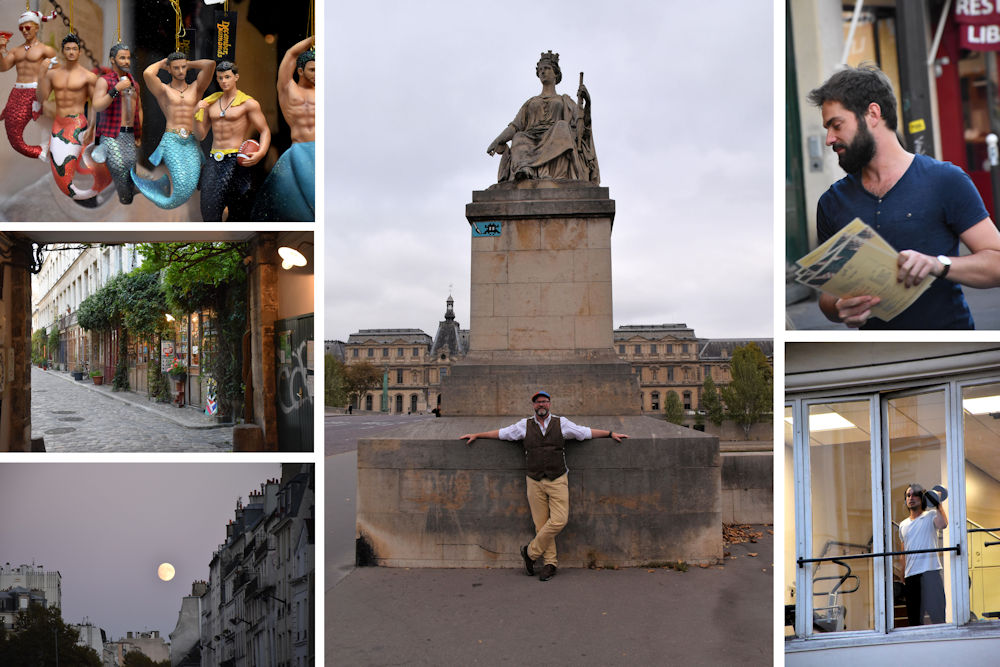 On the walk back to our apartment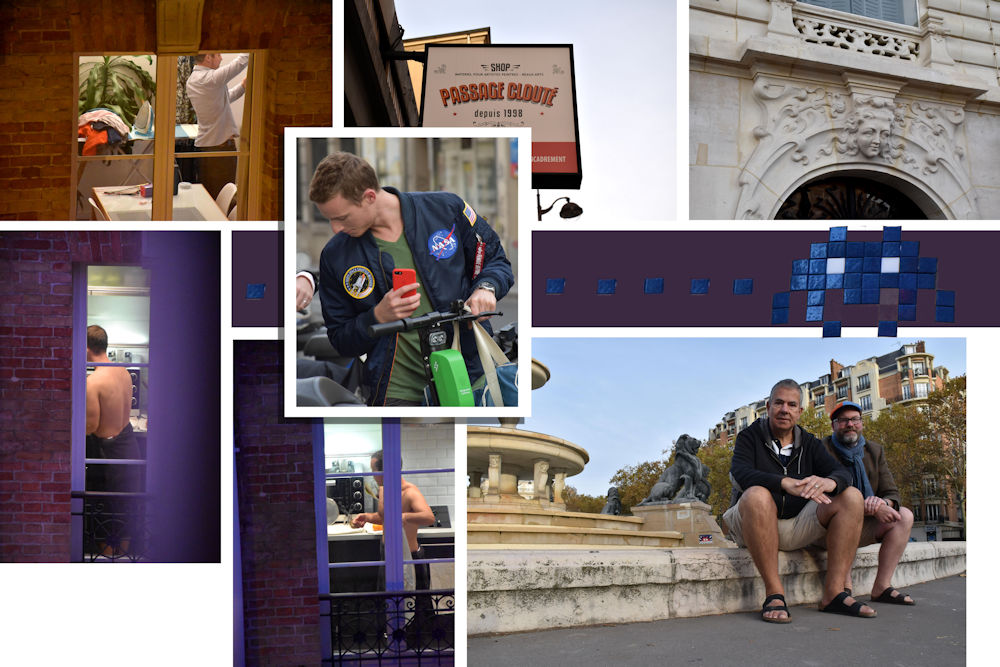 Our neighbour, ironing, and the next morning in his towel. A visit to the lion fountain.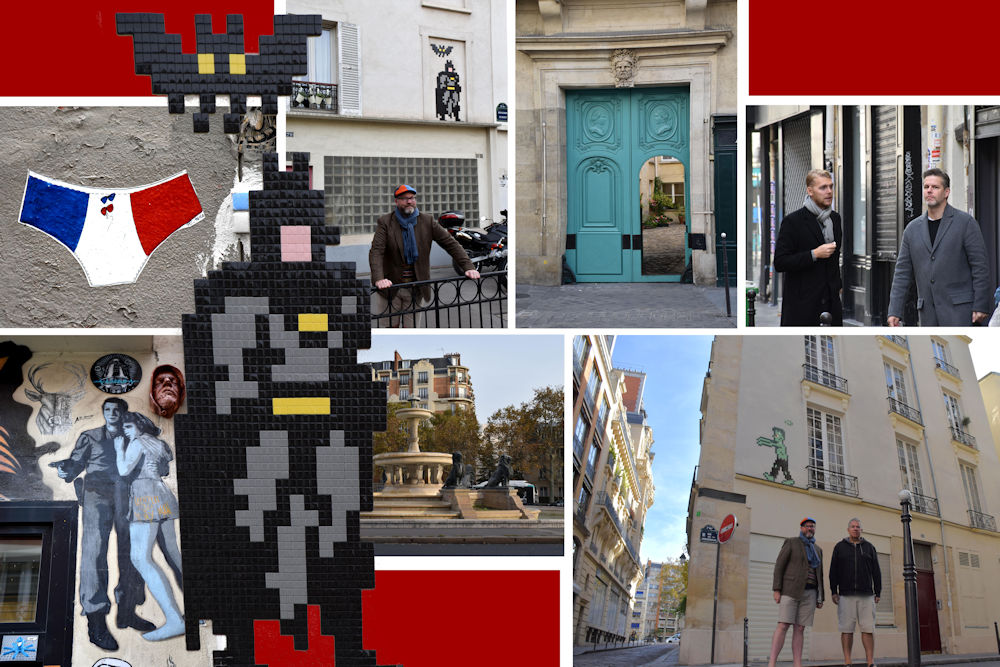 Time for some really exciting Invaders: Batman, Frankenstein, and the huge rainbow one, below.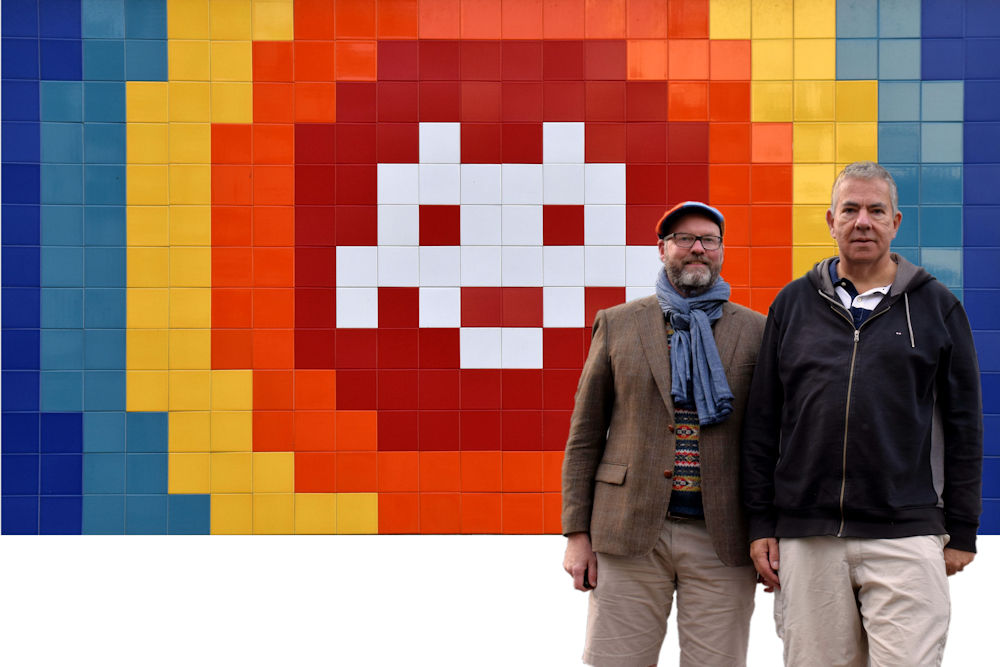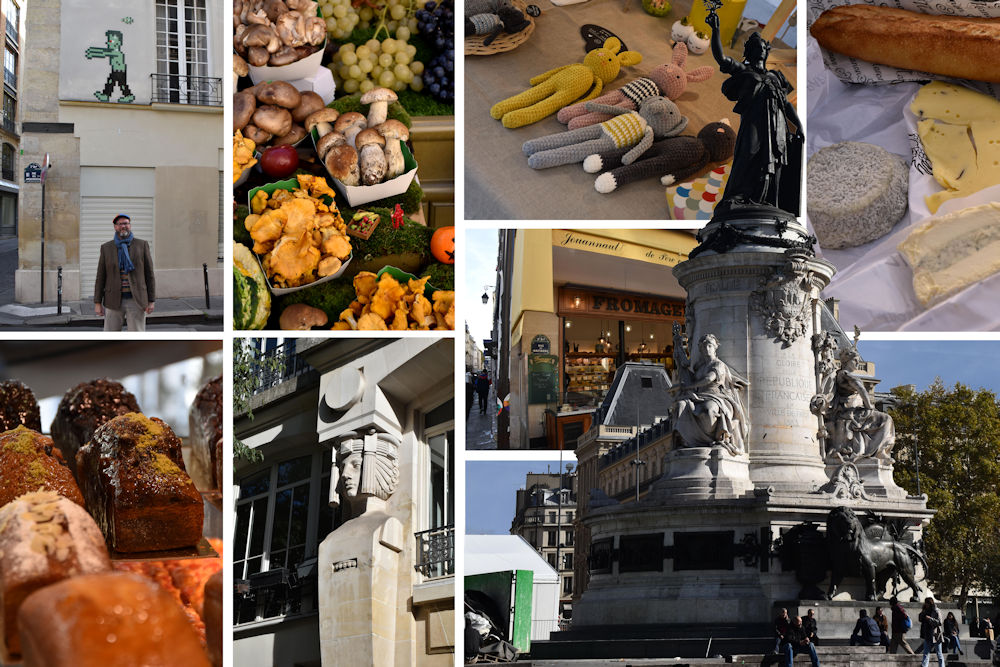 We bought some delicious cheeses in the Marais and headed back to the Canal Saint-Martin for another picnic.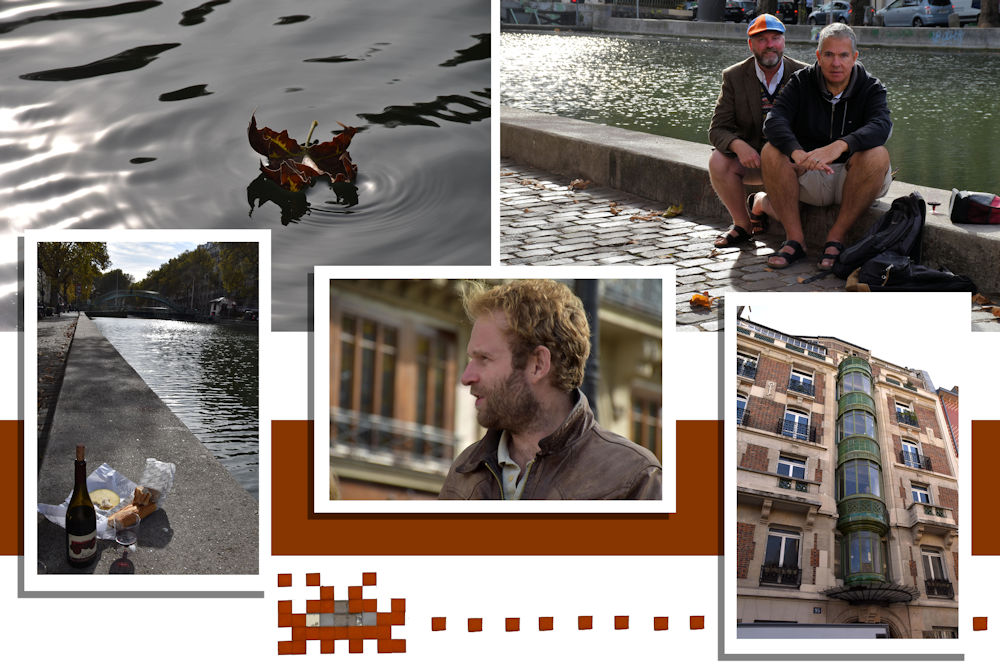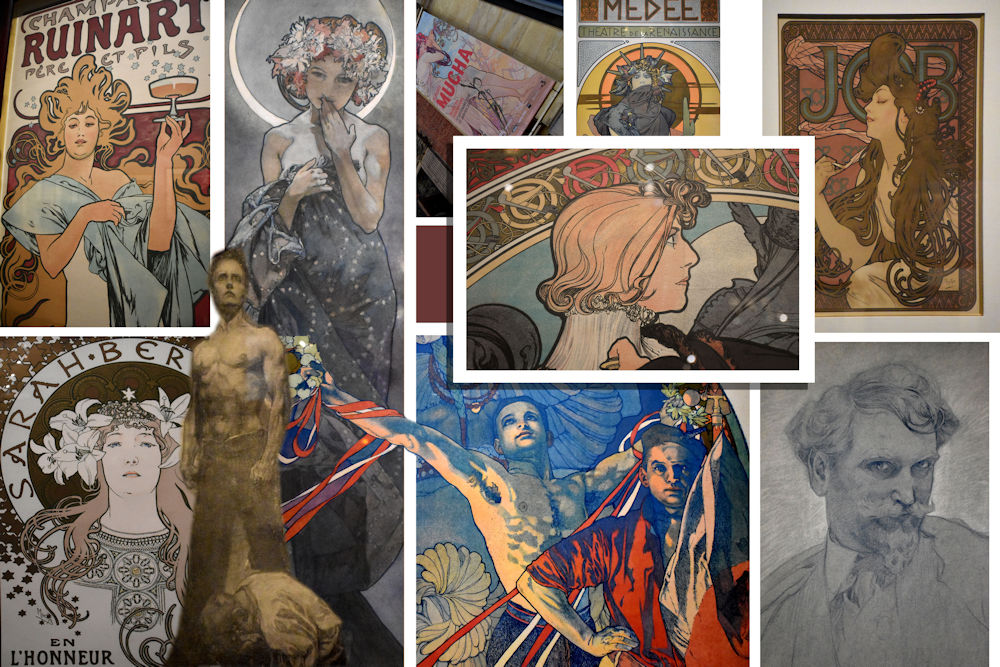 Near the Louvre, we saw a poster for the Alphonse Mucha Art Nouveau exhibition at the Musée du Luxembourg. It was a wonderful chance to see such iconic works up close.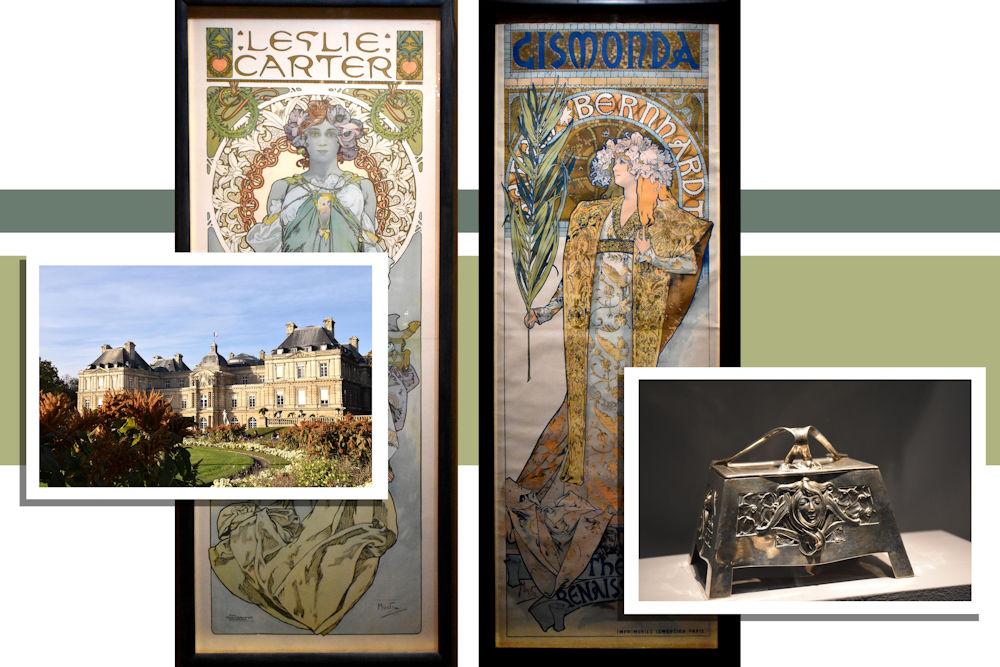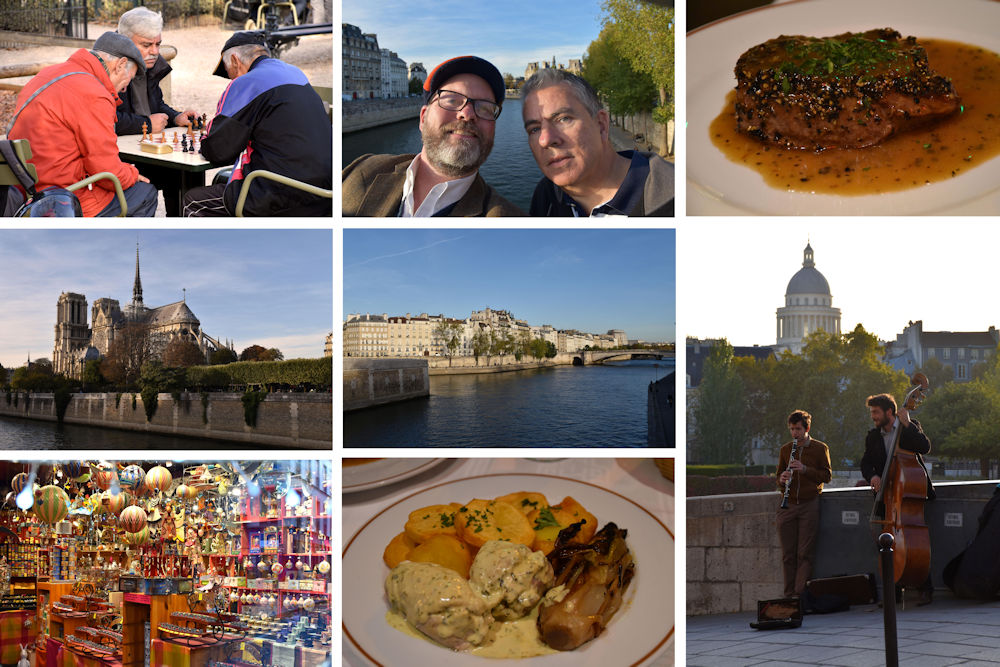 Near the Louvre, we saw a poster for the Alphonse Mucha Art Nouveau exhibition at the Musée du Luxembourg. It was a wonderful chance to see such iconic works up close.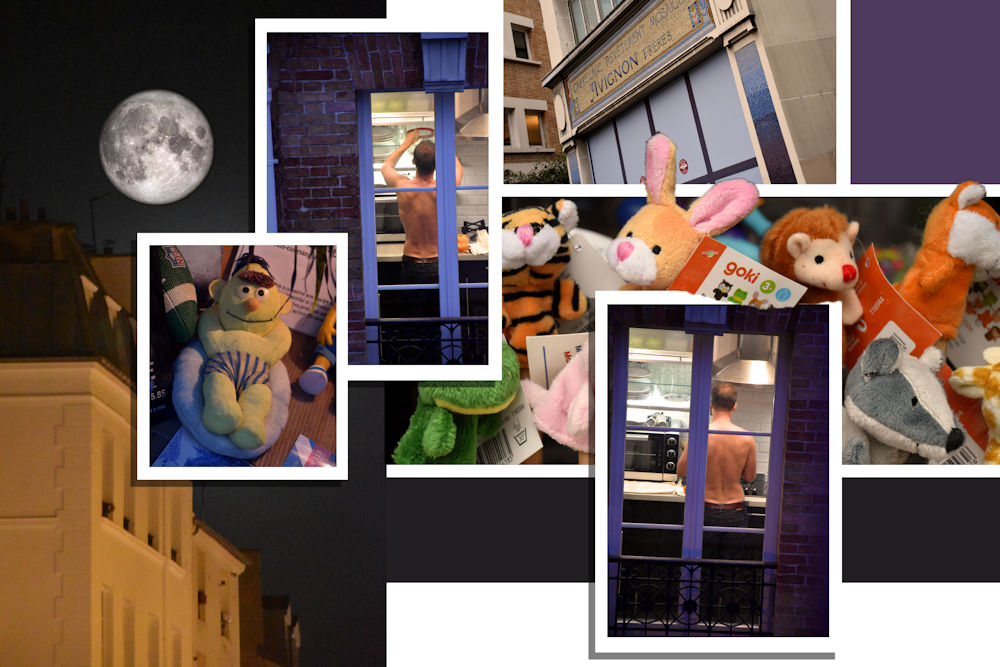 Cute things seen in windows. I took the moon photo, but my moon is buried behind Bert, so I took the moon shown from the Internet.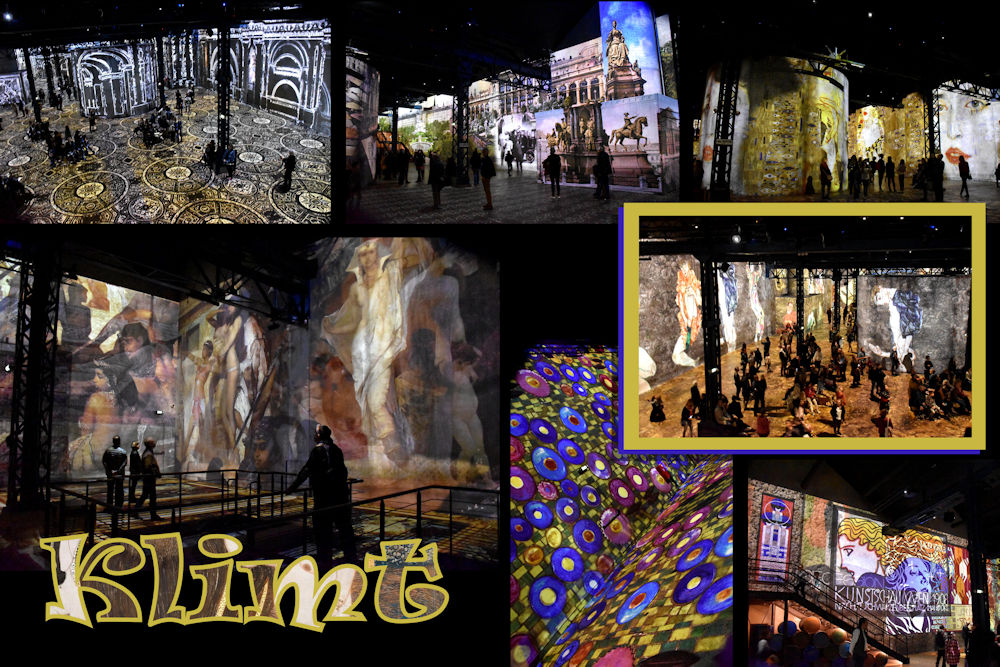 One of the coolest and most moving things we did was to go to the digital Klimt exhibition at Atelier des Lumières. It was a son et lumières show like the ones we saw in Rouen and the Vendee, but walking around the space made us feel part of the artwork, even more than when we saw it for real in Vienna.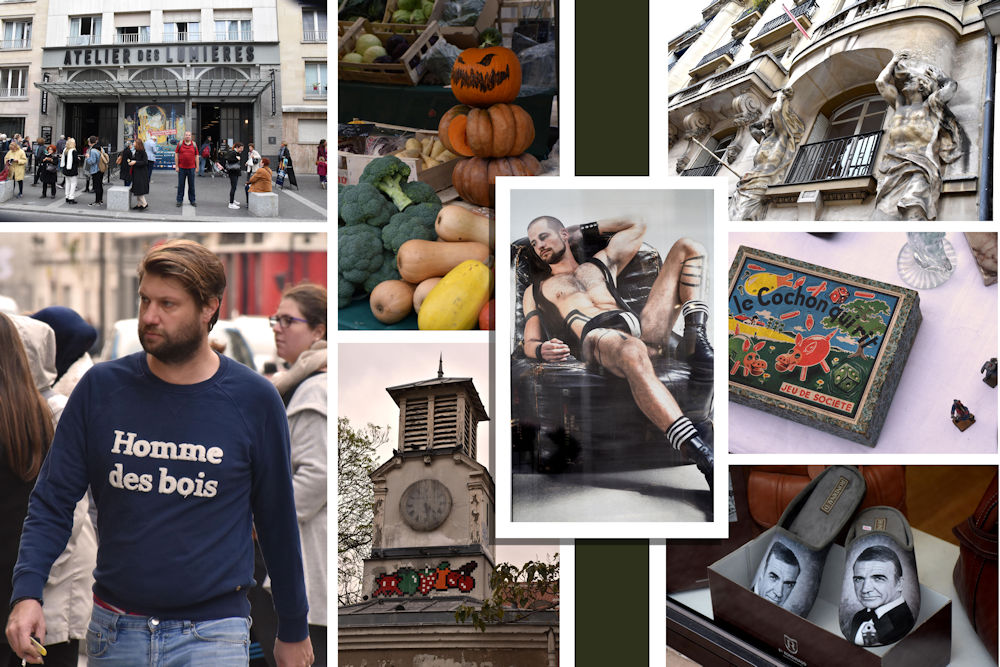 Outside the Atelier des Lumières (they were turning people away withtout tickets), At the Aligre market, and in the Marais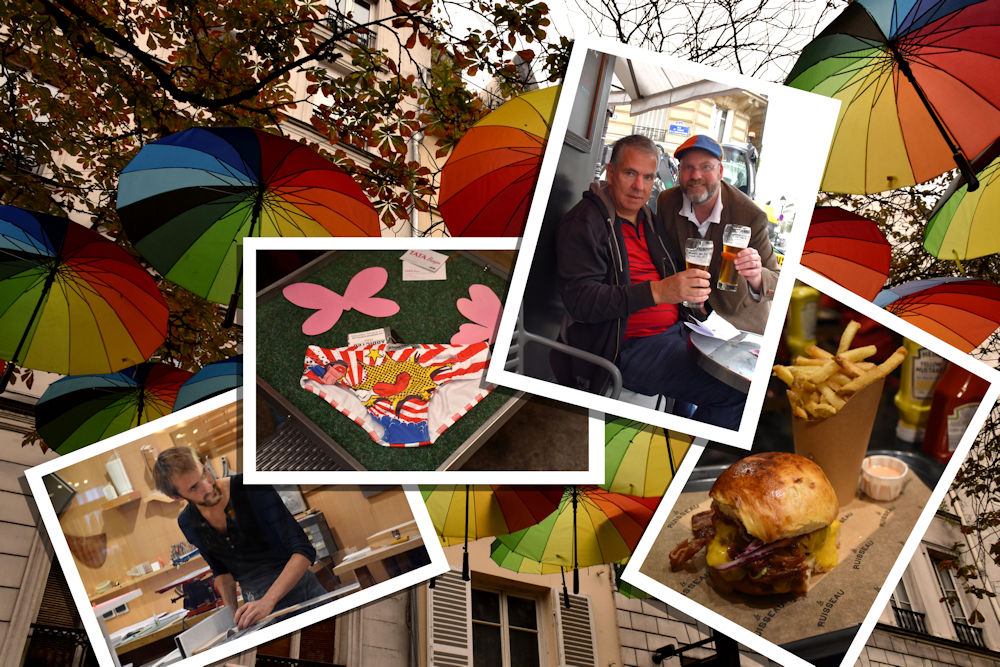 In the Marais, we had drinks at the Open Café and Nick found us a wonderful and inexpensive place to have burgers near Rambuteau.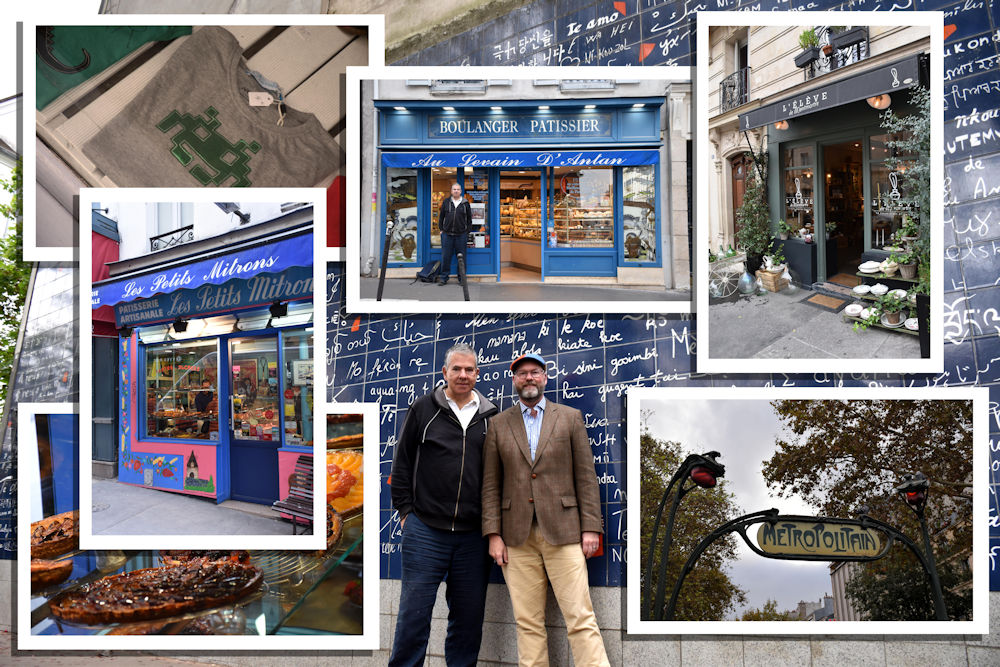 Thursday's morning in Montmartre was our most enjoyable yet. We started with pastries from the award-winning boulanger we frequented at Christmas 2014, then we visited the Wall of Love and shopped along the Rue Lepic.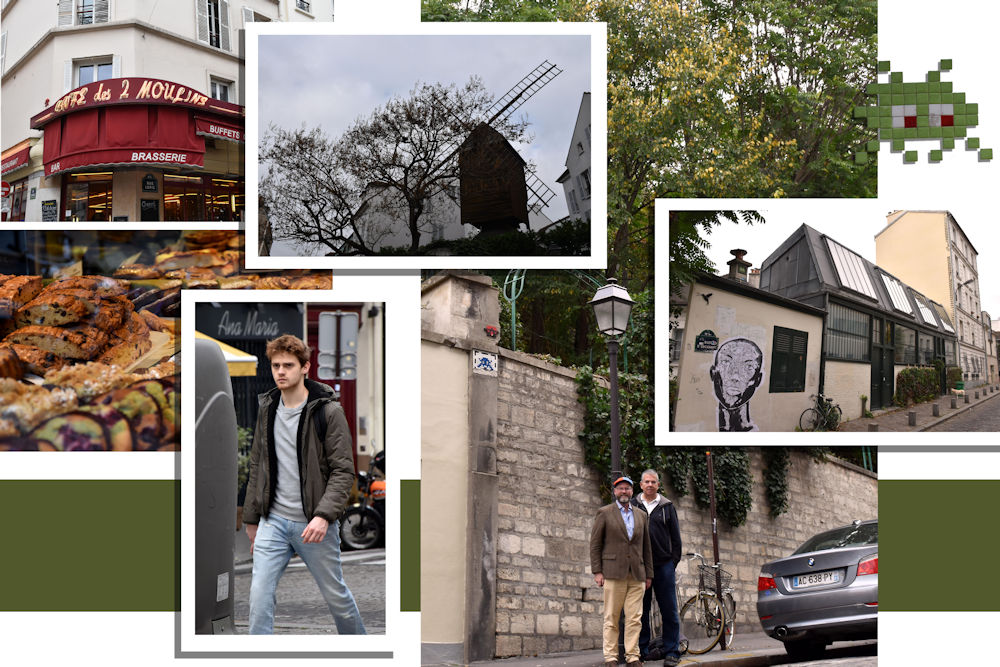 Familar sights were Amelie's brasserie and the windmill, but we also found hidden Invaders and this artists' studio.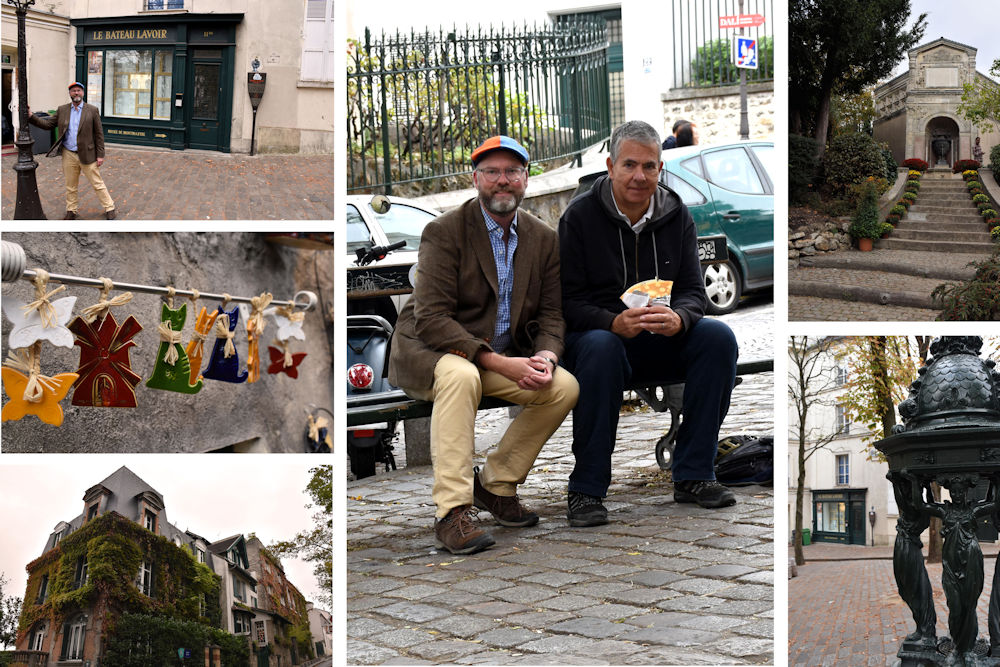 We discovered Picasso's Bateau Lavoir and shared our traditional crêpe near Place du Tertre.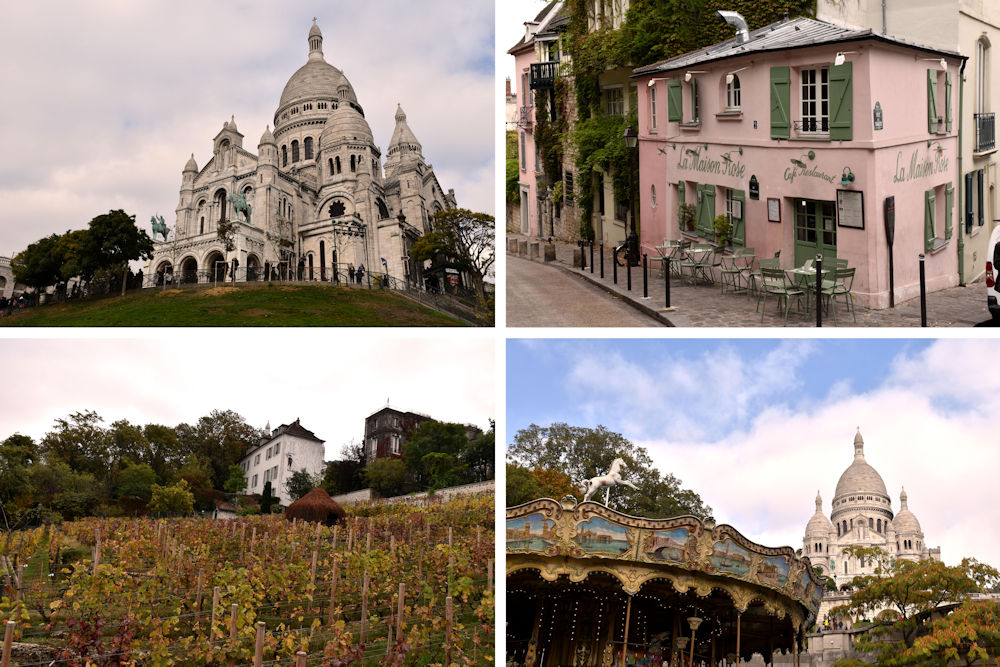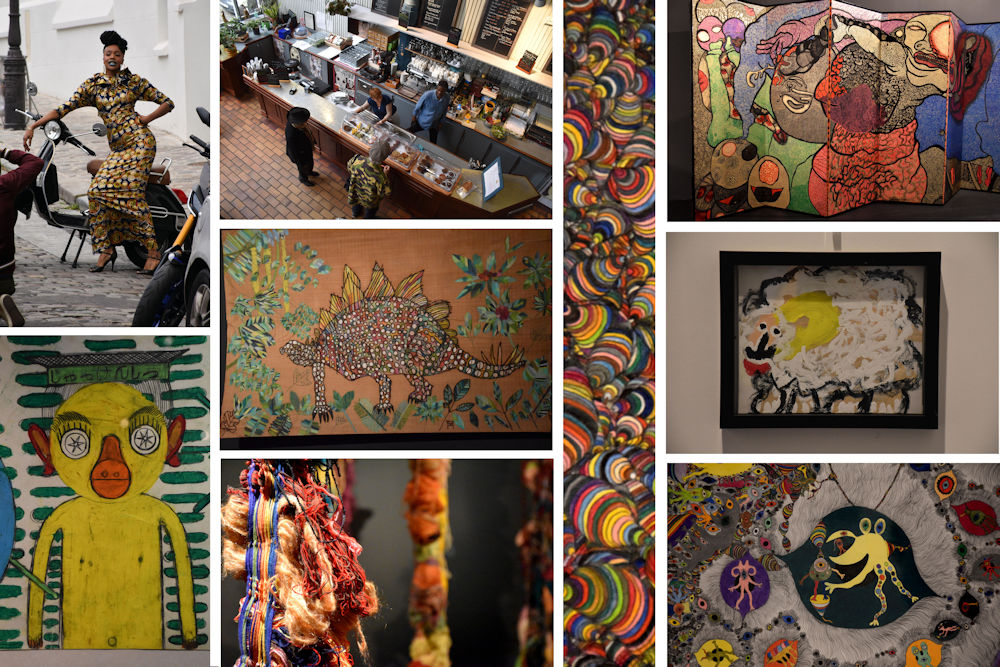 We'd never visited La Halle Saint Pierre before and we went there to see this Japanese Brut art exhibition. Some "my child could do that" artwork, but mostly very intricate stuff.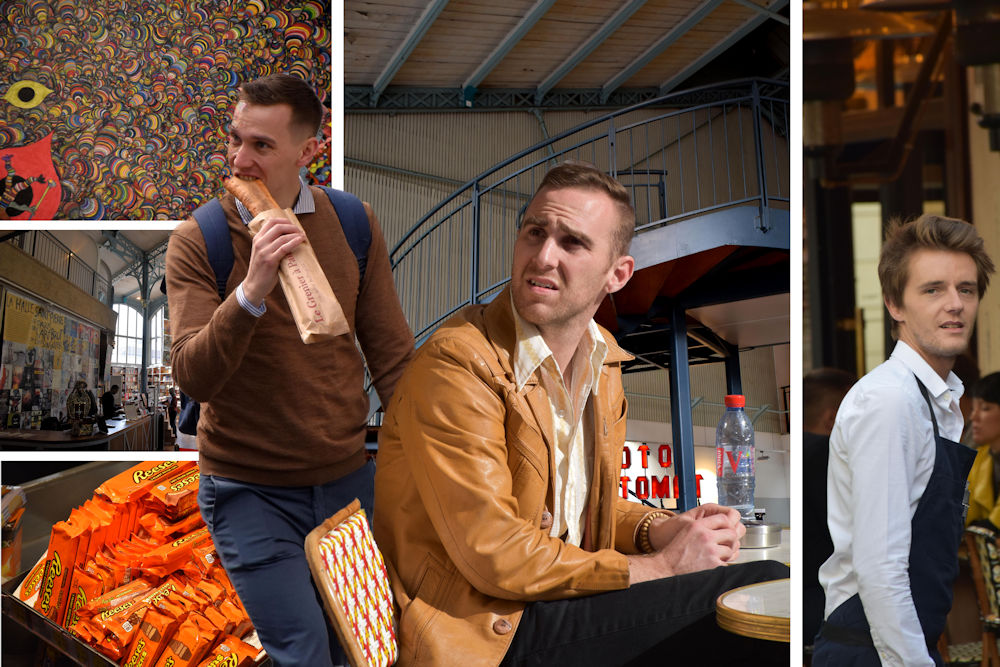 Men of Montmartre with Reece's cups and Japanese art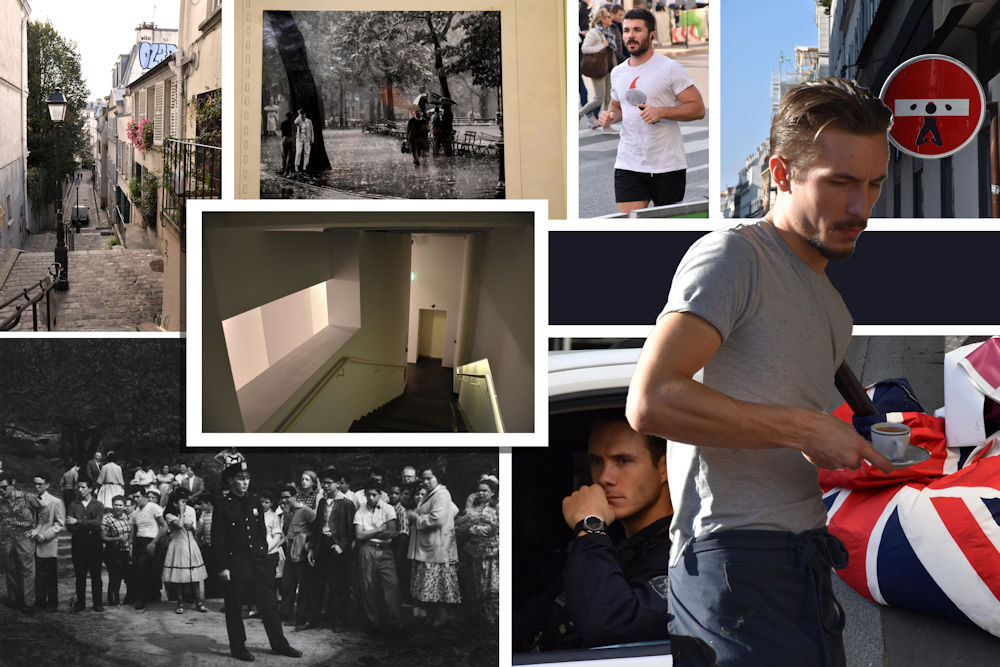 We also visited a poignant Dave Heath exhibition at Le Bal. My favourite works were Drowning Scene Central Park and the video of Bible salesmen trying to push their wares onto 1950s housewives.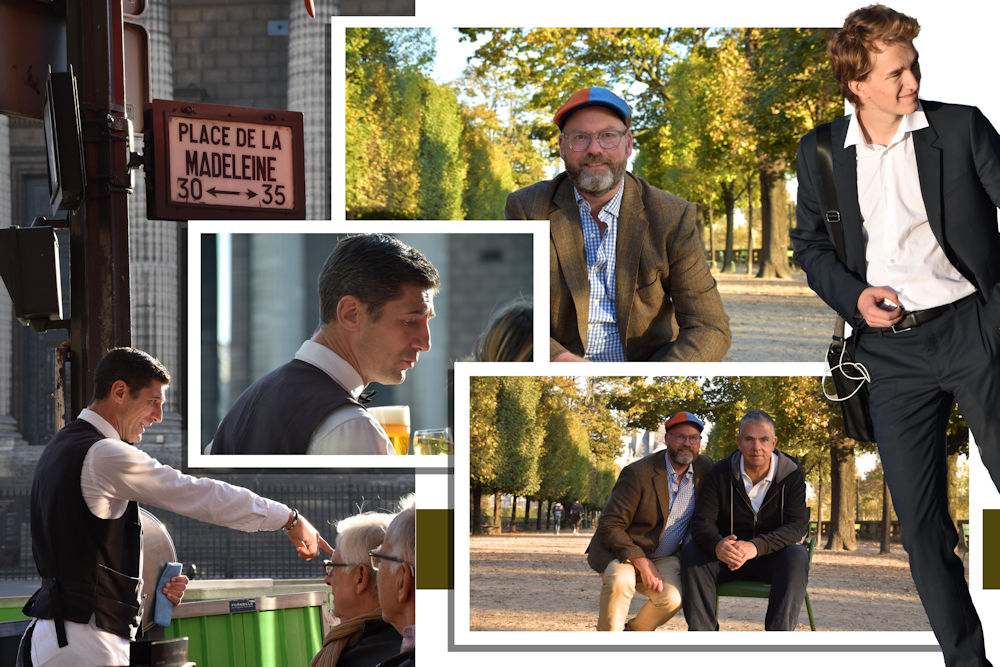 The waiter at Café Madeleine was poetry in motion – a master of his occupation. He would spot someone from across the street and coax them into a seat. Speaking multiple languages, saying "I'm here until 1.30", giving directions, winking, spinning. Genuine entertainment. We had lunch here on our wedding day in 2007. Afterwards, we walked to the Tuileries for photos.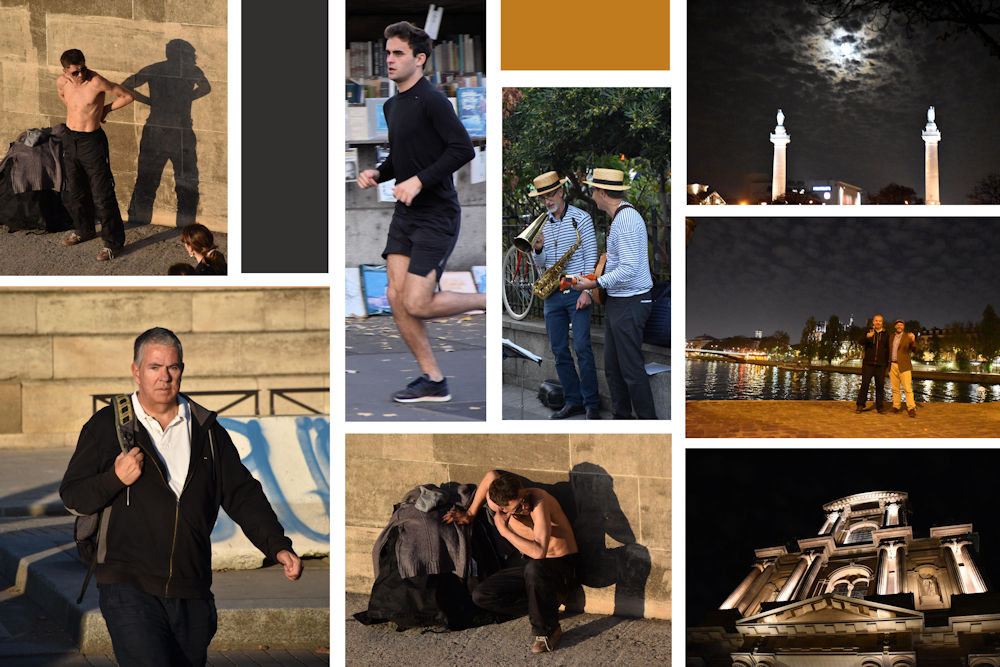 Shirtless in October, buskers by Shakespeare's books, and another picnic at our bench. The old familiar tree is now gone and there are lots of rats, but they're rather cute.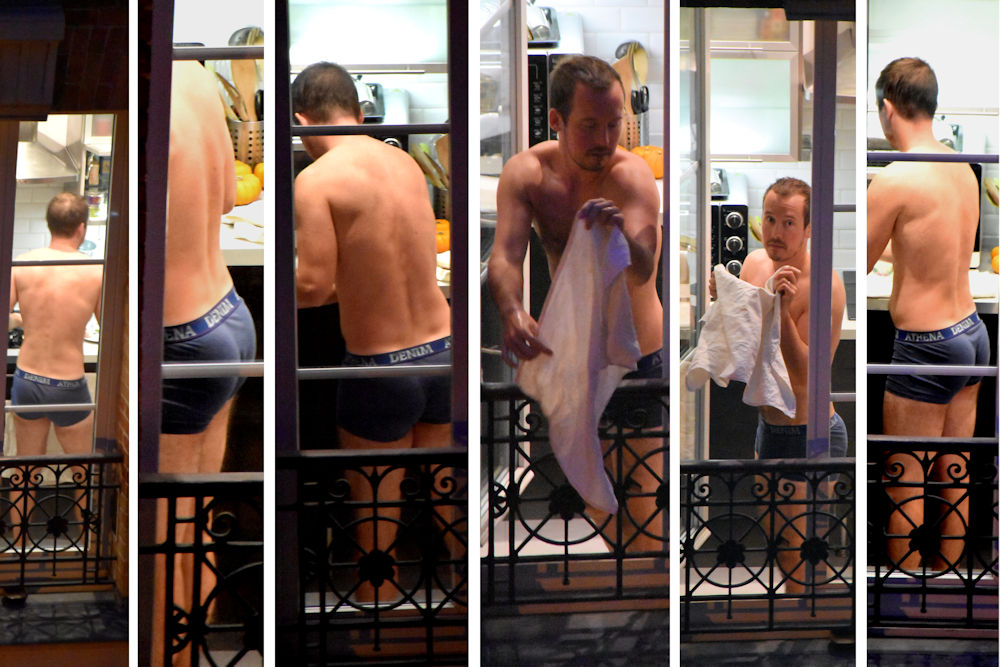 On the final day, Dishwasher Boy displayed his Denim boxers and shook his tea towel out the window.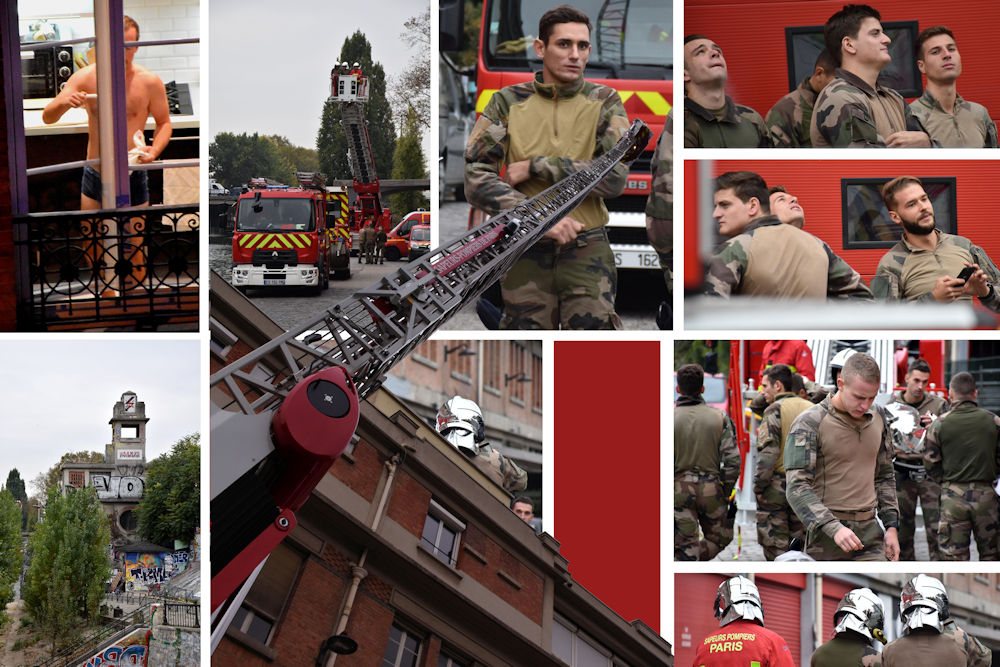 Off to Bassin de la Villette to hunt down Invaders, we found a fire station where the new recruits were taking turns going up the very, very tall hydraulic ladder.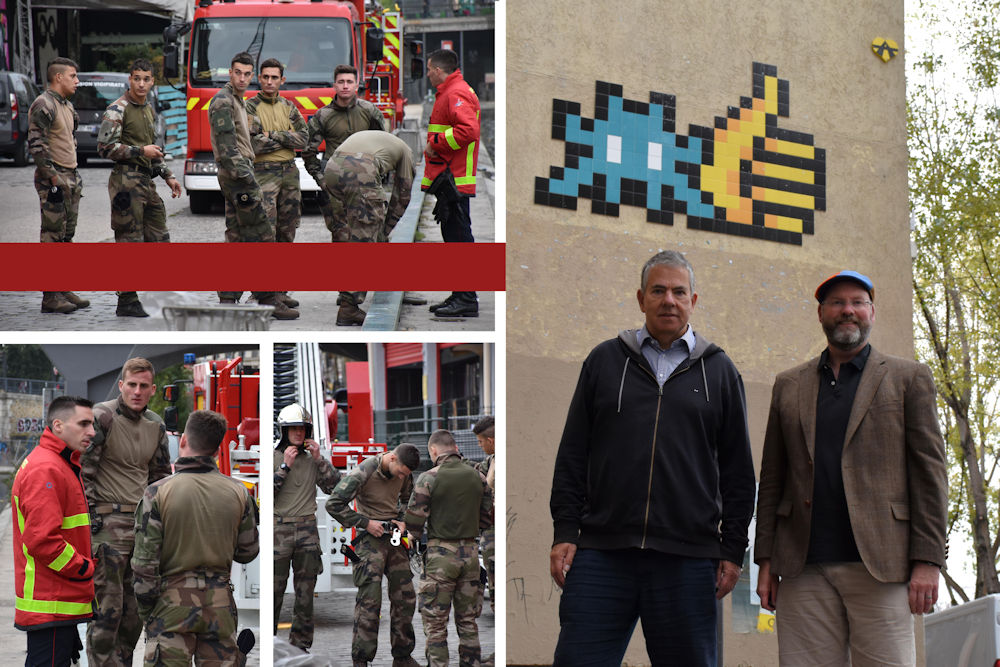 We thought this would be the most rewarding sight of the day....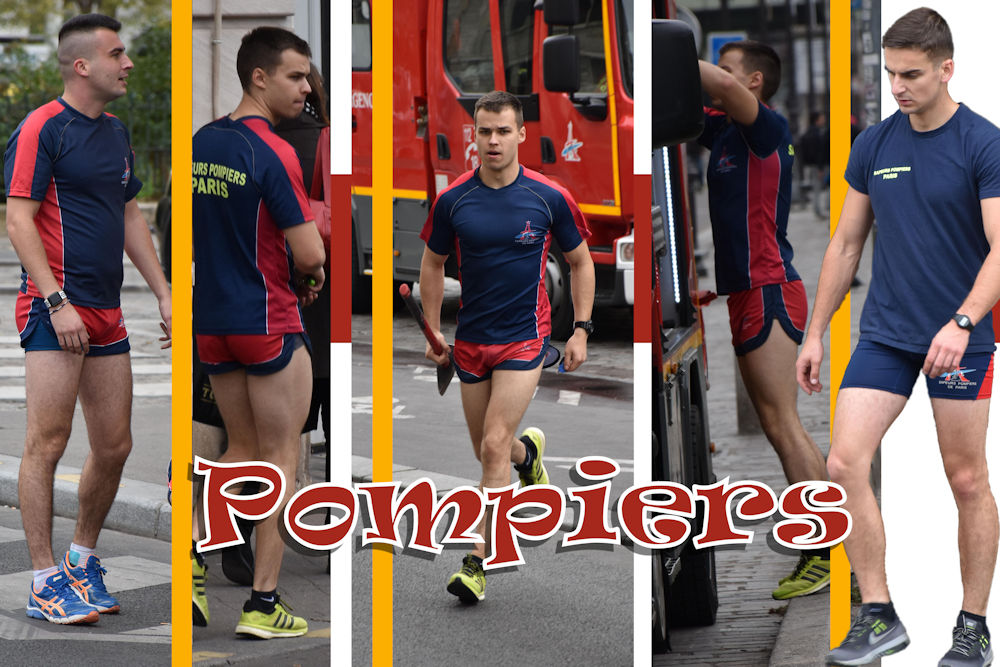 Then this happened.
We found a green space to eat lunch and I noticed three fire engines parked along the water. Turns out the firemen were about to do circuit training in their tiny, tiny regulation shorts. It's hard to decide which exerercise was best, but the one involving using an axe on a big rubber tyre was most entertaining.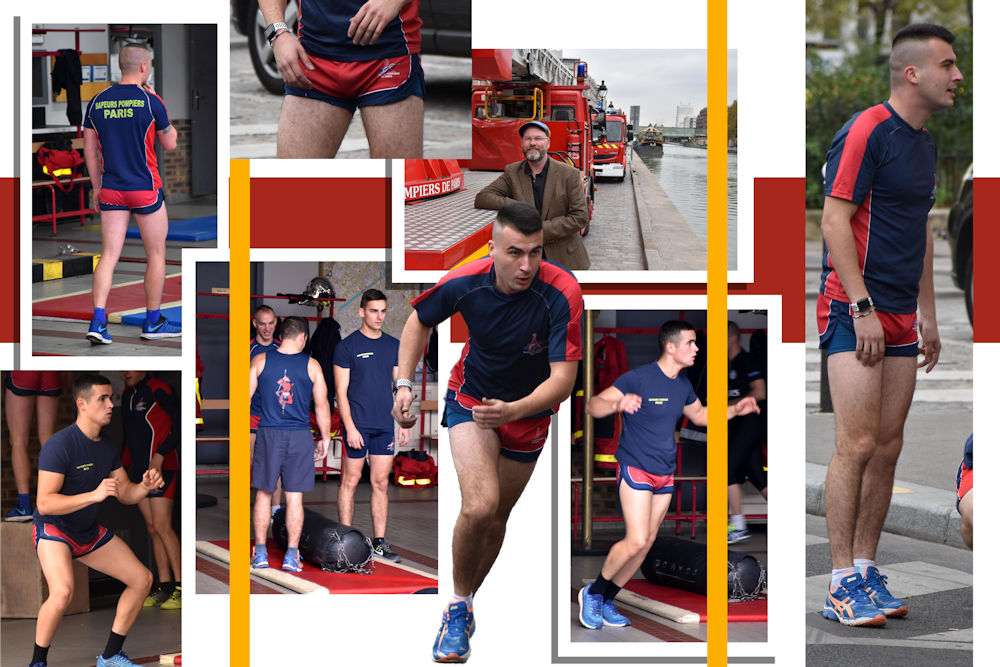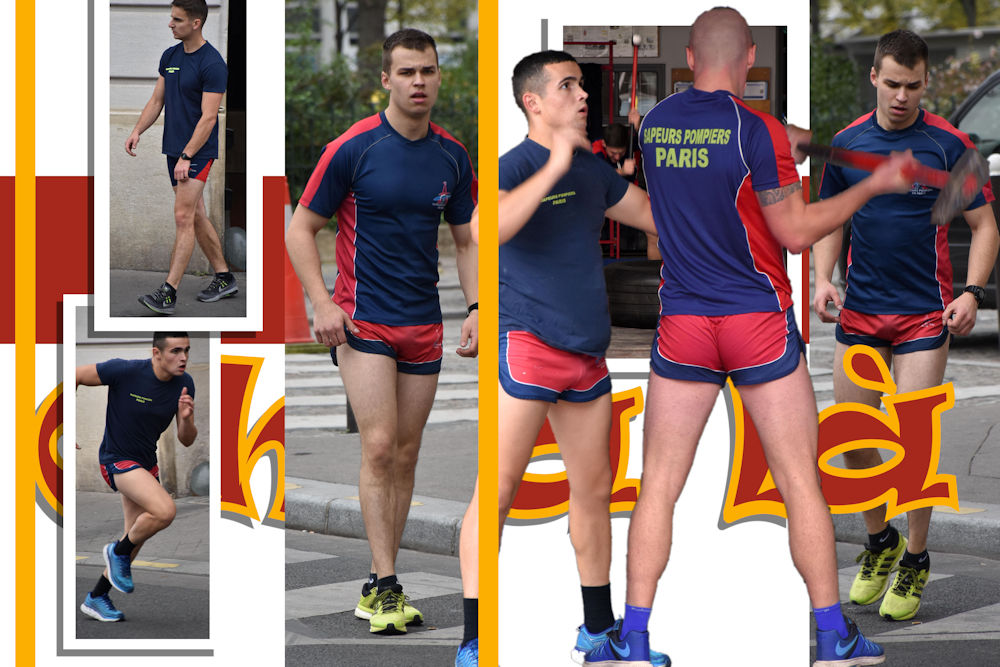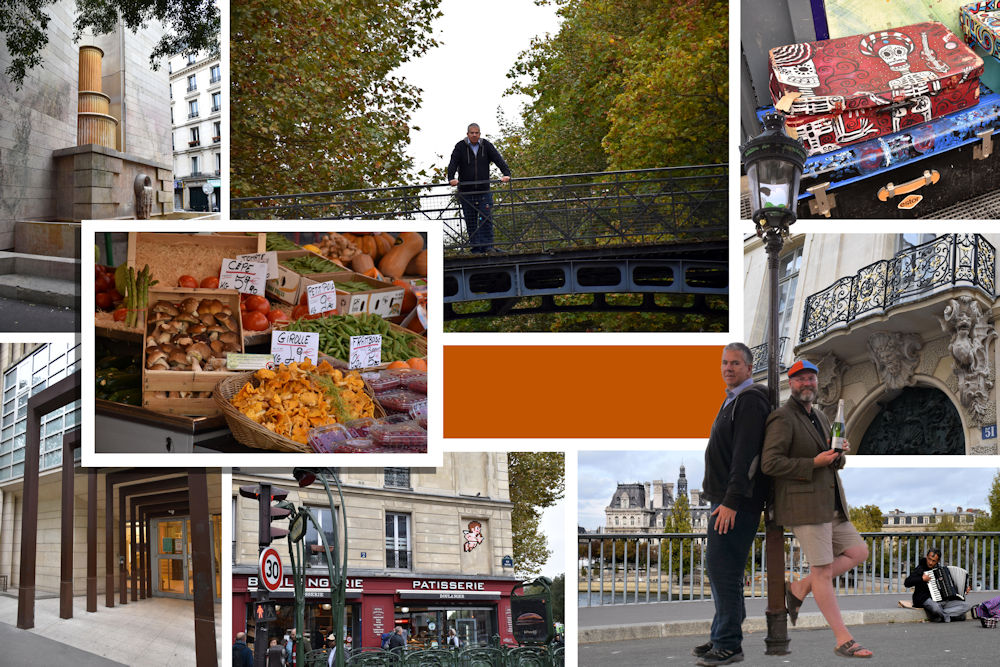 After the firemen, we returned to Our Bench for one final picnic, keeping the Chinese spring roll place in business. There was a busker playing accordion on the bridge, as always, and we stayed a long time listening to him.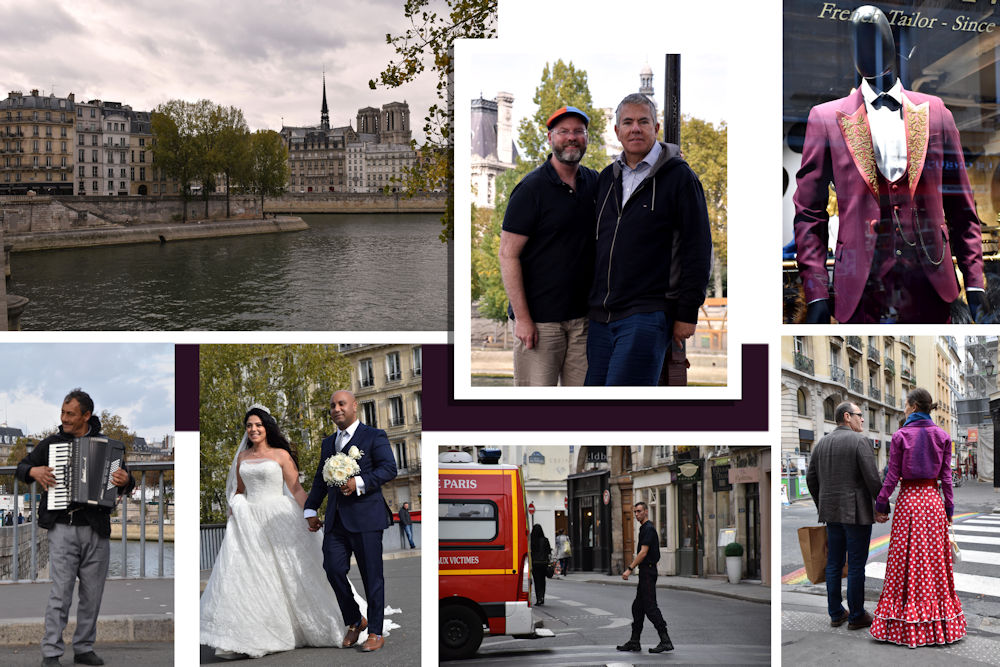 On my To Do list: book Paris apartment for Christmas, 2019.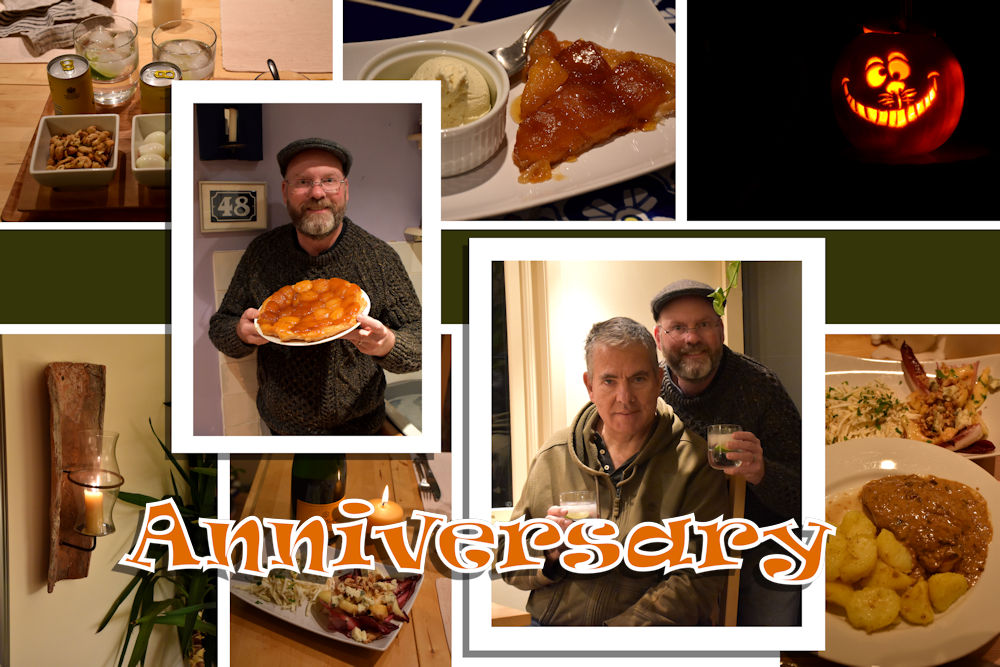 Back home, we prepared a French celebration meal better than any food we had in Paris.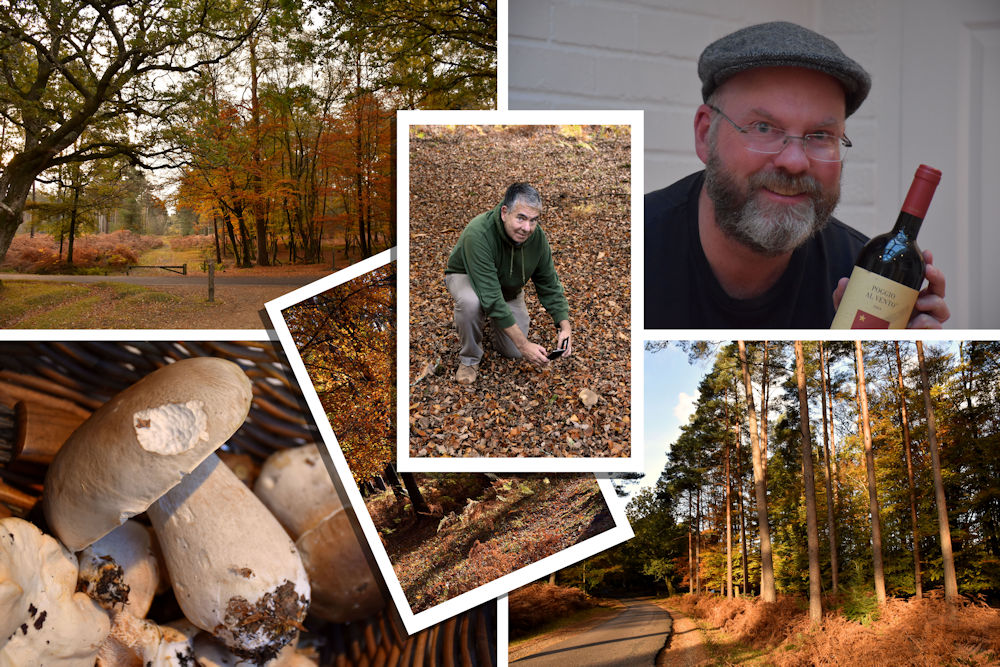 The following weekend, we continued the celebrations Italian-style with porcini foraged in our secret forest location and Brunello di Montalcino wine, bought in Tuscany in 2012.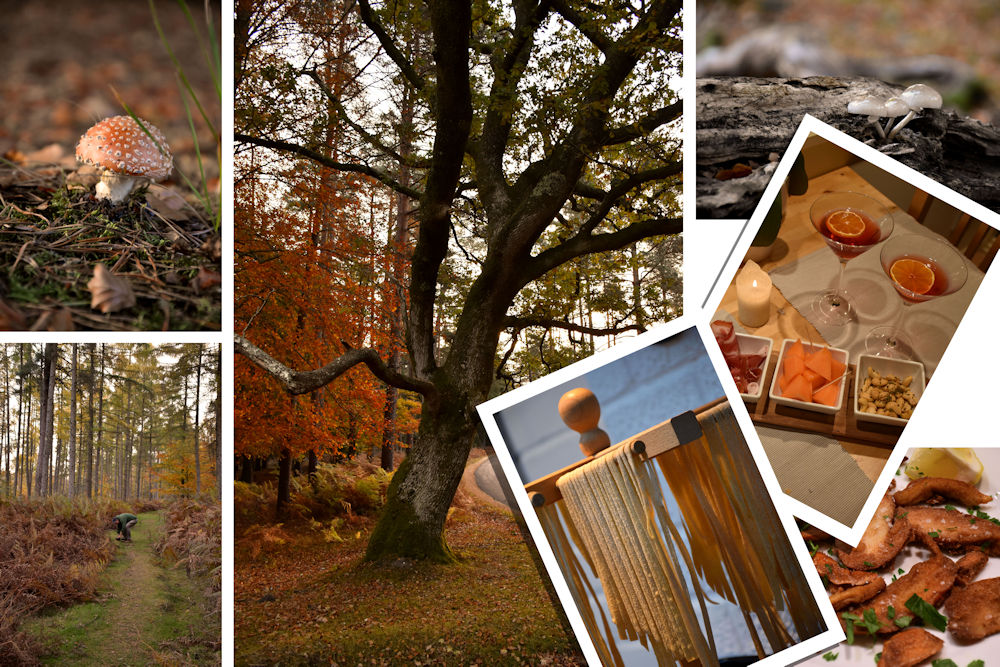 Our autumnal celebration day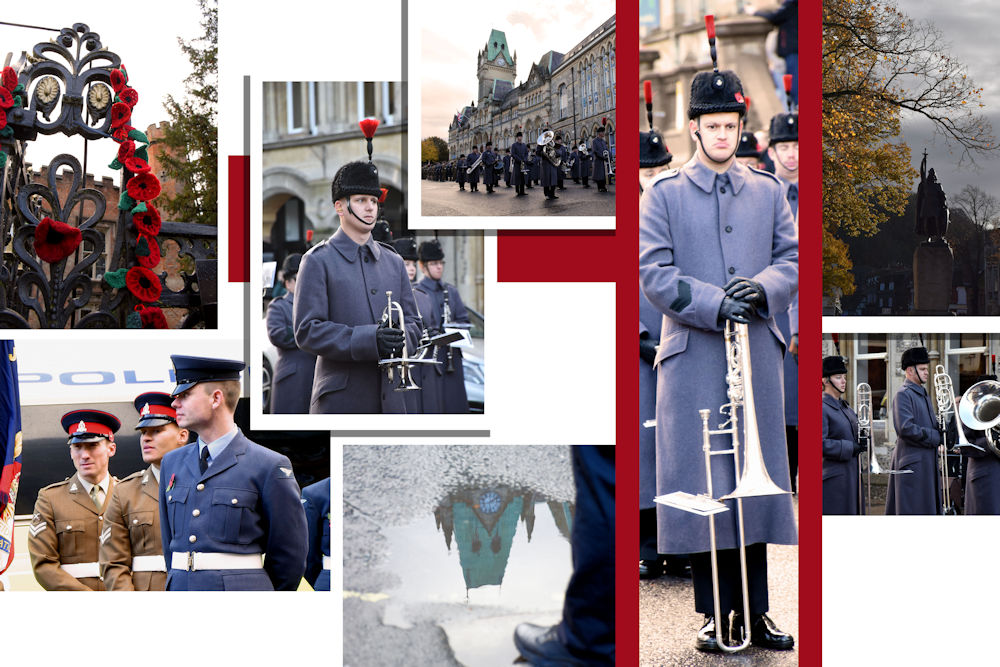 On Remembrance Sunday, there was a local parade.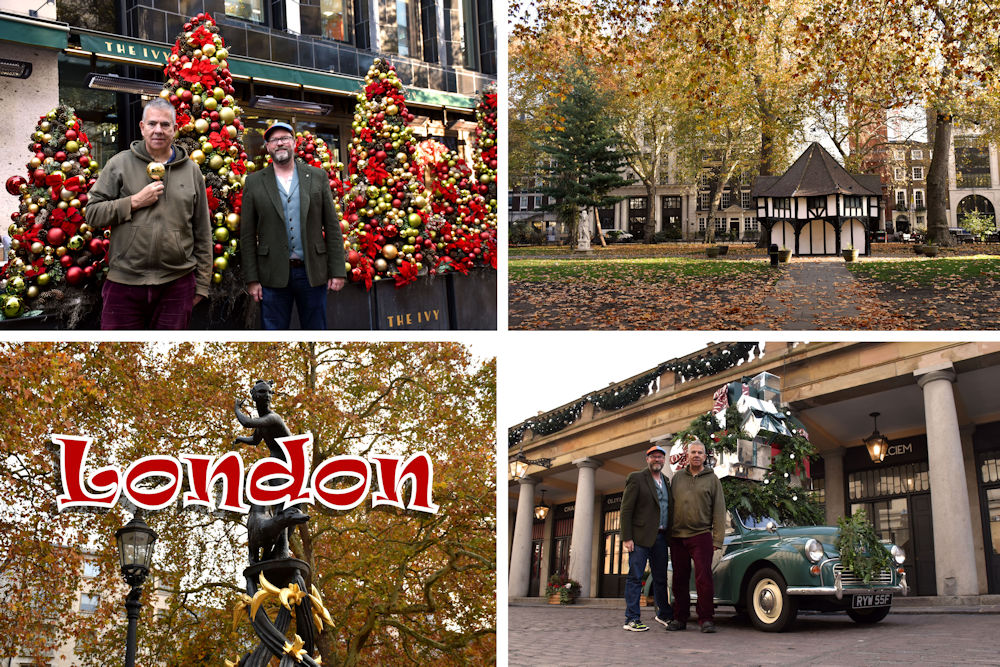 We went to London for the day, getting there around 8.00 a.m., and found that we had some of the most touristy places all to ourselves.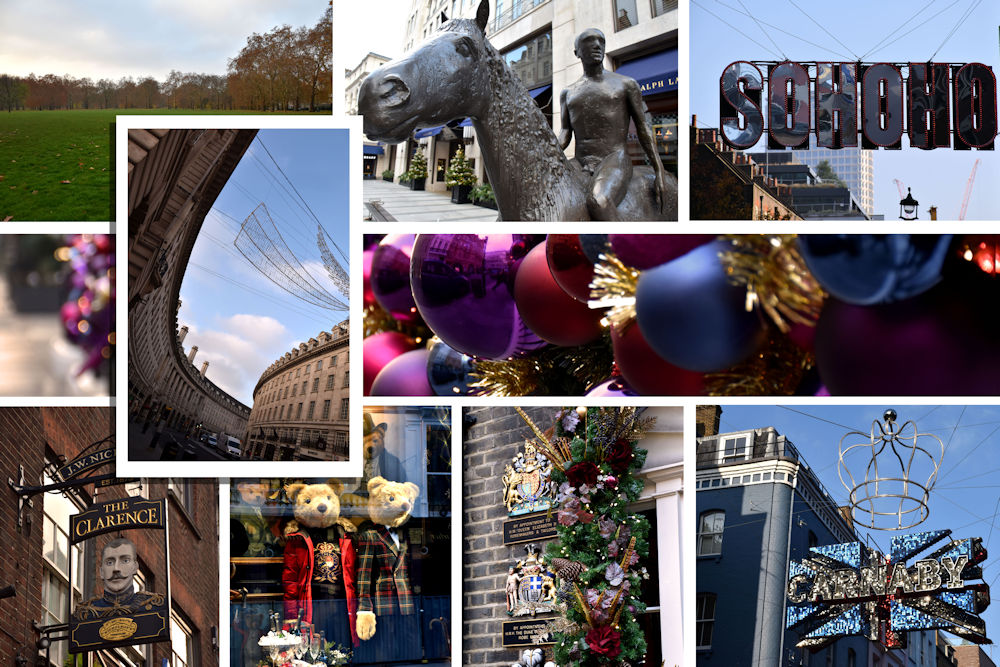 Green Park, Carnaby Street, Regent Street and other areas hadn't yet started with the busy Saturday rush.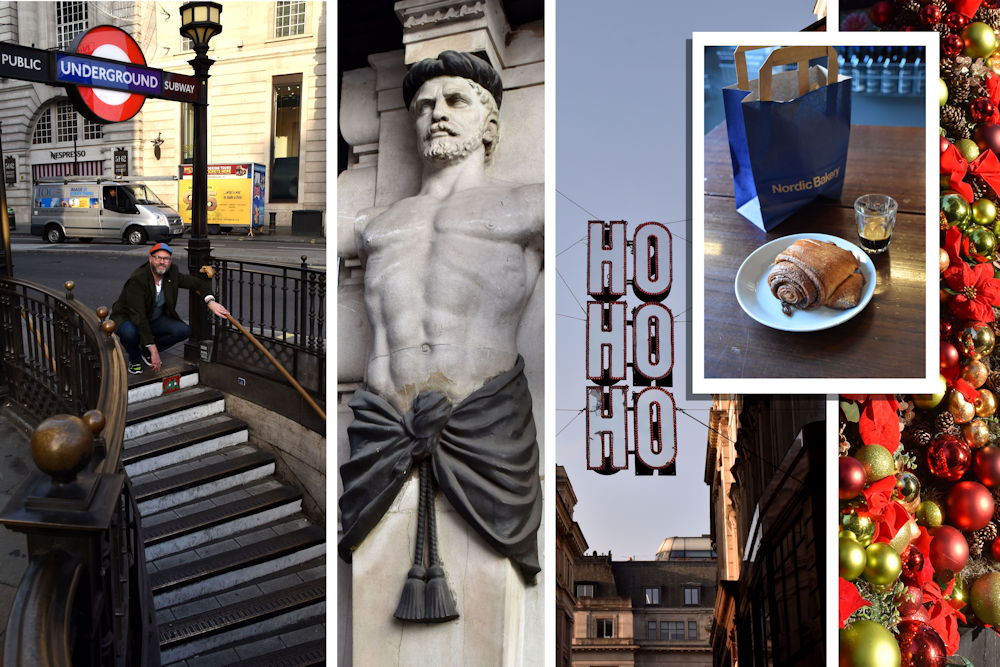 One of the main reasons for our visit was to continue our search for Invaders. Click HERE to see some from our 2017 visit to London and see above for more from Paris.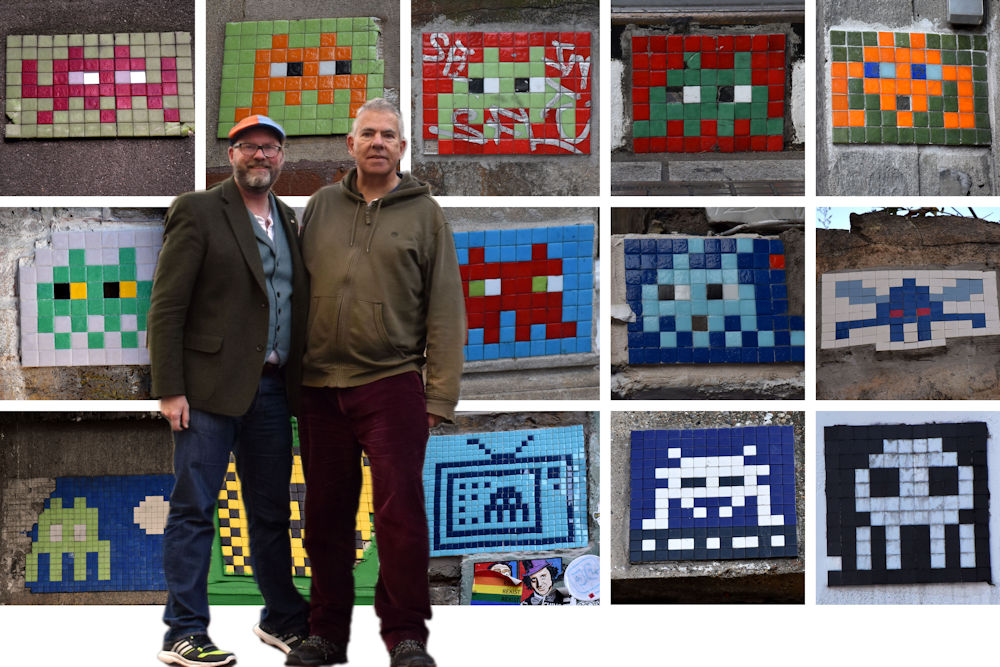 We were relieved to find that our Flash ban had been lifted and once again we were able to score points for our finds.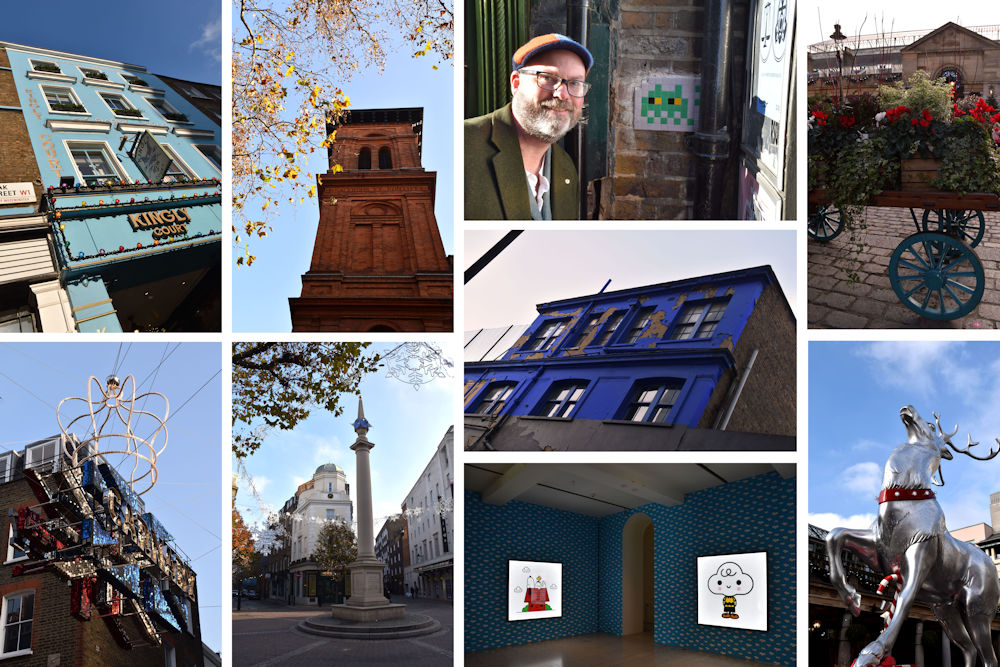 Even Covent Garden and Seven Dials were empty early in the morning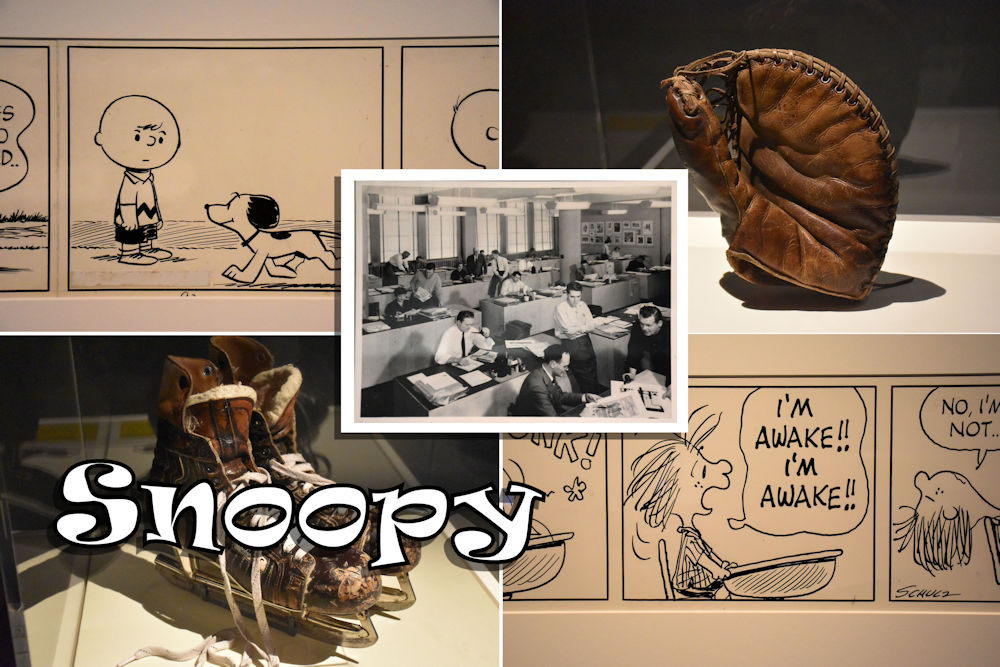 Somerset House held an exhibition on my childhood favourite, the Snoopy and Charlie Brown cartoons of Charles Schulz.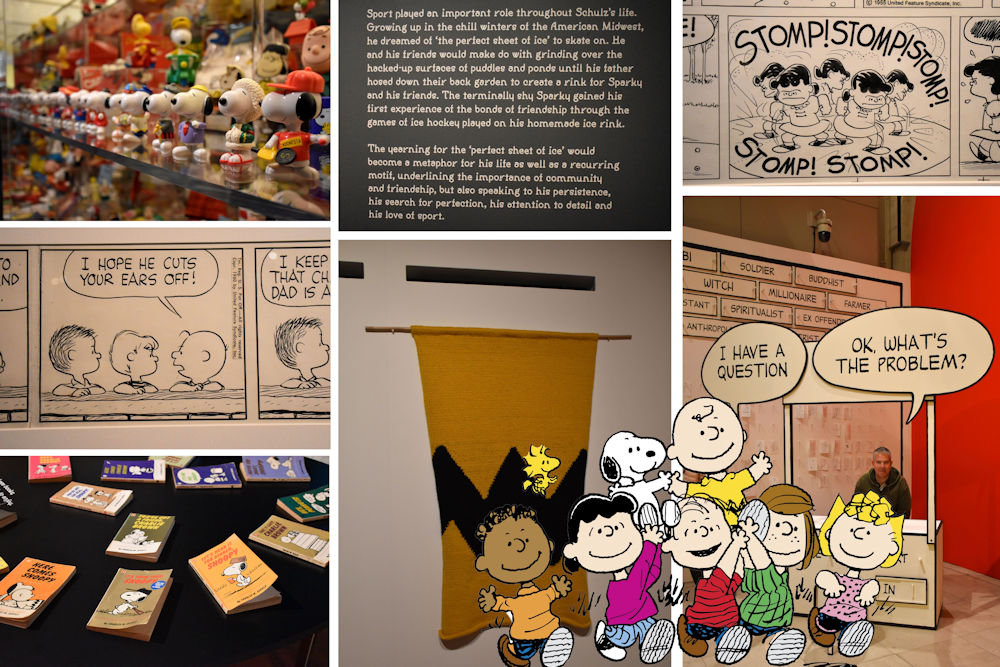 I loved seeing the original comics, Snoopy merchandice, anecdotes from Schulz's life, and the editions I used to read as a child.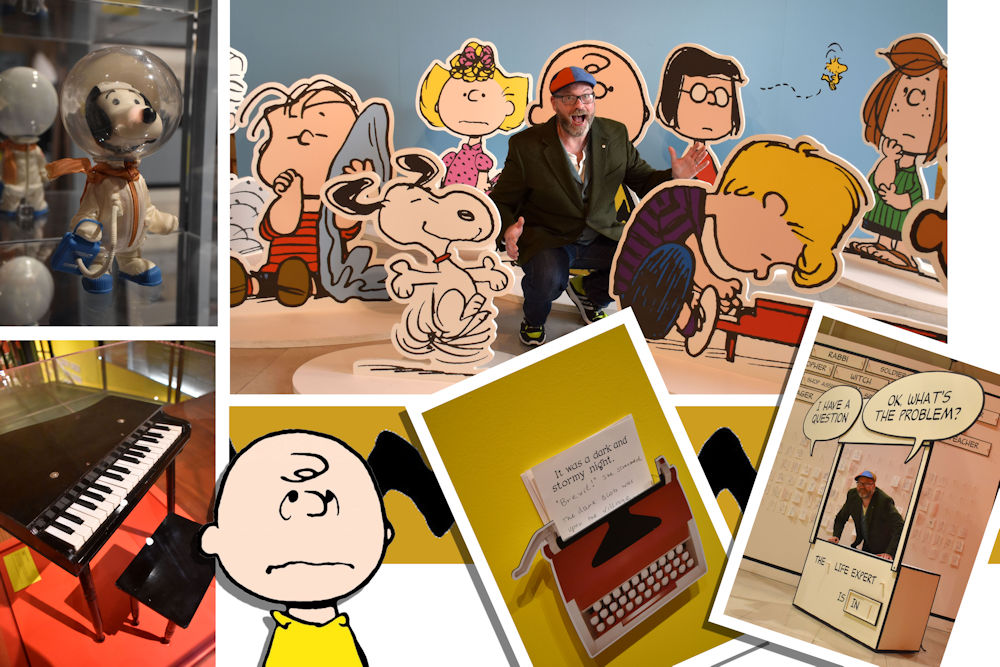 The toy piano is the one used to play Jingle Bells in A Charlie Brown Christmas.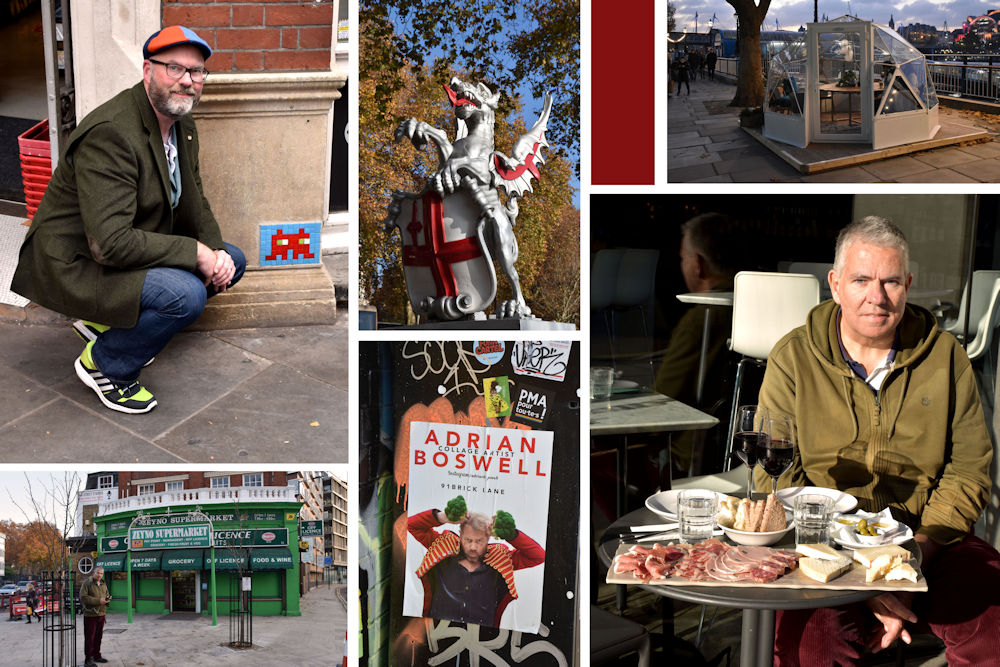 After Snoopy, we carried on our search for Invaders and had a wonderful Italian lunch behind Tate Modern.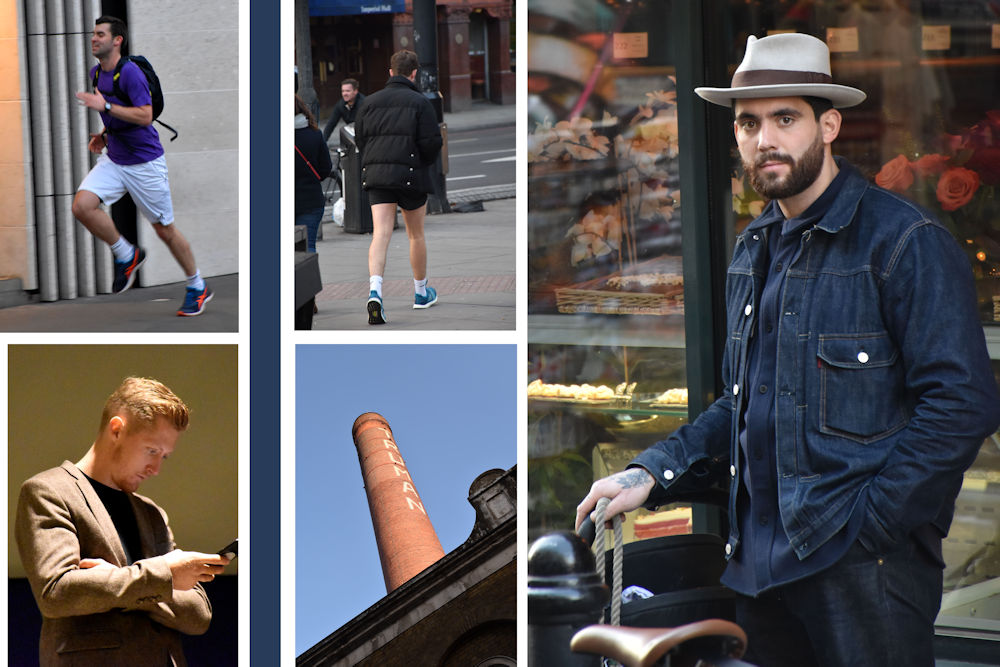 Some final London sights