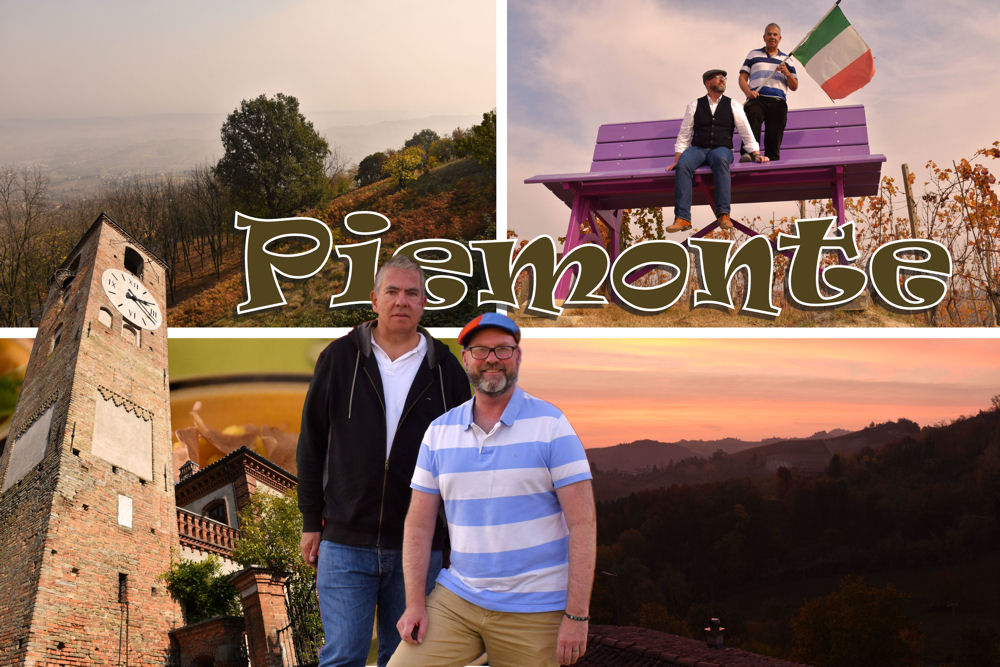 To celebrate our nineteeth year together, we returned to the Piemonte region of Northern Italy. It was the perfect weather and the perfect time of year, with autumn leaves, grape harvests, and white truffles. See our wedding vows in Paris in 2007 and last year's anniversary in Paris. Click HERE to see 2015's anniversary in Budapest and HERE to see 2014's anniversary in Bruges. Our last trip to Piemonte was in 2012.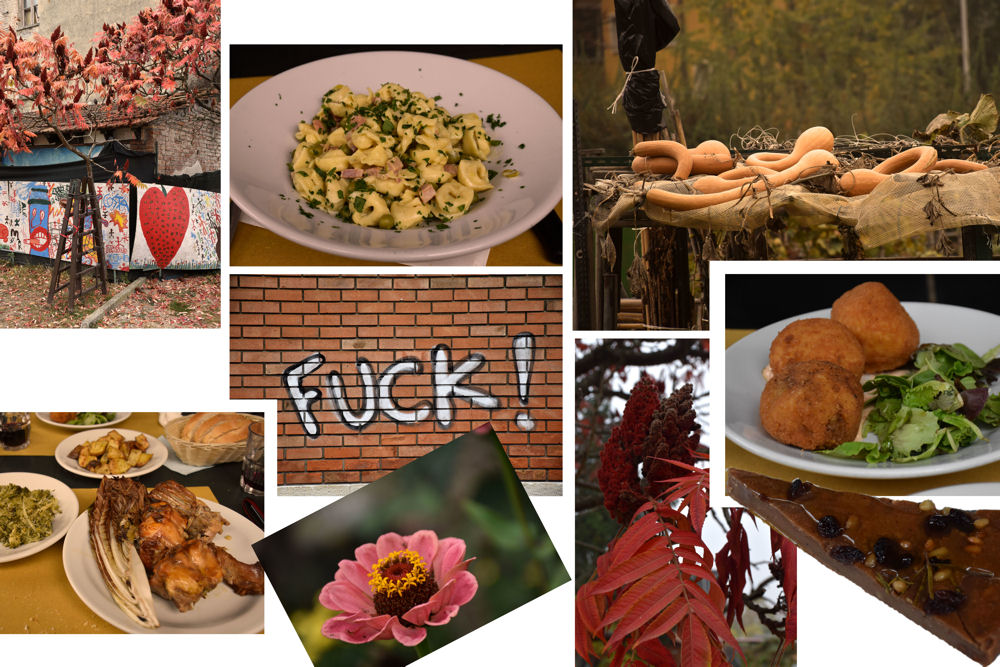 On our first day, we had what would be our most memorable meal of the week in Alessandria, at a cooperative community project restaurant that provides jobs for those in need. The food was authentic, delicious, and some of it sourced from the nearby allotment. Pictured are roasted rabbit with grilled radicchio, local broccoli, and arancini.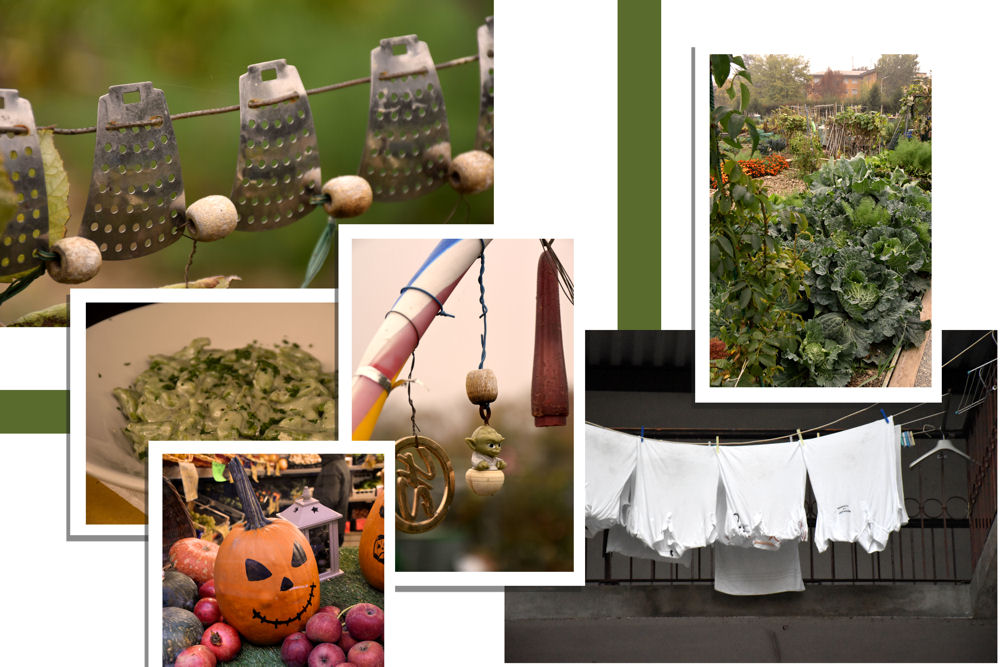 Views of the allotment and a glimpse of the spaetzle with gorgonzola that we loved.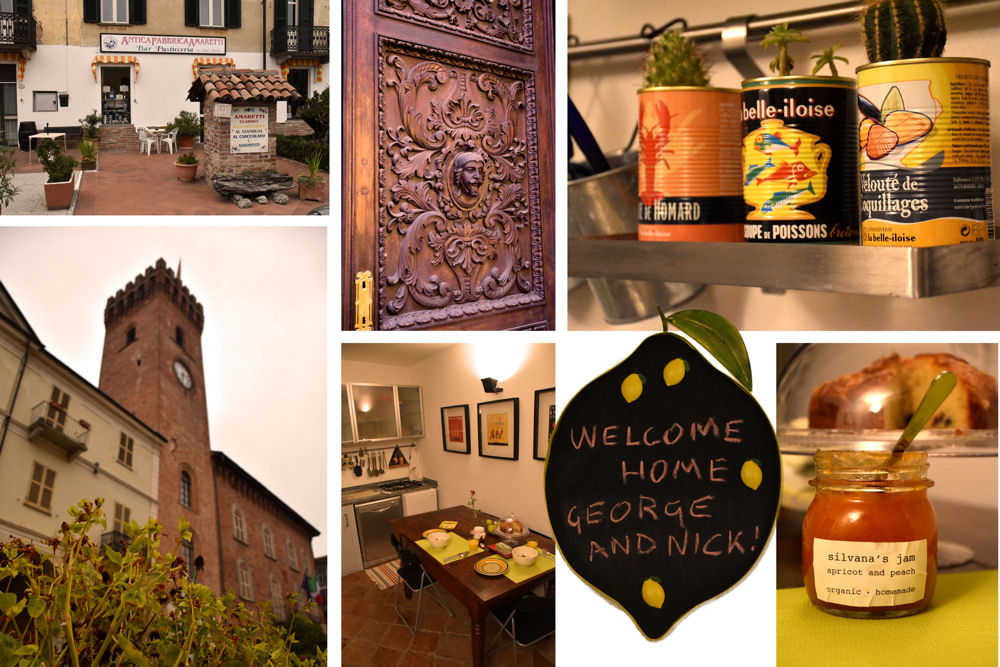 We bought two kilos of hazelnuts and two bags of amaretti in Mombaruzzo before arriving in Calamandrana at our house for the week. Chiara and Marco made us feel very welcome and at home.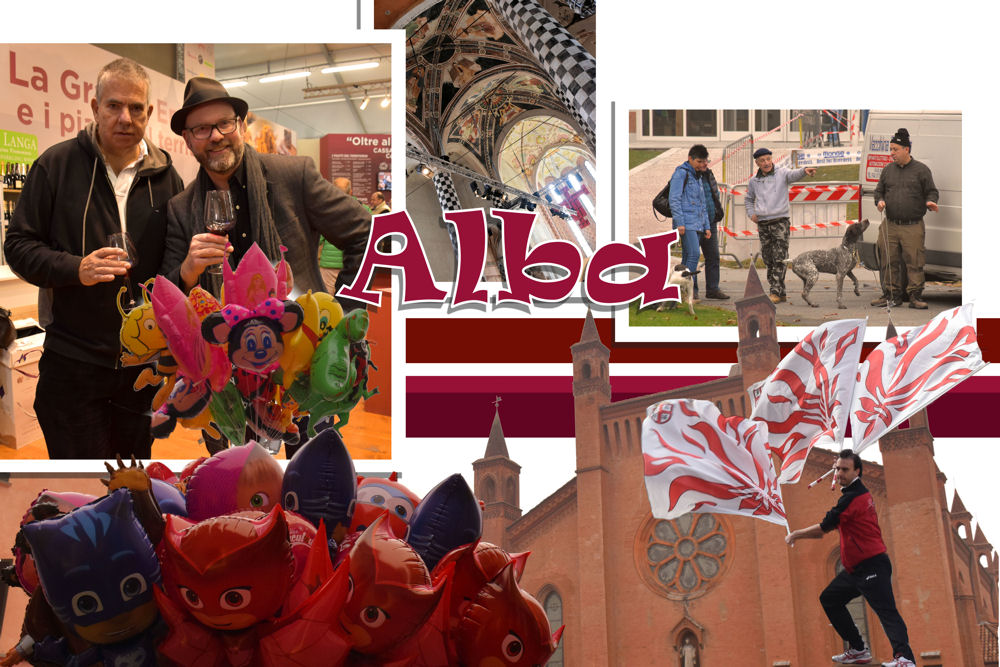 Sunday morning, we went to the truffle fair in Alba and bought a white truffle for the week. The flag tossing competition was that afternoon but we were too tired to stay for it.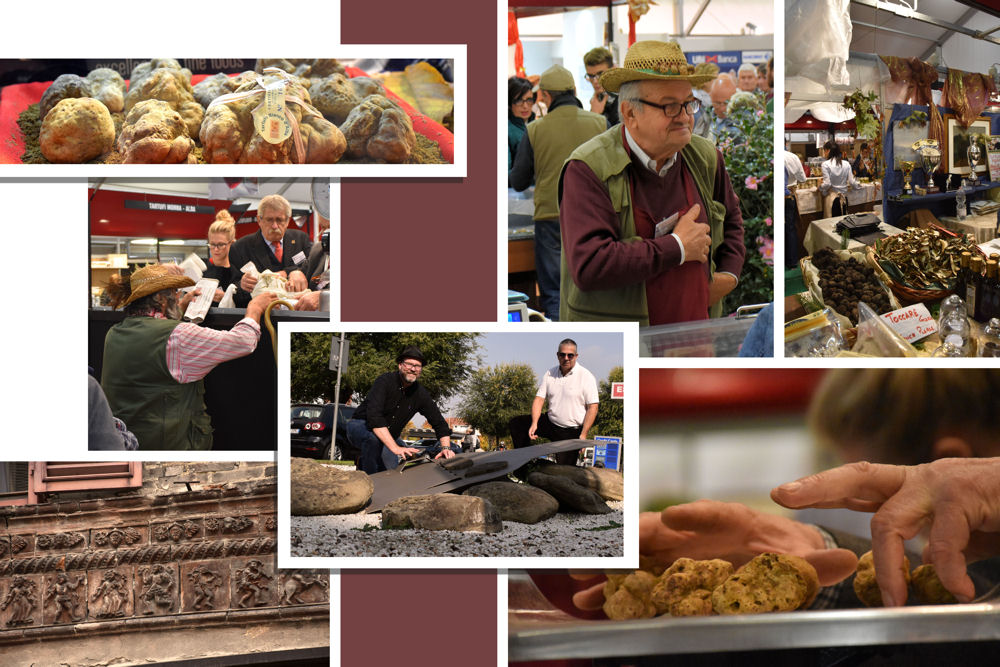 We bought our truffle from the man at the top.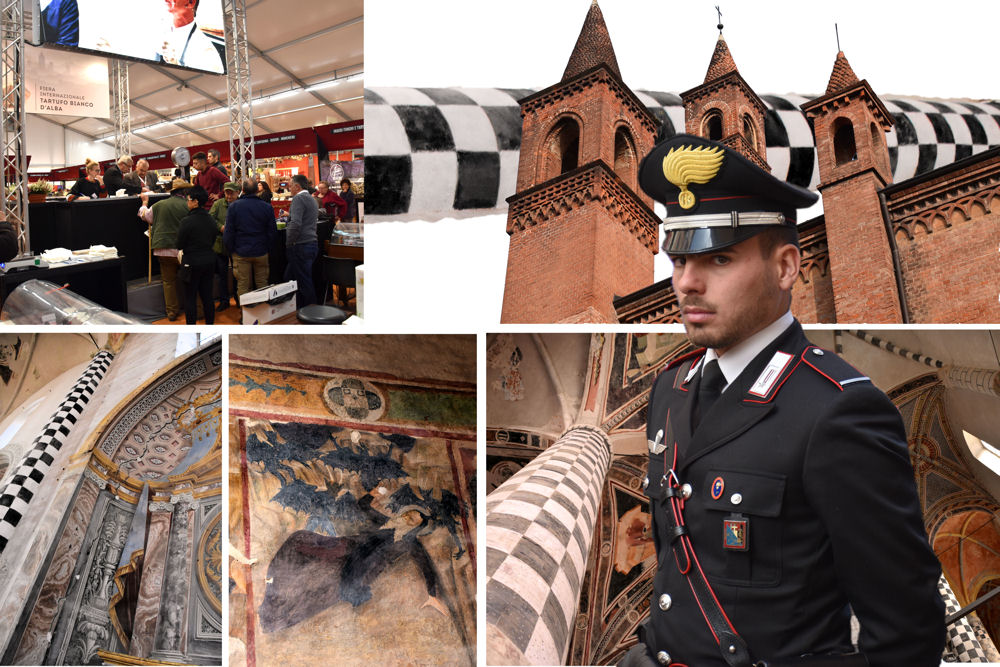 Scenes from Alba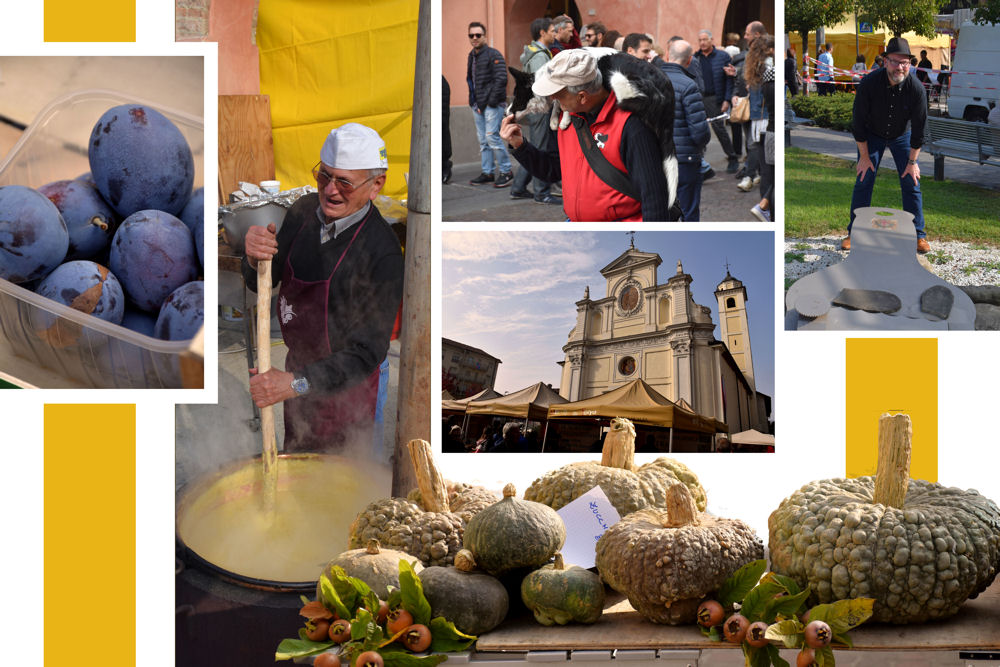 In addition to the truffle fair, there was also a farmers' market and a food festival in full swing. We didn't have the polenta shown, but instead tasted some of the famous raw meat, sausages, and tortellini.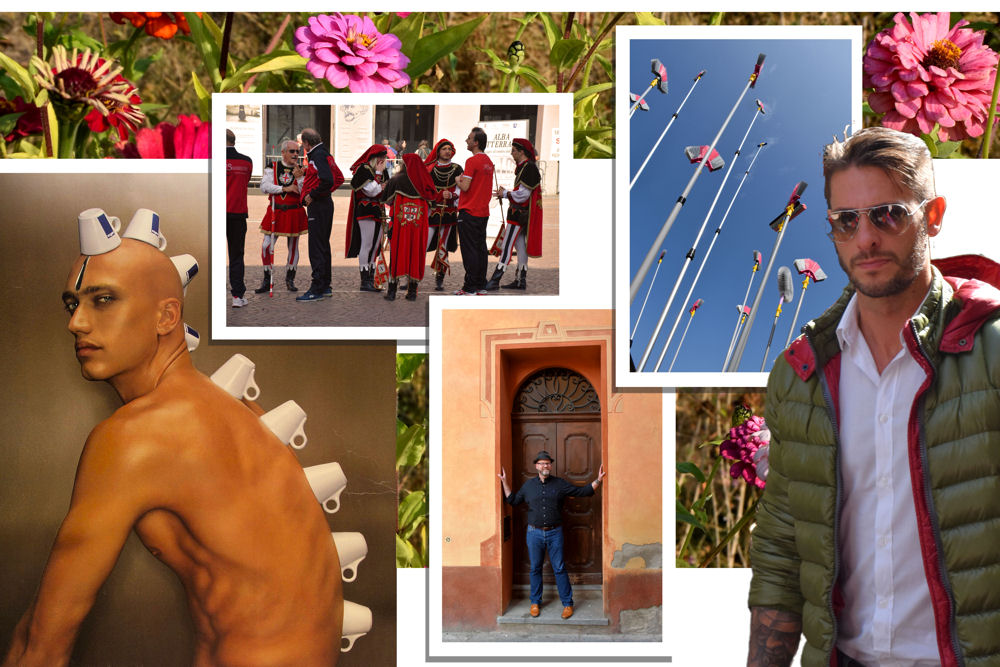 The Lavazza coffee ad and the first of many thousands of Italians we saw in puffer jackets, despite the warmth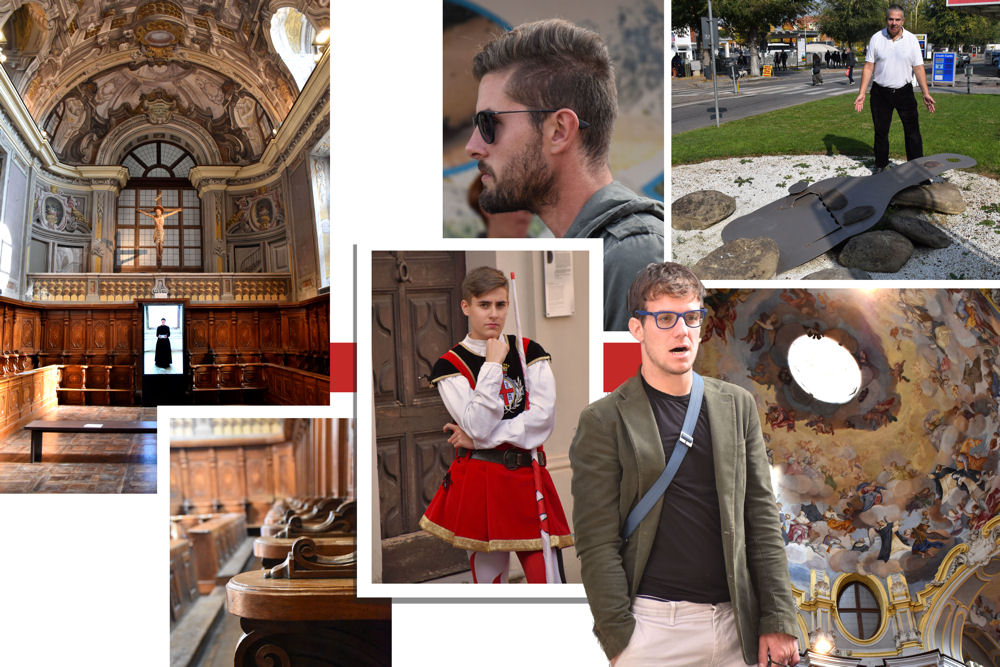 I have a photo of me in this same church in 2012, but I didn't remember going there. There was a video installation based on the life of a female saint.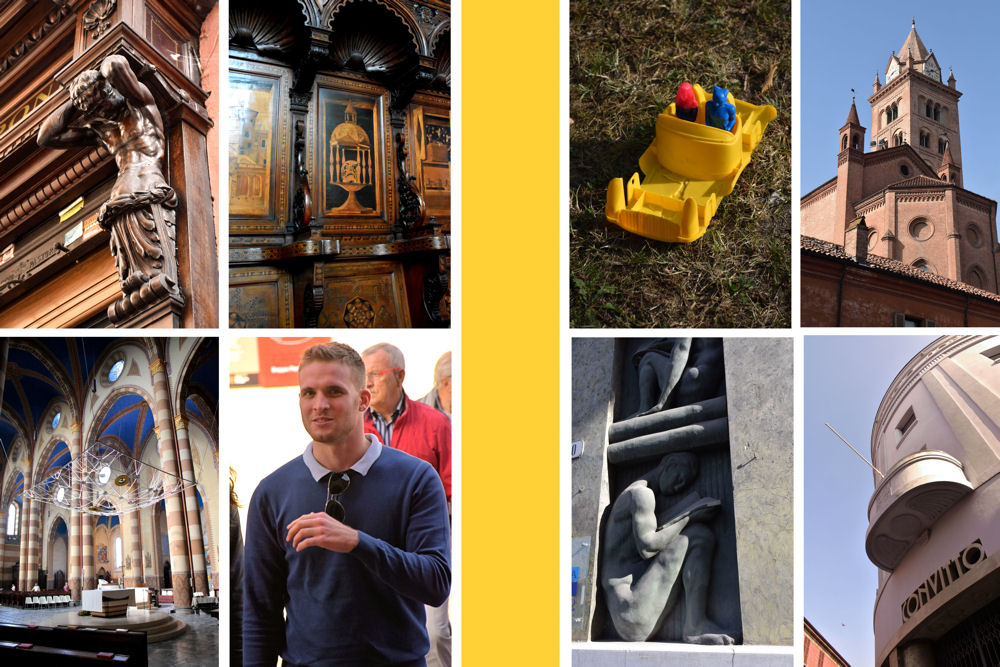 We found lots of interesting art and architecture in Alba, from marquetry to Art Deco, to forgotten toys.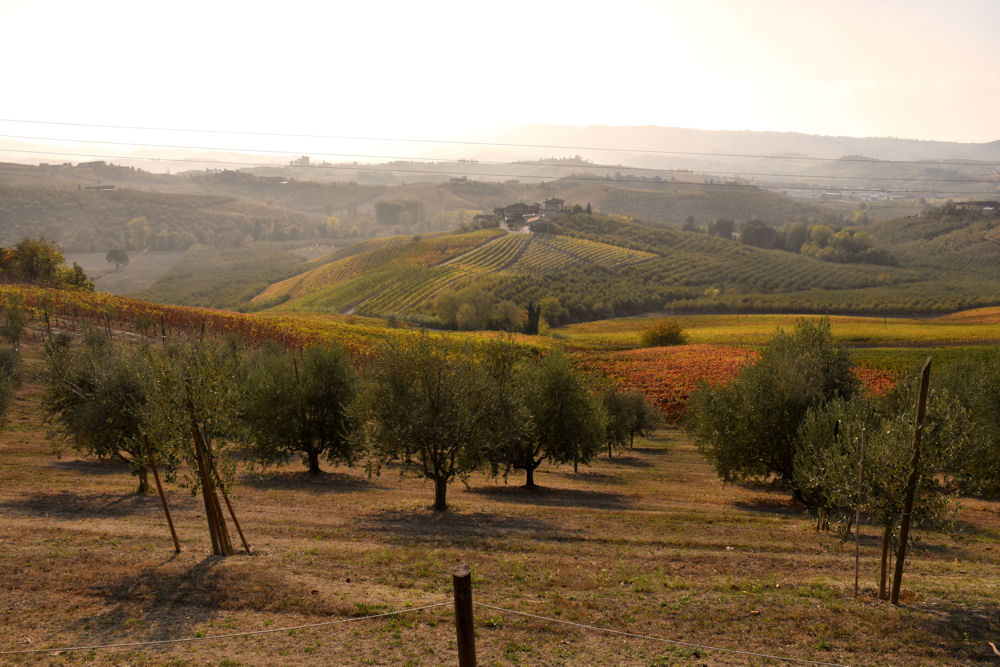 The view of a Piemontese vineyard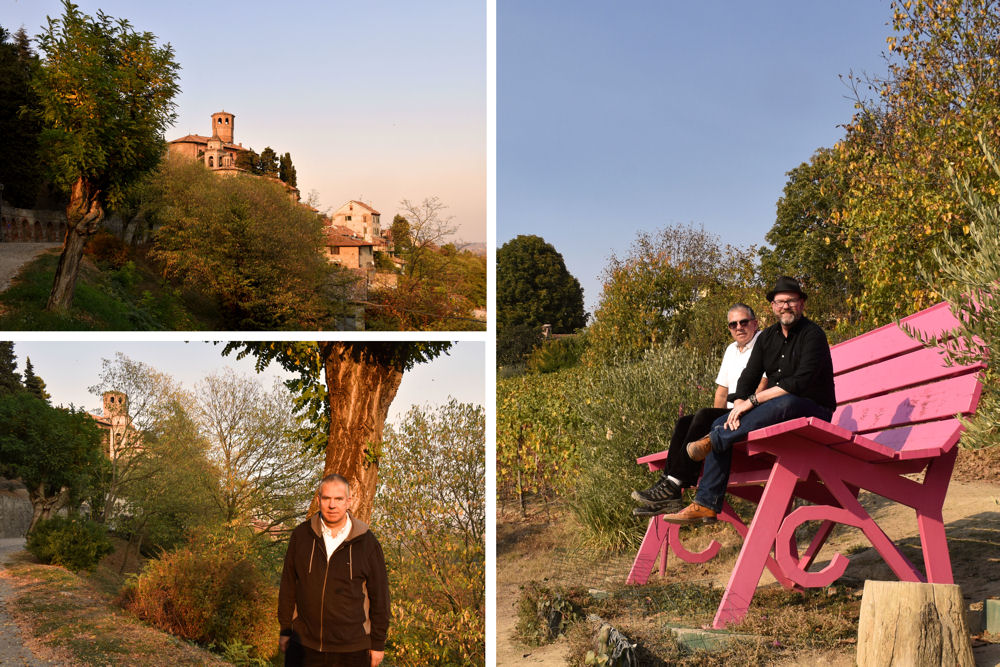 Milan light in Calamandrana Alta and the first of the Big Benches we found. Chris Bangle's Big Bench Community Project placed benches throughout the region. We were issued with passports to collect stamps from each bench and encouraged to record out thoughts at each site. They are supposed to bring back a feeling of childhood, and they did!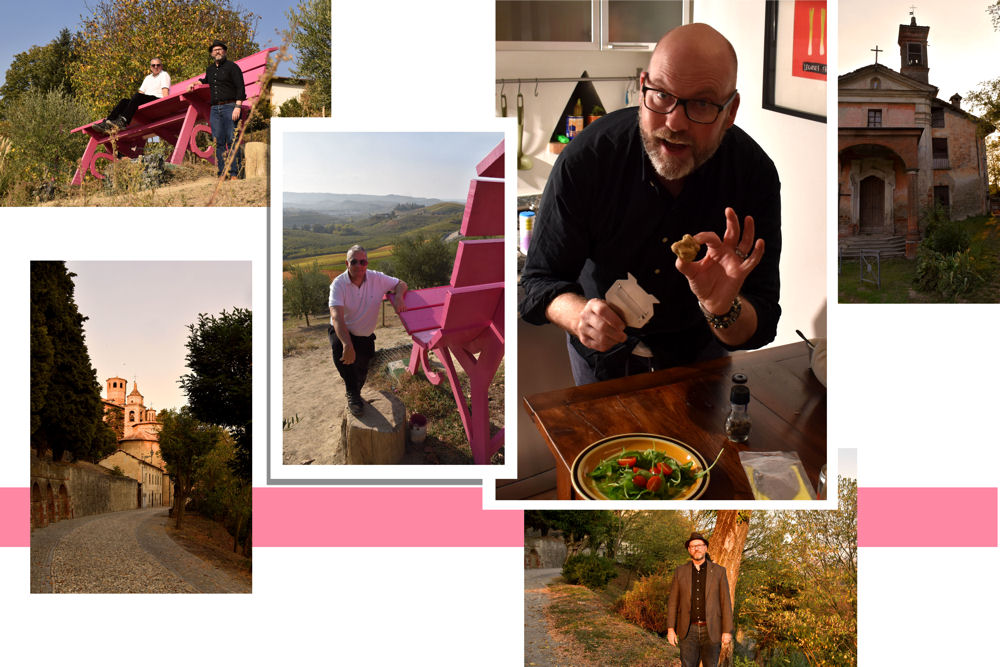 The pink bench, Calamandrana Alta, and our white truflle getting it's first outing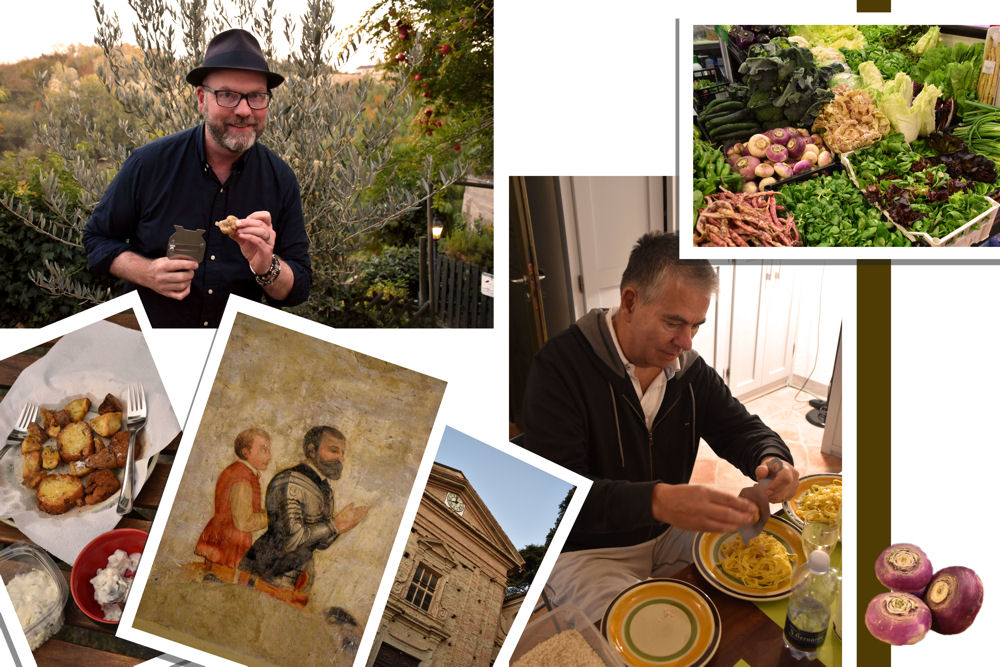 We friend our leftover arancini and served it with gorgonzola. Delicious! I liked the 15th-century hipster frescoes seen, I think, in Asti.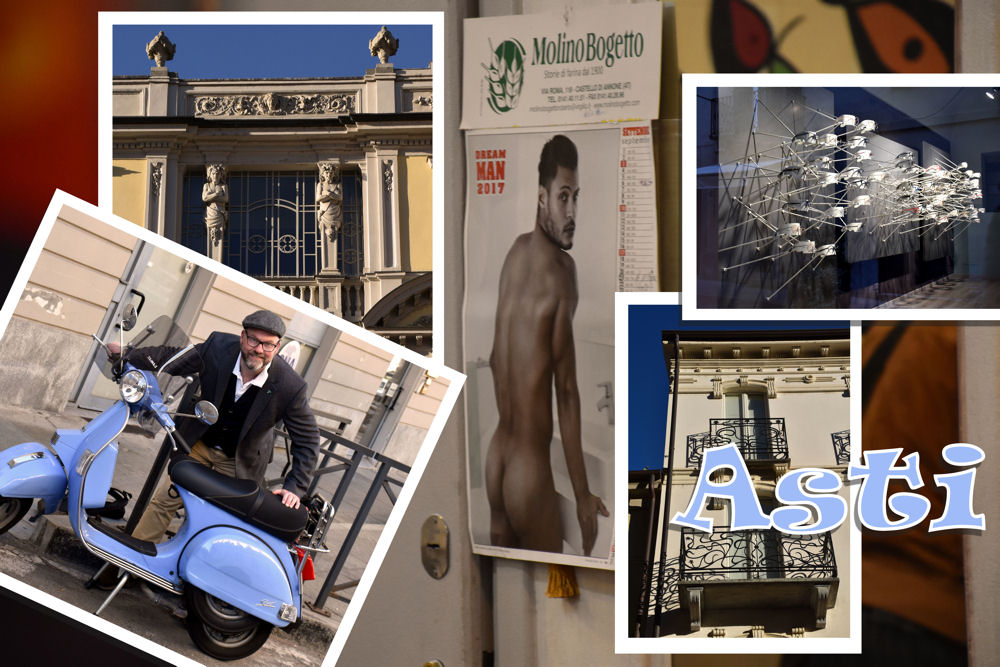 We had a coffee in Asti's covered market and spotted this calendar on the wall of the café. We hoped it was the waiter.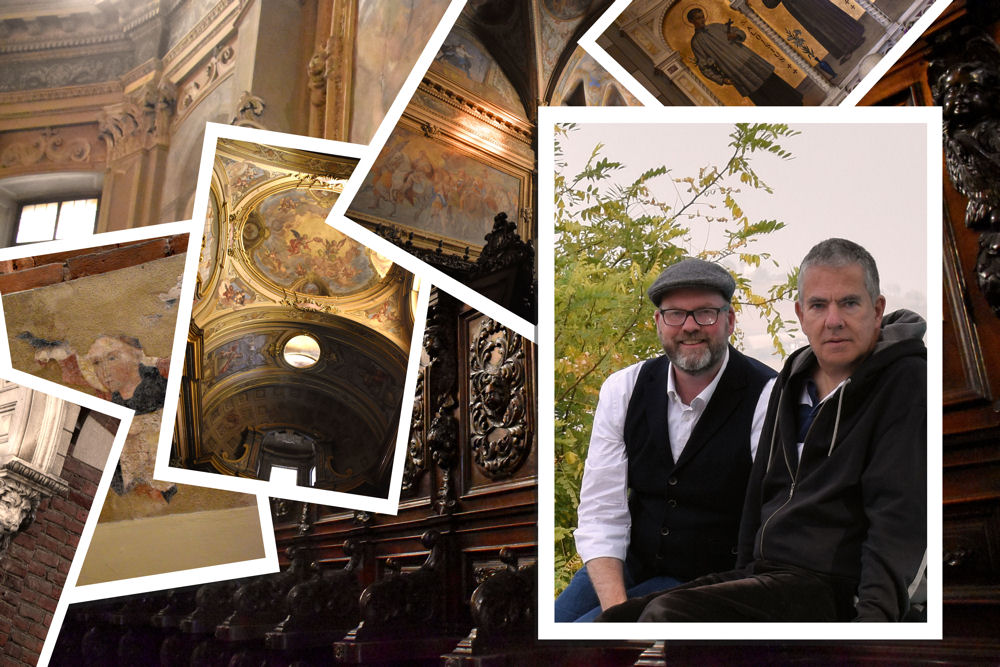 In Asti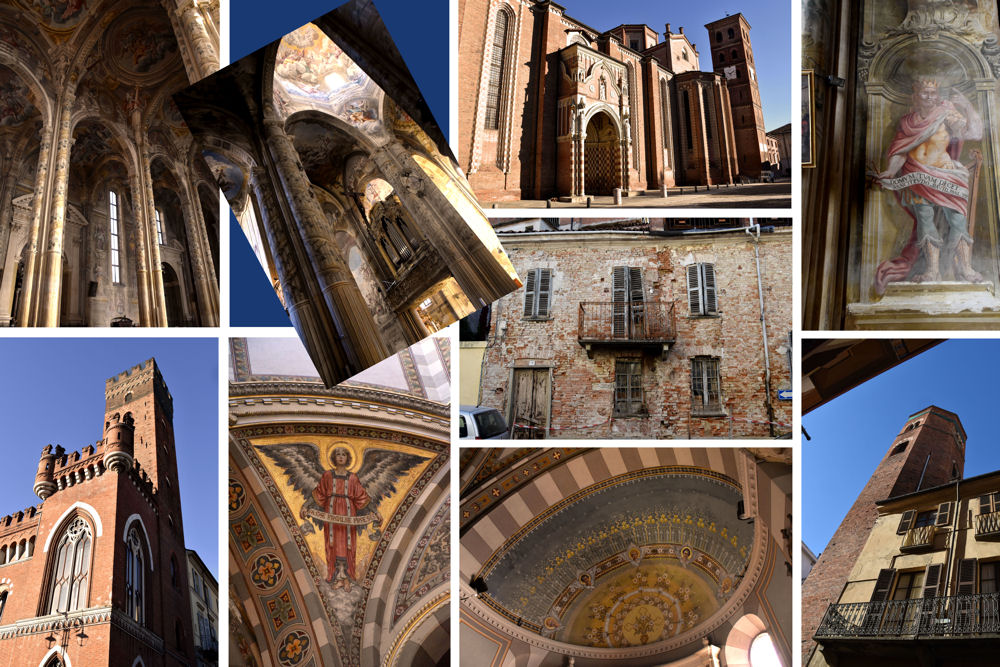 The cathedral in Asti.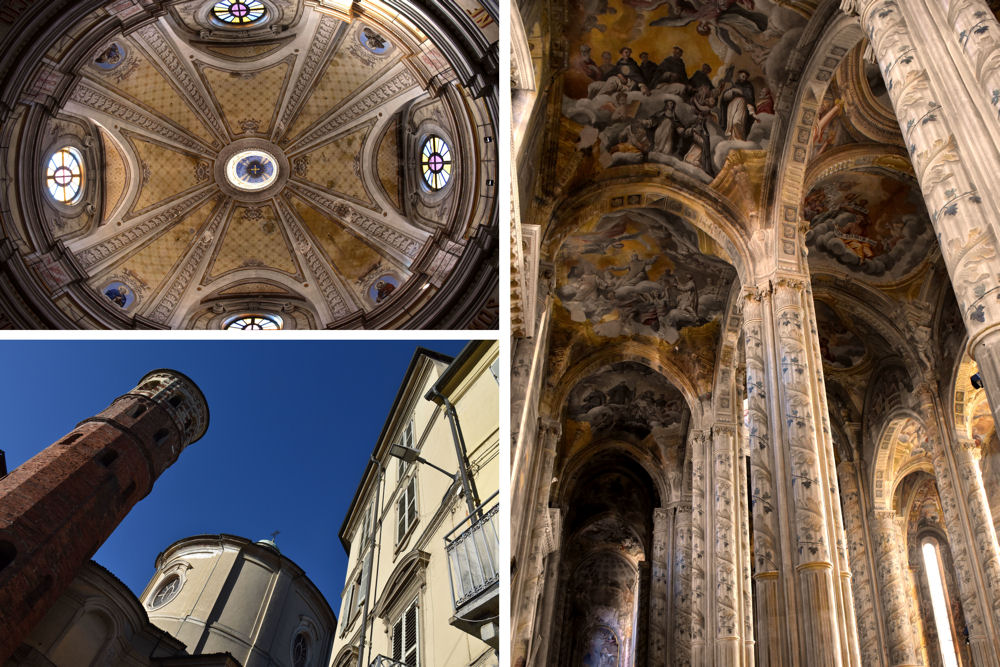 Asti is known for its several towers.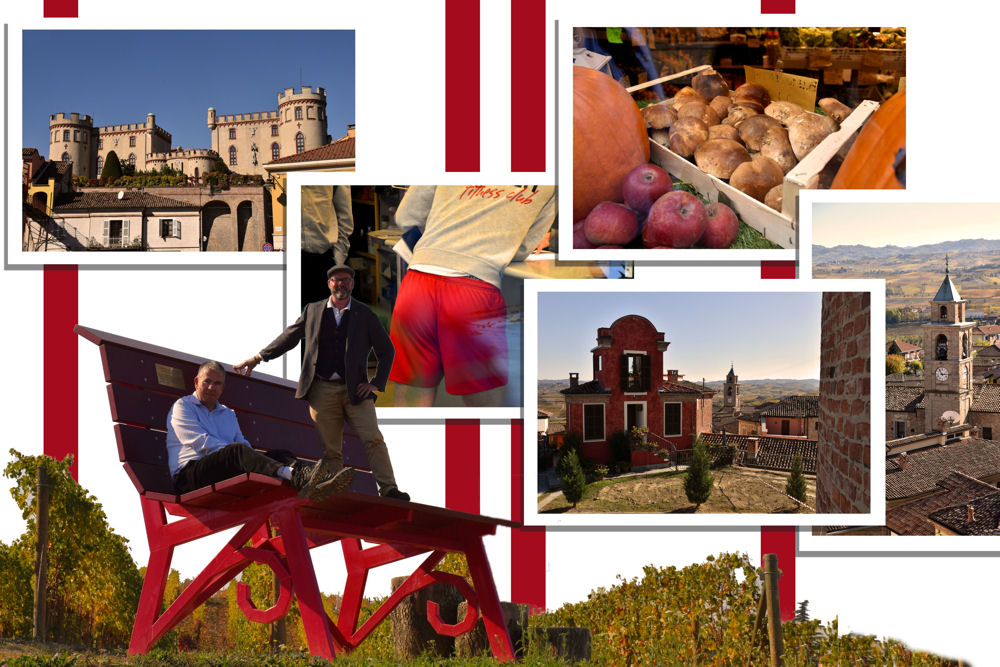 The weather was glorious and we travelled around hunting for benches. It was difficult on the first day but Nick found a Google map that helped us later in the week. The red shorts belong to a customer in Nizza Monferrato. The red house is one I would love to live in.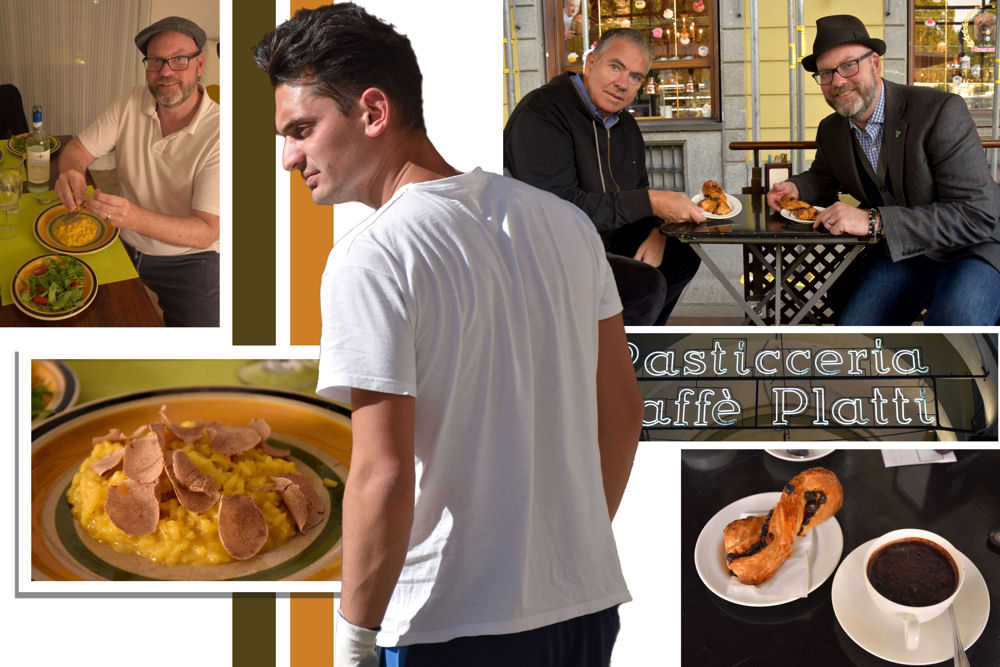 Truffles with risotto, a hard working street repairman who entertained us over lunch, and a return to Caffè Platti, whose hot chocolate I had been dreaming about for five years.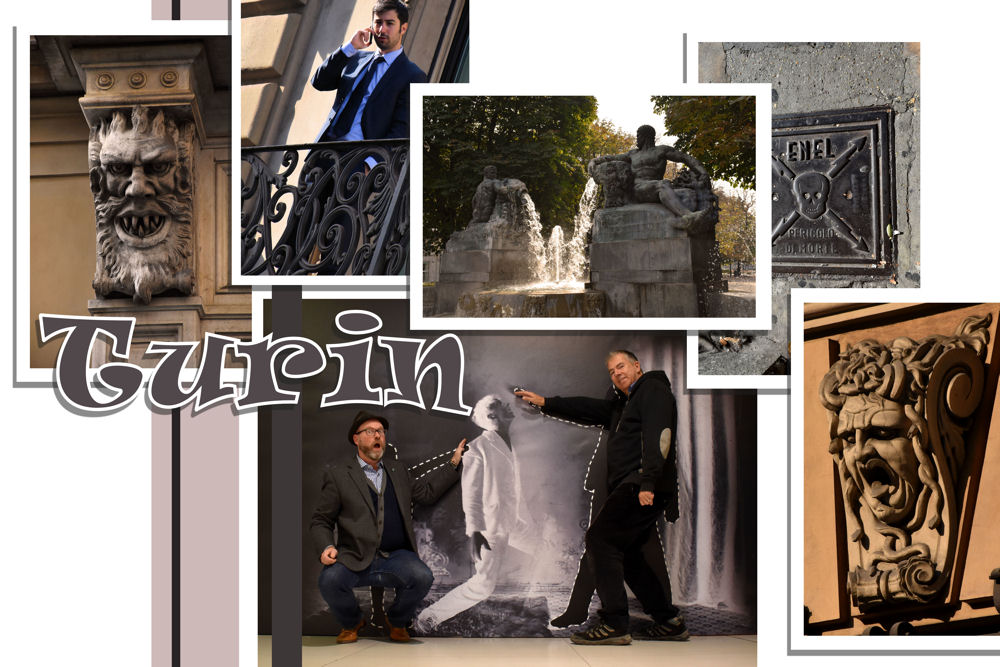 We had a lovely day in Turin, mainly shopping and looking for Art Nouveau buildings.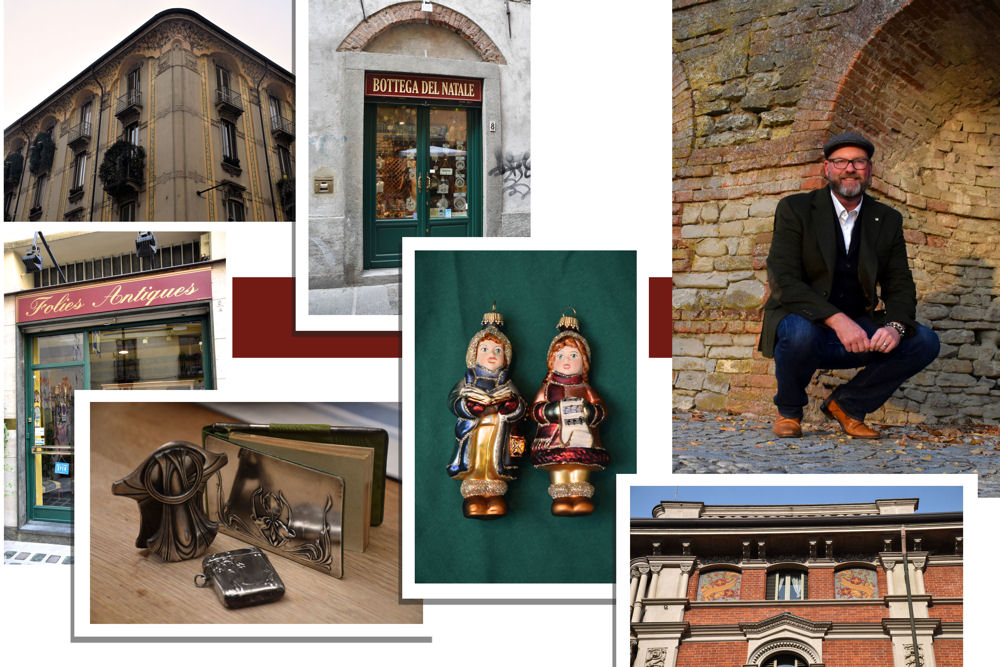 Some of the things we bought in Turin: genuine Art Nouveau antiques, two Christmas ornaments (click HERE to see the full collection), and my new green jacket, an Austrian one.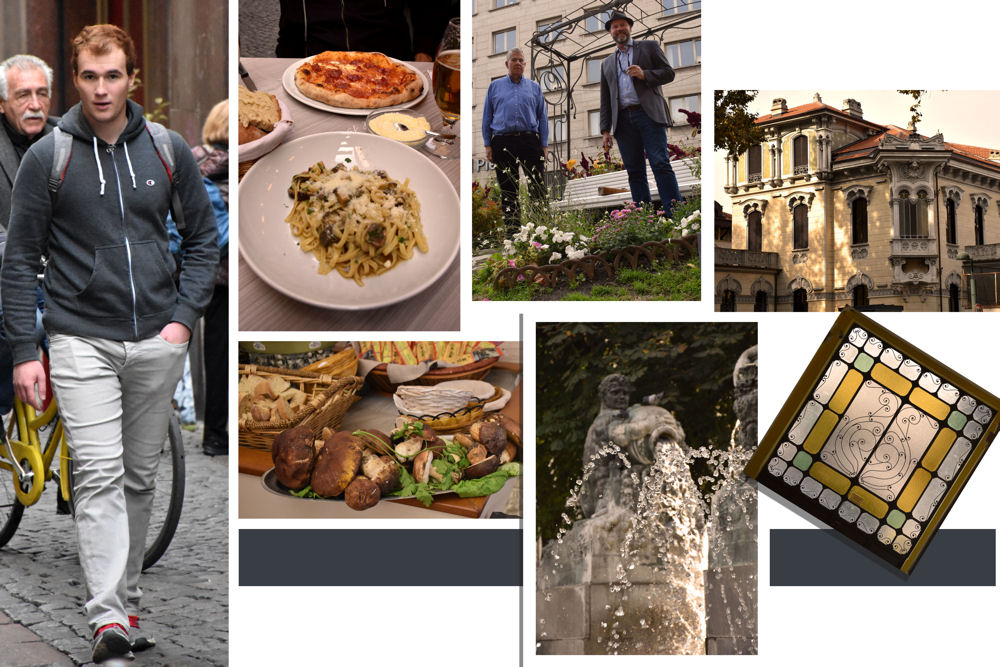 We had pizza and pasta with fresh porcini for lunch before heading off to find Art Nouveau.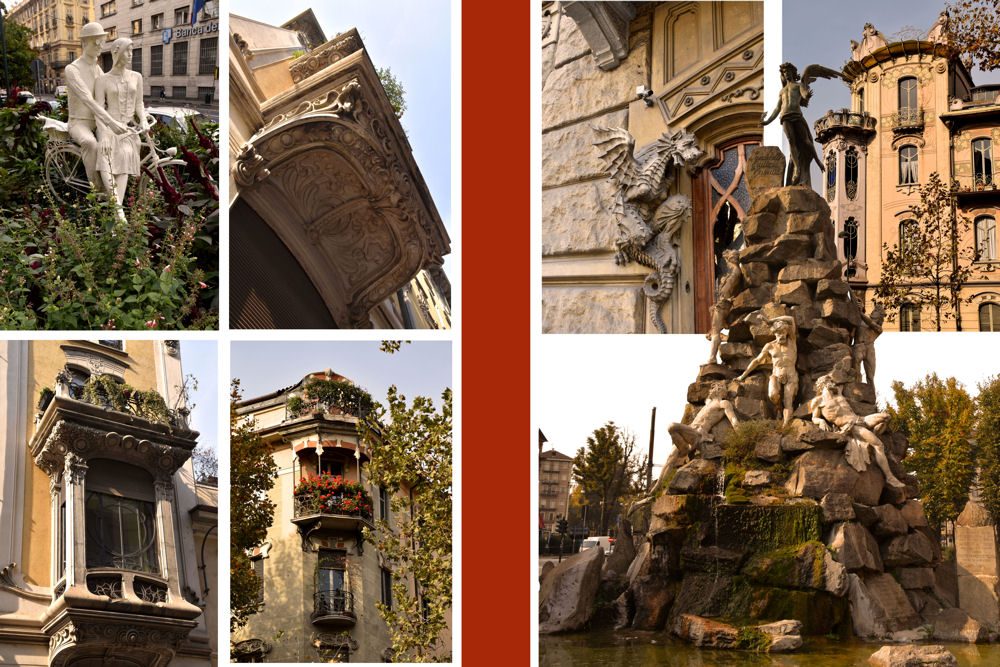 Spectacular sights in Turin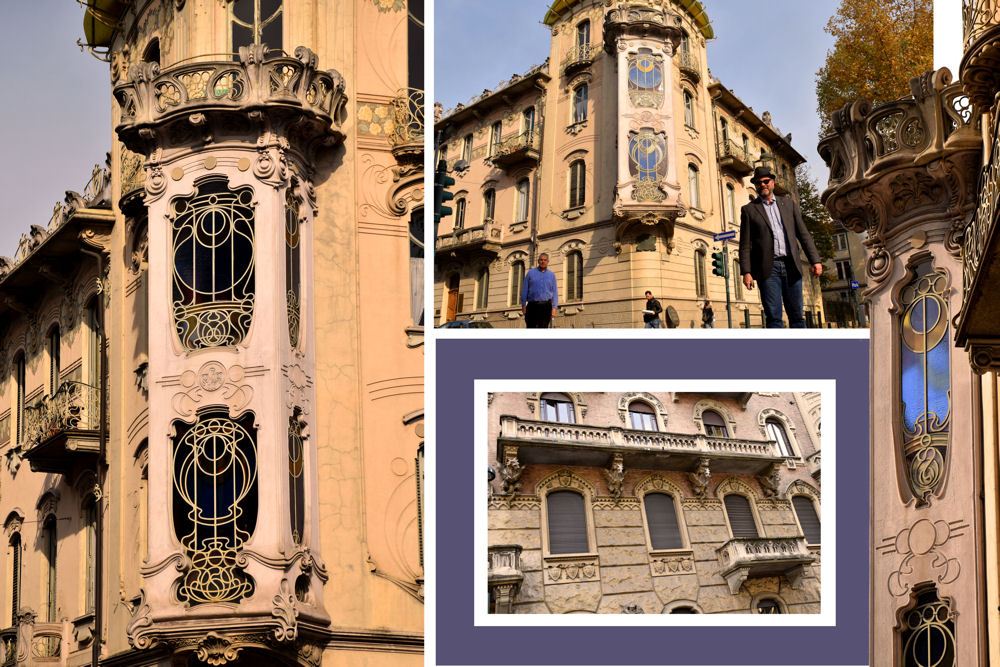 By far our favourite Art Nouveau/Liberty house was this villa built in 1902 by architect Pietro Fenoglio.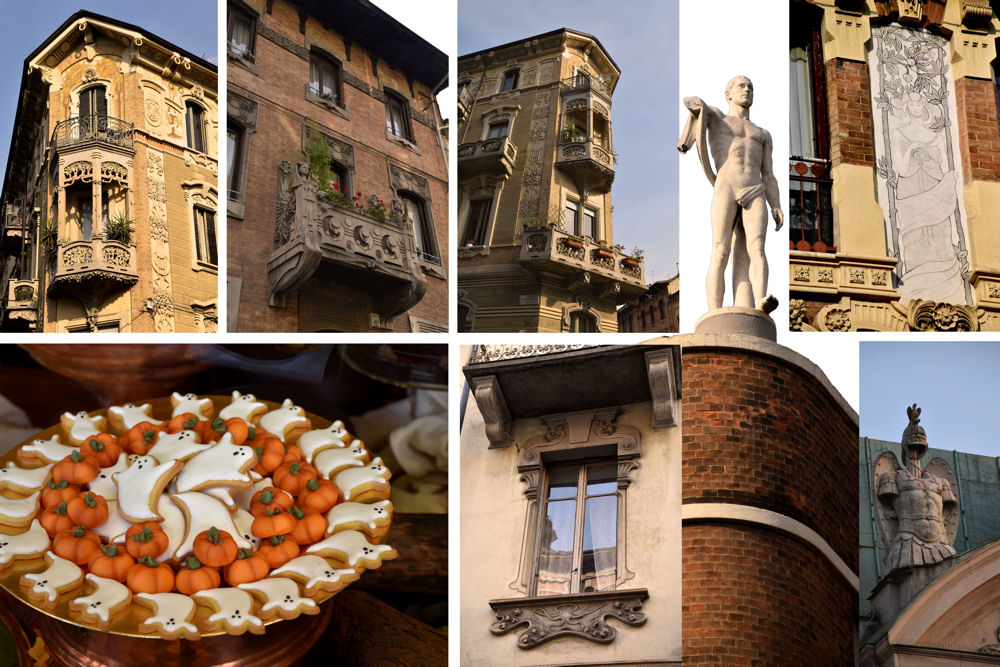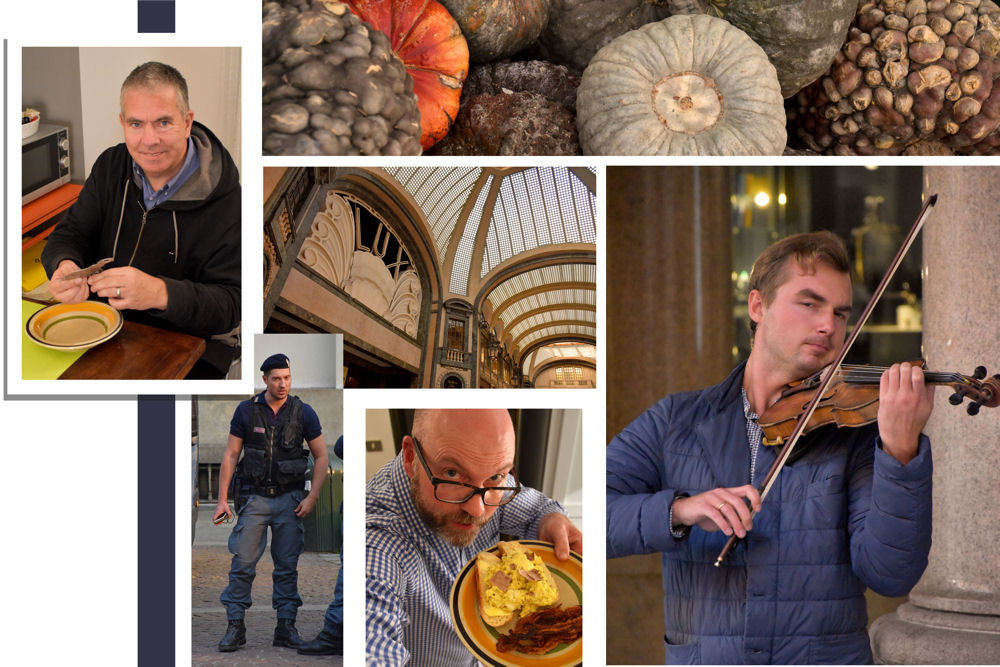 Truffled scrambled eggs, Art Deco theatre in Turin, and a busker with cute eyebrows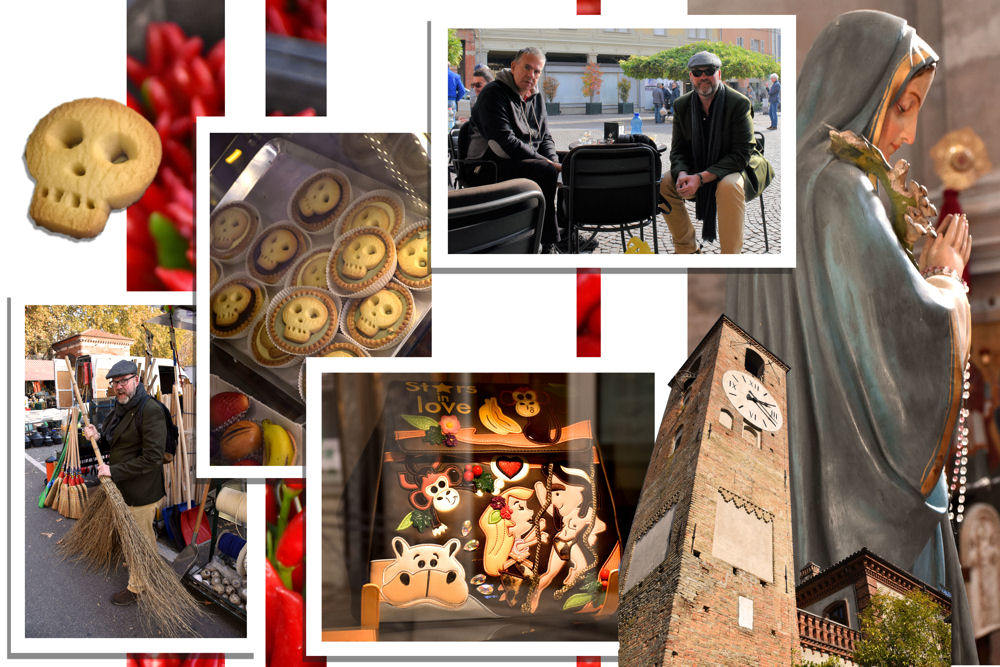 We returned to Asti on market day and found lots of interesting Halloween goodies. Unfortunately, the pumpkin cake I longed for wasn't being sold until next week.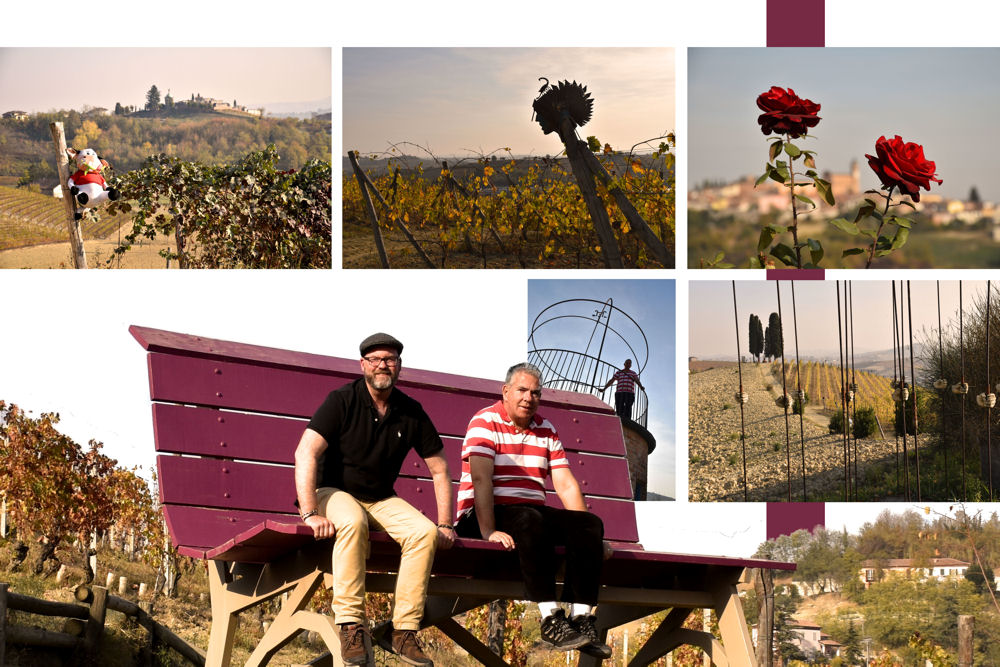 Back on the bench trail, the art in this vineyard wins prizes every year. It was like a playground to explore.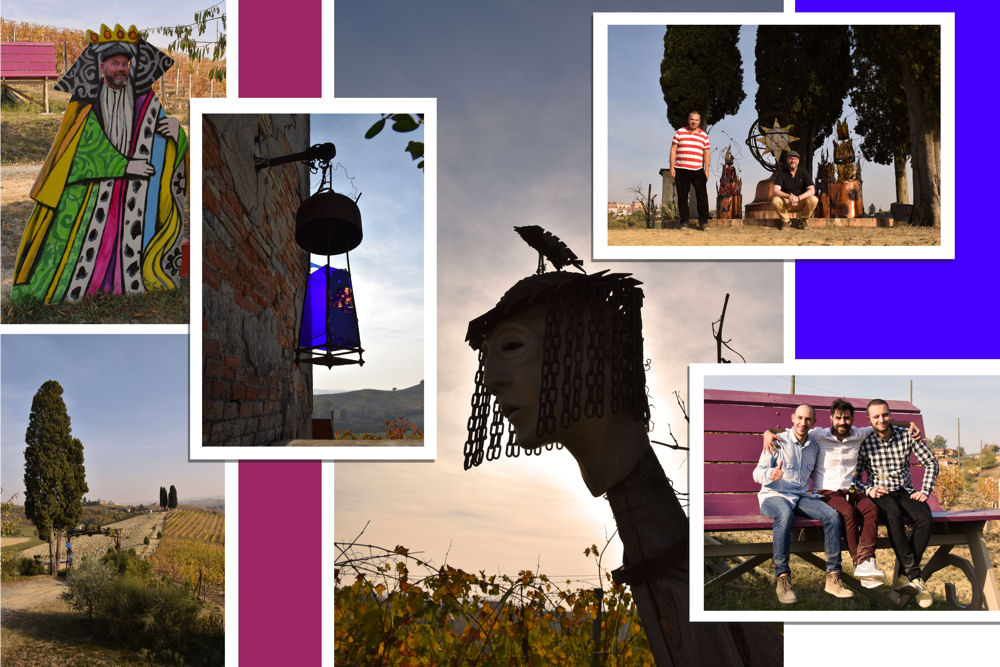 We met this inebriated trio of Italians who asked us to photograph them on the bench. The bearded one gave us lots of advice about wine.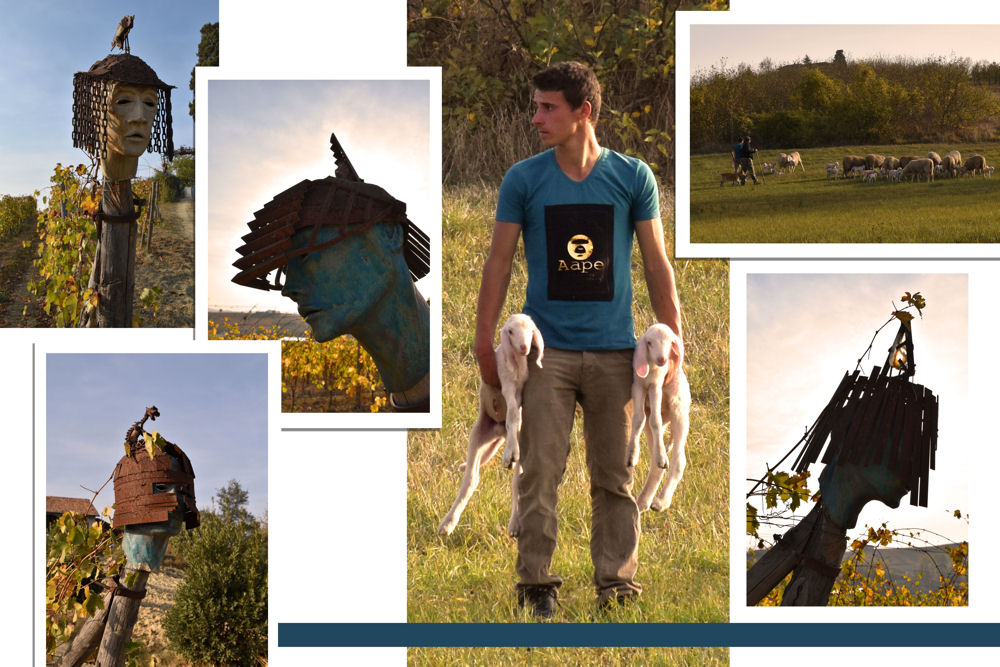 The spooky and soulful heads in the vineyard were photogenic, but not nearly as much as the Sheep Wrangler.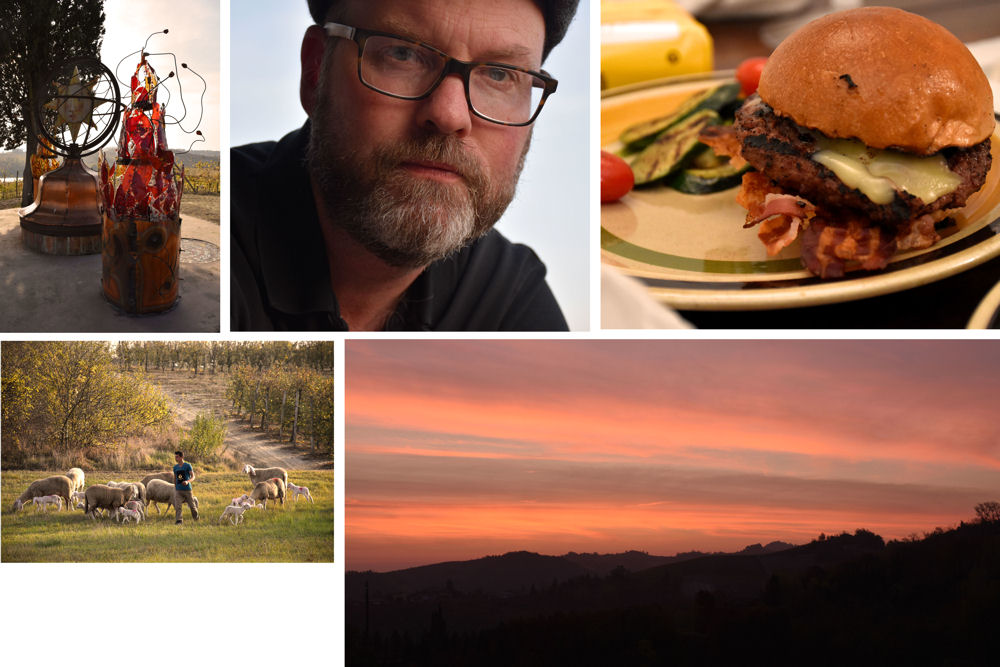 All things close to home, including our delkcious burger (no trulffle this time) and a beautiful sunset.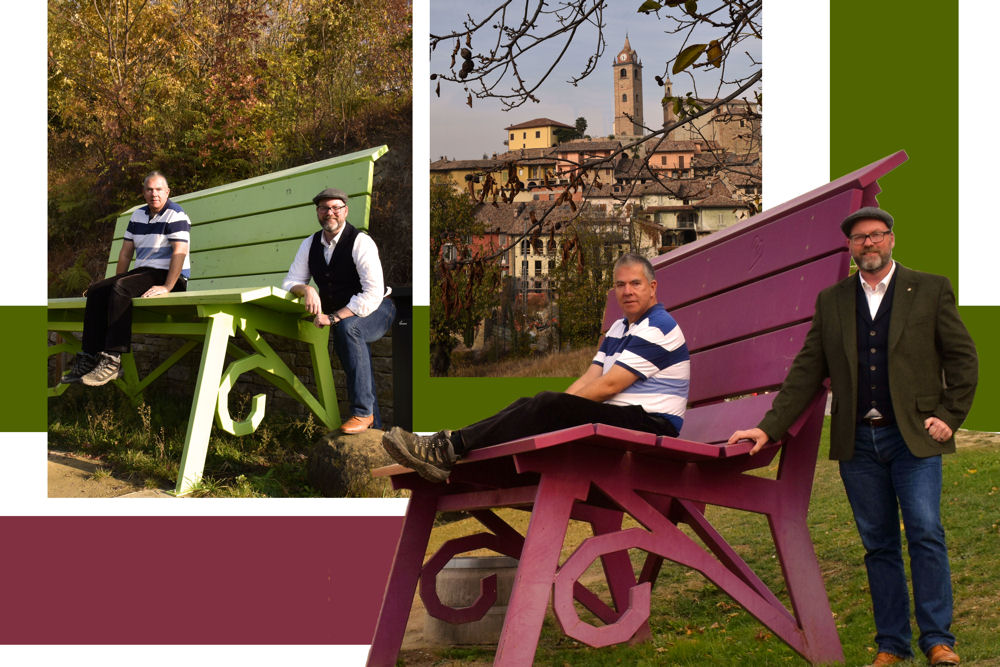 We found a number of benches on Thursday.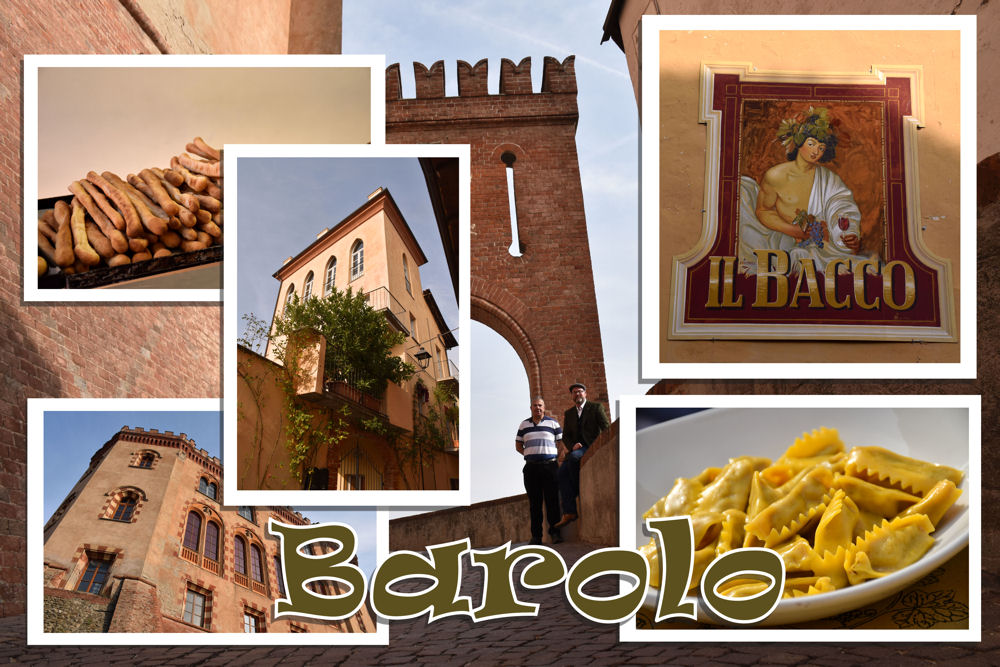 We returend to Barolo, where we stayed in the pictured tower in 2012. We ate in the sunshine and drank Barolo wine, of course.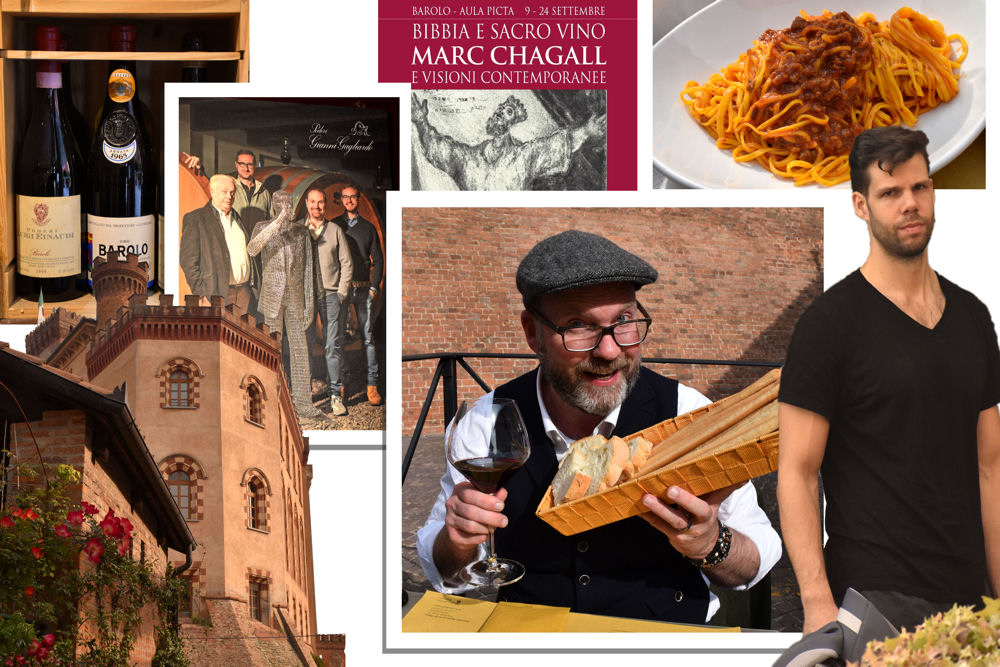 We bought wine from the same man as last time, saw an exhibition of Marc Chagall's Bible drawings, and ate local tajarin pasta with ragù and grissini, which originate in Piemonte.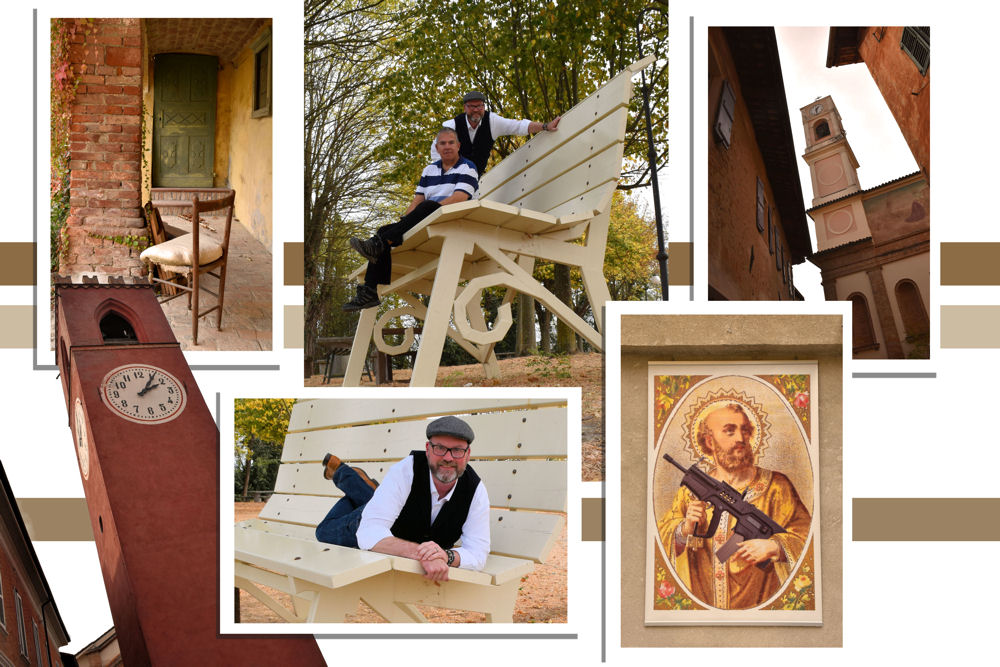 In the White Bench town, there was an artist's house and an exhibition based on saints with weapons..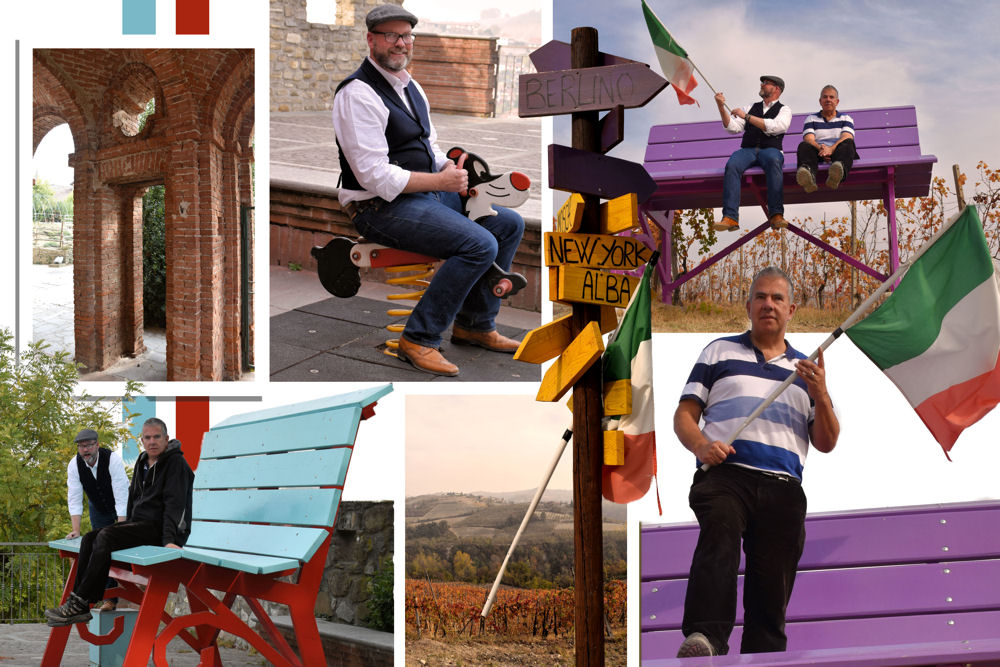 We found and made use of the Italian flag at the Purple Bench location.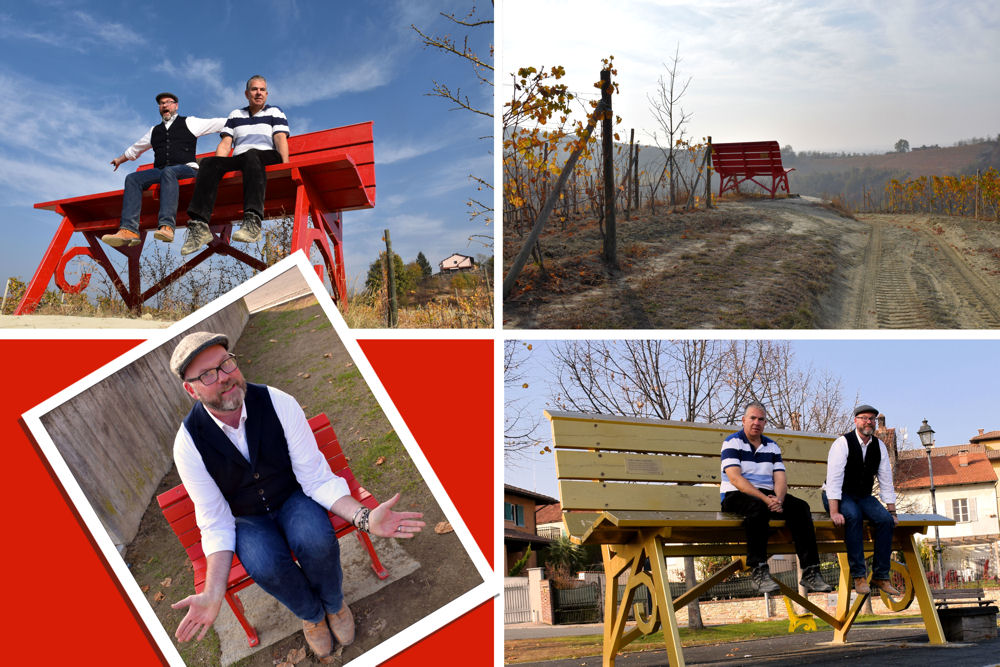 After the Red Bench, our final one was the Golden Bench in Carrù. We bought a keepsake silver bench charm from the local jeweler. Near the gold bench, there were lots of small replica benches like the red one shown.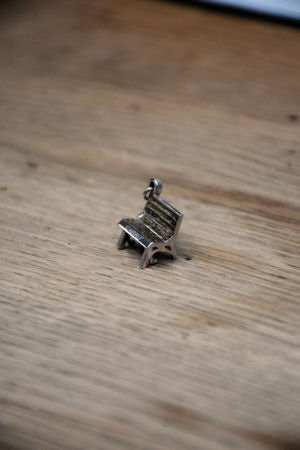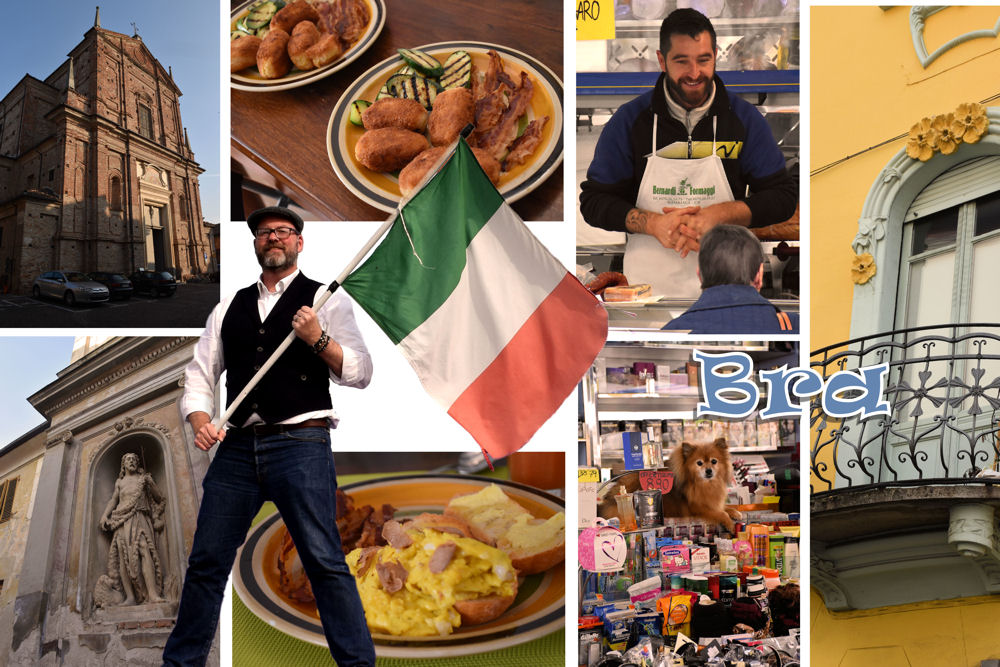 We thought Friday was going to be a bit lackluster, but Bra turned out to be full of things to see and do. We arrived on market day.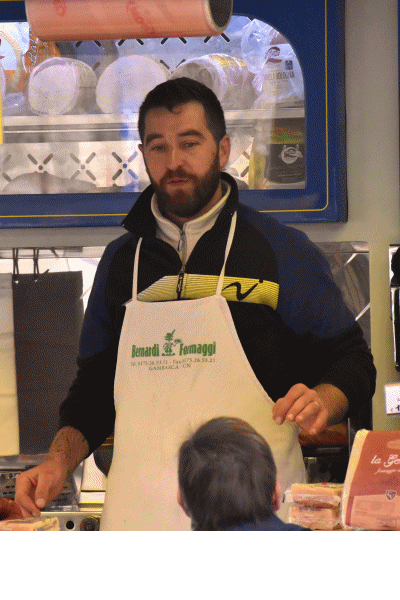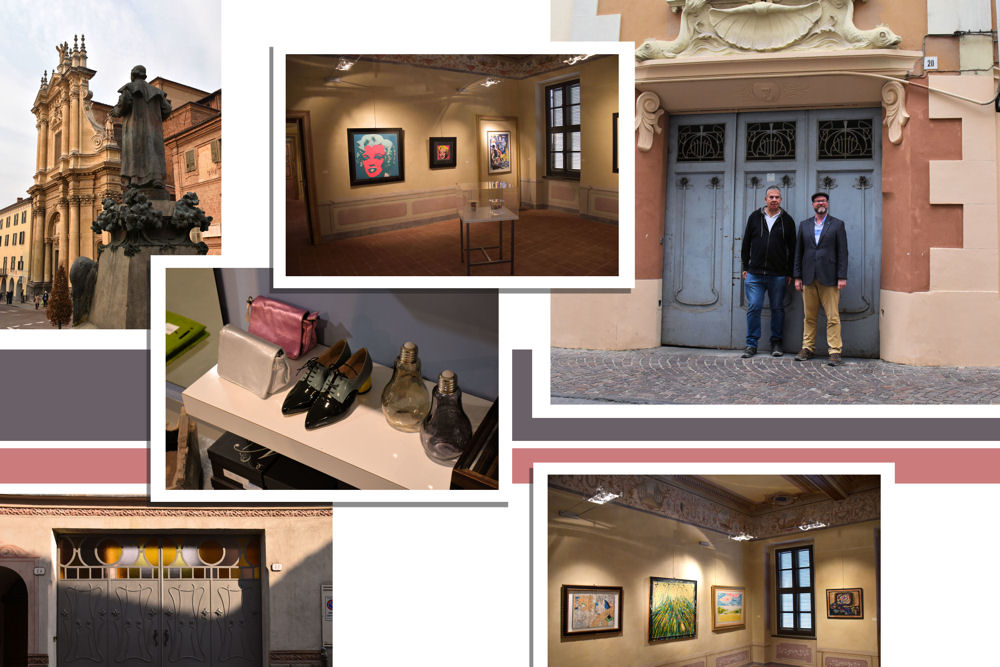 There was a free pop-art exhibition and Art Nouveau in the streets.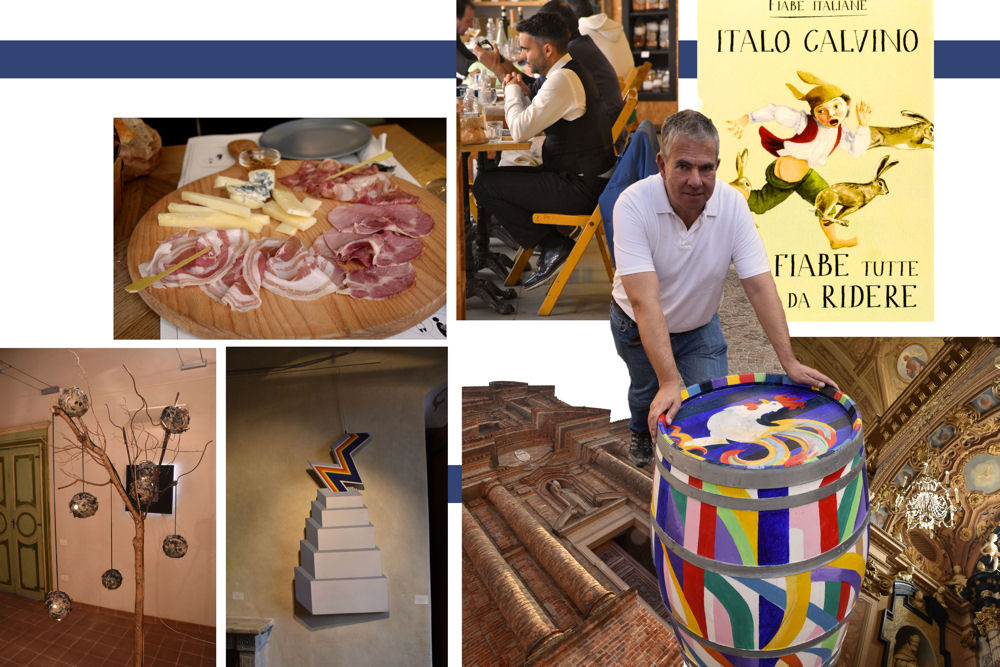 We had a fantastic cheese and meats platter, two glasses of wine, and dessert for 20 Euros and had a view of the amazingly fashionable man shown above.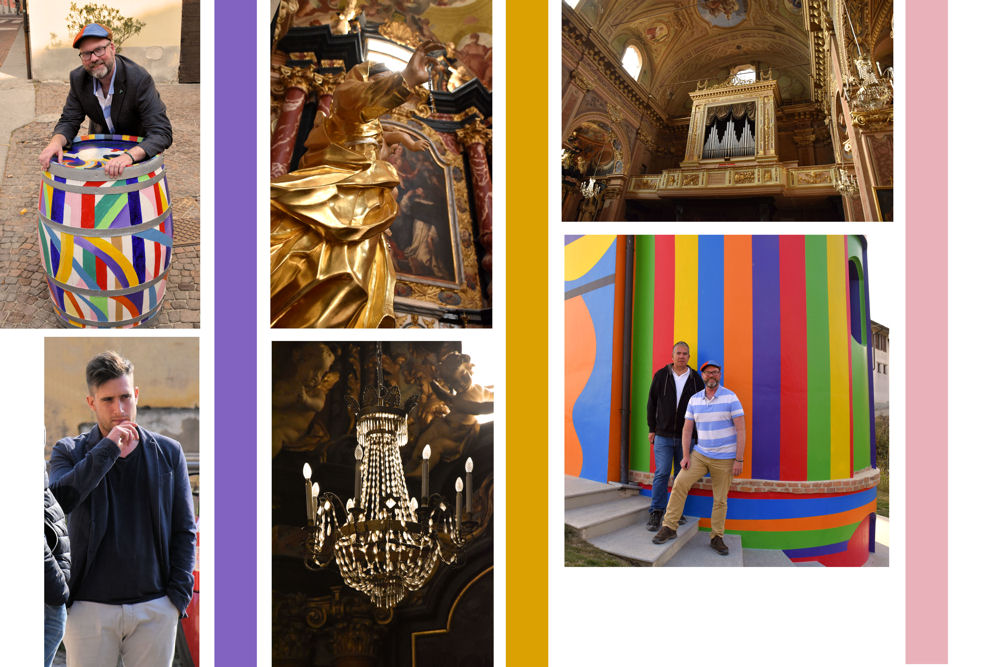 The church is in La Morra, and outside of town is the colourful Cappella di Barolo, designed by New York artist Sol le Witt.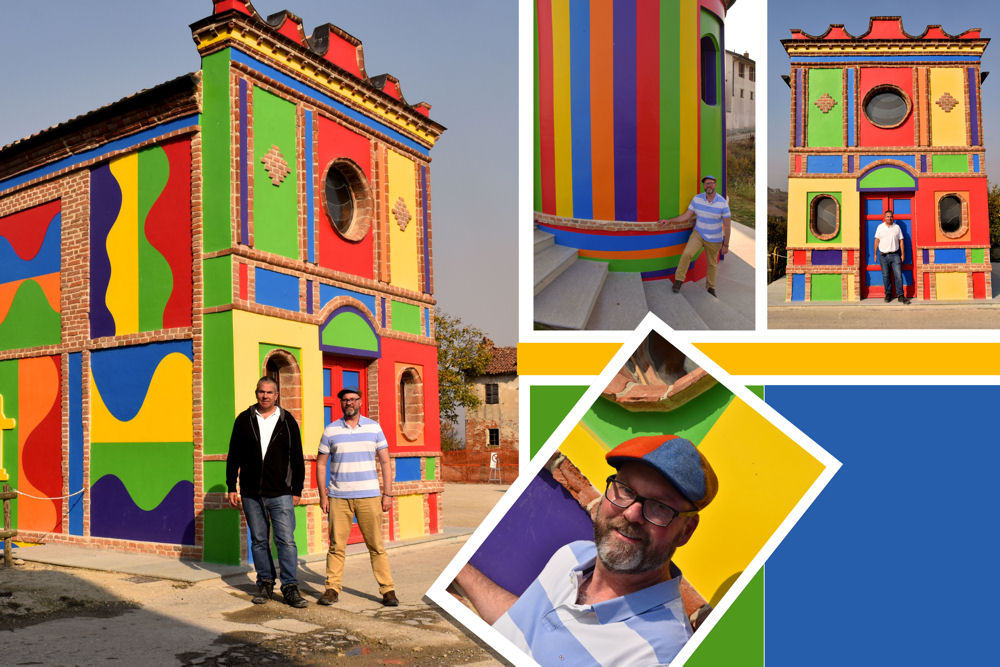 The end of another colourful journey to Italy. Next time, Sicily!