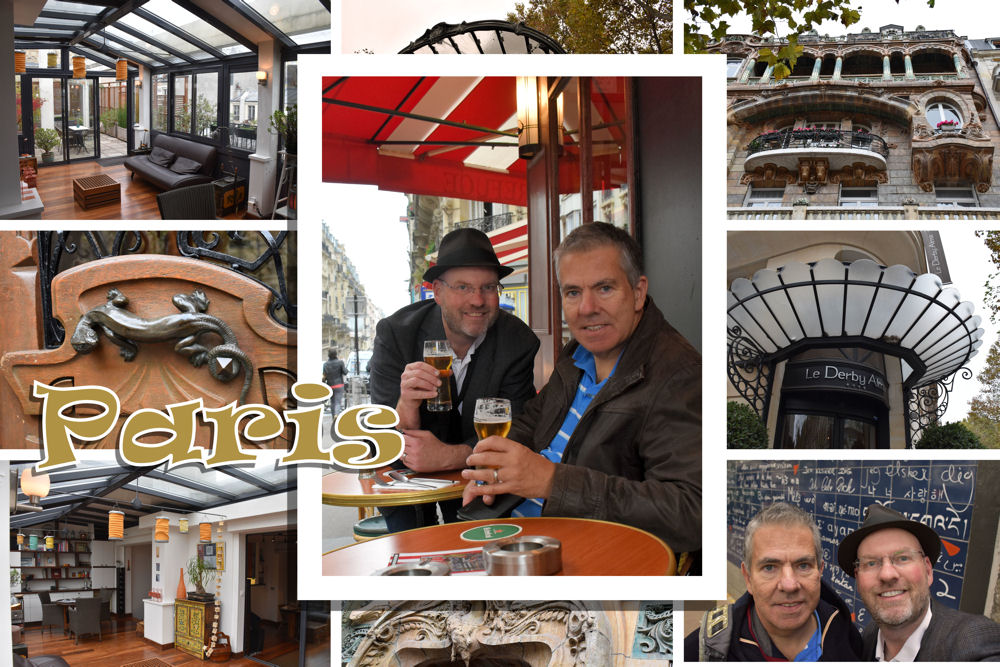 After saying our vows in Paris in 2007, we returned once again to celebrate our 18th anniversary in the City of Light. We stayed in a lovely Montmatre apartment within walking distance of Le mur des je t'aime. Click HERE to see last year's anniversary in Budapest, HERE to see last year's anniversary in Bruges and HERE for other photos from autumn 2015. Our last trip to Paris was Christmas 2014.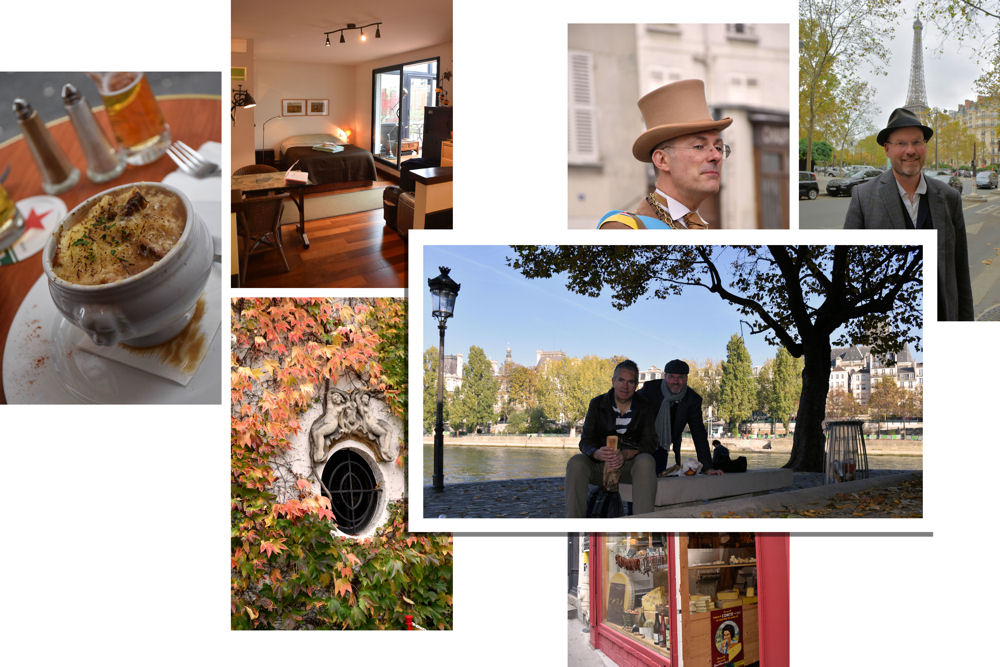 On our first day,we explored the Montmartre area, eating French onion soup for lunch, and ventured out to see more of the city we love.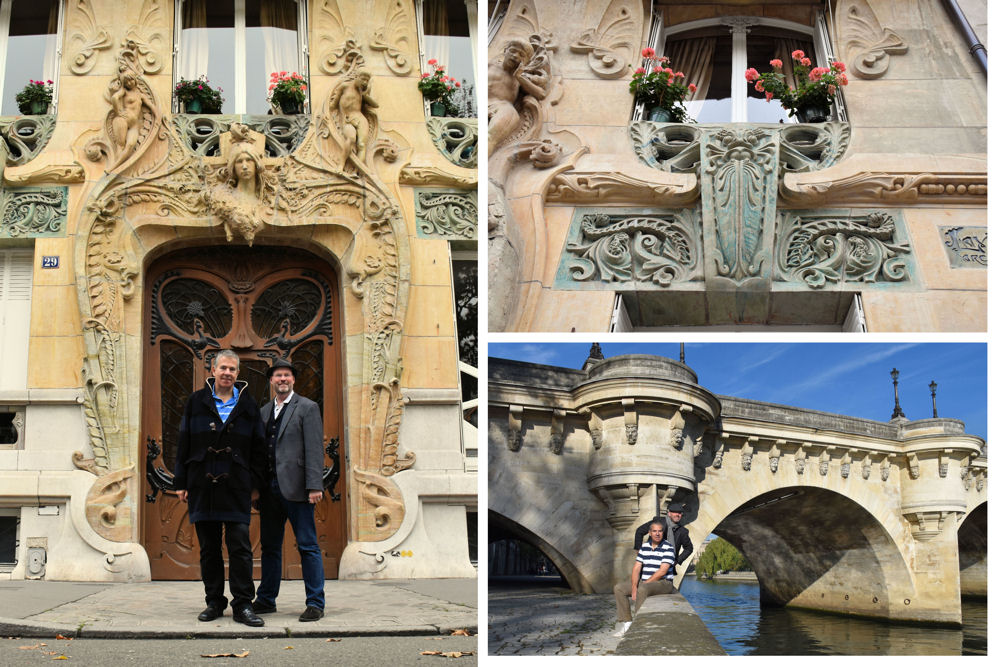 Our quest for Art Nouveau led us to 29 Avenue Rapp, with its fantastic doorway.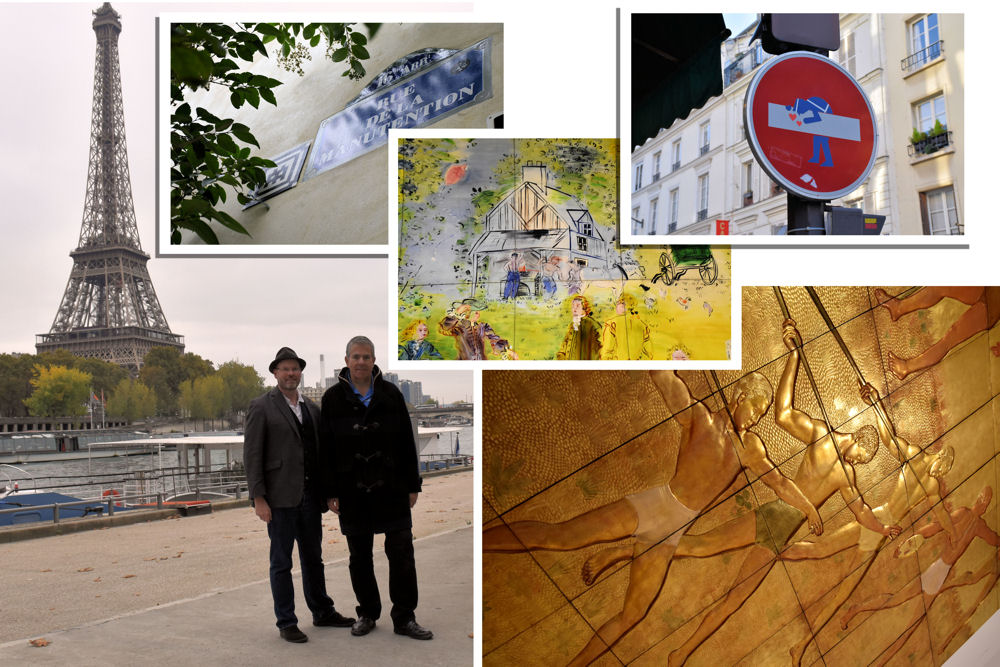 In the Eiffel Tower area, we found some street art by Invader and Clet (last seen in Florence) and went to the Museum of Modern Art City of Paris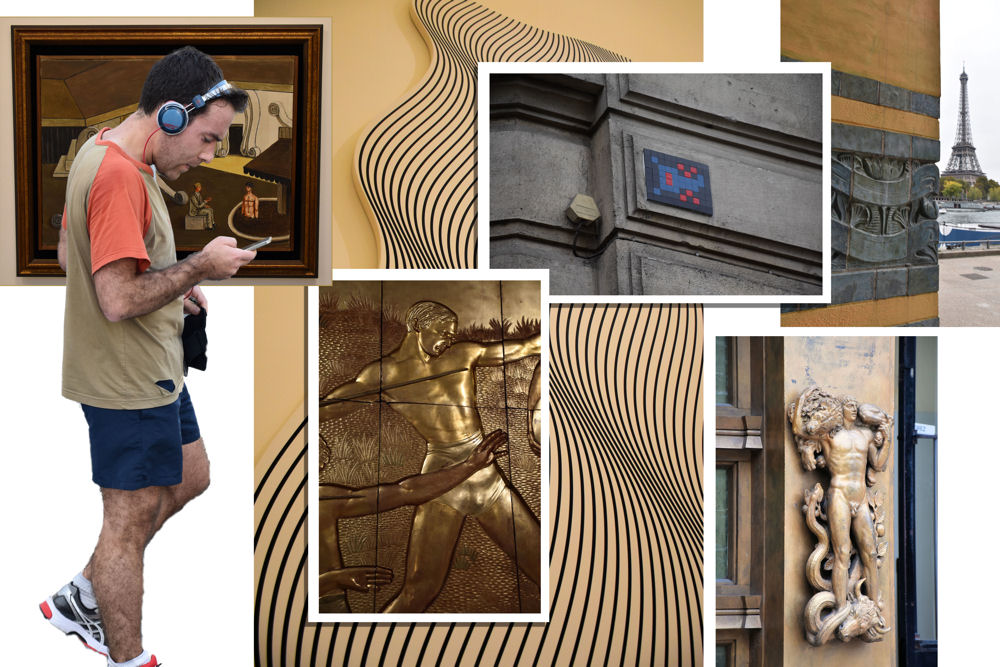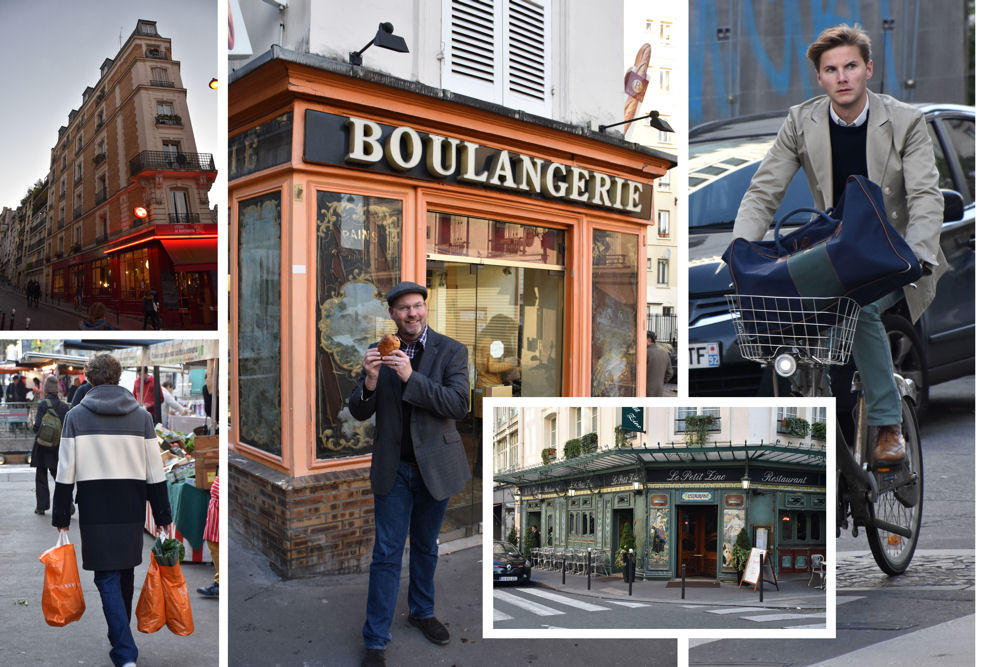 Our neighbourhood had everything we needed, including an excellent café and boulangerie. We saw a man at the Raspail market wearing that gorgeous Eden Park duffel coat.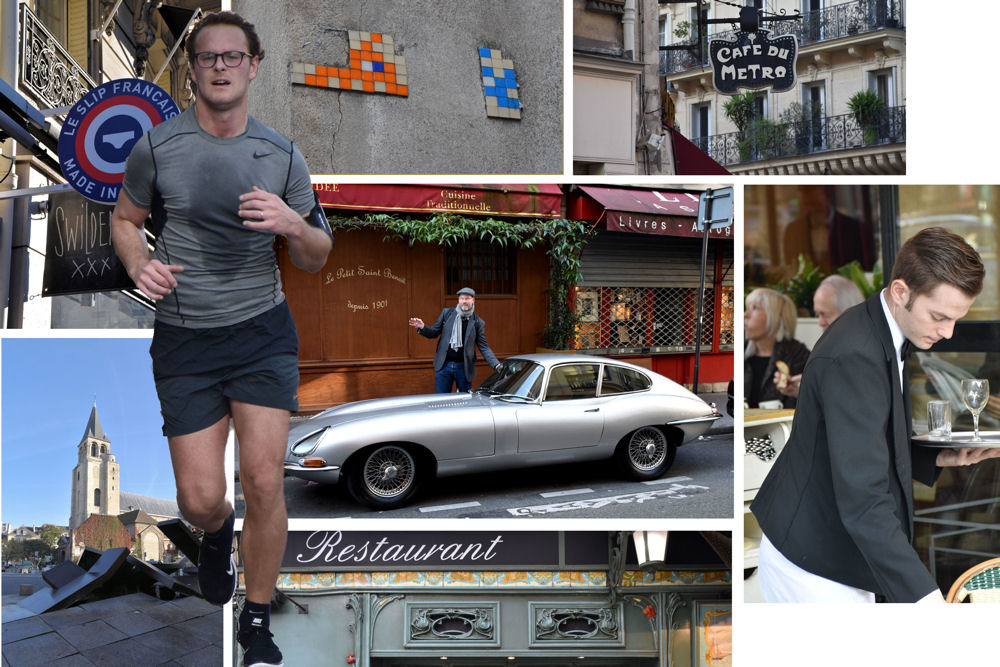 The Saint Germain area of Paris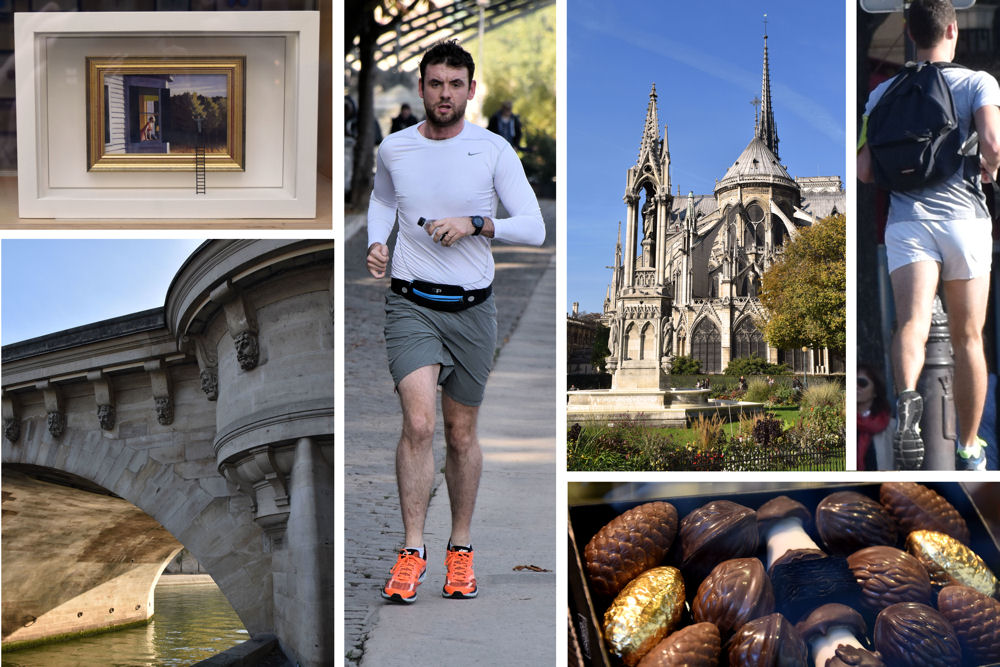 We saw the box frame idea in a gallery and are keen to re-create it at home with souvenirs from our trip and corks from anniversary champagne bottles.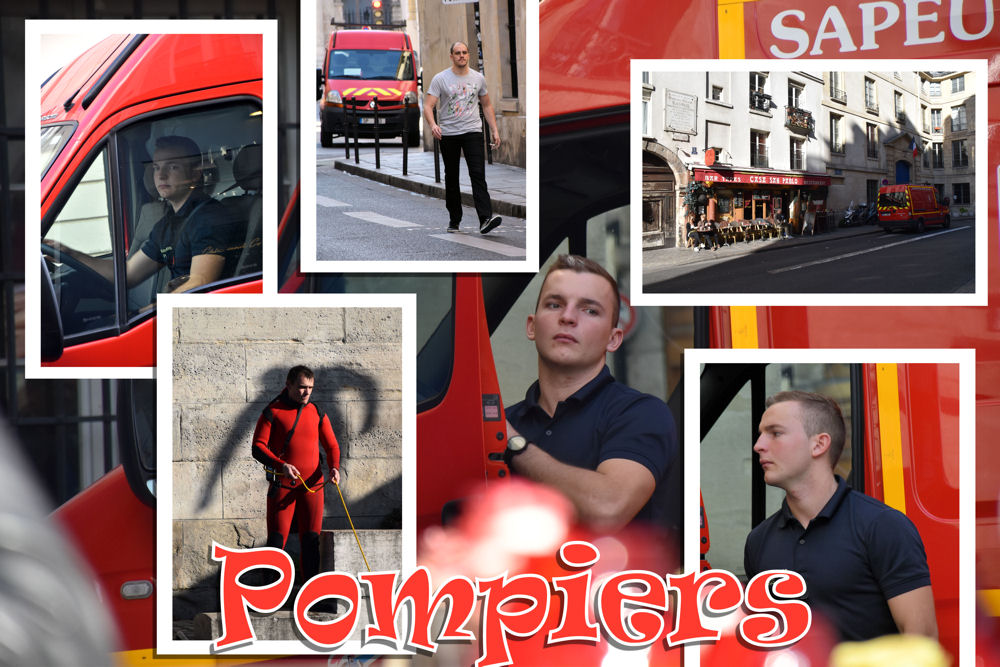 French firemen! Always a treat, especially on my birthday in 2012, when one was shirtless.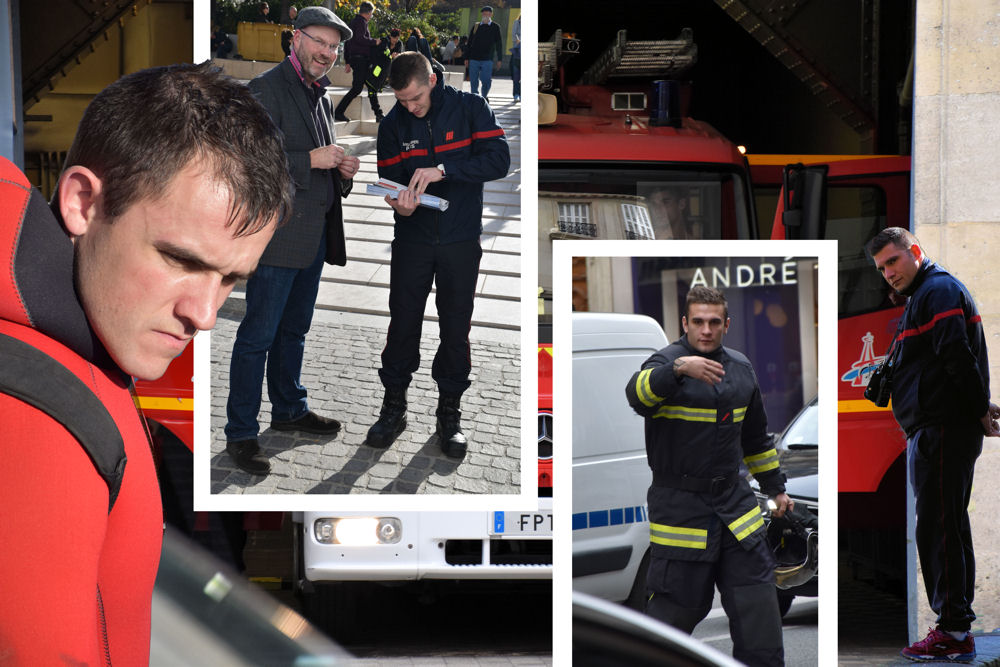 There were lots of pompiers on the streets selling calendars for charity. I bought one near Les Halles.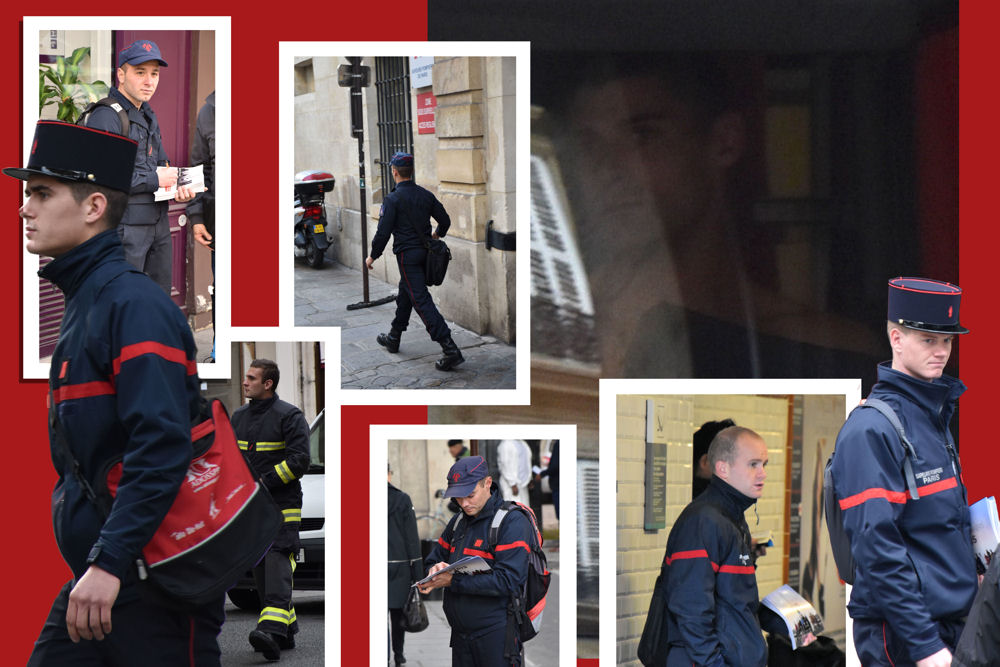 If you look carefully in the photo above, you can see a fireman pulling on his shirt in the cab of the fire engine.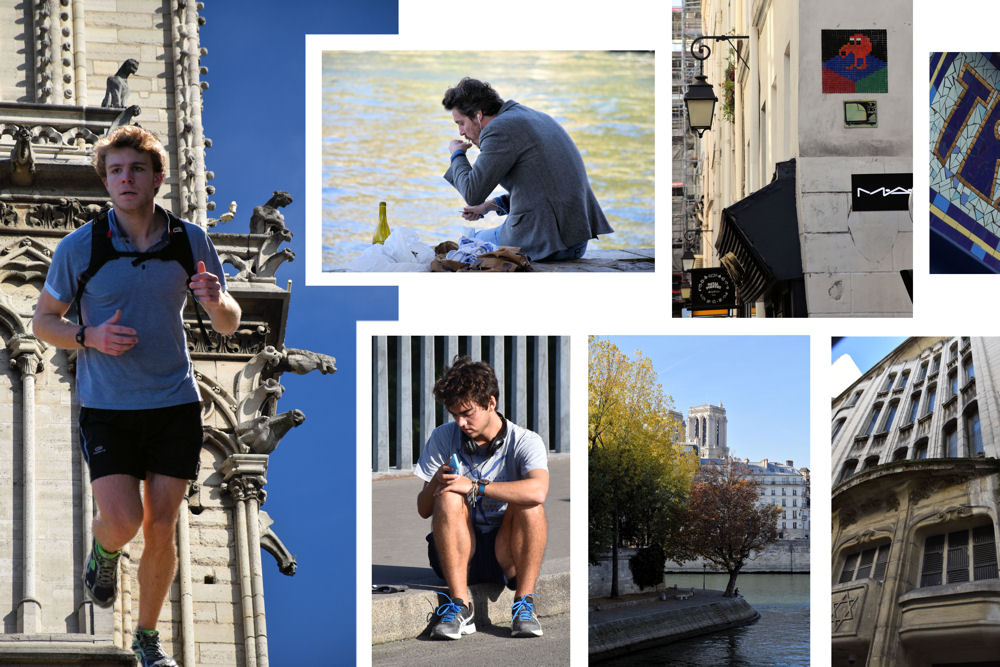 The cool man above was enjoying oysters and white wine near our bench. We also discovered that the synagogue was designed by Guimard.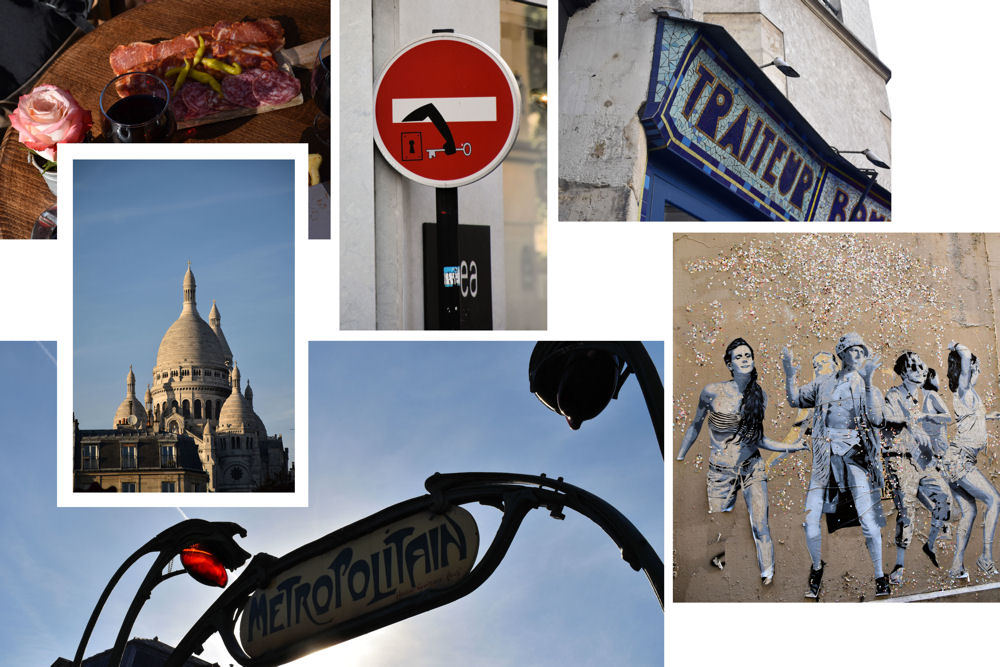 Tapas, more Clet, street art, Guimard metro sign, and Montmartre, shortly after our Mec Zone visit.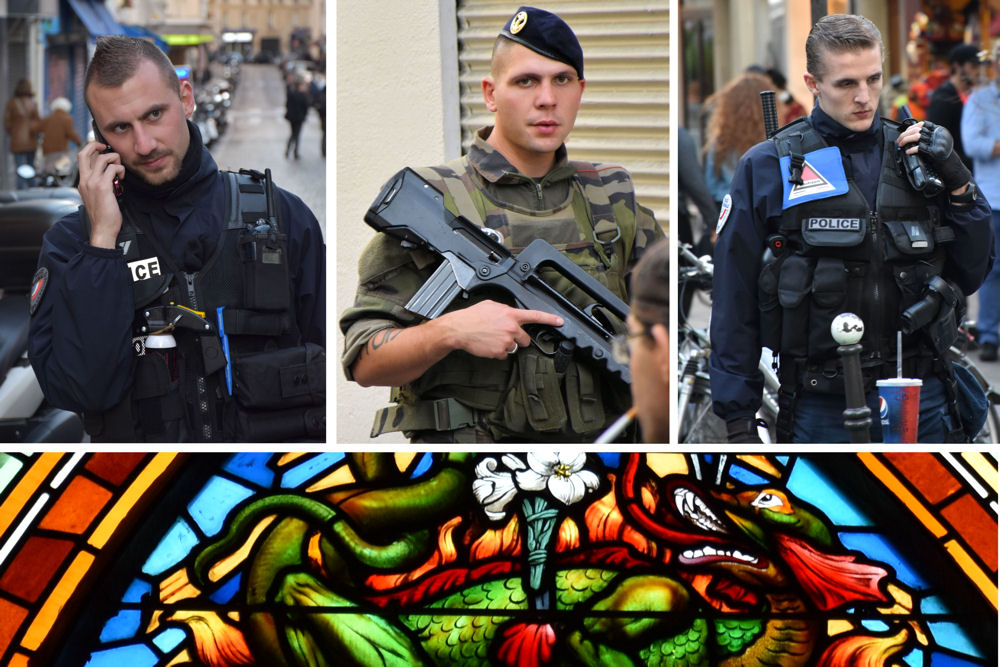 Lots of policemen and military in evidence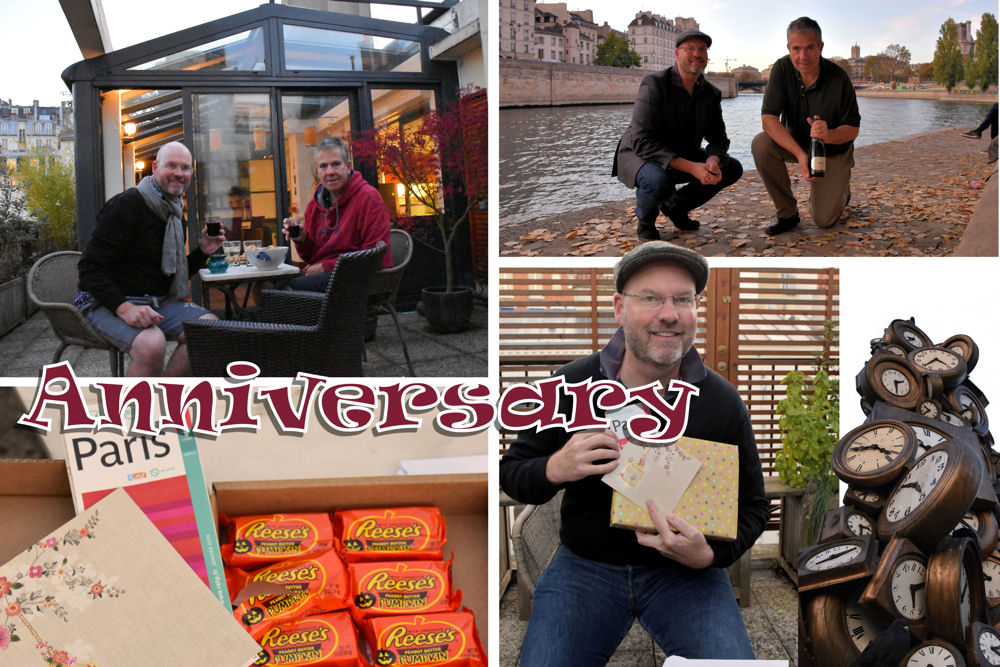 Anniversary treats and one of three return visits to our bench for picnic.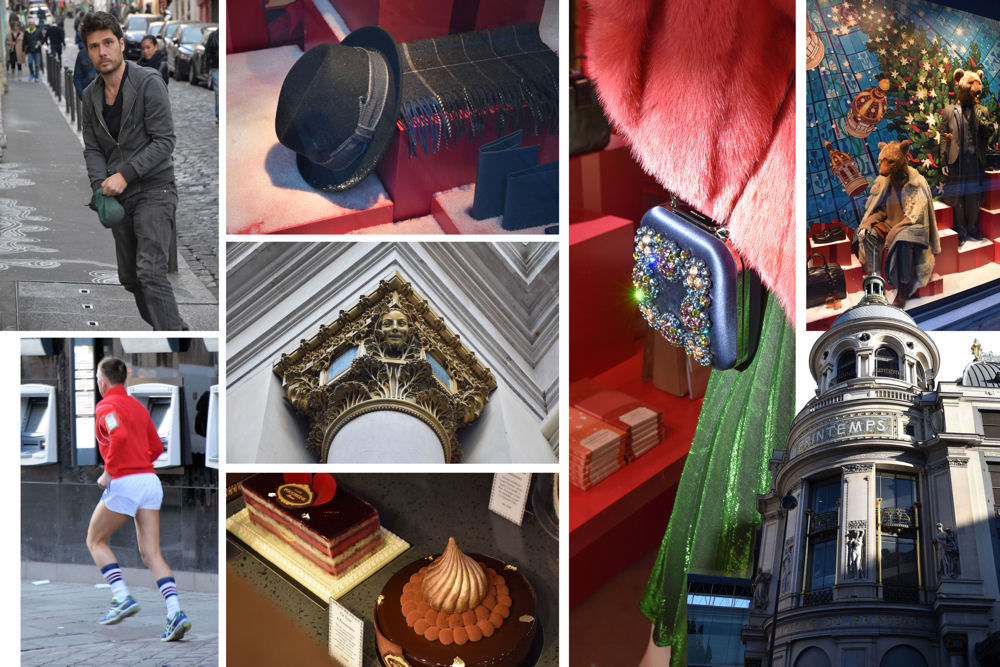 We went to Printemps to see the Art Nouveau glass dome in the restaurant, something we missed at Christmas.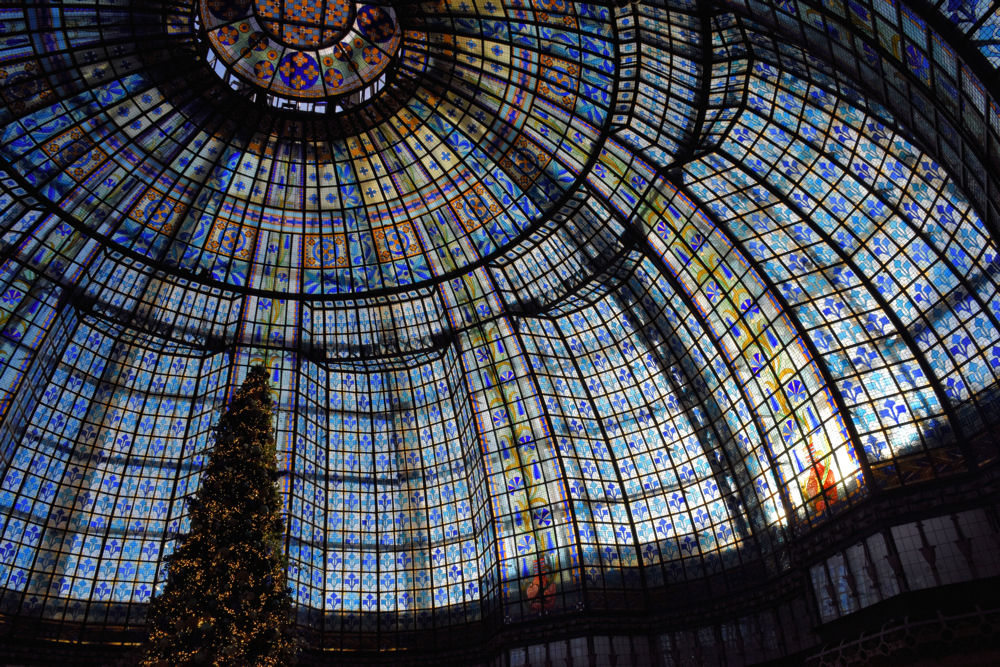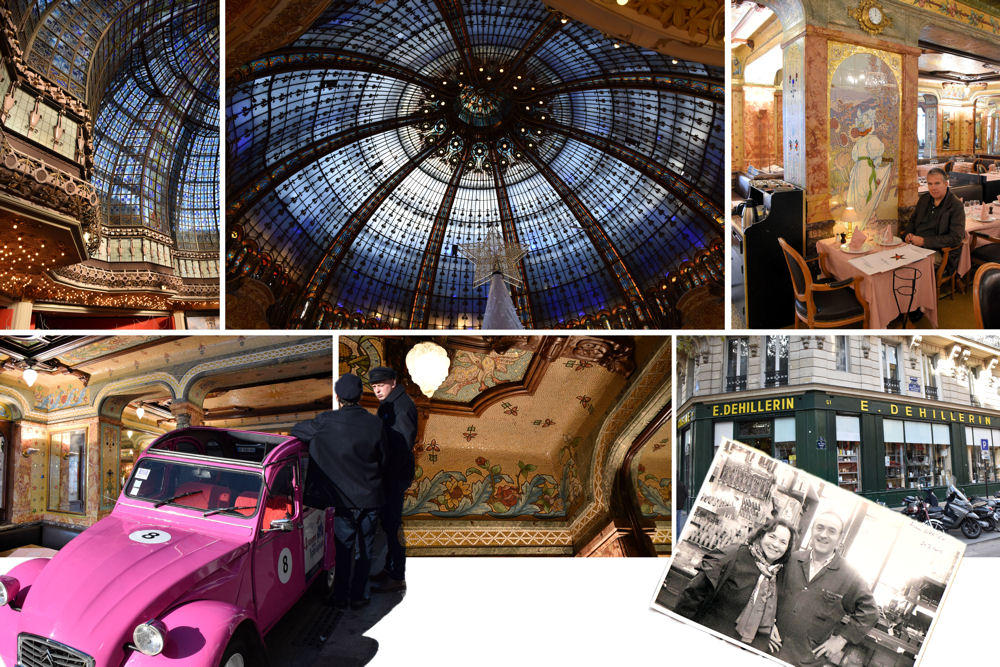 Galleries Lafayette also has a spectacular domed ceiling and we ate lunch at the Art Nouveau restaurant Mollard. Afterwards, I bought a tarte tatin pan from Dehillerin, where Ina Garten shops.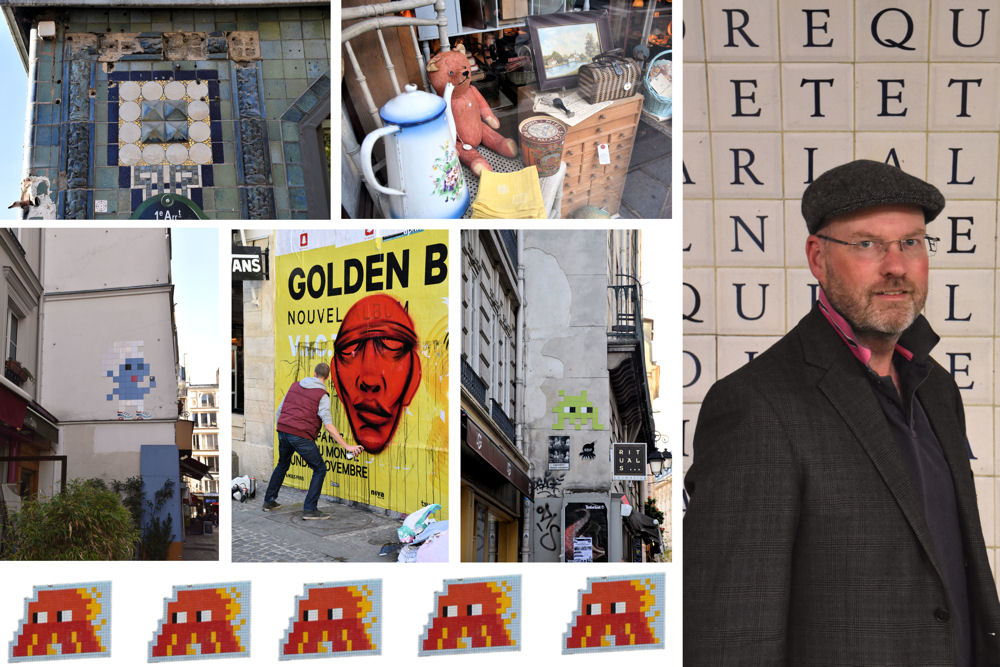 Despite what looks like a city-wide clean-up of Invader mosaics, we saw an increasing number of them during the week. His work never fails to bring me joy. The lettered tiles are in the Concorde metro station.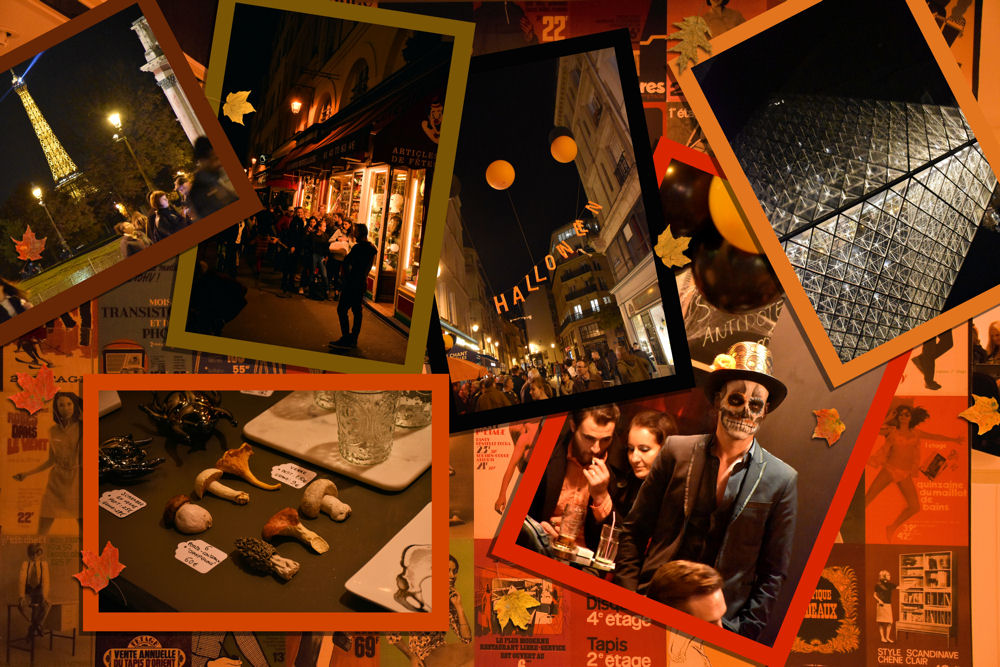 Halloween night in the Marais. People were queueing to buy costumes.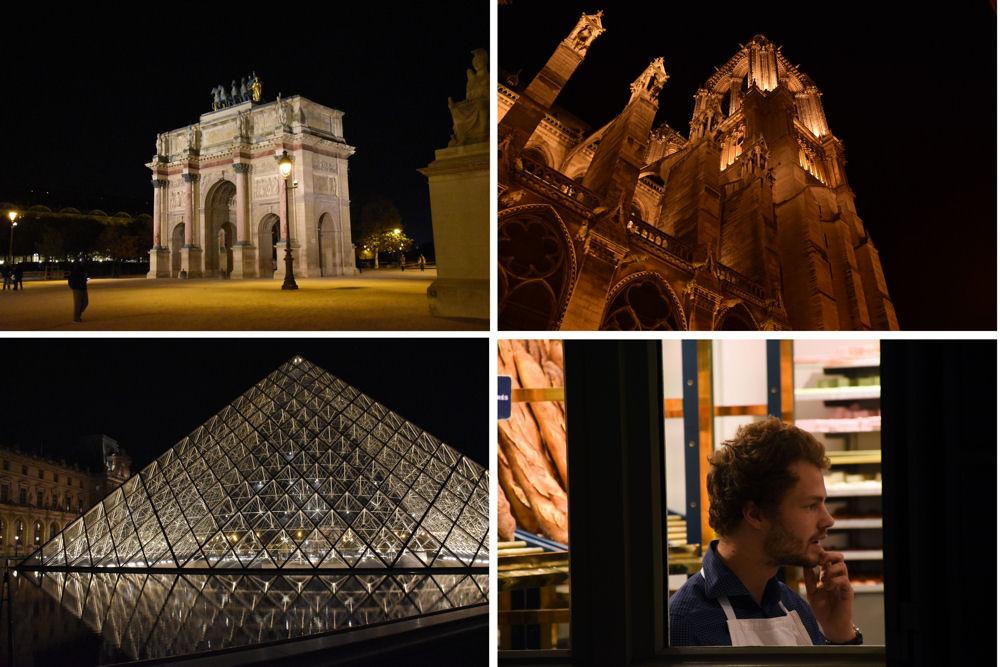 Night-time landmarks on Halloween, plus a cute baker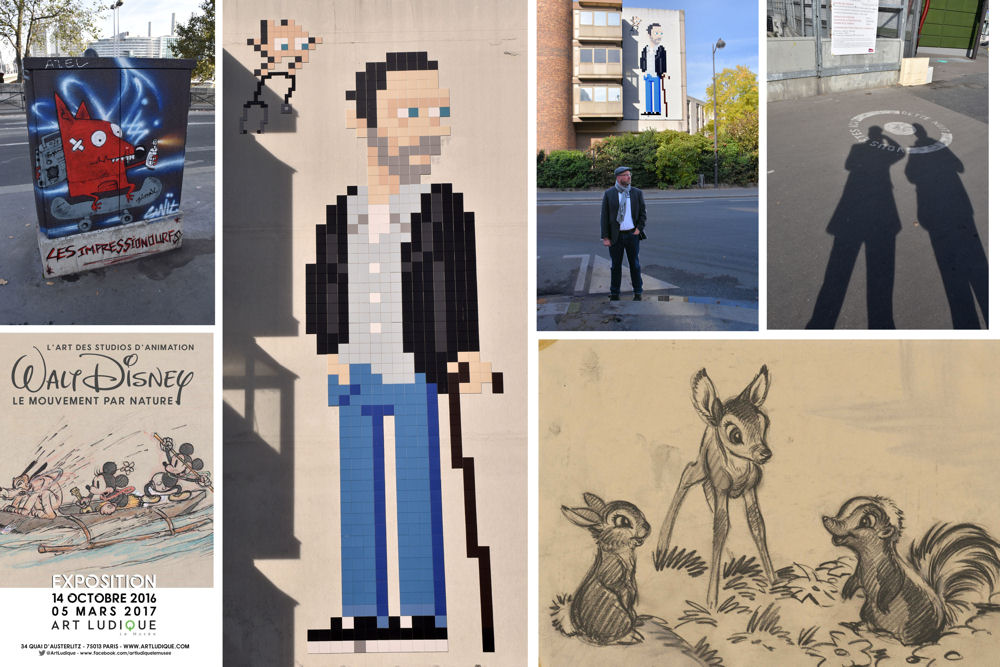 We travelled to the Art Ludique museum to see an exhibition of original Disney artwork, probably one of my favourite exhibits ever. Afterwards, Nick spotted this huge Invader mosaic on the side of a hospital/clinic.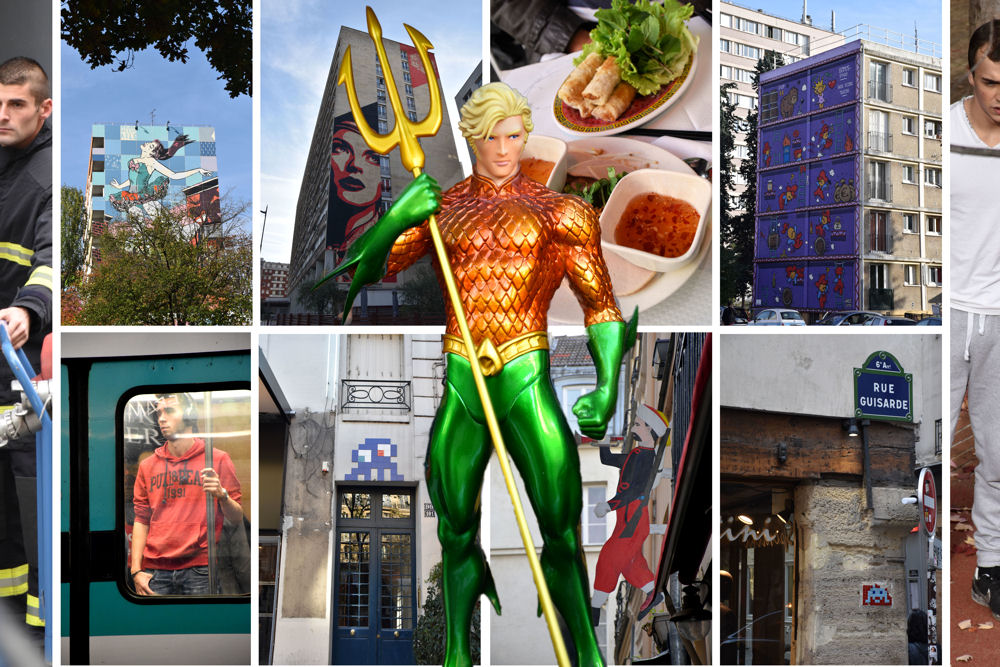 Our guidebook promised interesting sights in the Butte-aux-Cailles area, but we were a bit disappointed, apart from the wonderful Vietnamese food we had at Pho Banh Cuon 14.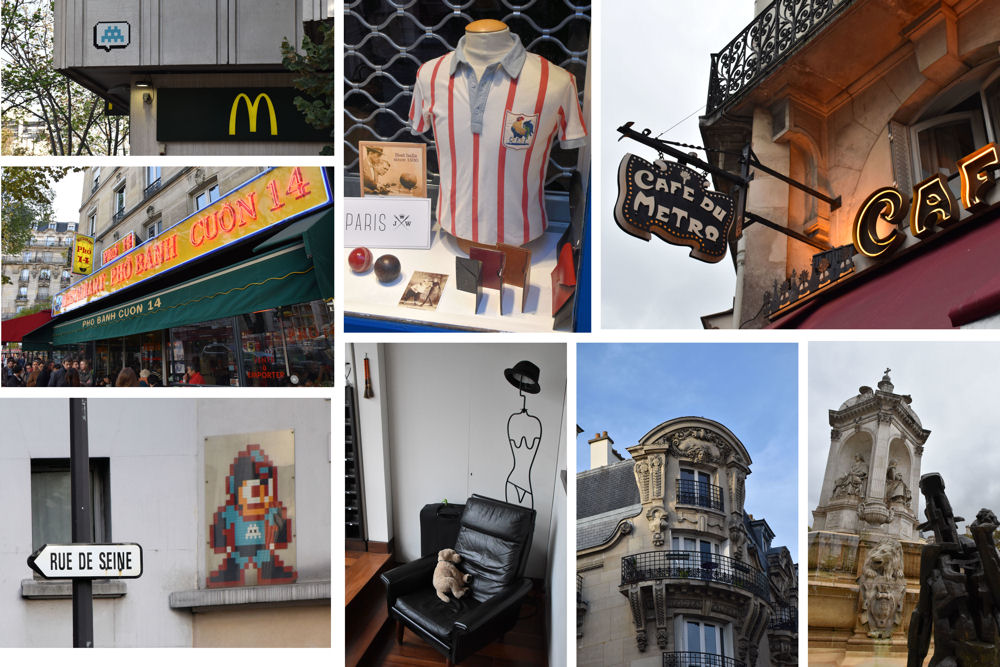 More iconic sights on the streets. Meahwhile, the Lazy Dog snoozes back in the apartment.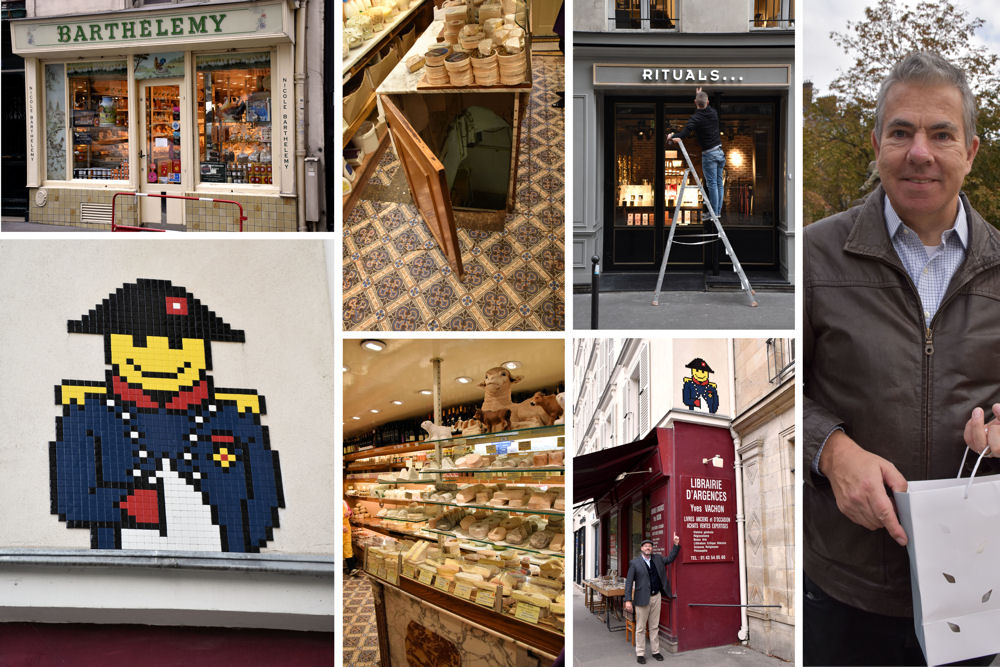 The Food Lover's Guide to Paris led us to Nicole Barthelmy's wonderful cheese shop. She spoke to us in French about Brexit and that crazy man Trump, who hadn't yet been elected. Afterwards, Nick spotted this great Invader work on Rue Bonaparte.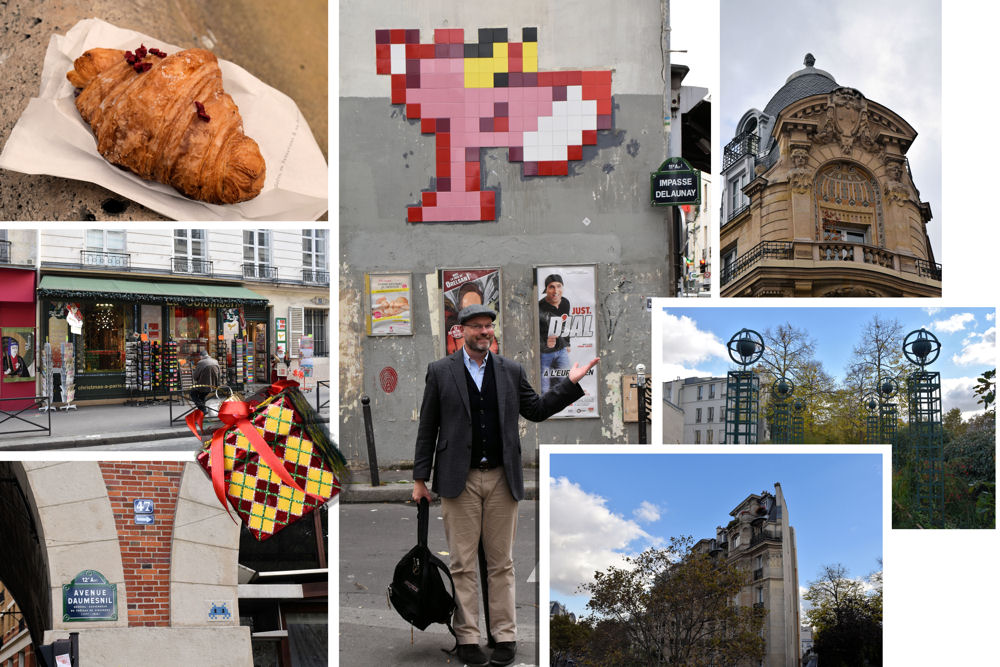 Some wonderful finds: Rose and almond croissants, a Christmas shop to add to our collection, a huge Pink Panther mosaic by Invader, and La promenade plantée, where we ate our Barthlemy cheese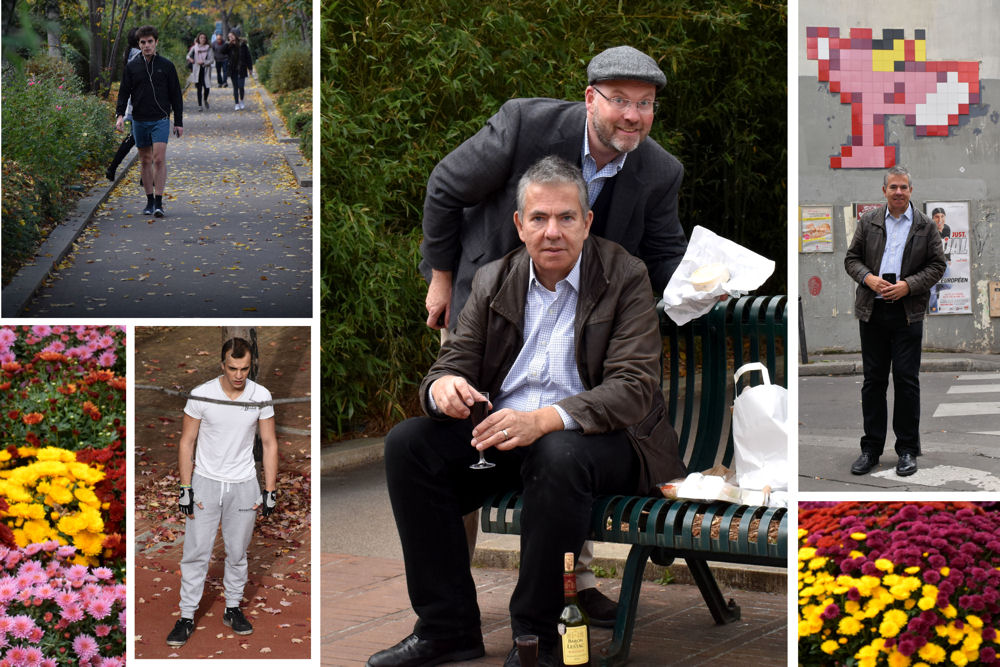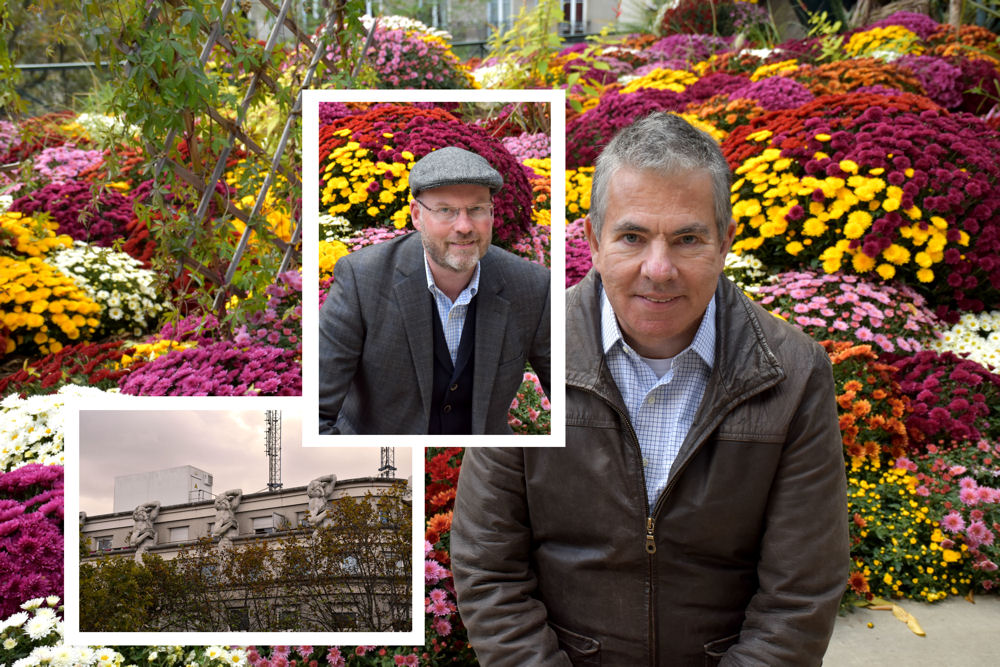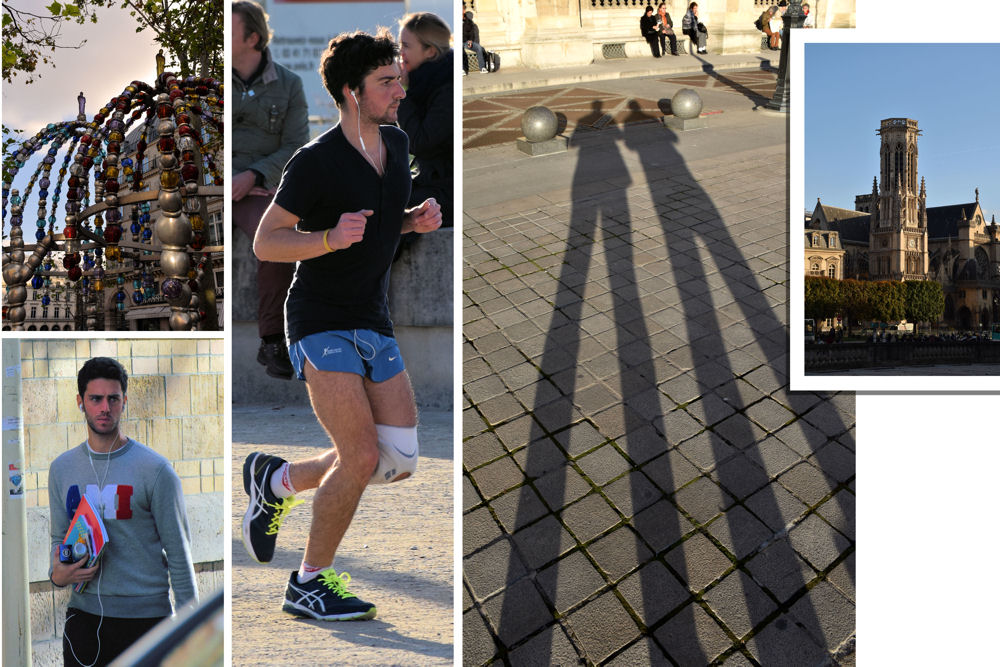 The metro stop near the Louvre, where we bought our little lead figures, long shadows at the Louvre, and some very tiny shorts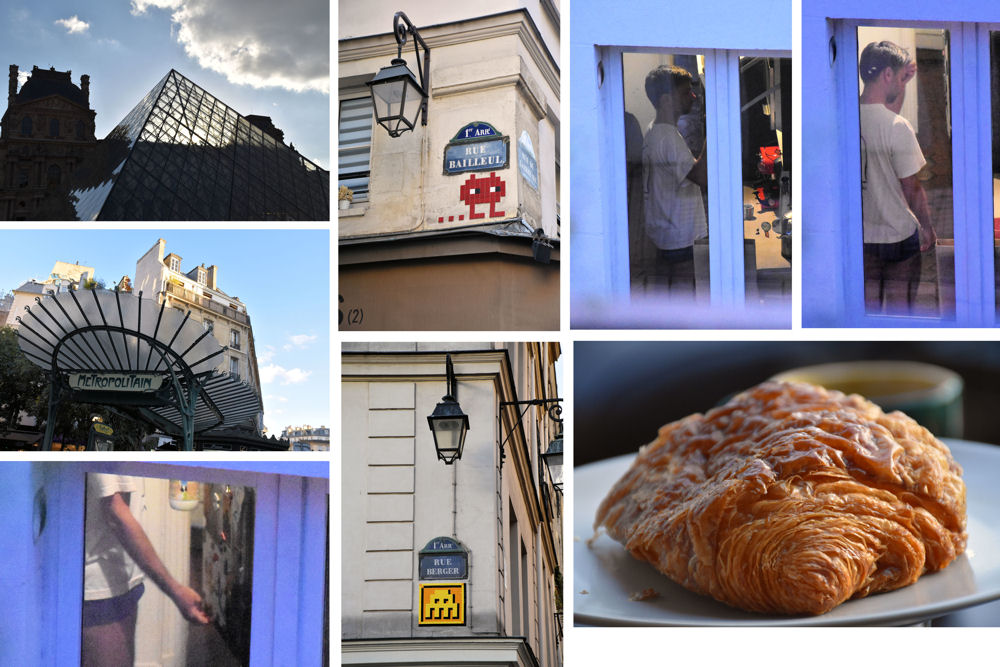 There was a male couple living across the street from our apartment. They tended to eat breakfast in their underwear. We enjoyed croissants at home and on the move.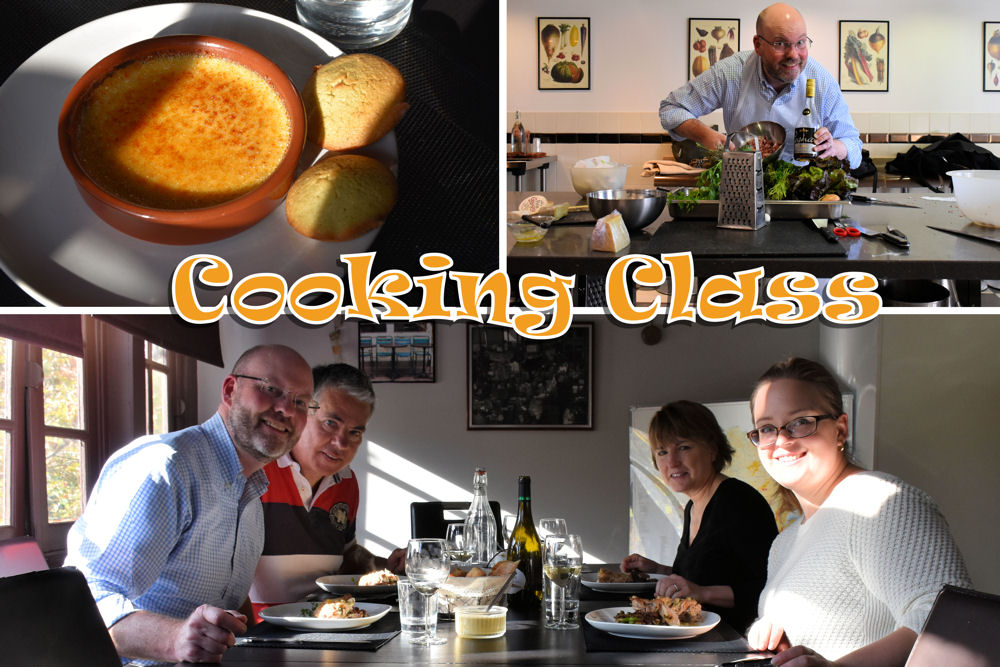 After taking a supberb cooking class with La Cuisine Paris at Christmas, 2014, we returned to do another class together. The results were just as stunning and the day just as fun, as there were only four of us to share the chef.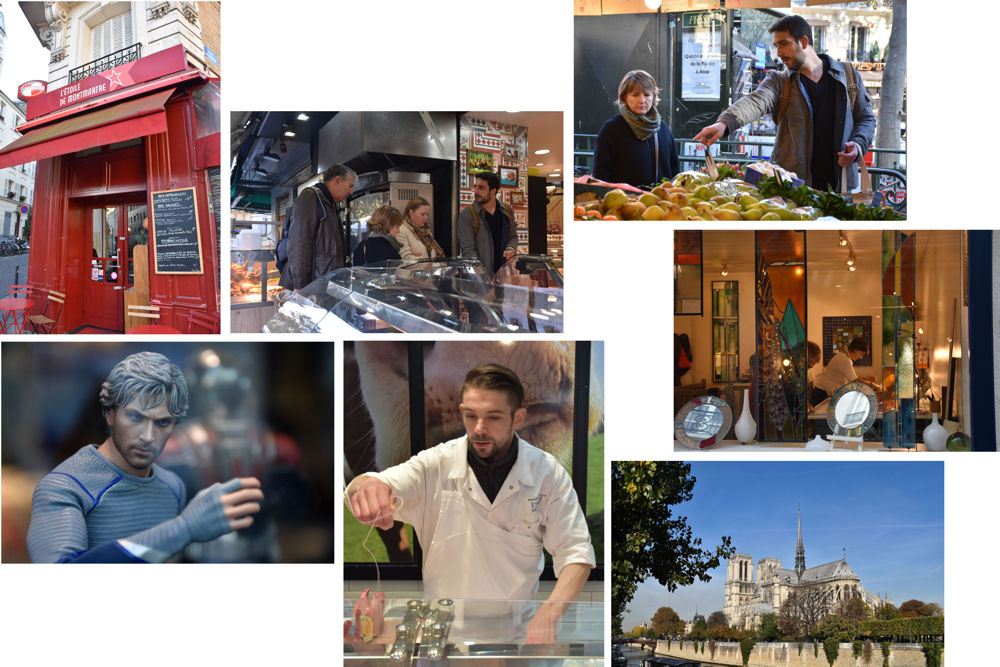 We went shopping beforehand, passing some fun sights on the way back to the kitchen. We decided to buy rabbit, celeriac, and wild mushrooms.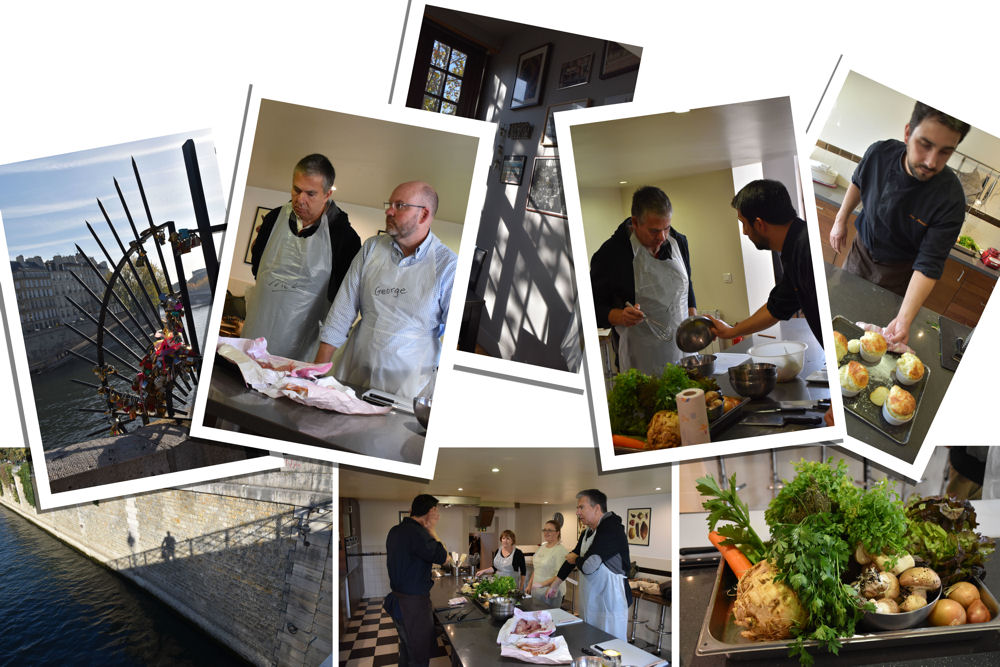 Among other things, we learned a new way to cut onions, how to make a successful crème brûlée, and how to make financiers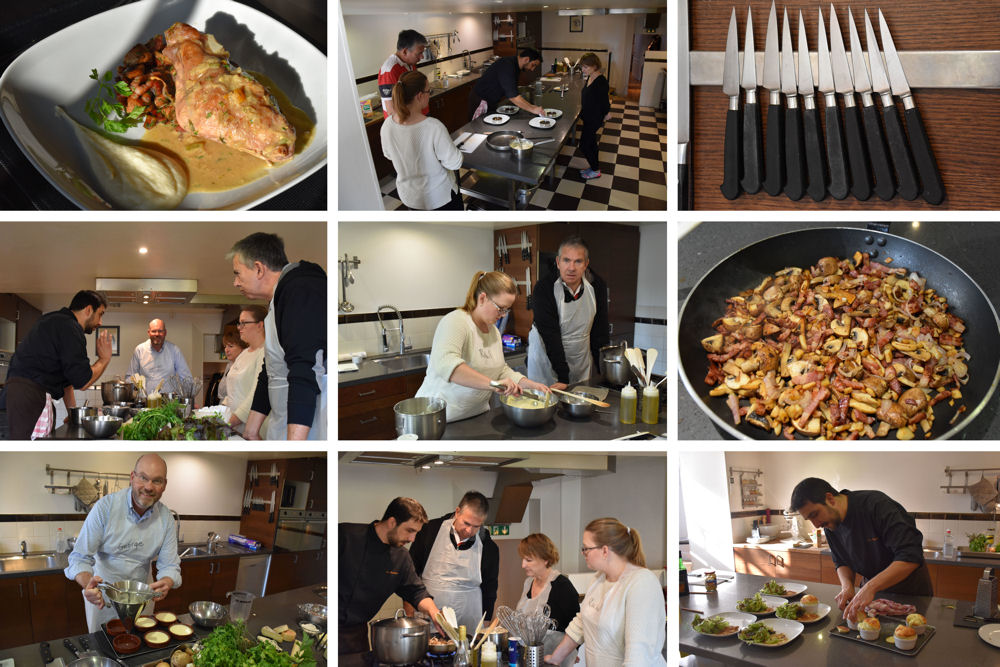 The mushrooms were cooked without any oil in a hot pan, to release their water. Then we added lardons. Ina would say, "How bad can that be?"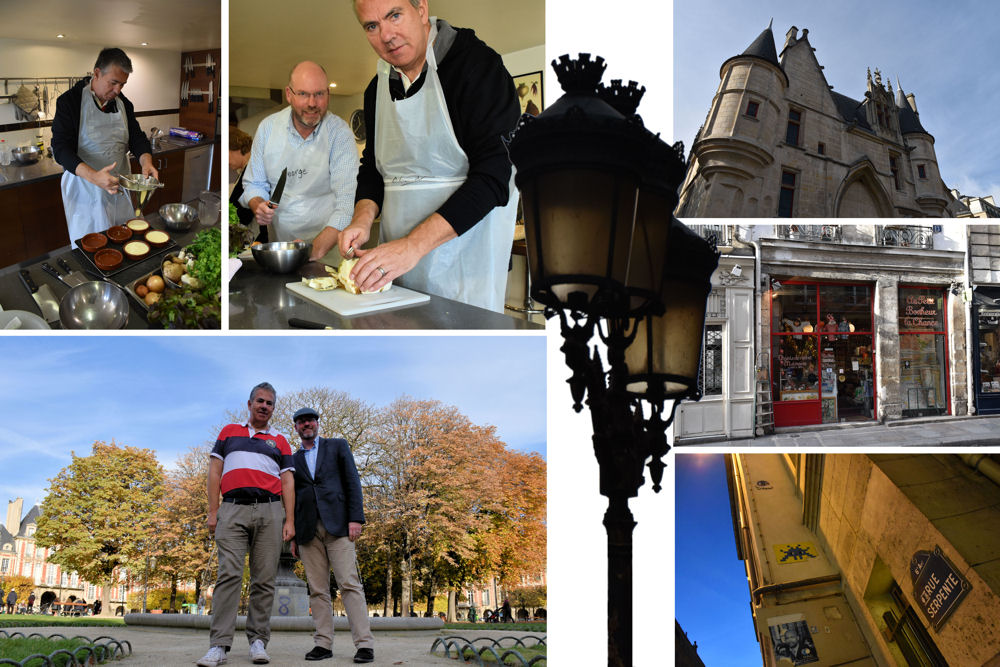 After the cass, we visited the Pace des Vosges and Au Petit Bonheur la Chance, where I bought some vintage linin napkins.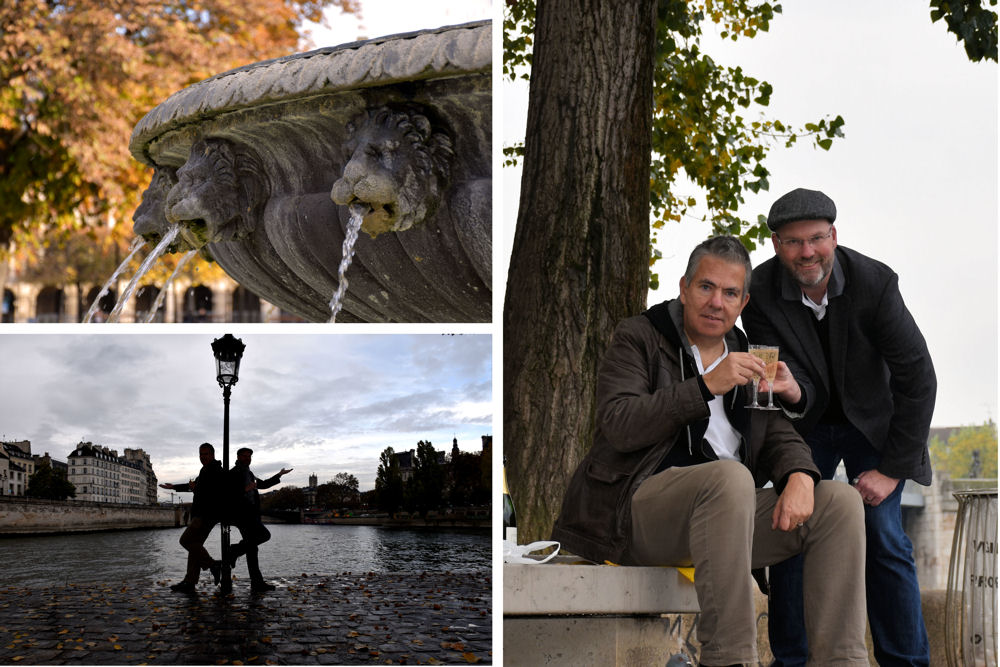 More anniversary memories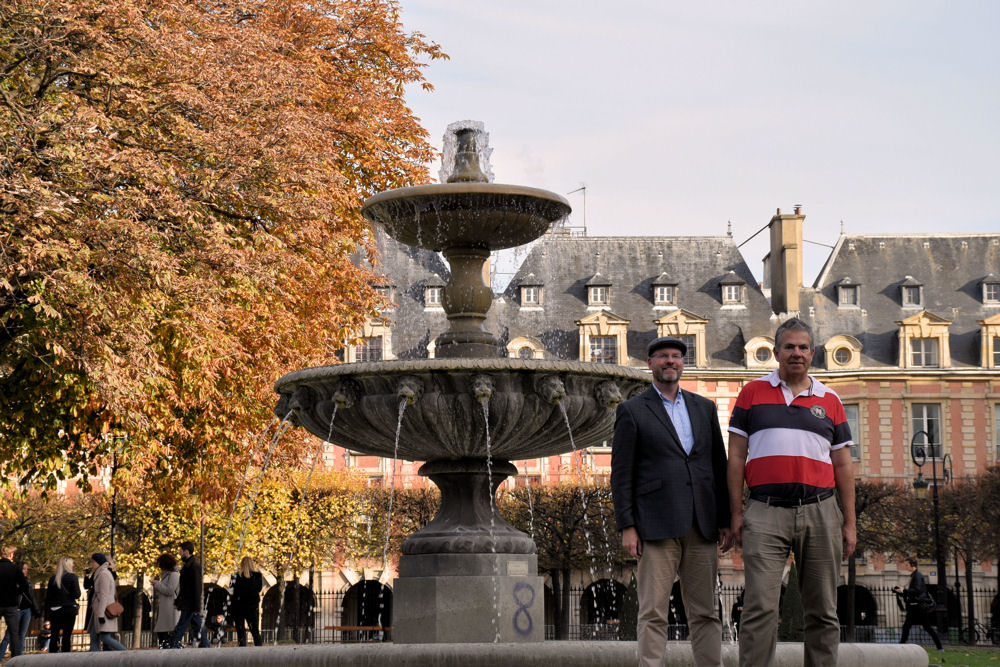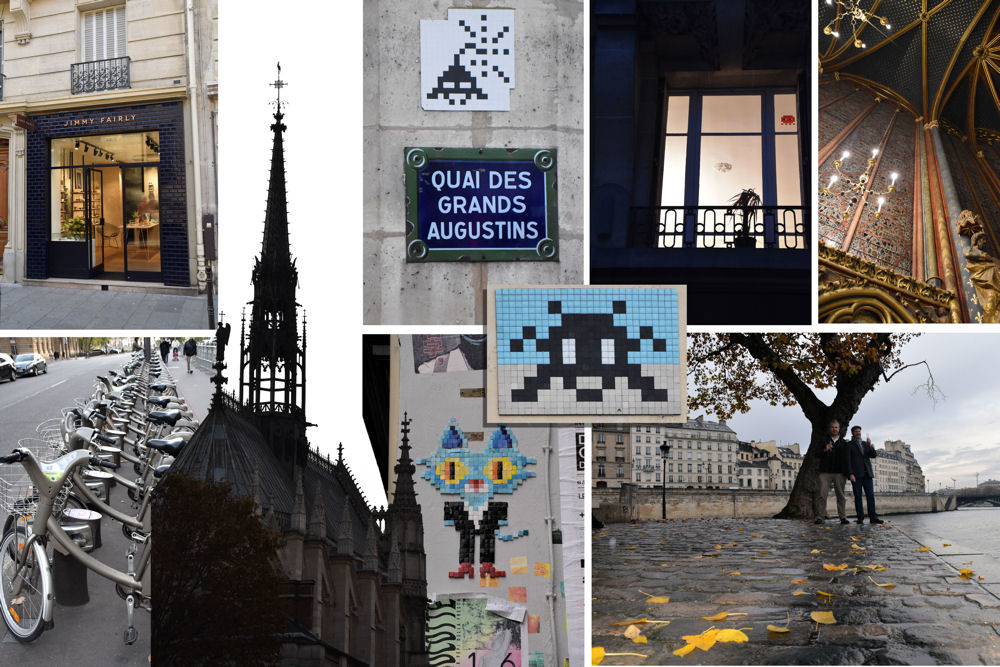 We went to a concert at Sainte-Chapelle, intending to hear Mozart's Requiem. I got the date wrong, so we ended up hearing a string quintet play a transcription of the Goldberg Variations. The viola player got lost a couple of times. "Désole". The mosaic cat was right in front of us at the Open Cafe, where we went several times for drinks.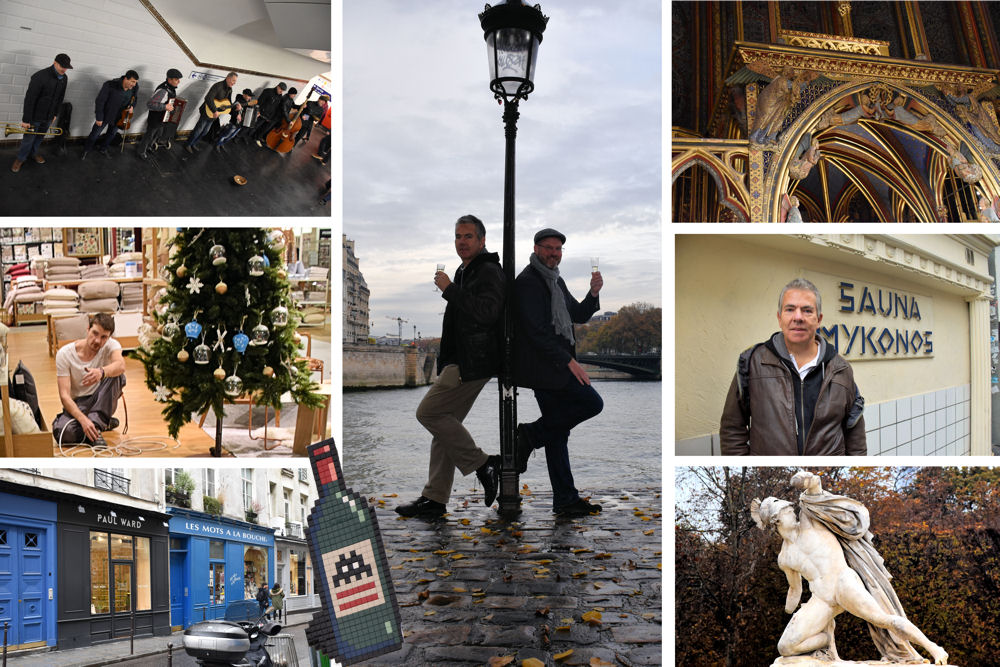 The Eastern European music in the metro was rousing, as was the shopworker in BHV and our visit to Sauna Mykonos. I bought some new glasses frames at Paul Ward on our favourite La rue Sainte-Croix-de-la-Bretonnerie.