Our summer holiday concentrated on the beautifully green and tranquil Umbrian landscape of Italy in July/August 2014. Click HERE to see photos from last summer in Liguria, HERE to see photos from Tuscany 2012 and HERE for photos from 2011. For other Summer 2014 photos, click HERE.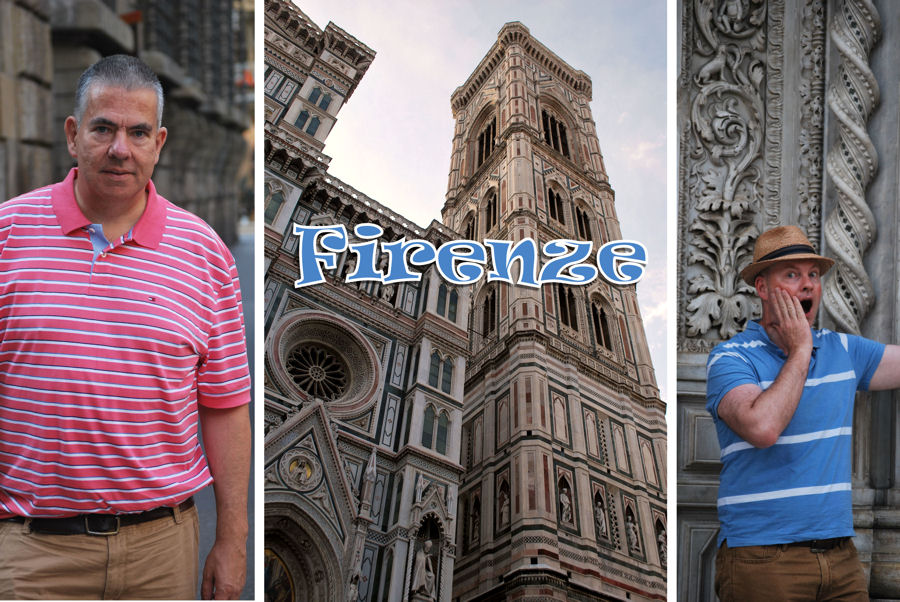 We flew into Florence on Friday and went into the city early in the morning on Saturday to explore and see the duomo almost entirely tourist-free.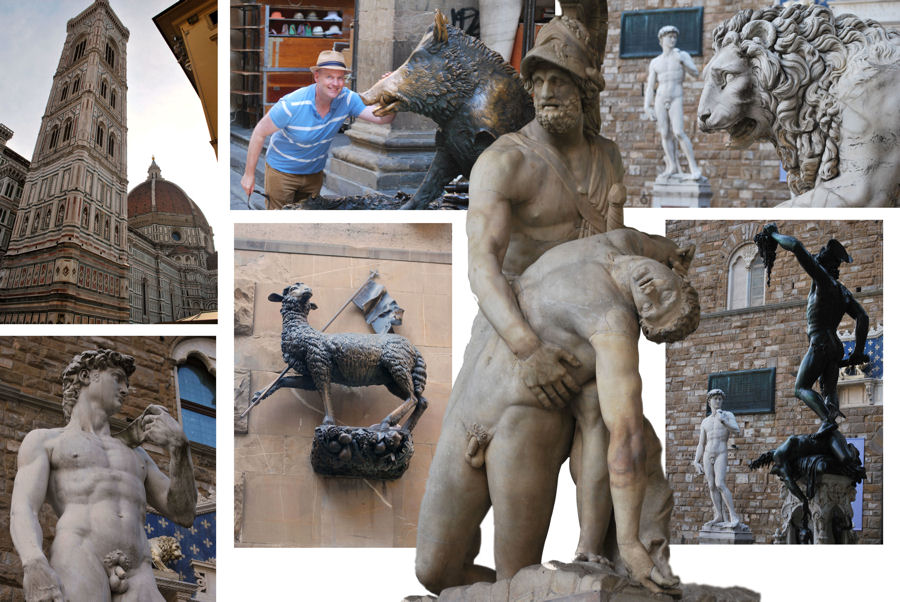 The amazing statuary never fails to impress. We saw the real David in 2011.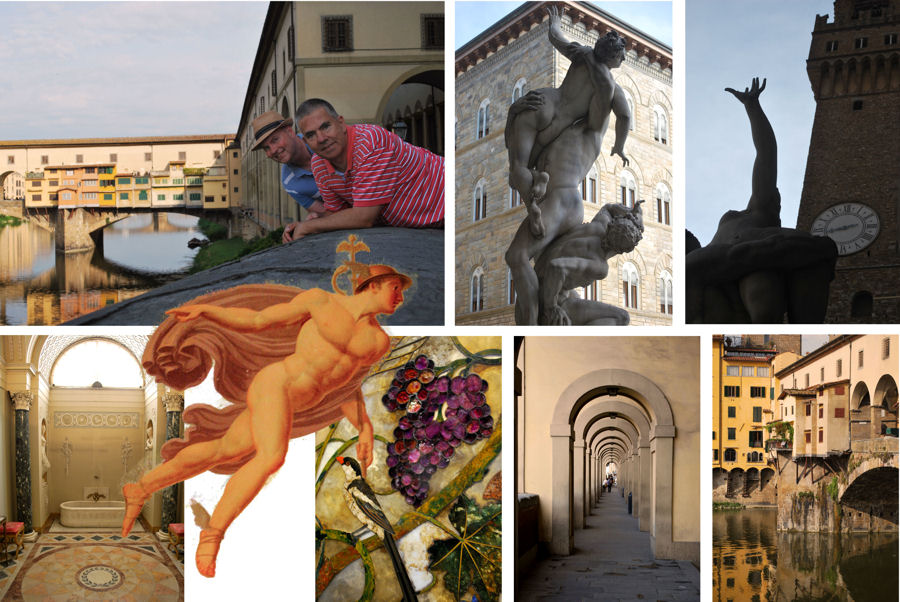 We were the only tourists in the Pitti Palace. Above is Napoleon's bathroom and a detail from a beautiful inlaid table, as well as Mercury doing his thing.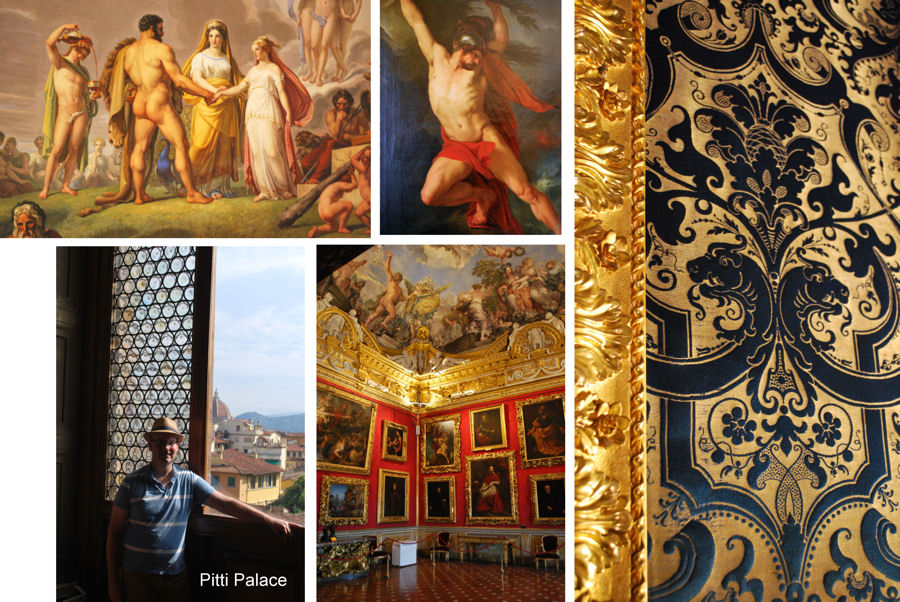 More imaged from Pitti Palace, including sumptuous wallpaper and Hercules' equally sumptuous buttocks.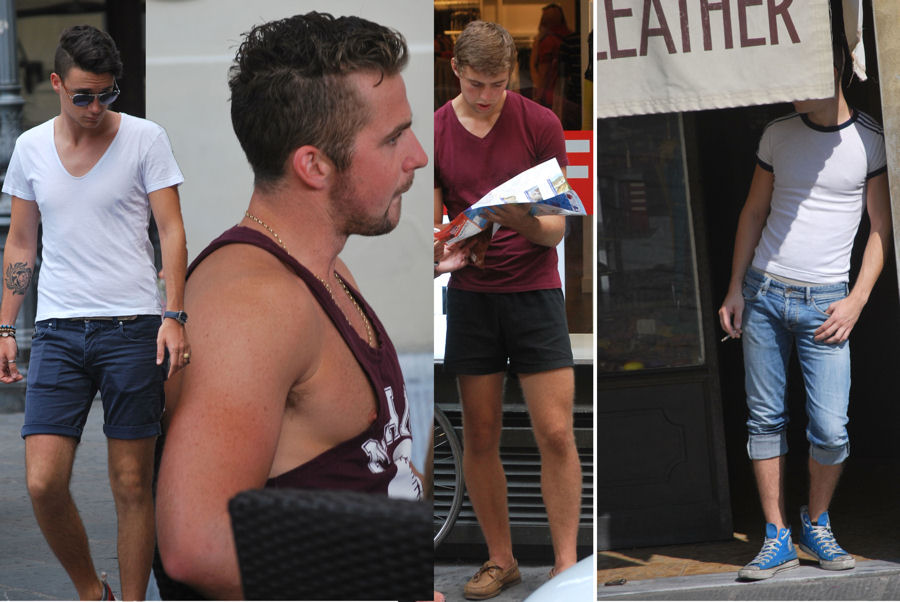 We saw these cute men in Florence. If you like such things, click HERE for a selection from the UK and HERE for a huge gallery from last year's seaside visit to Liguria.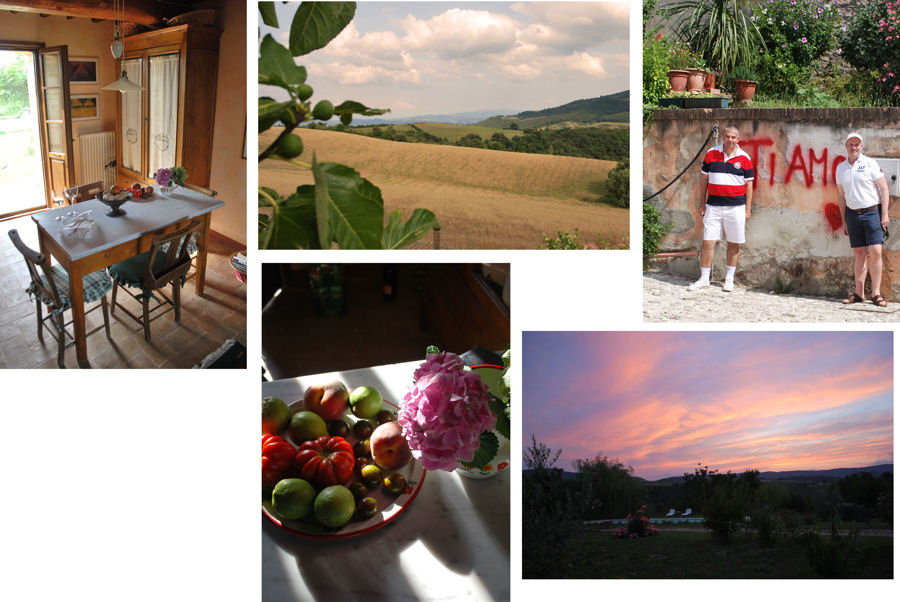 This was our home for two weeks: an organic farm outside Marsciano. Lovely sunsets and food we could pick from the garden.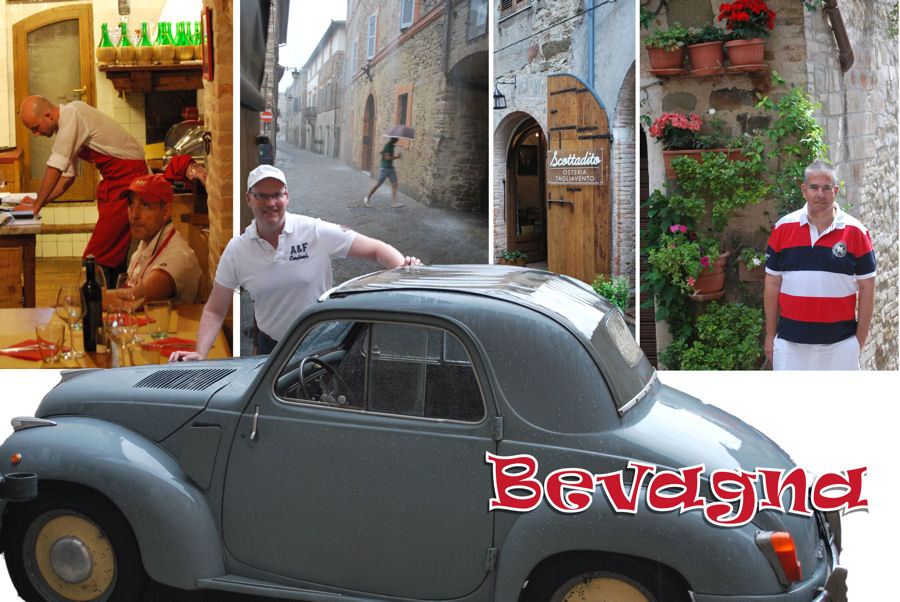 A visit to Bevagna led us to Scottadito osteria, where the butcher from the shop up the road provides and cooks the meat. Five generations of men have run this place. There was a huge thunderstorm to cap the end of our stay.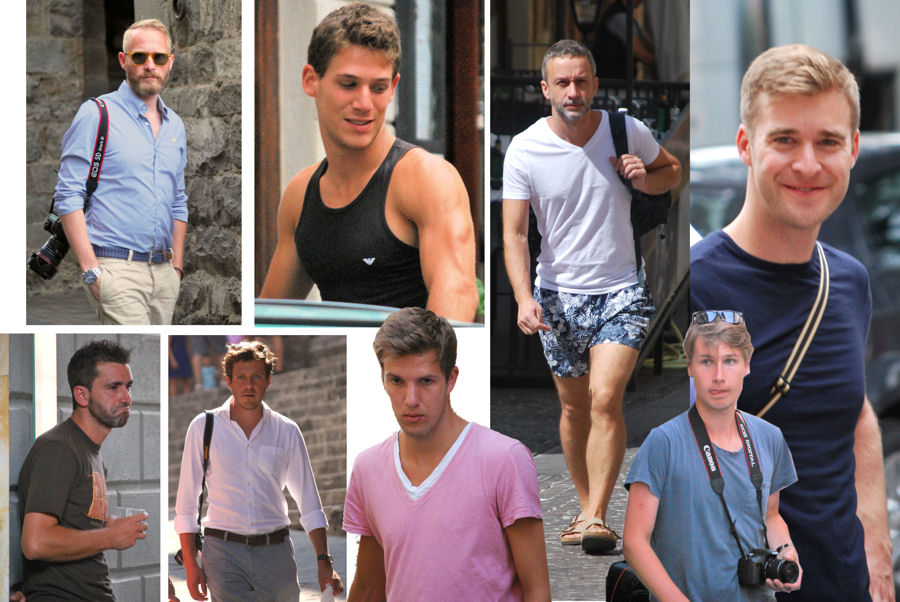 Some more cute men seen on our trip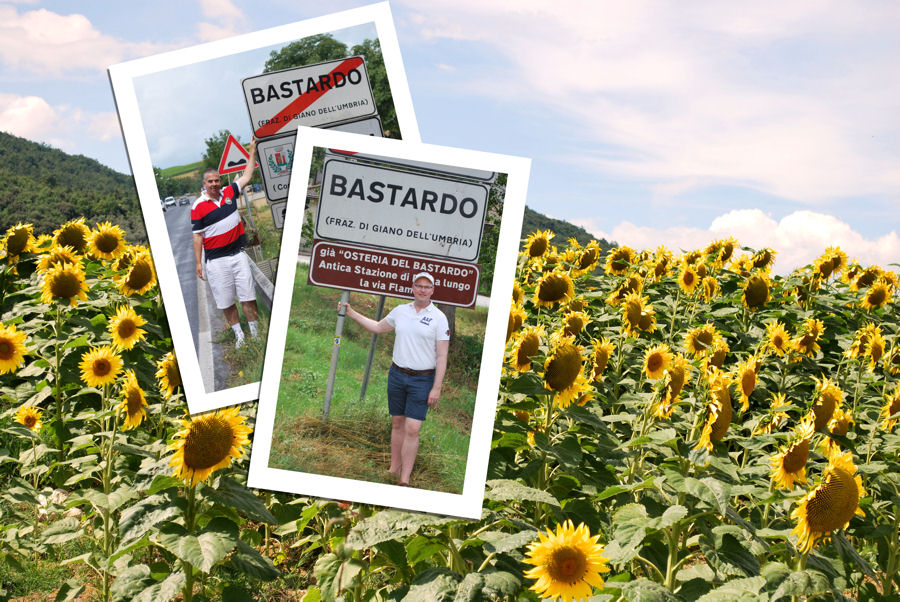 We couldn't pass up a photo opportunity outside Bastardo..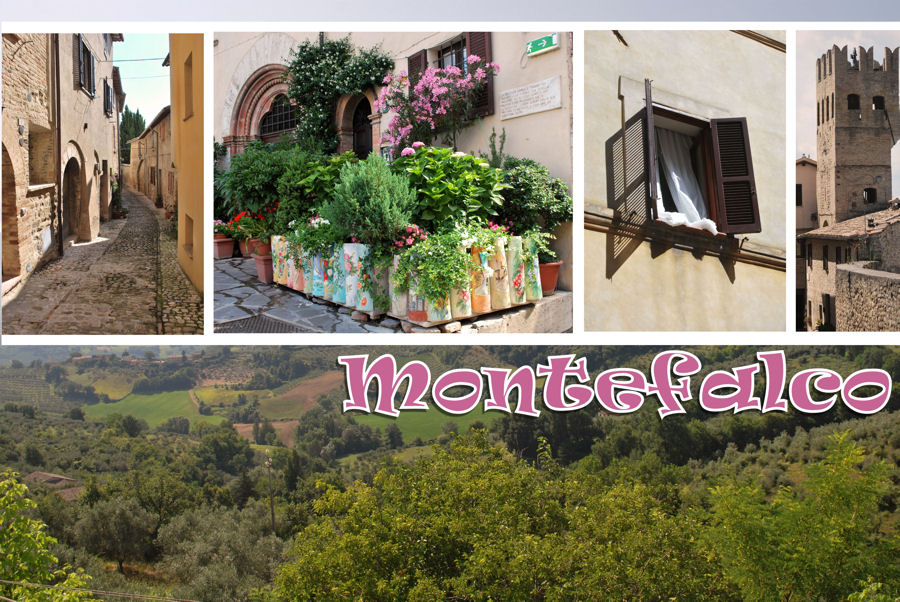 Montefalco was nearby and home to amazing Montefalco Sagrantino wine.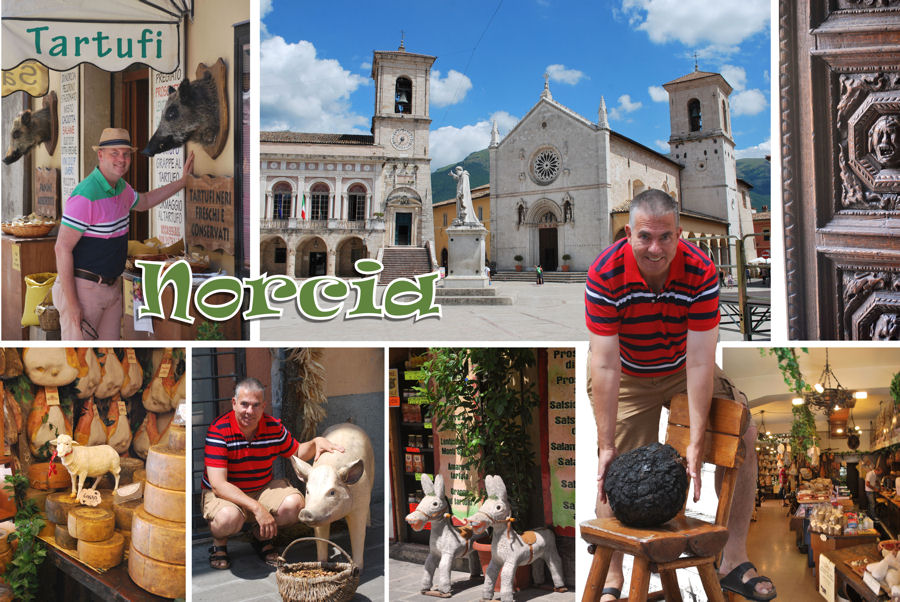 Norcia is a food-lover's paradise with its salamis, truffles, and pecorino. We bought porchetta sandwiches and ate them in the shade near the duomo, which, again, was strangely uncrowded.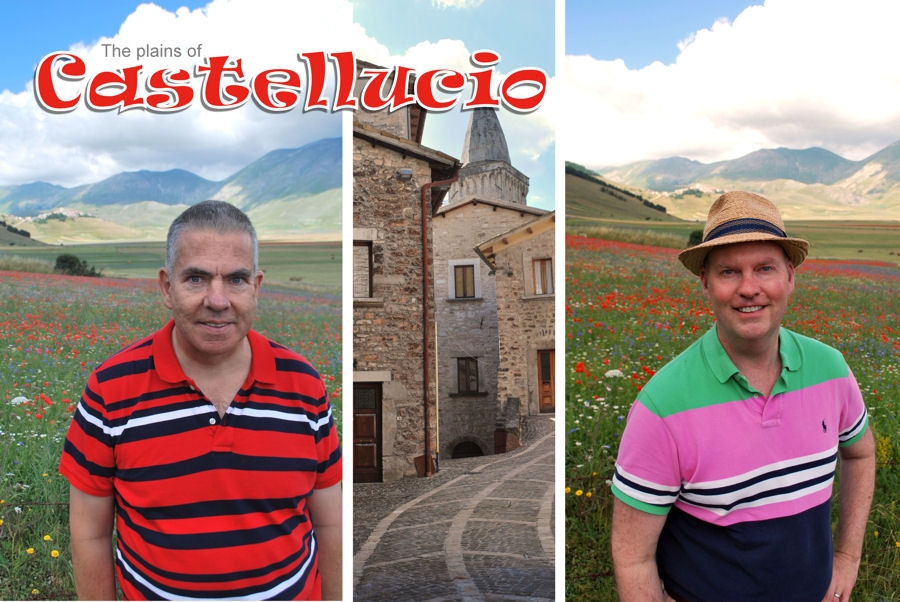 The plains of Castellucio was glorious with flowers in the springtime, but we managed to find a few in the summer.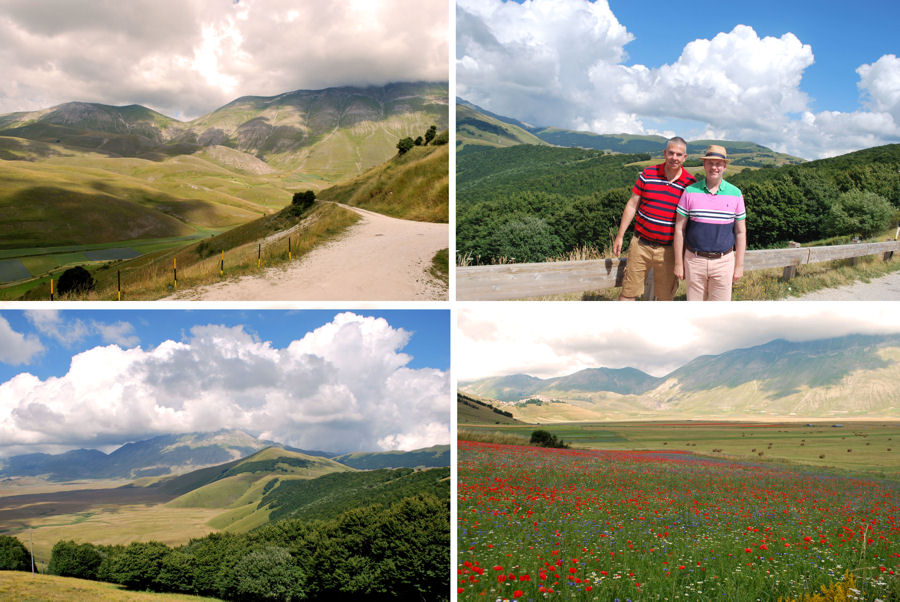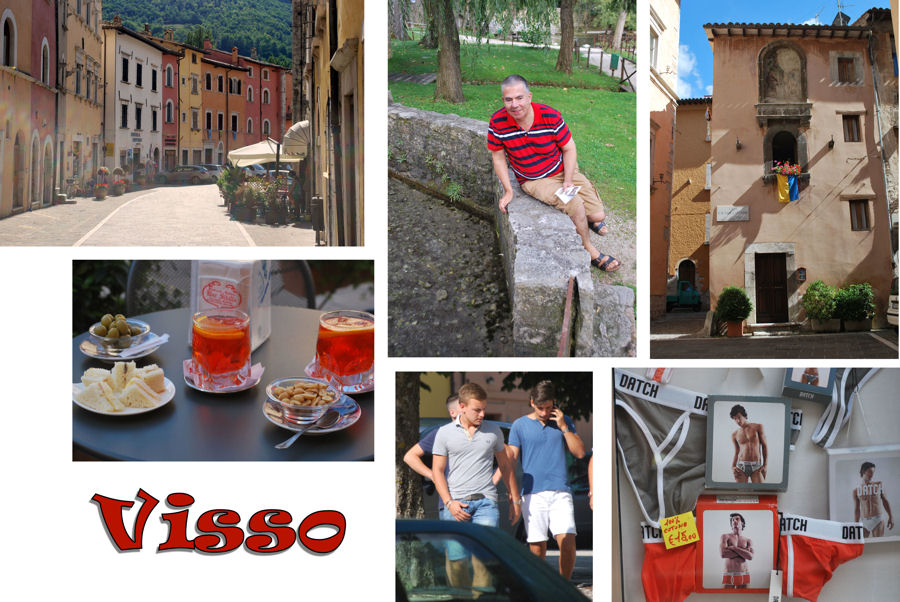 Leaving Castellucio, we stopped in Visso for Aperol spritzes and a bit of sightseeing. We also saw the fontana di Clitunno, above.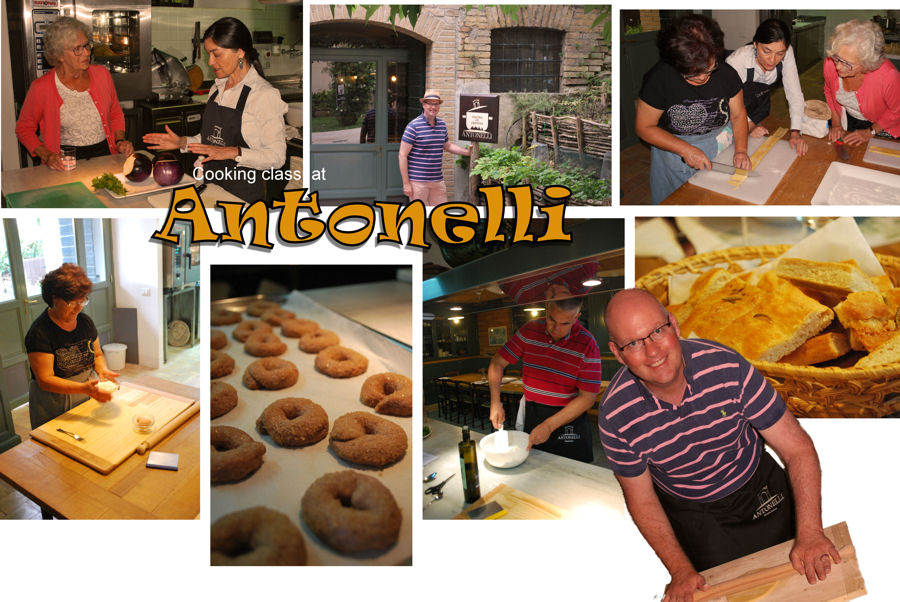 We enjoyed a cooking class at Antonelli, makers of fine Sagrantino wine. We made delicious roast chicken with Italian herbs, focaccia, pasta with zucchini, wine biscuits, roast vegetables, and panna cotta.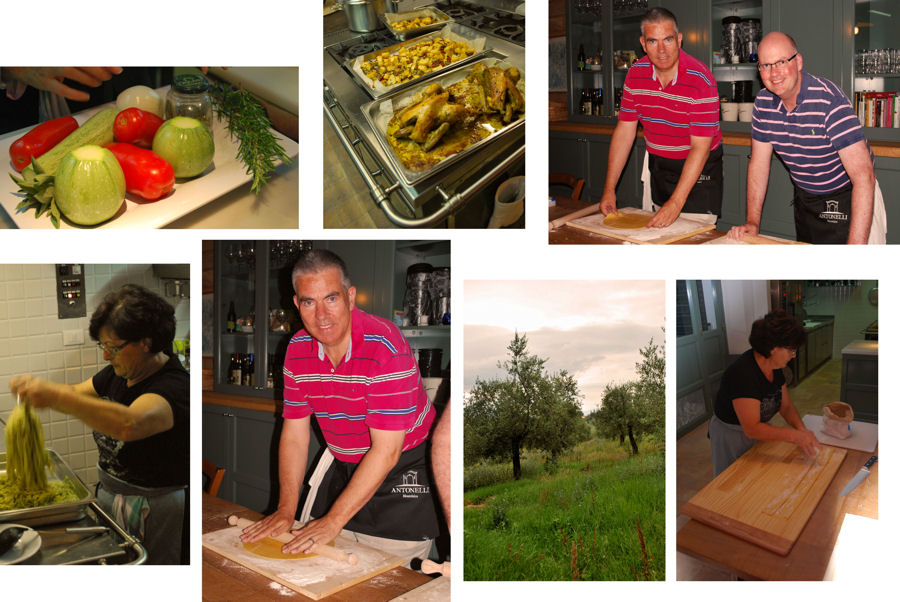 We shared our meal with eight paying customers from Belgium.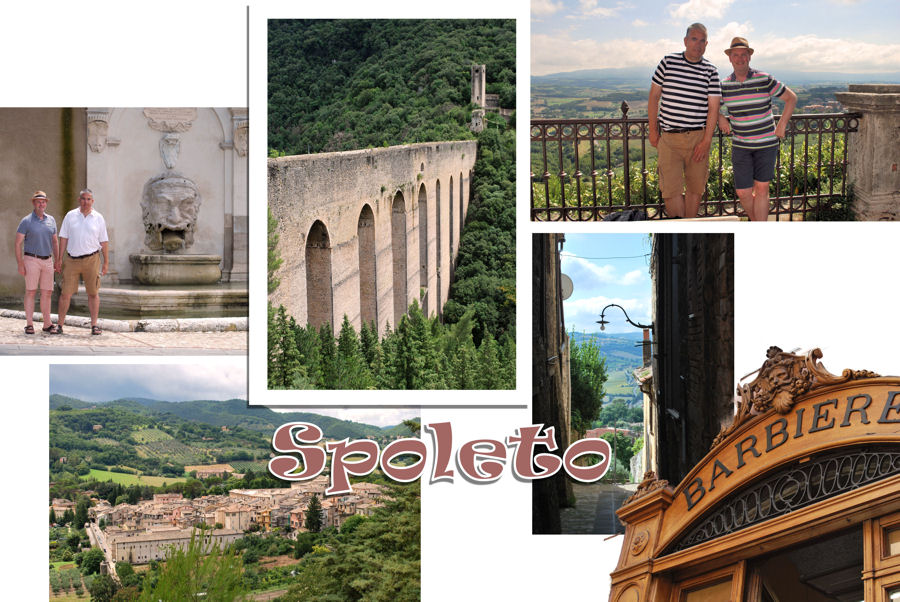 I had always wanted to visit Spoleto because of the famous festival. I loved seeing the aqueduct, which we crossed just before a rainstorm.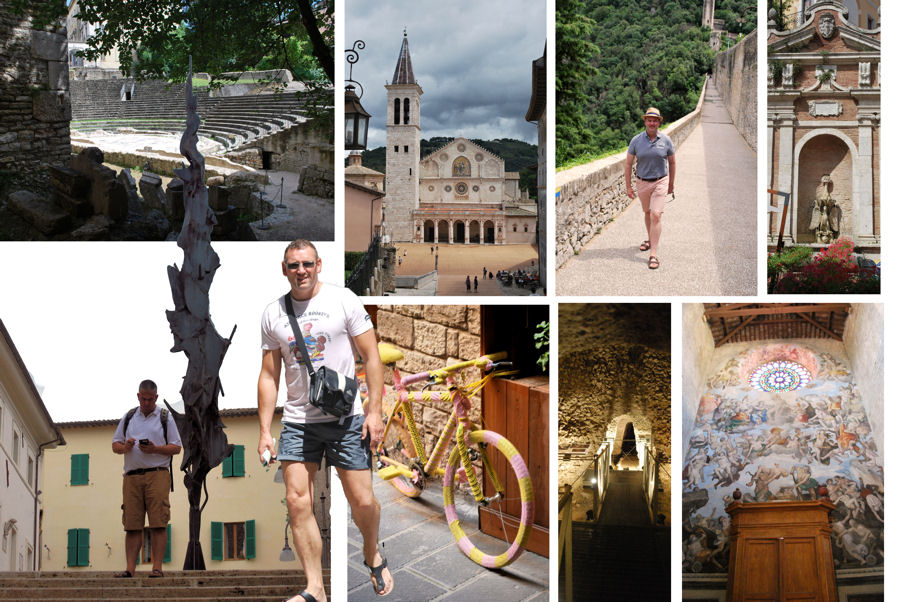 The Roman theatre dates from the first century AD and seats 3,000. Spoleto was reputedly founded by an eagle dropping a stolen tablecloth in this location. We also saw the underground Roman cistern and the museum.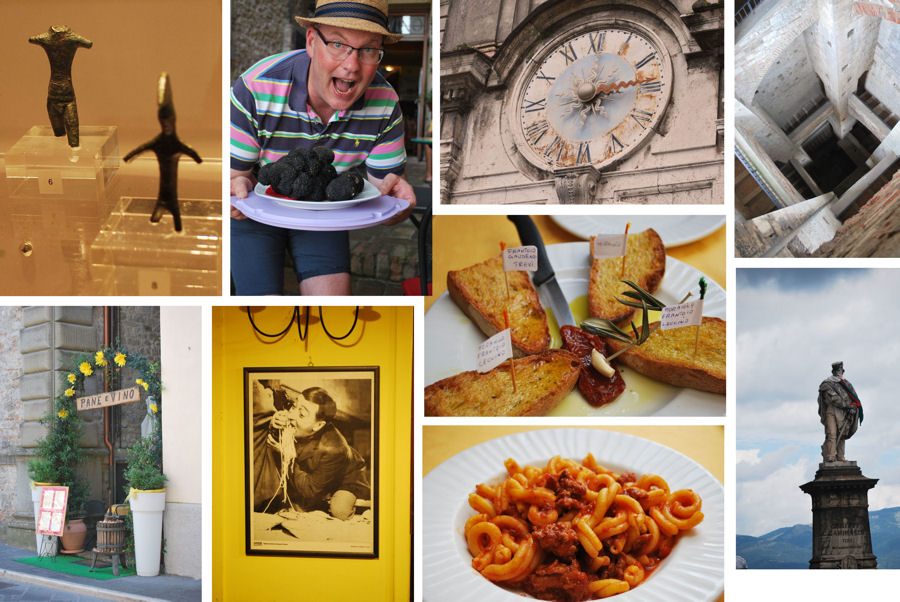 Above: bronze Etruscan figures, huge summer truffles, a tower we climbed, a statue of Garibaldi, a meal at Pane e Vino (we loved the crostini with four different local olive oils), as recommended in Italy for the Gourmet Traveller, and a poster that bears an uncanny resemblance to Stephen Fry.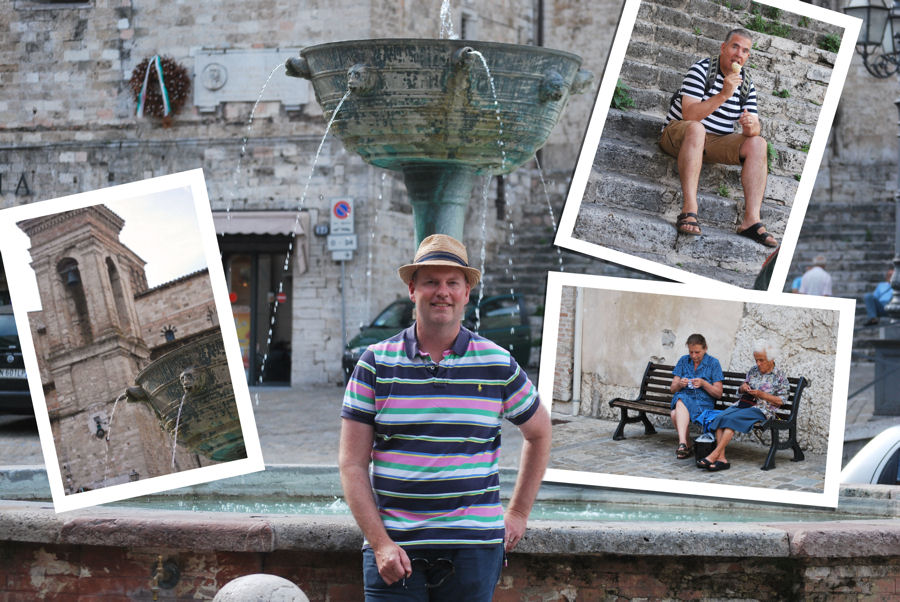 An ancient fountain with mythical creatures and local knitting nonnas.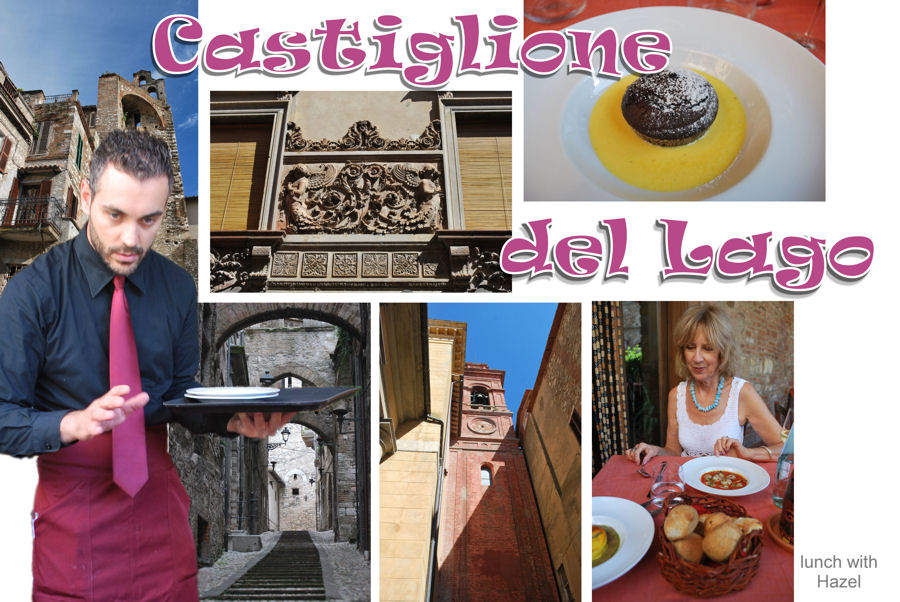 Hazel was our host in Cortona in 2012 and we met up with her for lunch outside Castiglione del Lago. The restaurant, Divin Peccato (Devine Sin), was excellent and the waiter couldn't have been cuter...I mean more helpful.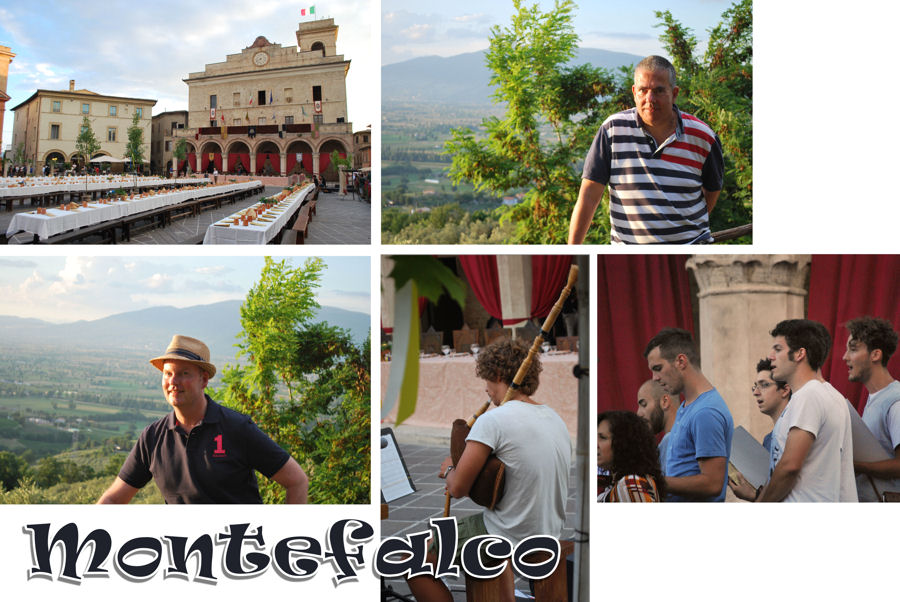 On the same day as our lunch with Hazel, we returned for Montefalco for their medieval banquet, which featured singers, musicians, and men in tights.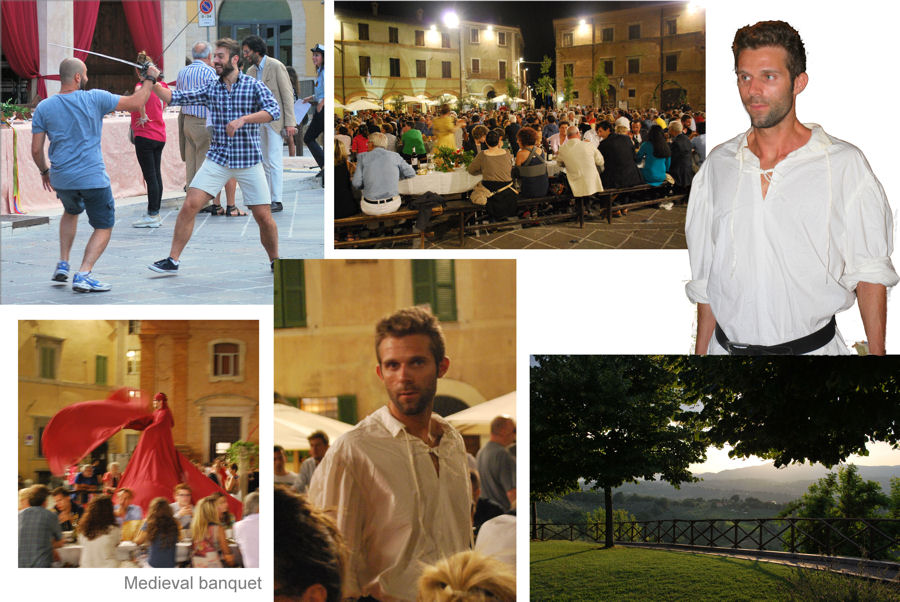 The entertainment and waiting staff were amazing, as you can see, and the food far exceeded expectations with fresh salad and truffled risotto. Drawn by the pull of shooting stars by the pool, we left before the main course was served.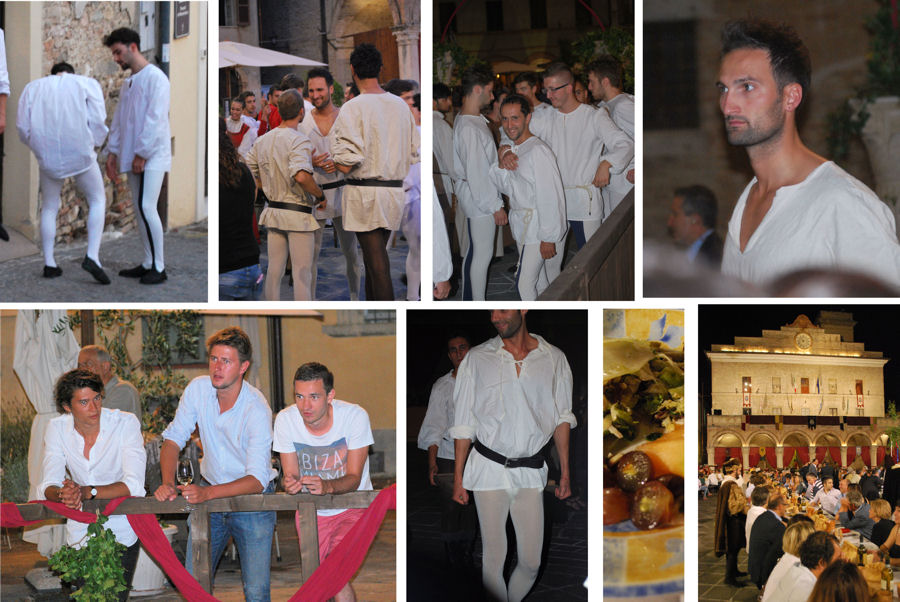 All the local hunky men donned their tights to play waiters for the evening.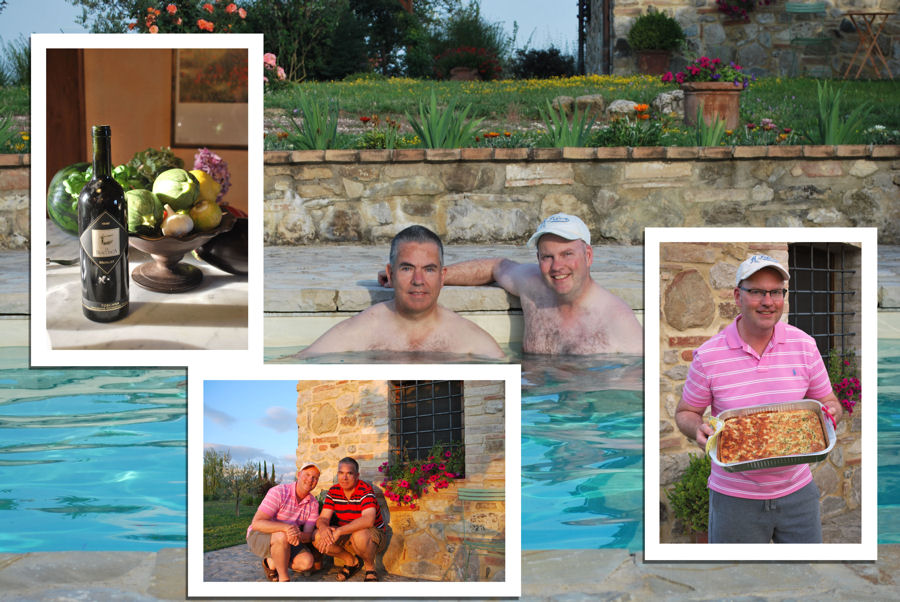 Back in Carla and Franco's "Paradiso", we enjoyed the pool with Geordie the duck, a 1998 bottle of wine, and homemade focaccia, half rosemary and sea sal, the other half gorgonzola and thyme, as taught to the Fabulous Baker Brothers.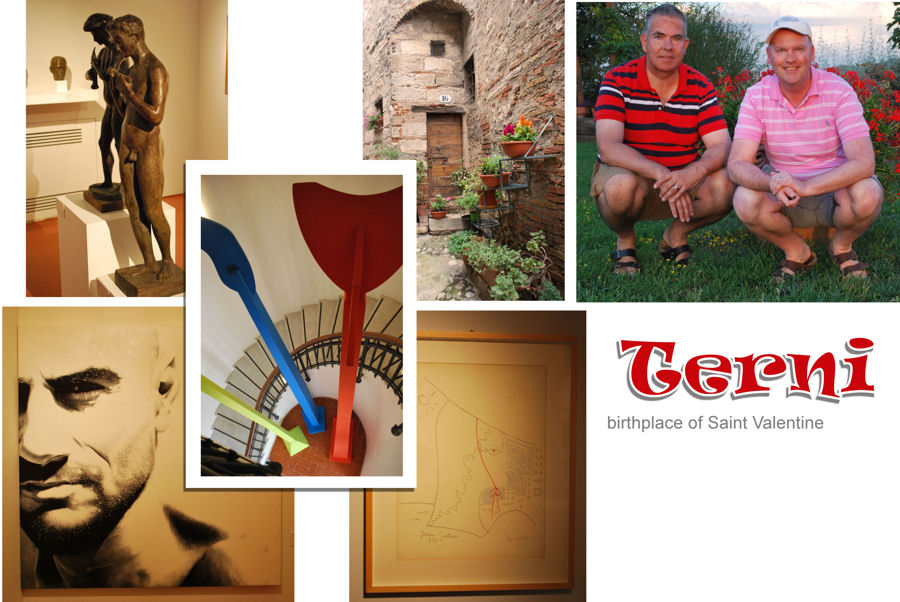 Terni was a bit modern and uninspiring, but the home of Saint Valentine did have a small modern art museum which was a welcome respite from all the Renaissance Madonnas and Child. We even saw a Cocteau lithograph similar to our own.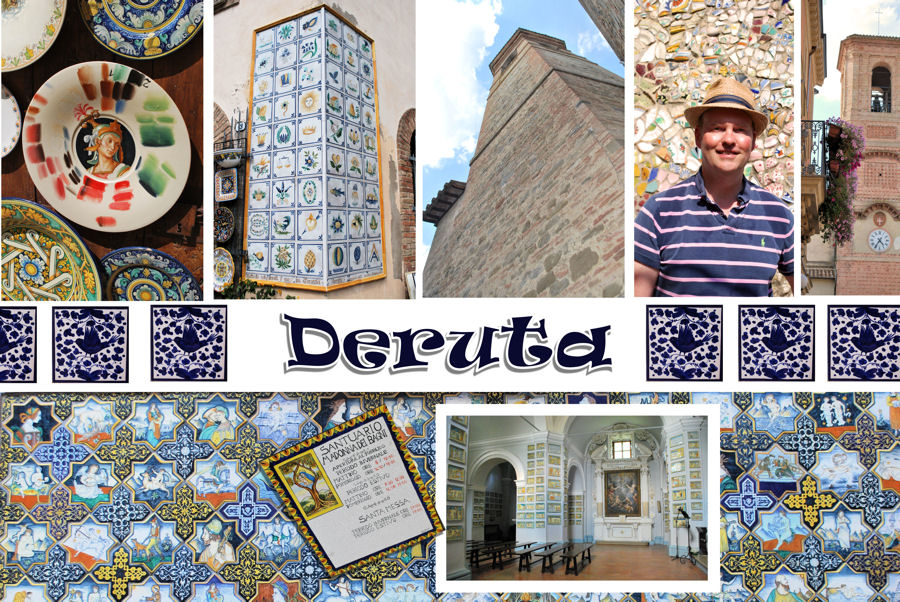 Deruta is the home of exquisite handmade pottery, including an electric guitar that Nick got to play but we couldn't photograph. Afterwards we went to the Santuario Madonna del Bagni, where people's deaths were depicted in ceramic tiles.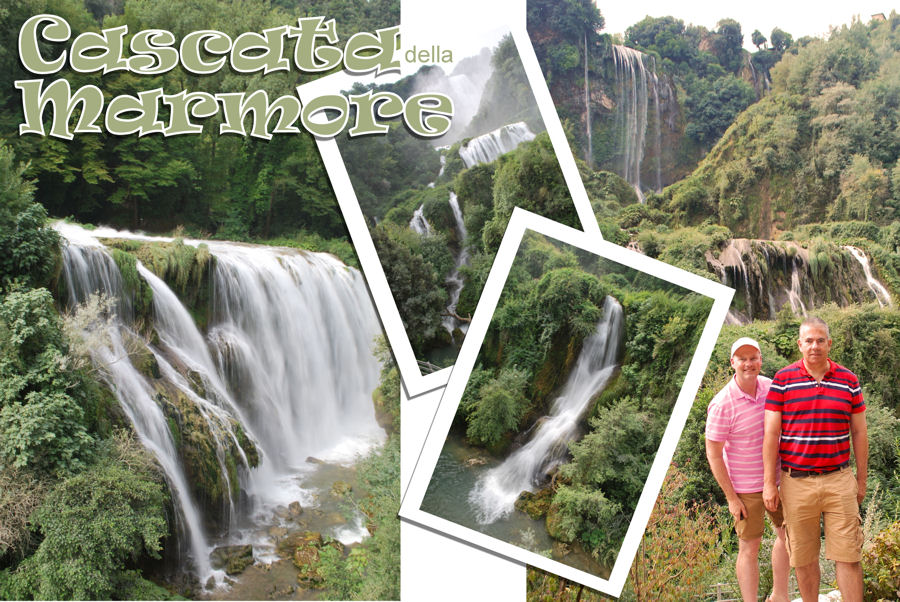 We arrived at the Cascata della Marmore early, just before they turned the water on at 10.00. What a splendid show!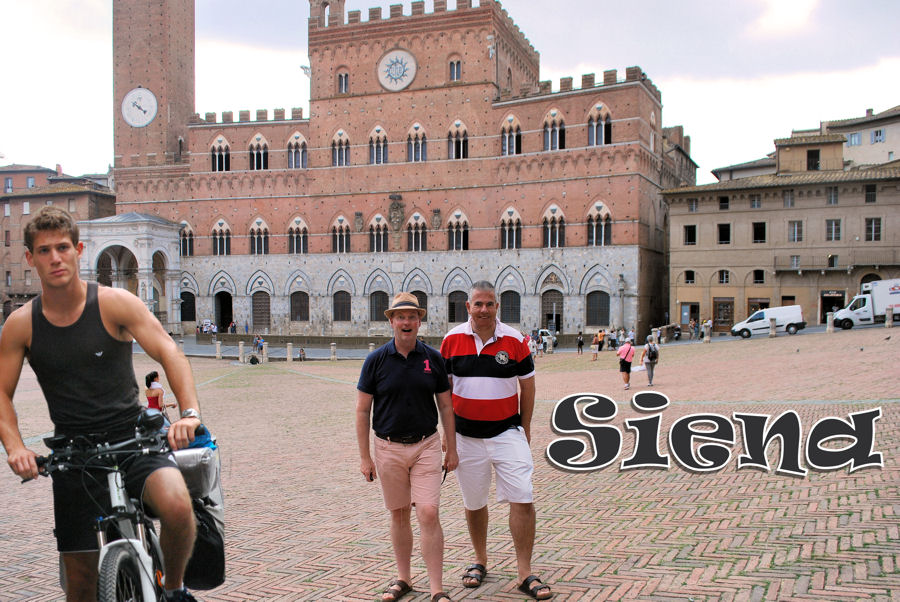 Siena had been on my list of places to visit for four years, and we finally made it there, arriving before most tourists to obtain this shot. We were a bit crazed after a drought of not seeing any cute men, and this city provided several for us to admire.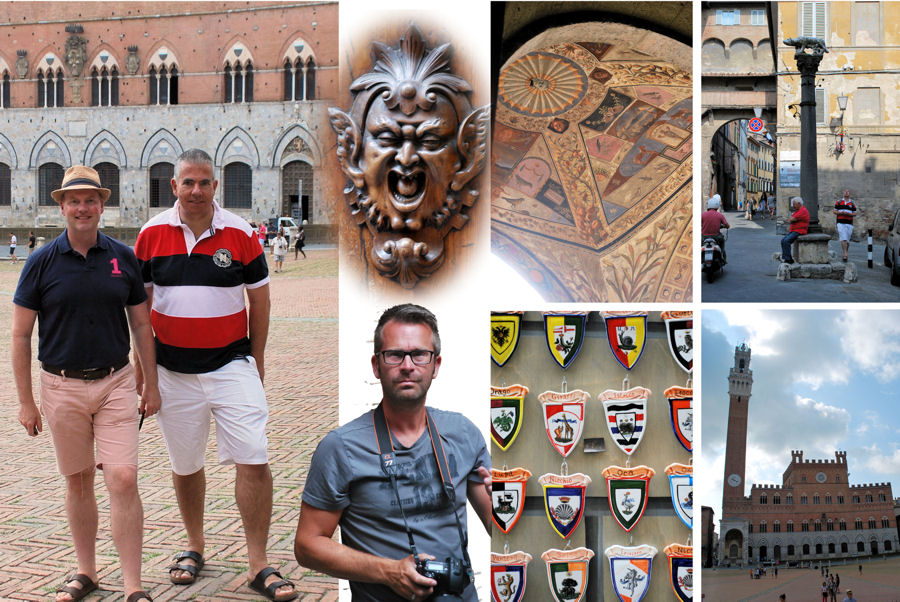 The famous Palio horse race would be held the following week and the town was all geared up for the event.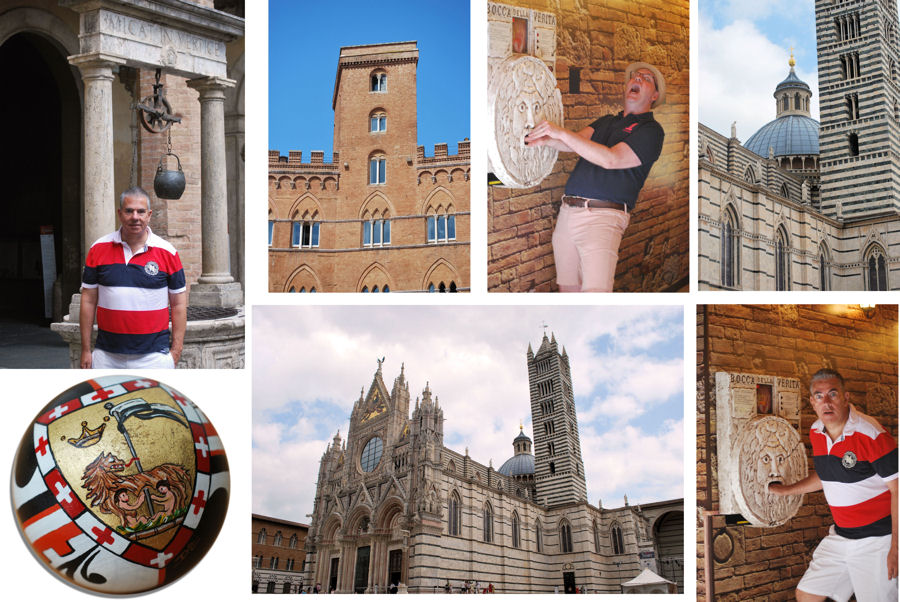 Above: the amazing stripey Tim Burton-esque cathedral, our enjoyment of yet another Bocca della Verita, and our Palio souvenire of Siena, a handpainted wooden ball depicting one of the local teams.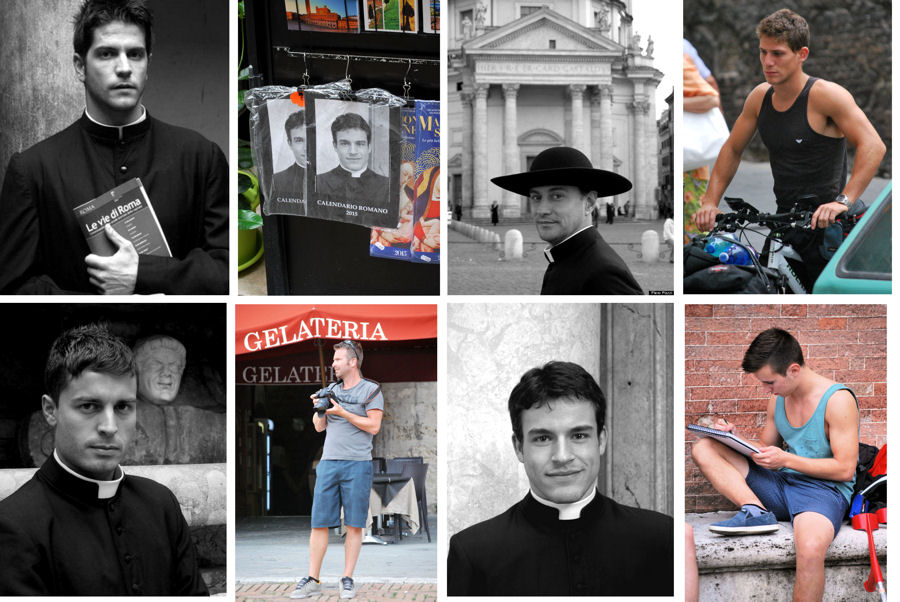 We were delighted to find the Calendario Romano, featuring twelve months of cute priests, as well as some other cute sightseers of Siena.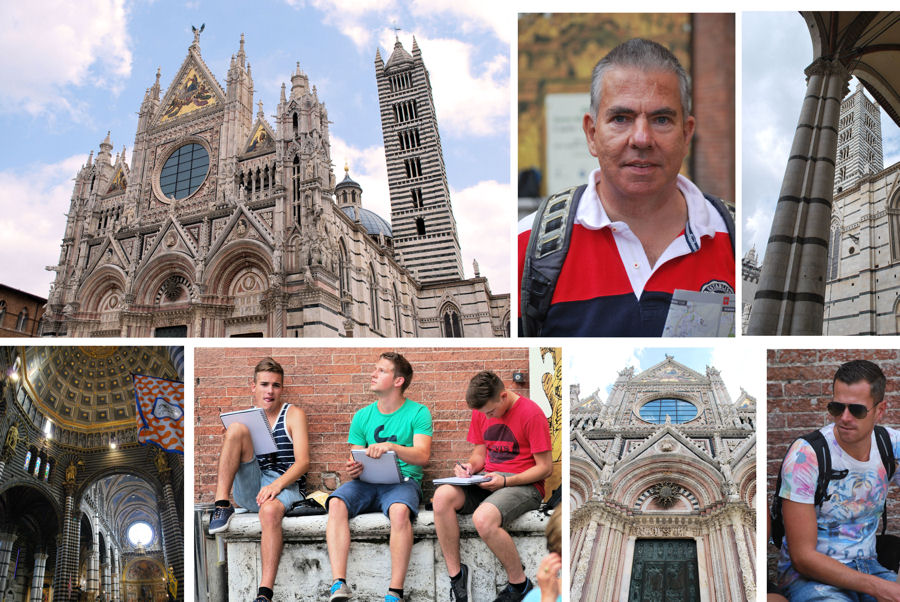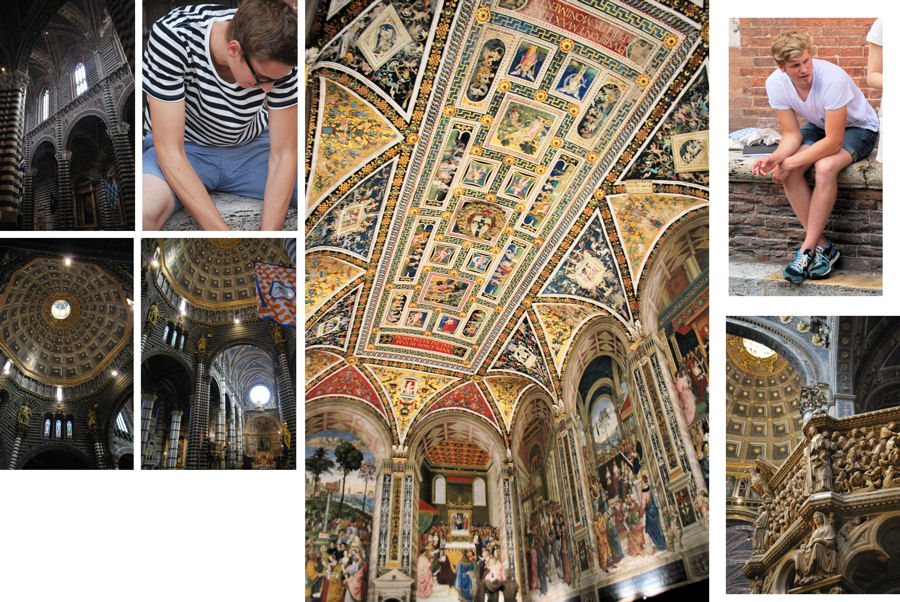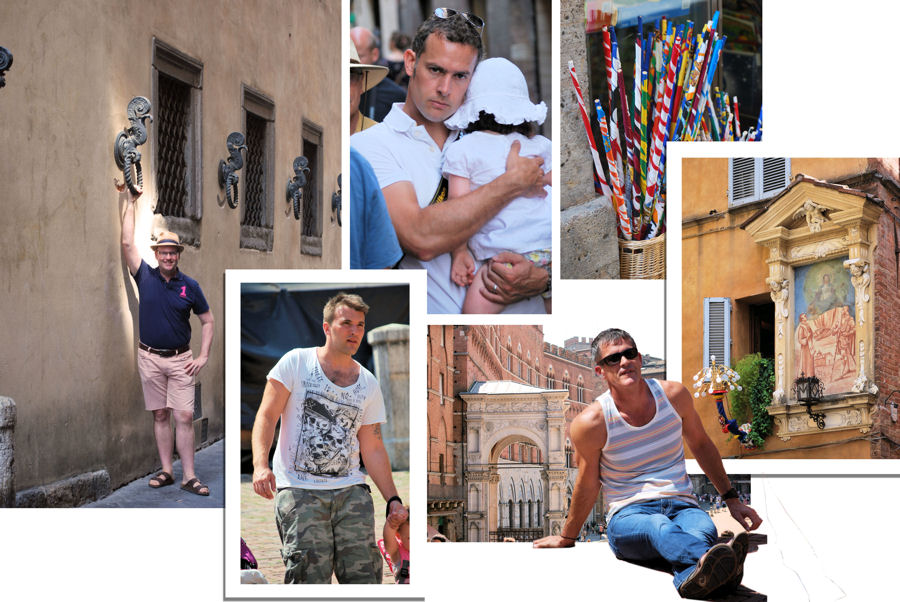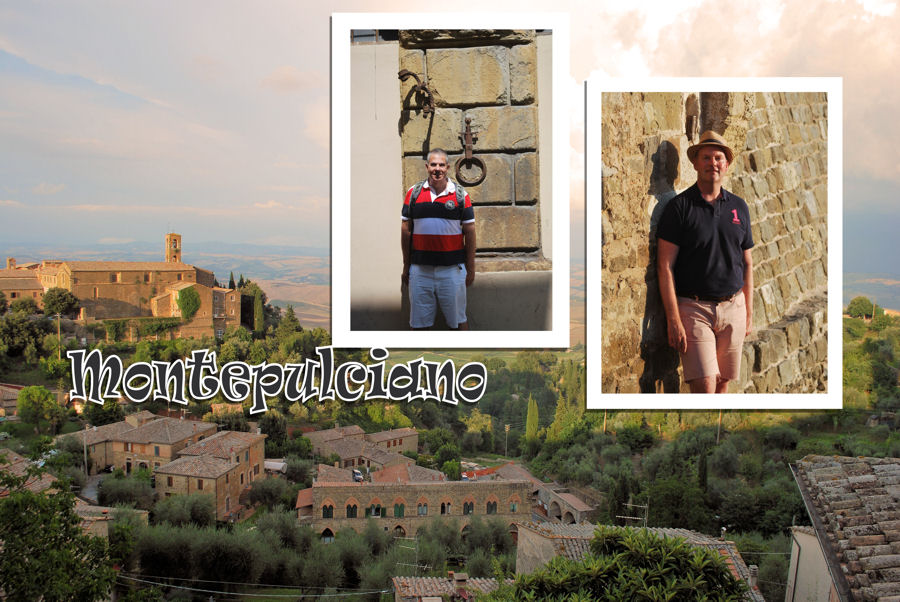 We visited Montepulciano in 2012 and made a welcome return there around Milan Light time.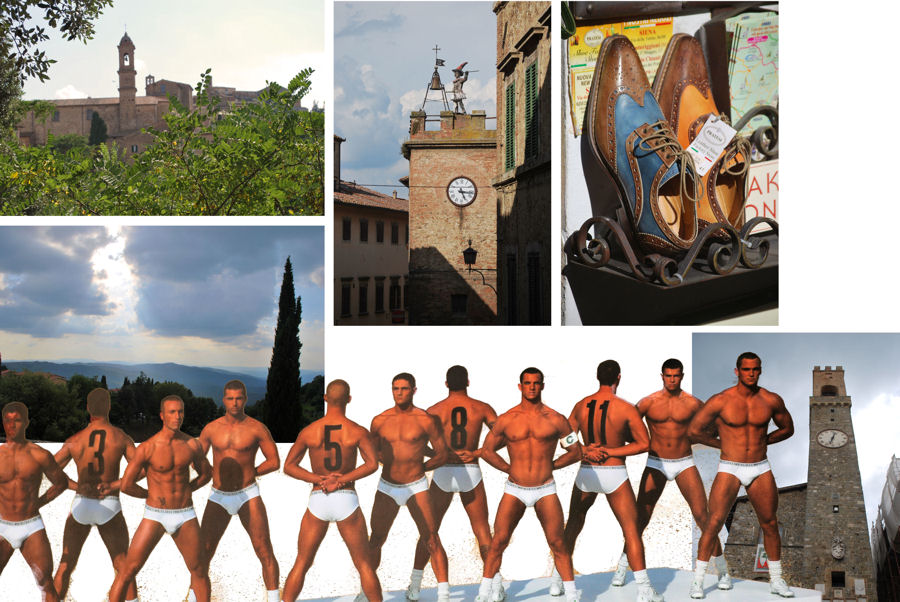 You will have noticed the team of men in their underwear above. Just an advert for Bergsbikkem briefs. The shoes are cool, too.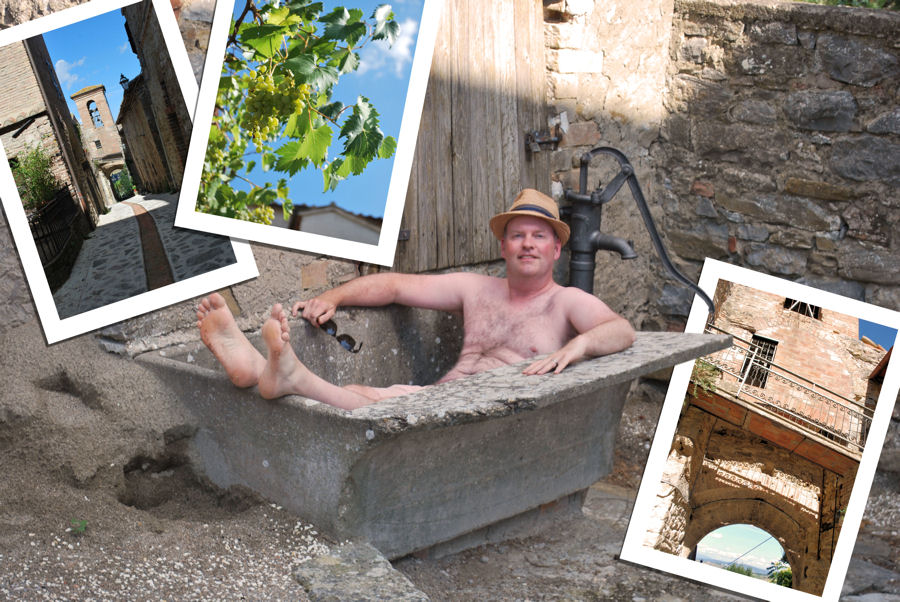 One lazy afternoon, we decided to explore the small towns near our Marsciano home base.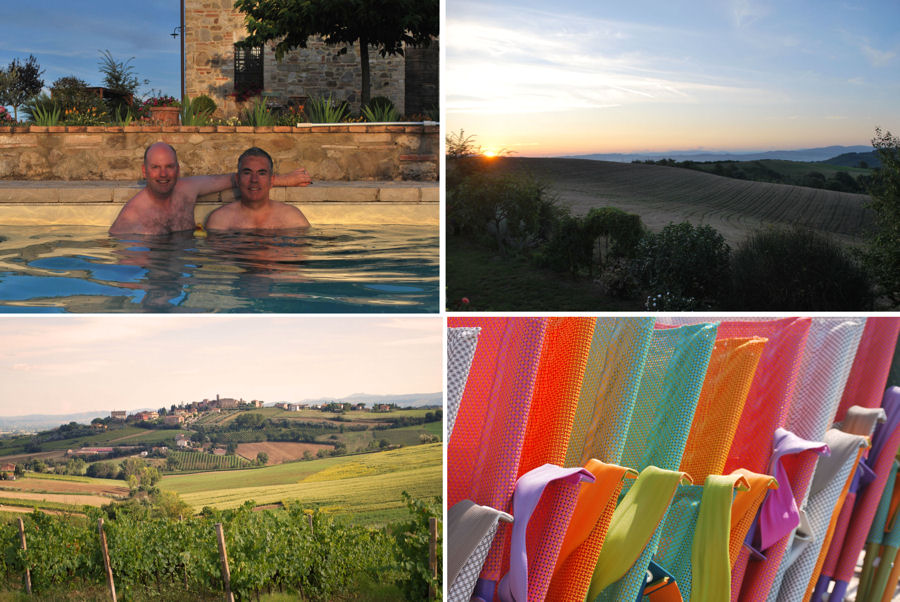 Above: with Geordie the duck in the pool, sunrise over the boar field, colourful deck charis in Perugia, and an Umbrian landscape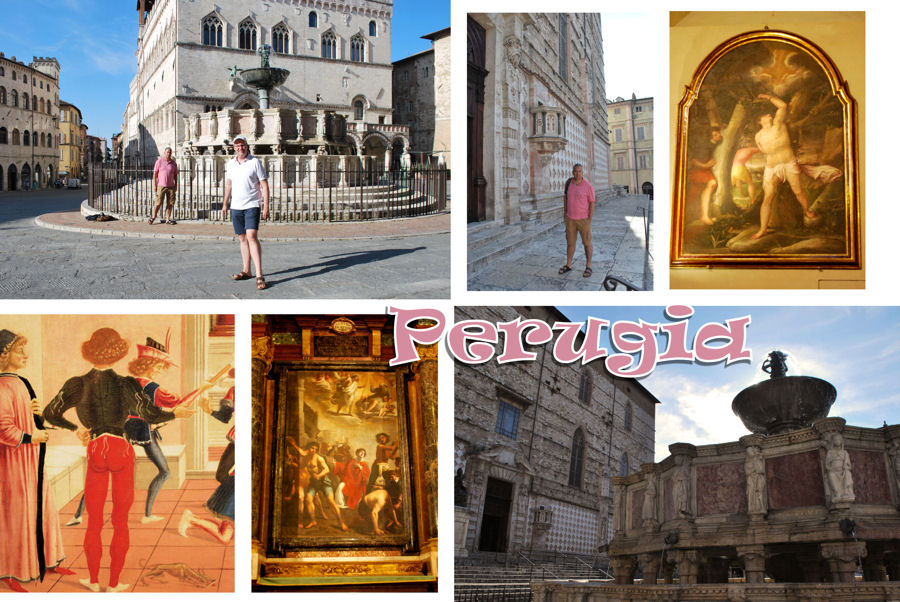 Perugia in the morning before anyone else arrived. We were the first in the cathedral. The museum revealed a few new Saint Sebastians.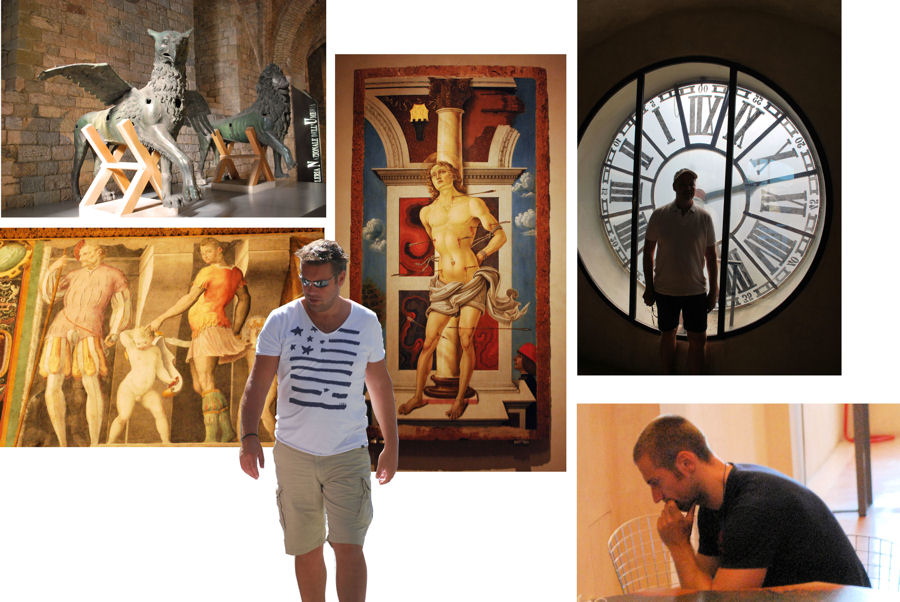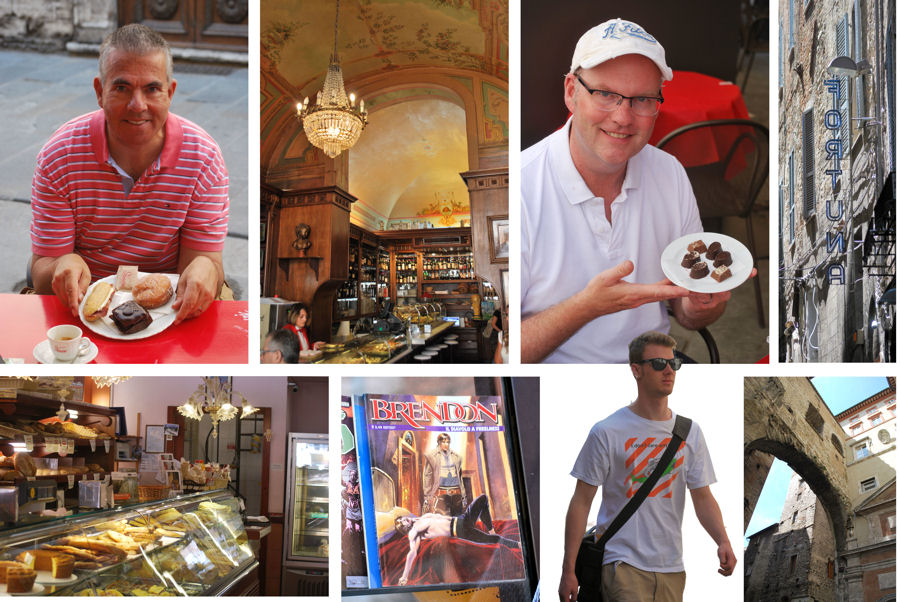 Perugia is famous for its chocolates and we sampled a selection at Sandri (not a patch on Green & Black's).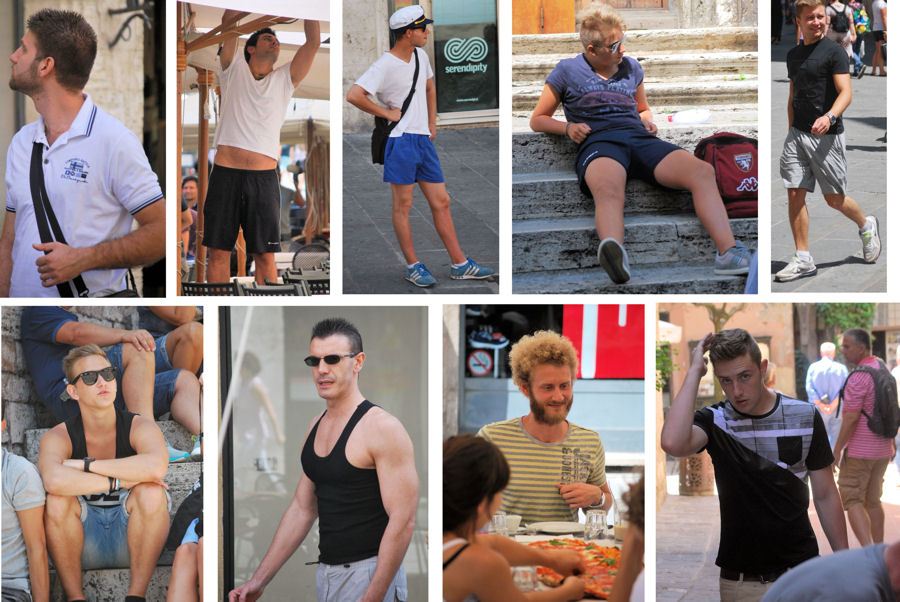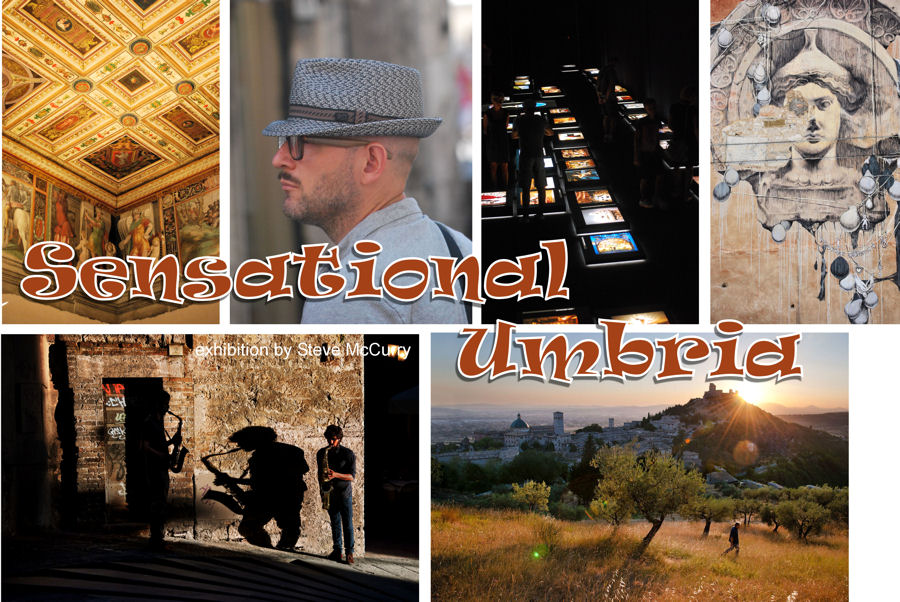 Steve McCurry's photo exhibition, Sensational Umbria, was a great find. The photos were cleverly displayed on lit panels in a darkened room.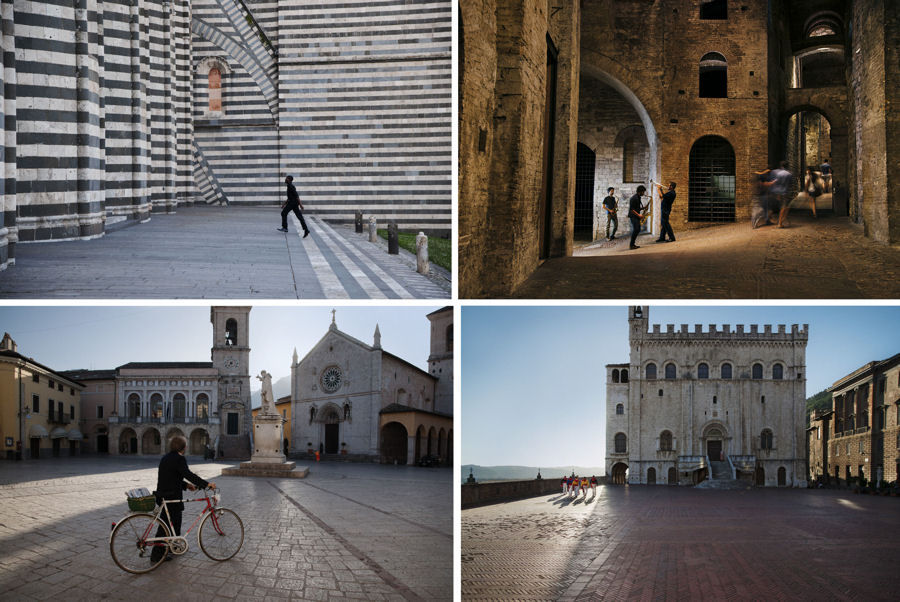 Above: four images by Steve McCurry.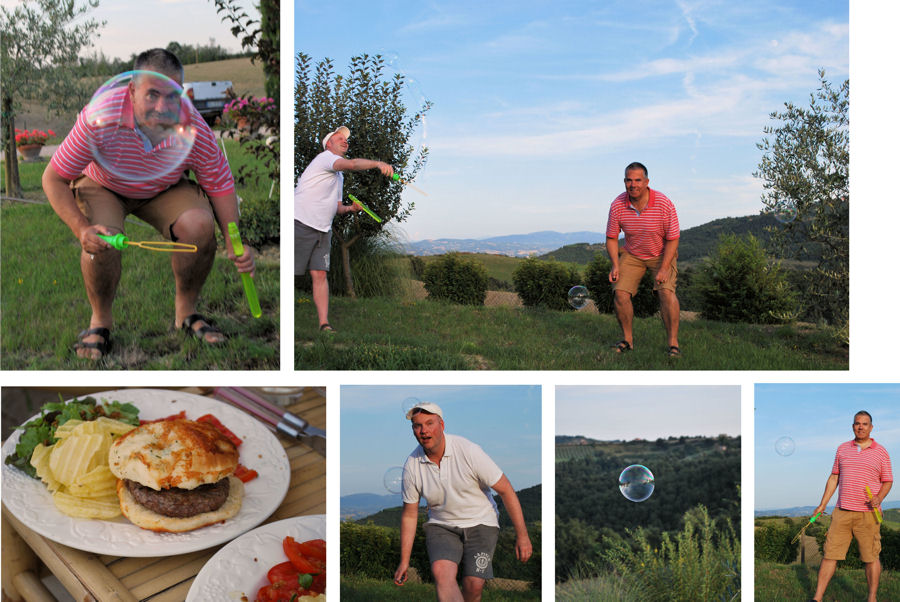 Bubble fun back in Paradiso. We barbecued burgers and served them on homemade focaccia rolls.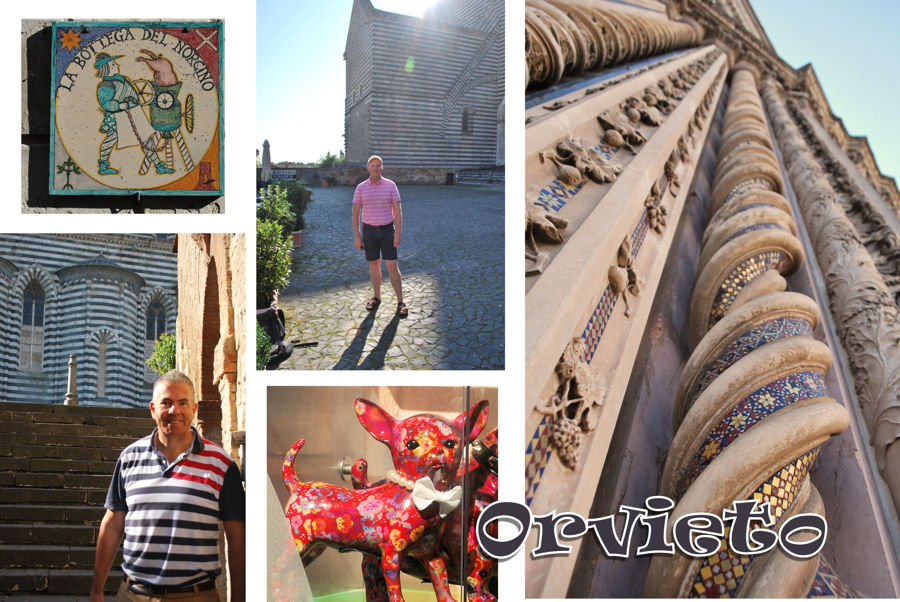 I didn't think we'd have the energy, but we made it to Orvieto on our final day in Umbria and boy, am I glad we did. The cathedral was my favourite one.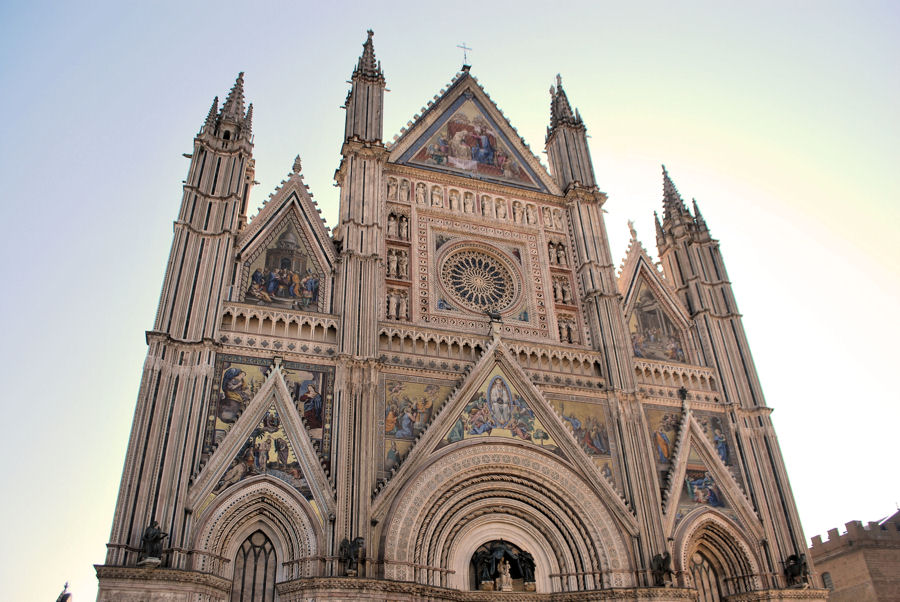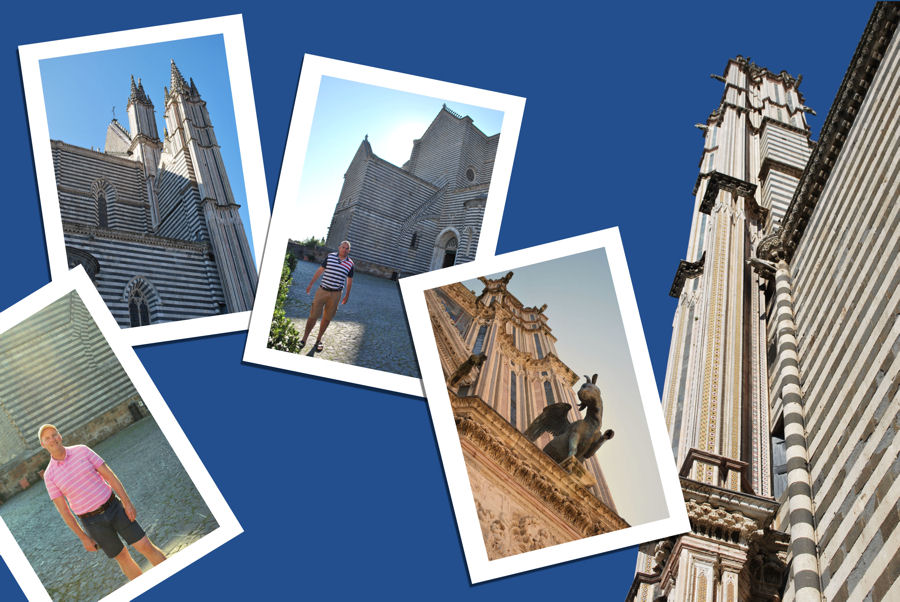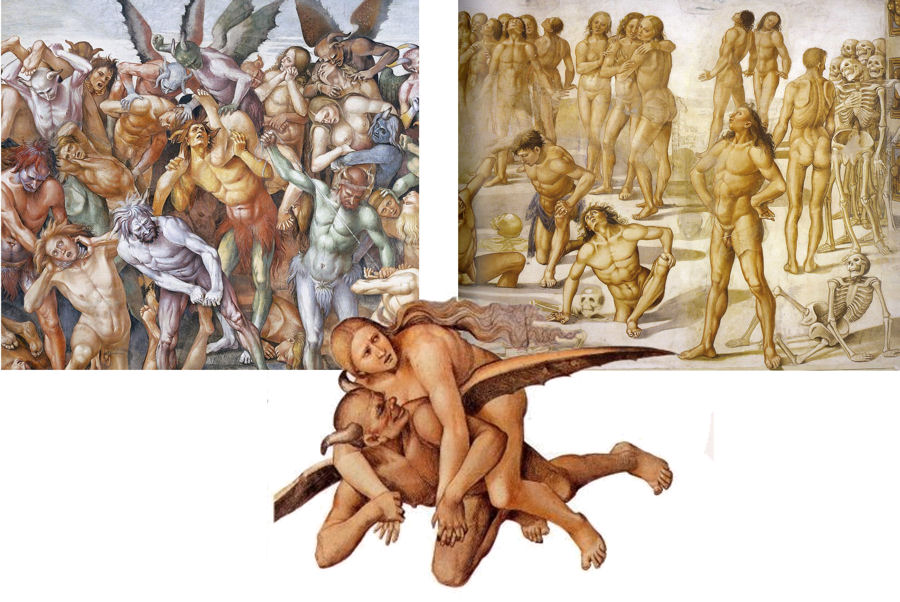 The amazing Judgement Day frescoes by Luca Signorelli were jaw-droppingly good. We had the chapel to ourselves, thanks to our early arrival time.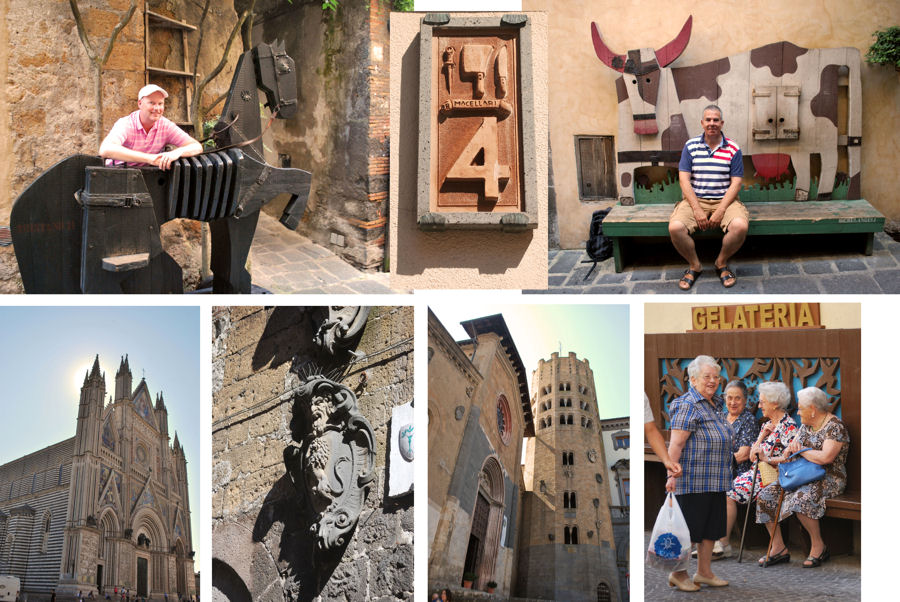 A shop specialising in wooden cutouts seemed to corner the market in Orvieto, as lots of shops had their work on display.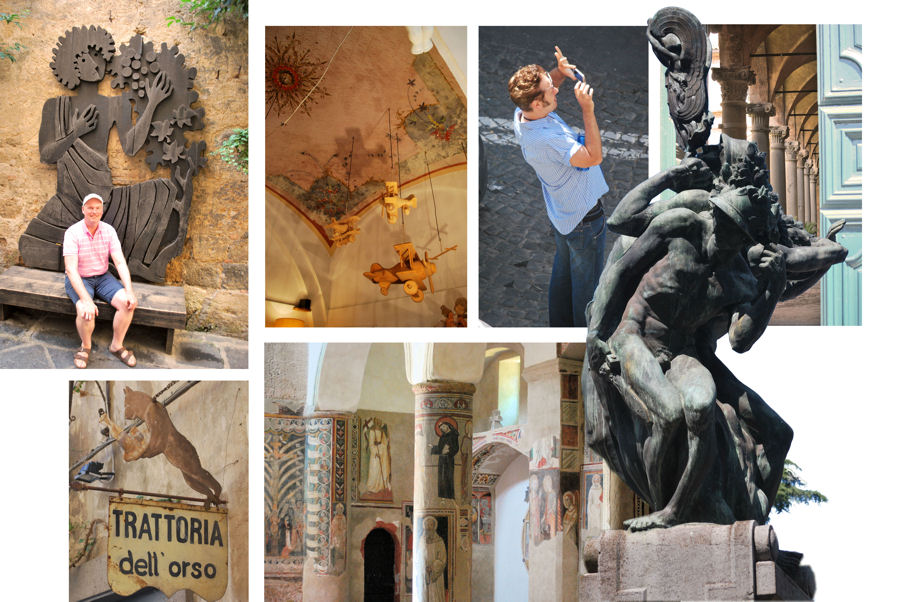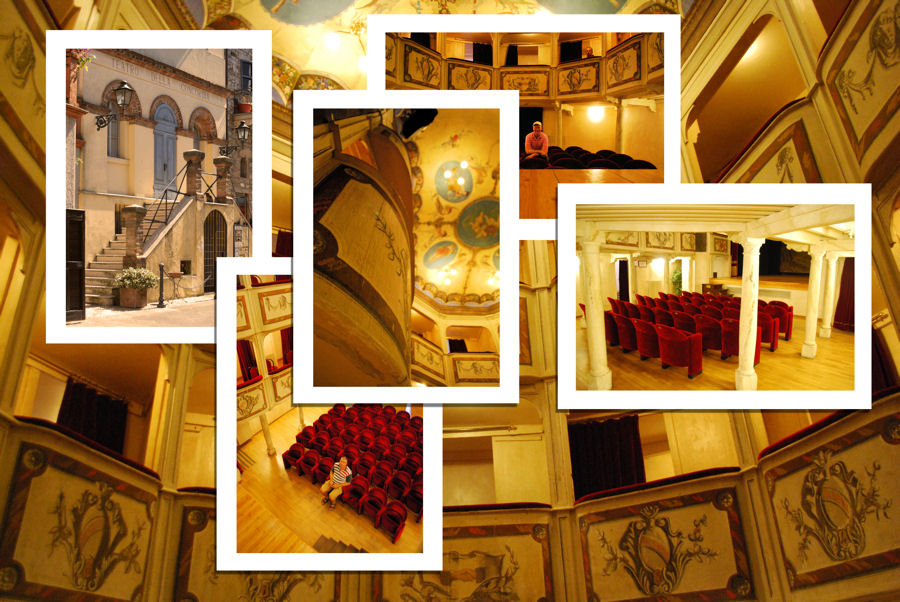 Teatro della Concordia in Monte Castello di Vibio was one of our favourite finds of the trip. The smallest theatre in the world with 99 seats.We had it to ourselves.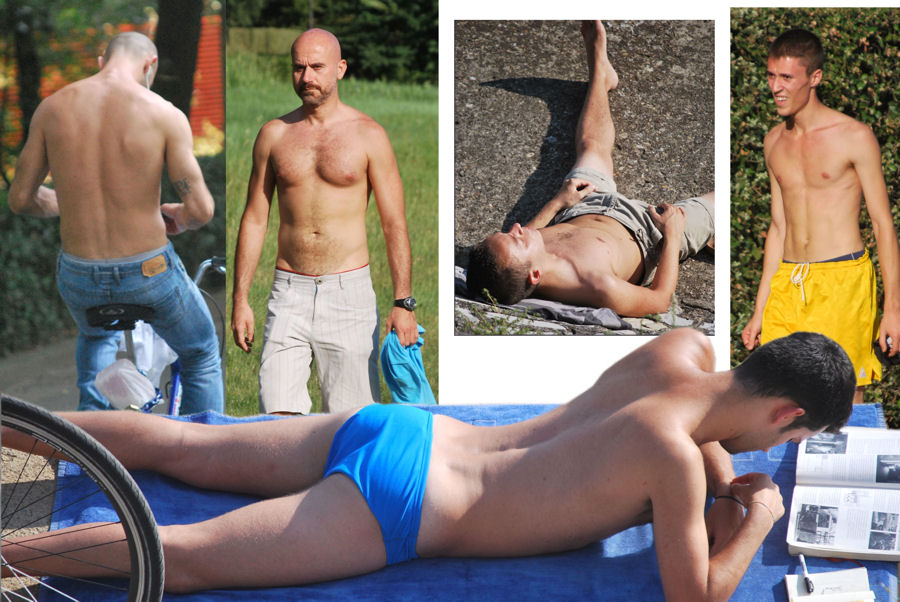 Finally, cute men! Back in Florence in the park beside the Arno river.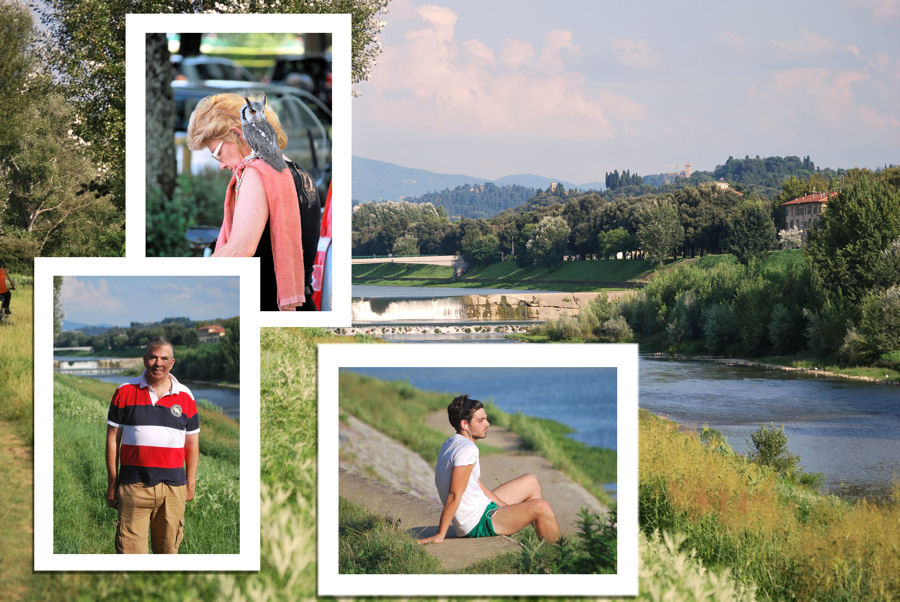 Seeing no owls in the countryside, we were surprised to see a woman riding a bicycle with one on her shoulder.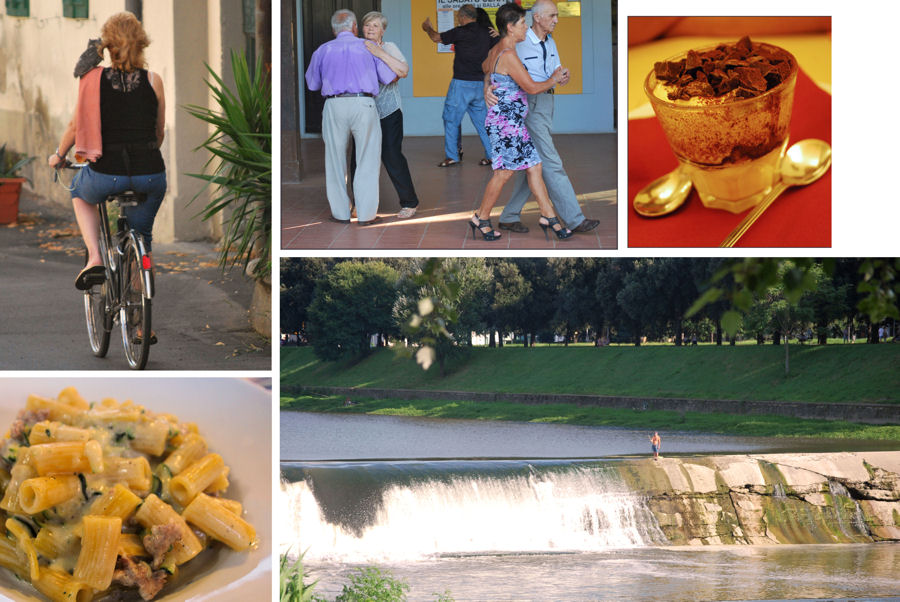 Photos from our final day in Italy until our next trip.