For my birthday in May 2017, we returned to bella Italia to celebrate with cousin Linda and friends. We experienced the best of Emilia-Romagna: 100-year-old balsamic, Byzantine mosaics, unforgettable frescoes, racing donkeys, men in Speedos, medieval pagentry, and lots of Aperol Spritz. Click HERE for photos from last year's trip to Florence and HERE from other photos from Summer 2017.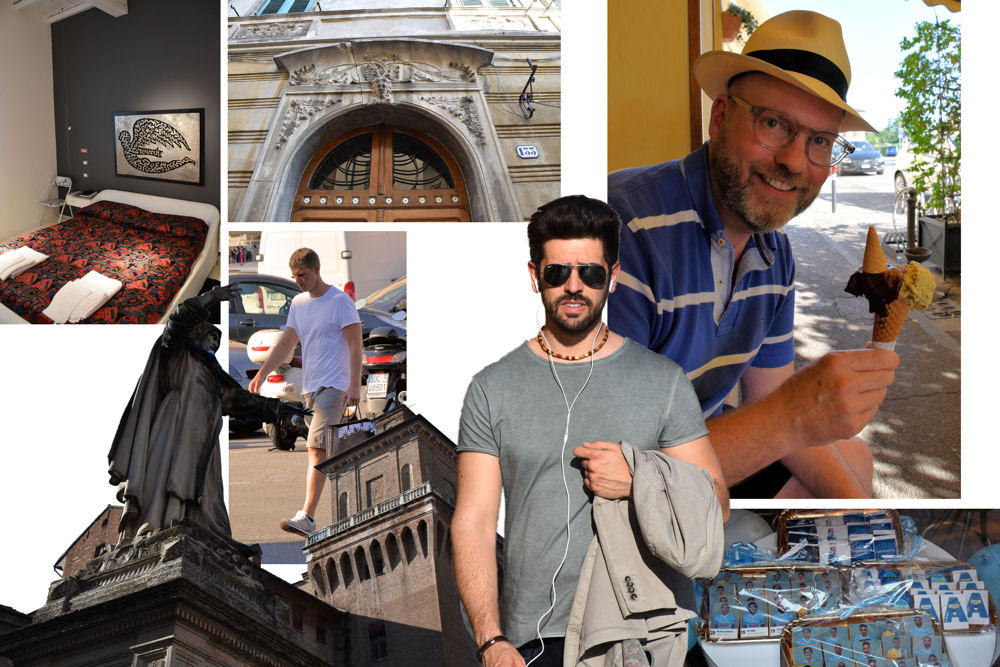 What better place to spend my birthday in May than the Emilia-Romagna area of Italy, home of great food, great art, and great Italians? We were based in Ferrara, a town whose local football team was reflected everywhere from biscotti to the iconic statue outside the castle.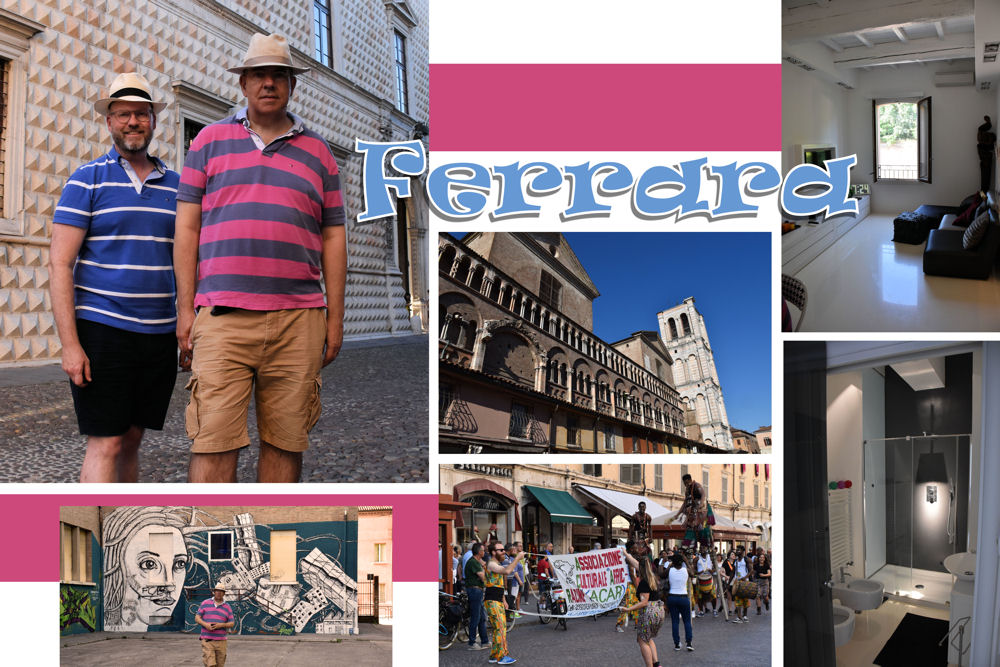 On our first day, we settled into our lovely apartment and then went exploring the town.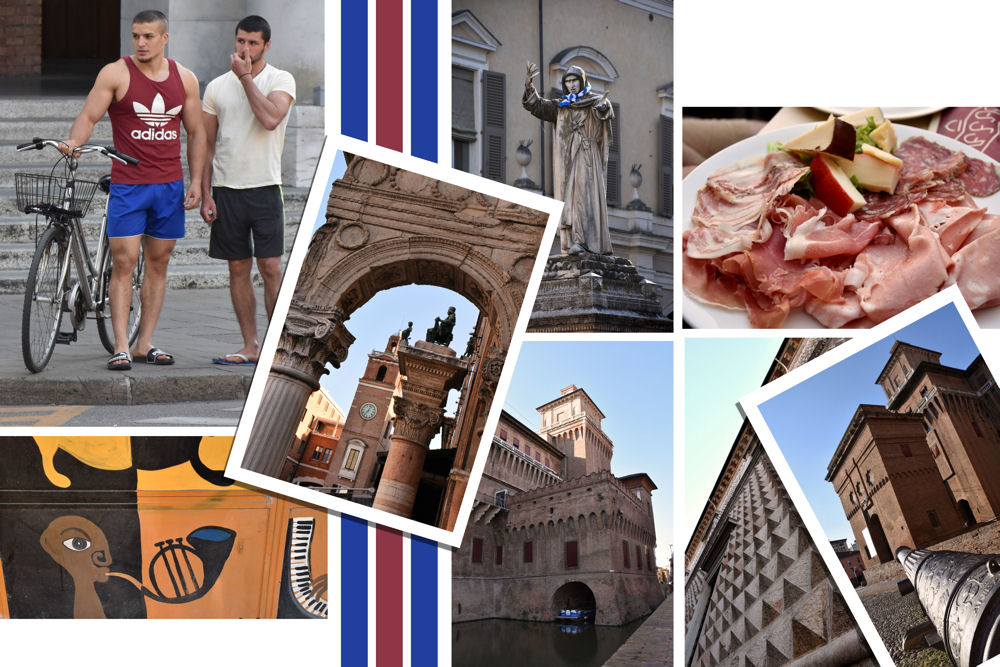 Scenes from Ferrara, including the castle, the Palazzo dei Diamanti, and a plate of mixed cured meat which we aren't sure if we paid for.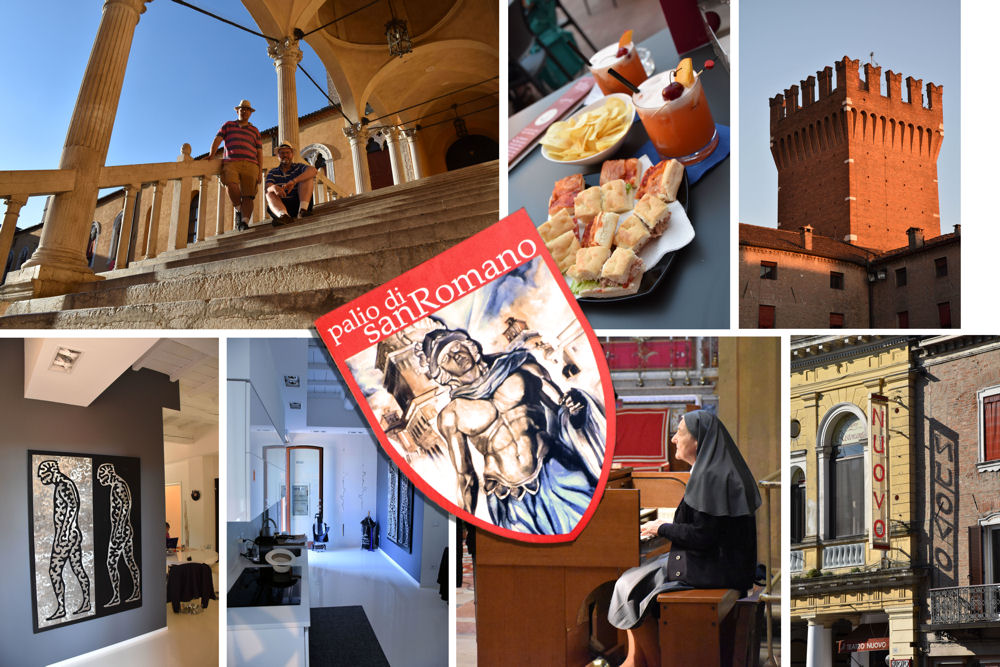 My bingo card from Nick asked me to find a "Nun doing something". Playing hymns on the organ seemed appropriate.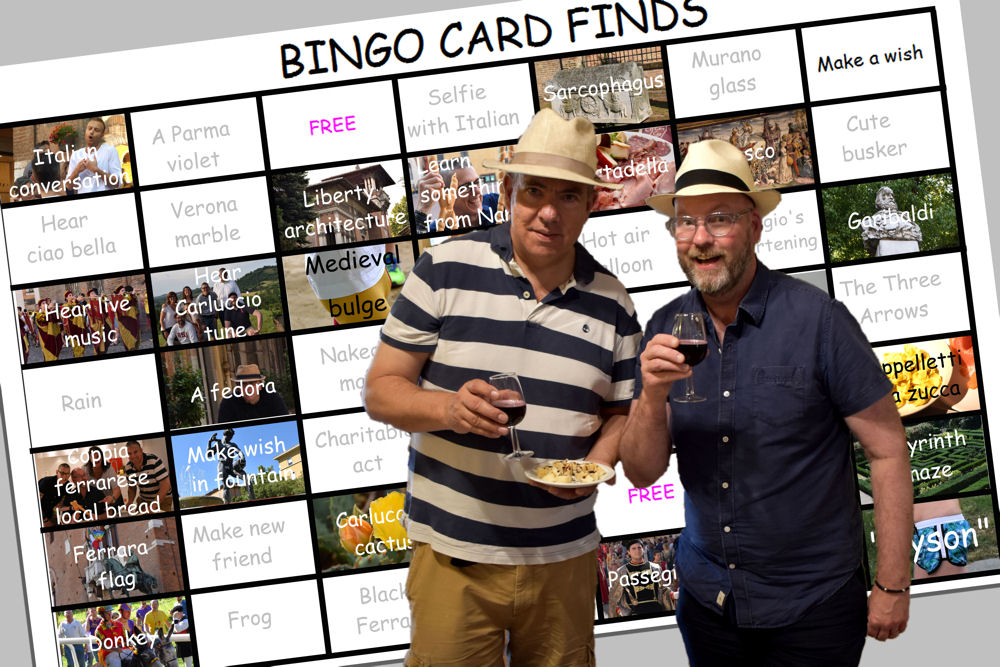 We create bingo cards for each other whenever we travel. These are some of the things we were asked to find.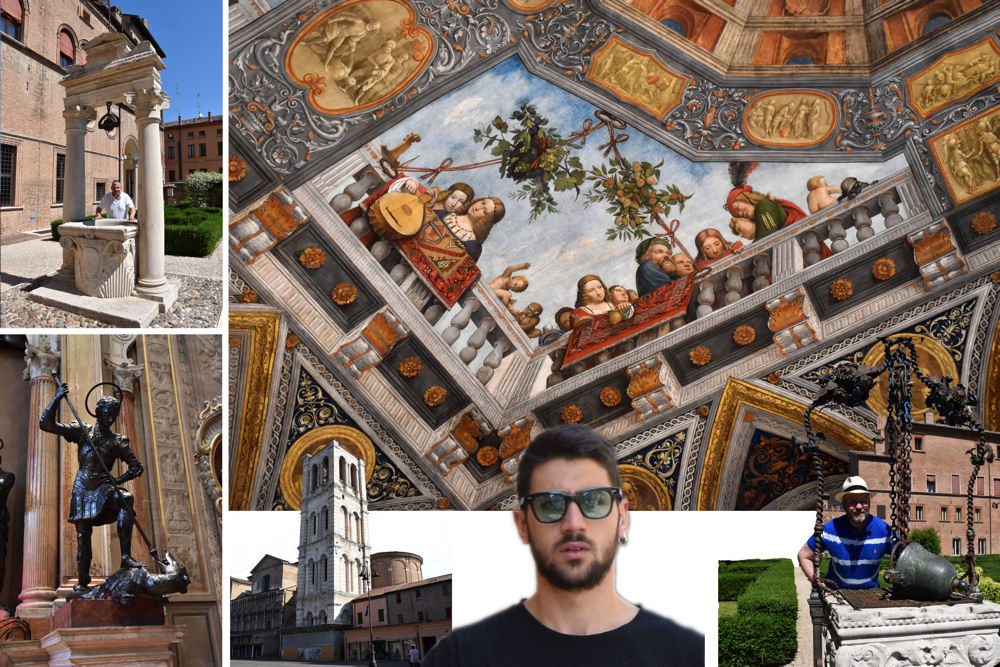 Most of these images were from the Casa Romei in Ferrara.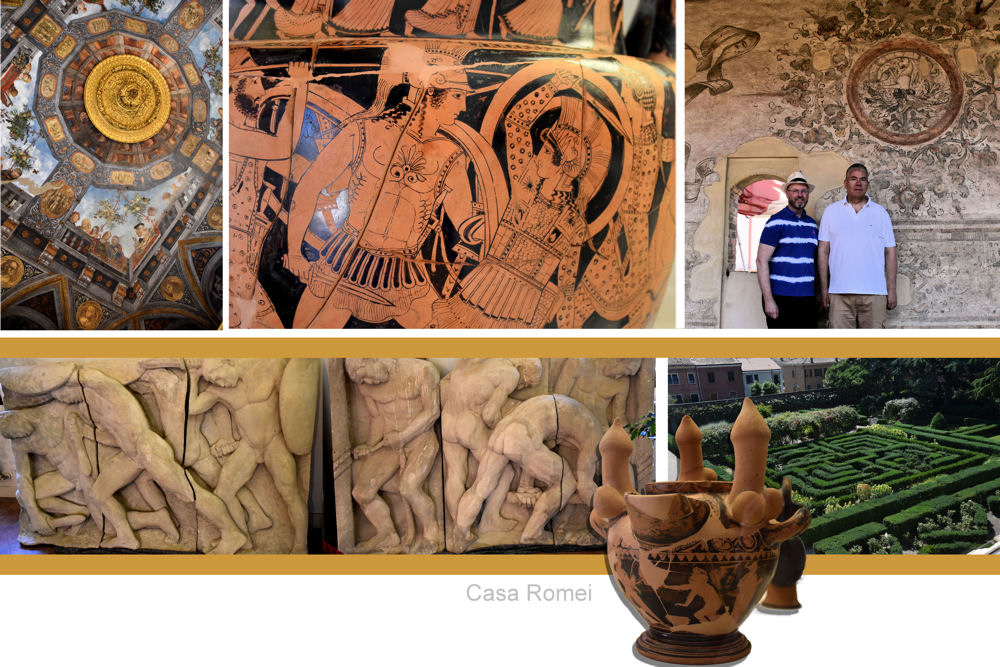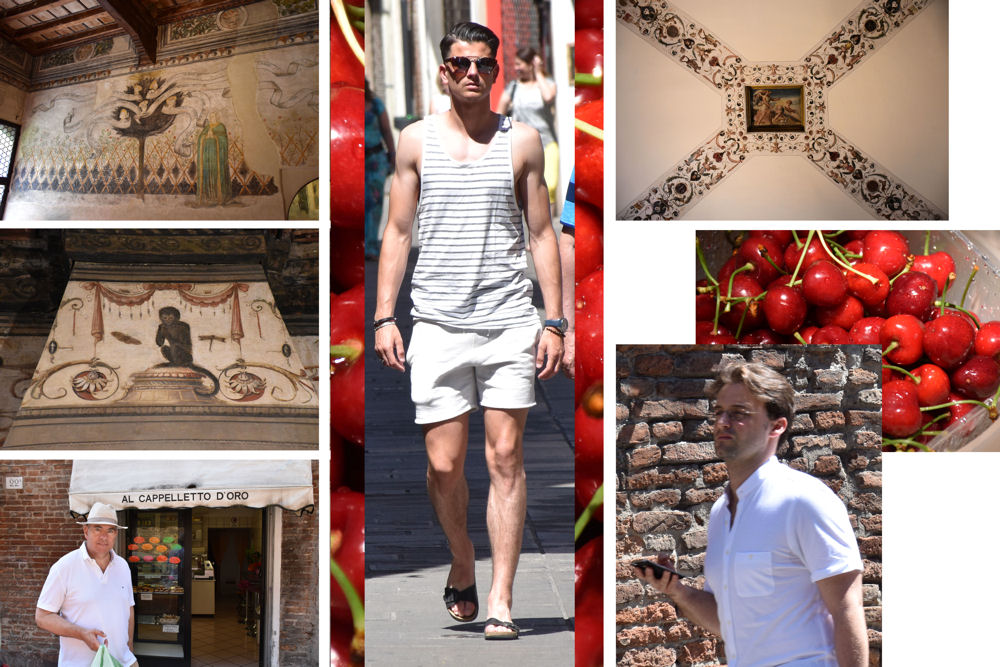 Scenes from the Casa Romei and buying cappelletti di zucca for dinner. It was cherry season and we bought a bunch that lasted us the whole week.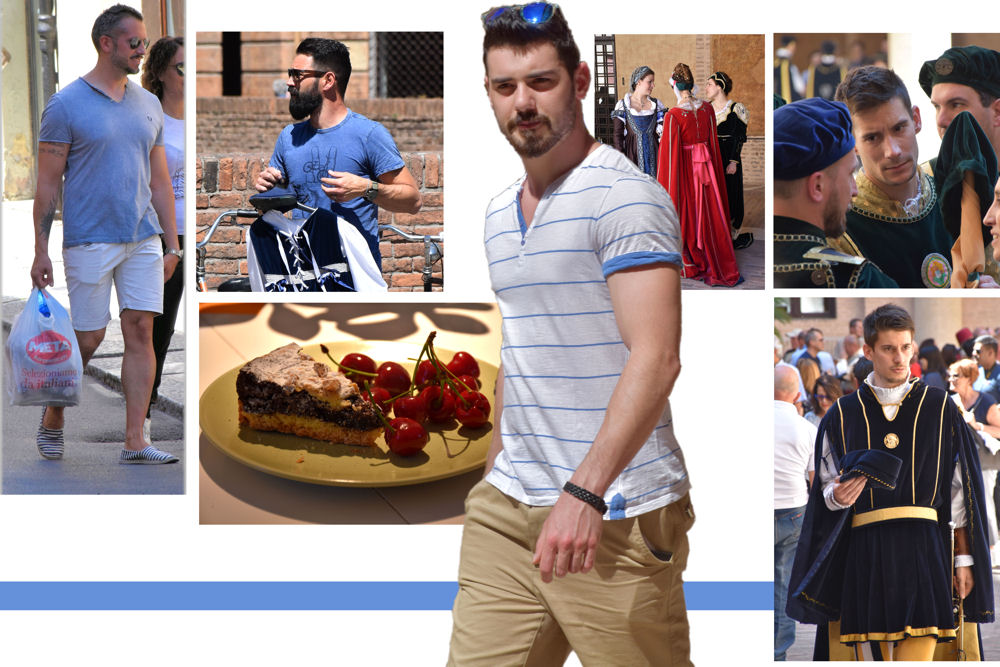 Our trip coincided with the 750-year-old palio and we got to see the citizens from around Ferrara preparing for their parade.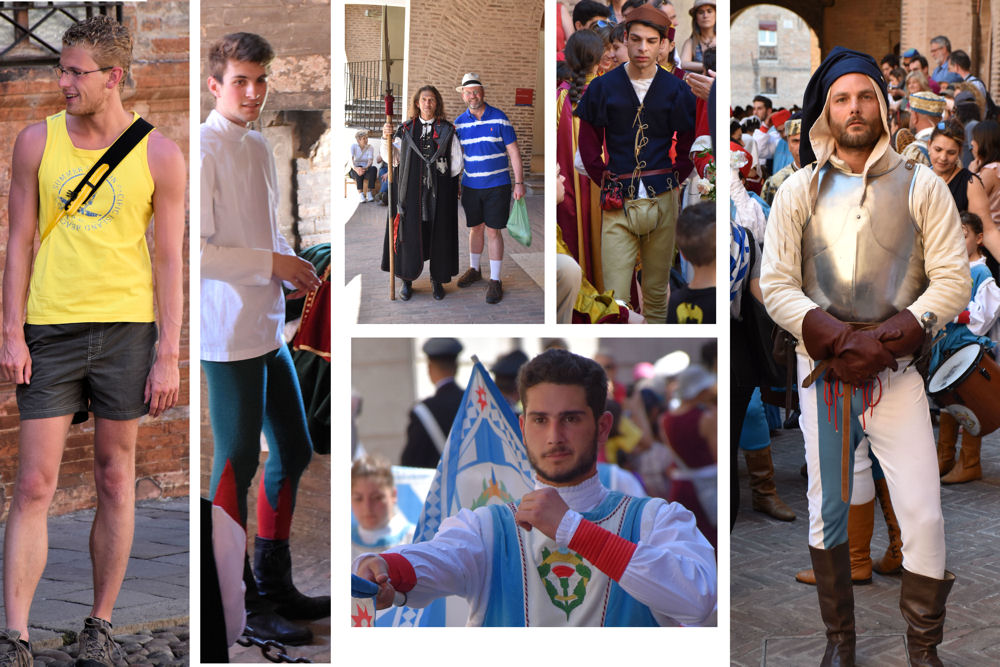 Codpieces everywhere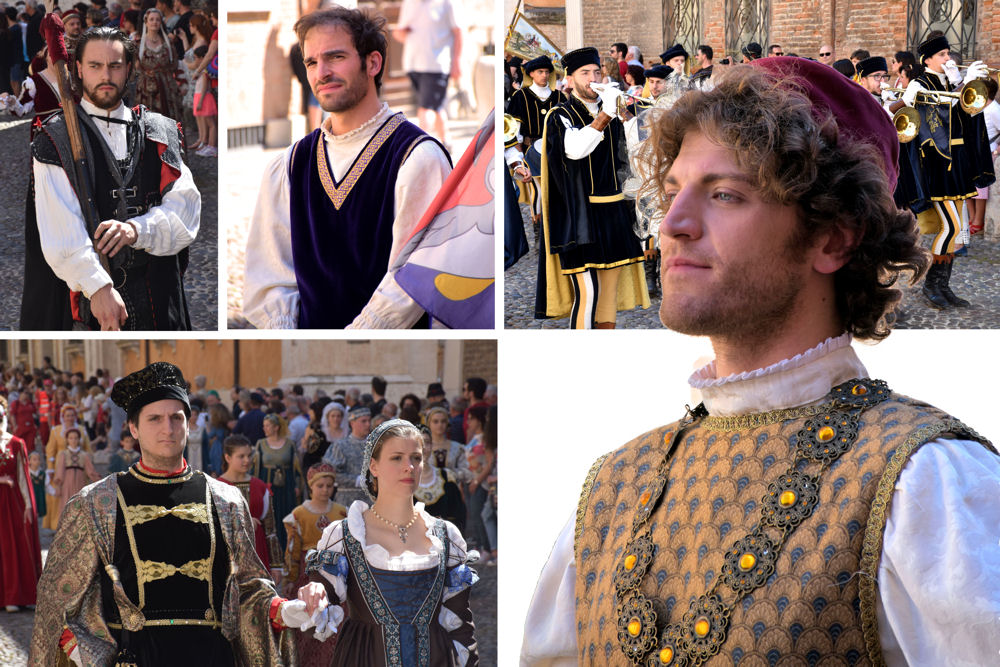 A friend commented that the curly-haired man looks straight out of a Renaissance painting.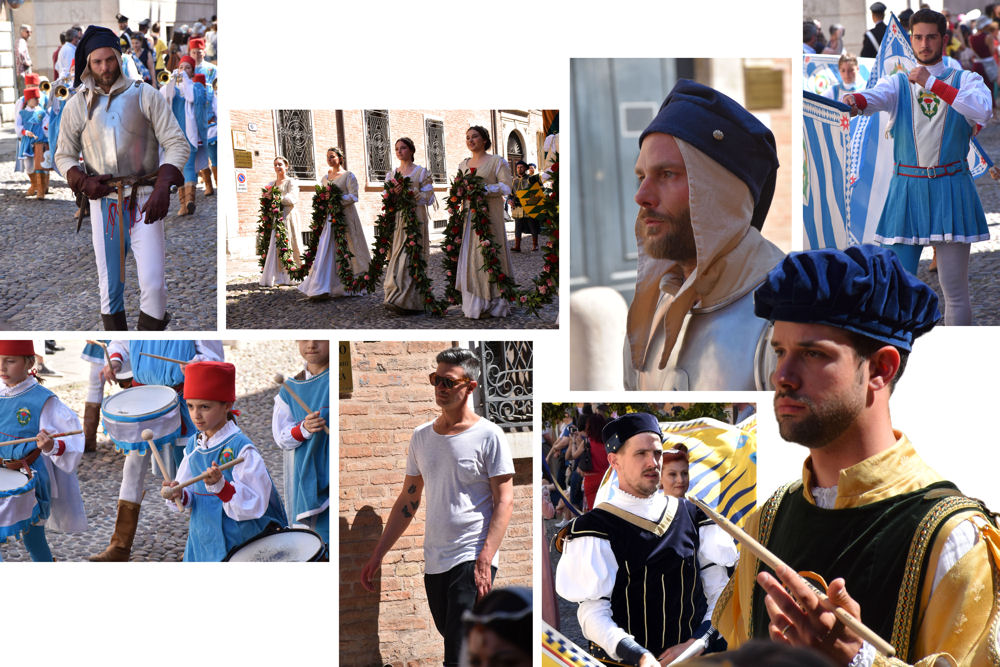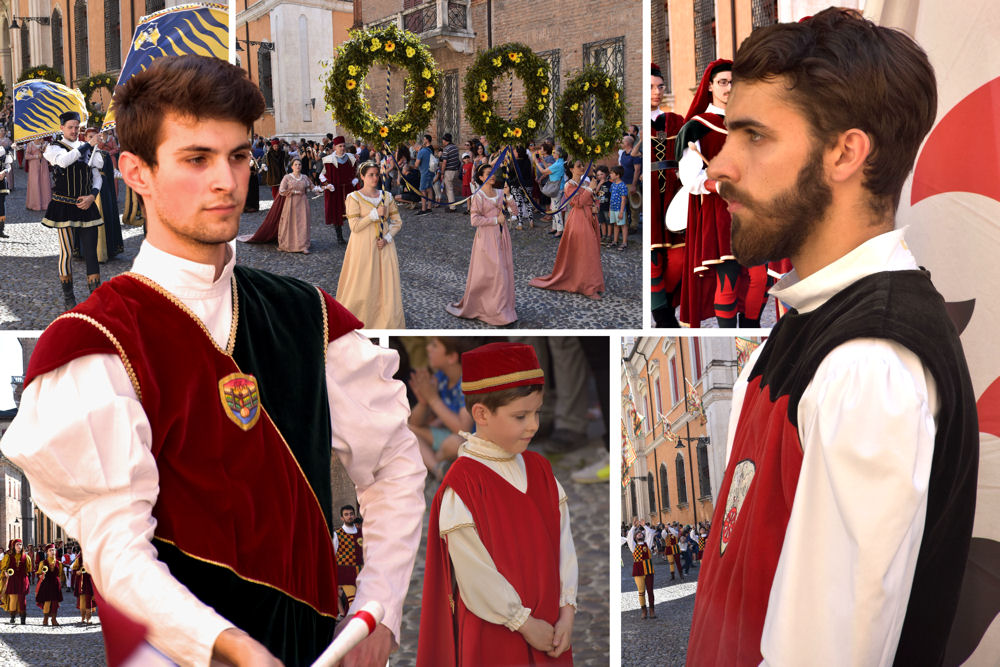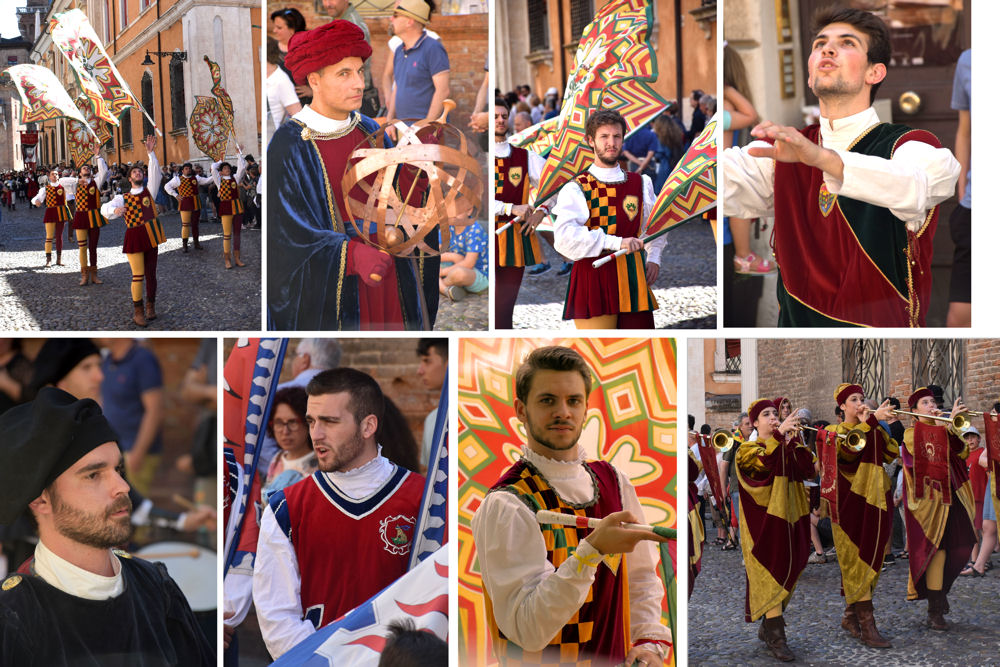 Almost every time we go to Italy, we encounter flag tossers. Click HERE to see some memorable photos from Abruzzo, 2015.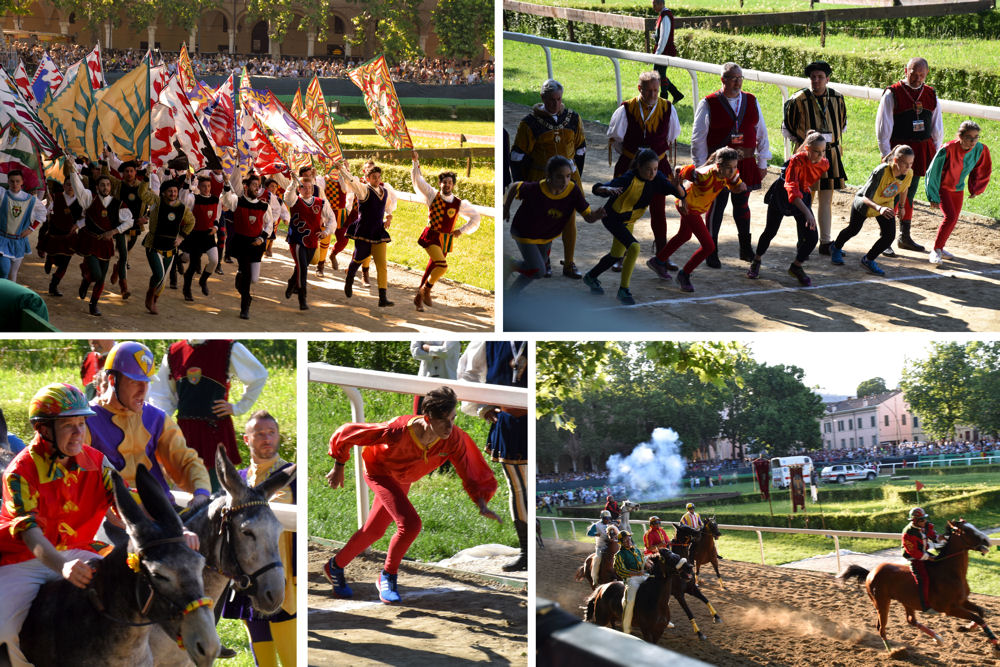 The various races were great fun to see, and the locals took them very seriously. We watched the putti and putte (boys and girls) race, the donkey race, and the final horse race. It was touching to see the whole town crowd around the winners and carry them triumphantly around the track (not the horses).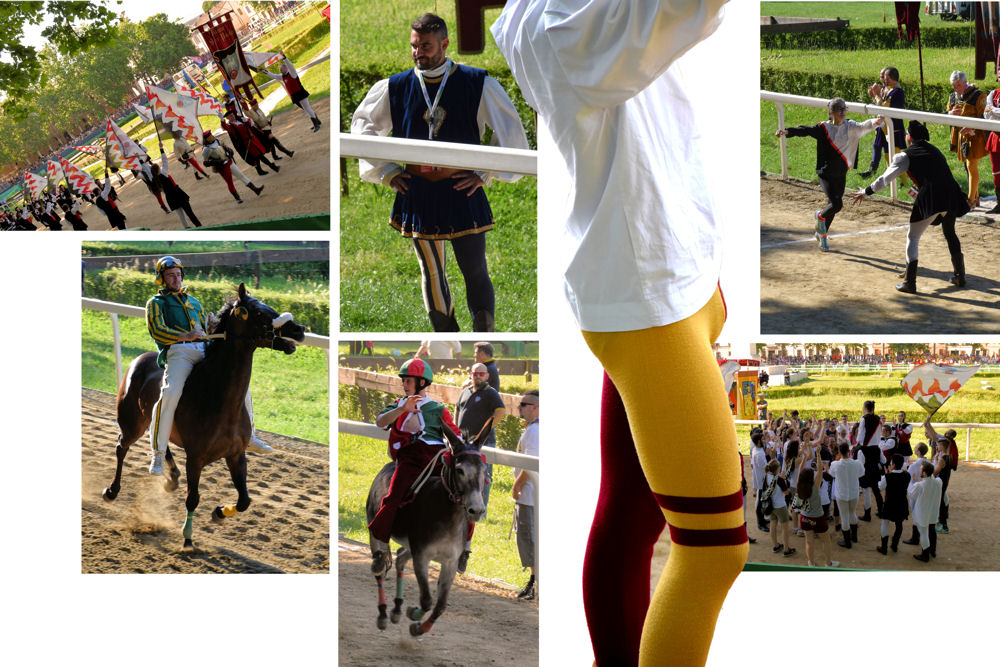 "Medieval bulge" was on my bingo card.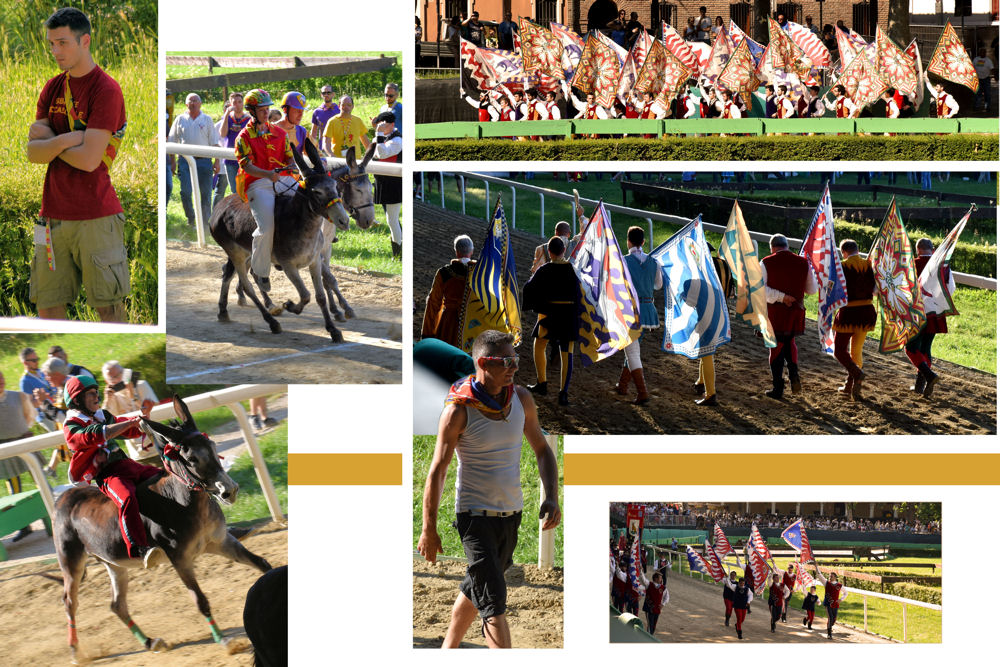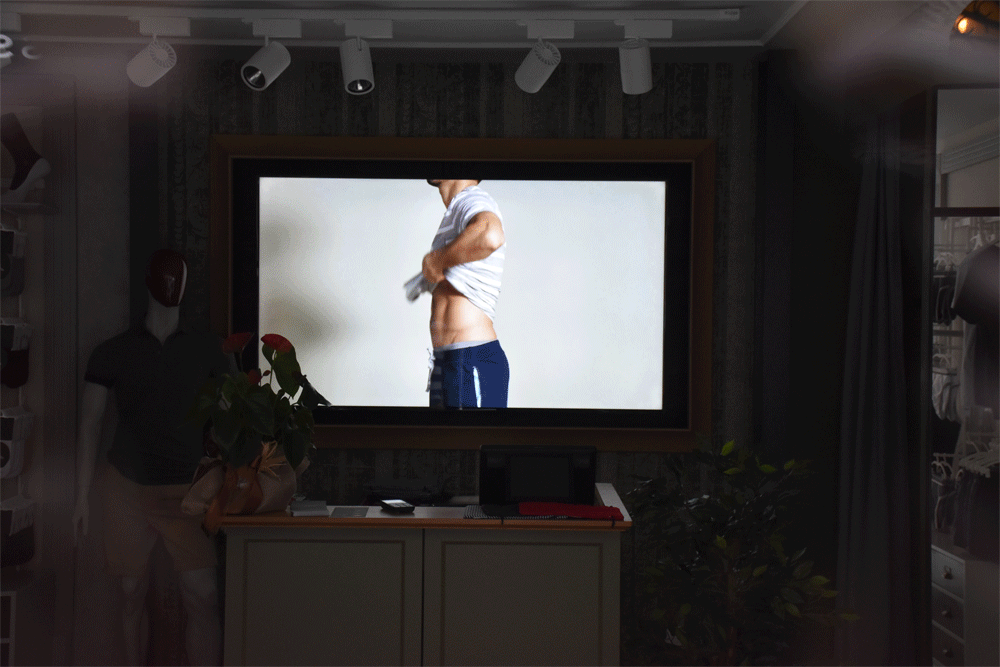 We never went into this underwear shop when it was open, but we enjoyed peering through the gate at the display video.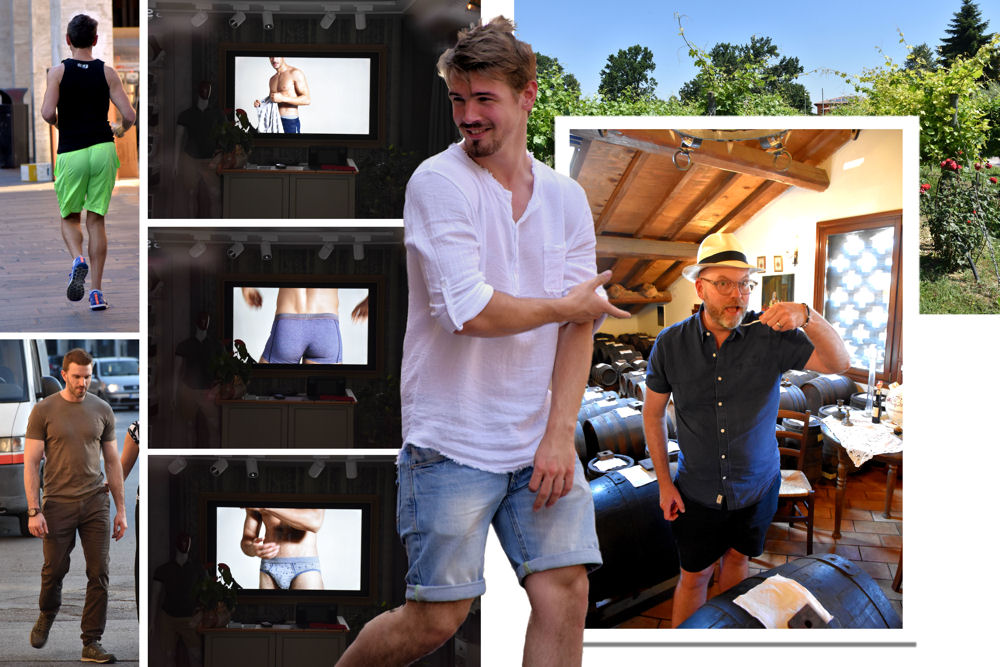 On my birthday, we went to Modena and tasted 100-year-old balsamic vinegar on the Leonardi farm.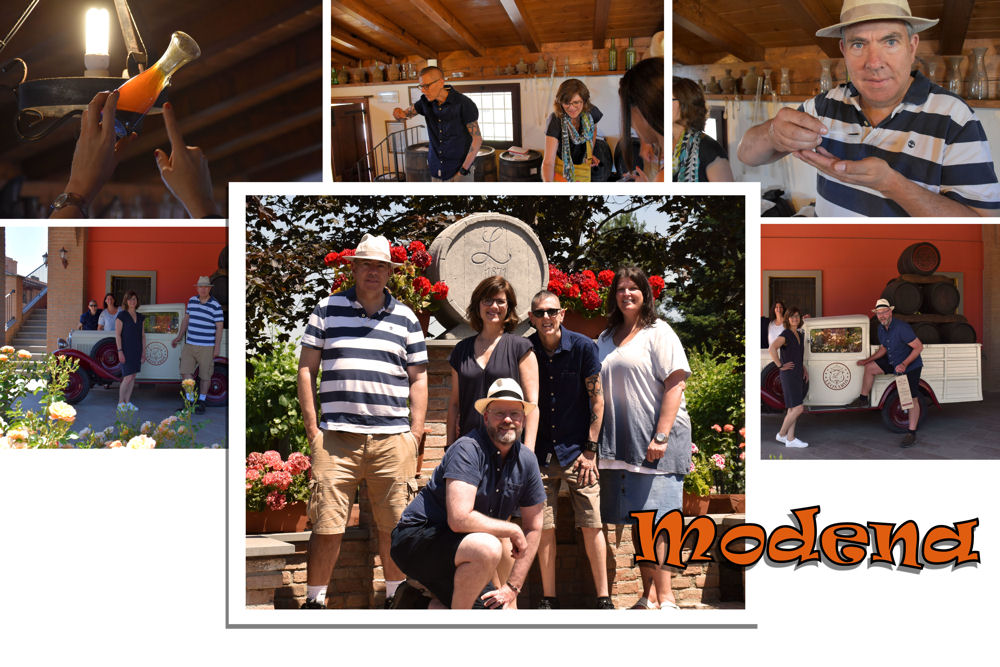 The best thing about this trip was meeting up with my cousin Linda, Nancy, and Katie and sharing our adventures together. They are all as passionate about things Italian as we are. Click HERE to see our joint trip to Florence for my birthday last year.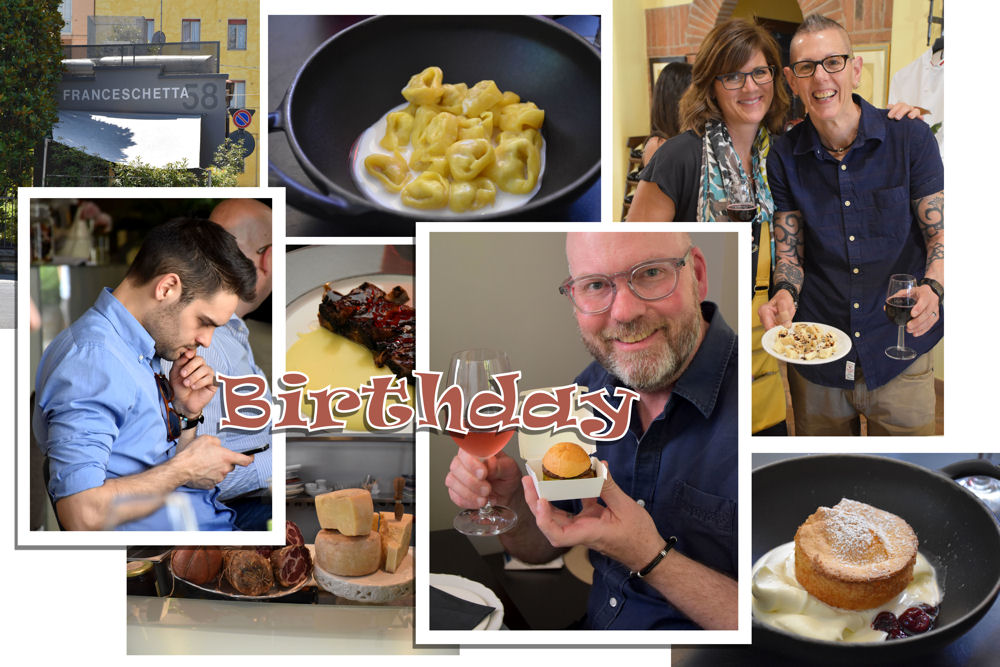 For my birthday , I was treated to lunch at Franceschetta 58, the osteria run by the world's #2 chef, Massimo Bottura. He was in the restaurant at the start of our visit, but I didn't get a photo.We had mini burgers, tortellini with parmesan cream, ribs, and cherry cake.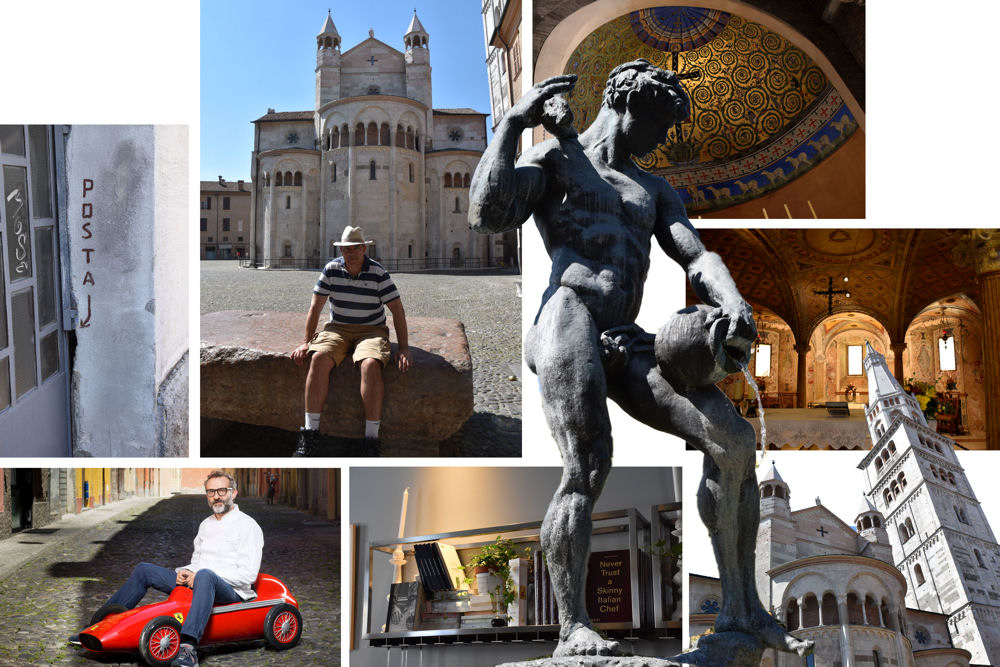 These are scenes from Modena. In the past, lawbreakers used to stand naked on the stone and the locals would throw rotten fruit at them.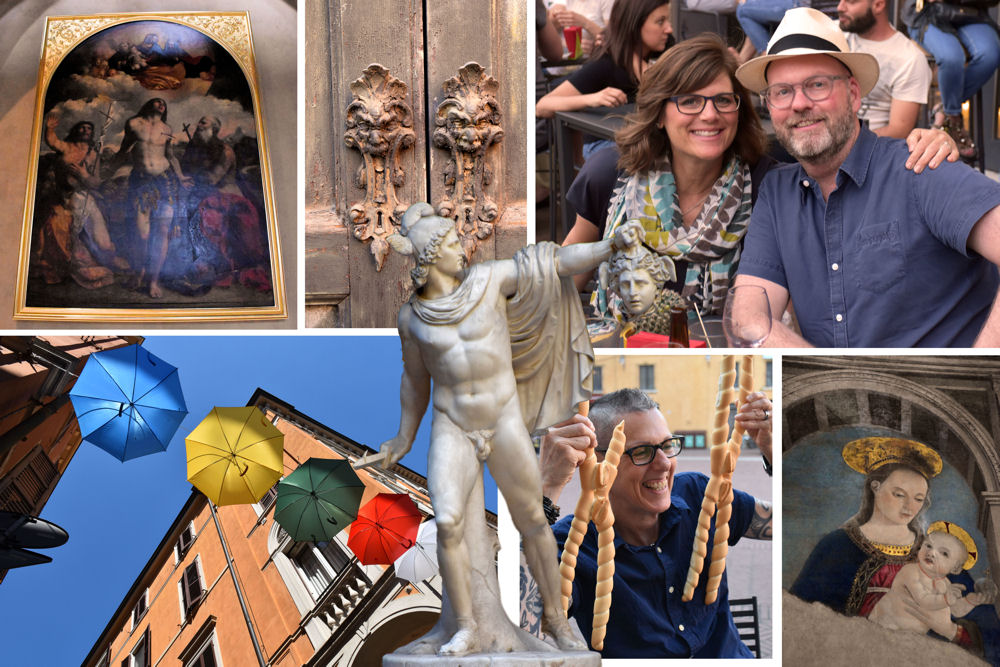 After Modena, we returned to Ferrara for cocktail hour and a chance to hold some of the town's exceptionally weird bread.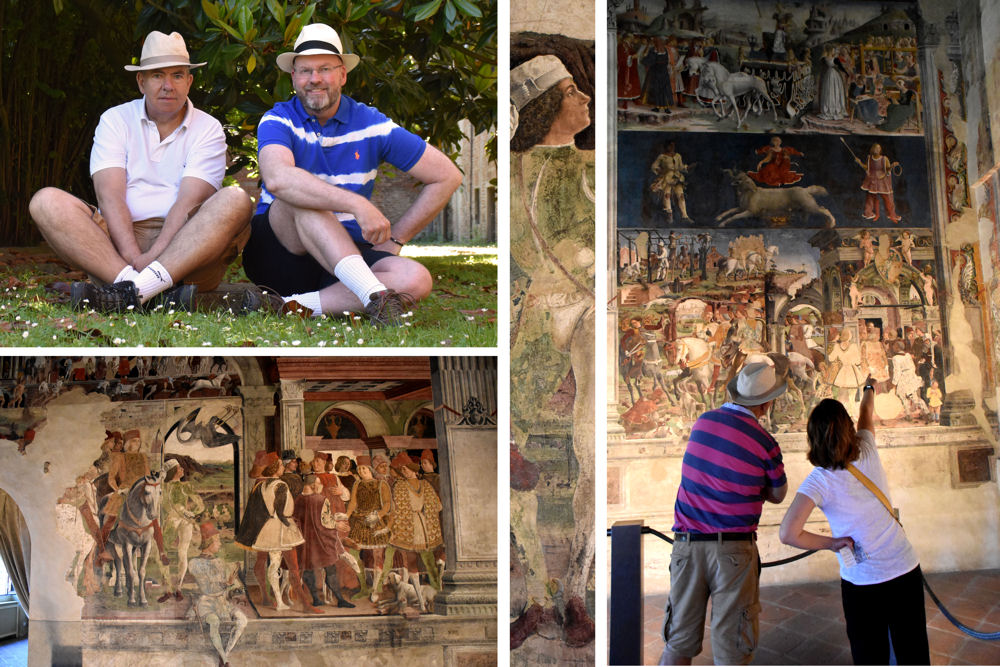 One of the main highlights of our trip was vising the Palazzo Schifanoia, as fictionalised in Monica Ali's novel How to Be Both. We loved it so much, we went twice to see the 548-year-old frescoes by Francesco del Cossa, hero/heroine of the book.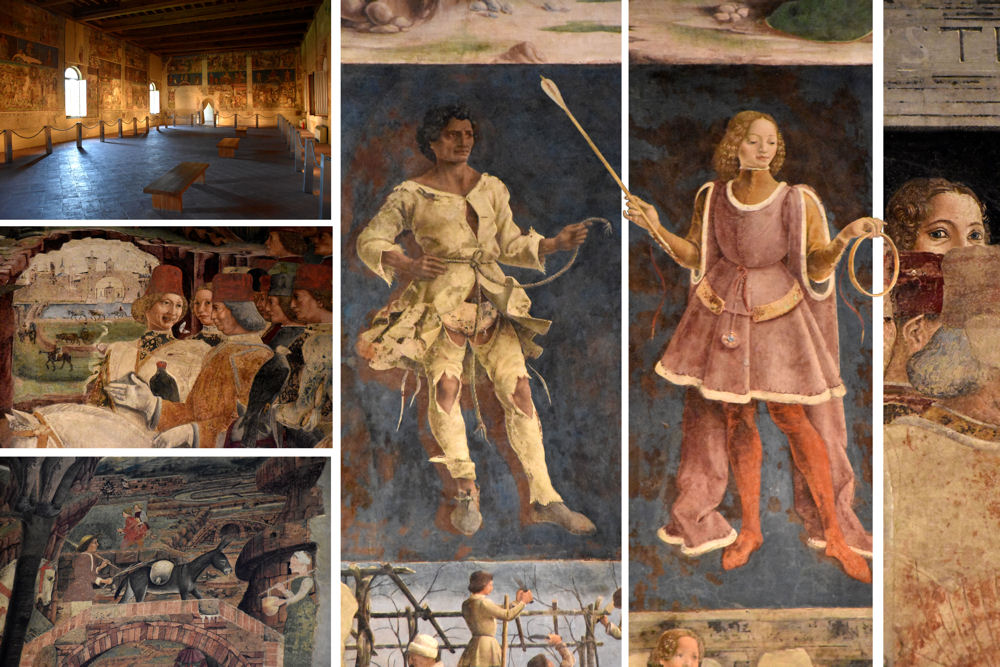 The swarthy man in rags was featured in the book and the character with the arrow is supposed to be a self-portrait of the artist, according to novel. Linda wondered who the enigmatic woman on the right was.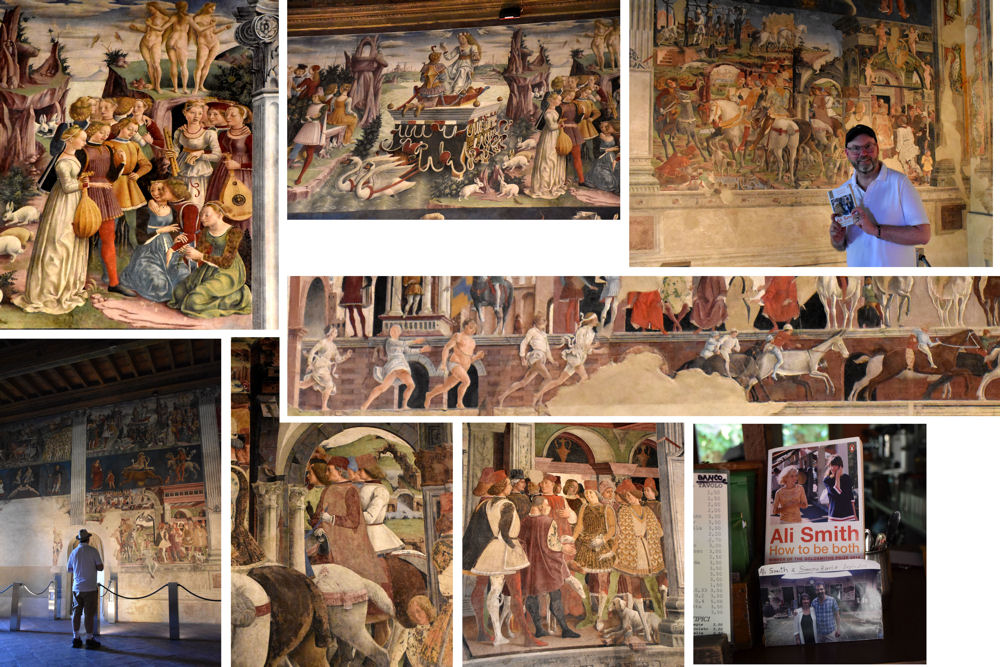 The long panel of Francesco del Cossa's fresco shows the Ferrara palio. In her book, Monica Ali writes, "But he'd shaken his head at the madmen from the madhouse that I'd painted running behind the horses and donkeys as if part themselves of the palio, their straightjacket tabs flying out behind them…"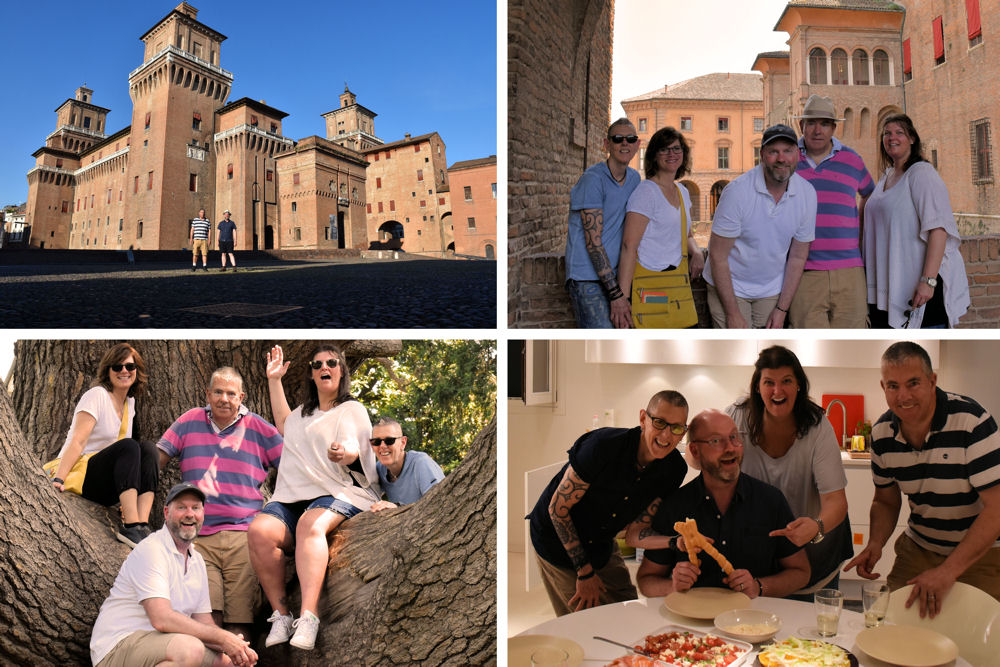 Our group explored the town together and shared one final meal back in our apartment before they moved on to Parma.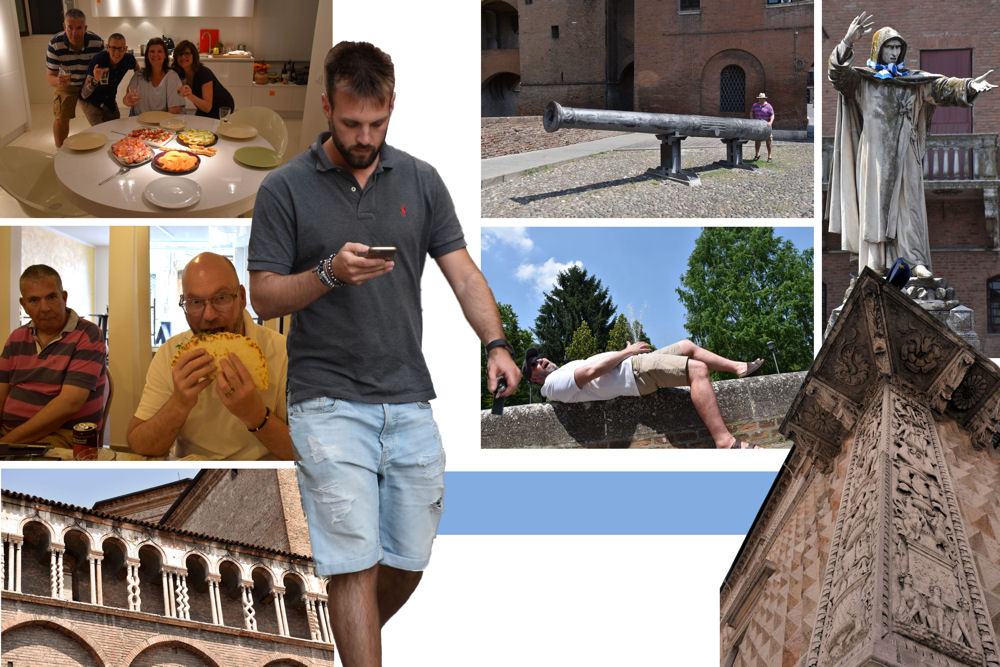 Above: A local food specialy is padina, a bit like a quesadilla. I also re-created a Carluccio moment with the fountain.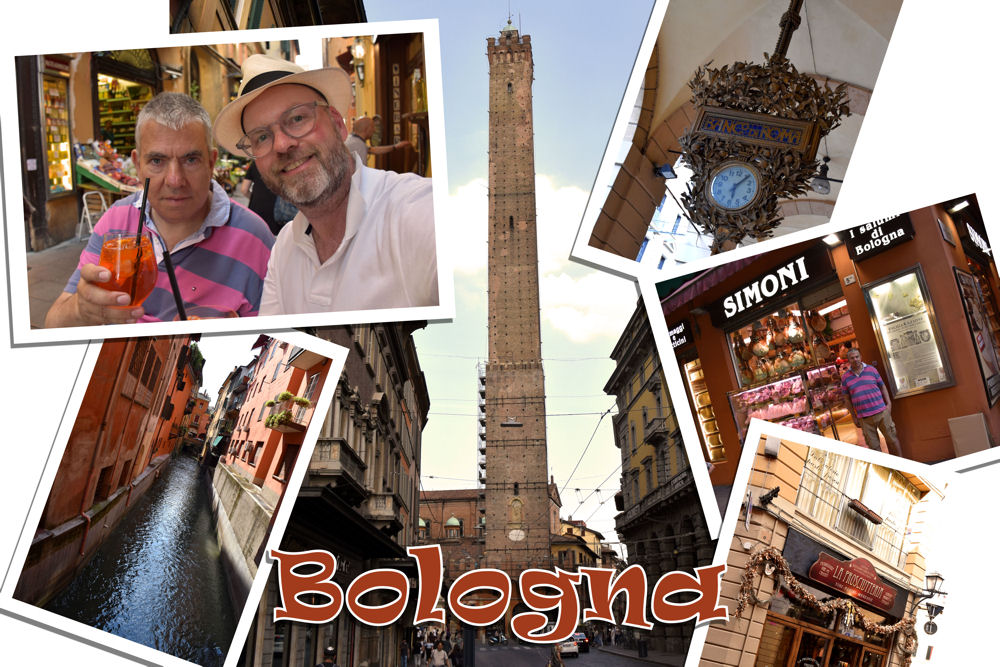 The others despatched to Parma, we spent the afternoon in Bologna, where we drank spritzes and bought two kilos of parmesan at Simoni to bring back home. Click HERE to see our trip to Bologna in 2012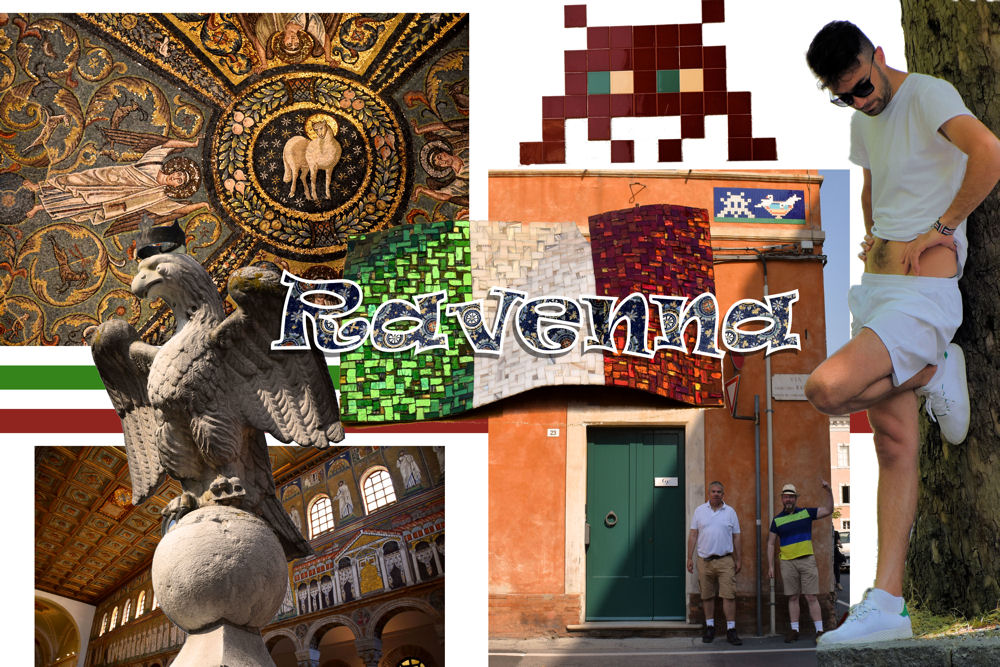 Next stop: Ravenna, home of wonderful Byzantine mosaics and, better still for us, lots of Invader mosaics!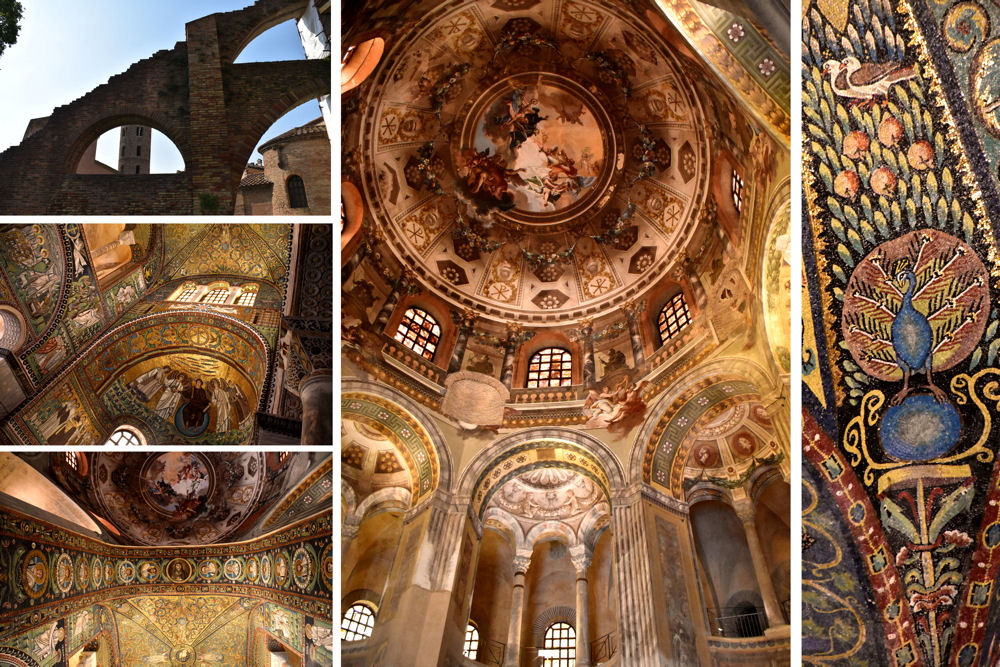 Ravenna is famous for its mosaics and many of its awe-inspiring locations are on the World Heritage List. The Basilica di San Vitale, which dates from 548 A.D., made me gasp when I first saw it.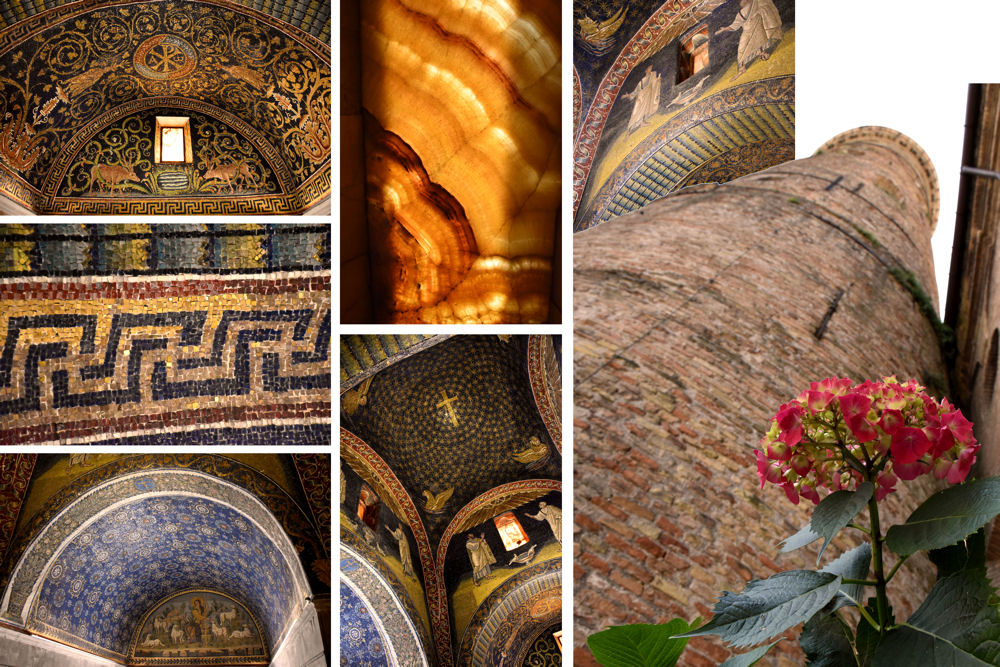 Mausoleum of Galla Placidia with Byzantine mosaics and alabaster windows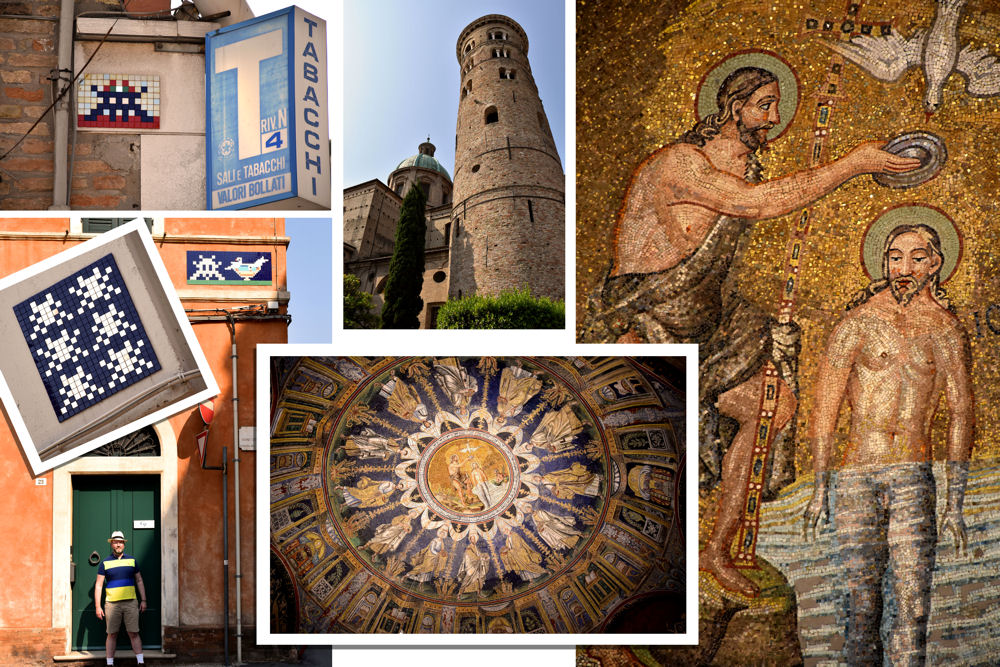 Some of our first sightings of Invader's street art, plus the Baptistry of Neon (c. 430)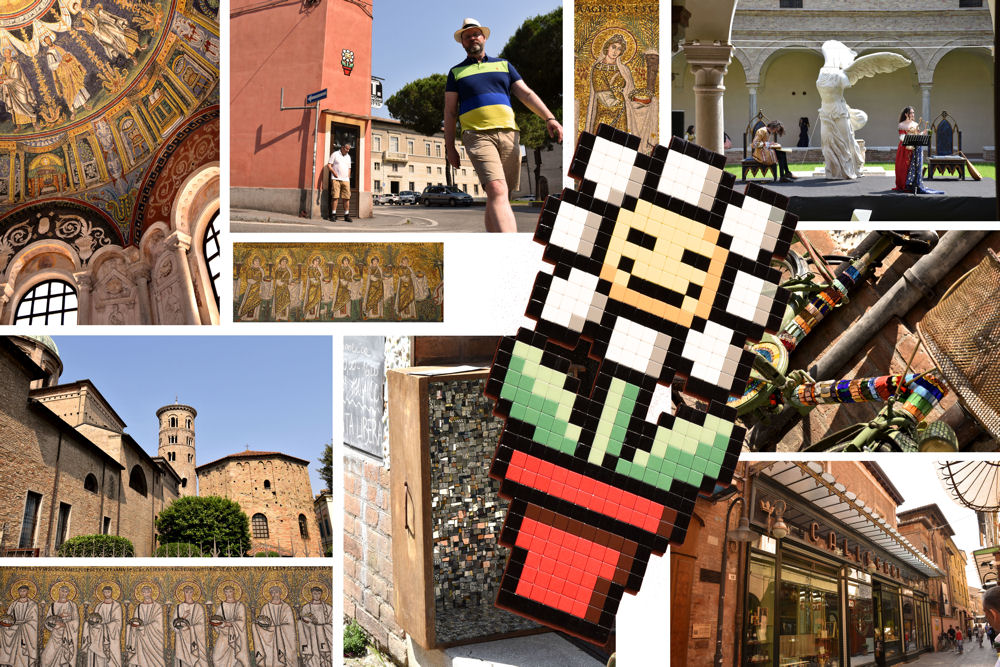 Above: Palace of Theoderic (520 A.D.), more Invader art, an outdoor performance of works by Dante, who was from Ravenna, and some modern and Liberty style art.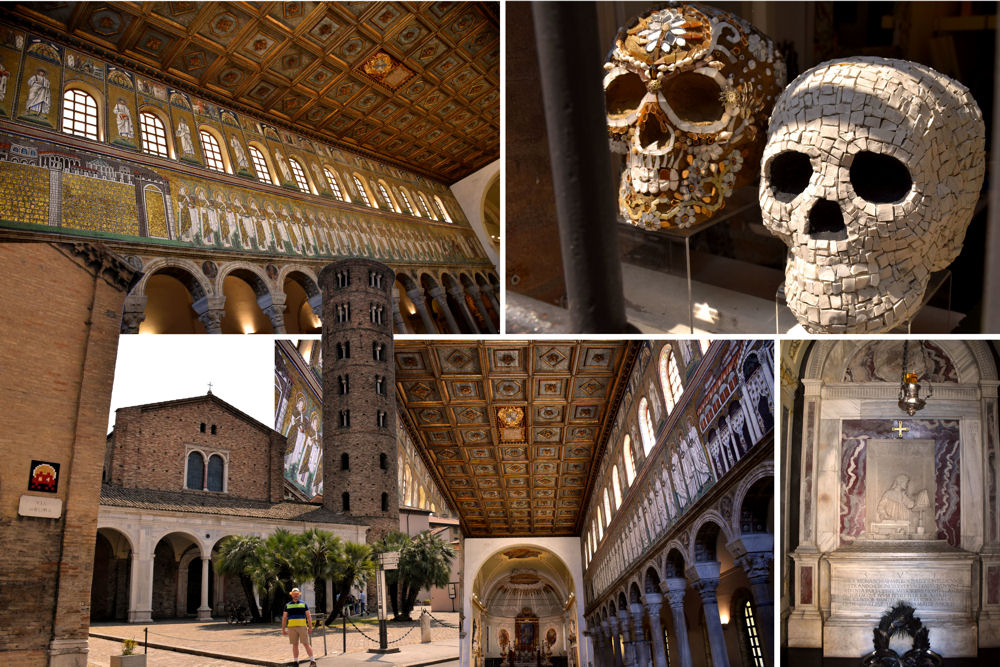 Palace of Theoderic (520 A.D.), modern mosaic skulls, and Dante's tomb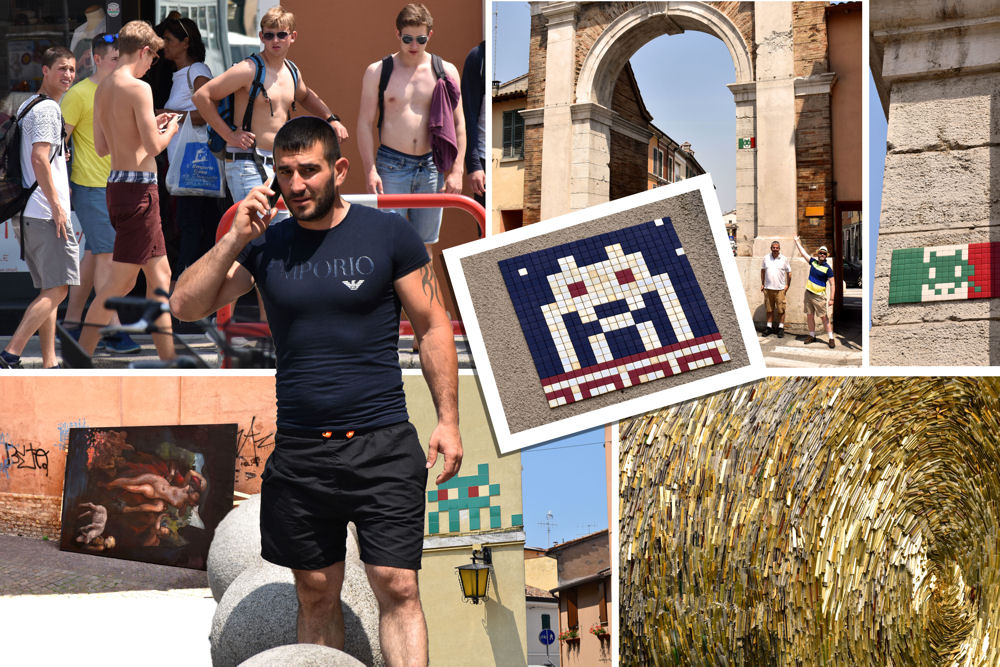 Boys on their Grand Tour, Invader's mosaics, a glass bale outside the modern art museum, and an intriguing prop used by the outdoor Dante performers - a canvas that the black was wiped away to reveal the painting below.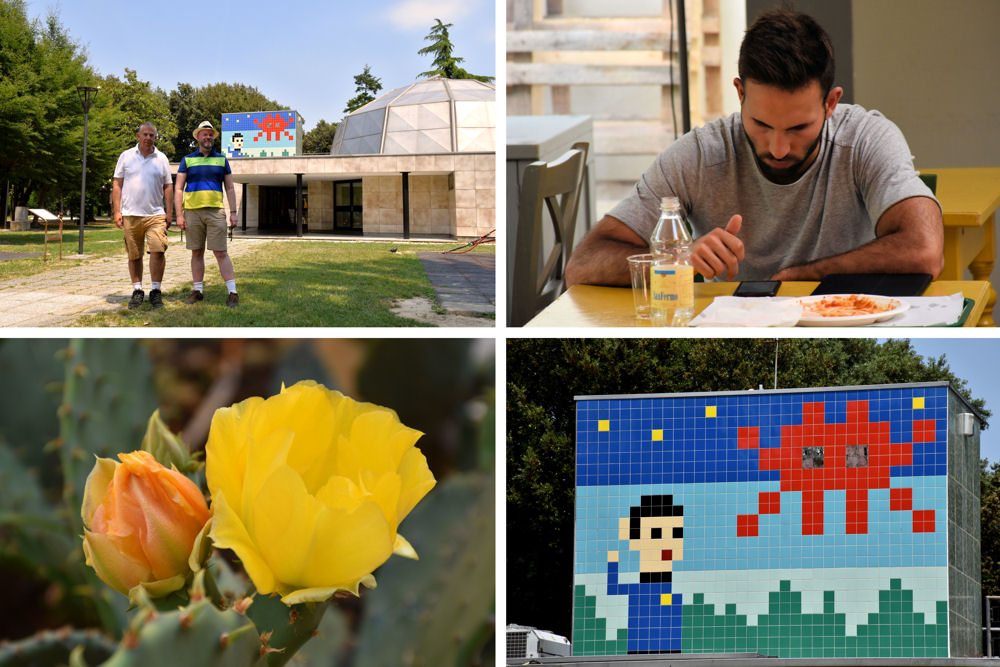 Surely our favourite, and the largest Invader work, the Spock at the planetarium, plus a cactus in flower and a diner with hairy arms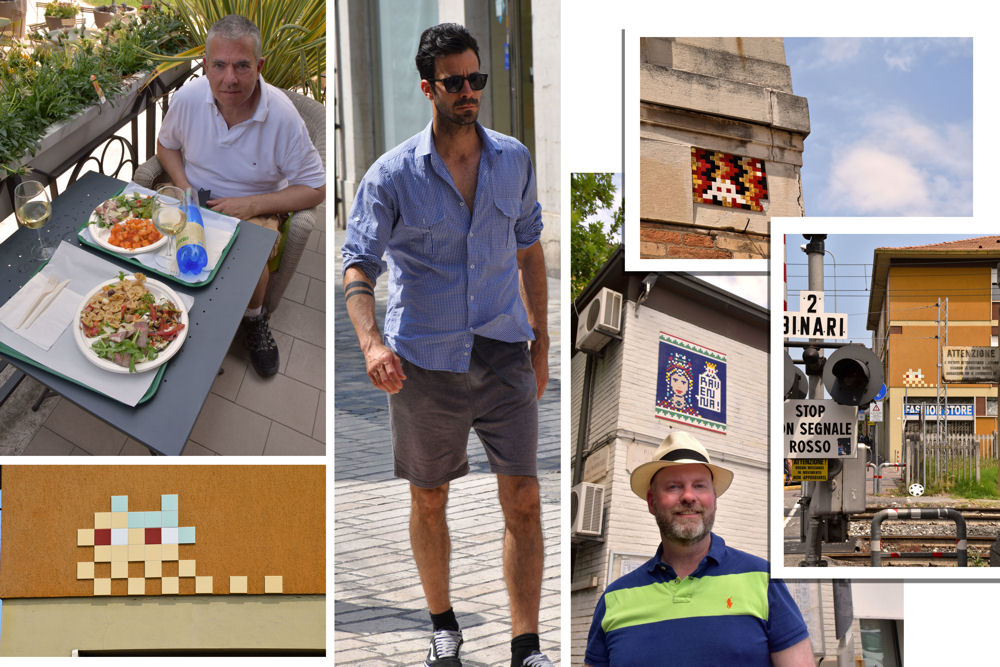 After eating lunch in the park, we spent the afternoon tracking down Invader mosaics to capture on our Flash Invader app. The most fun you can have with ceramic tiles!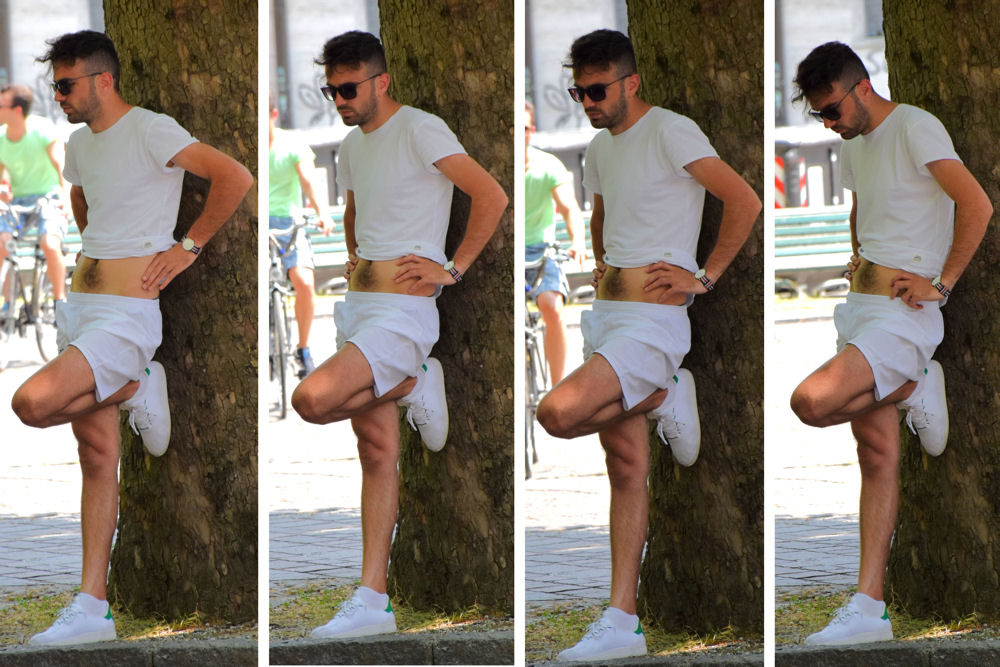 It was so hot, this wood sprite in tennis whites had to pull up his shirt to cool off his hairy belly. A diet of carbs is evident.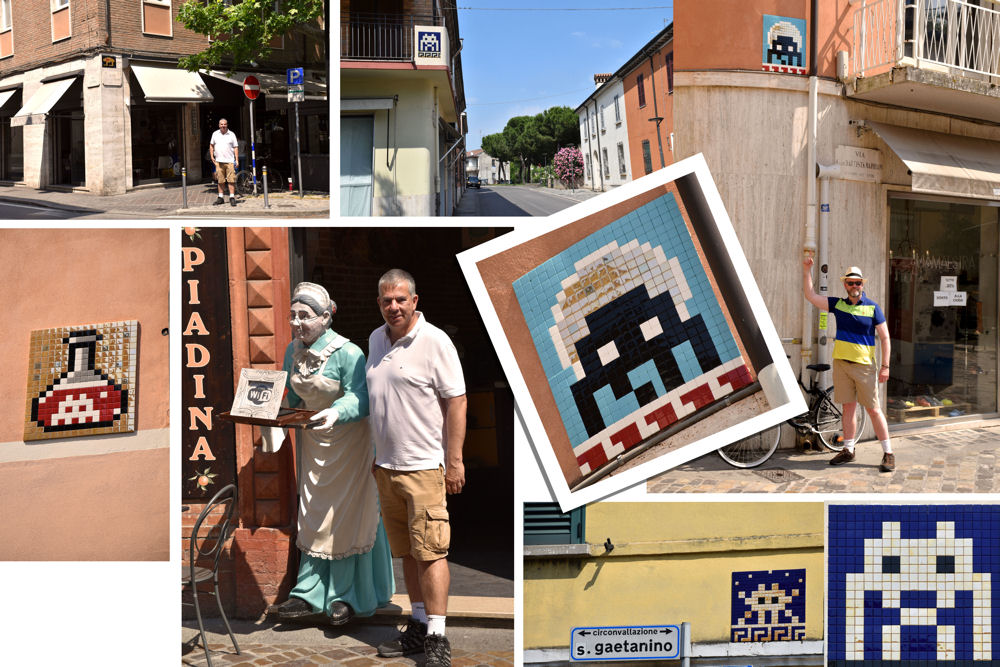 Lots and lots of Invders all around the city.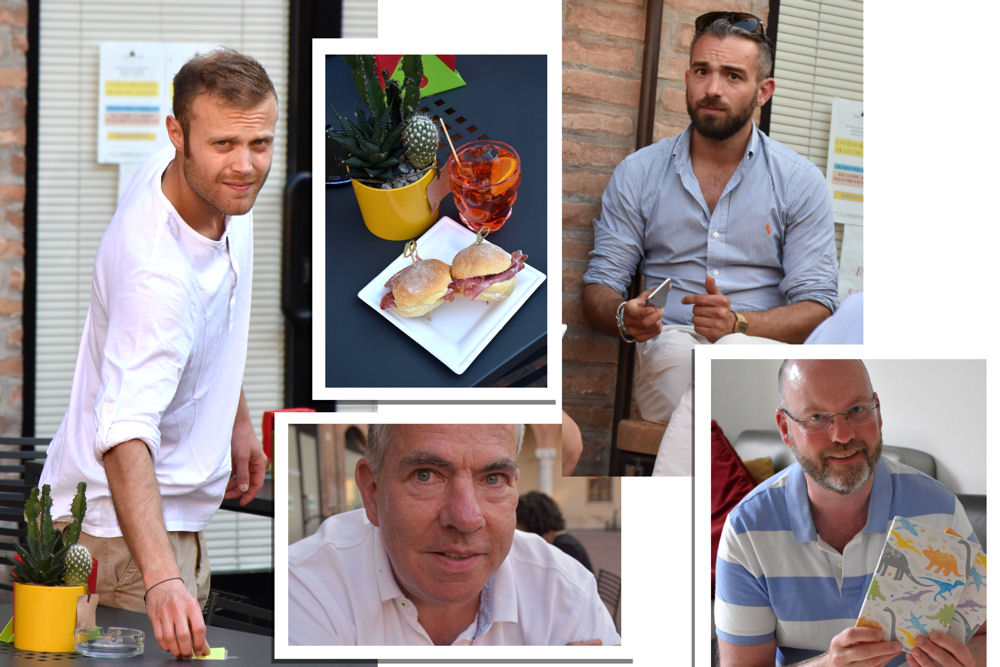 Back in Ferrara, we returned to our favourite outdoor drinking spot, Retrobottega Travagli, where our cute and friendly waiter knew our usual order and every so often they would ring a bell to indicate that new bombetti (tiny bomb) sandwiches were ready to collect. Afterwards, I opened more dinosaur-themed gifts from Nick.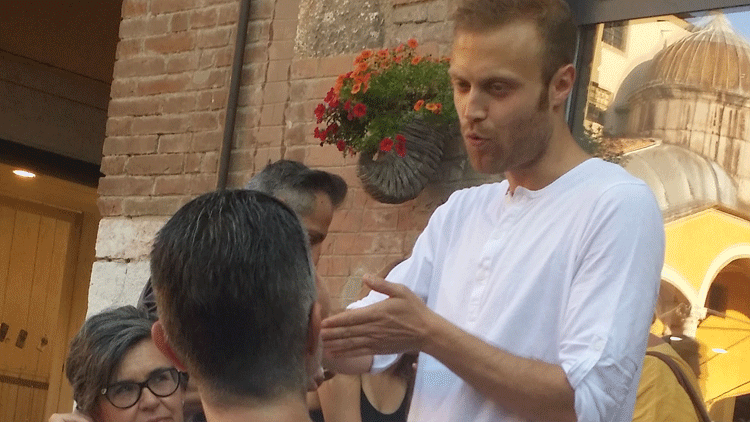 Our lovely gingery waiter demonstrates a range of Italian hand gestures.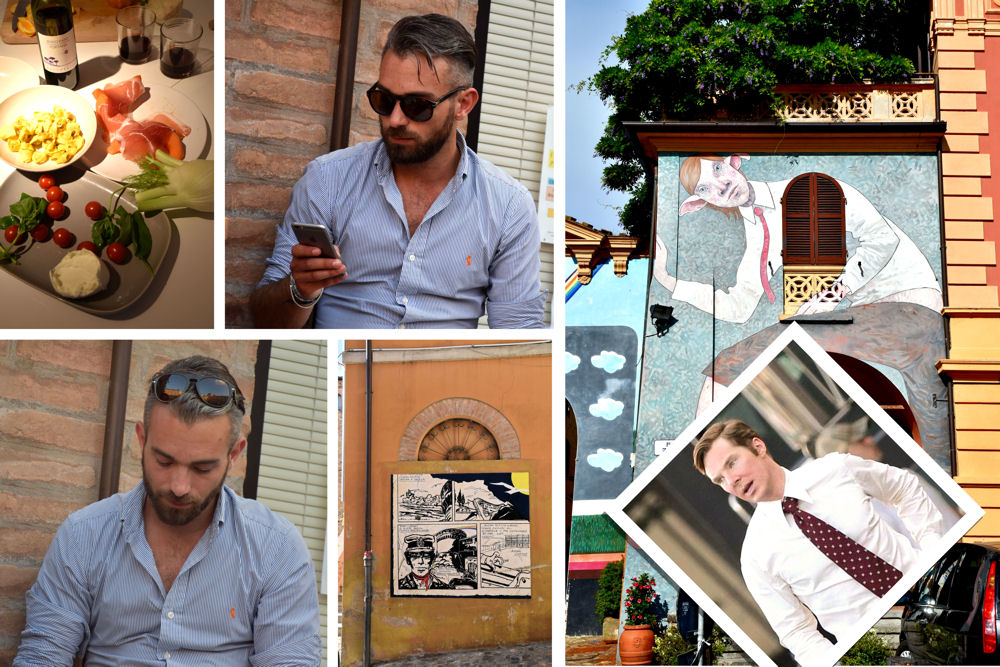 Above: after eating a fresh and lovely meal at home the night before, we headed for Dozza the next morning to see its famous street murals, including one that resembles Benedict Cumberbatch in a red tie.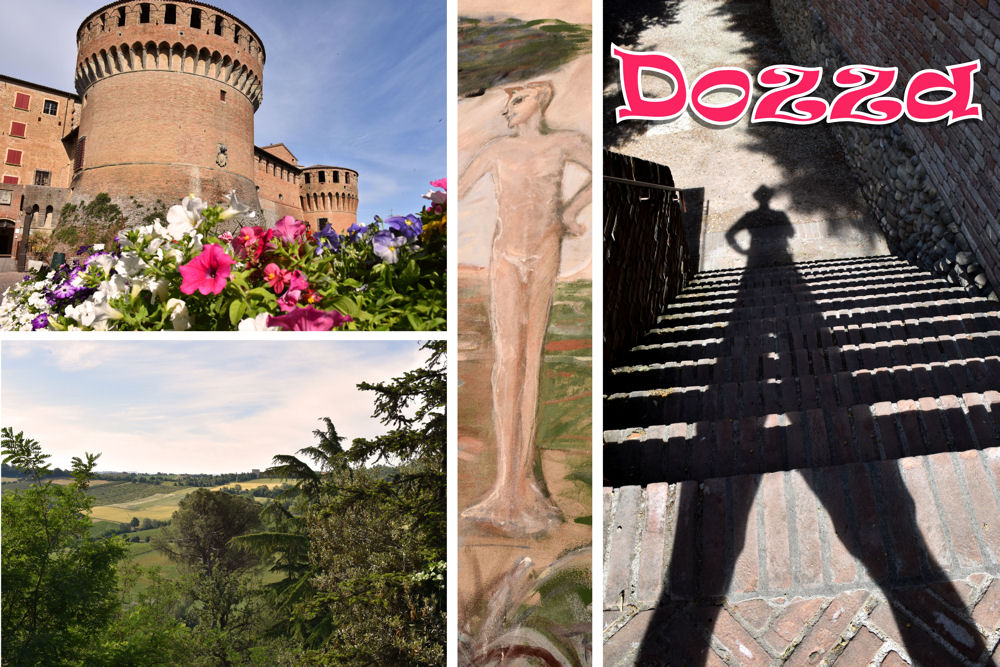 Every two years, artists visit Dozza and transform the city walls into modern frescoes.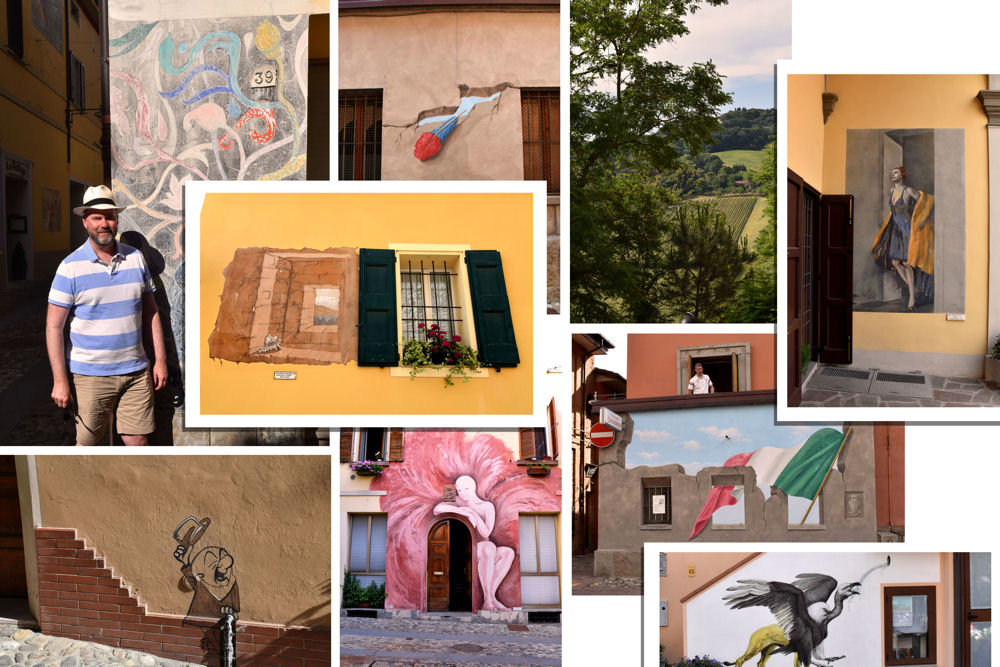 Dozza murals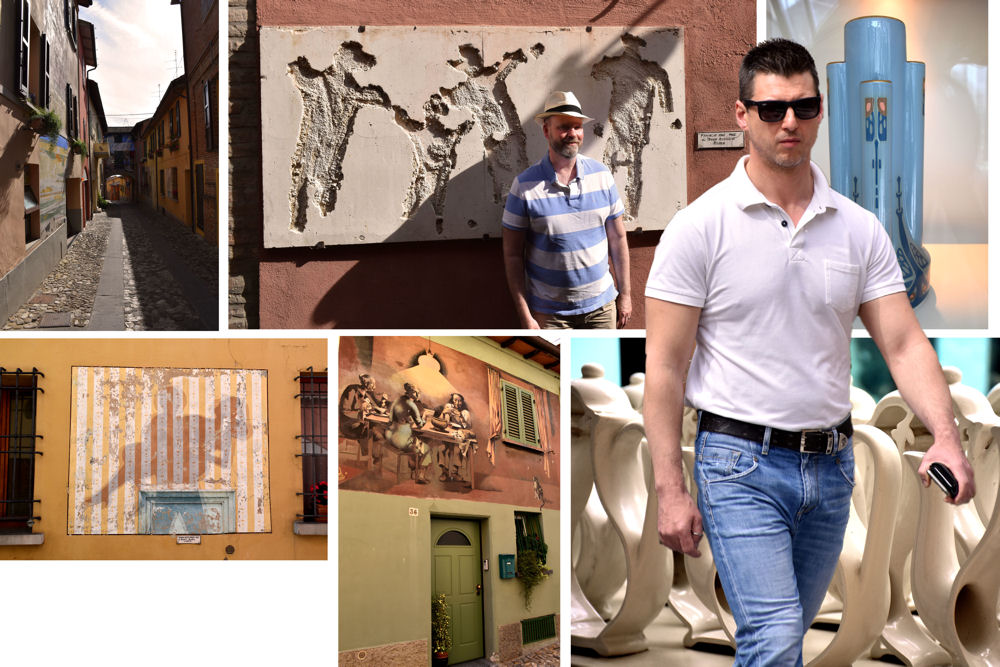 The mural I'm standing next to was created in my year of birth. After Dozza, we drove on to Faenza, famed for its ceramics.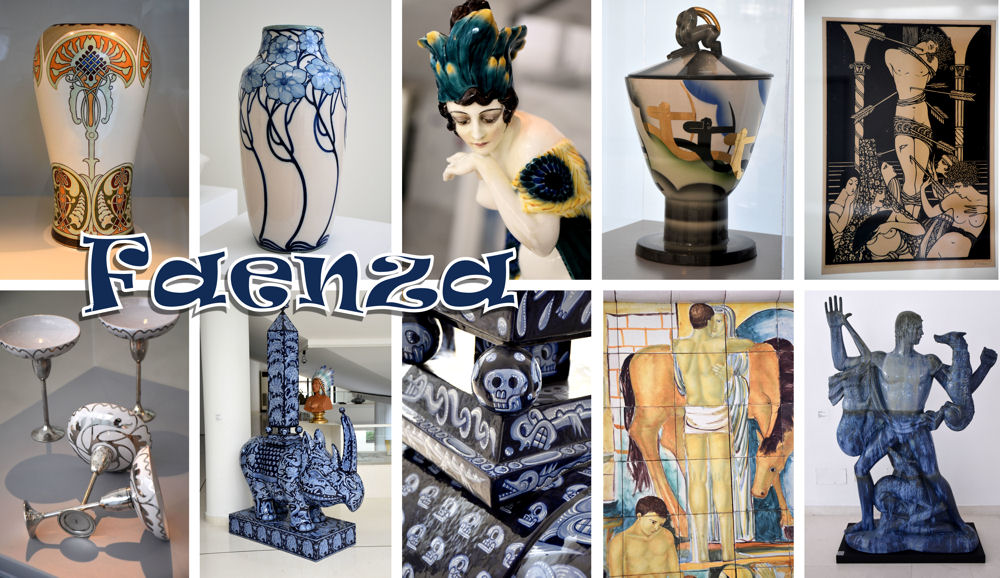 As we love Art Deco and Art Nouveau (Liberty), we were thrilled with the ceramics museum in Faenza.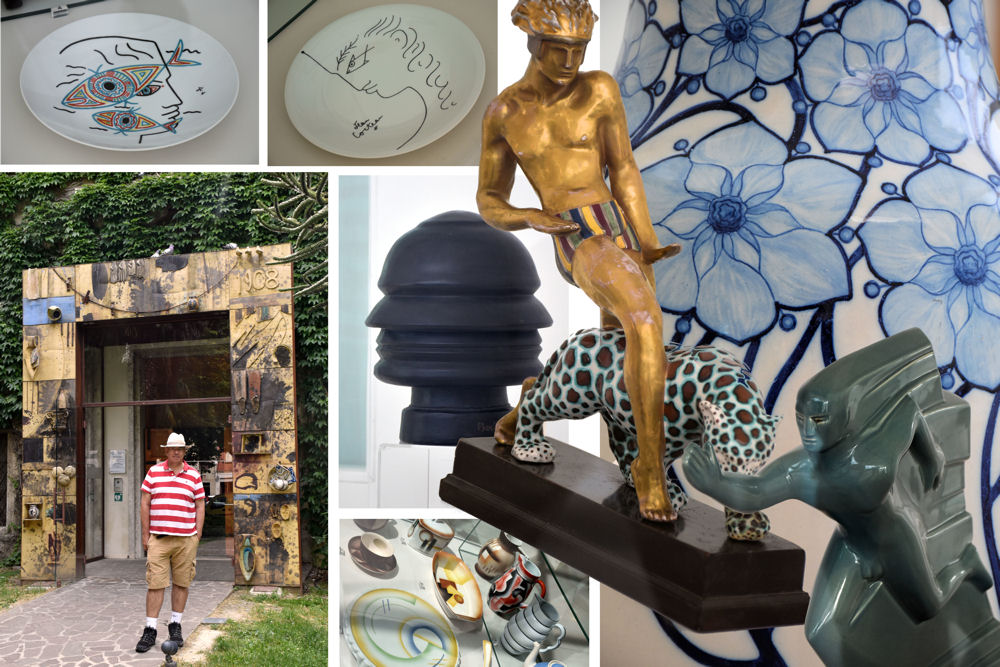 Nick pointed out the Cocteau plates, which I needed for my bingo card. We've loved Cocteau's work since seeing an exhibition at the Pompidou Centre in Paris in 2003, Visiting Menton in 2016, and going to his house in 2012.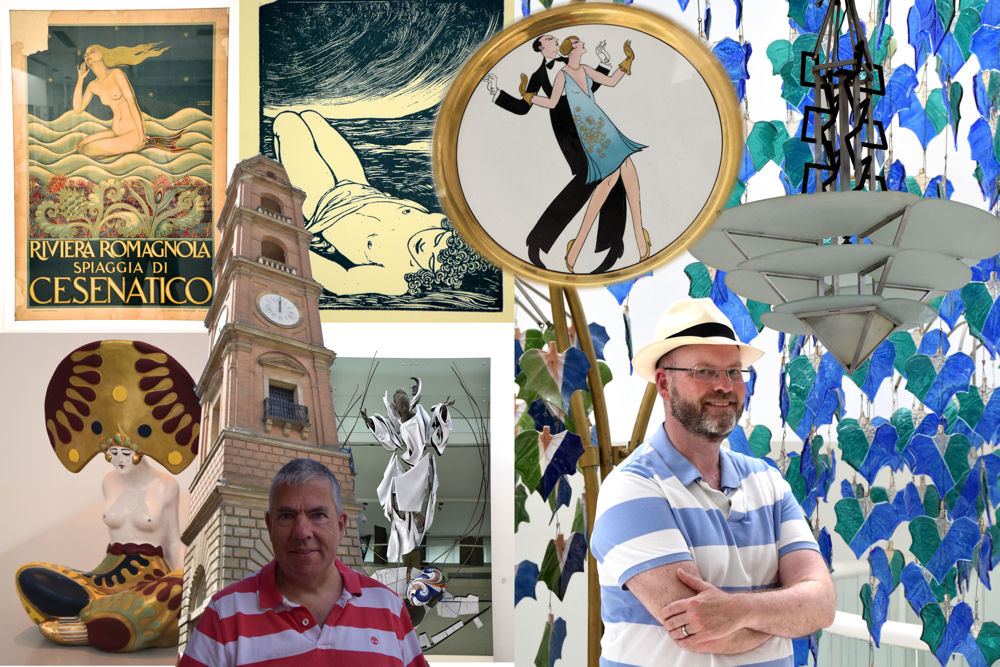 The ceramics museum was full of wonderful Art Deco works and we loved the lamp, among many other things.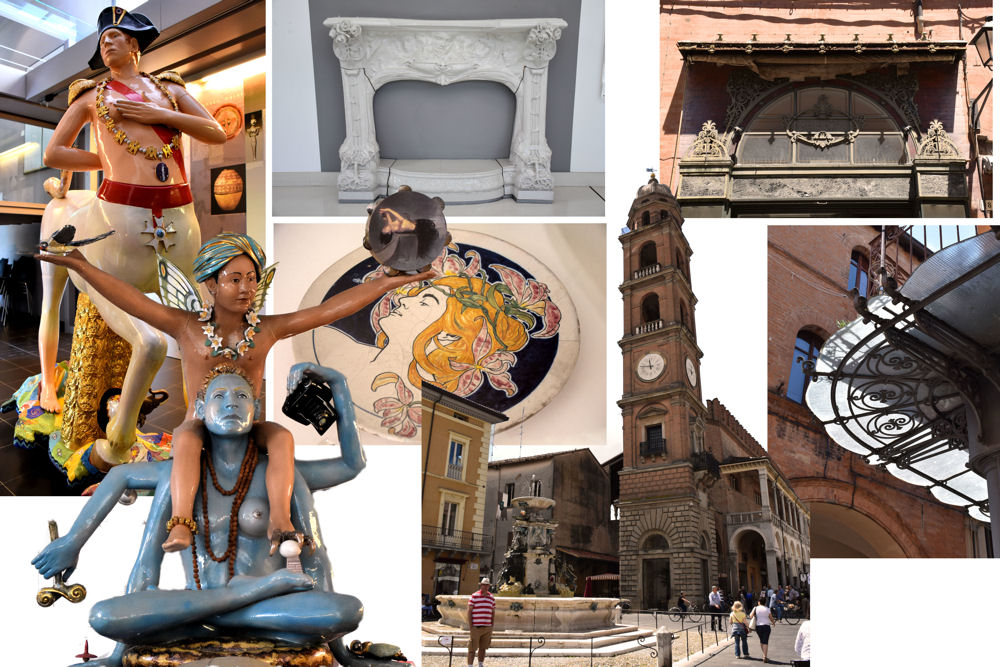 I wonder what Napoleon would have made of his shirtless centaur sculpture. I think the face of the artist is in the locket around his neck and on the blue Hindu god with the camera. We had snacks in the town centre before driving to Forli.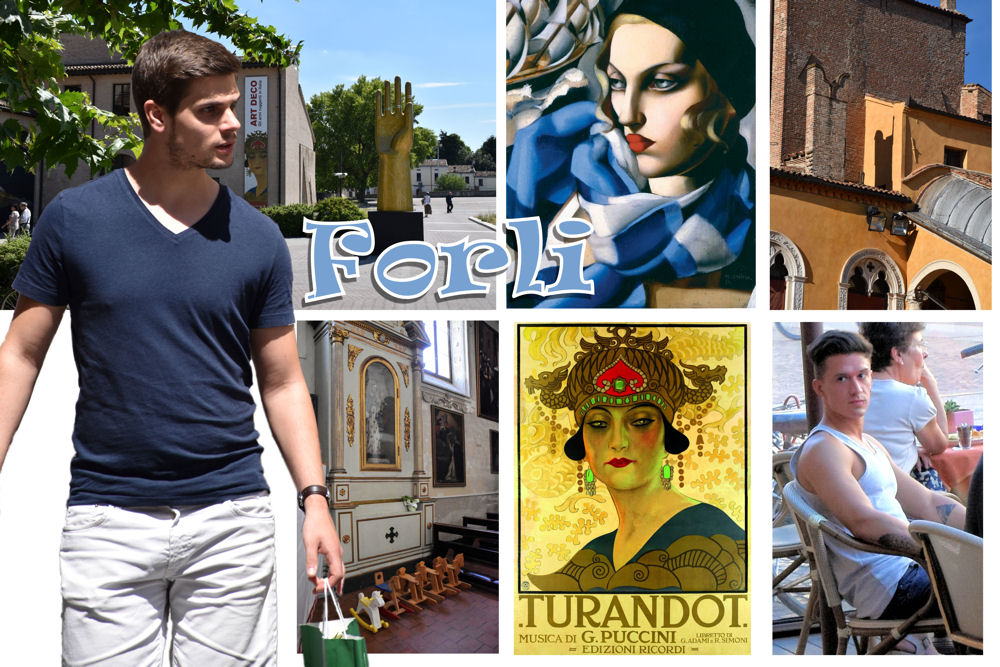 There was a big Art Deco exhibition in Forli, featuring works by Tamara de Lempicka, among many others. I liked the Our Lady of the Rocking Horses at the cathedral. In the top right photo, the shadow resembles a druid holding a staff (something the man in the vest might also be doing).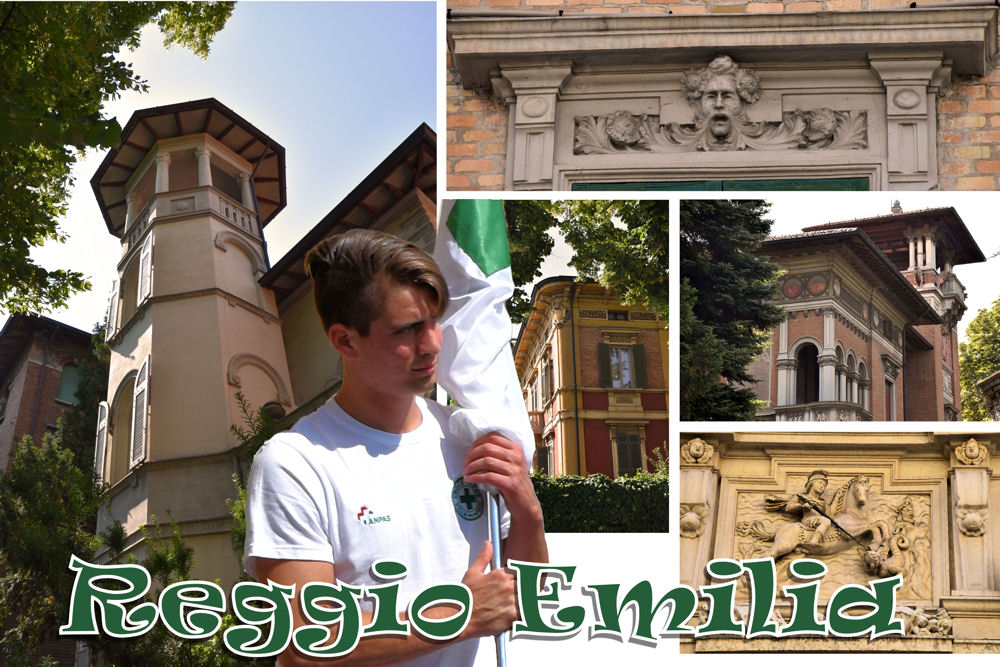 Our search for Liberty architecture took us to Reggio Emilia. We found that we were there the day before their Pride festival. He reminded us of the Boy with the Famous Hair seen in Freiburg 2013.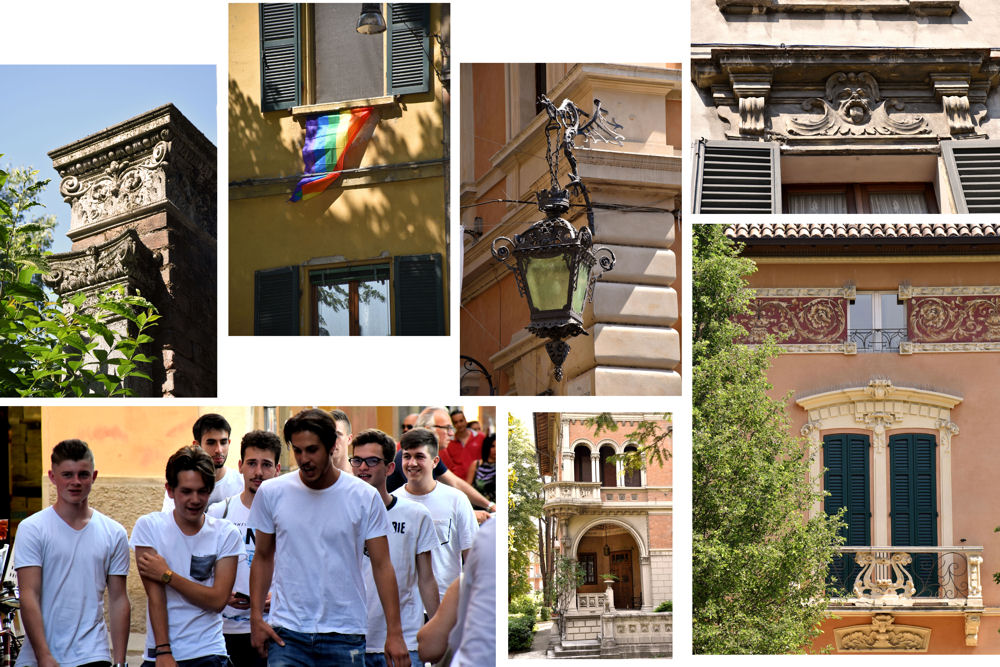 Most of the photos above are Reggio Emilia, but I included another photo from Ferrara - the town was flooded with youths (male and female) dressed in white who made their way past our apartment on their way to a rock concert on Thursday evening.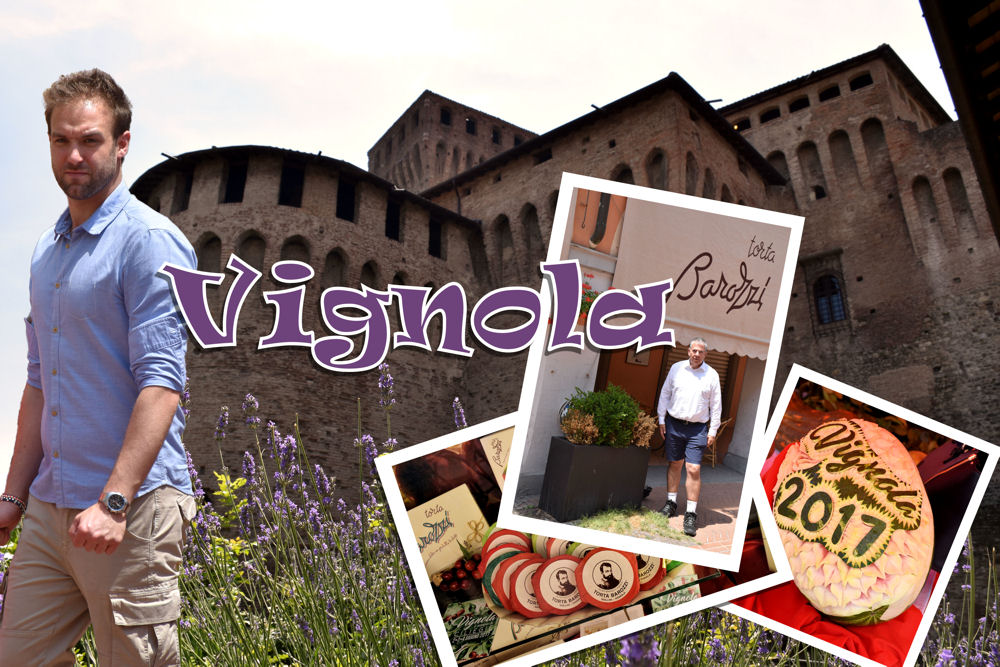 We met back up with Linda and the others in Vignola, which is famous for its flourless chocolate Barozzi cake, which we sampled (not nearly as good as our local Hoxton Bakery's hazelnut brownies). There was a slow food festival in progress and the town was filled with cherries!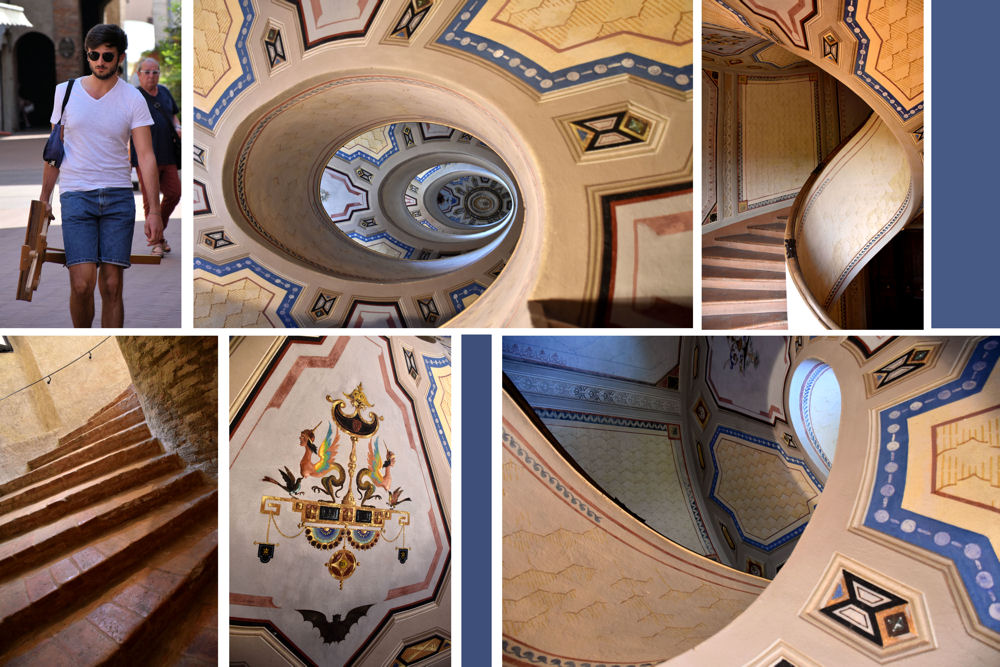 The highlight of our Vignola visit was this magnificent free-standing marble staircase at Palazzo Barozzi. We endured a very long, detailed tour in Italian, sitting in the direct blazing sunlight before being allowed to see the stairs. I joked with Nancy that the guide said that Batman used to live here, and when we got inside, we saw the bat symbol painted on the shields.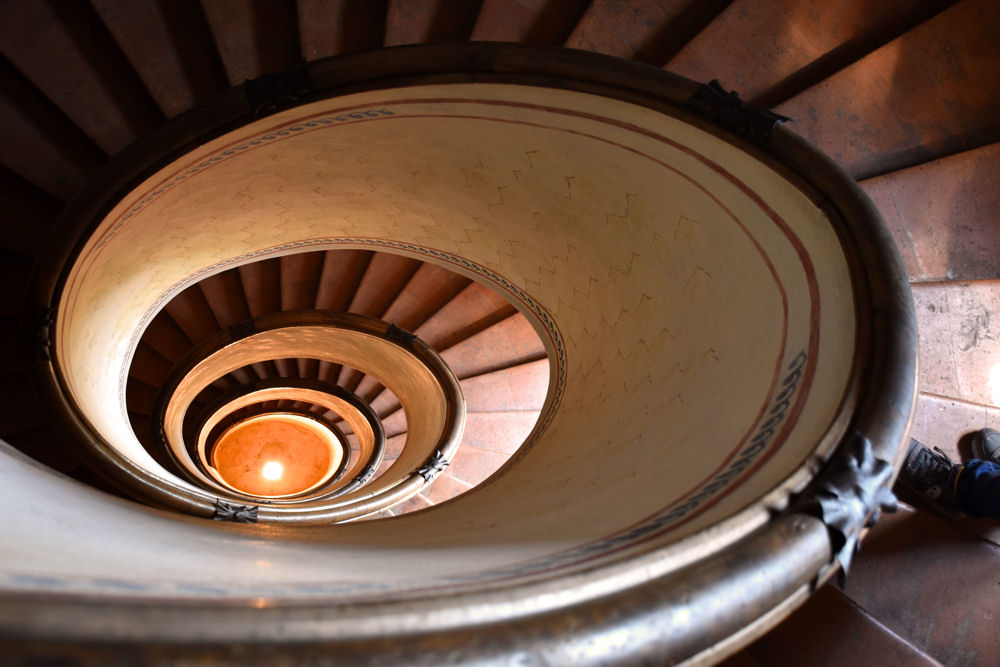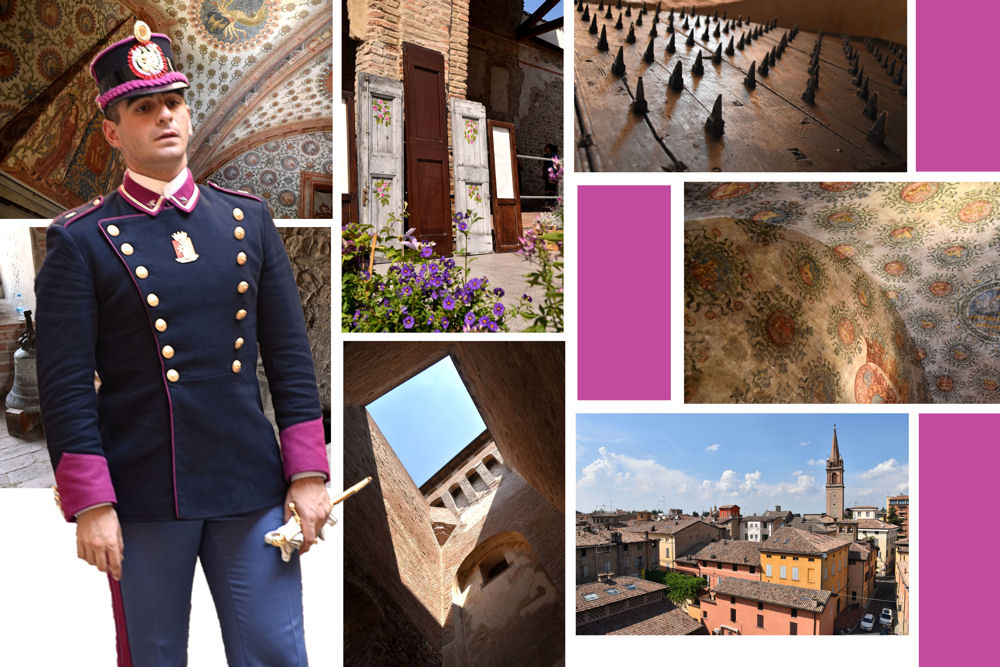 At the rocca (fortress) in Vignola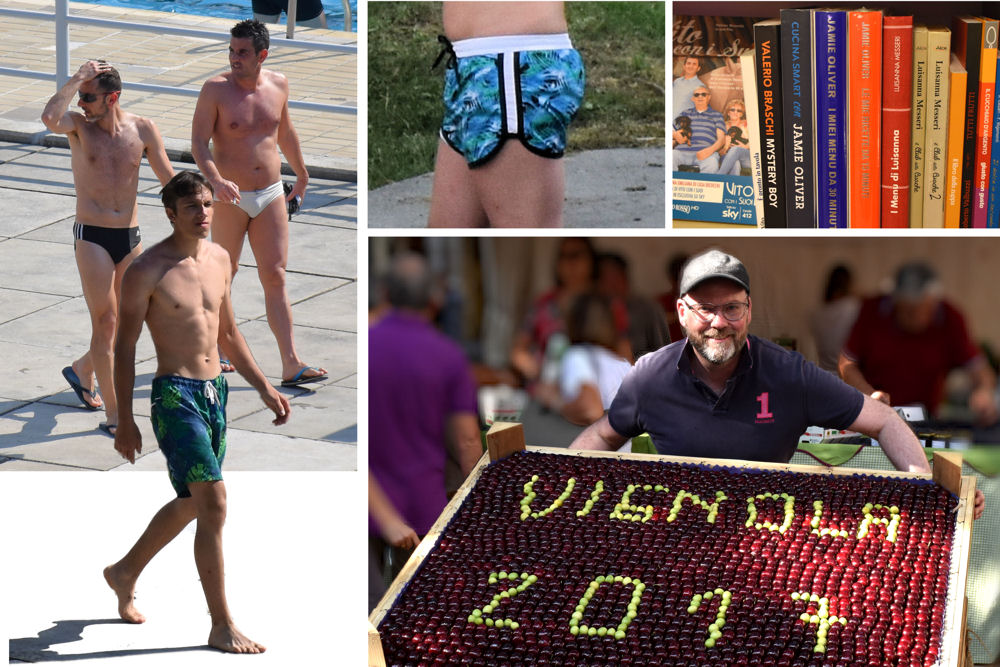 Some finds for my bingo card at the local swimming pool, Jamie Oliver books, and Vignola cherries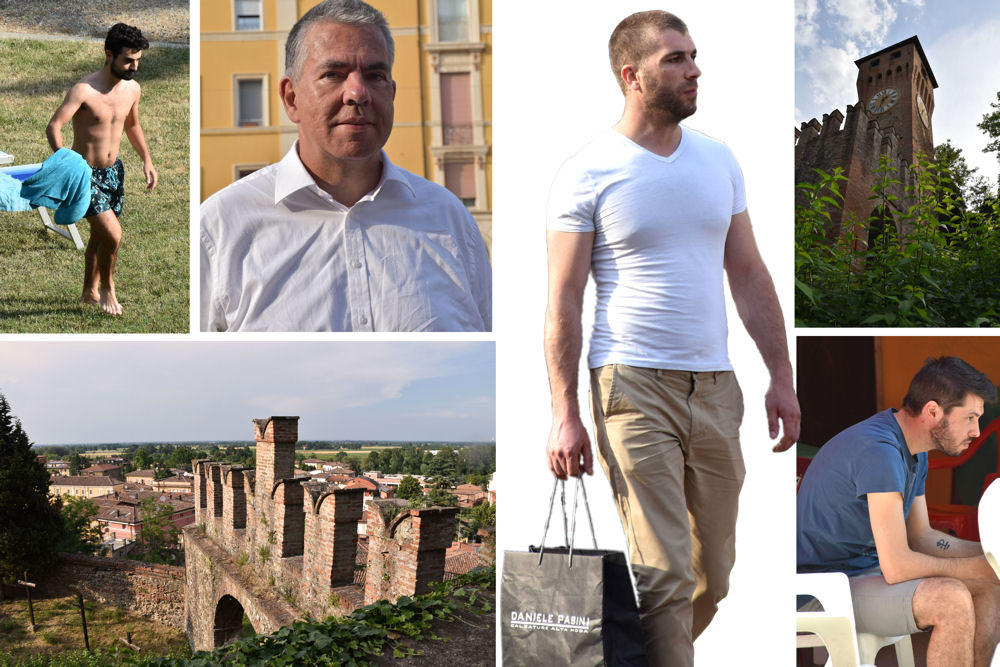 We moved down the road for a short climb to the castle before dinner. Italians seem to favour tight white t-shirts and the look is a good one.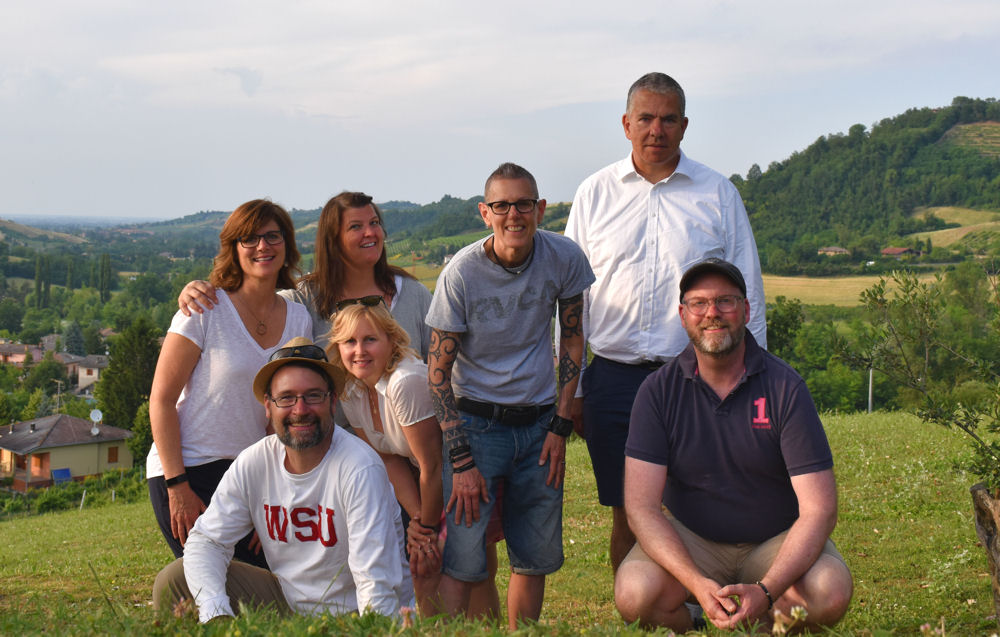 Meeting up with friends and family at the memorable Ristorante Ca' Bosco.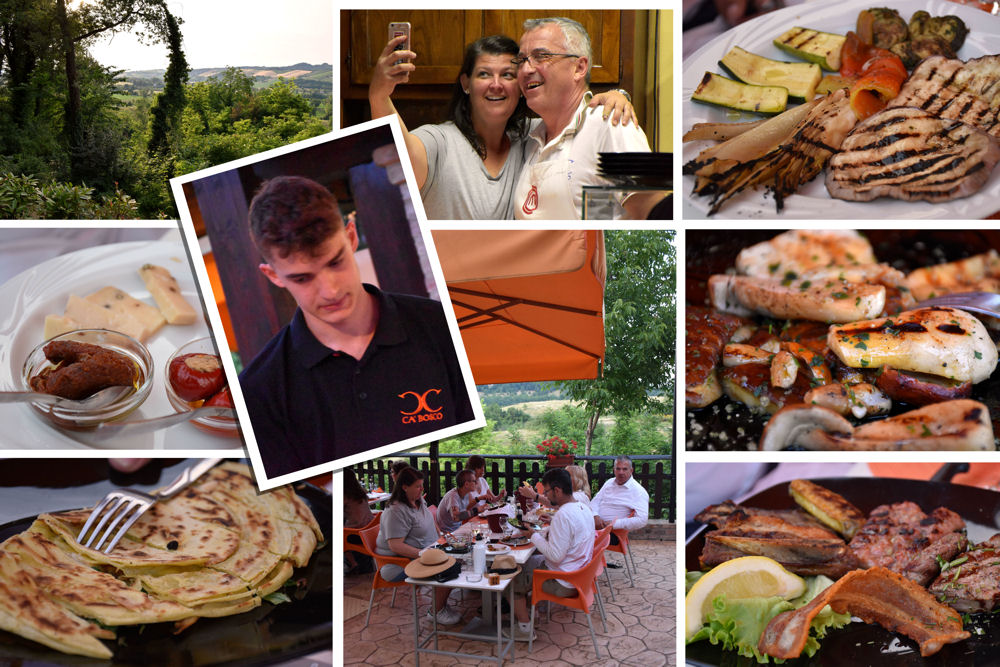 Ringo, the grill master, produced many splendid dishes from his grill, including a padina far superior to the ones we'd had before (I think the secret was lard), grilled pork, and fresh porcini. We avoided the beef, imported from America. As we left, there were tiny fireflies dancing among the bushes. A magical evening.