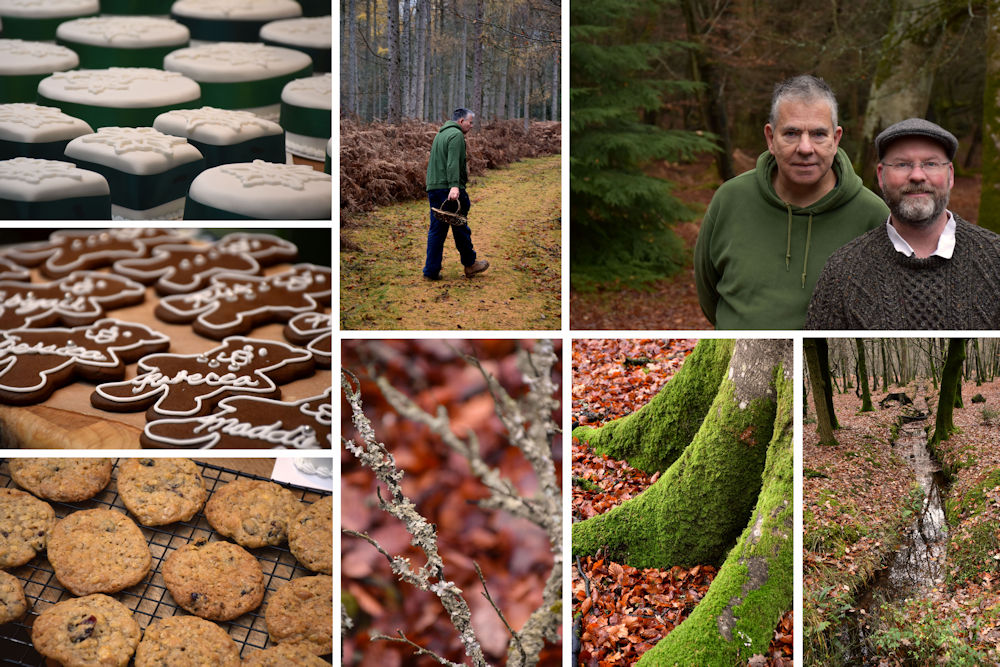 The lead-up to Christmas involves morning walks in the woods, foraging for mushrooms, and baking lots of treats for friends. Our Christmas cake this year included candied peel bought in Sicily in May. .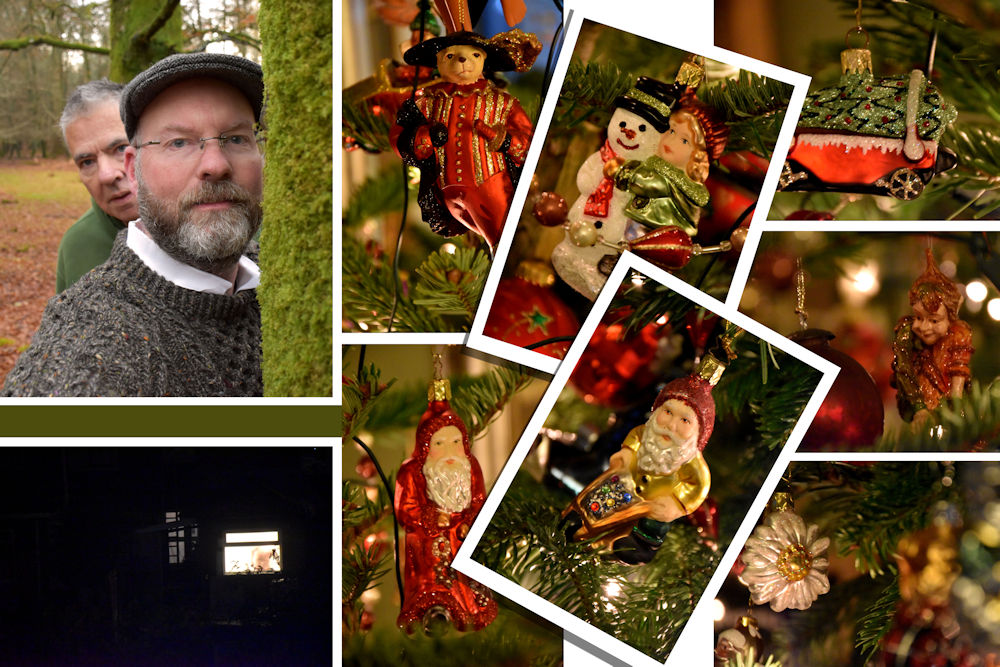 Wearing my wool sweather bought in Northern Ireland and some of our many Christmas ornaments on the tree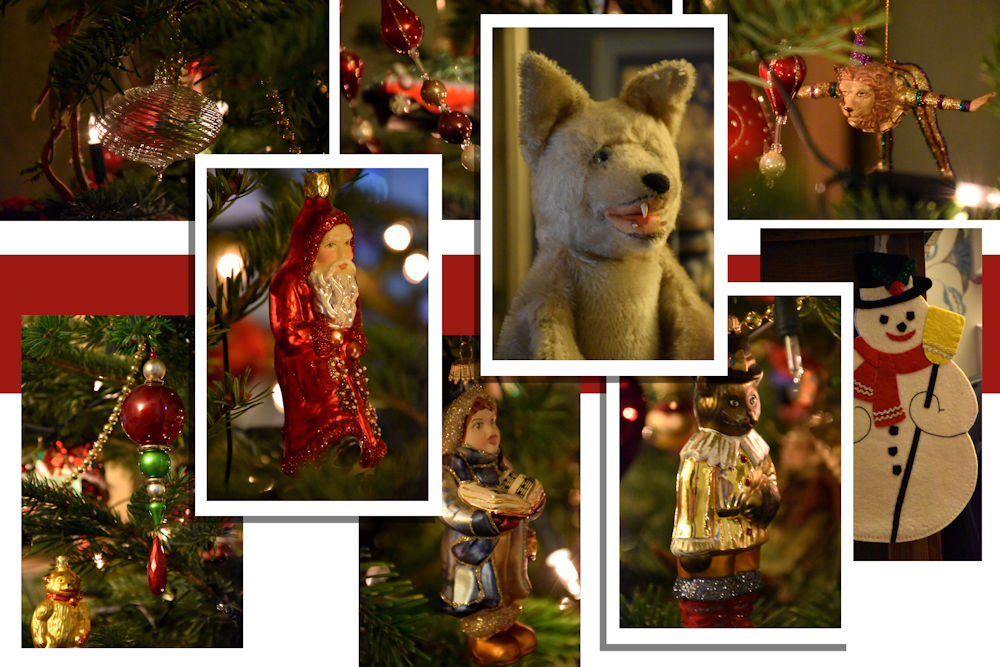 Our wolf puppet is very special and was bought in Freiburg, Germany, in 2013.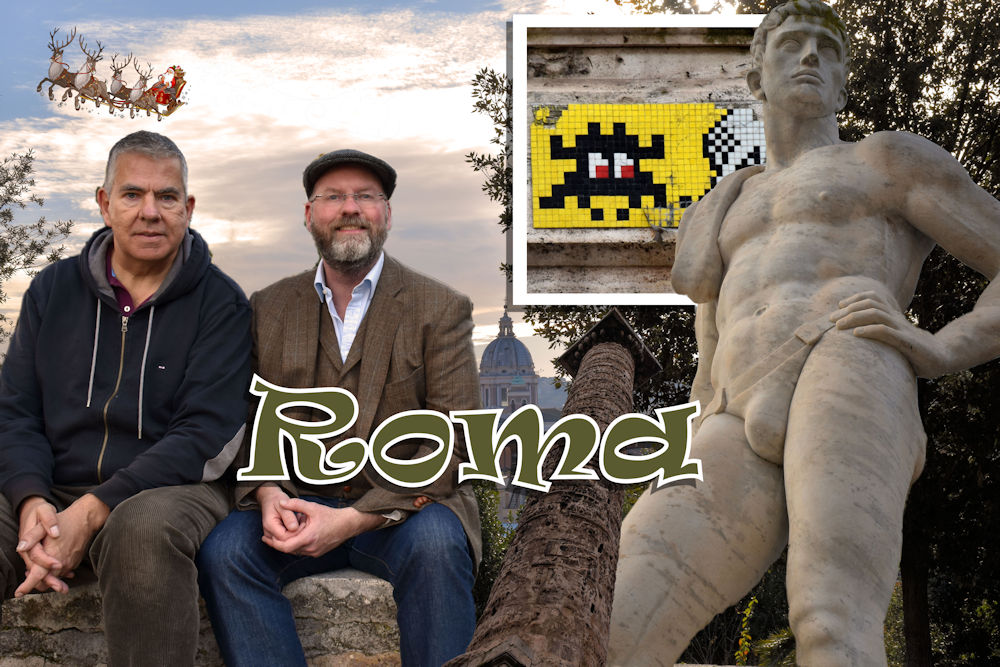 After investing so much time learning Italian, what better way to practise it than to spend Christmas in Rome? Click HERE to see our last visit to Rome in 2004 and HERE for George's school trip in 2005. Click HERE to see our 2017 Christmas in Freiburg.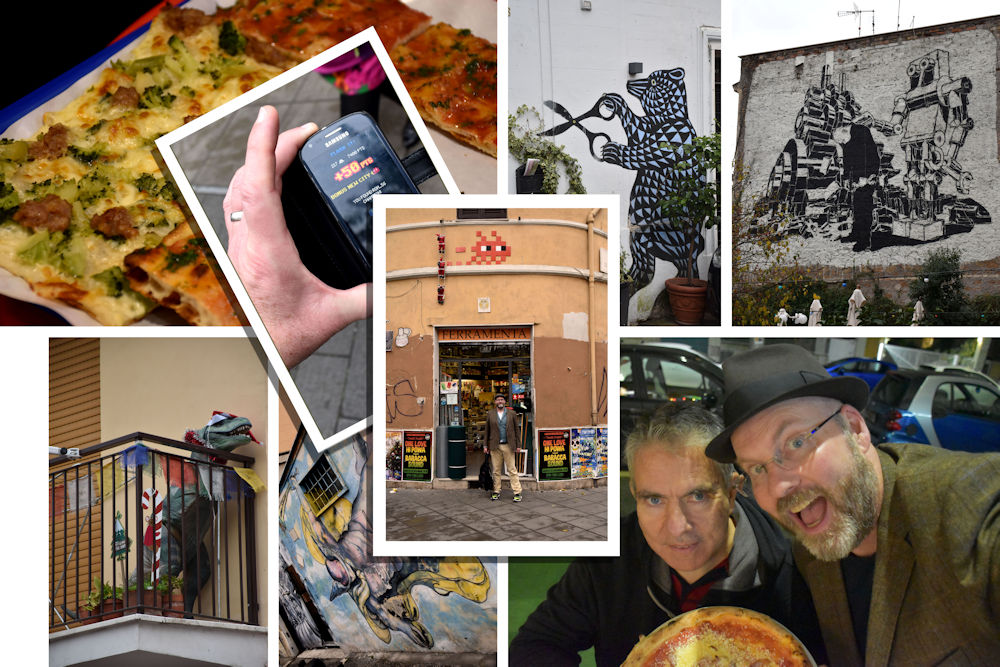 One of the highlights of our trip was tracking down and flashing the street art mosaics of Invader. Our last major Invader trip was Paris, where we got banned for ten days for inappropriate flashing, so it was a relief to be back in the game again. Our apartment was in the very authentic-feeling Prenestina area, away from the bustle of the city centre. We visited Sopra/Sotto, our friendly neighbourhood pizza restaurant, on our first night after battling with the mysterious Gatwick drone.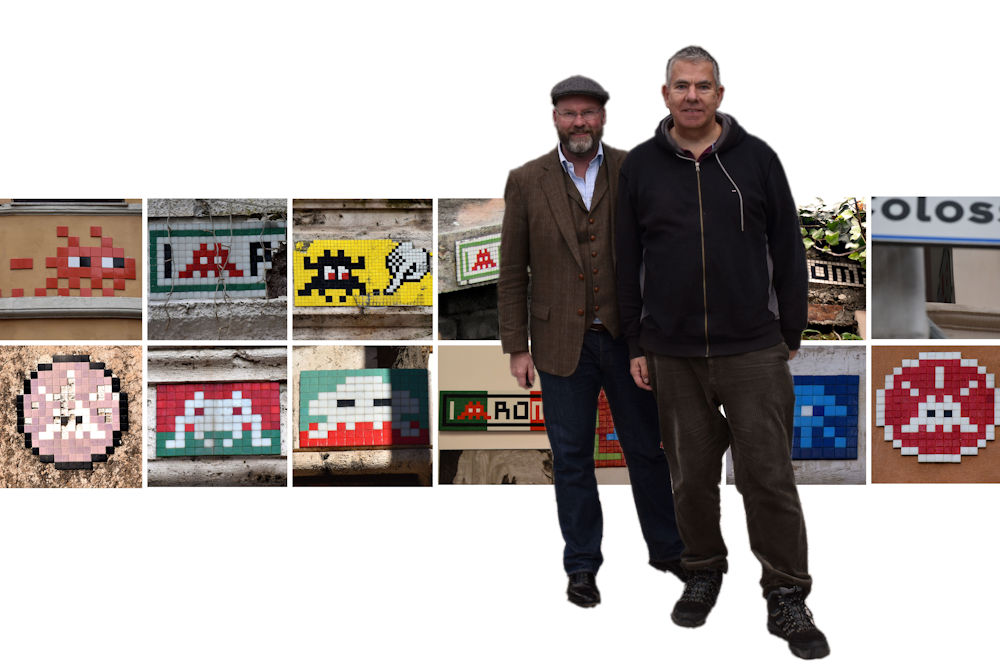 These are all the Invaders we found on our trip.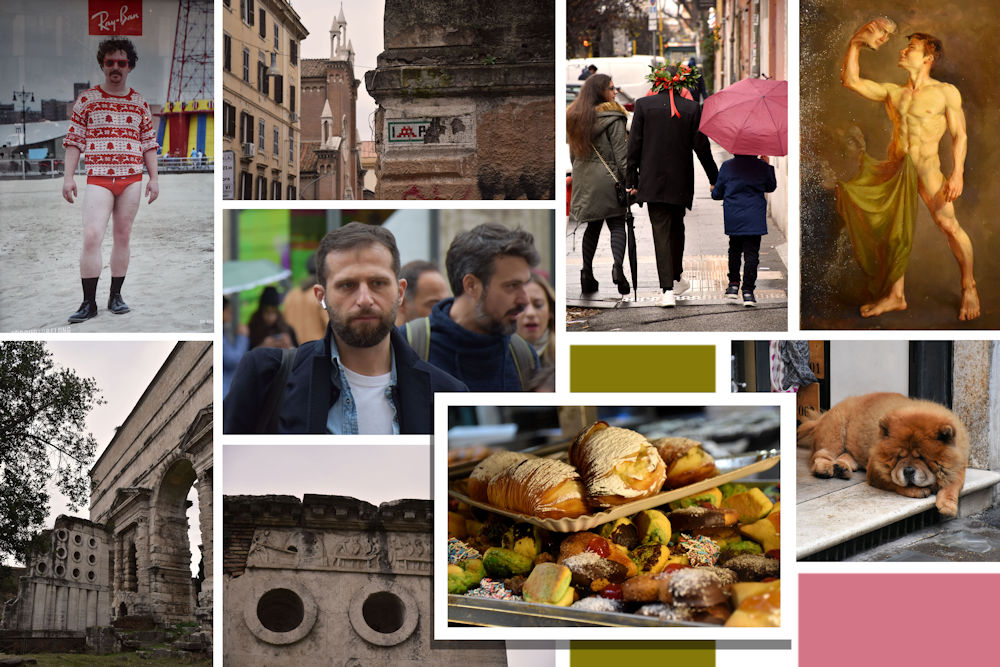 Above: Rayban Man, Invader, a laureat in his wreath, tasteful art, a lazy chow (ciao!), pastries, and the baker's tomb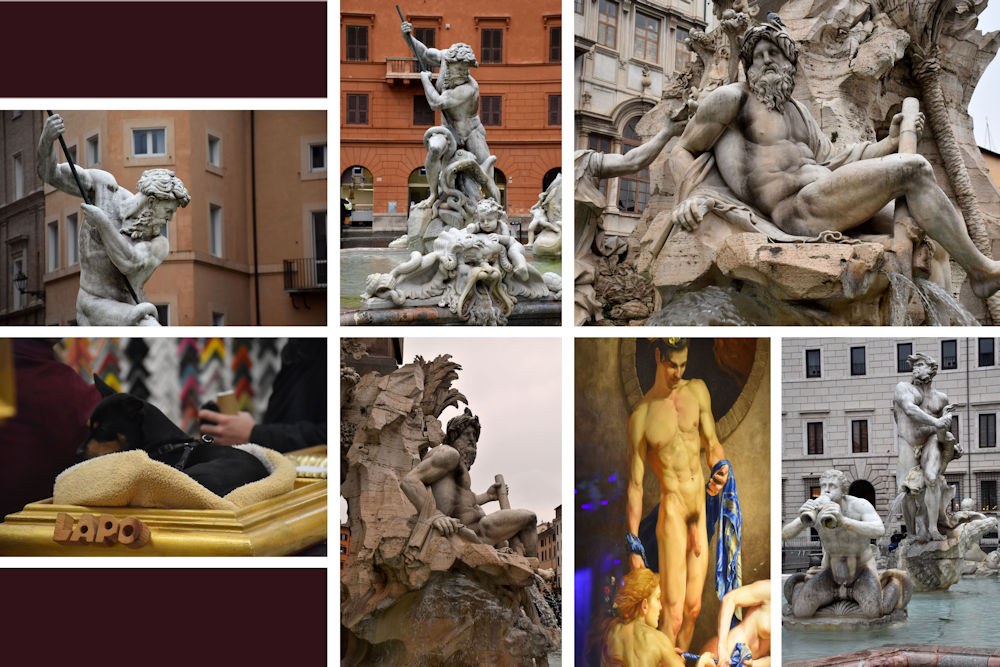 Above: Bernini's Neptune and Four Rivers fountains in Piazza Navona, tasteful modern art, and Lapo, the chihuahua, relaxing in his bed in a frame shop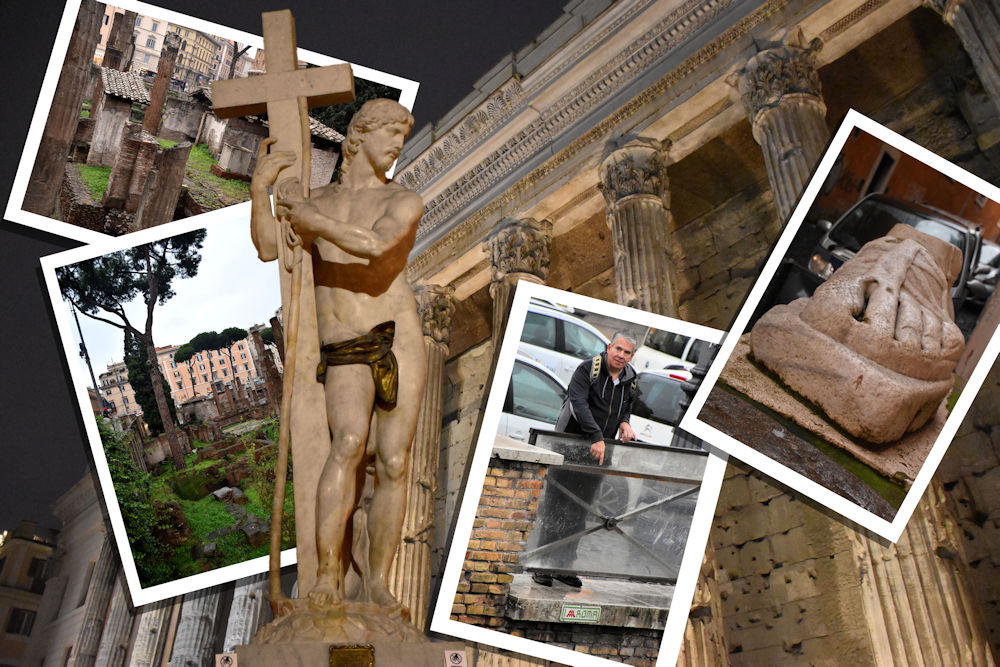 The Largo Argentina archeological sight is where Caesar was assassinated in 44 BC. It's also home to a difficult to reach Invader mosaic. Also shown is Michelangelo's Risen Christ, in the Chiesa Santa Maria Sopra Minerva (with prudish bronze drapery added later). the Piè di Marmo belonging to an unidentified ancient statue thought to be about 26 feet high, and the Pantheon at night.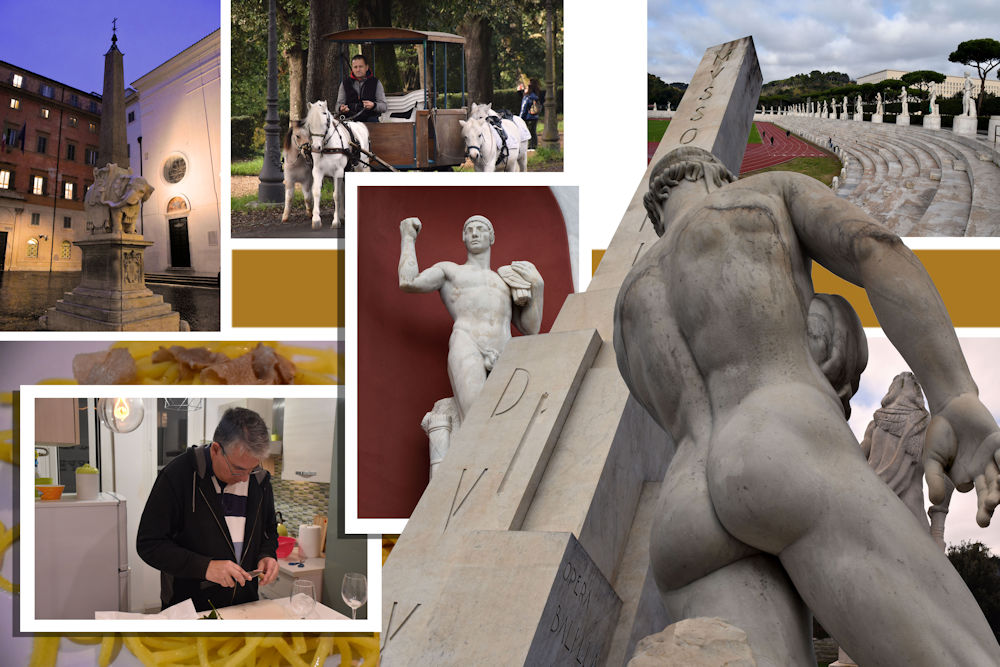 Rome's smallest obelisk, in front of Santa Maria sopra Minerva, where there was once a temple to the Egyptian goddess Isis. The elephant statue was added later and was almost stolen by an American tourist in 1946. Nick cleans our white truffle the night before we ventured to Mussolini's Stadio dei Marmi, where homoerotic statues of 60 colossal Fascist athletes pose around the track.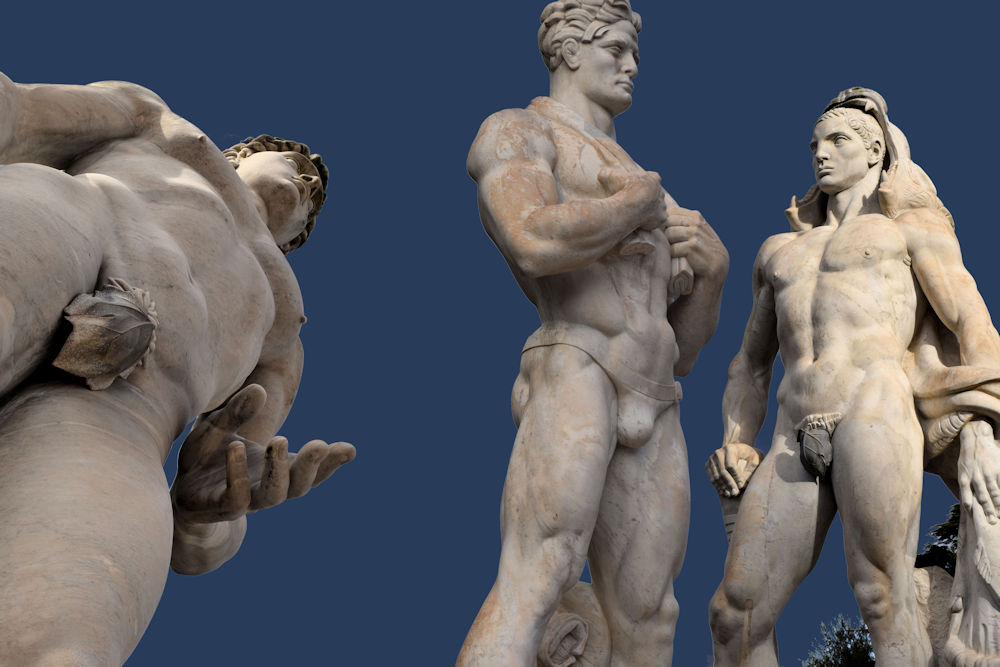 Some of the butch statues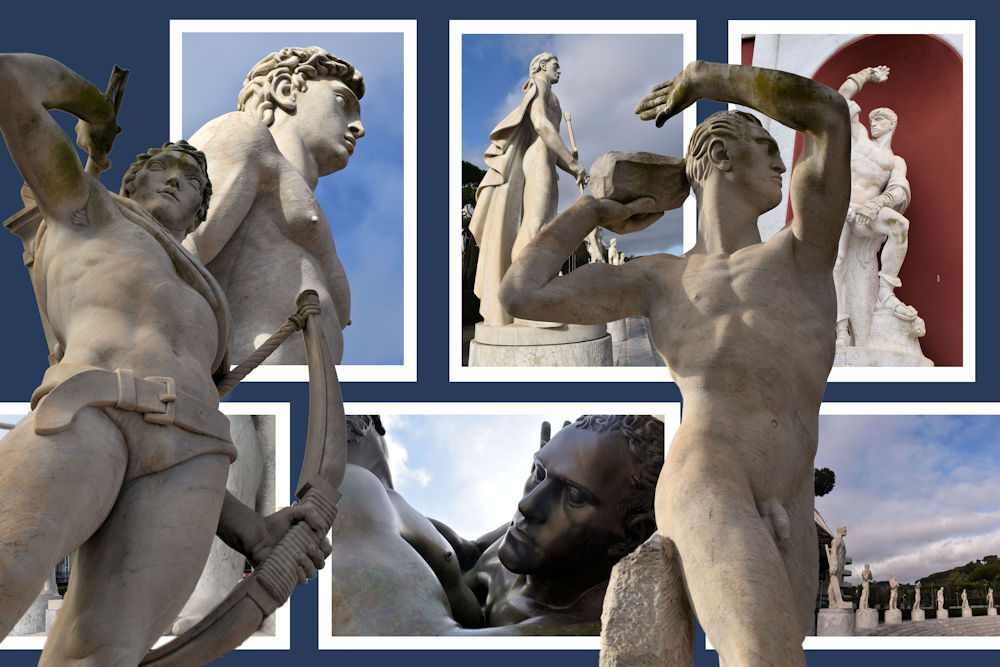 Putting the "gay" into sports.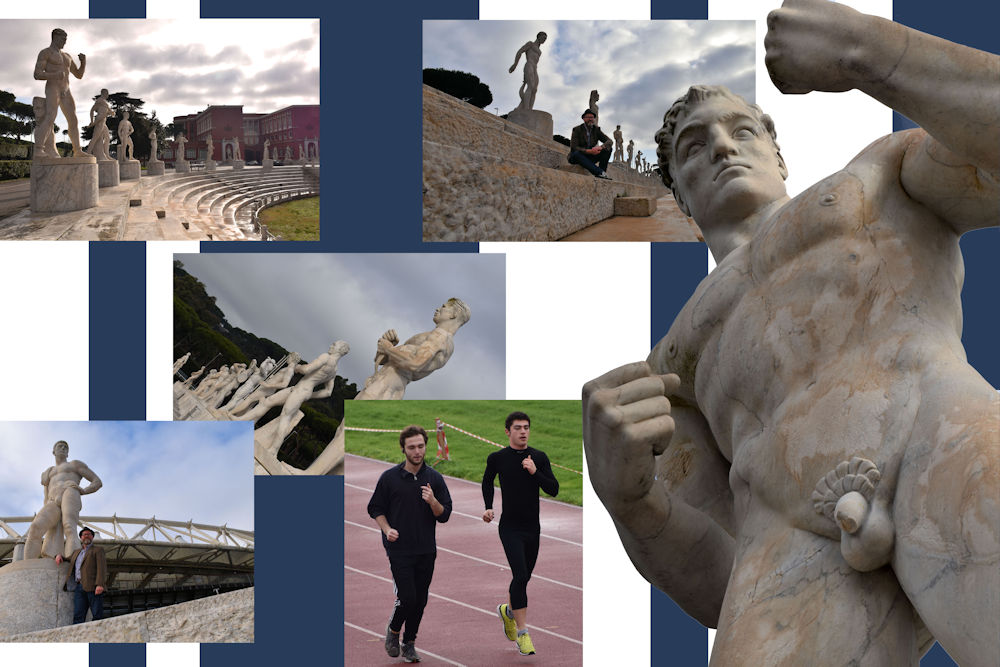 Each region in Italy was asked to "donate" a statue to the stadium. After the fall of Fascism, the statues were allowed to remain, and the track is now open to the jogging public..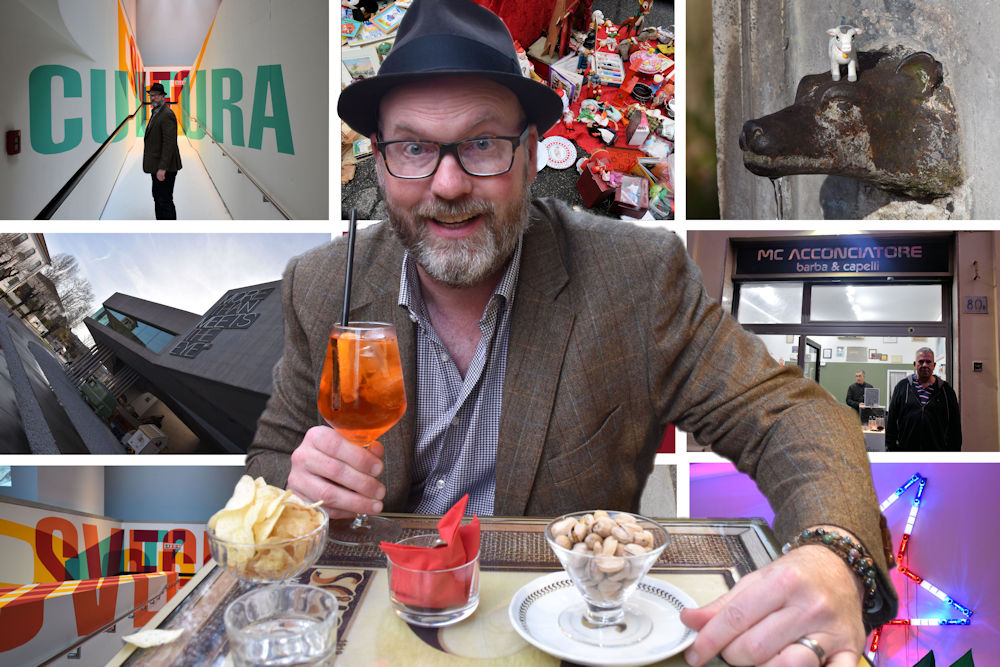 The MAXXI modern art museum made a nice change from all that Fascist sculpture. That evenign, we enjoyed a spritz and Nick had his hair cut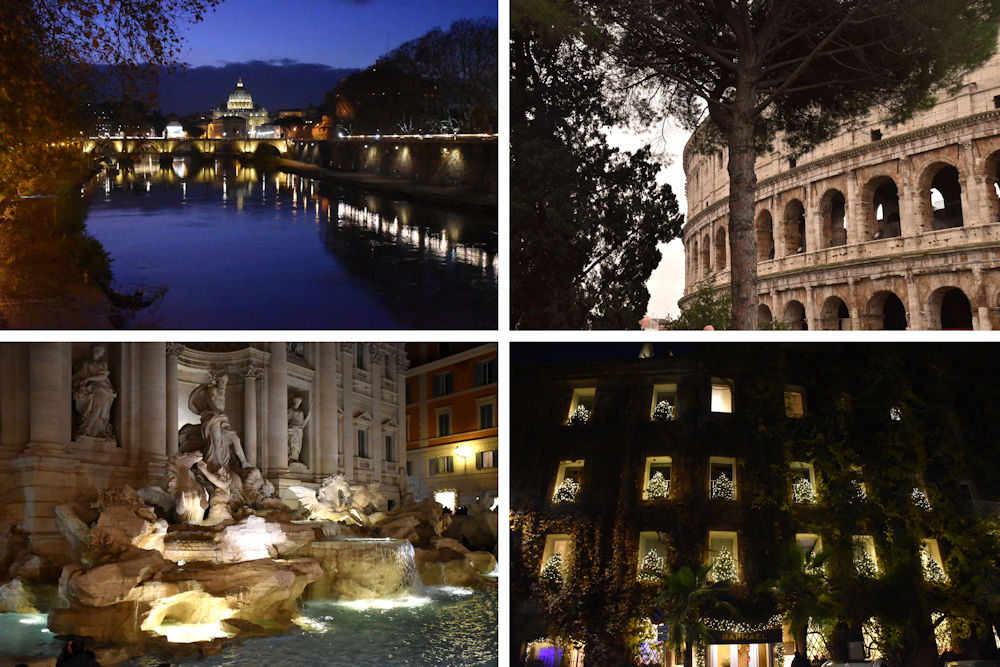 Some iconic photos from our trip, including the Tiber, the Colosseum, Trevi Fountain, and a festive hotel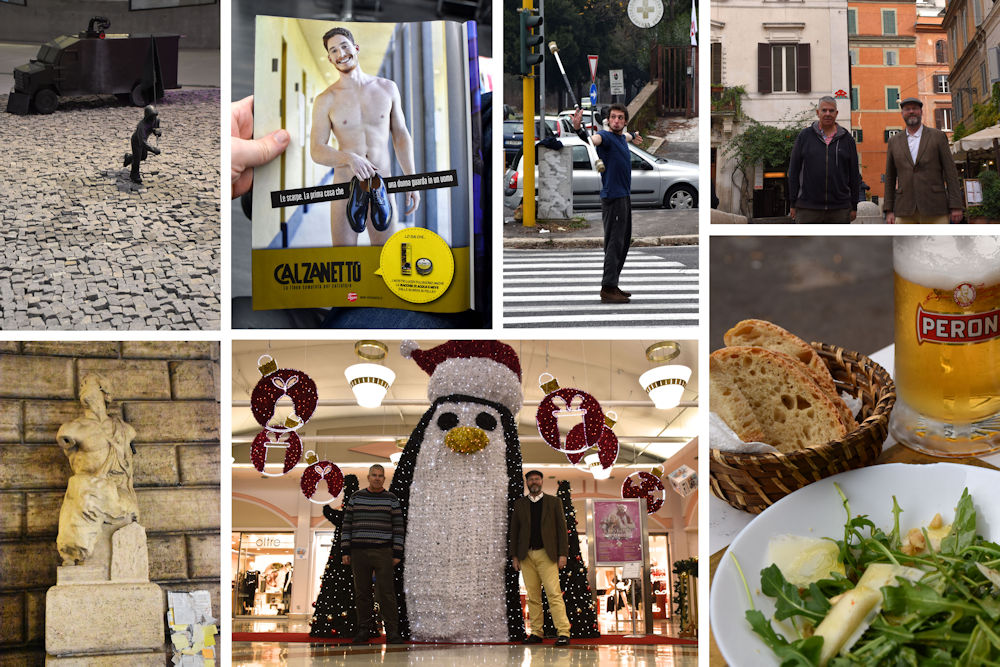 A fountain design of refugee running from water cannon, a Calzanetto shoe ad I found in a magazine while waiting for Nick's haircut, a street crossing busker, Invader hunting in Monti, pear salad, shopping at the mall, and Pasquino, the first "talking statue" in Rome. Begnning in the 16th century, people would anonymously post political criticisms on these statues.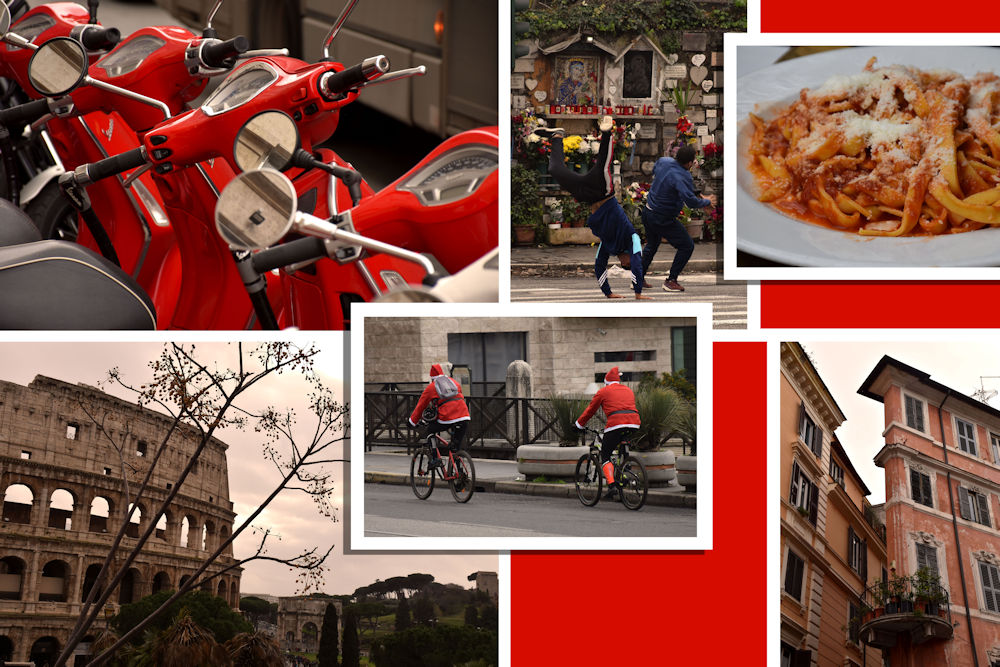 A row of Vespas and Babbo Natale and his brother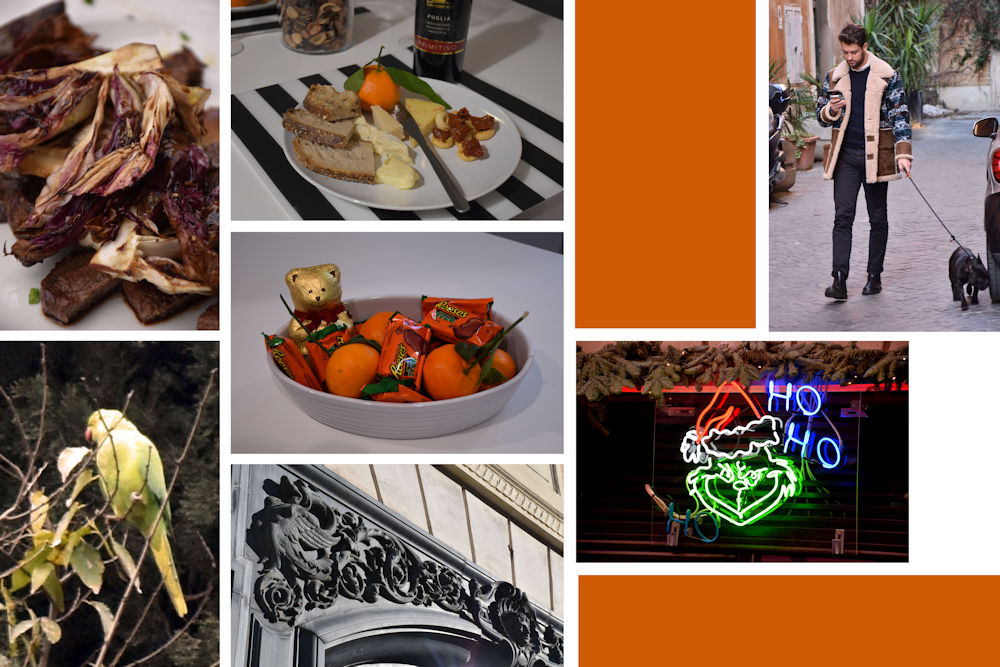 Steak with radicchio and star anise, a cheese course at home, dog walking, the Grinch, Art Nouveau near the Spanish steps, a Roman parakeet, and stocking stuffers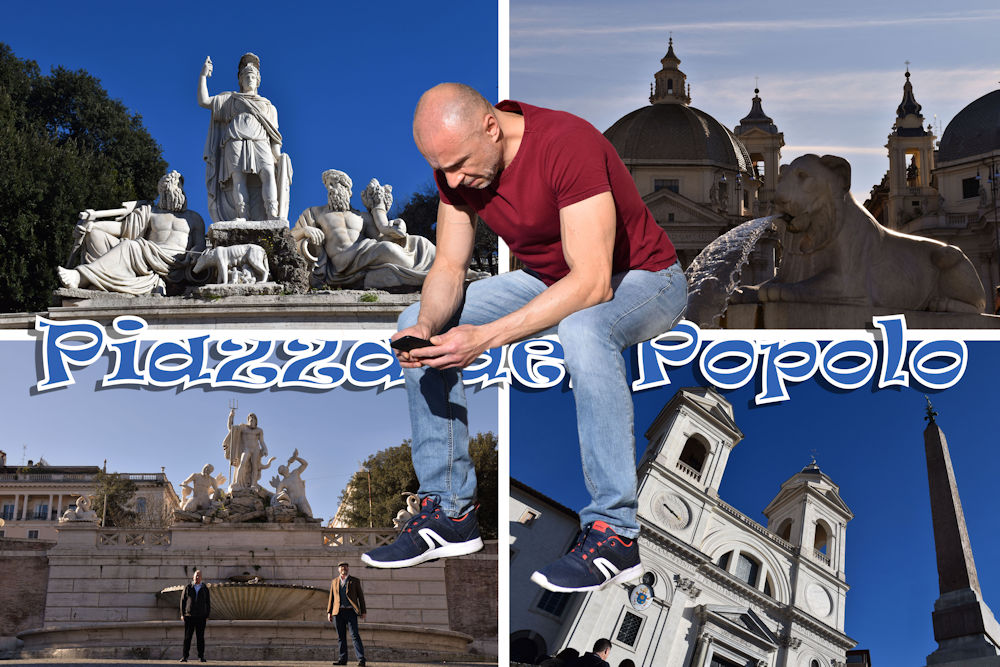 We went to the Piazza del Popolo twice, trying to see the Caravaggio paintings. The sunshine, statues, and muscled arms made up for the church being closed the first time.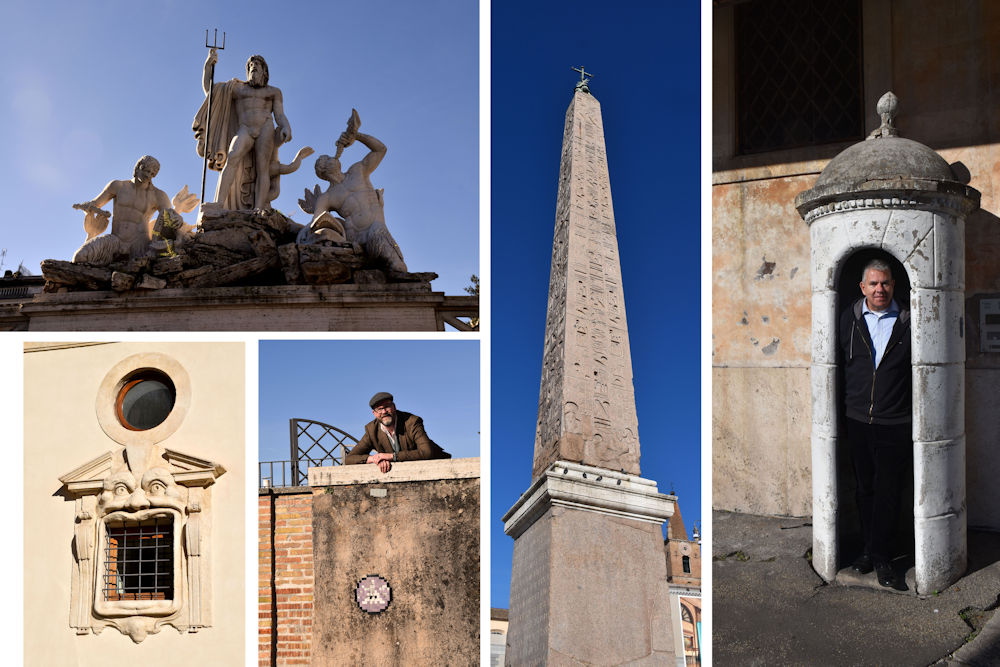 The obelisk is 3,200 years old! At the top of the Spanish Steps, I discovered this round Invader.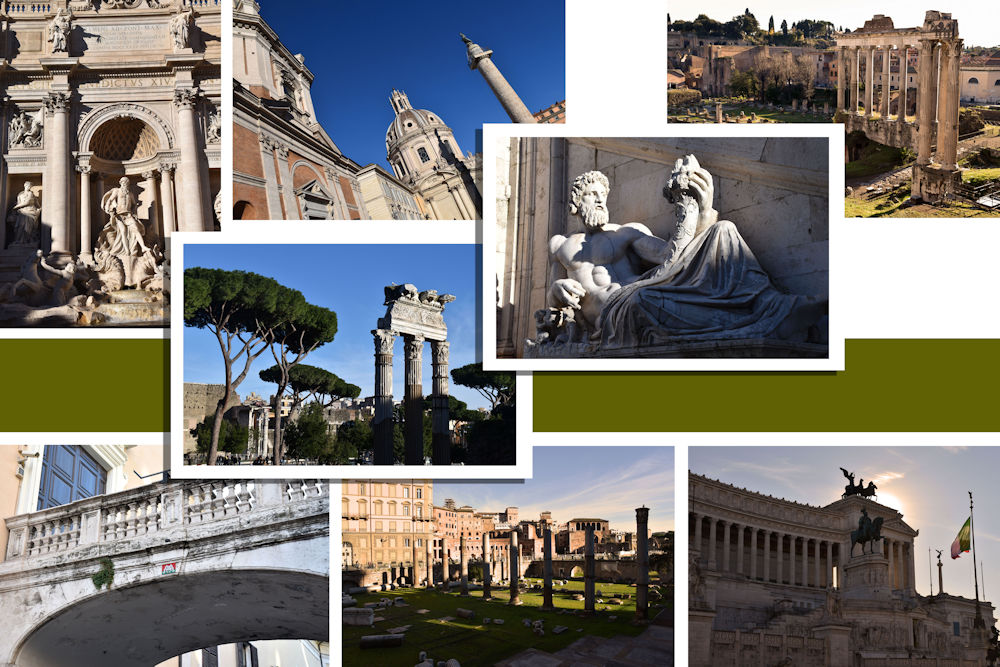 The forum and Il Vittoriano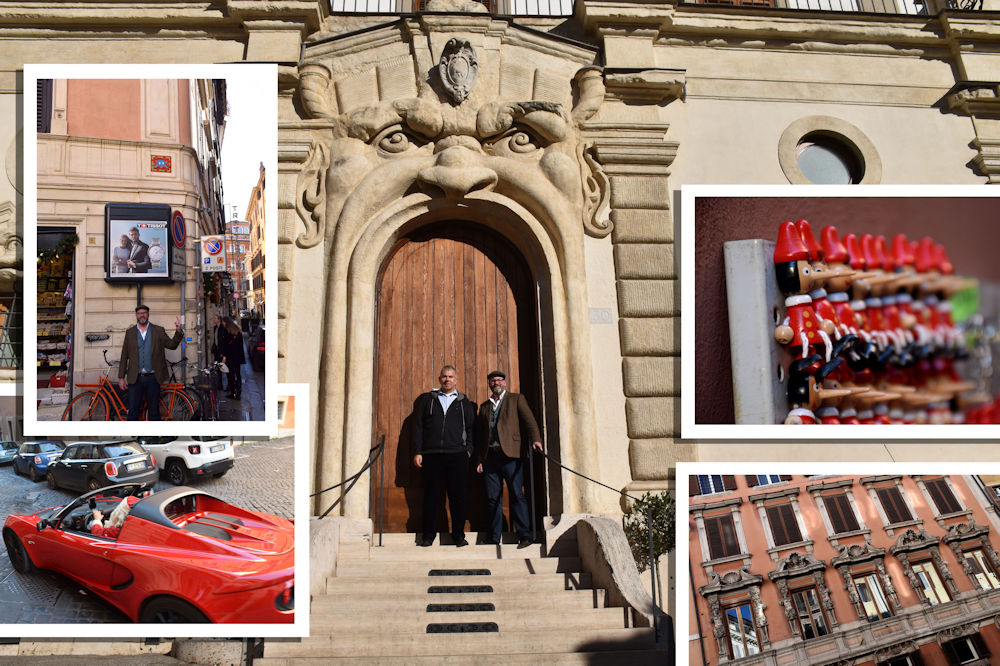 The Mouth of Hell, the monstrous entry to painter and art historian Federico Zuccari's house. I heard a little girl saying to her sister that it couldn't be the real Santa in the Porsche, because he doesn't drive a car.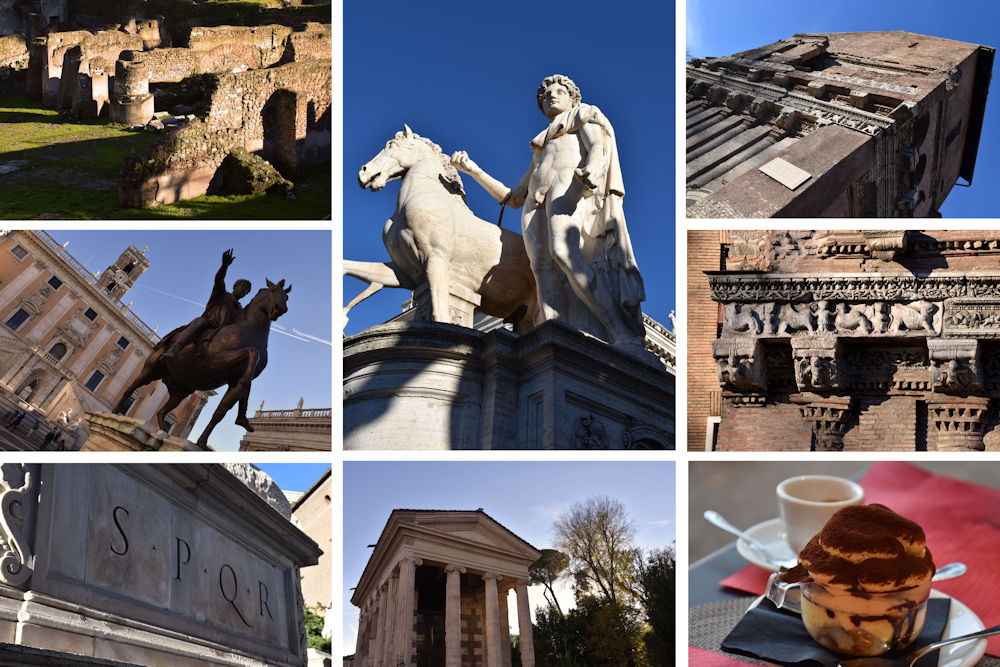 More forum, Capitoline Hill, including the statue of Marcus Aurelius and SPQR, as explained by Andrew Graham-Dixon and Giorgio Locatelli. The tiraisu followed pizza and margarita lunch in Trastevere. Be careful how you prounouce "margarita", or you will get another pizza instead of a cocktail.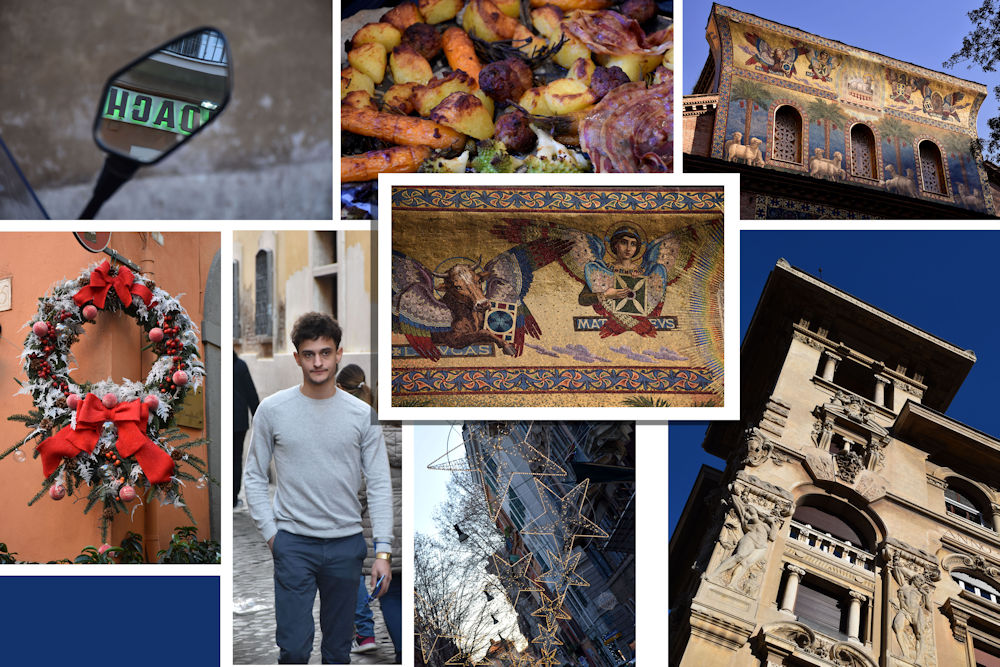 We had our Christmas dinner - roast chicken - on the 26th. The next day we went to Gino Coppedè's remarkable Art Nouveau district, with its fairytale houses.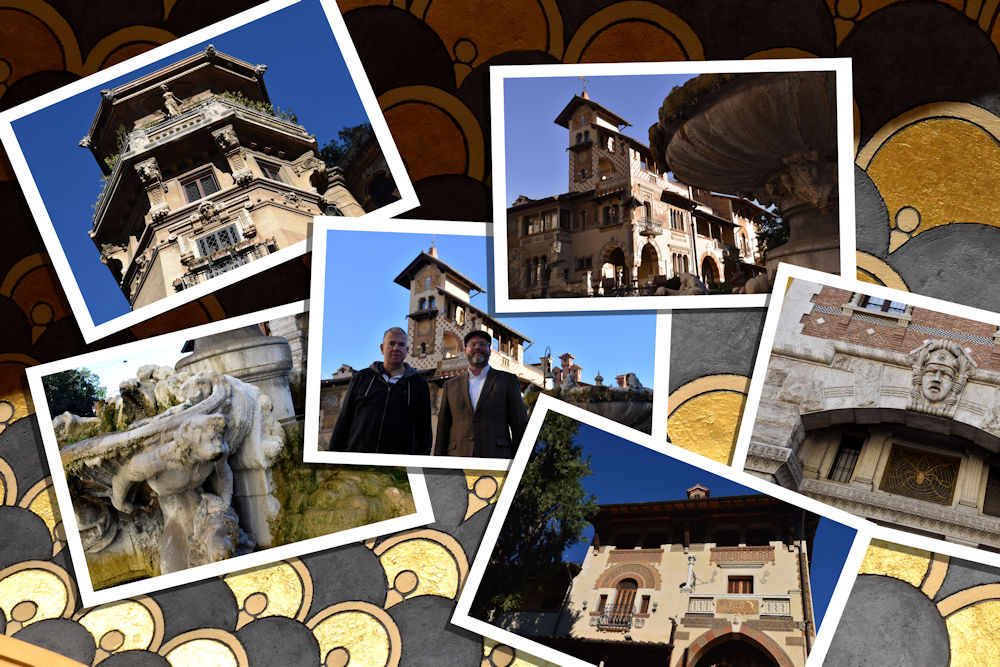 This wonderful Art Nouveau area featured a frog fountain and "spider house".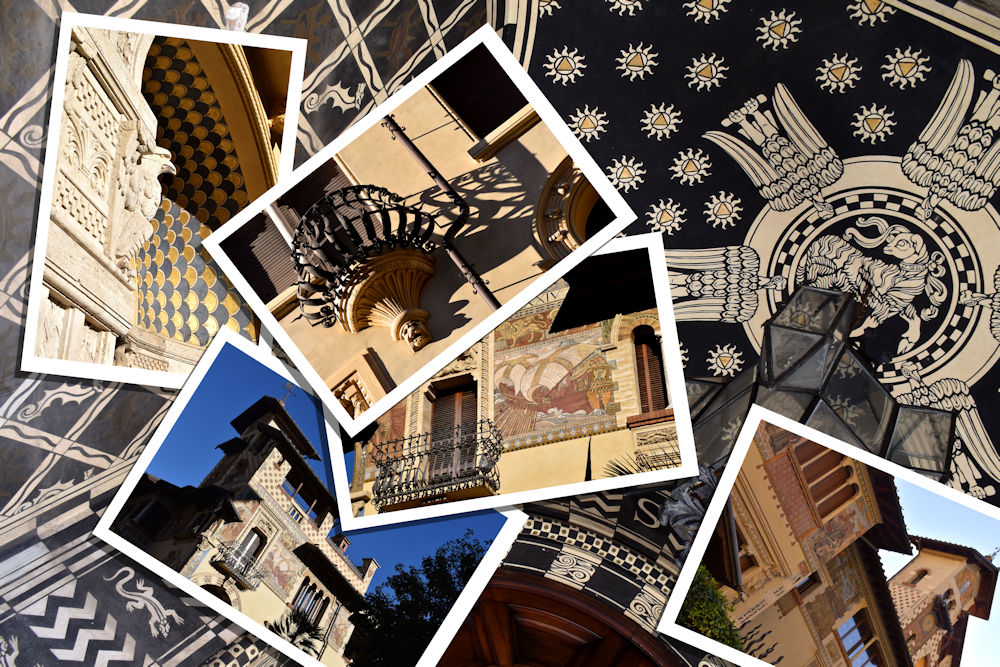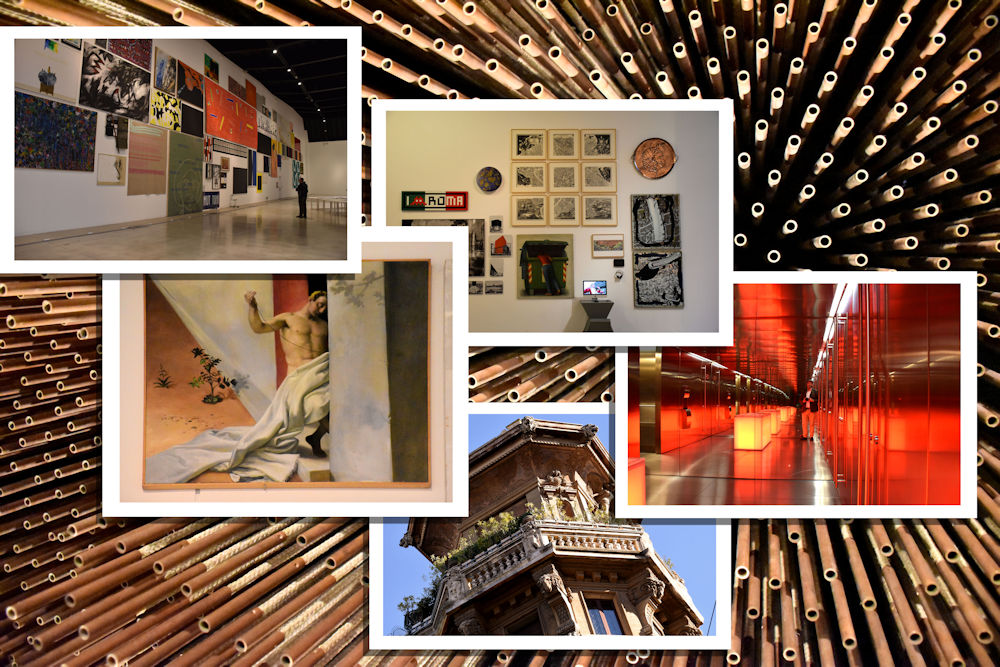 The MACRO contemporary art gallery was an unusual space and we were confronted with an Invader mosaic as soon as we entered. We also lay under an artwork that represented a flying carpet and enjoyed the changing lighting in the shiny bagno.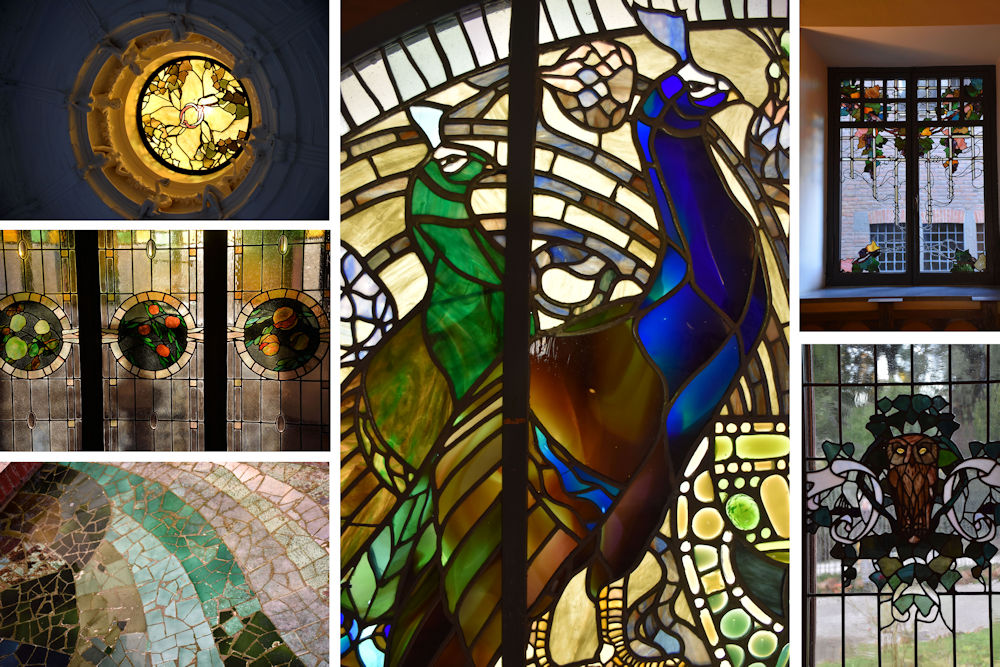 Art Nouveau/Liberty stained glass at Prince Giovanni Torlonia's Owl House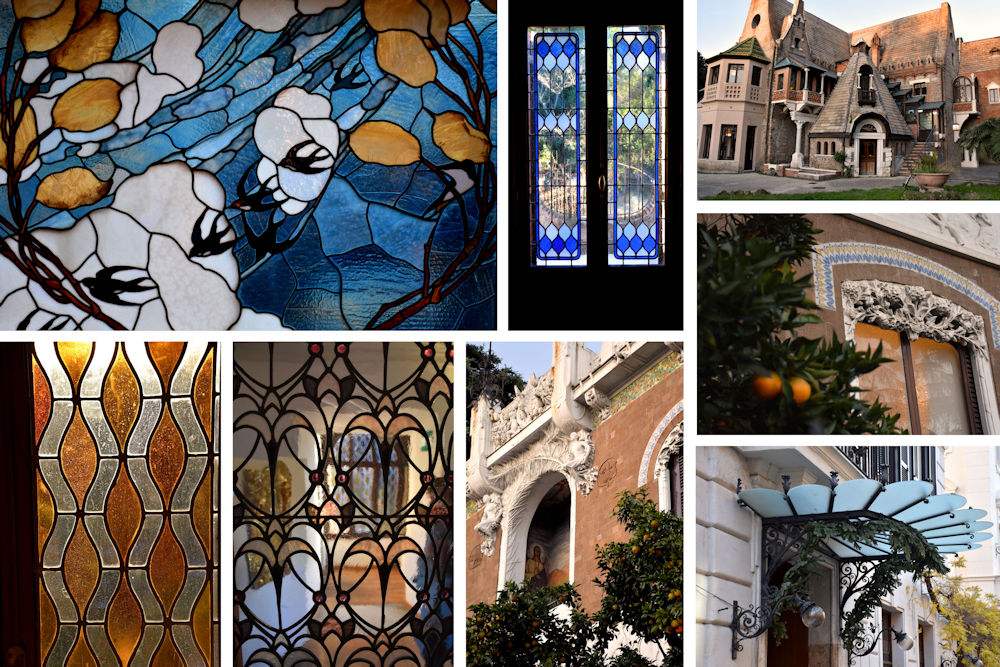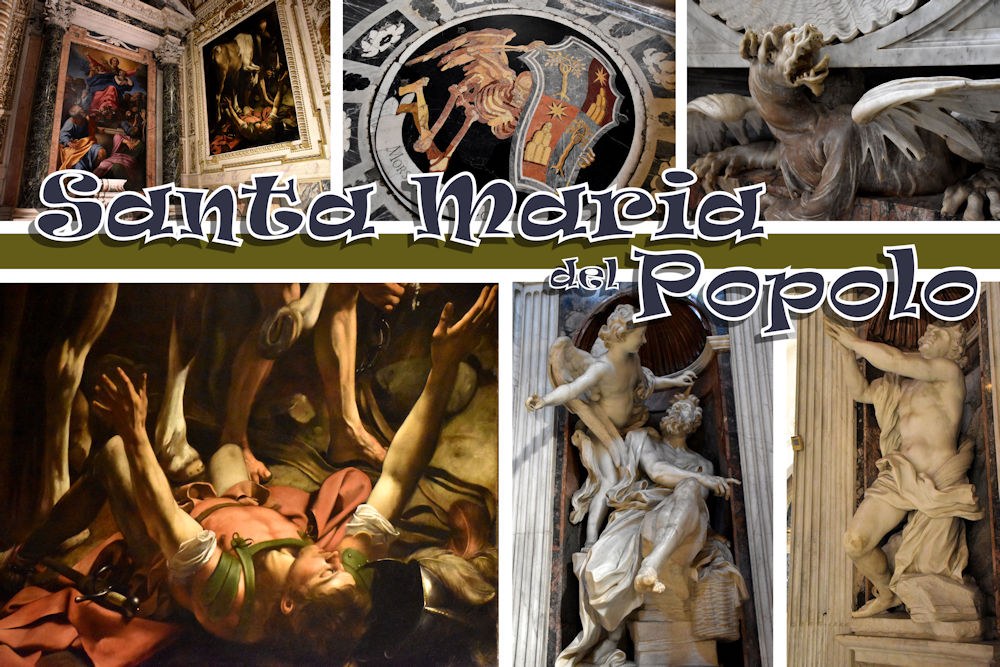 After hearing Andrew Graham Dixon and Giorgio Locatelli rave about it, we tried a couple of times to get into Santa Maria del Popolo to see Caravaggio's paintings. We finally made it. Shown are his Conversion of Saint Paul and the Crucifixion of St Peter. It is suggested that Caravaggio intentionally showed the horse's bottom to the Pinturicchio painting next to it. Bernini's sculpture shows an angel seizing Habakkuk by the hair to fly him to the imprisoned, starving Daniel. The inlaid skeleton in Raphael's Chigi Chapel plays a role in Dan Brown's Angels and Demons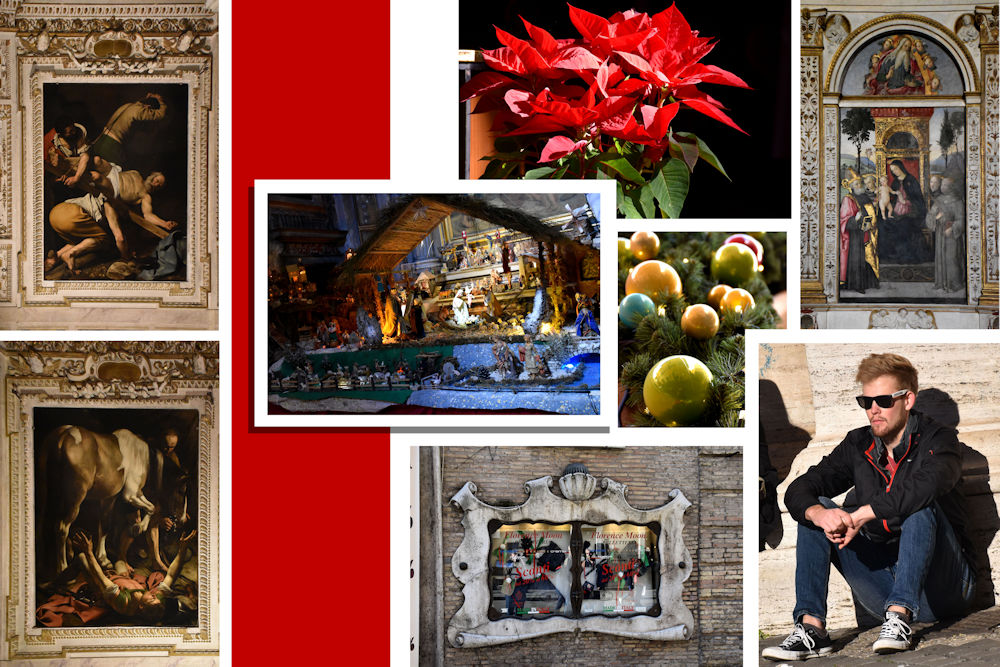 Shown above: Rome's oldest source of water has been there since 1572, but is boarded up behind this shop window display.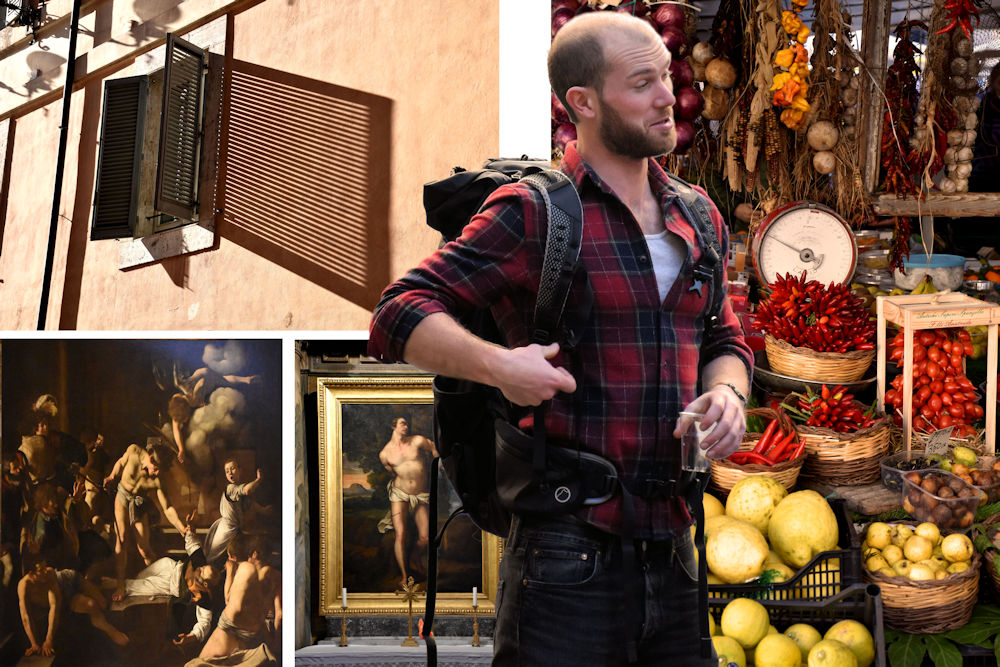 Caravaggio's Calling of Saint Matthew and a Saint Sebastian at France's national church in Rome. Also shown is a roduce display at the Campo de' Fiori and of course some tartan totty.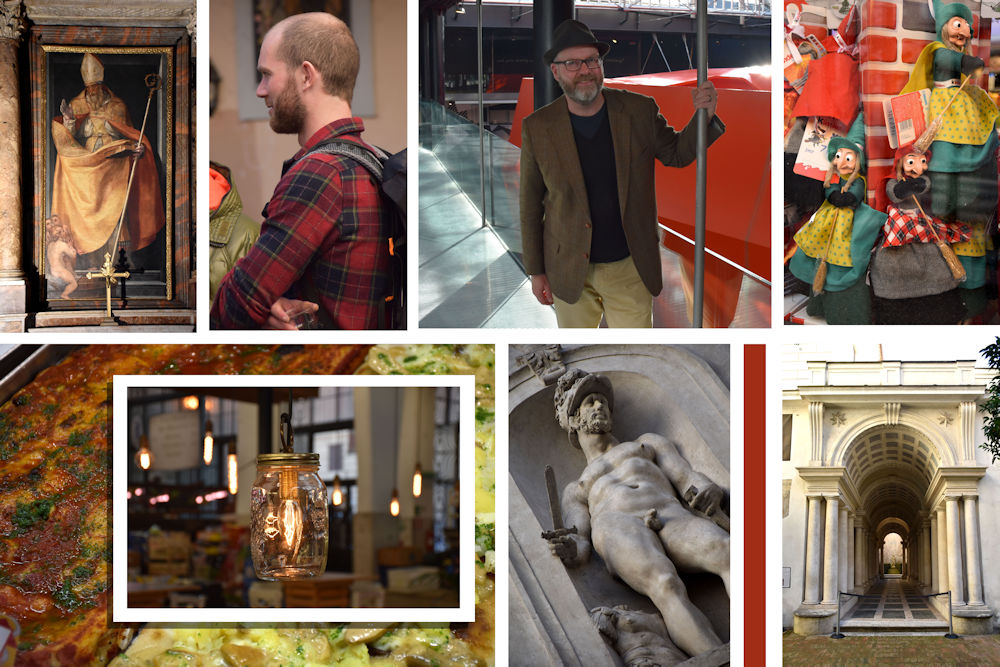 Saint Nicholas, Tartan Totty, Inside MACRO, Kinder Befanas, lunch in an Art Nouveau covered market hall built in 1923, and the false perspective gallery at Palazzo Spada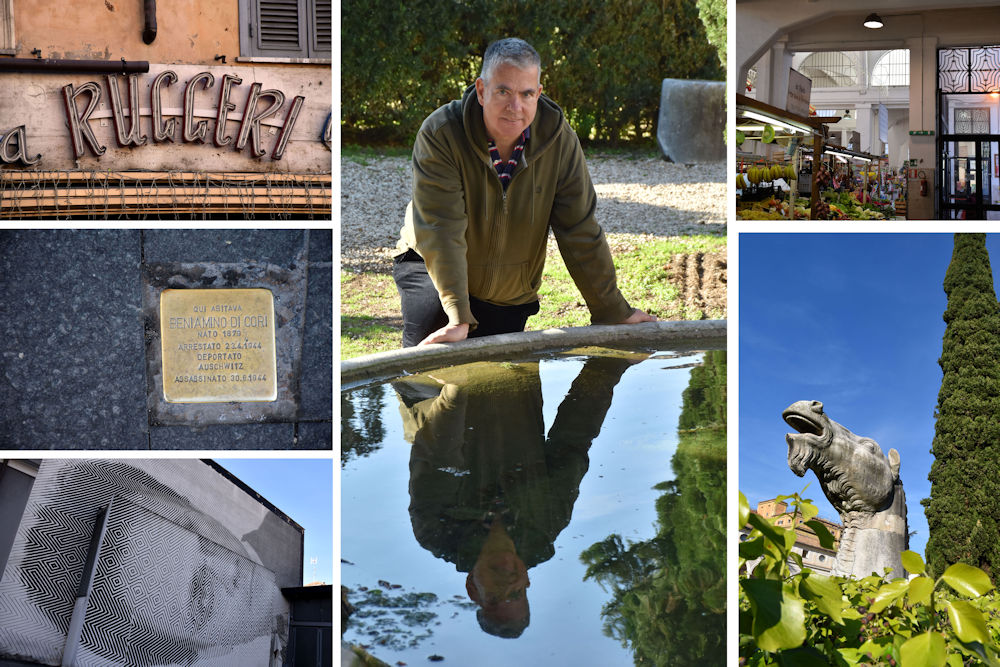 Photos above include the Art Nouveau market, the garden of the Museo Nazionale Romano, a mural on MACRO's roof, and a brass memorial plaque.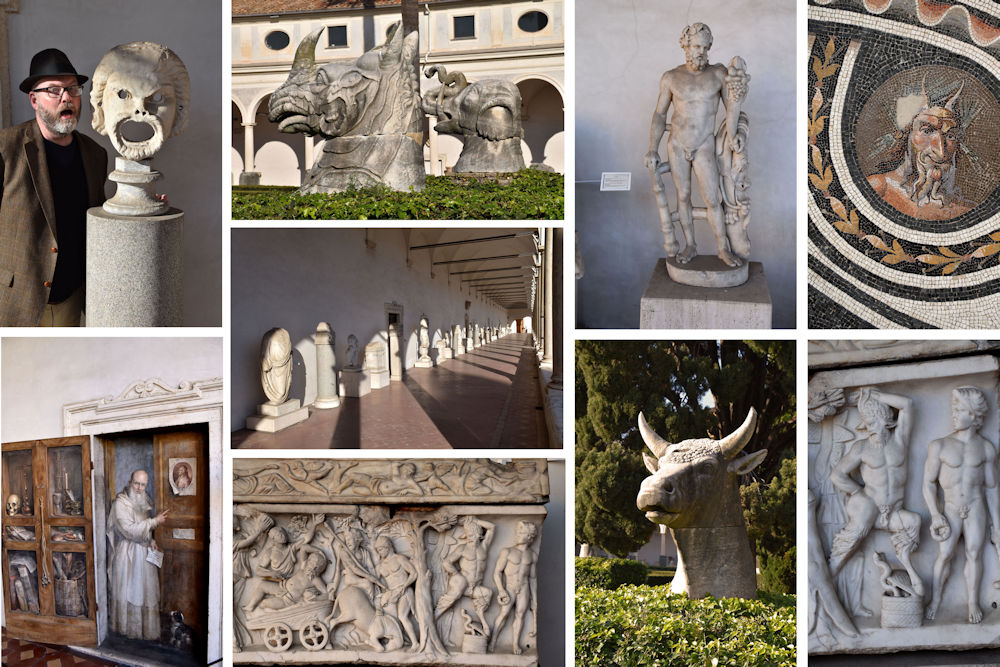 We had The Museo Nazionale Romano almost to ourselves and there were splendid treasures everywhere.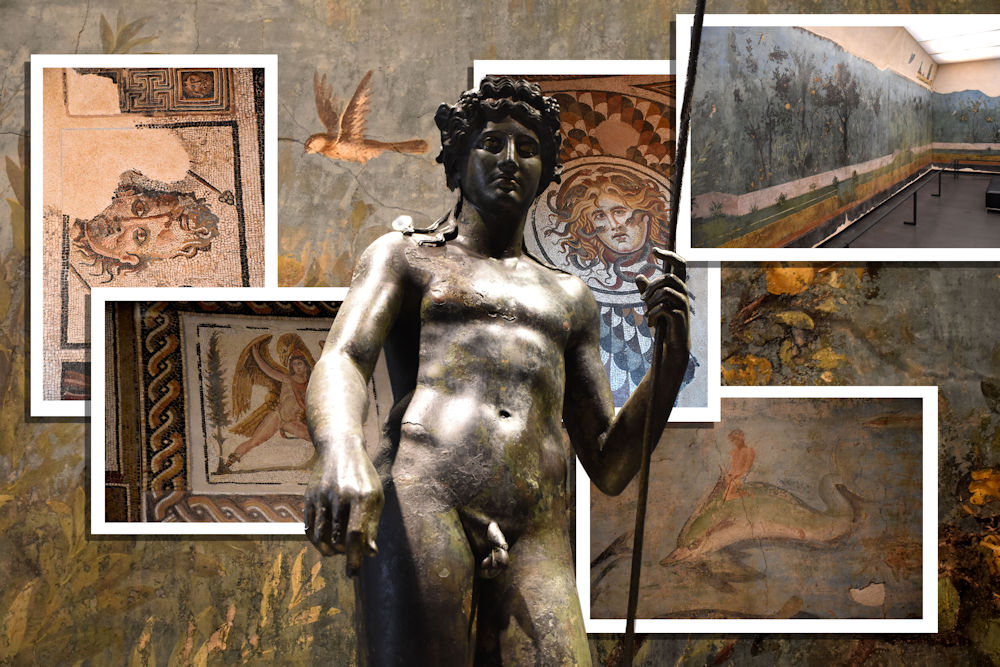 Among the awe-inspiring artwork were the lush garden frescoes from The House of Livia, which dated from 20 – 10 BC and decorated the villa of Augustus's wife, Livia.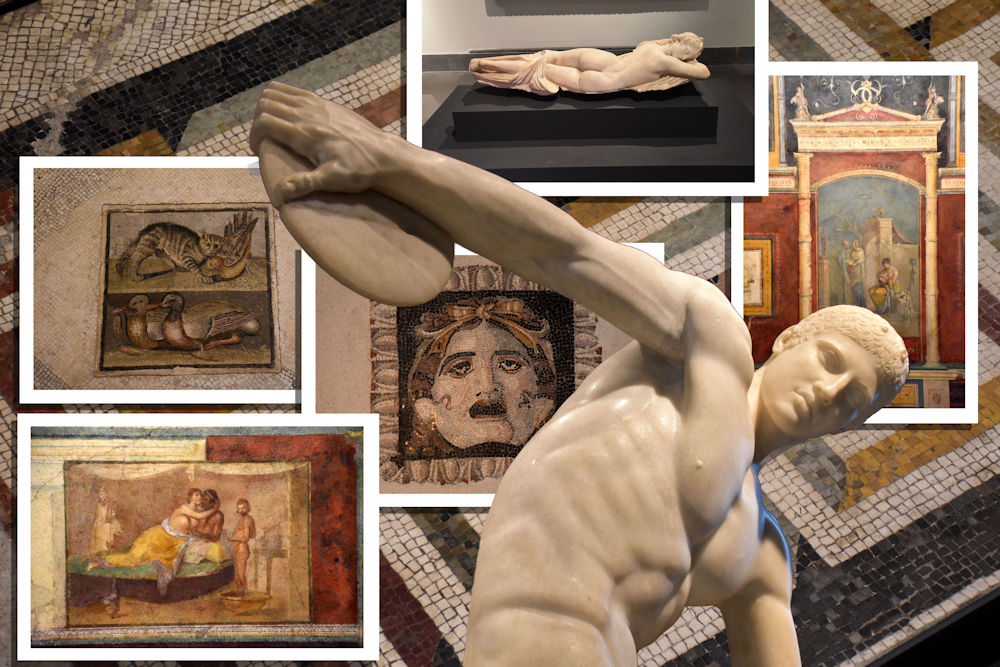 A copy of the hemaphrodite sculpture on show at the Galleria Borghese, a fresco of Dionysus as a young child, a 2nd-century copy of the famous 450 BC discus thrower, and 2nd-century BC Roman cat and duck mosaic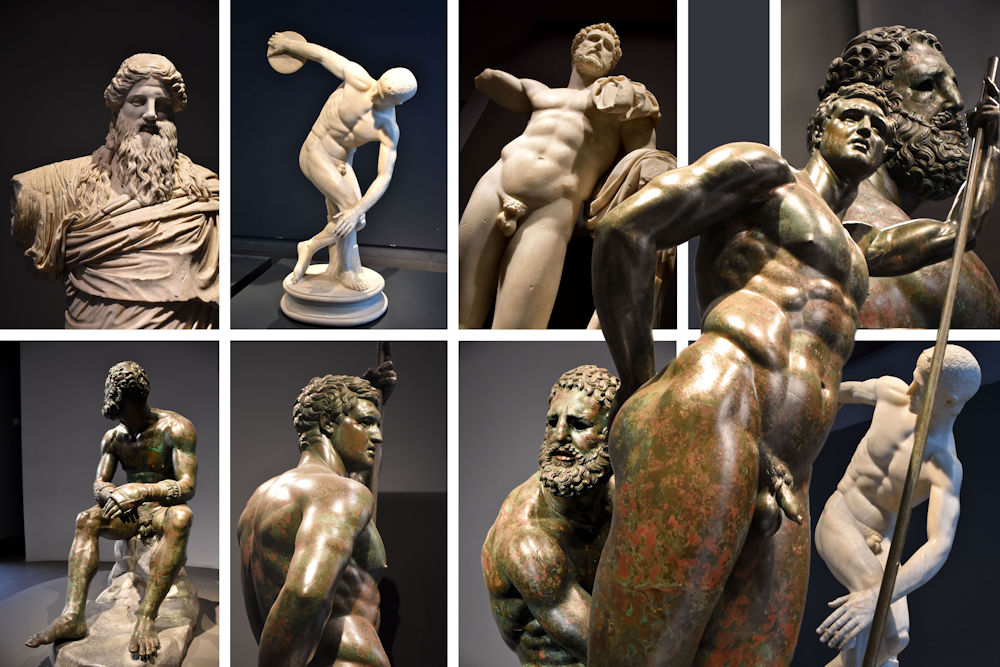 Some of my favourite statuary, including The Boxer at Rest, an amazing bronze depicting a middle aged boxer whose bruises seemed fresh, due to the red copper highlights.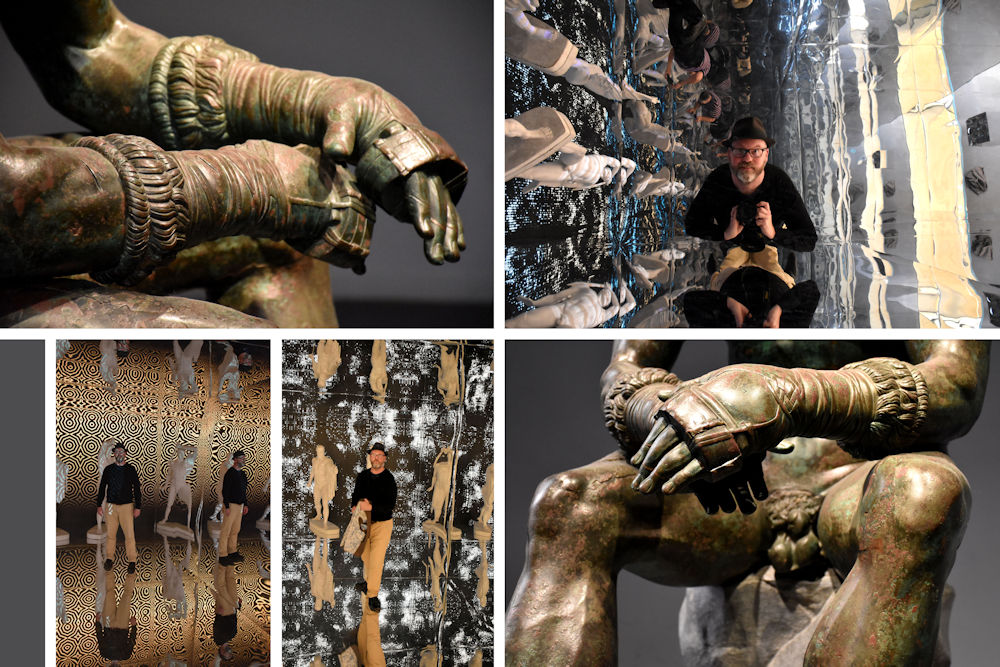 Close-ups of the boxer and a light and mirror installation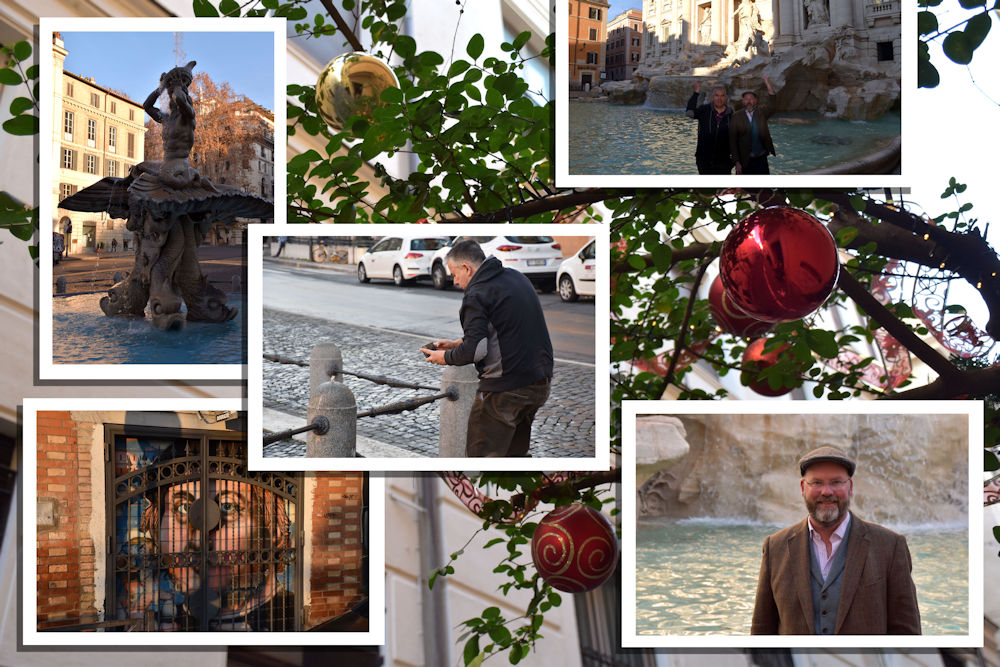 The next day, we took Tiny Cow to see the triton fountain by Bernini in Piazza Barberini and the Trevi Fountain before it got too crowded.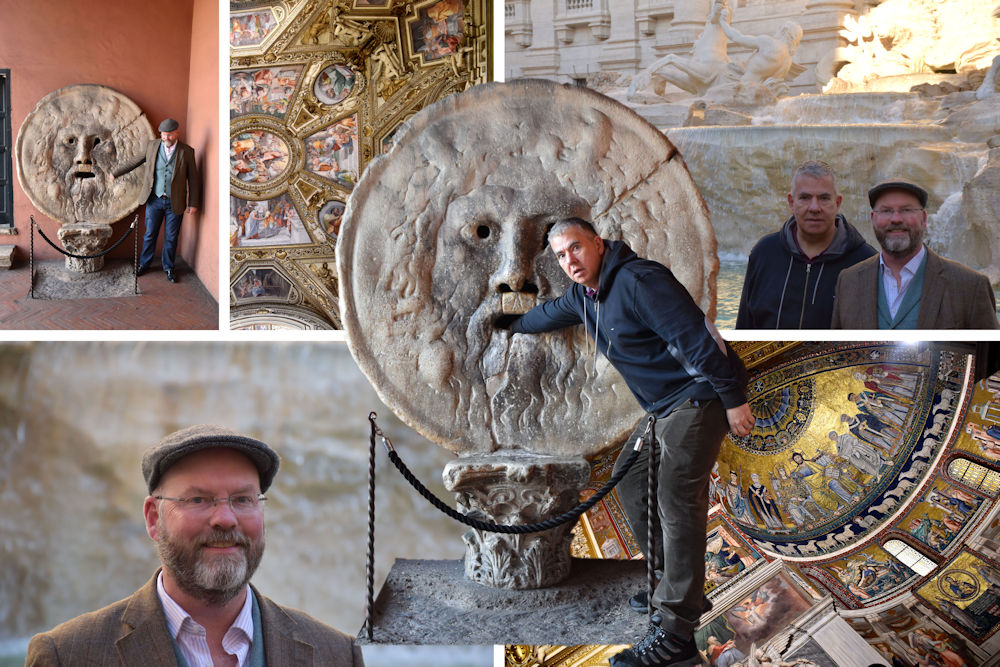 We hadn't planned to see the Bocca della Veritá on this trip, but we were walking past it and couldn't resist. It featured in the Audrey Hepburn film Roman Holiday, which we watched just before this trip. Other photos are from the Trevi Fountain and Santa Maria in Trastevere, one of the oldest churches in Rome, dating back to the 340s.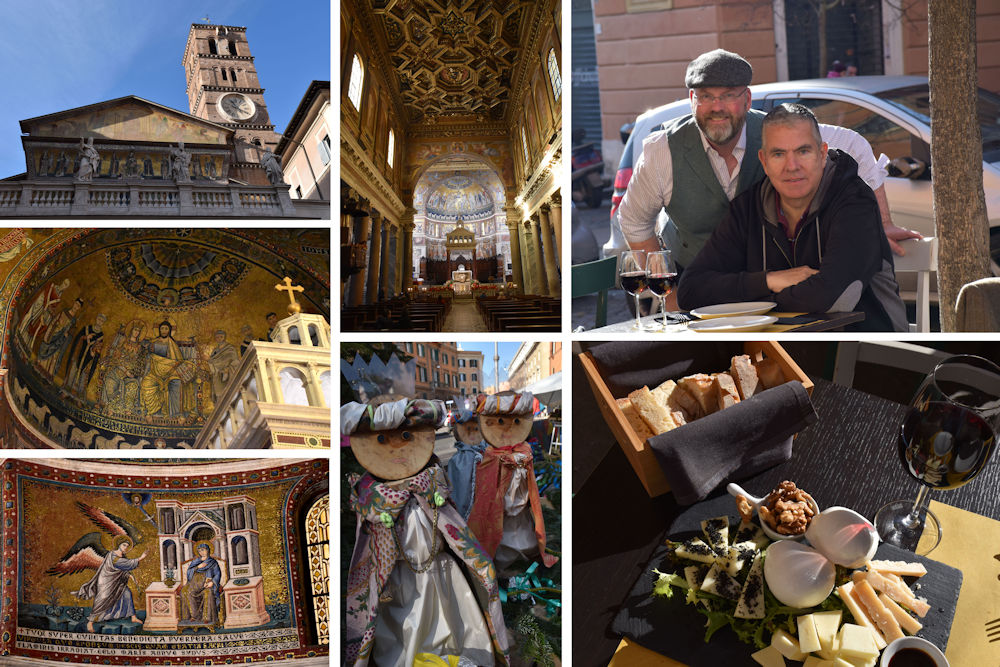 Santa Maria in Trastevere and our sun-dappled lunch next to the open air market, my favourite photo of the trip.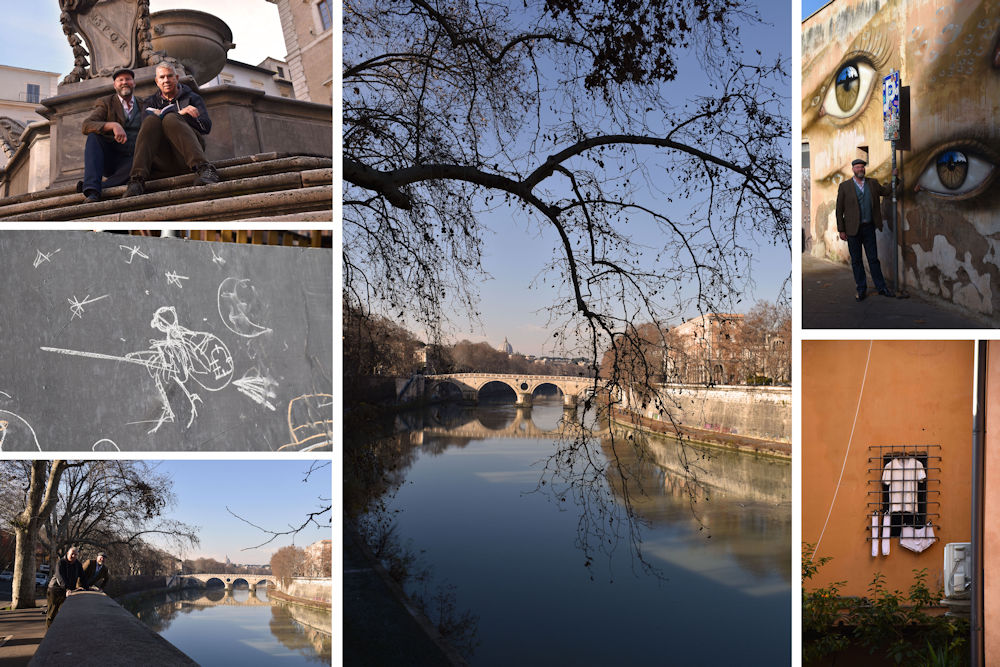 Sights in Trastevere, including a Befana on broomstick, the Tiber, and some underwear hanging out to dry.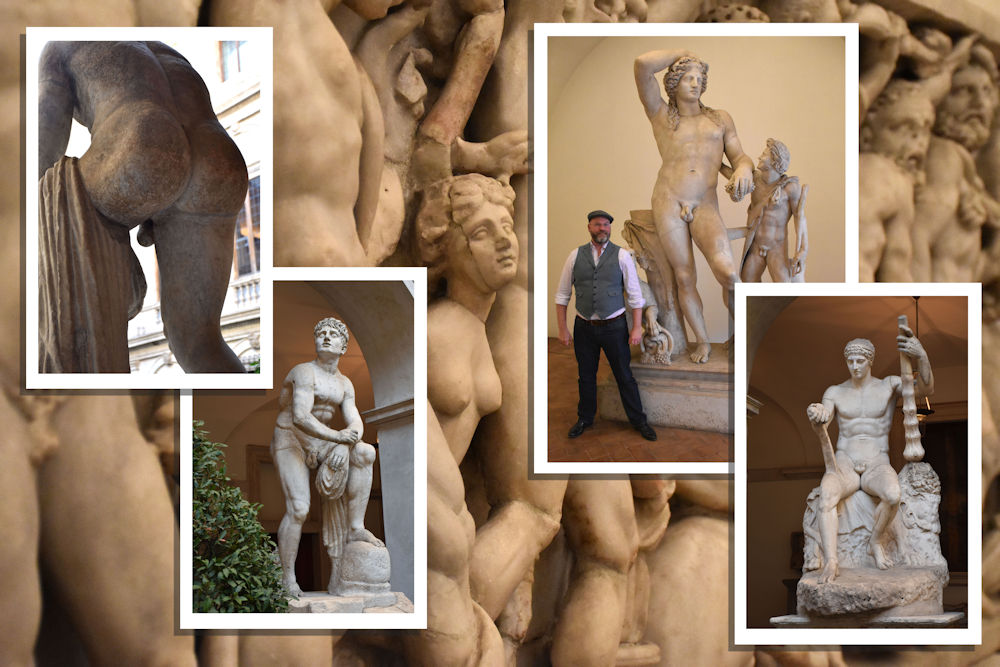 The Palazzo Altemps is another of the galleries included in our Museo Nazionale Romano ticket. Again, there was hardly anyone else there, and the artwork was spectacular. I am with Dionysus with Satyr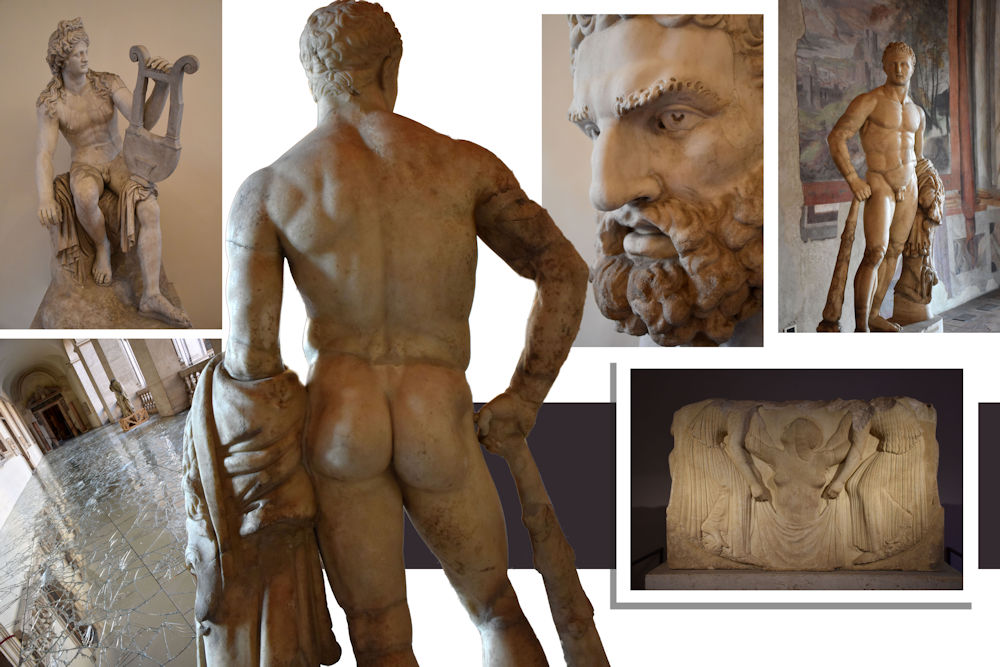 A modern installation with cracked mirrors, sculpted bums and tums, and The Ludovisi Throne, a sculpted marble block depicting the birth of Aphrodite.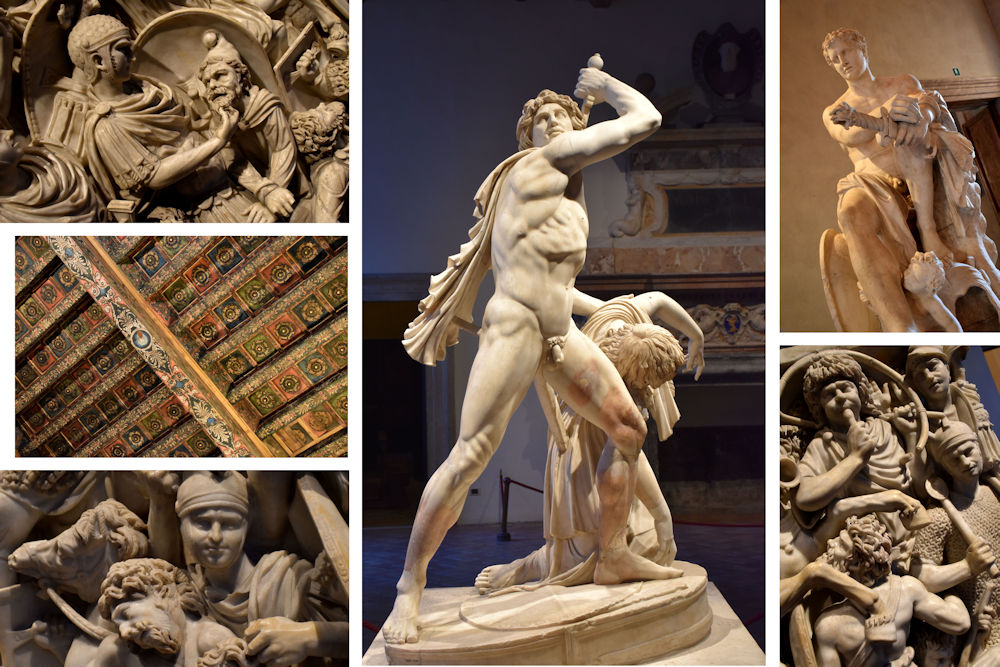 The Grande Ludovisi Sarcophagus, mid-3rd century AD, shows remarkably well-preserved scenes of Roman victory over the barbarian Ostrogoth hordes. My favourite statue is The Suicidal Gaul, supporting his dead wife's arm as he plunges the dagger. It was commissioned by Julius Caesar to celebrate a Gaulish victory.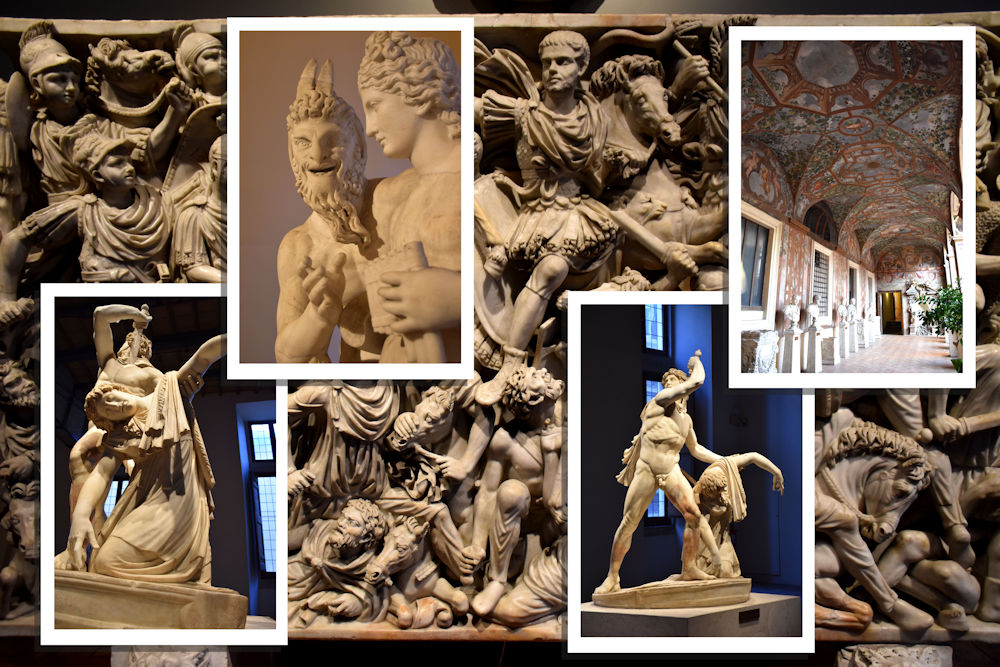 More the the gallery, including another satyr and the loggia frescoes, a catalogue of exotic fruits, plants, and animals being imported in 1595 from the New World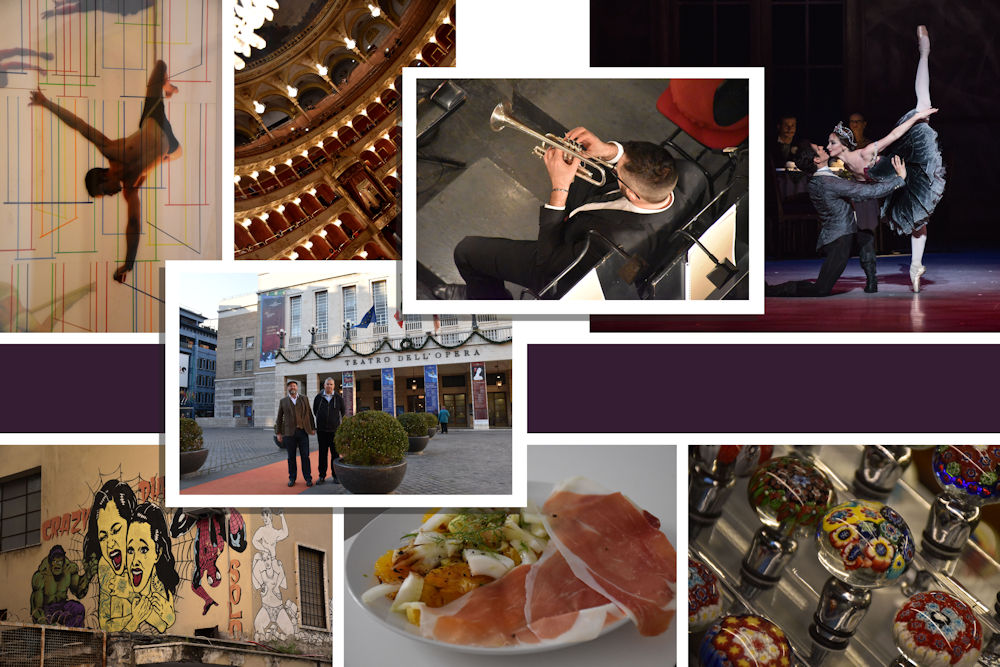 We were lucky enough to get two of the last three tickets to Swan Lake at the Teatro del'Opera. We were in a "restricted view" box, but it was probably my best theatre experience, as I could stand up and stretch my legs if I wanted to, and we had a view right down into the orchesra pit. Prima Ballerina Alessandra Amato was triumphant in the lead role. Also shown is street art near our apartment, a light starter of fennel and orange, and Murano glass.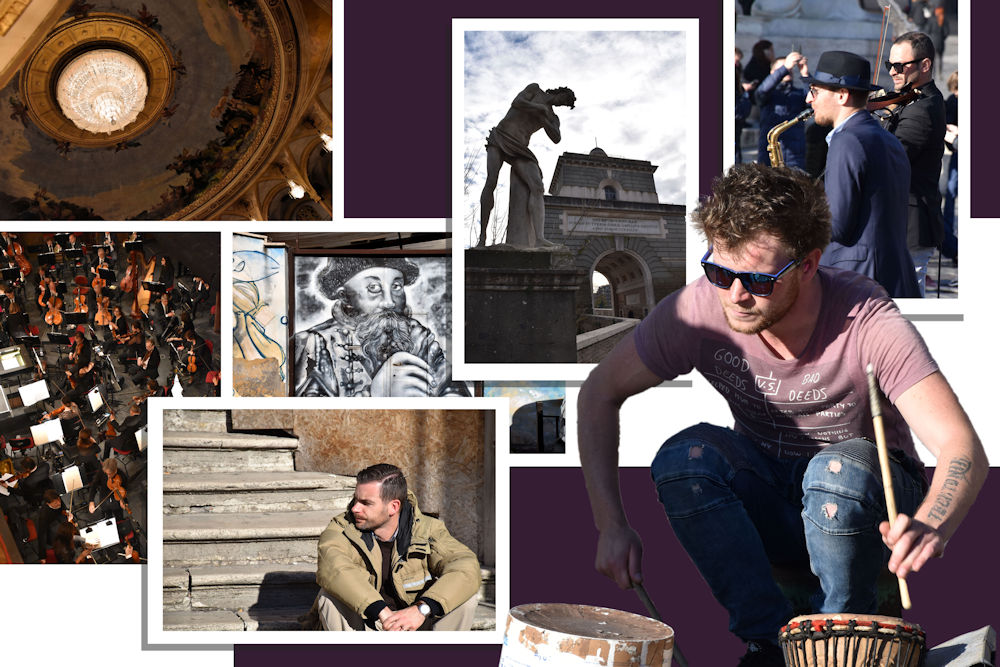 After a fruitless Invader quest, we returned to Piazza del Popolo, where the buskers were in full swing.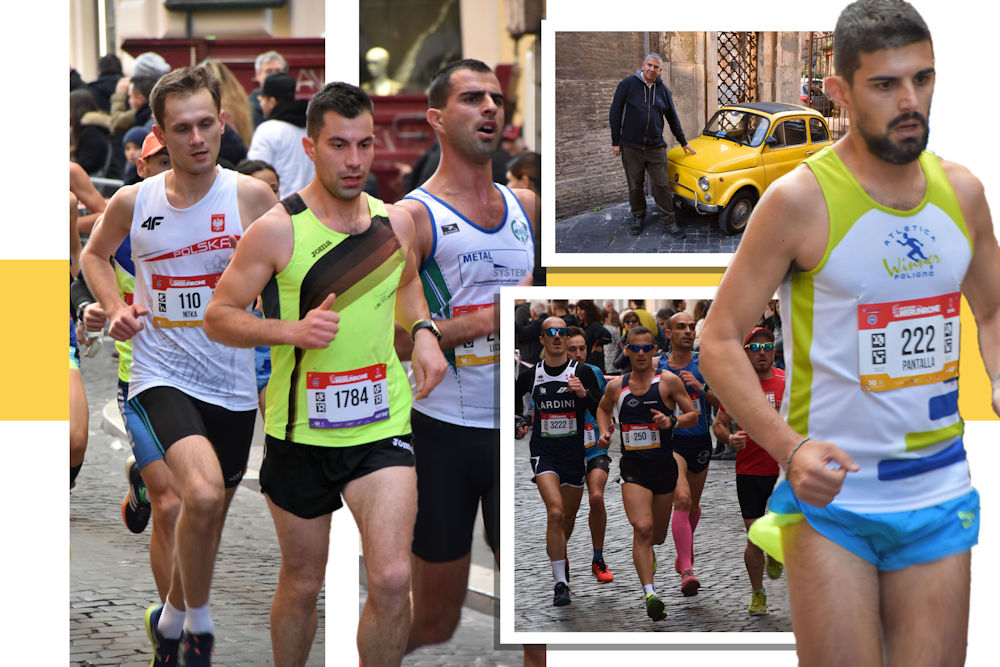 Walking towards the Spanish Steps, we encountered a marathan full of men in tiny nylon shorts.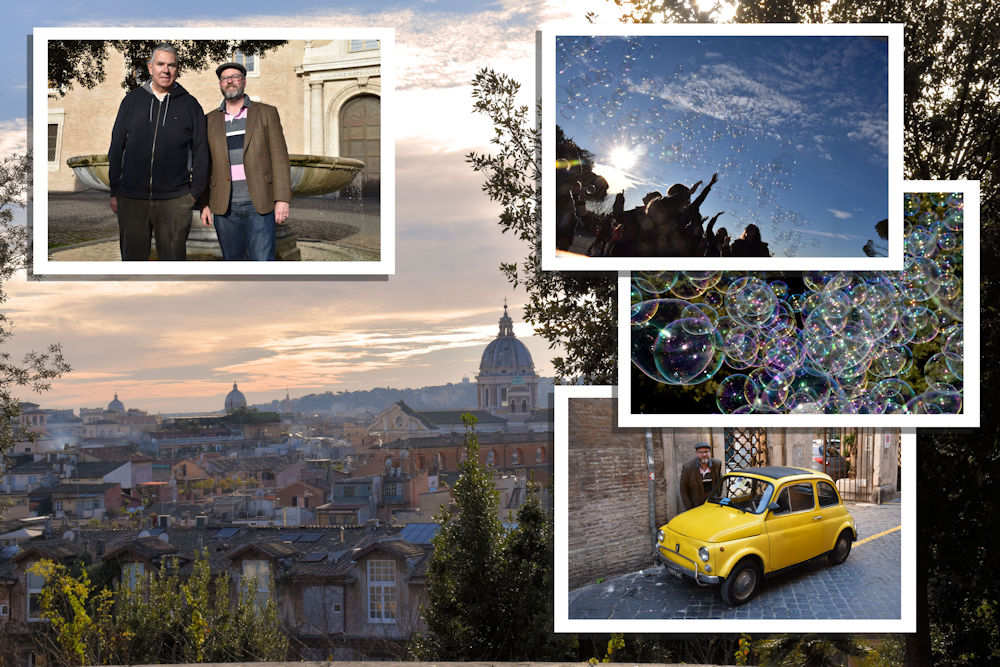 A view of Rome above the Piazza del Popolo. The yellow car is on a street where Picasso used to work.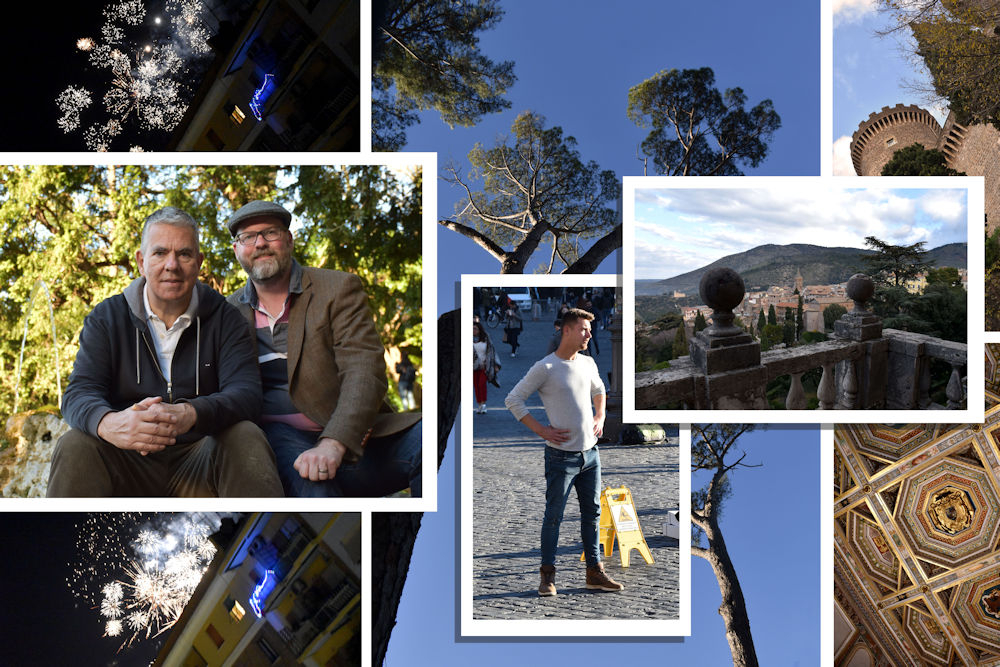 Fireworks in Rome were as wild and dangerous as those we experienced in Germany. Locals were setting them off in the street and a rubbish bin caught fire and required a fire engine to extinguish it.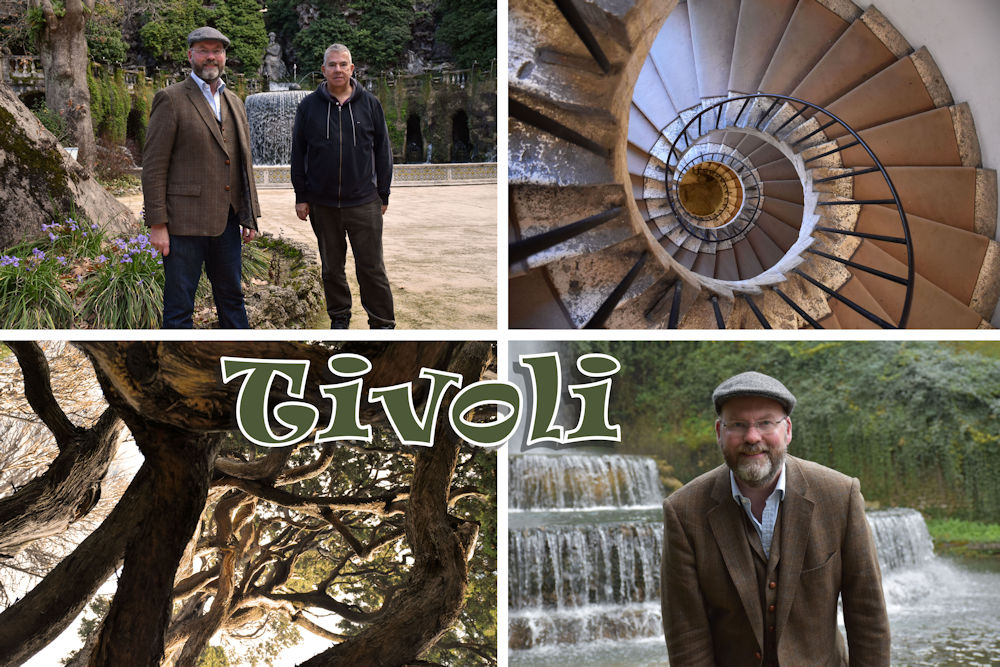 We took a 40-minute train journey to Tivoli to see the 16th-century Villa d'Este and its 100 fountains. It was nice to get out of Rome for the day and the perfect time to see these wonderful gardens with not too many others there.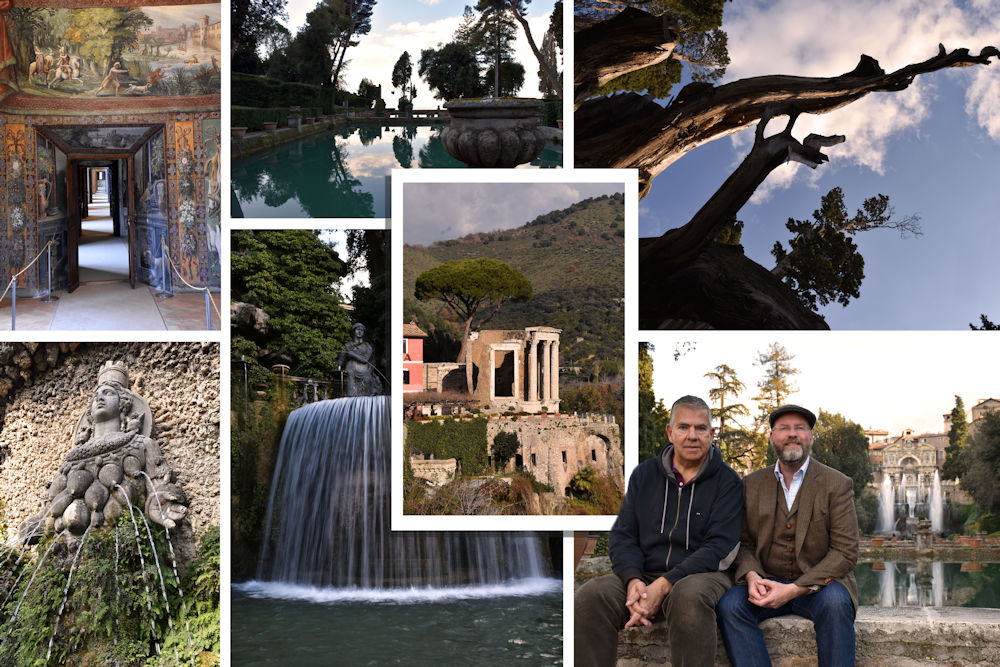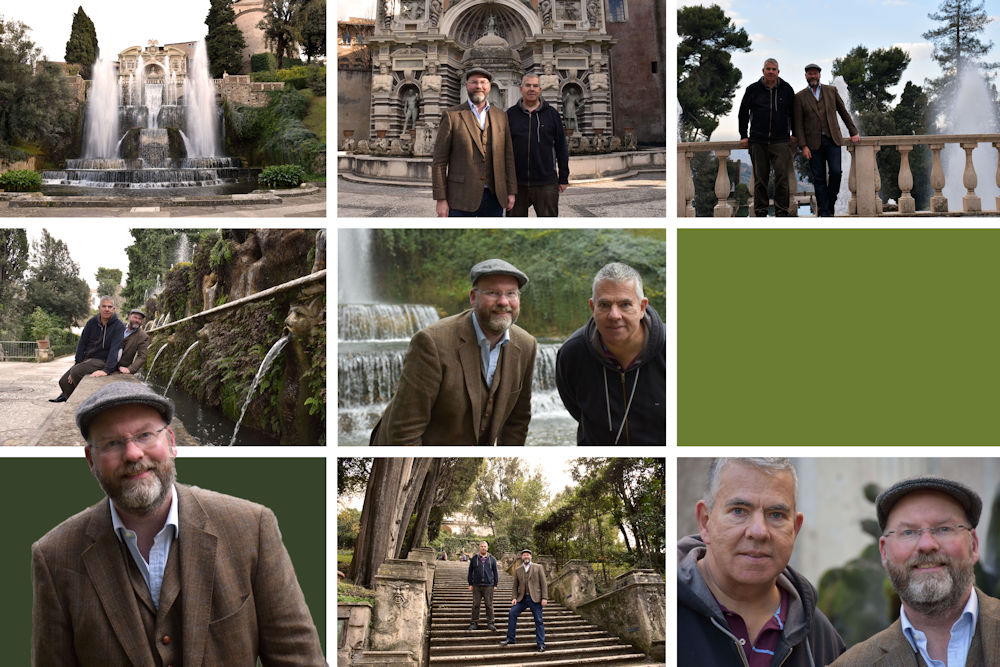 Probably the most underwhelming experience of our visit was waiting for the twice-daily playing of the "water organ". We expected an explosion of water and fountains which never came, but the creaky, off-key organ played by water was interesting, nevertheless.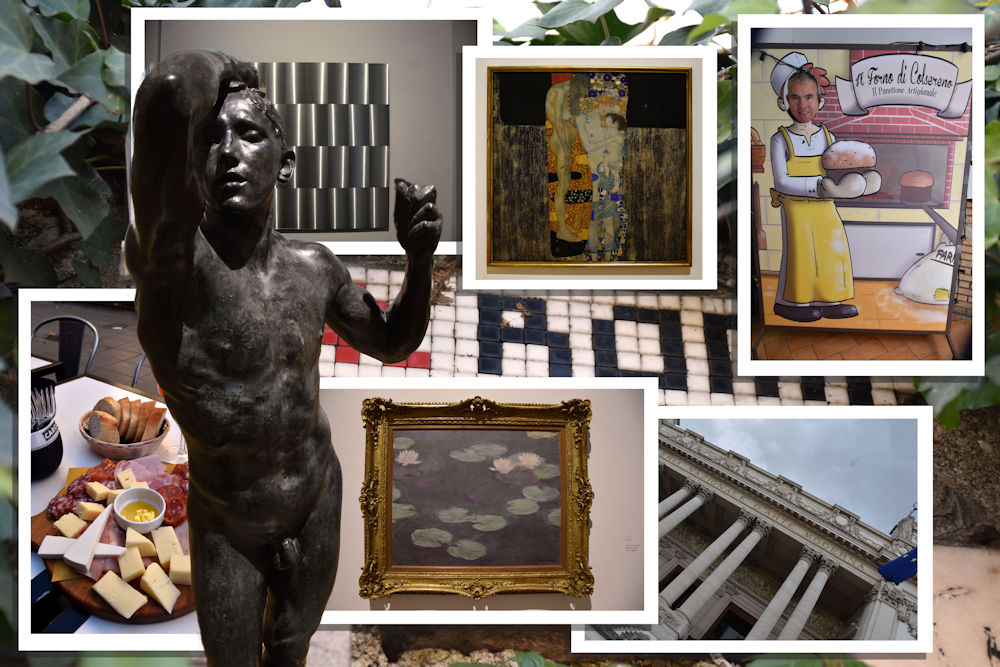 The modern art museum in the Villa Borghese had a good collection of art that represented many of the famous artists whose work we admire.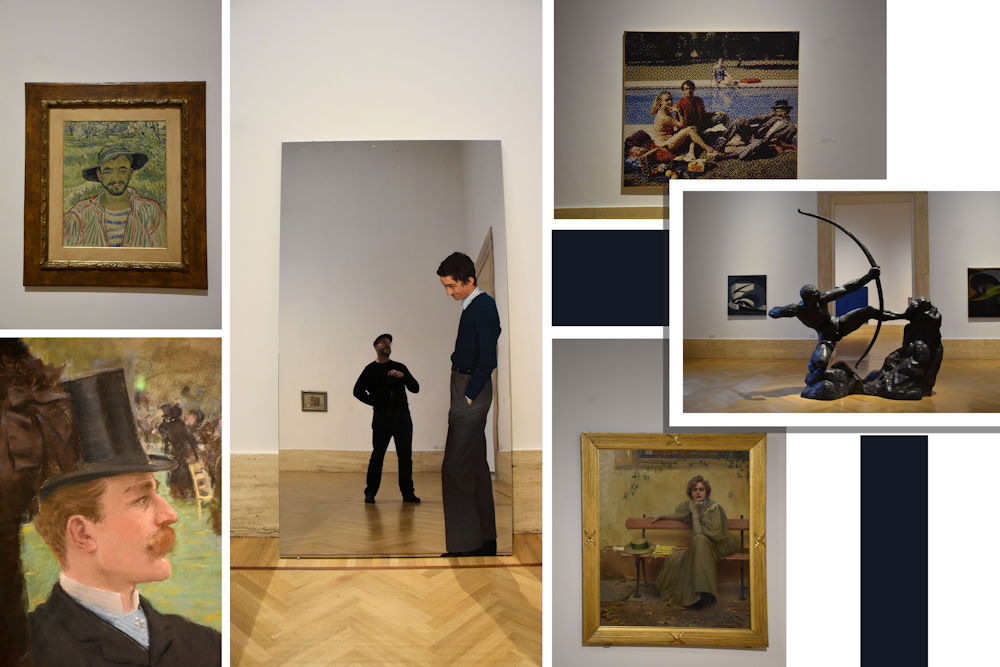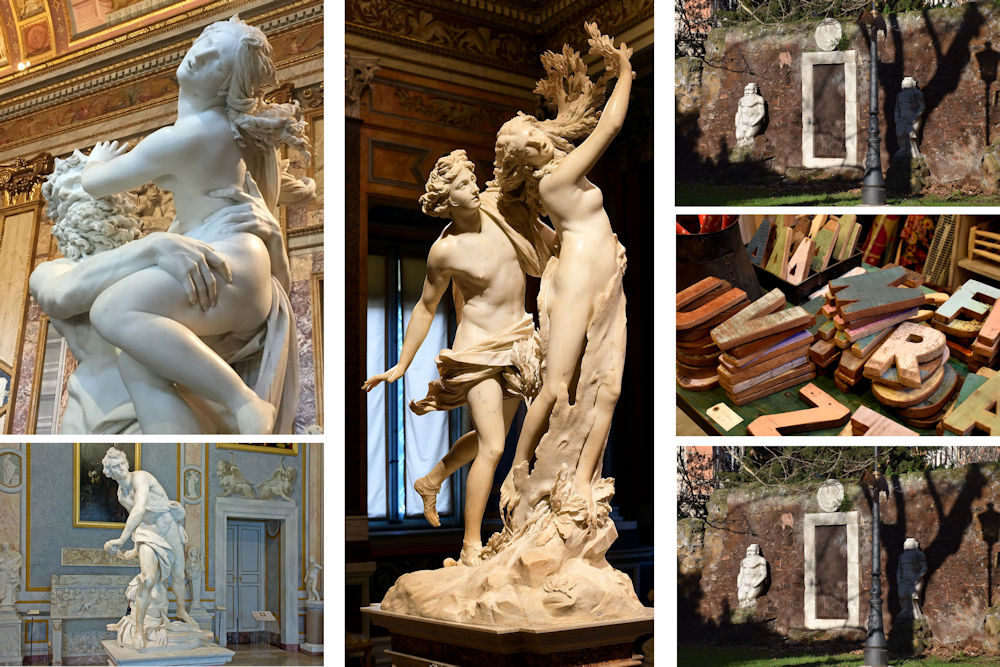 Again, we were lucky to get tickets to the Galleria Borghese, which is often fully booked months in advance. Andrew Graham Dixon and Giorgio Locatelli, as well as Francesco da Mosto spoke about many of the works of art there and we weren't disappointed. The Alchemical Door, also known as the Alchemy Gate or Magic Portal is a monument built between 1678 and 1680 by Massimiliano Palombara, marquis of Pietraforte. The marquis was interested in alchemy and legend has it that he disappeared through the doorway, which is now sealed up and guarded by two Egyptian Bes statues.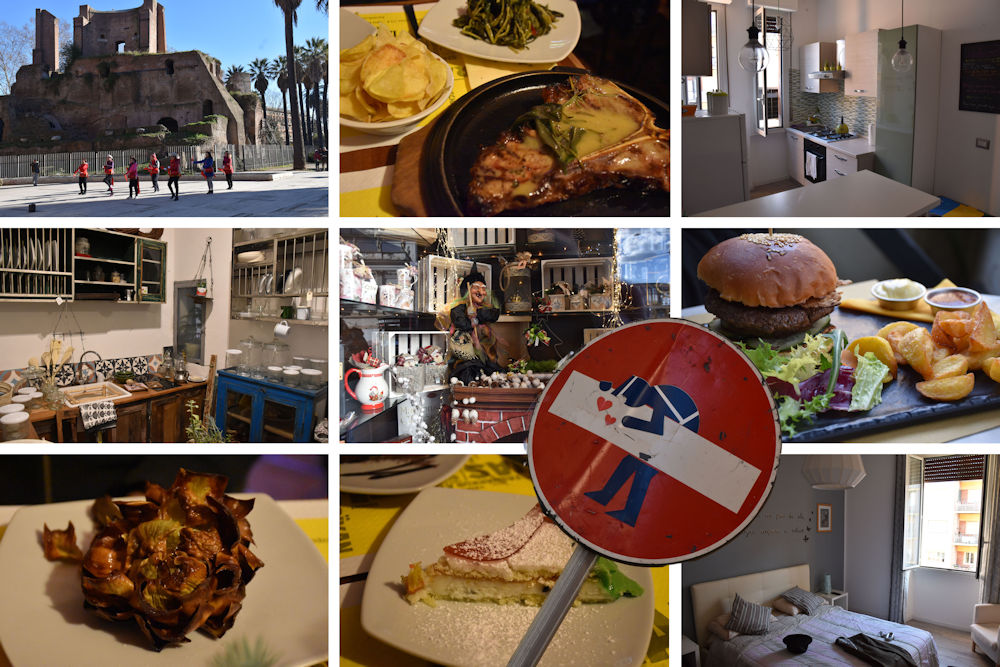 Sights from our final two days, including Chinese dancers, our best meal in Rome (including fried artichokes and cassata), the Befana, Clet artwork, and our apartment on check-out day