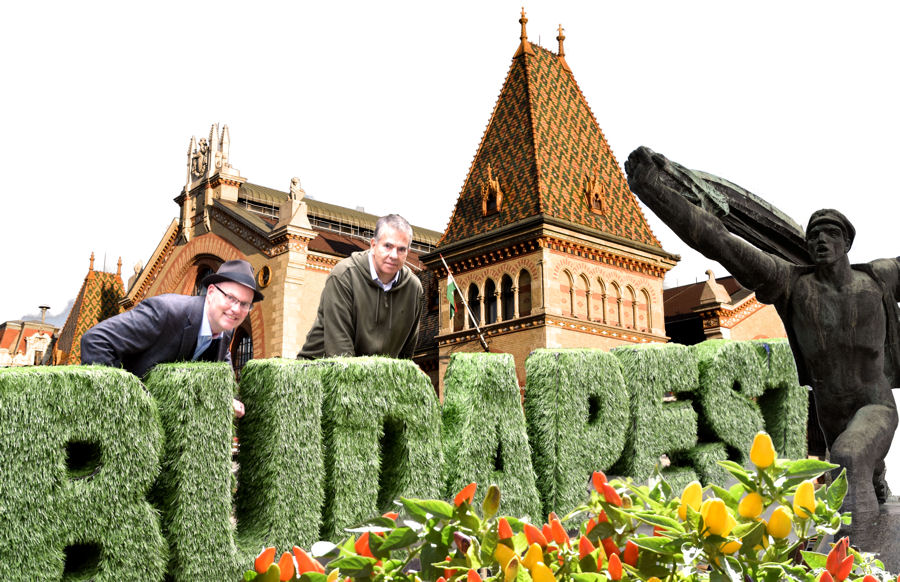 After George's visit to Budapest in 2014, we decided to spend our 17th anniversary in that wonderful city. Cl;ick HERE to see last year's anniversasry in Bruges and HERE for other photos from autumn 2015.

We stayed in a luxurious apartment, which was another fortunate Owners Direct find. Click HERE to see our last accommodation from them in Abruzzo.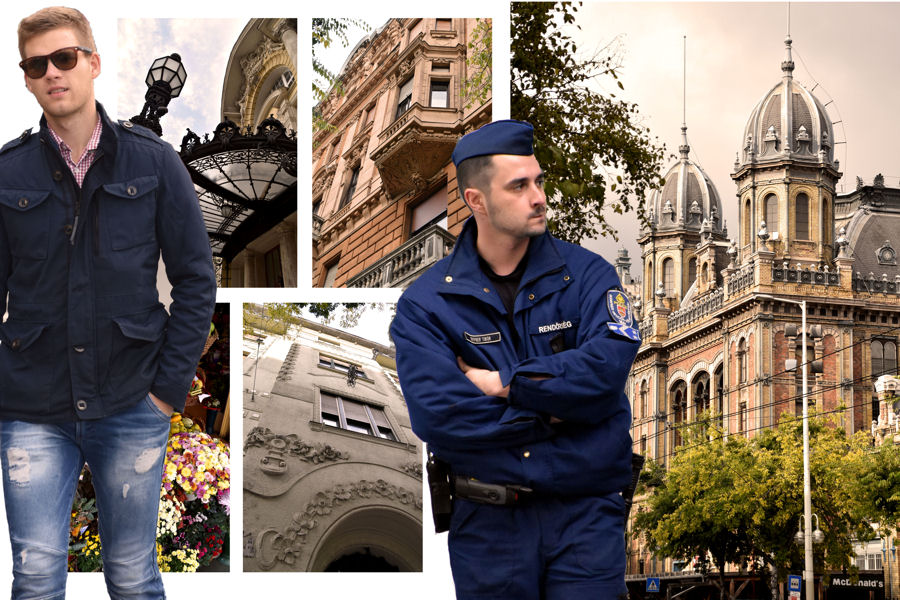 On our first day, we strolled around our neighbourhood marvelling at the Art Nouveau architecture. The train station, above, was right near our house, and also just across from a place with luscious cinnamon rolls.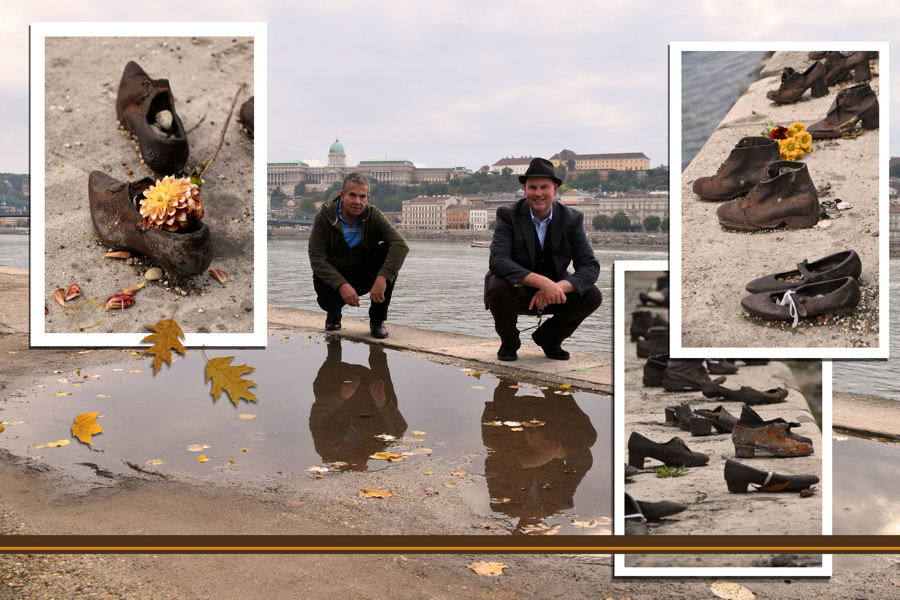 The bronze shoes are from victims of World War II.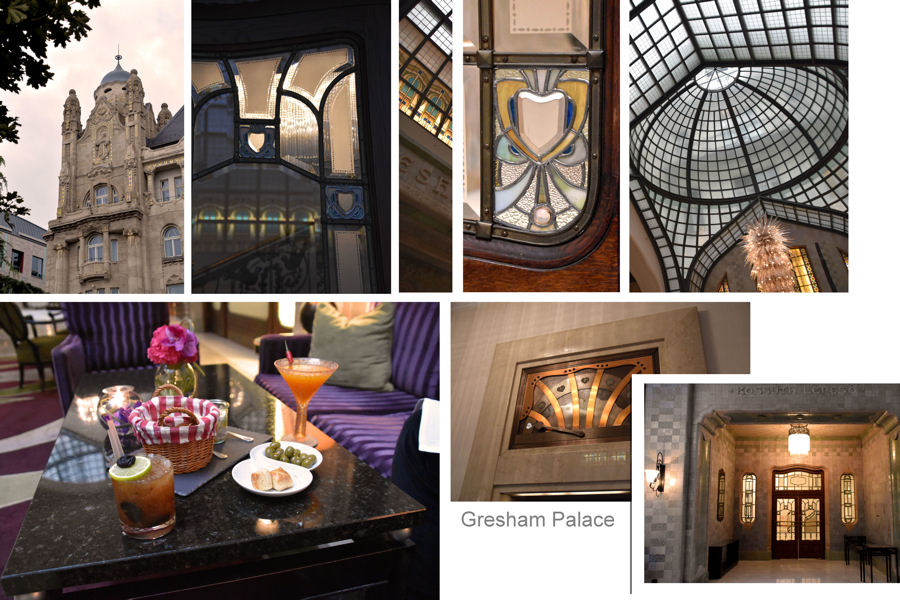 Gresham Palace's Art Nouveau exterior drew us inside, where we had cocktails, including an apricot, vodka, and chilli martini.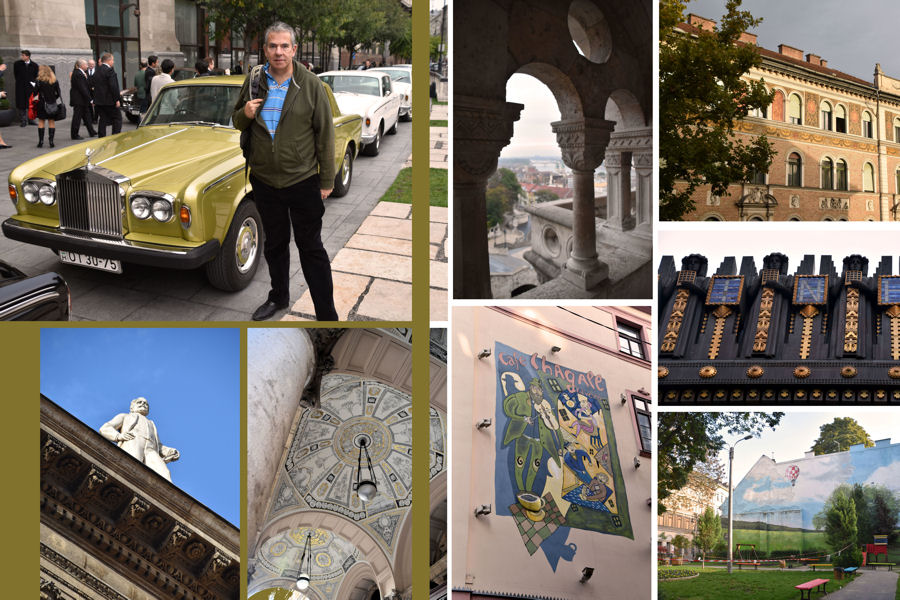 Above: Nick with Rolls Royce, and some artistic views from around the city.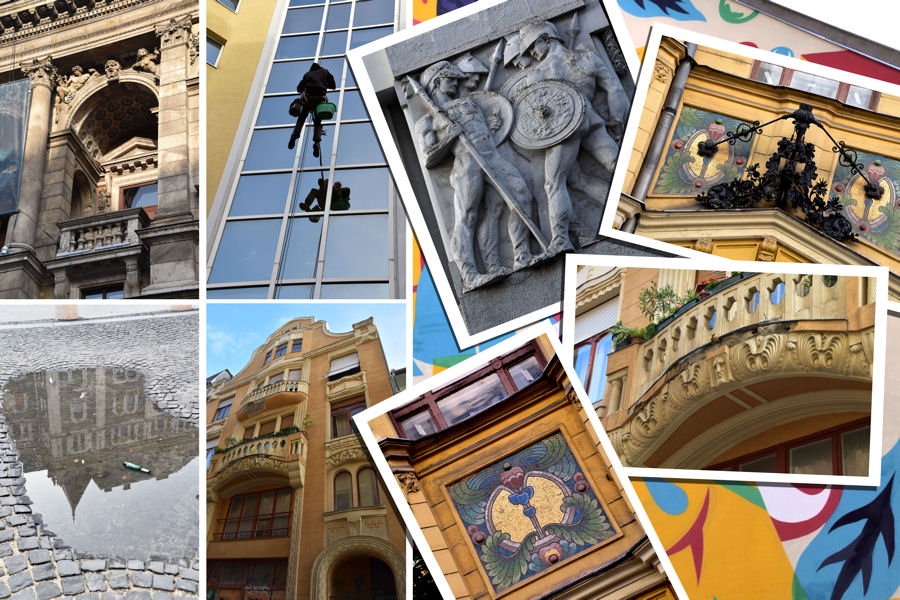 On Sunday morning, we went in search of a market and saw lots of Art Nouveau and some window cleaners.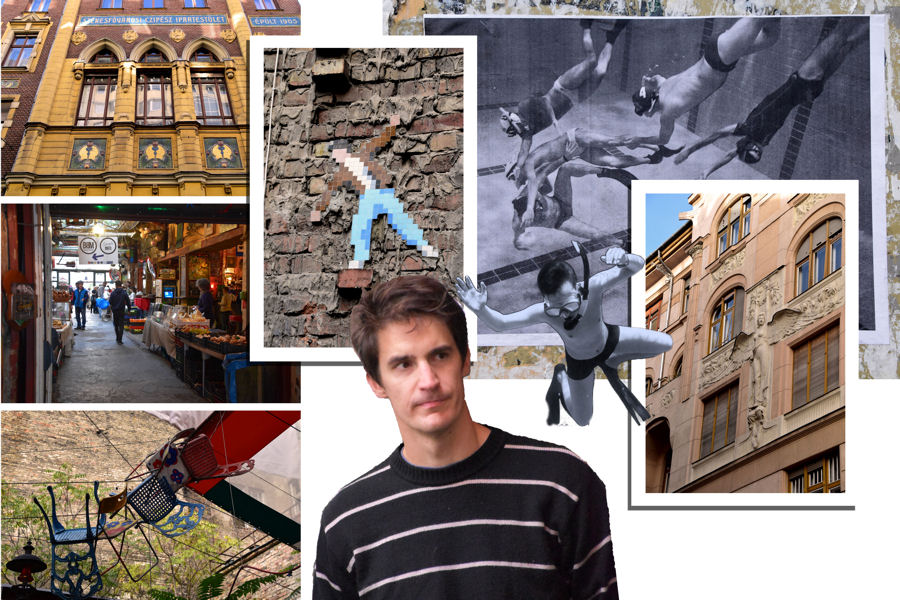 Szelmpa market was inside one of Budapest's "ruin pubs" and was one of the highlights of our trip.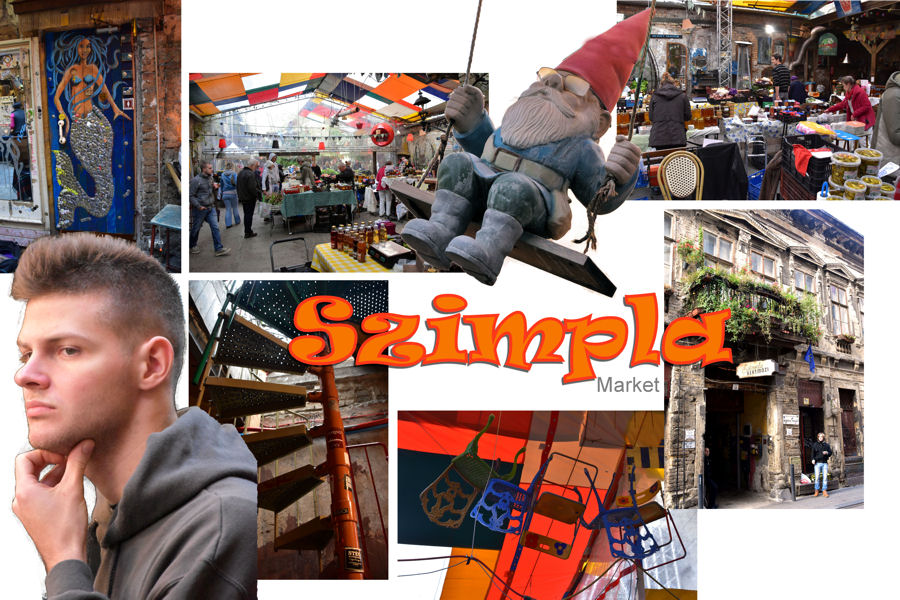 We bought salamis, bread, pickles, and cheese to take back to our apartment and guacamole and a cinnamon roll to snack on. .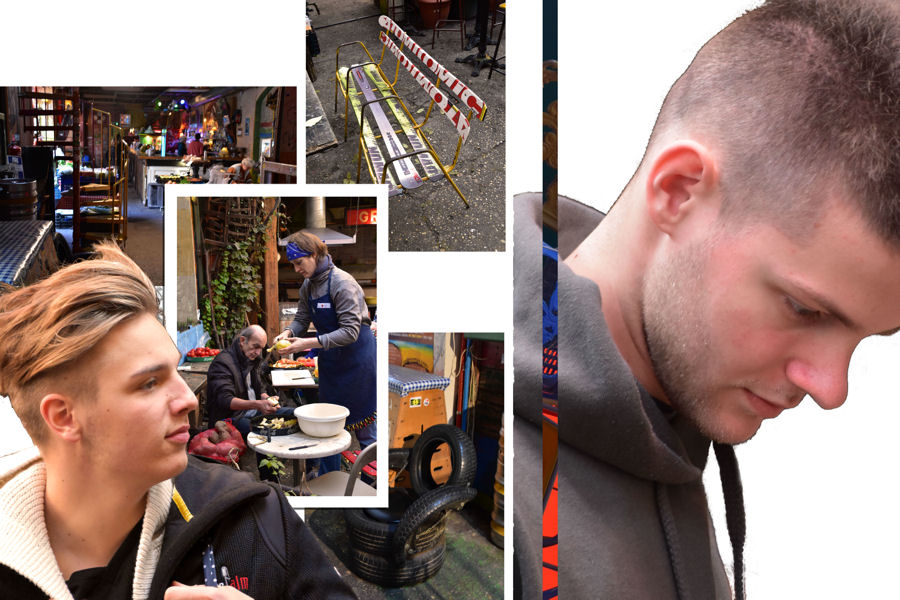 There was seating made from old skis and tyres, a group of people preparing stew, and at least two Boys with Famous Hair, like the one in Freiburg.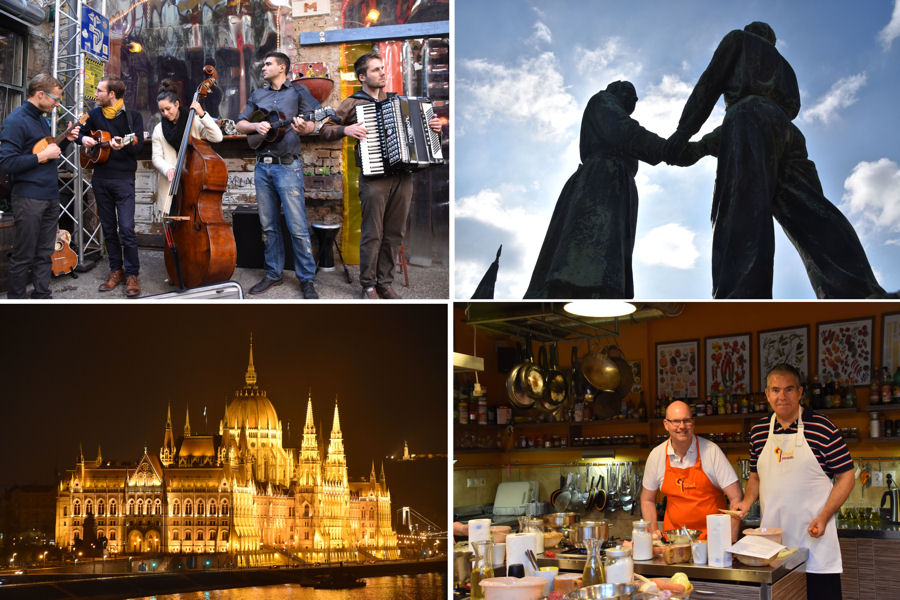 We heard an excellent folk band called Babra. The other photos are highlights of our trip.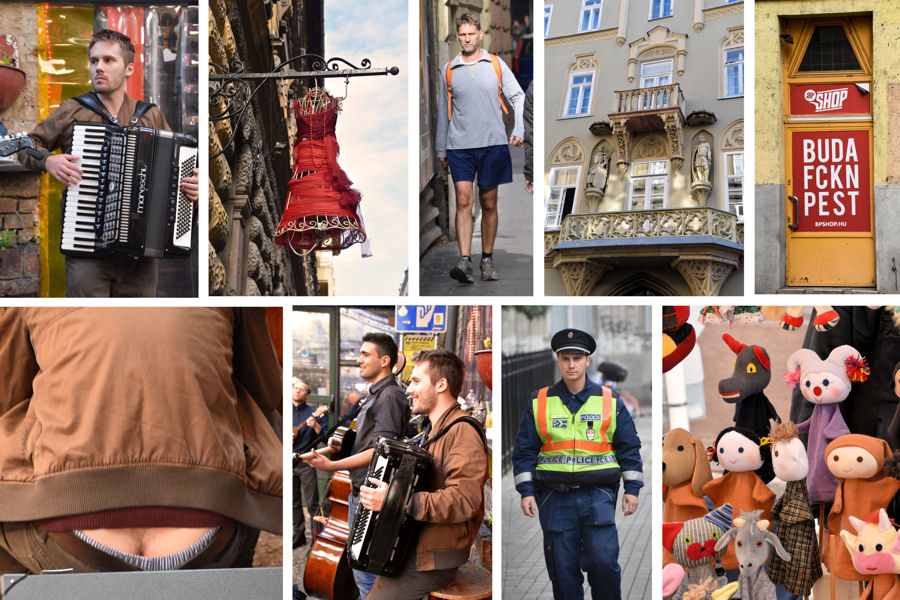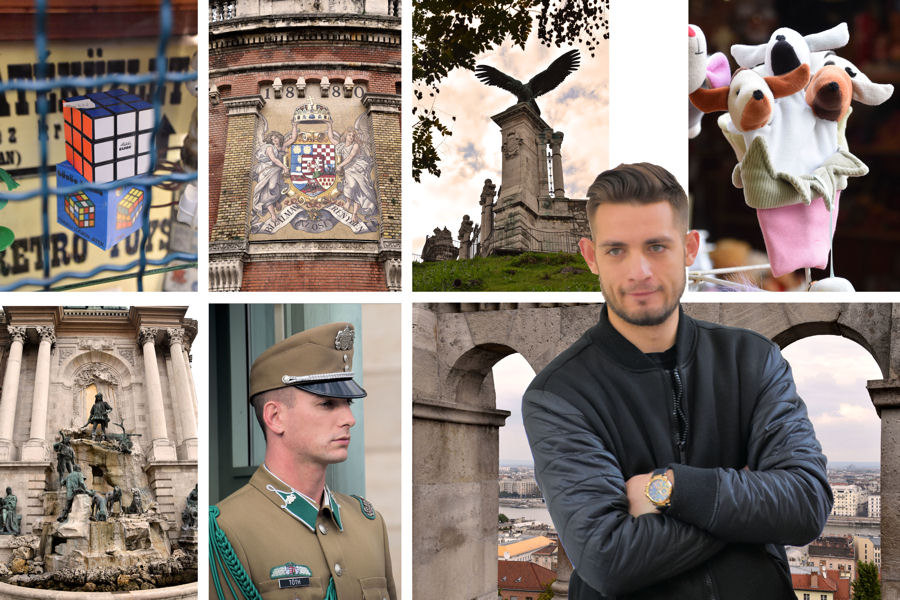 We strolled across to the Buda side and visited the castle.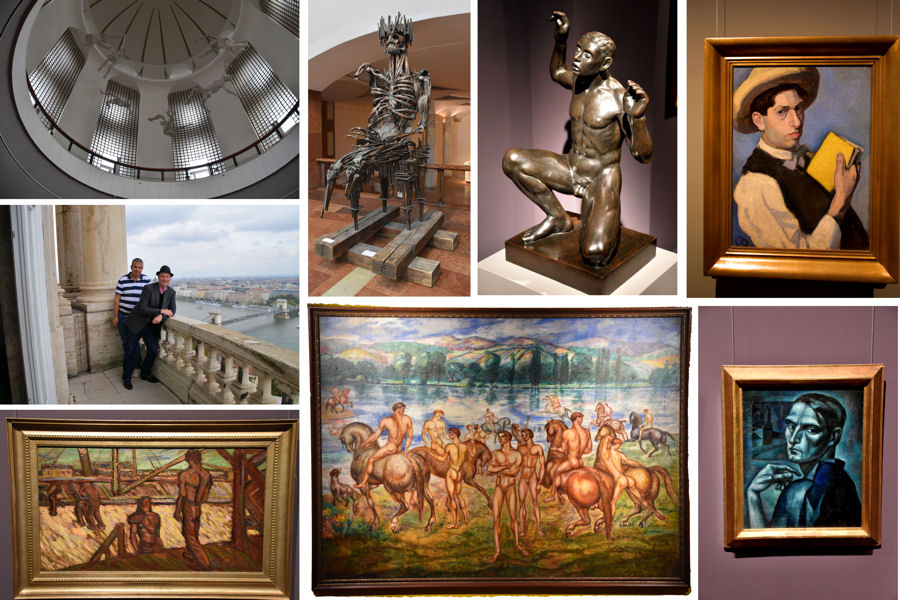 The art gallery hardly had any people, but it lad lots of wonderful art and a great dome with a wonderful view.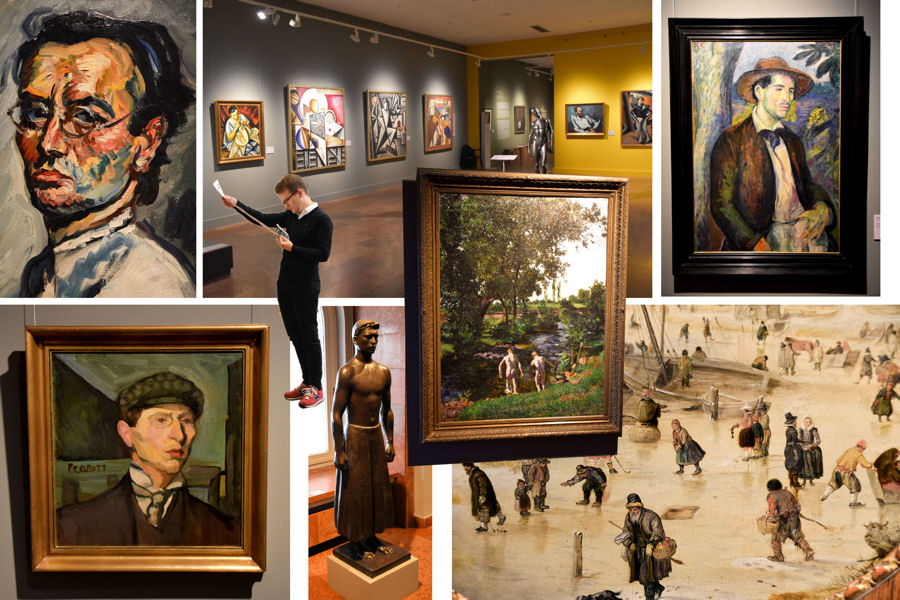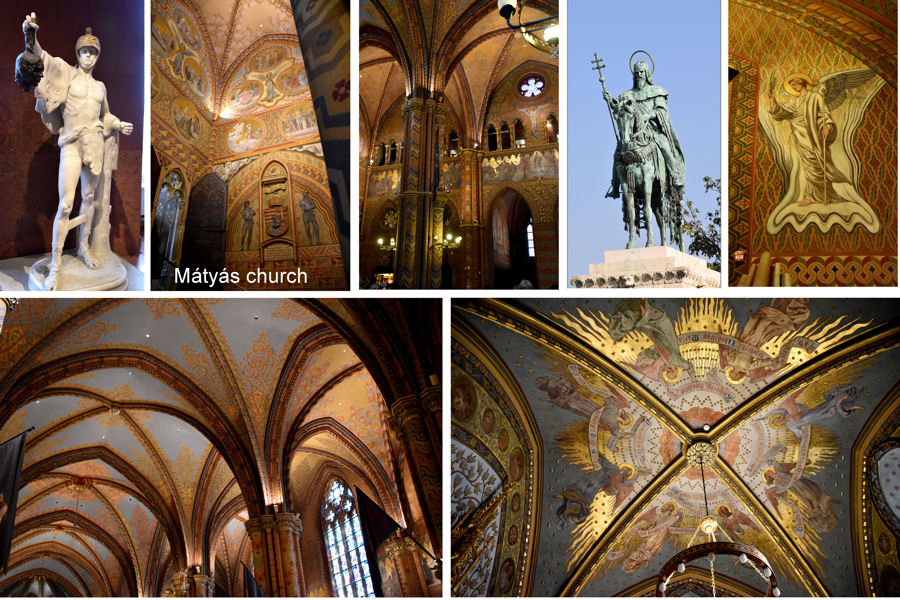 Mátyás church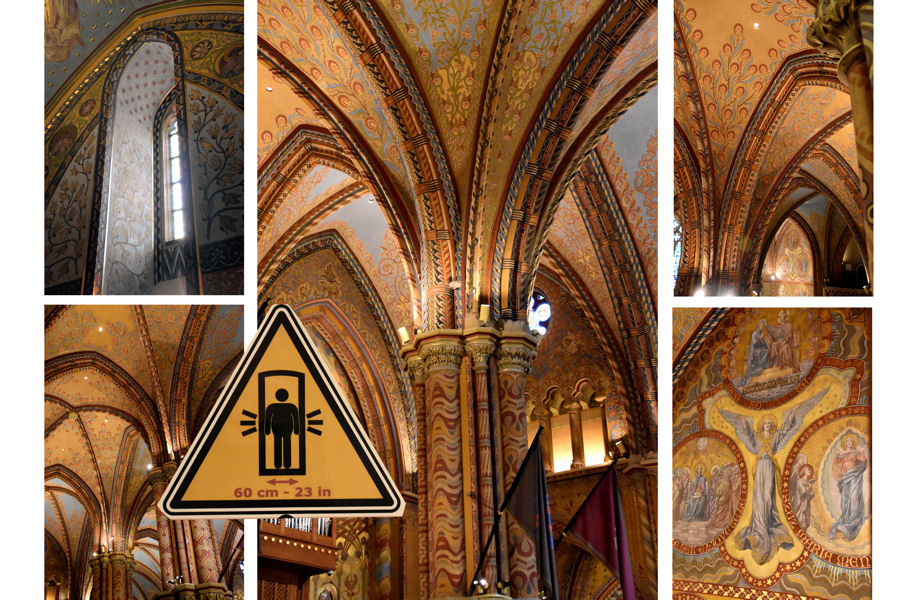 The sign above was posted just before entering the turret with narrow, but not that narrow stairs.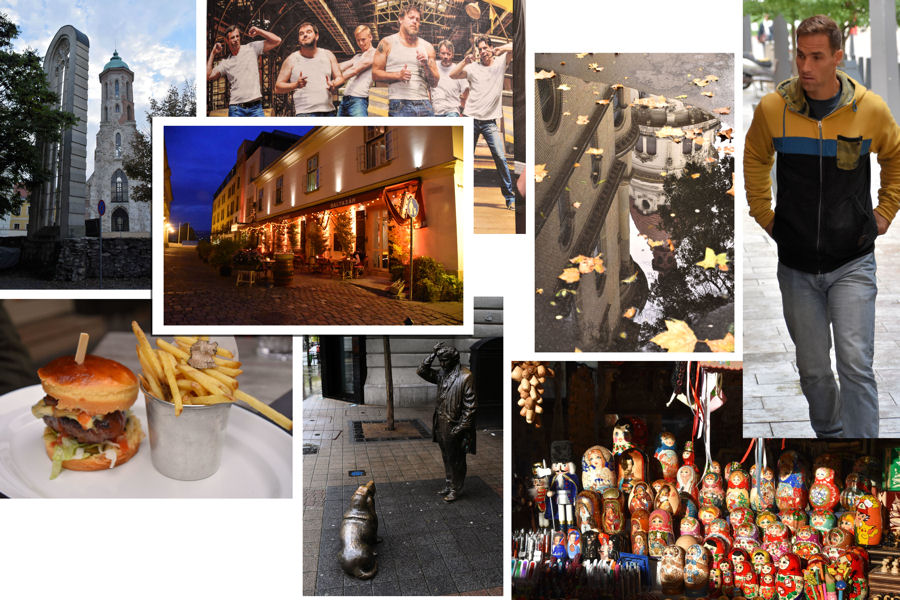 We saught out a burger and truffle fries at Baltazár and found a statue of Columbo and his bassett hound near where we stayed.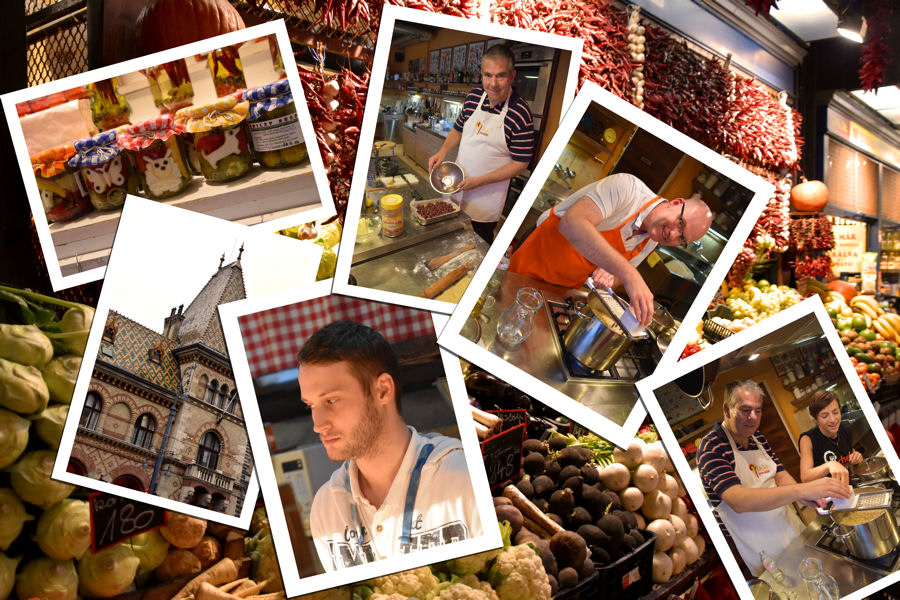 We met at the Great Market Hall on Monday morning to shop for our cooking class. We made goulash soup, chicken paprikash with homemade noodles, and a sour cherry pie. The pickles were a revelation.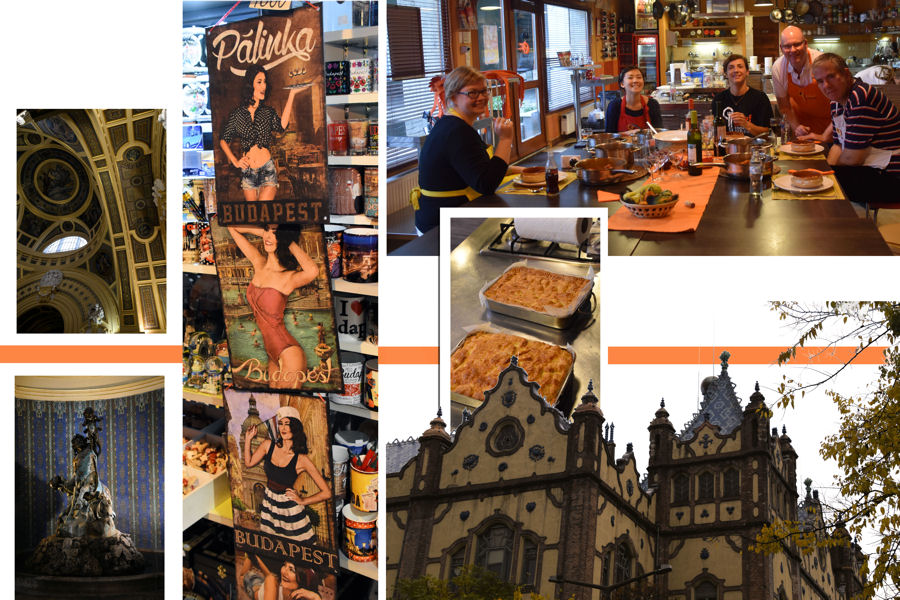 It looks like Nigella Lawson advertising Budapest.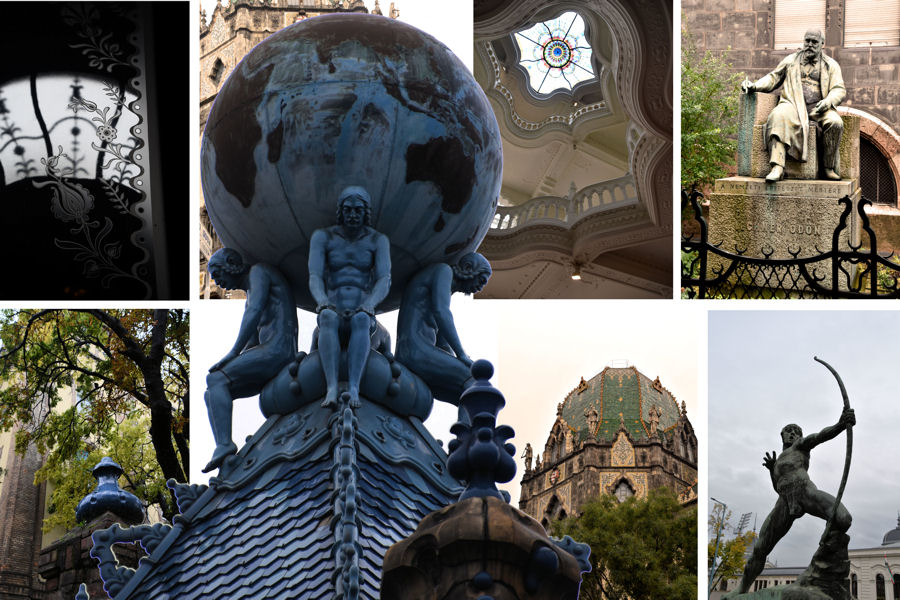 The next day, our rainiest, we went on a fascinating four-hour Art Nouveau tour that took us all over the city.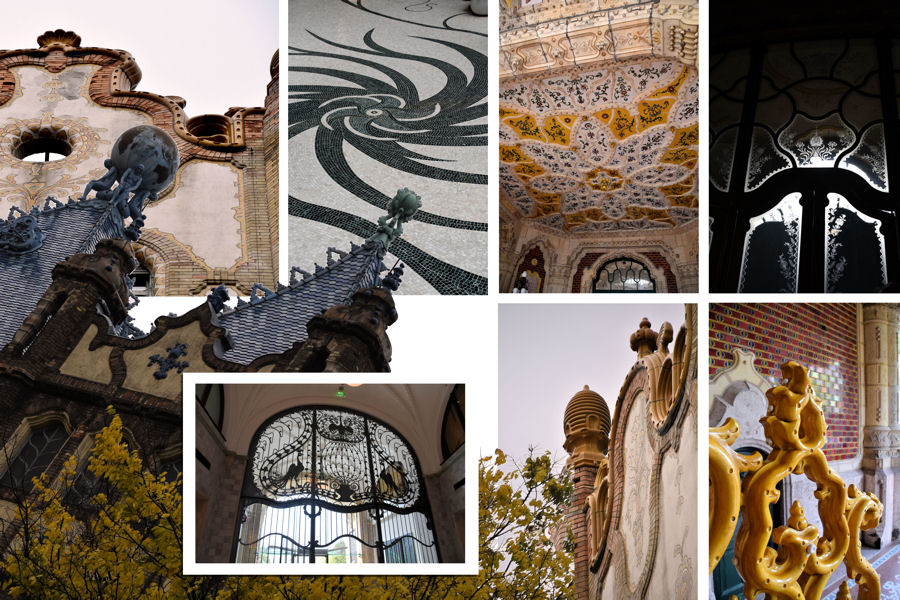 We leared a lot about architect Ödön Lechner, who designed many of the Art Nouveau buildings in the city.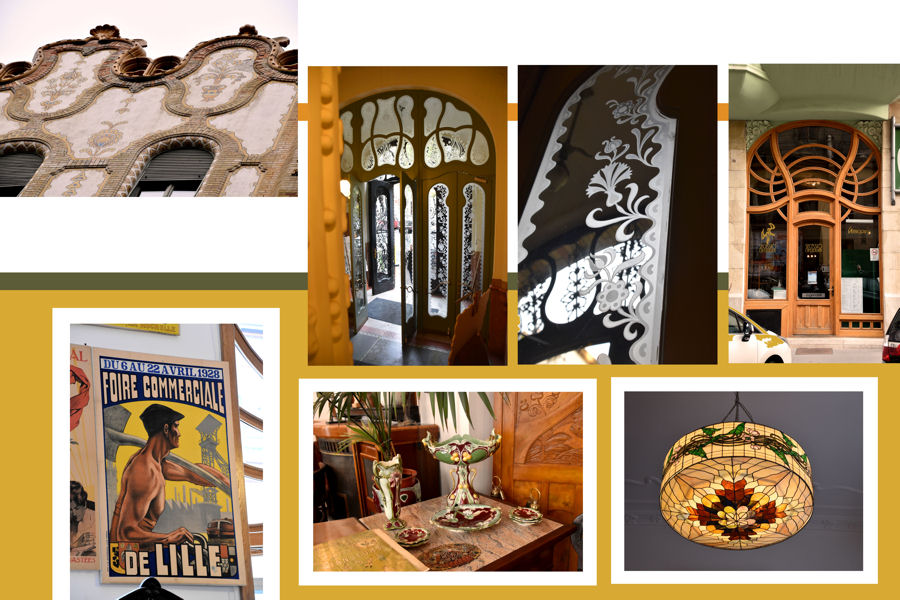 Our tour finished in the Art Nouveau café, which is stuffed full of wonderful artifacts.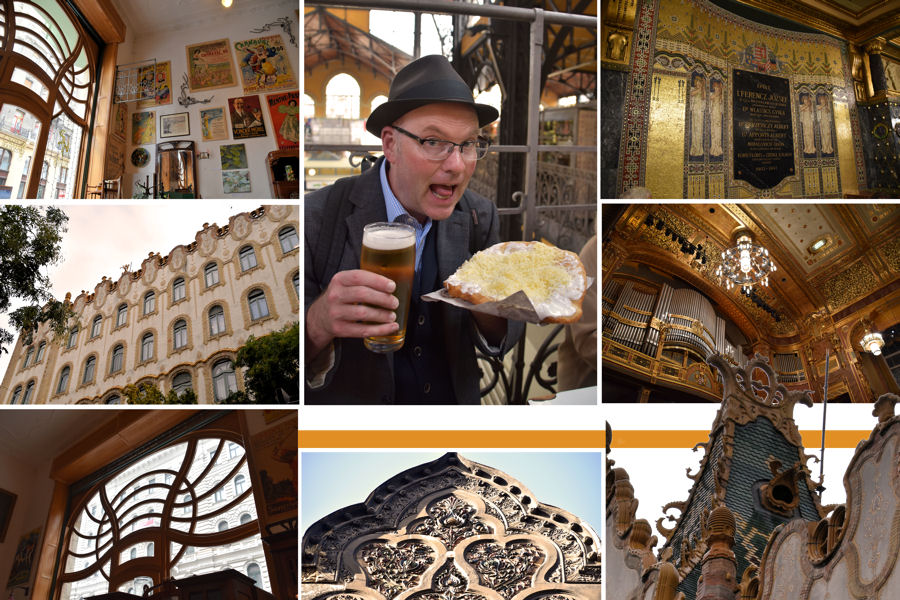 Above: the Art Nouveau café, the Liszt Academie, where we heard a fantastic concert with music by Stravinsky and Ligeti, including his Mysteries of the Macabre, the Post Office Savings Bank, and me eating one of many lángos.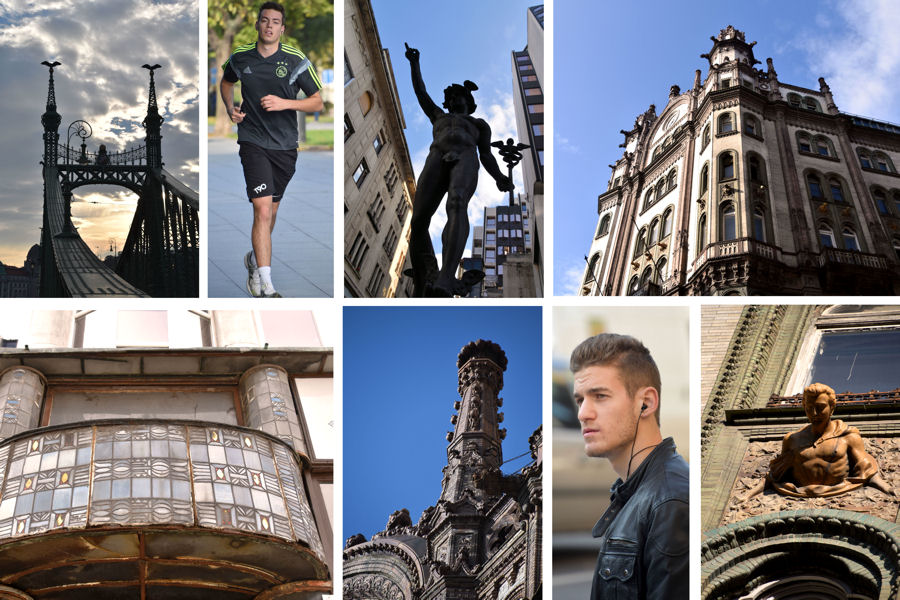 The building with the torso sticking out is soon to be a hotel, we think.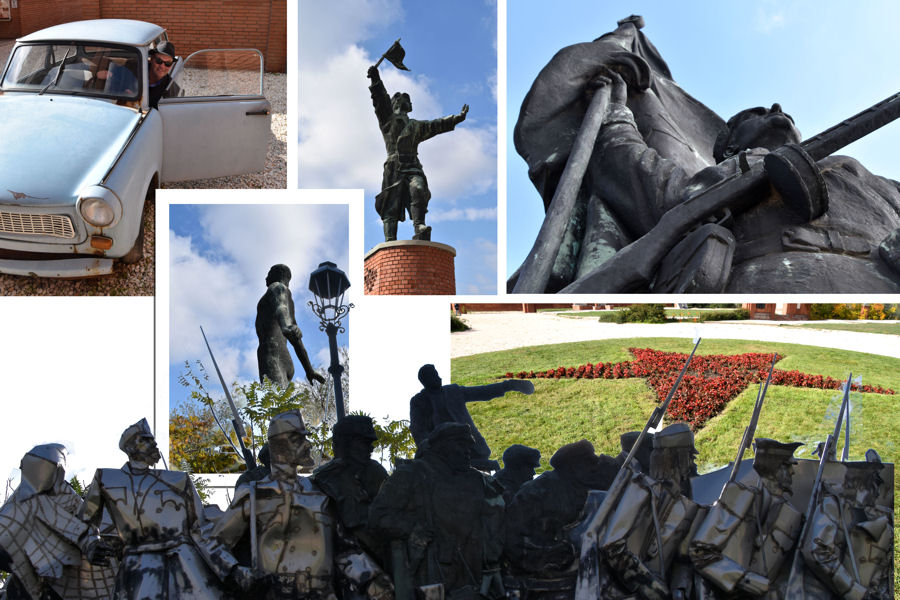 Another fascinating visit was to the Soviet Sculpture Park.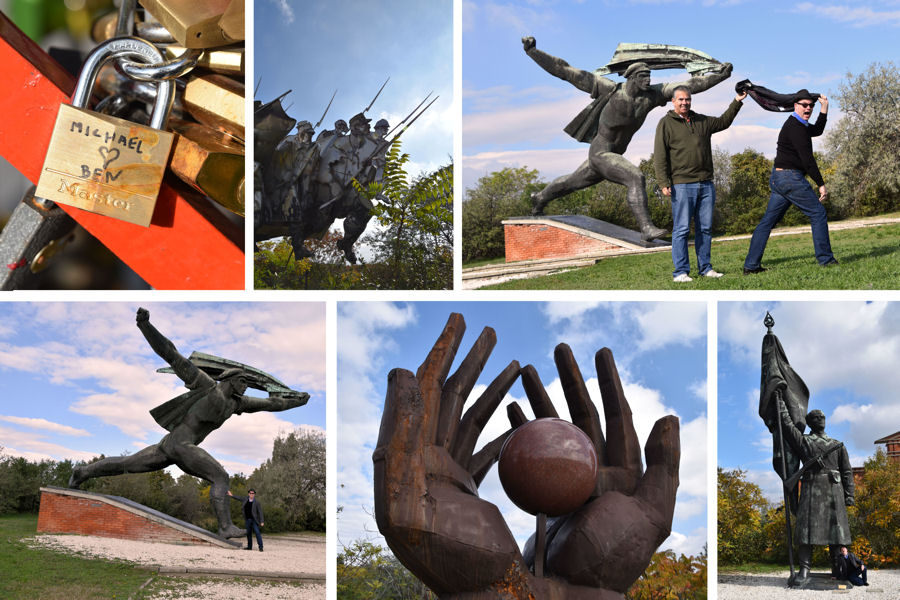 The large statue above was dubbed the "Coat Check Man" by irreverent Hungarians.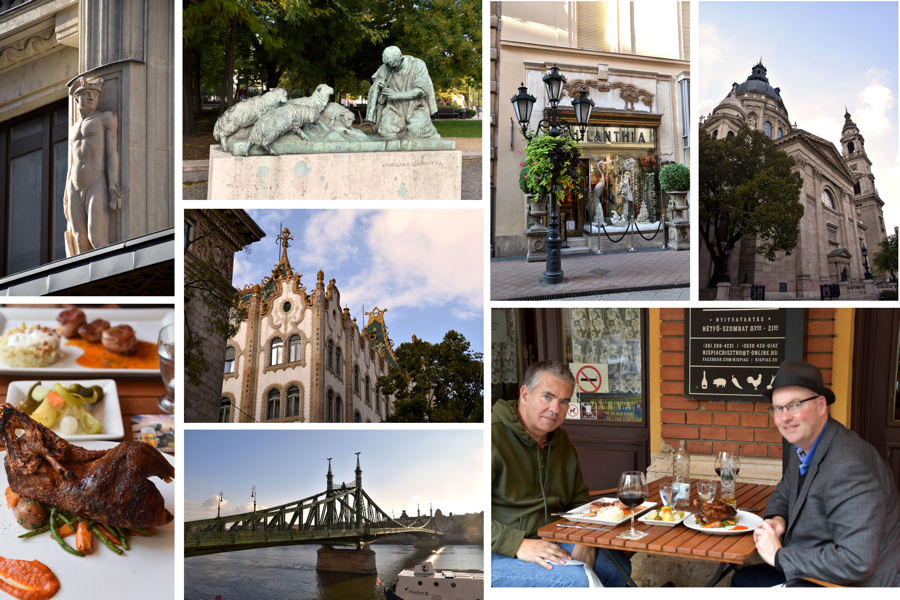 Luch at Kispiac Bisto was one of the best meals we had.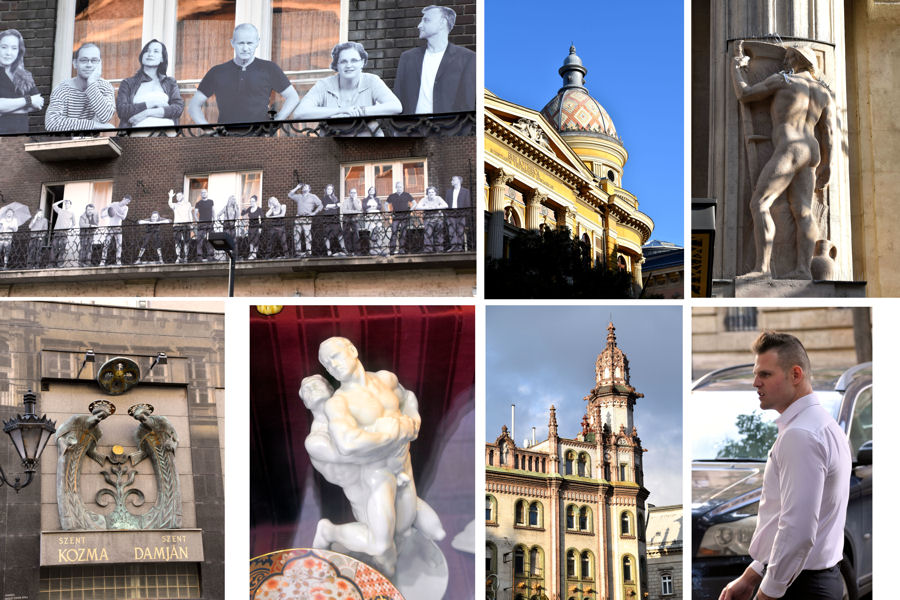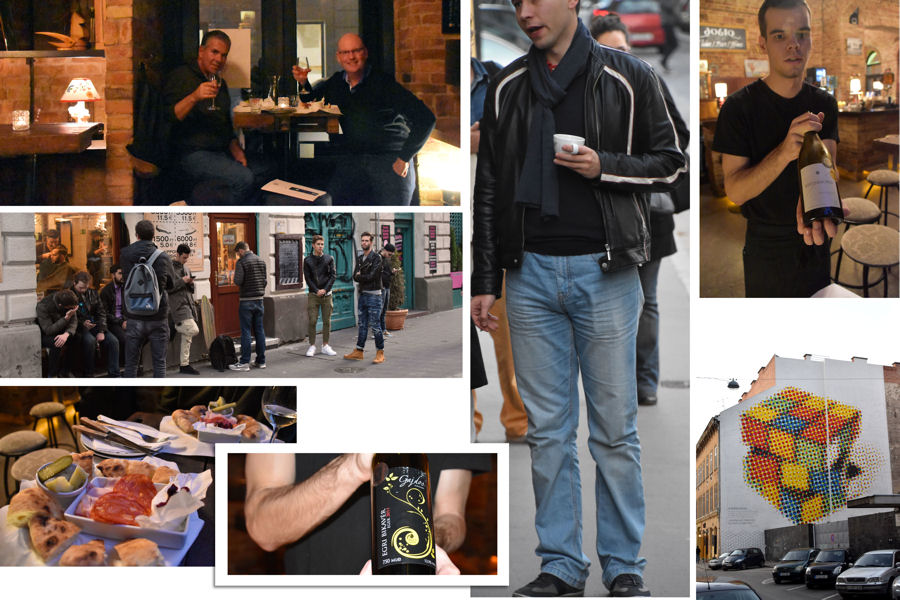 We went on a wine tasting in the Jewish Quarter, where boys were queueing to have their hair cut.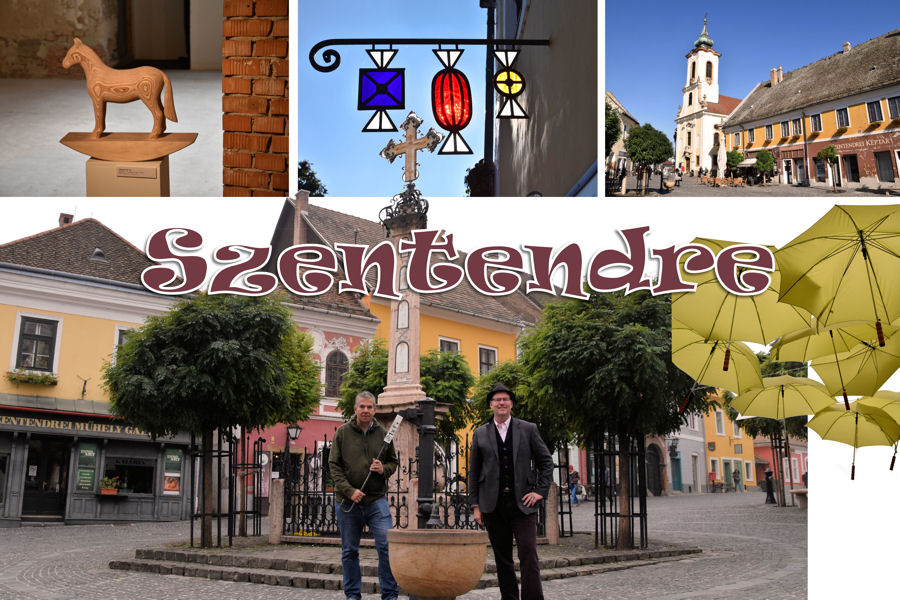 A day trip to the sunny riverside town of Szentendre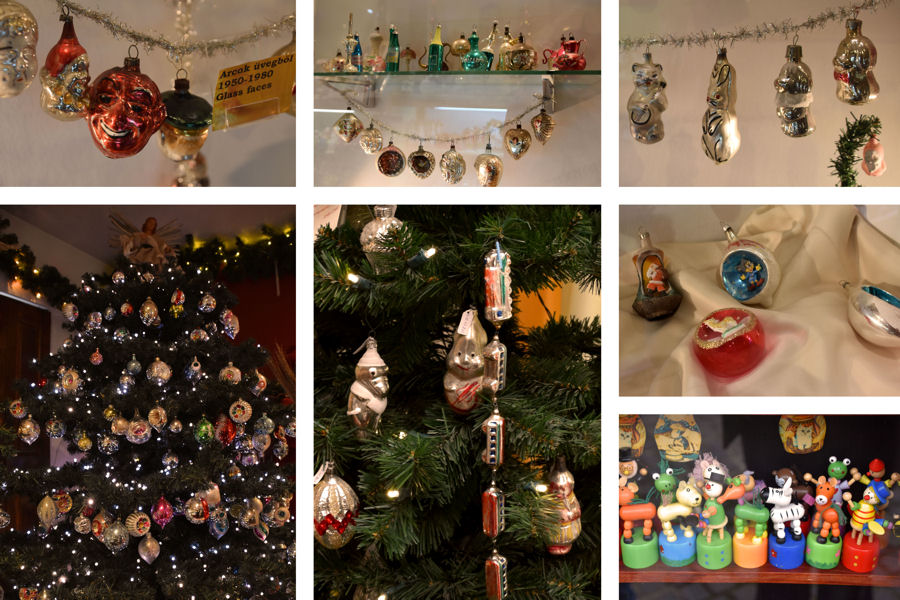 There is a wonderful Christmas shop and museum in the town where we bought two ornaments. Click HERE to see our whole collection.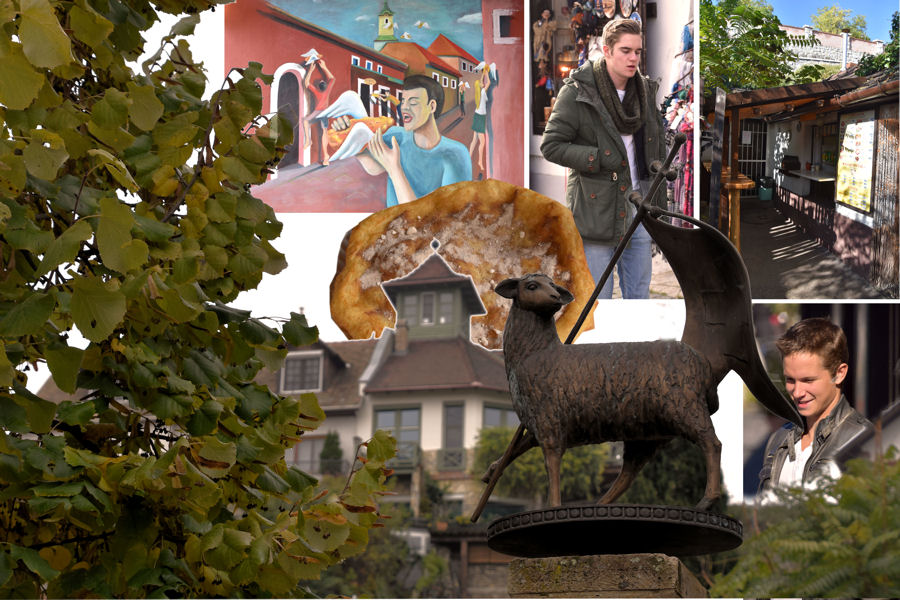 Trip Advisor told us of a mysterious, secret lángos place that was the best in the country. After finding the wrong one and eating a rather good cinnamon lángos, we found the right one and had a savoury one with sour cream and cheese.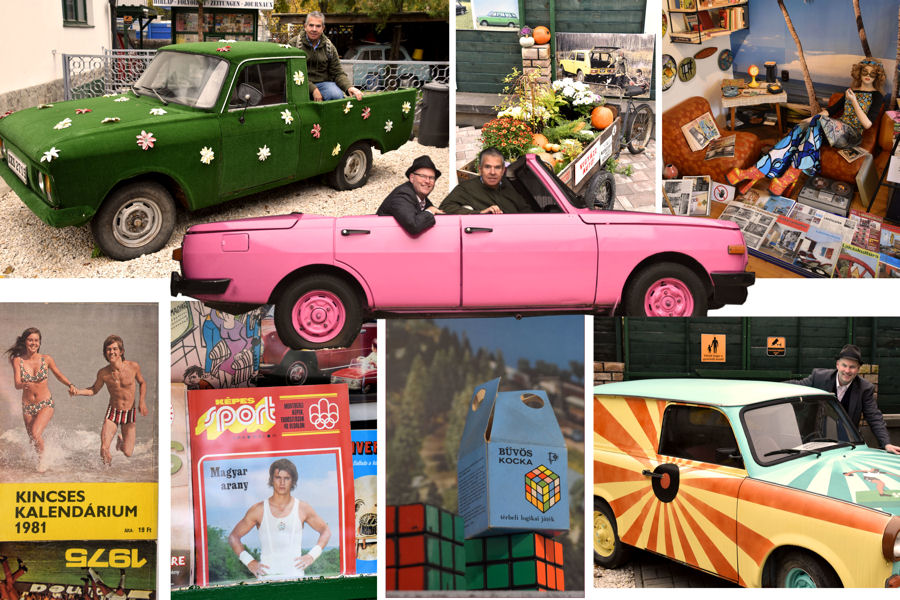 Nostalgia on a grand scale at the Retro Museum, where I could stay for hours.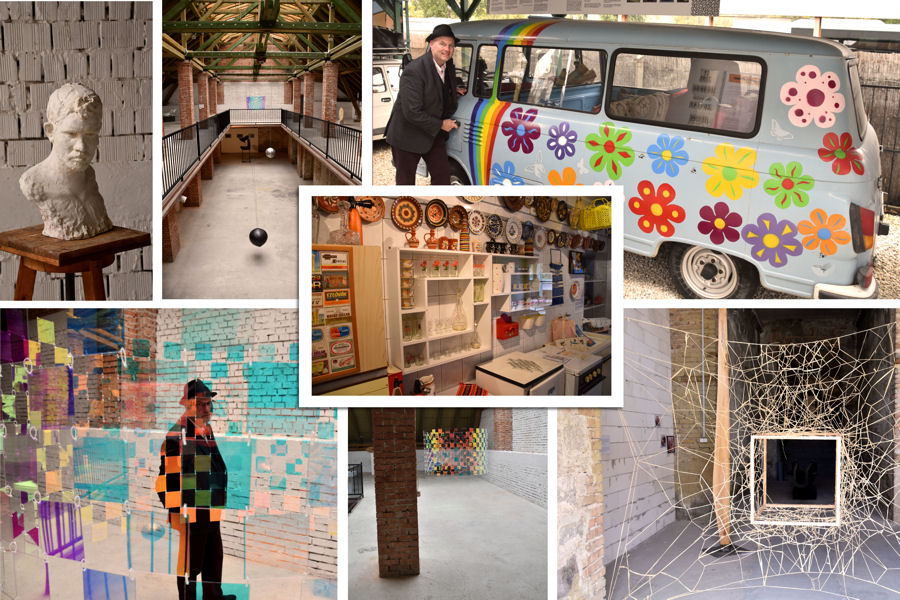 We found some other unusual art galleries and spent ages playing with the colourful mobile.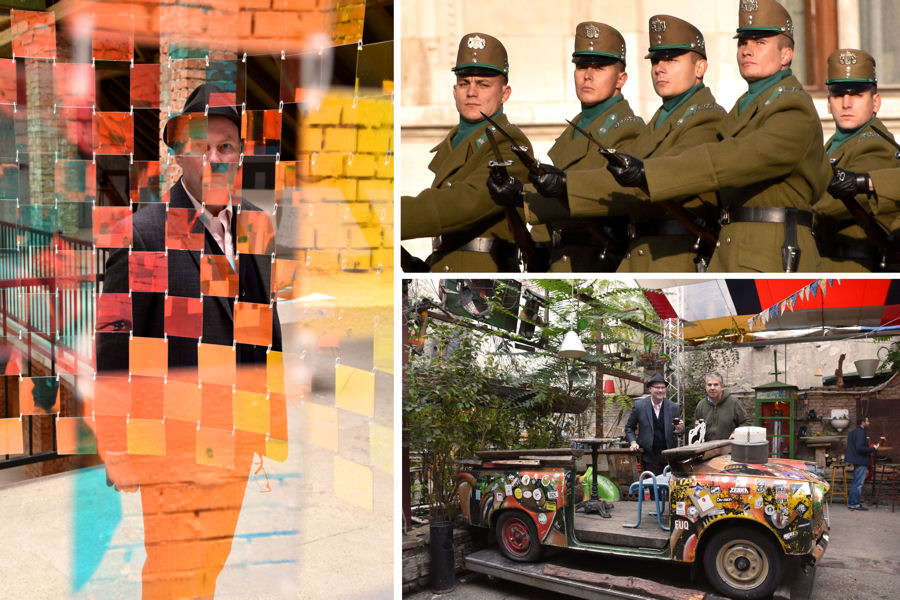 Above: in the mobile, Rebublic Day celebrations, and Szimpla ruin pub.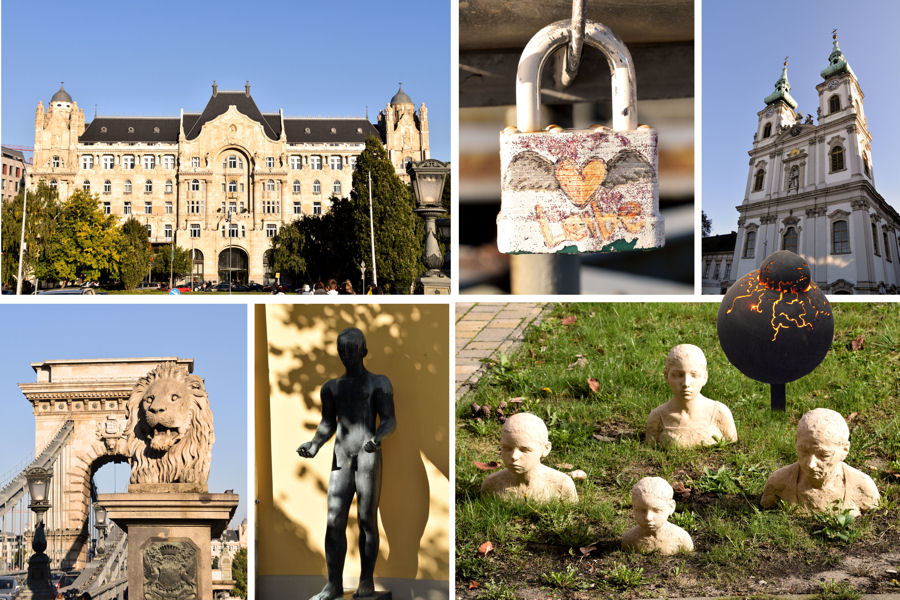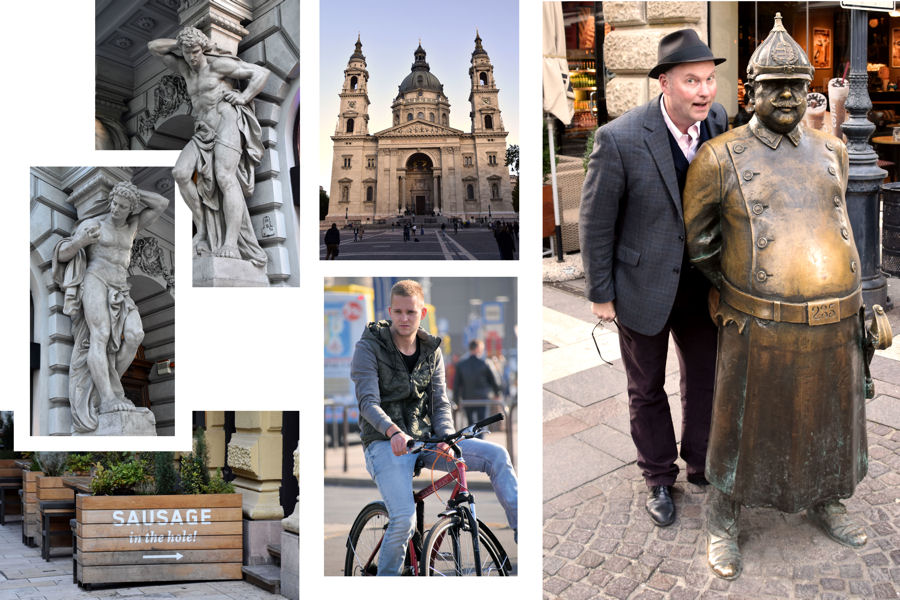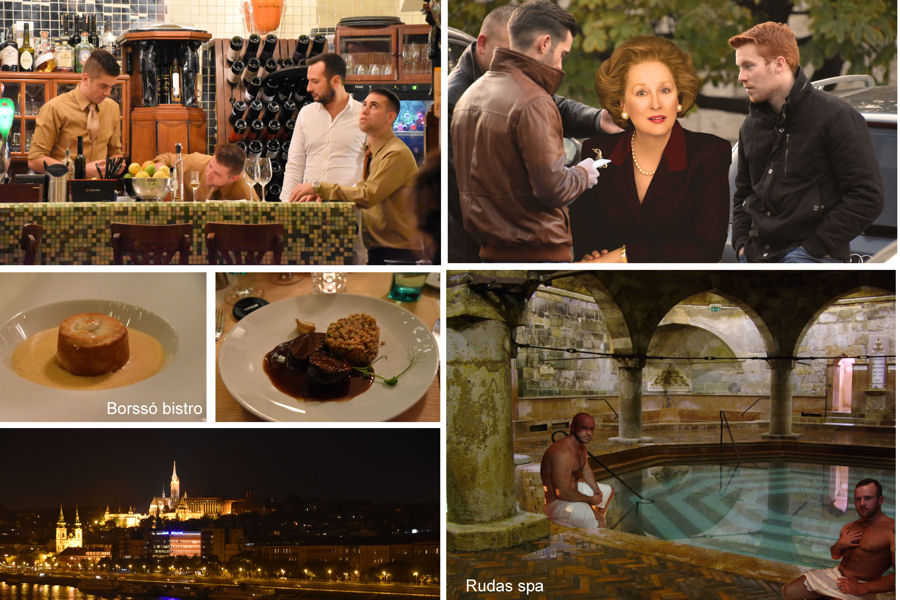 Above: Borssó Bistro is one of my all-time favourite restaurants. The next day, we went to Rudas spa, which was full of cute men (not the ones superimposed above) and we both had our first professional massages. I had to think of Margaret Thatcher and plan crashes while my inner thigh was being worked on.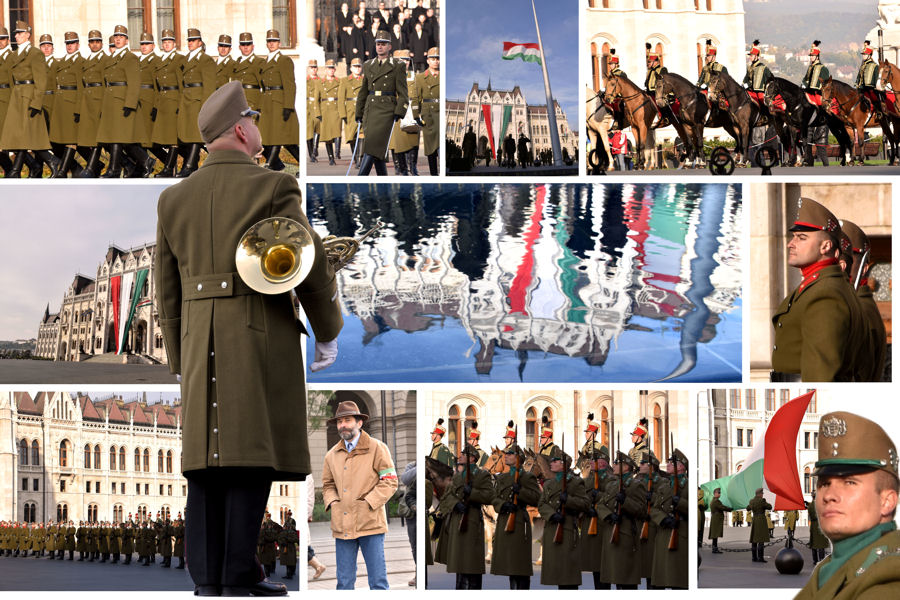 Republic Day celebrations at Parliament. We saw both the rehearsal and the real thing.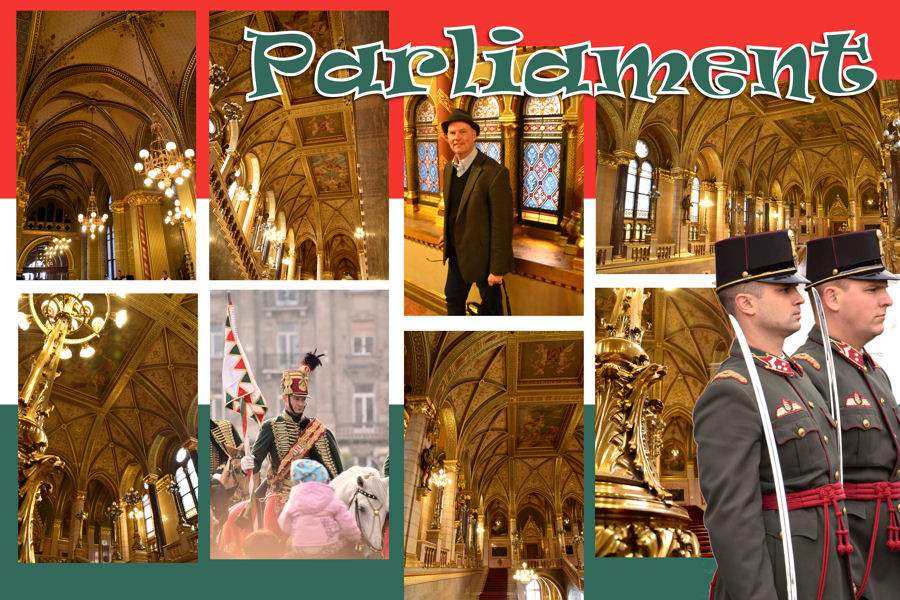 Parliament was free to visit and we queued for an hour to get inside the beautiful building.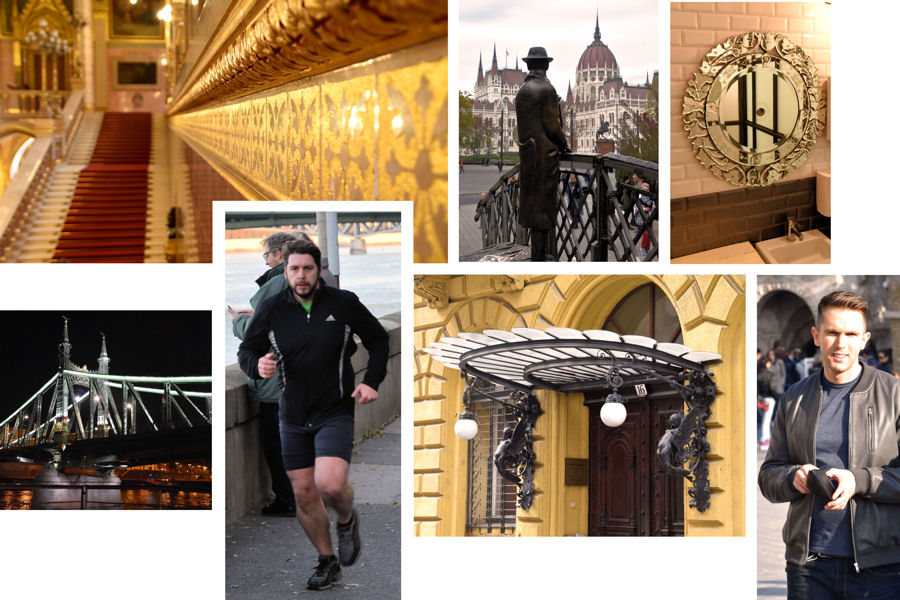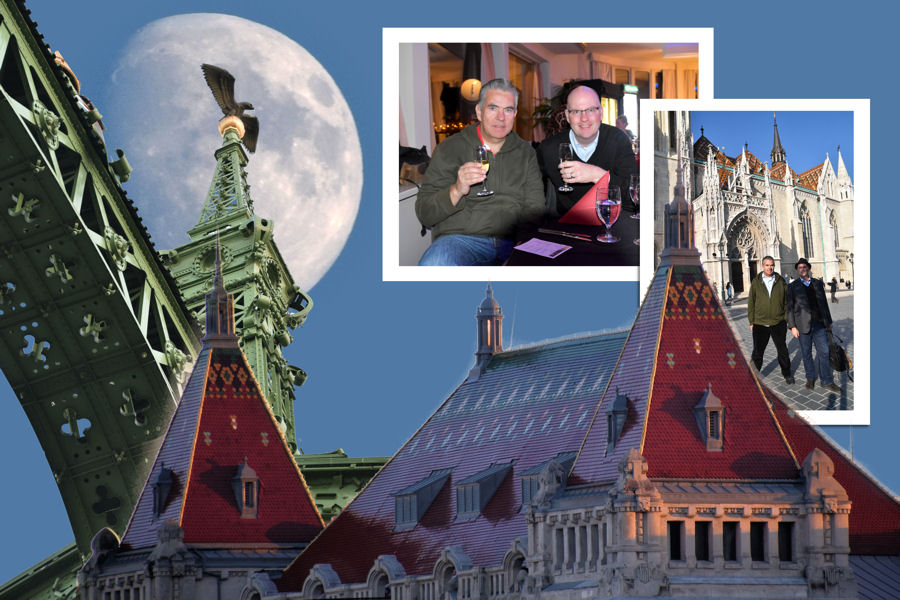 We went on a dinner cruise with a wonderful view of the Danube.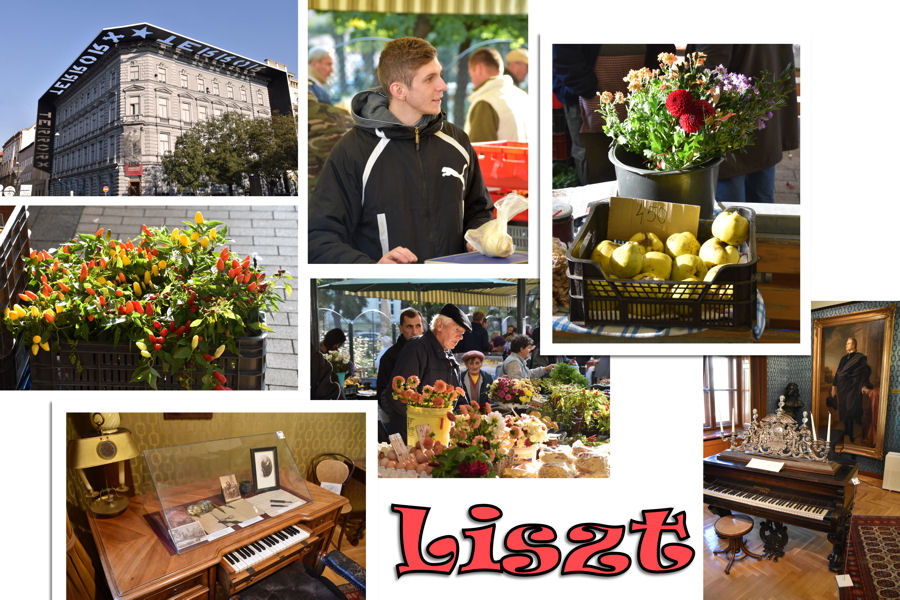 We heard a clarinet and viola recital at the Liszt Museum and discovered a very traditional market.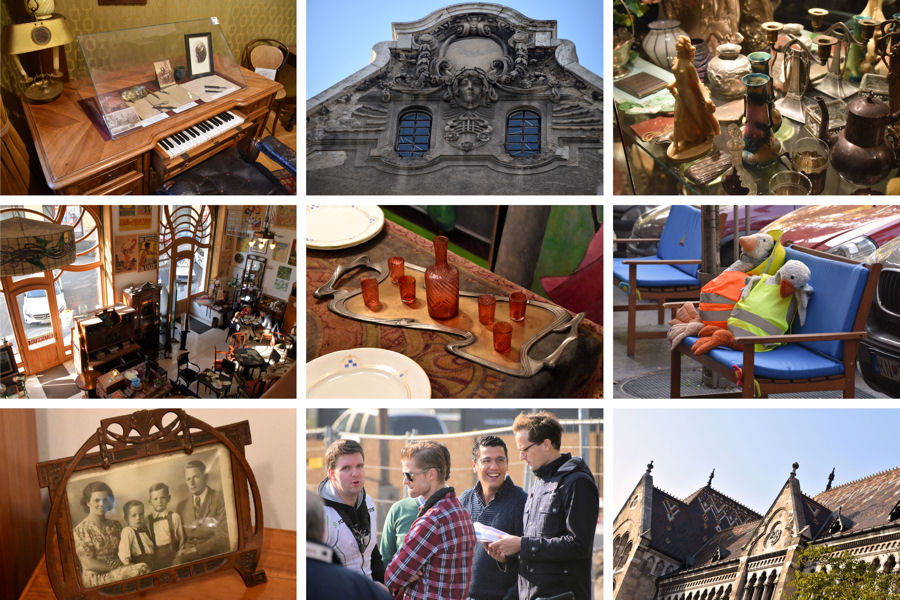 Back to the Art Nouveau café and to Buda for some sightseeing.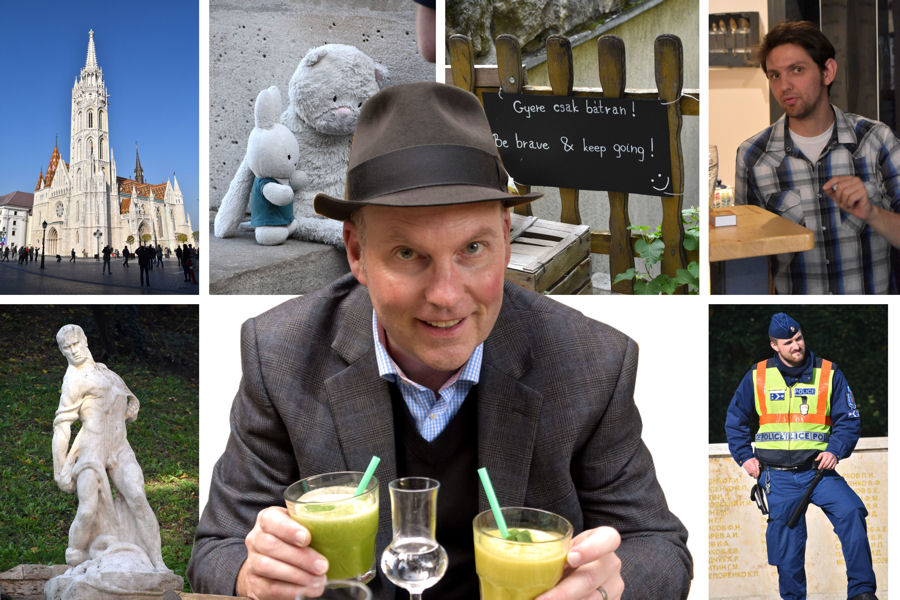 We had healthy smoothies chased with palinka as our almost-last drink.