We were lucky to have been able to take up cousin Linda's invitation to meet in Tuscany over my birthday week. Click HERE to see our last trip here with Rus in 2013 and HERE. for our 2012 trip.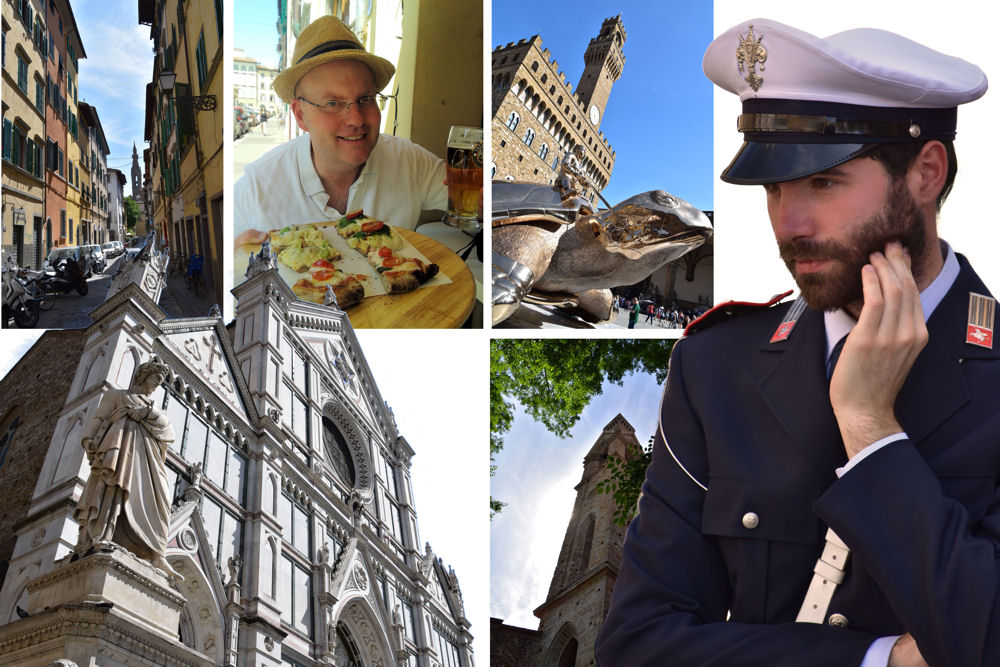 On our first day, we used our newly-learned Italian language skills straight from the airport. When we arrived at our apartment in the Santa Croce area, we stepped out for organic pizza and our first taste of the city.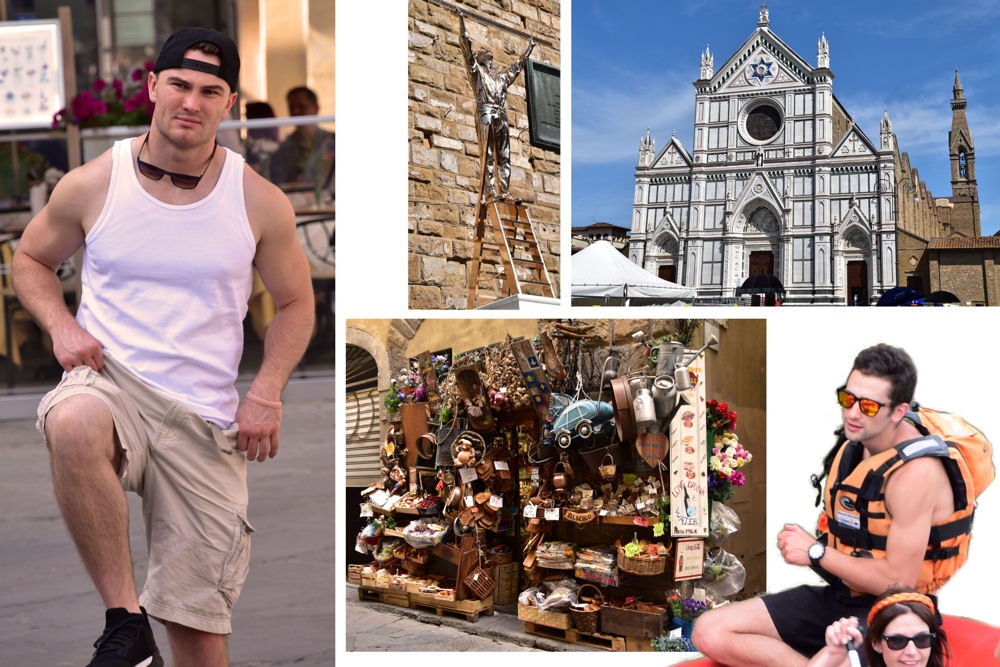 We enjoyed the "golden Elvis on a turtle" statue in the Piazza della Signoria and bought our first groceries at the wonderful shop, pictured, where the man gave us lots and lots of samples, even after we'd paid.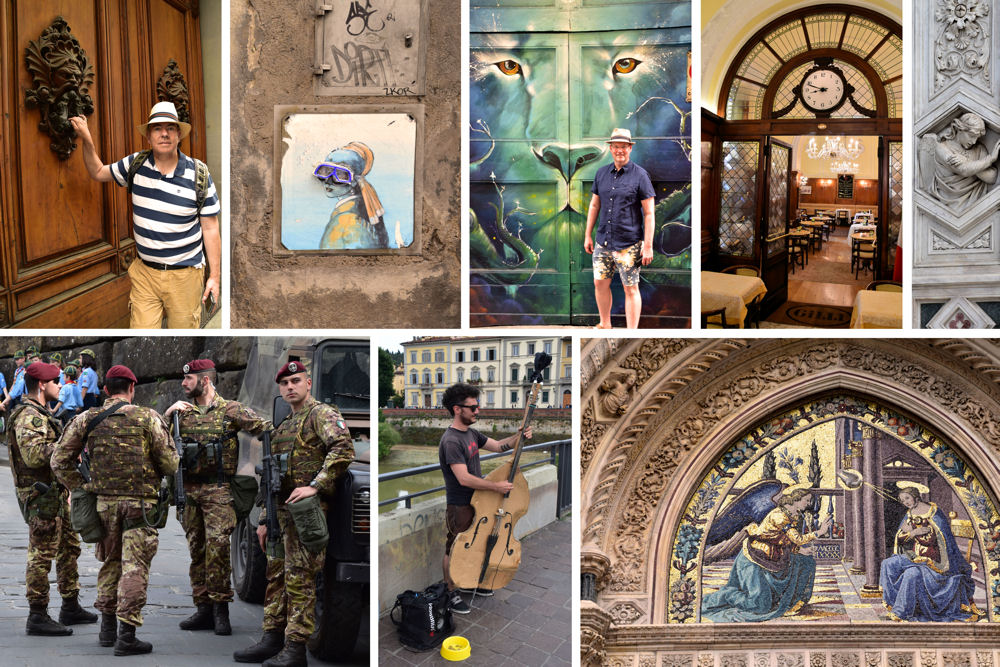 Street art seemed more prevalent this time and, after seeing a travel video on Youtube, we went to Cafe Gilli in search of thick hot chocolate.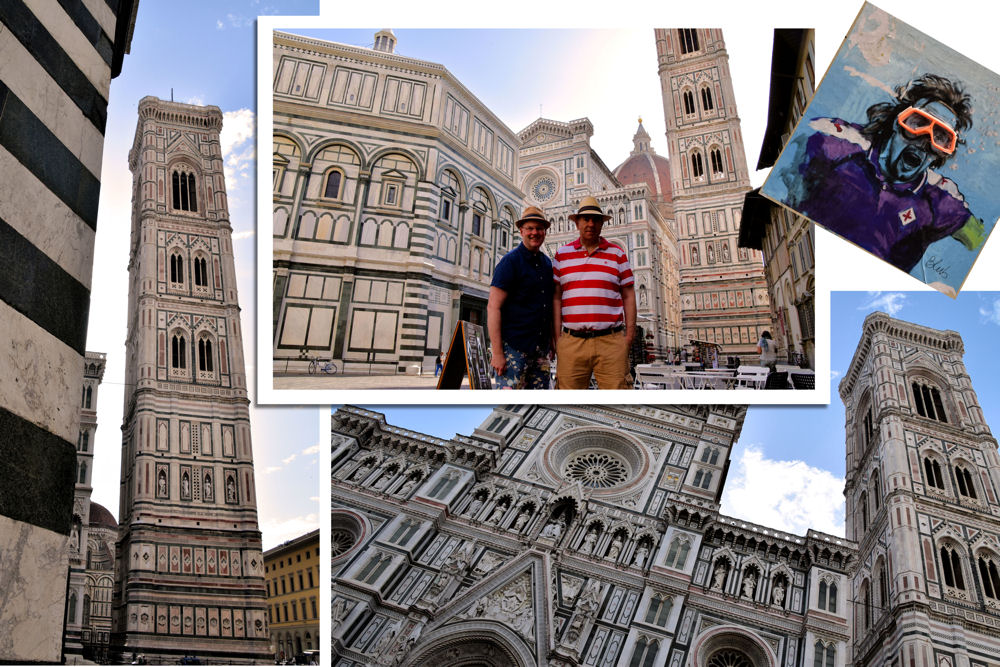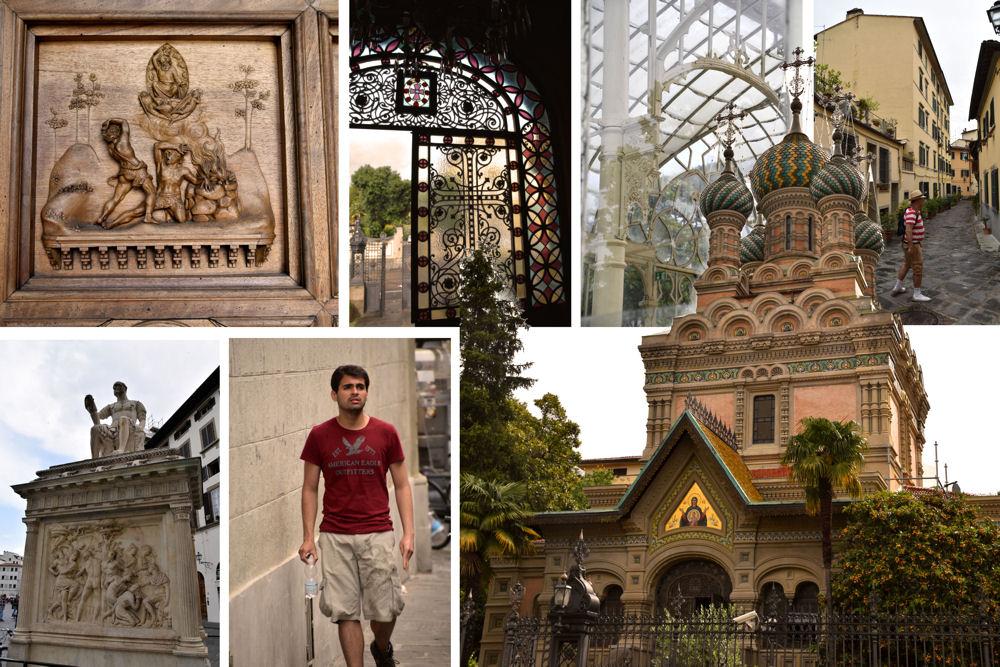 We enjoyed this Liberty style walking tour of Florence and discovered lots of new places (in the rain).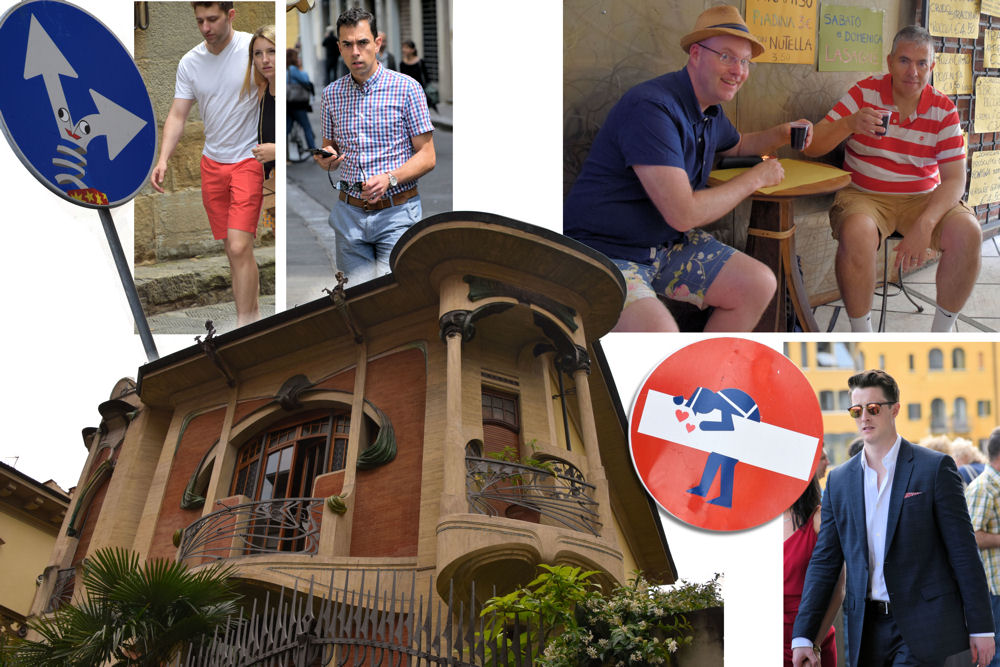 Clet's quirky street signs were fun to hunt down and photograph and we ended up ordering three huge sandwiches by mistake at Collge Firenze.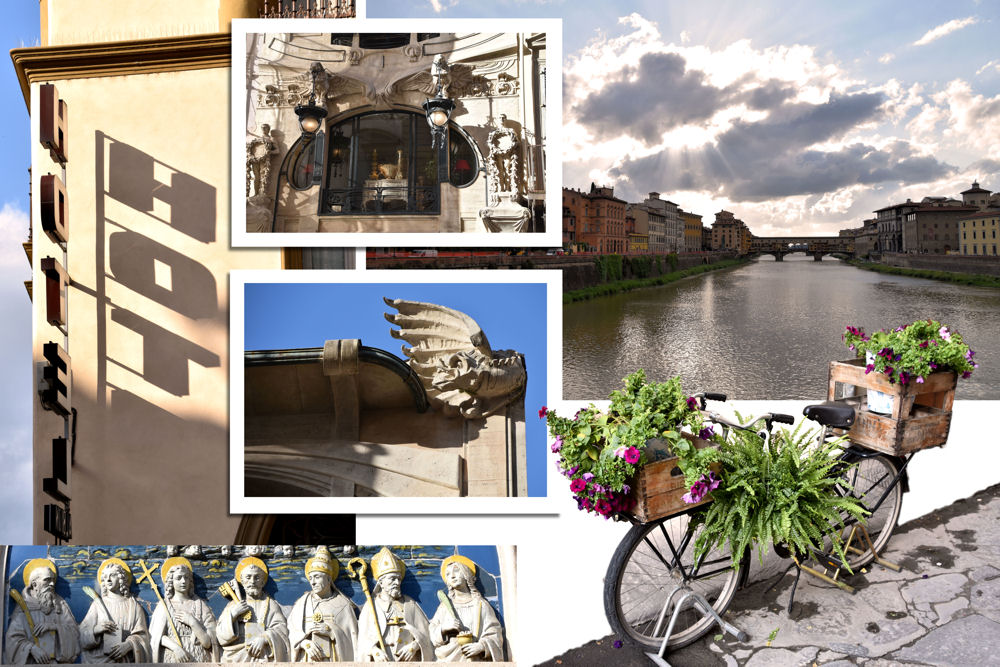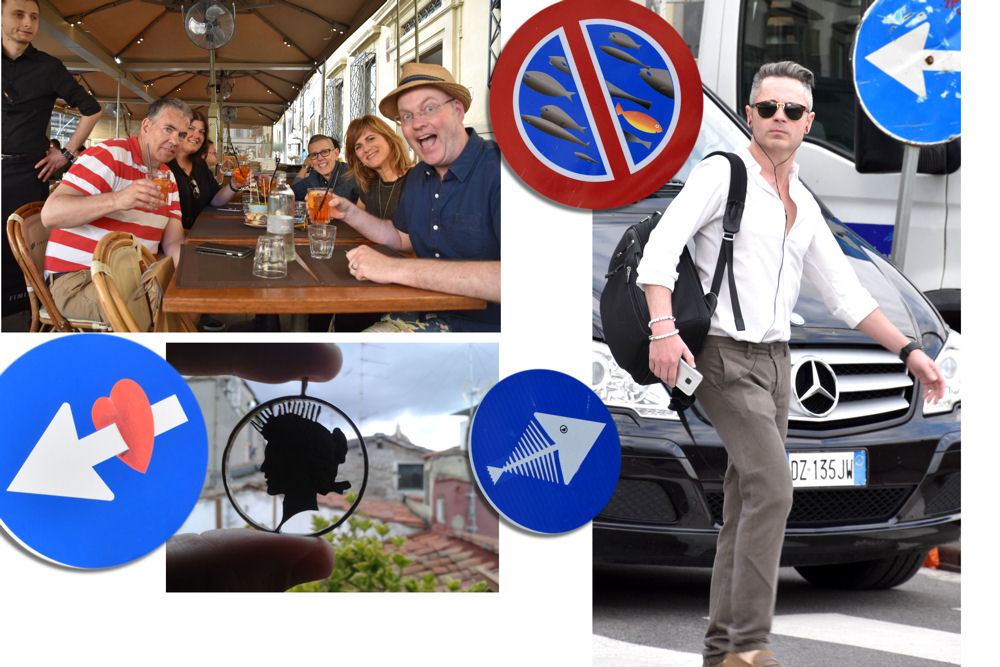 We finally meet up with Linda, Nancy, and Katie for Aperol spritzes. Linda gave me the pitctured silver dollar that my father carved out for his sister, Linda's mother.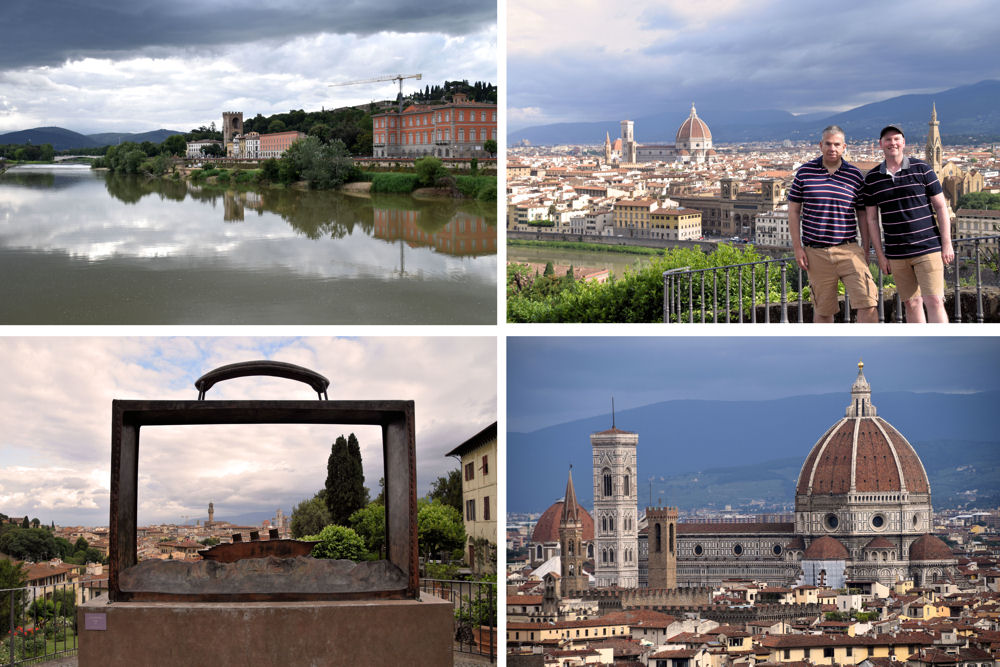 Setting out early, we had the PIazza Michaelangelo pretty much all to ourselves. .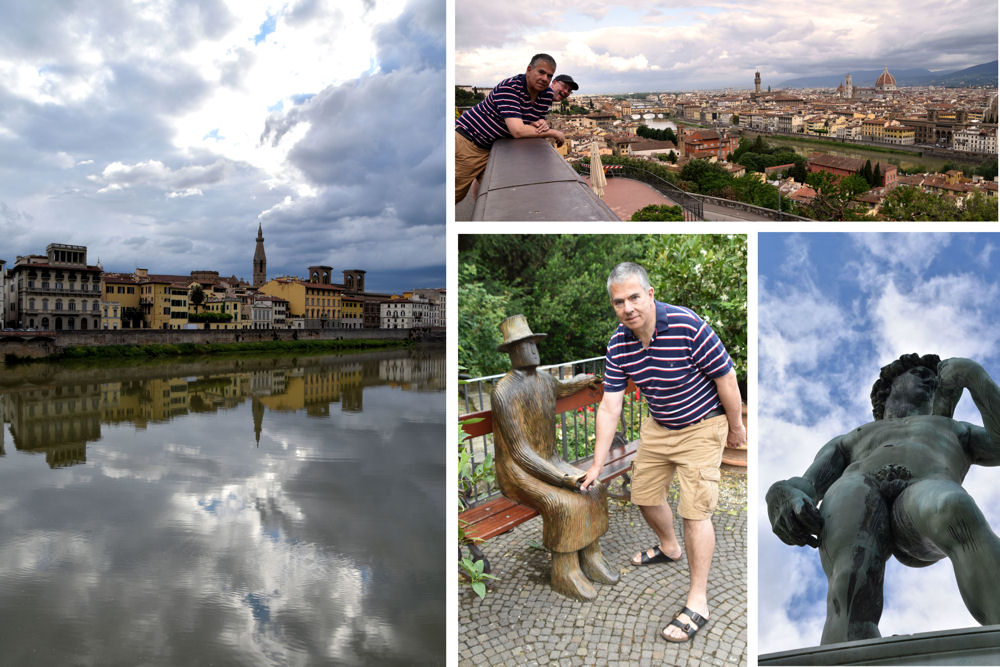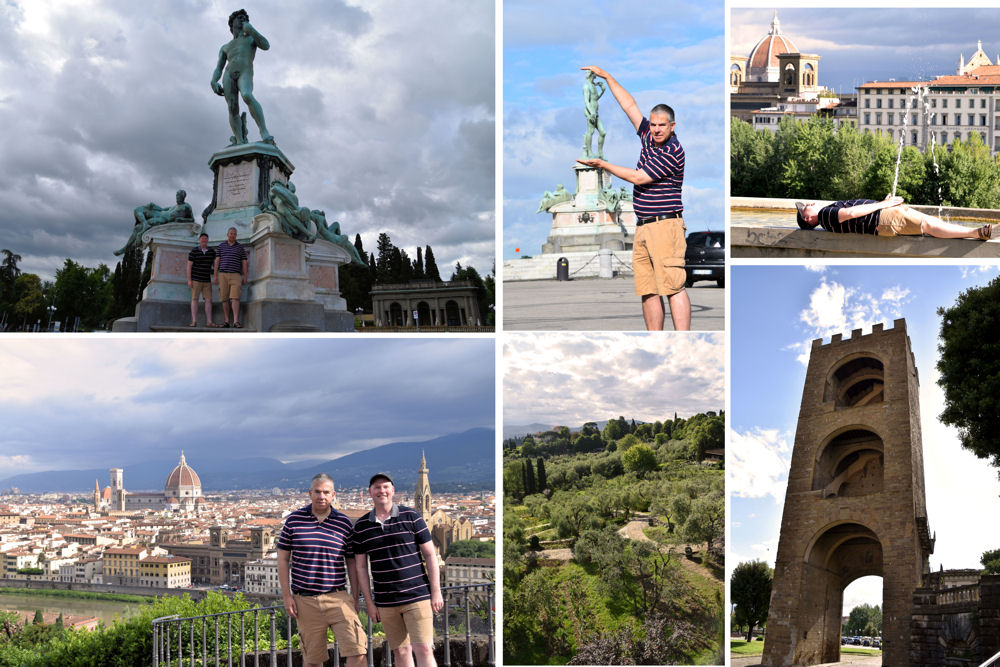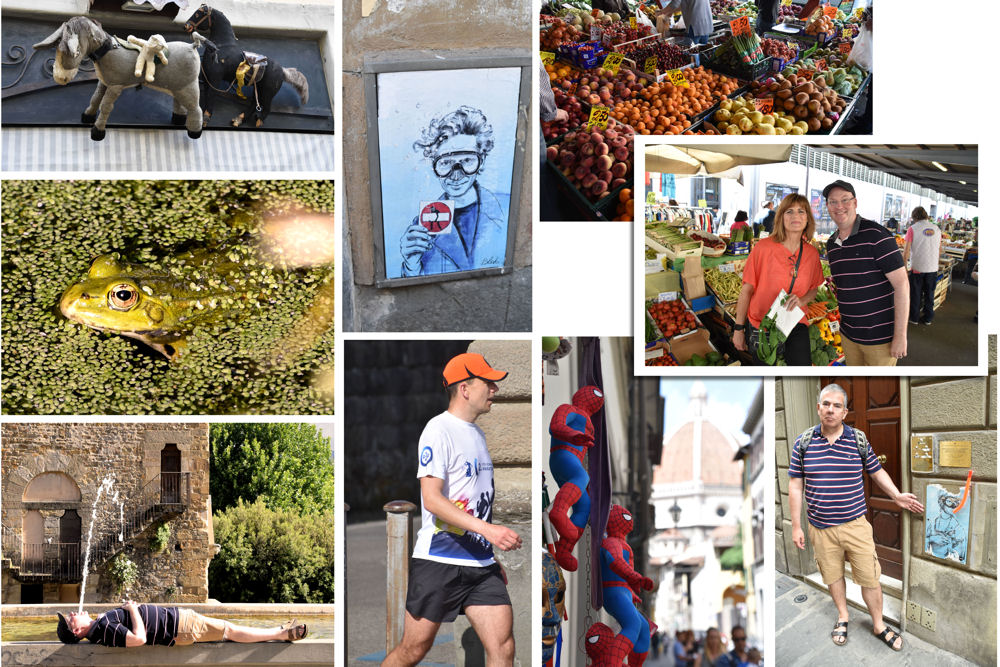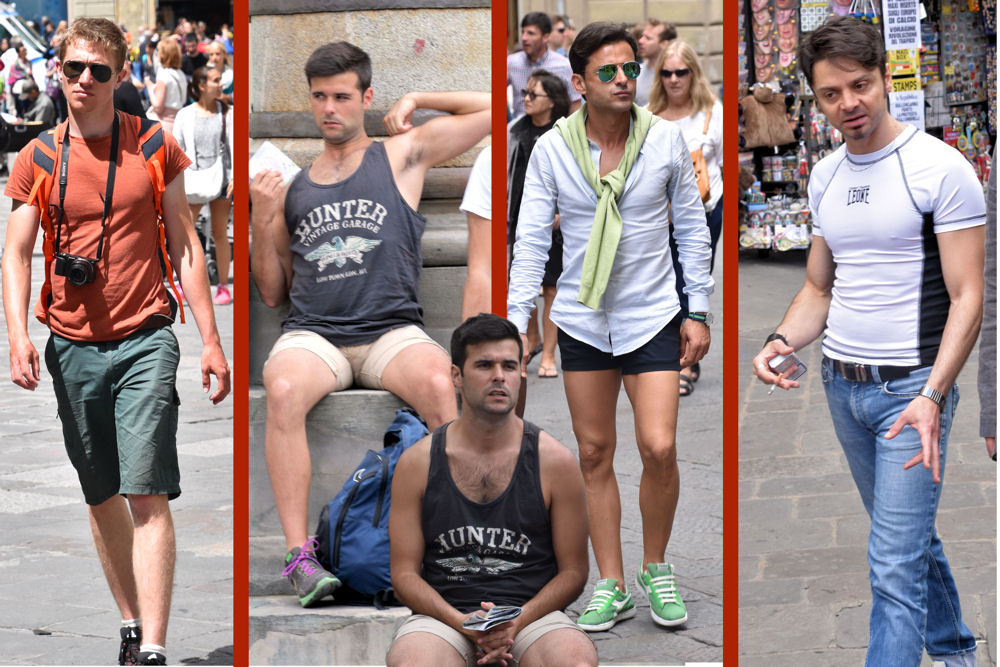 Cute men of Firenze.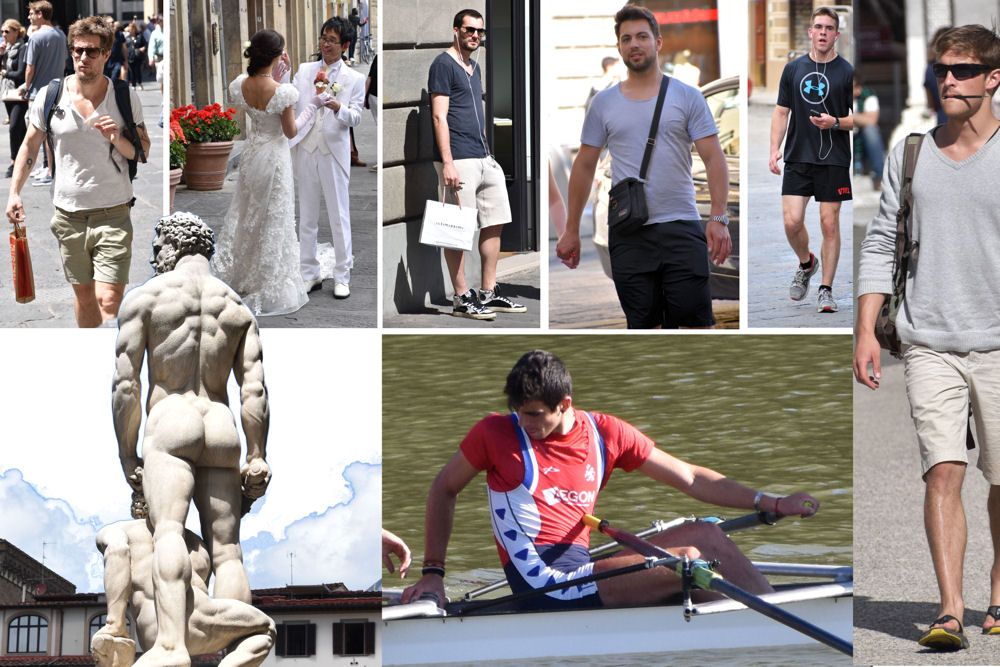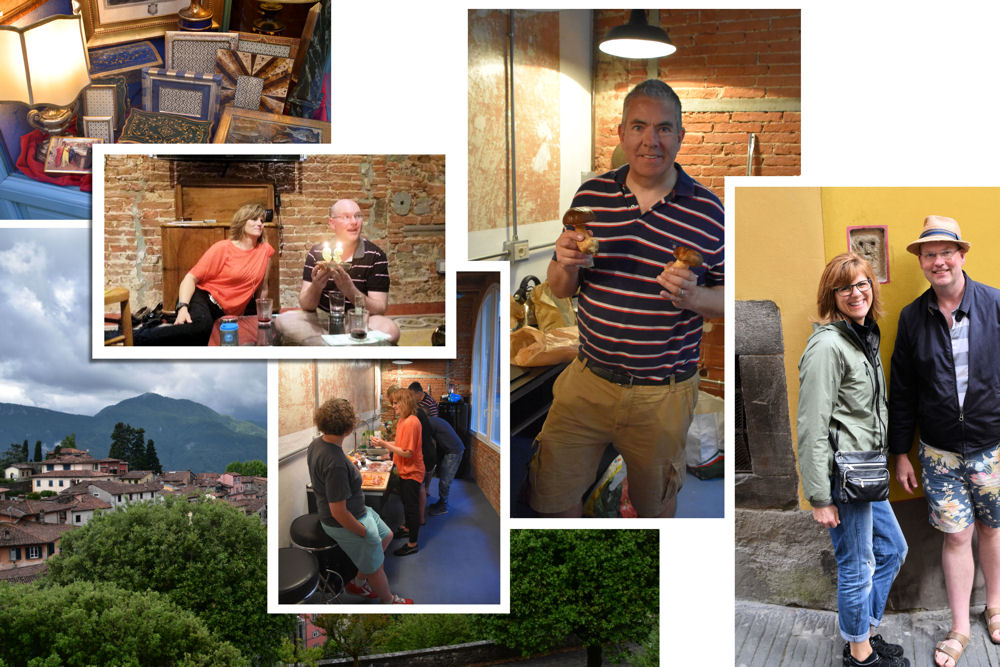 On Monday, we went shopping at the Santa Croce market and that evening, we prepared a birthday celebration at Linda's apartment. Nick prepared porcini and I was given a cake with "29" candles. I bought the blue and silver striped picture frame.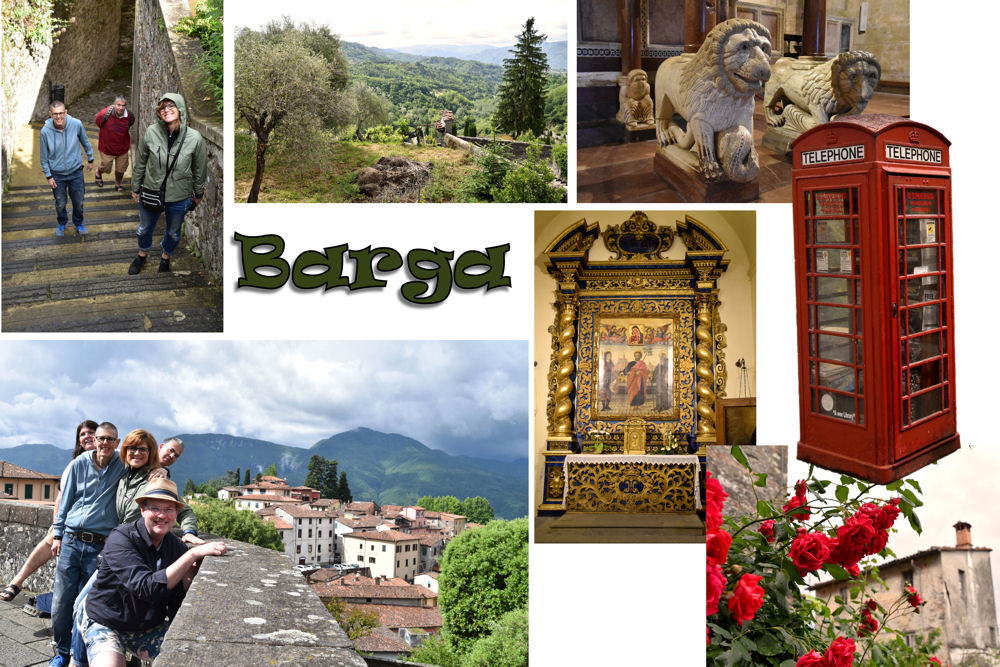 I loved introducing everyone to Barga, where we ate lunch at L'Altana. I think the view impressed everyone.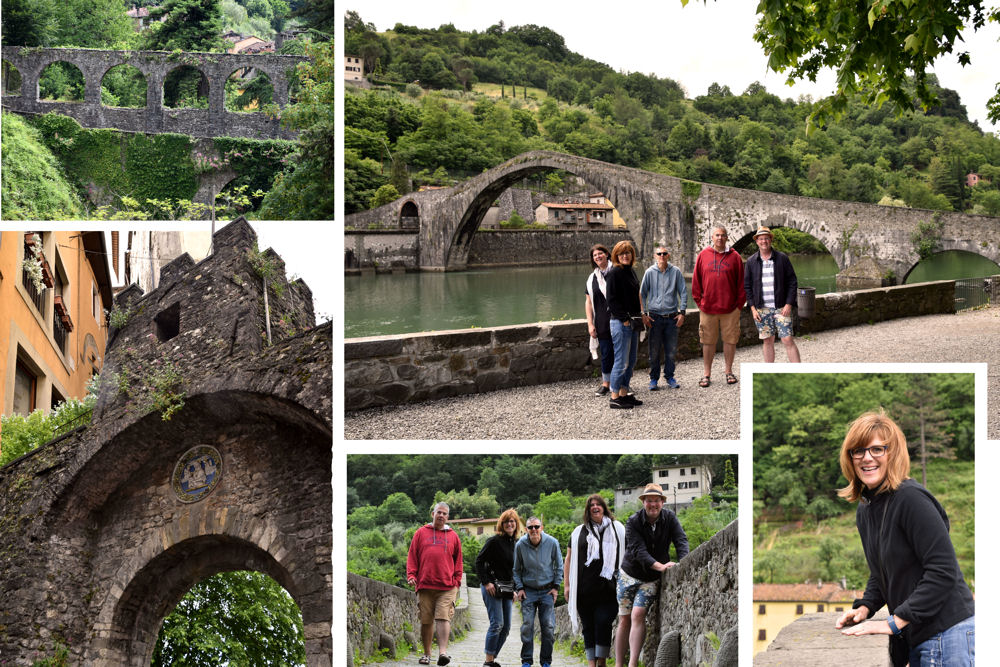 Devil's Bridge is one of my favourite spots.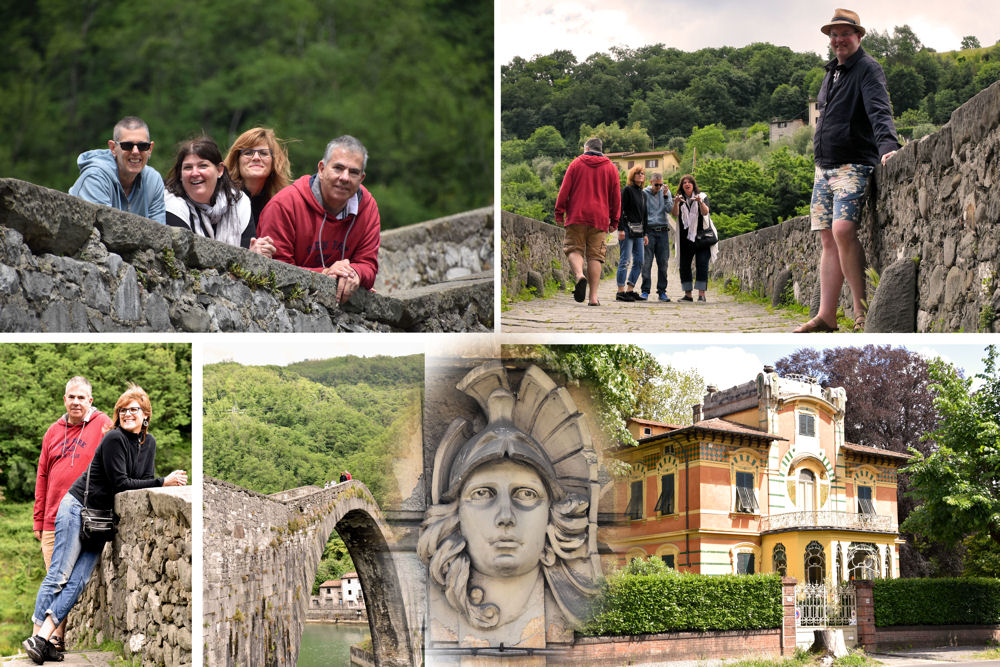 We found quite a lot of Liberty architecture in Lucca.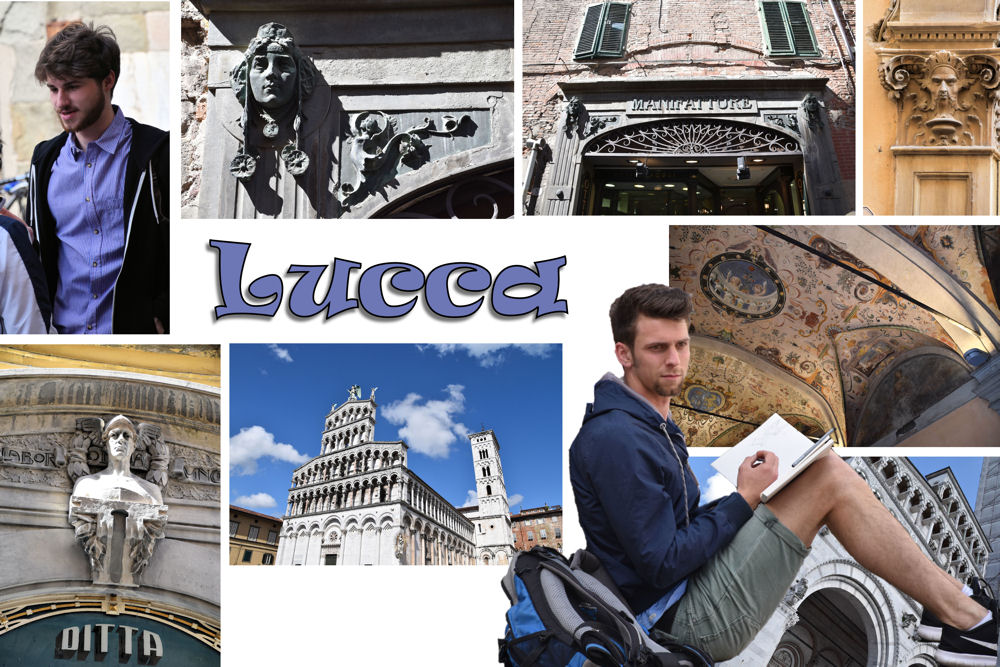 Cute men of Lucca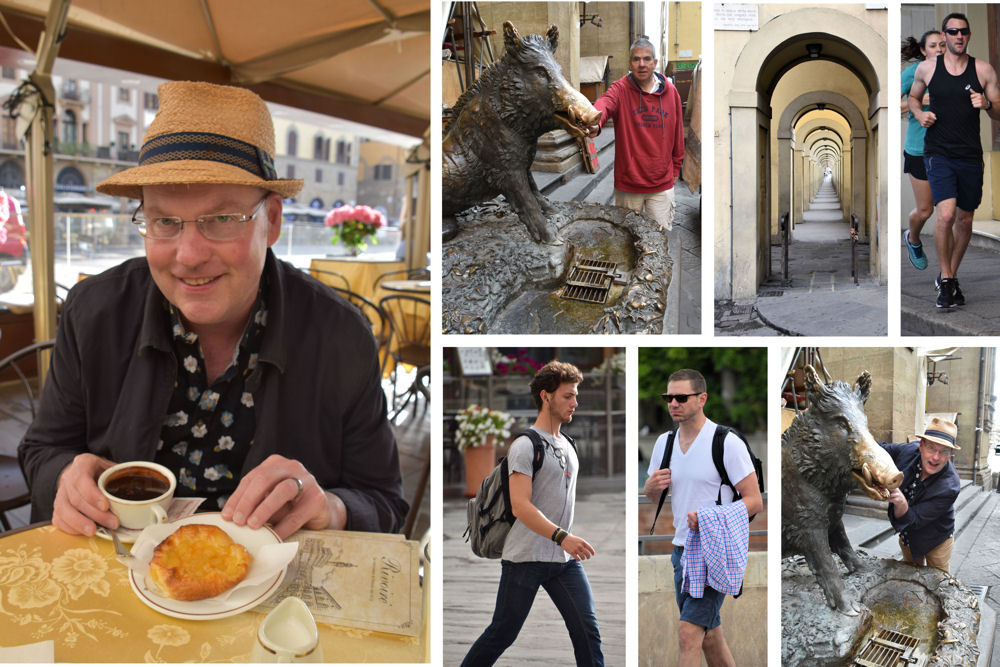 We found some pretty good hot chocolate at the Cafe Rivoire, but still not as good as the stuff in Turin. We both made wishes at the porcellino statue.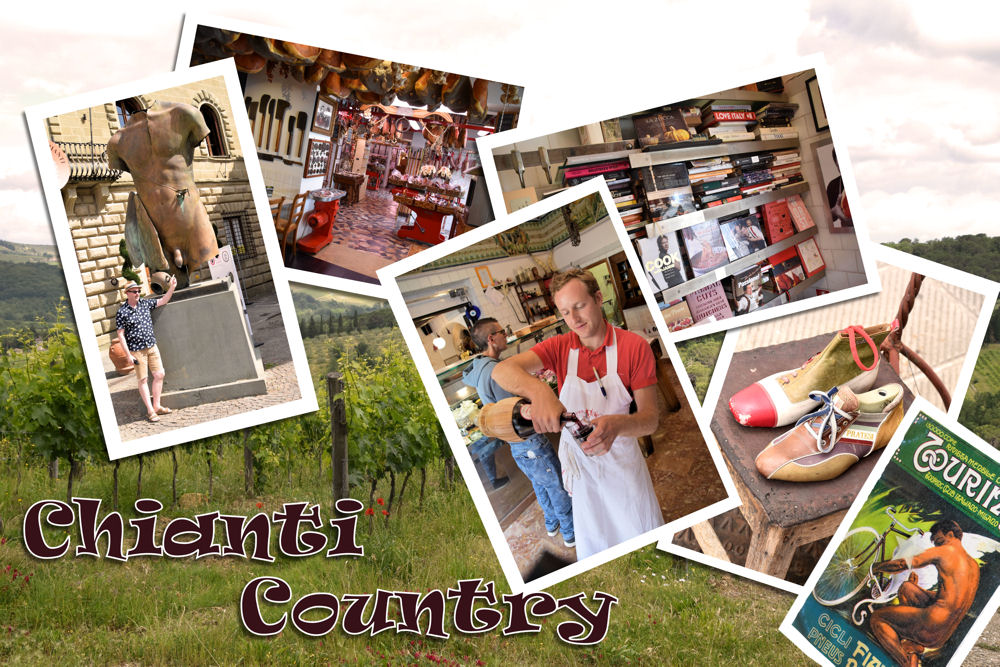 The Chianti wine trail took us to lots of places lke this, where we bought meats and cheeses for our picnic.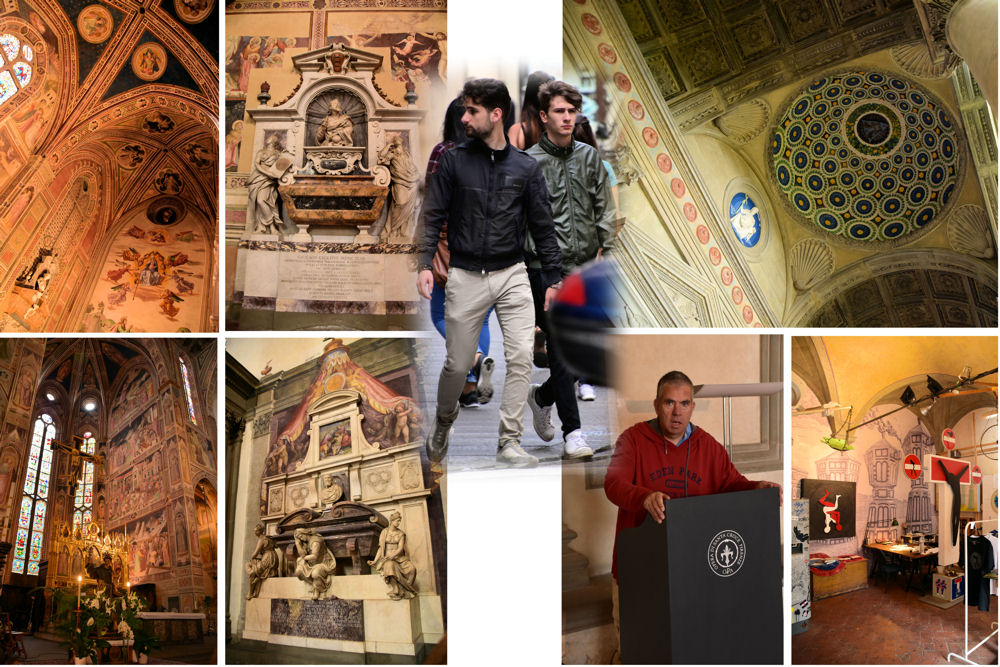 Santa Croce church with the tombs of Micaelangelo, Dante, Rossini, and Gallileo, plus Clet's studio across the river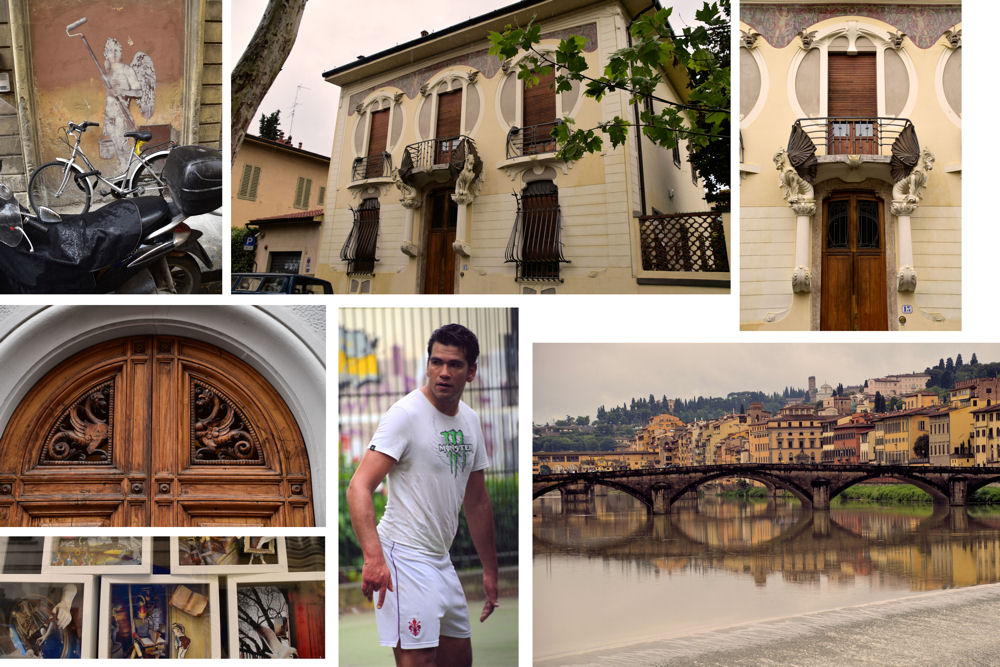 Our final quest for Liberty style architecture. We got caught in a downpour.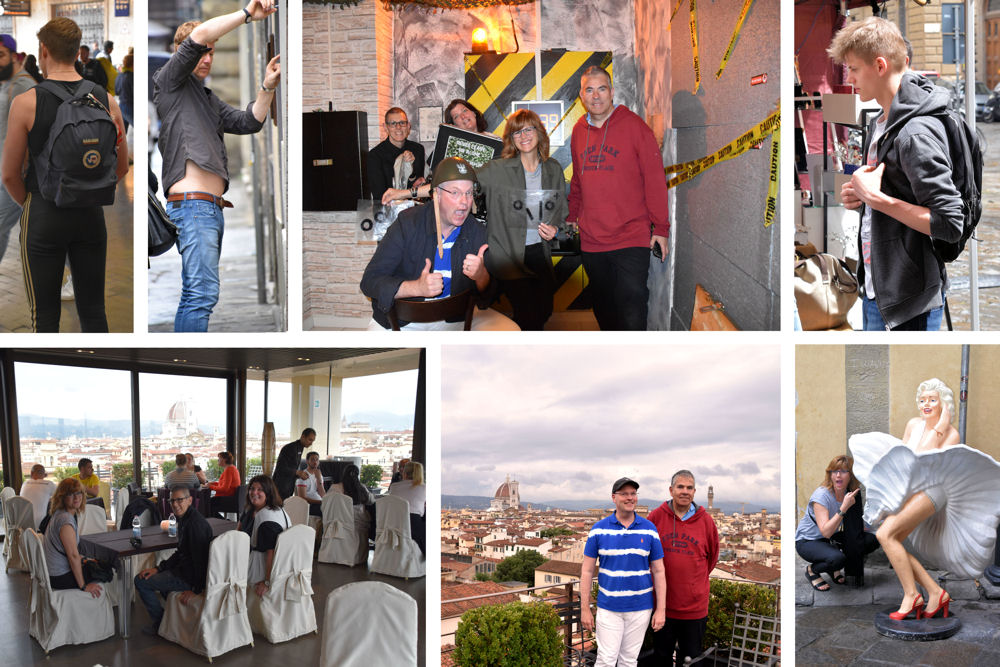 On Thursday, we had a great time in the Fox in a Box escape room and enjoyed cocktails on the rooftop bar of the Westin Hotel.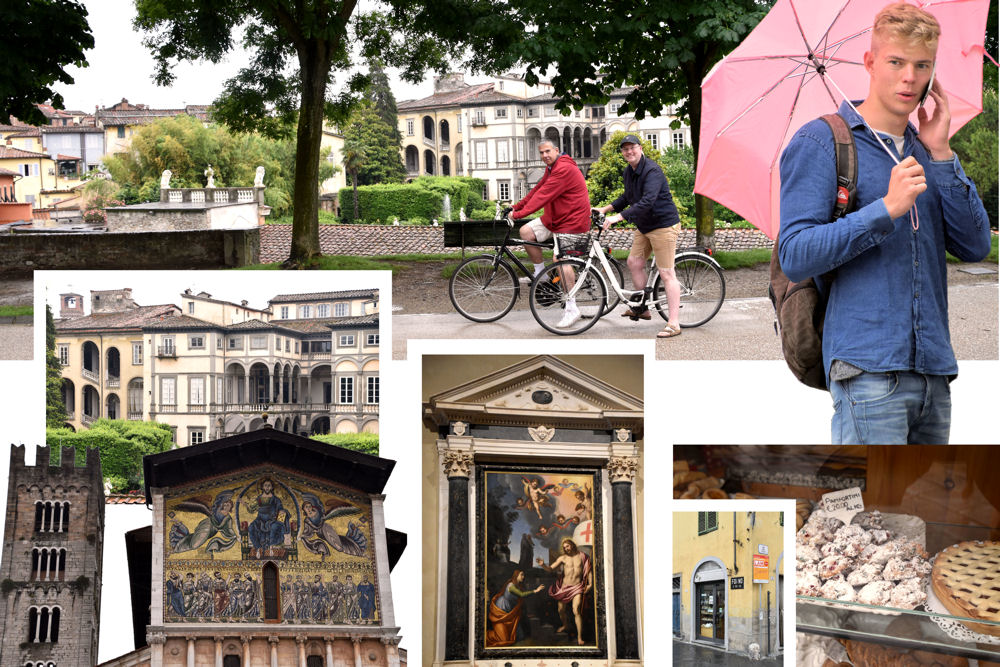 We decided to live our dream by returning to Lucca to cycle along the wall and to buy the elusive Panfortini.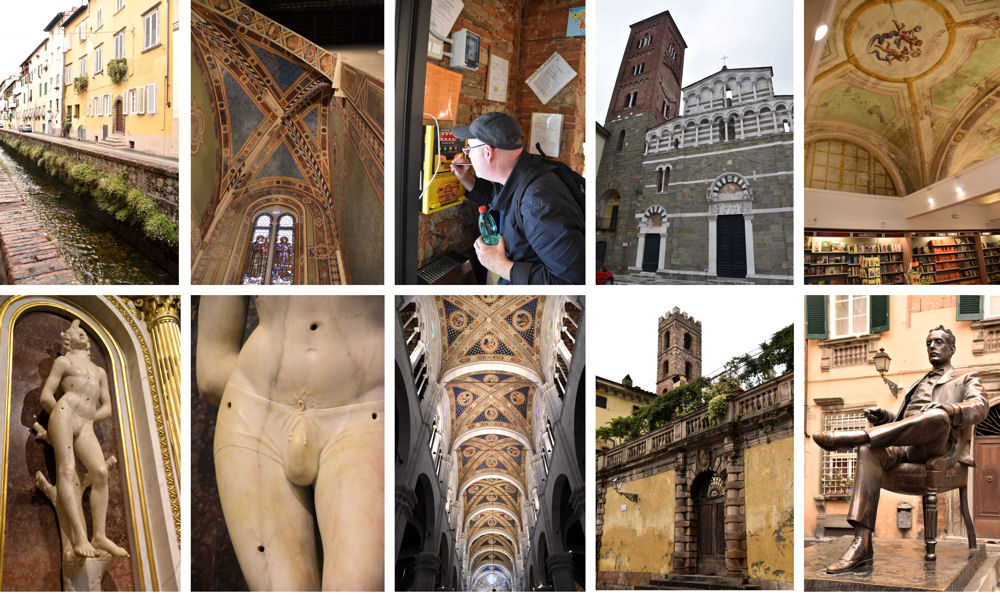 Above: breathalysing after lunch, a discount bookstore with ancient fresco ceiling, Saint Sebastian in drawstring briefs, the cathedral, and Puccini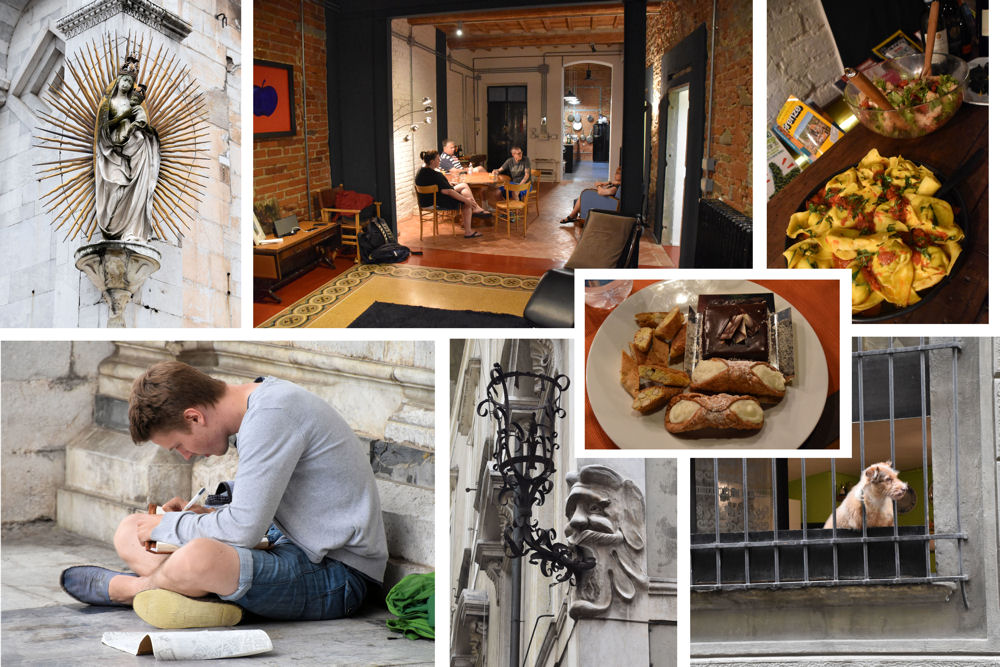 Our final meal together in Linda's apartment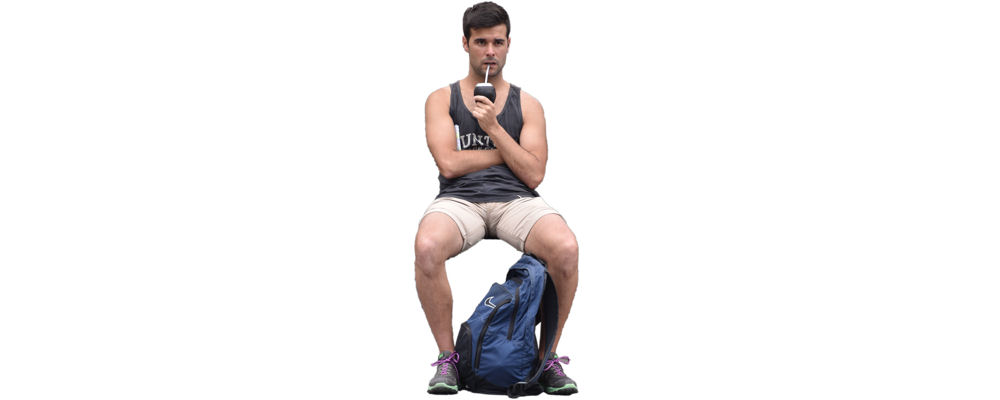 Just because.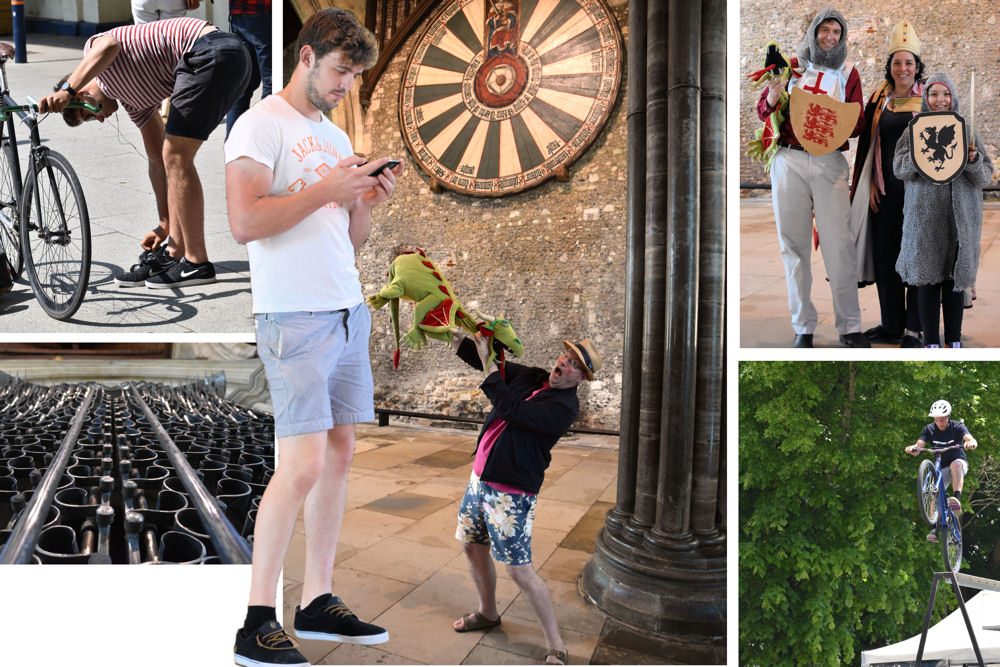 On Sunday, we met up with my friend Drew, from Freiburg days, and his family and showed them the sights of Winchester.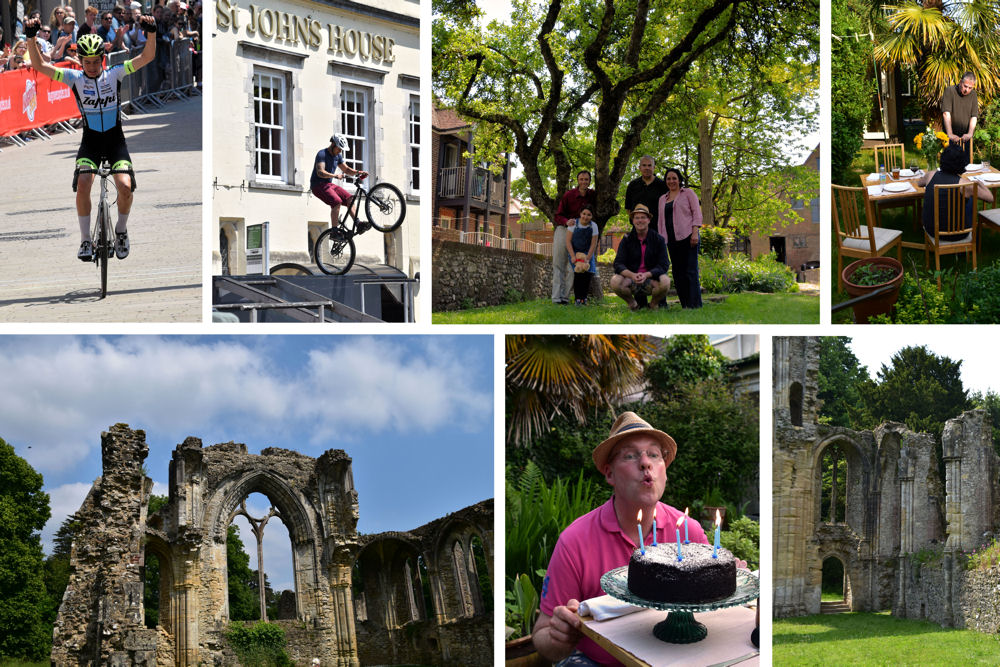 After visiting the Winchester mill and Netley Abbey, we had pizzas and birthday cake in the garden.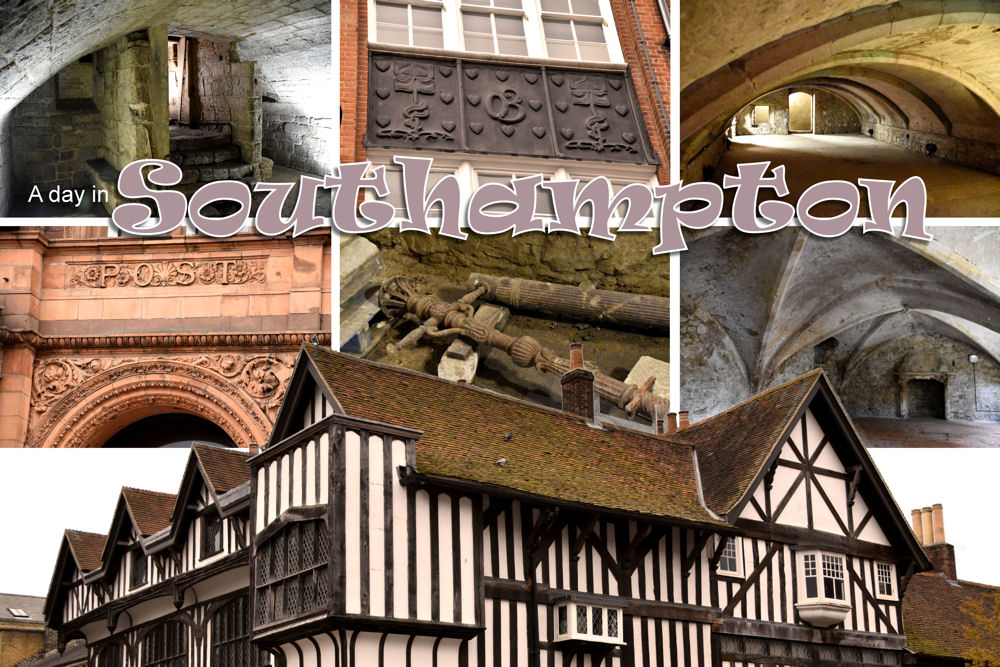 We spent a day exploring the medieval vaults under our home town.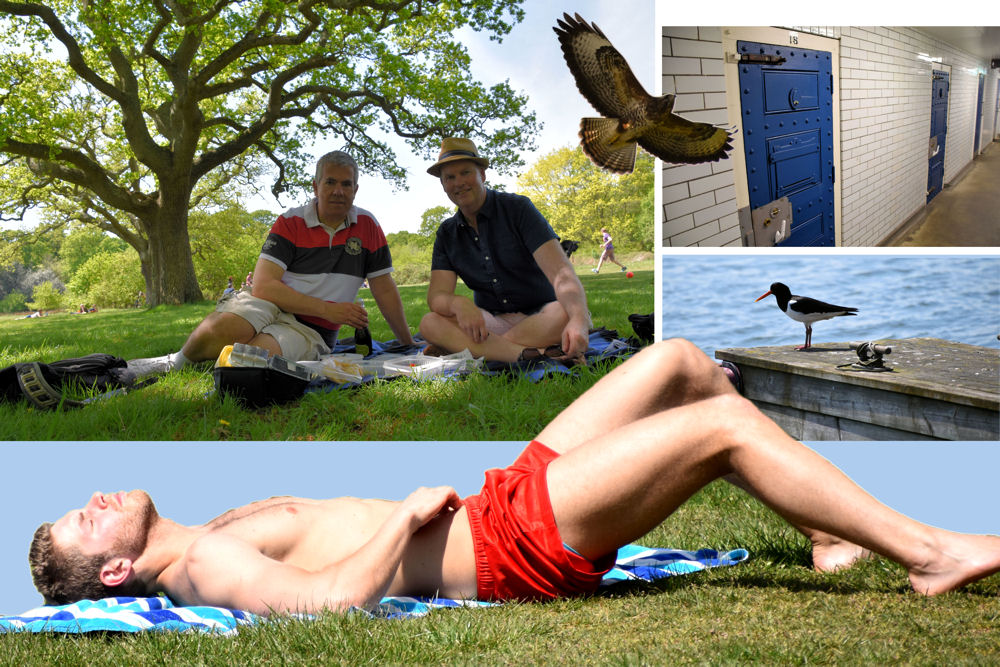 Finally some nice picnic weather and a trip to the local museum, housed in a former police station with jail cells as toilets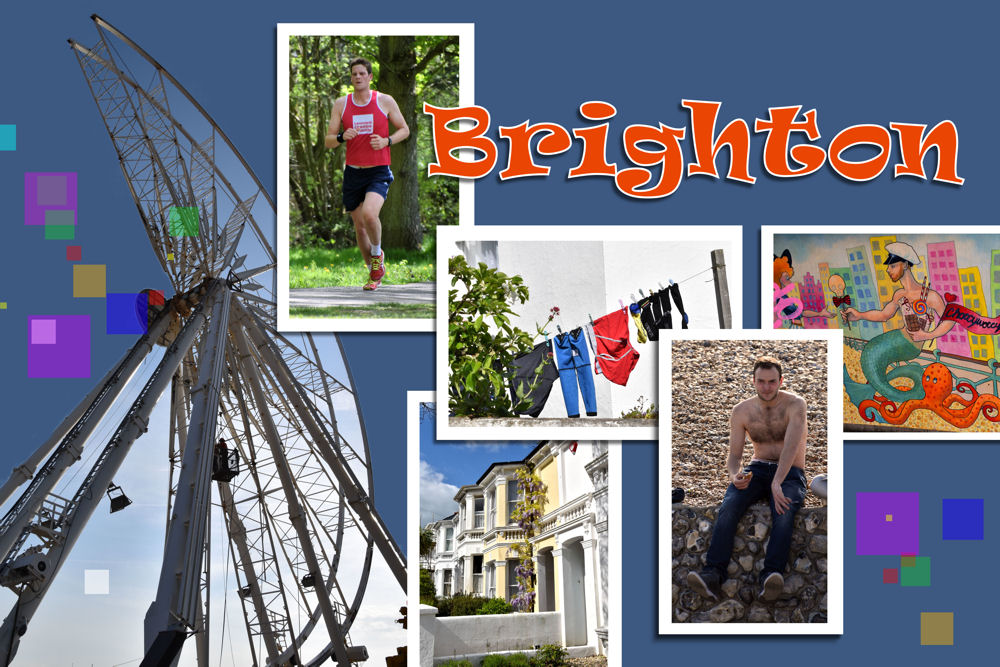 A welcome return to the Brighton Festival. Click HERE to see last year's events.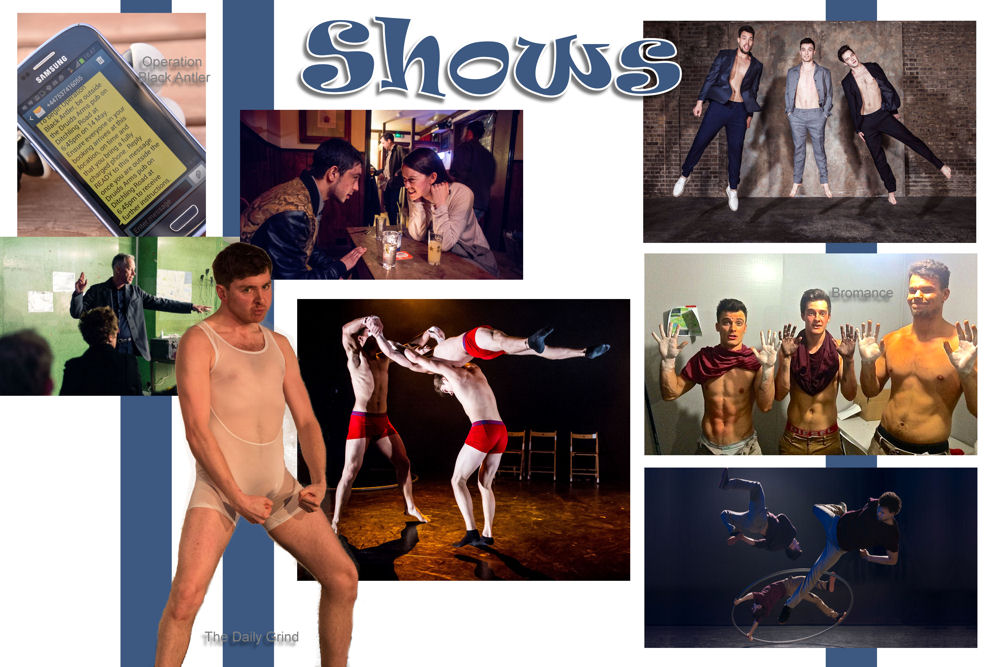 We saw several fun shows including the immersive Operation Black Antler, Bromance, and The Daily Grind.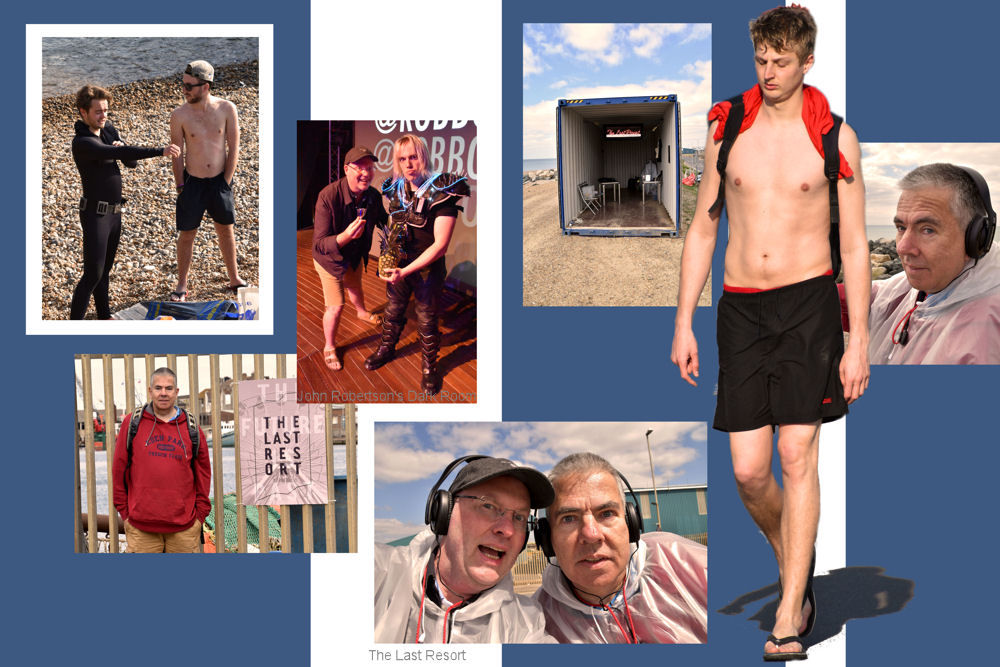 On Friday, we went to see John Robertson's Dark Room, a hilarious show based on 1980s text-based video games.the next day, we saw The Last Resort, a clever immersive experience in which we travelled back four thousand years to 2016 to discover remains of an amuseument park that wasn't all it seemed.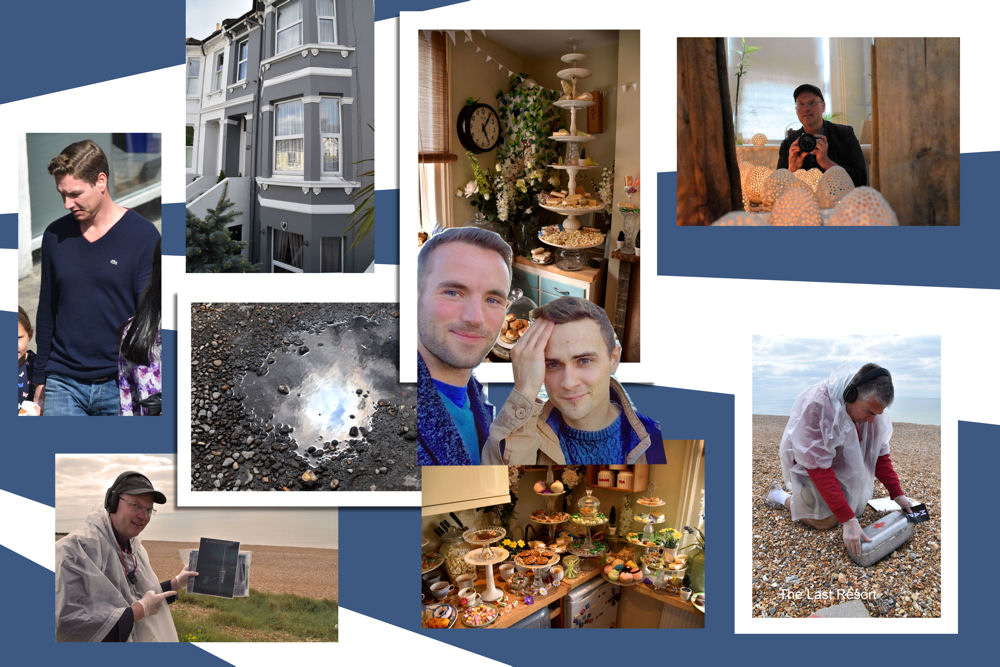 Artists' open houses are the biggest treat, especially when the kitchen is piled high with sweets provided by cute artists.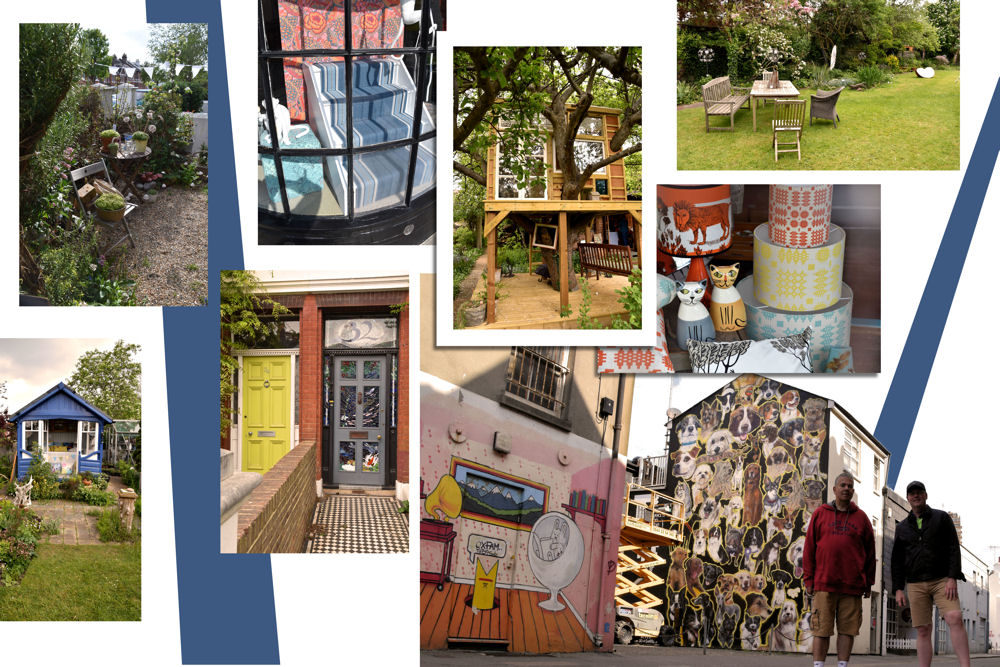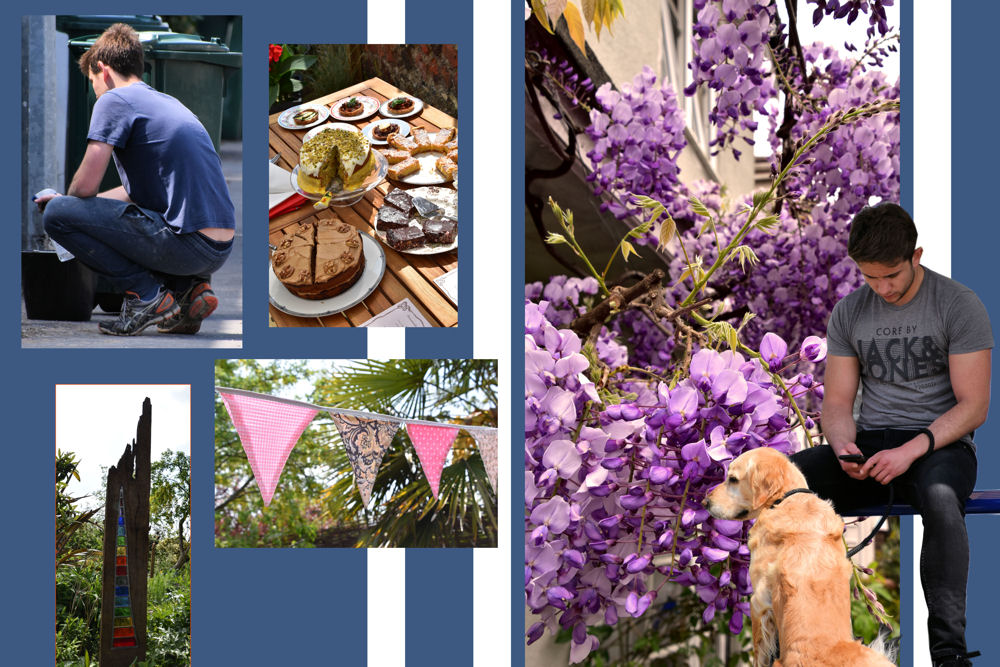 The wisteria was my birthday present from Nick several years ago. It gets more beautiful every year.
Click HERE for last year's birthday celebrations in Brighton and Amsterdam.