As the weather turns cooler, our thoughts are on wild mushrooms, theatre, and anniversary fun. See photos from autumns 2009 (Stephen Fry), 2010 (Devon and Dad), 2011 (Glasgow and Robert Thompson), and 2013 (David Tennant and The Drowned Man.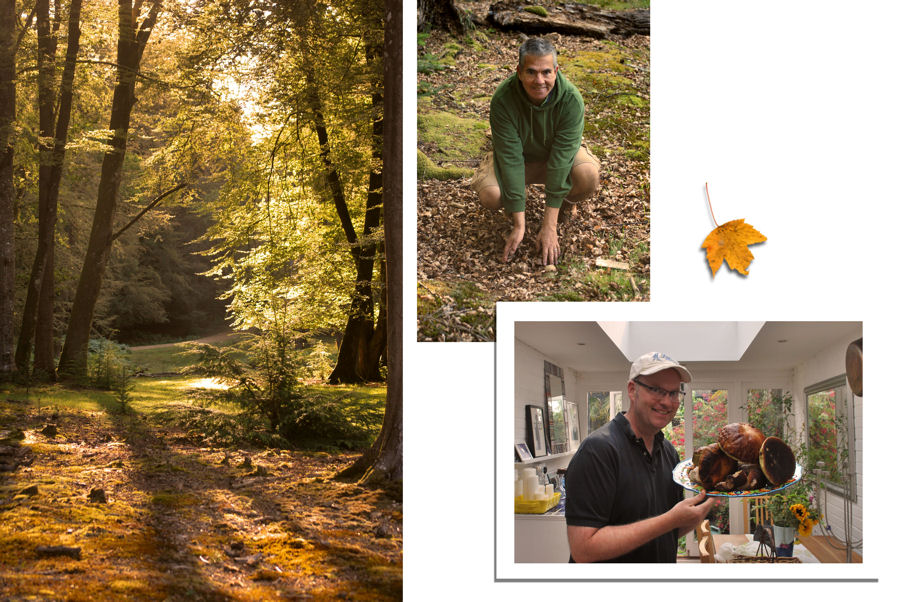 The hunt for wild porcini has started off well this year, with one particularly good crop, now dried for use later in the year.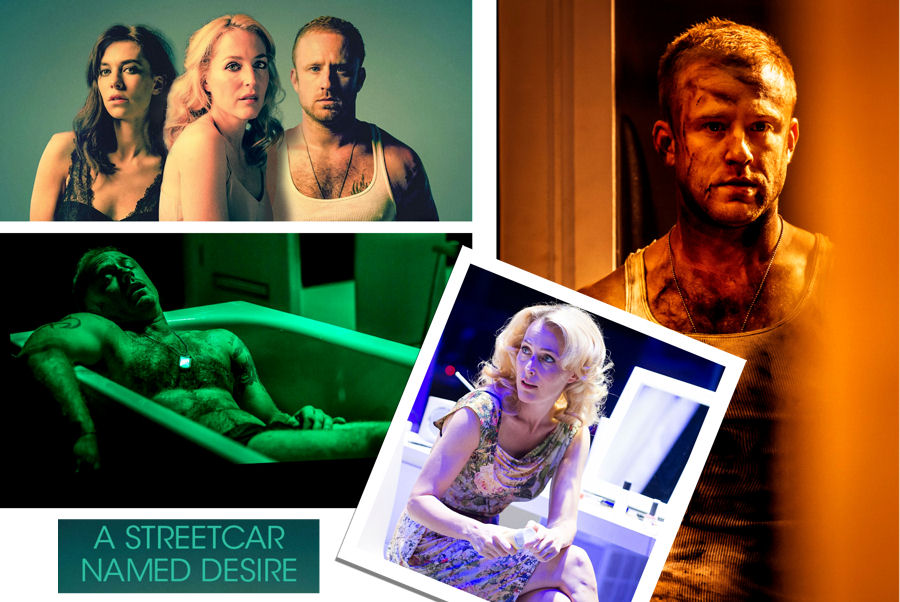 We saw A Streetcar Named Desire, starring Gillian Anderson and Ben Foster.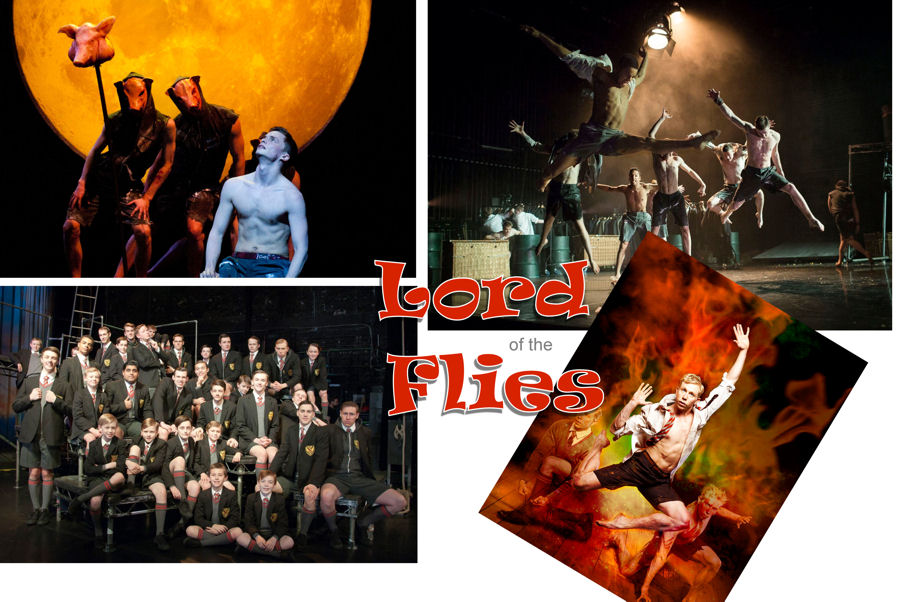 In October, we returned to London to see Matthew Bourne's inspirational Lord of the Flies at Sadler's Wells.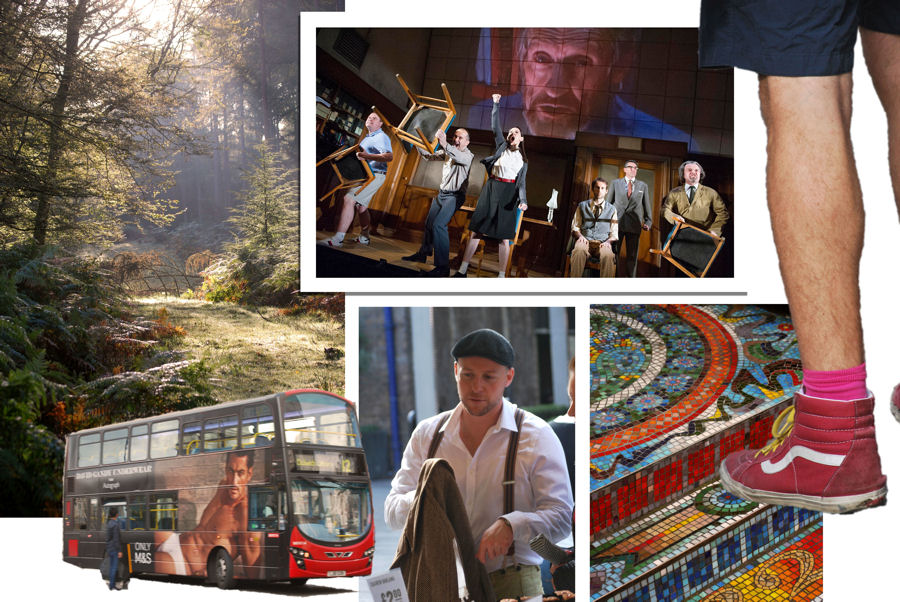 Other autmn treats included the Almeida's 1984 and walking around Bloomsbury in London.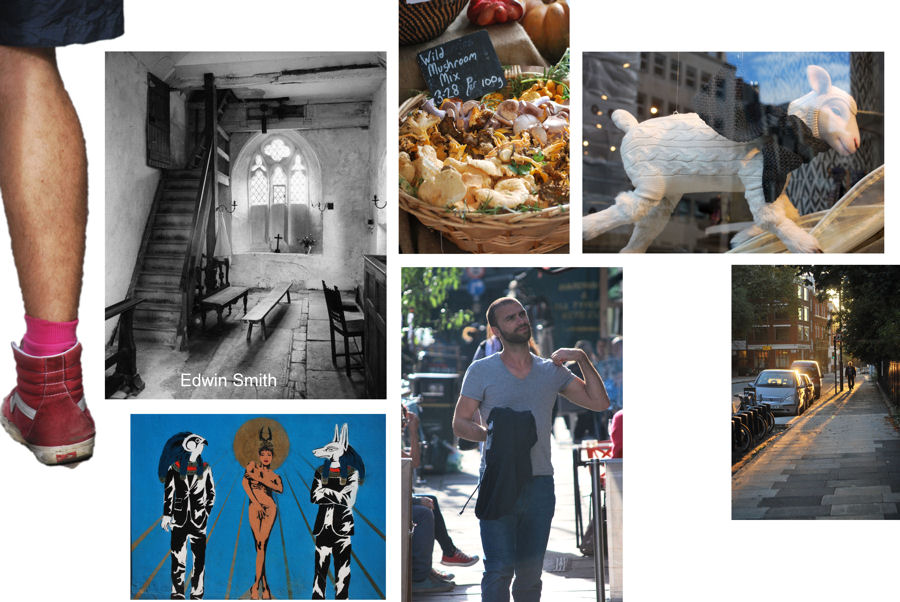 We saw an exhibition of Edwin Smith's photography and visited the farmers' markets in Islington and the South Bank. We also discovered Clerkenwell.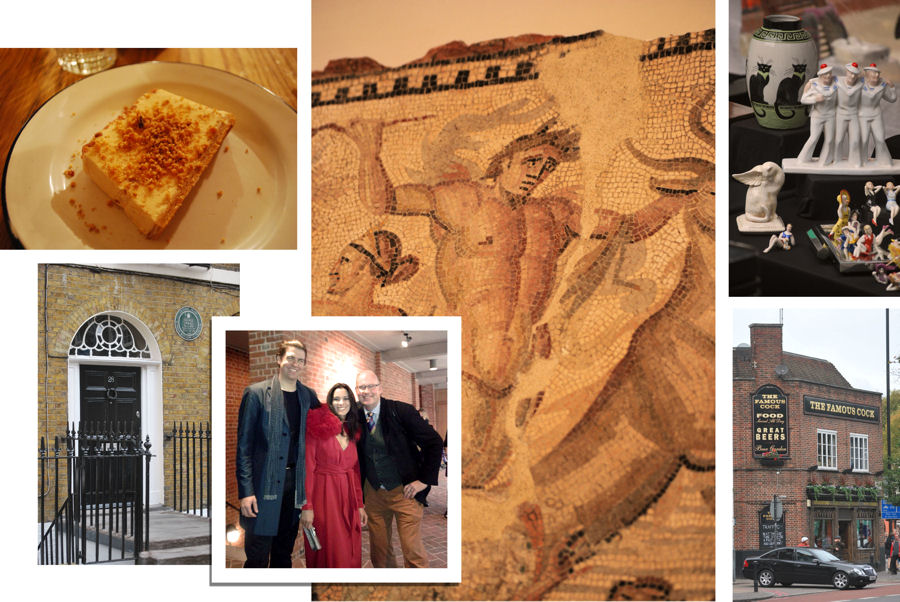 Above: peanut butter and bacon semifredo at Blackfoot, 2nd century A.D. mosaic at the Estorick Collection , Famous Cock, and rubbing shoulders with the Glyndebourne stars.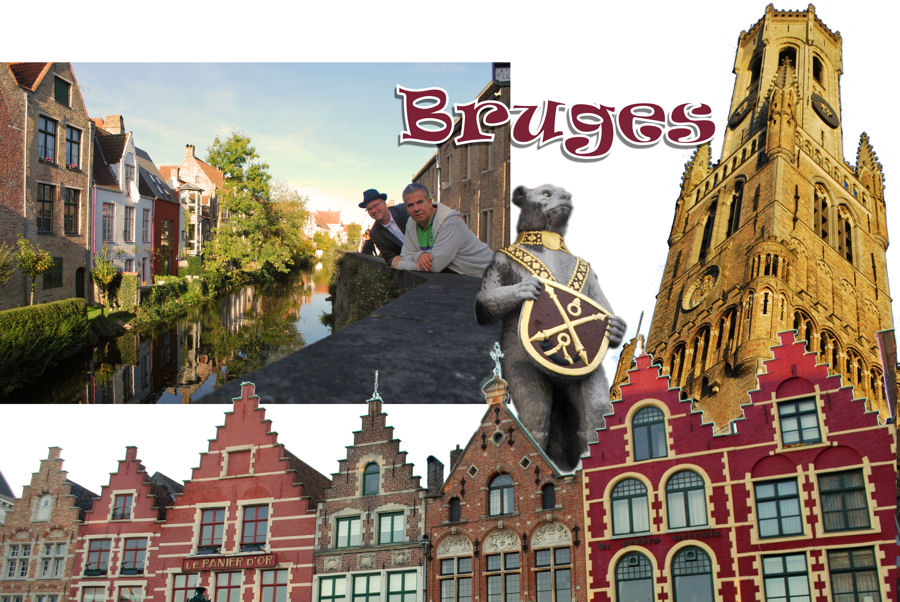 We celebrated our 16th anniversary in the medival splendour of Bruges. Canals, chocolate, and 15th century artwork were ours for the week. Click HERE to see last year's annversary celebrations in Barcelona and HERE to see our 2007 wedding photos and trip to Paris.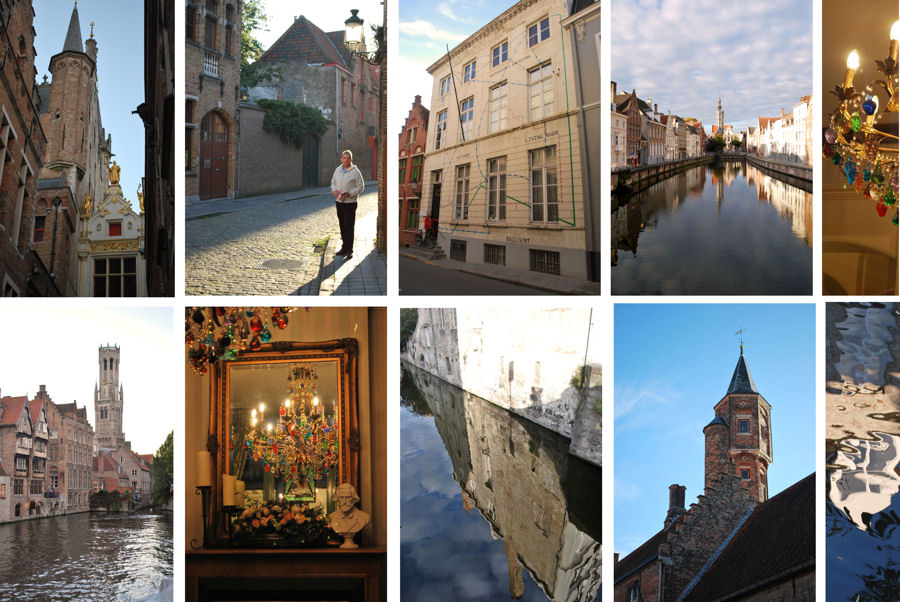 We stayed in a wonderful apartment within walking distance of all the main sights.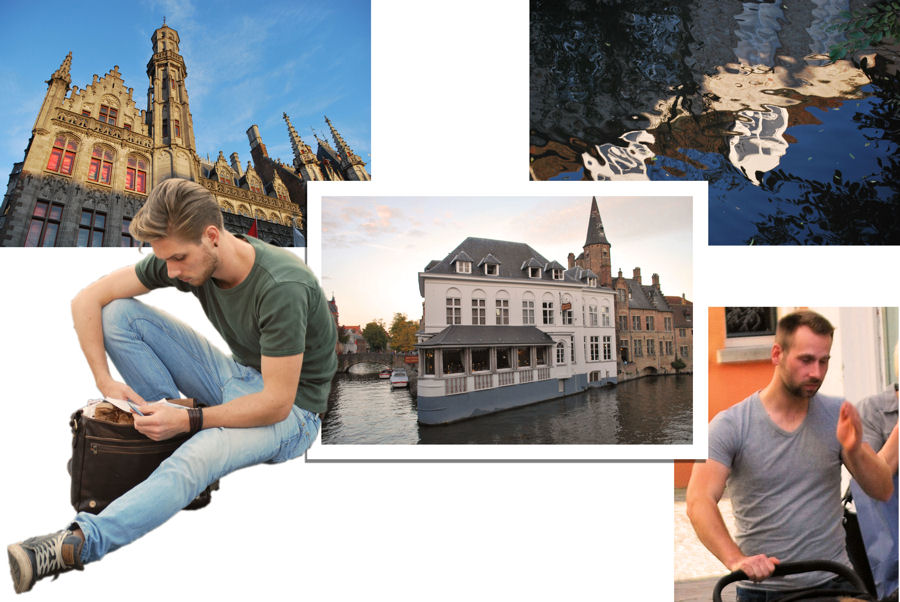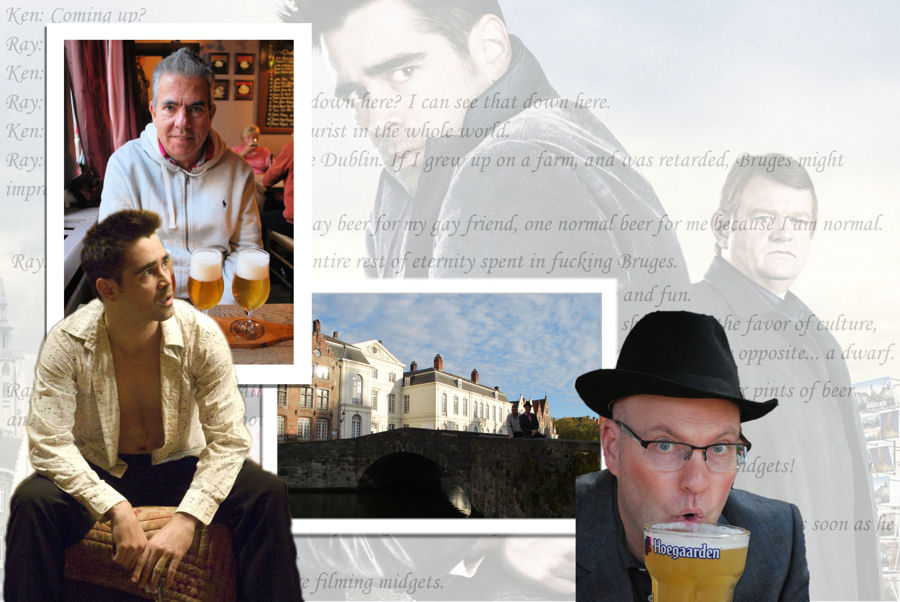 Above: some scenes and quotes from the Colin Farrell film In Bruges and some beer tastings at Café Red Rose and beyond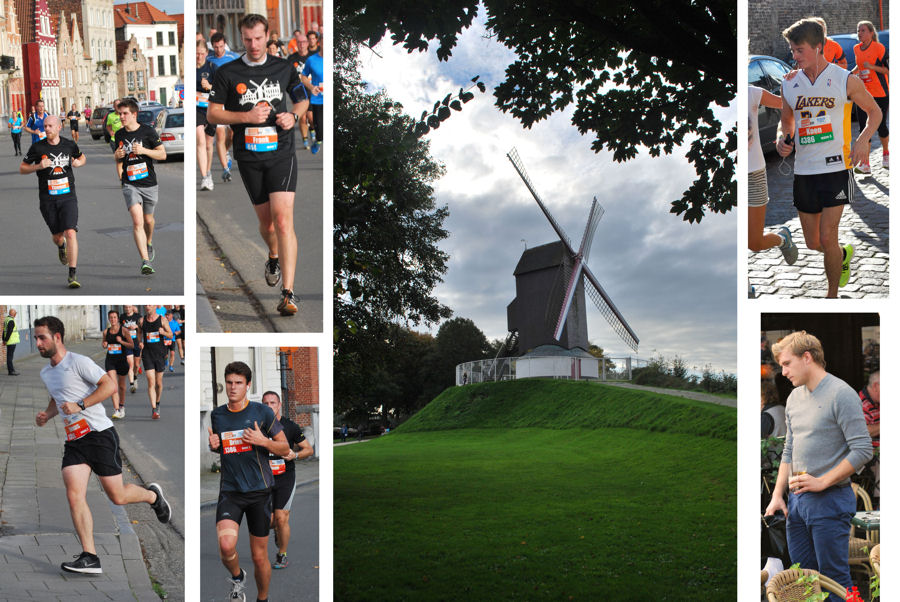 When visiting the four windmills, we got caught up in a very popular marathon that was taking place throughout the town.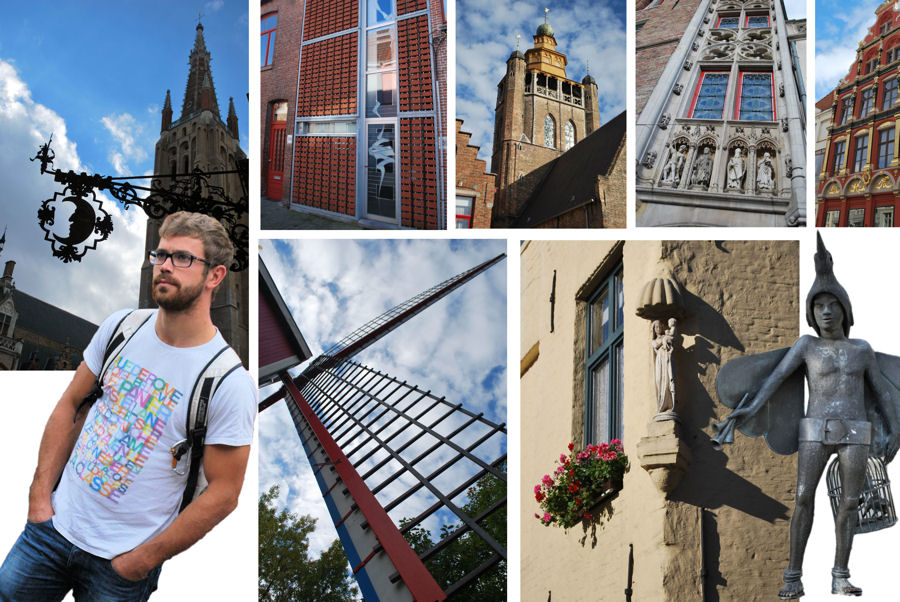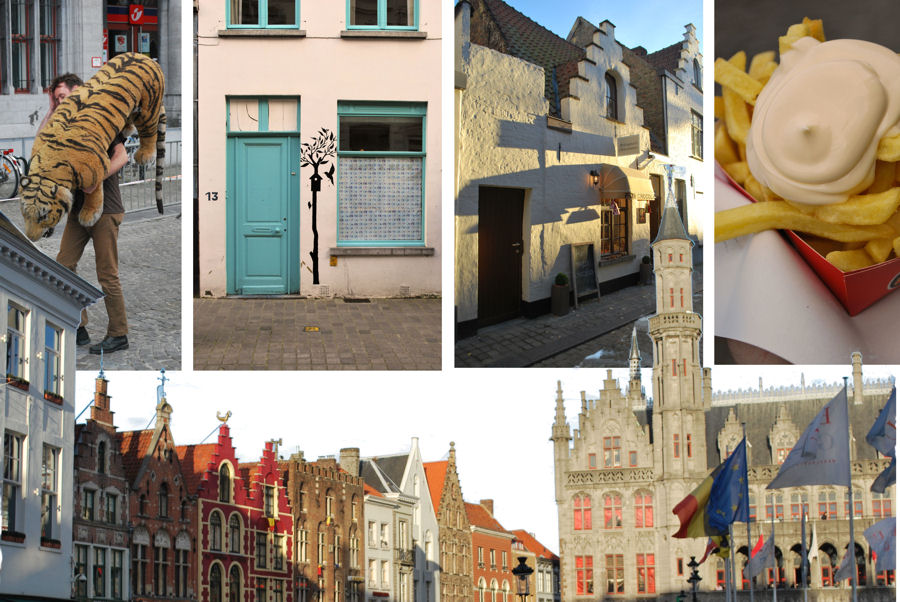 We had frites from one of the two official green frite vans in the market square and chocolate from almost every shop in town.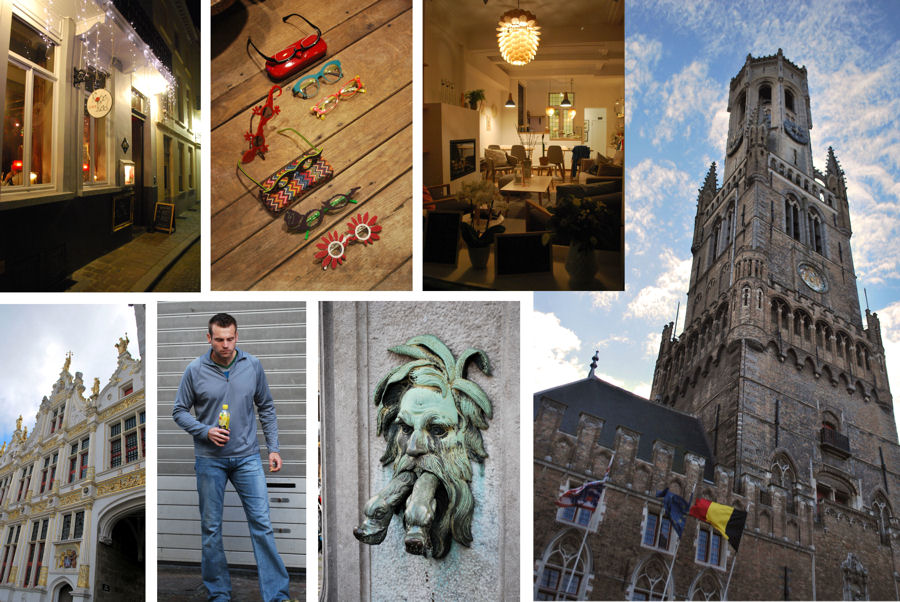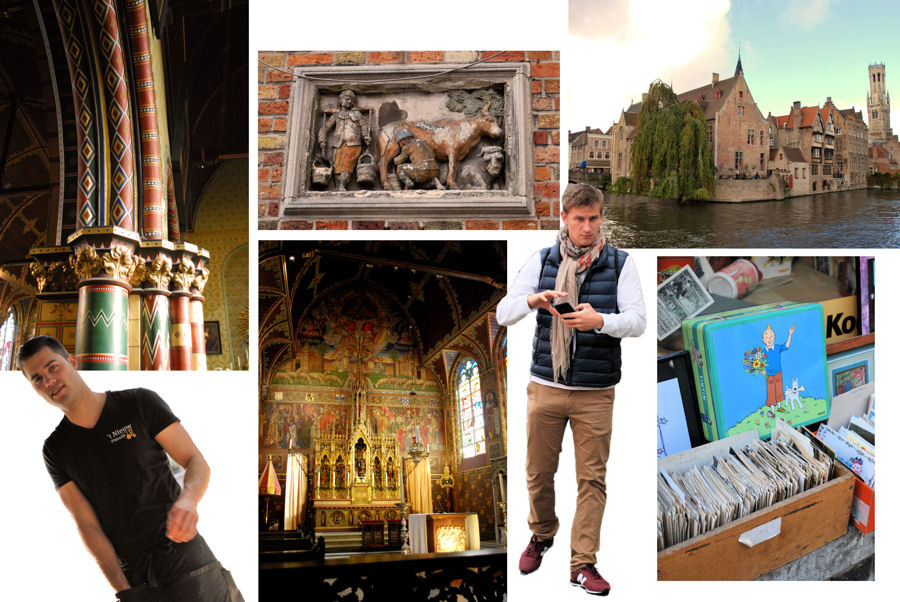 We got to the basilica of the Holy Blood just in time to see the vial for ourselves. Outside, we encountered a cute teacher (above) and some Tintin memorabilia.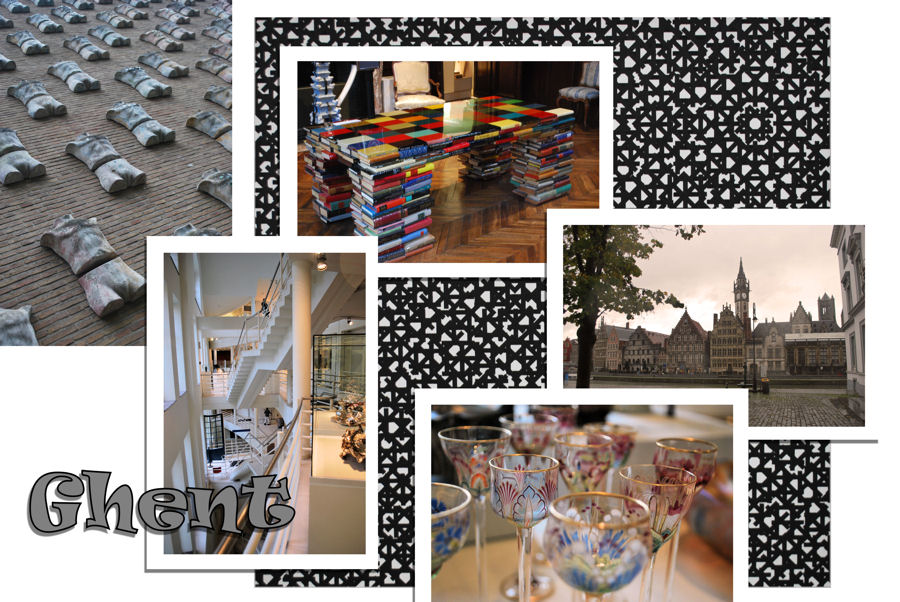 On a day trip to Ghent, we visited the modern art museum, SMAK, where, disappointingly, the featured exhibit was about pain and suffering. Things brightened up at the design museum with all its wonderful Art Nouveau.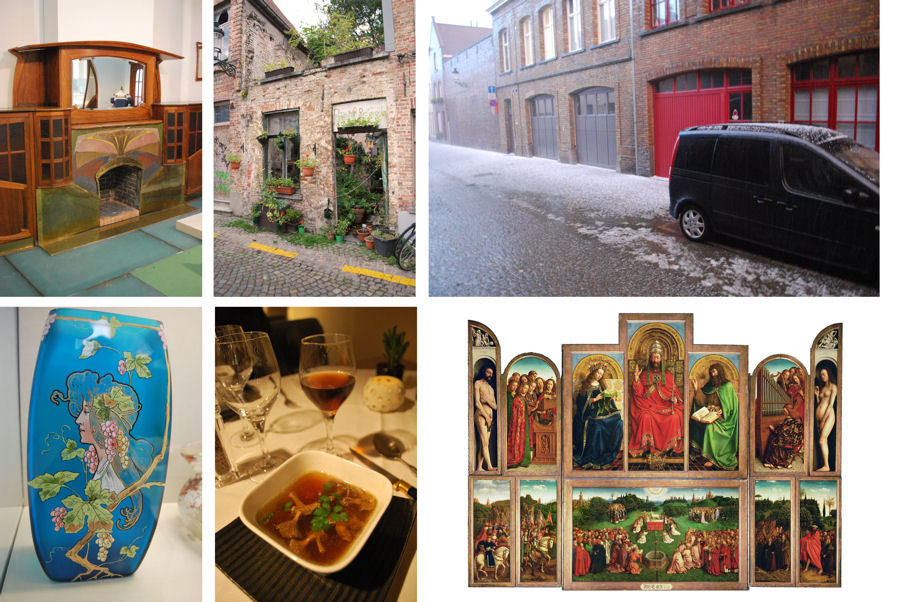 Above: Horta's fireplace, a guerrilla gardening project, the hailstorm we got caught in, Art Nouveau vase, game and chantarelle soup at De Stove, and Van Eyck's Mystical Lamb of God altarpiece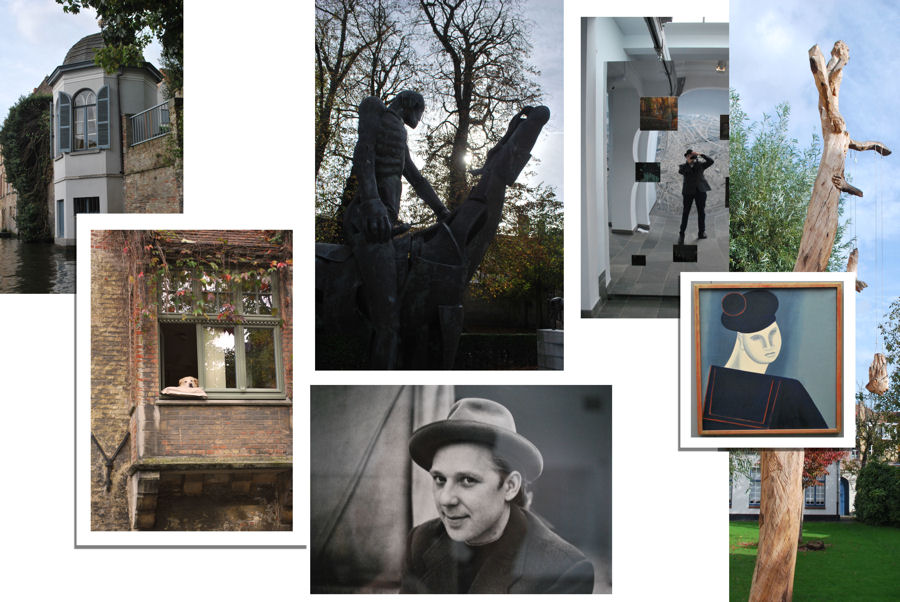 Above: the most excited of the Four Horsemen of the Apocalypse (look closely), a clever work of art where the gallery's least viewed paintings were featured behind mirrored windows, a sculpture from a dead pear tree, a 1950s photo of a clown without makeup, and the most photographed dog in Bruges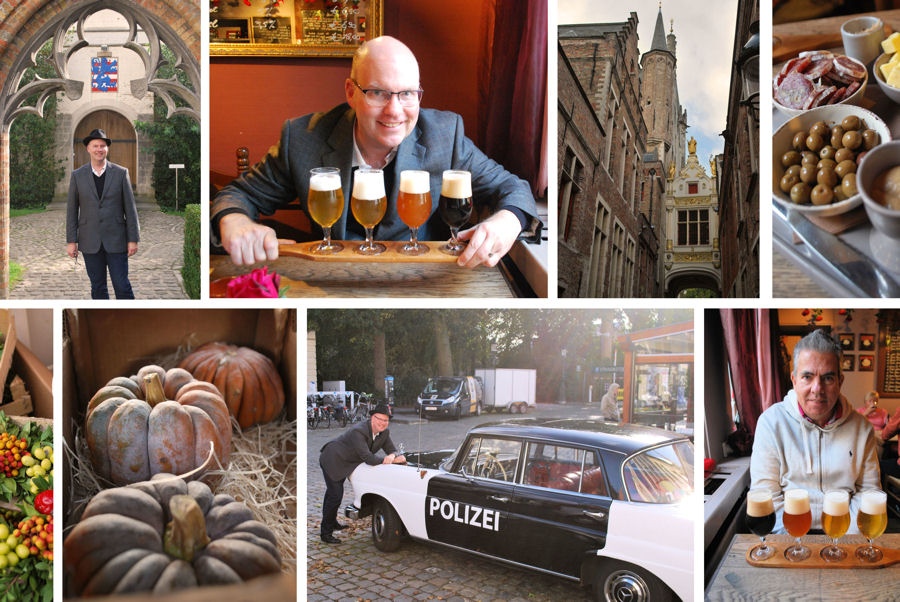 Above: beer tasting at Café Rose Red and some market produce

Above: More market fun including fresh Belgian waffles, a boat trip on the canal and a very public toilet Béguinage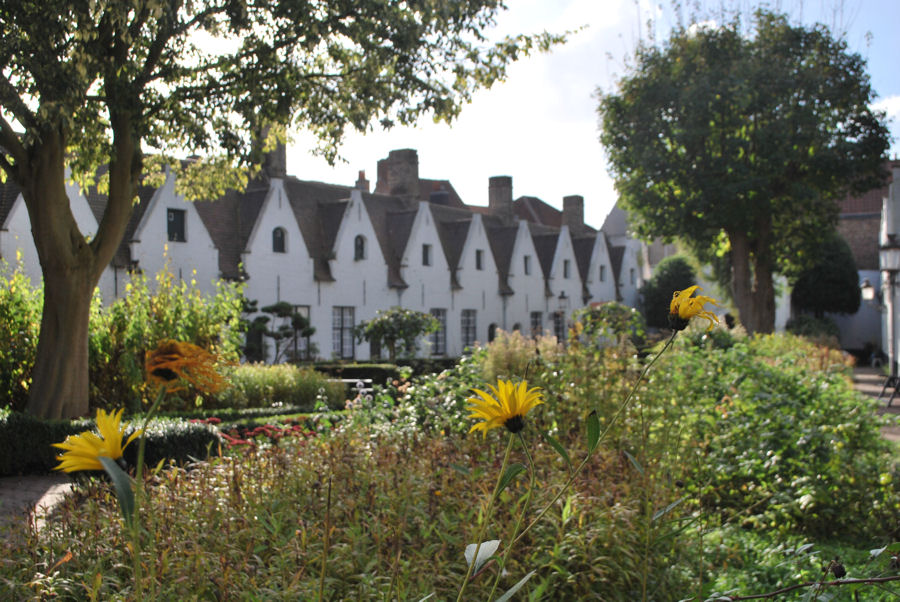 Whitewashed houses of the Béguinage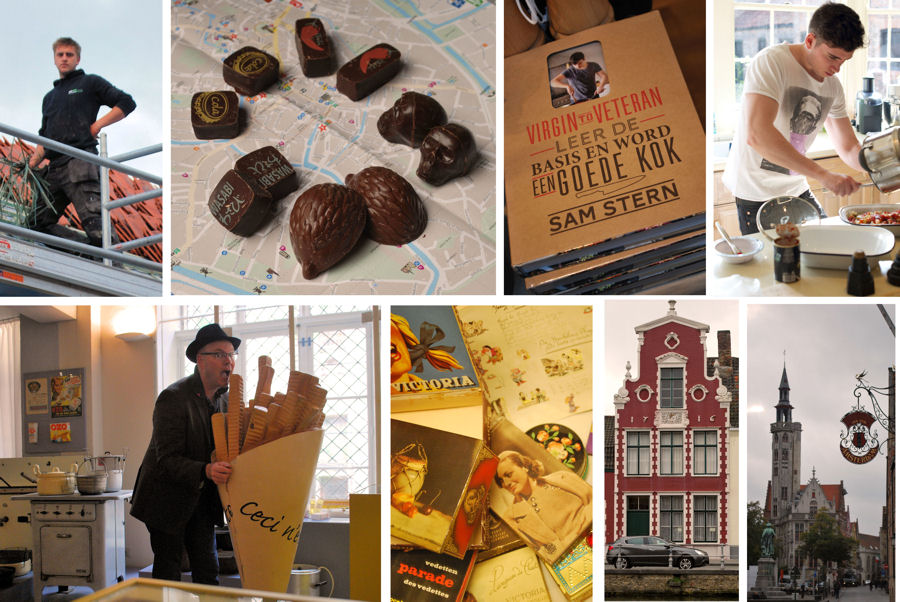 Above: Rooftop totty, unusual chocolates from Chocolate Line, including wasabi, cola with popping candy, chili, and hazelnut. Not picutred - onion and bacon. We saw Sam Stern's virgin confessional in a shop. Visiting the frites museum was fun, too.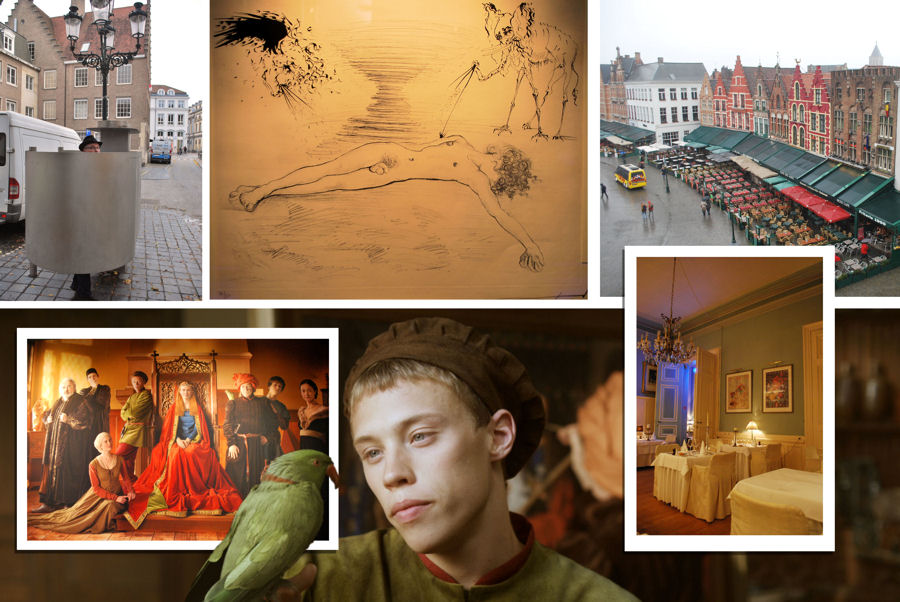 Above: More public conveniences, Dali's artwork, the Historium with its story of Van Eyck and his assistant Jacob, and the dining room of the Park restaurant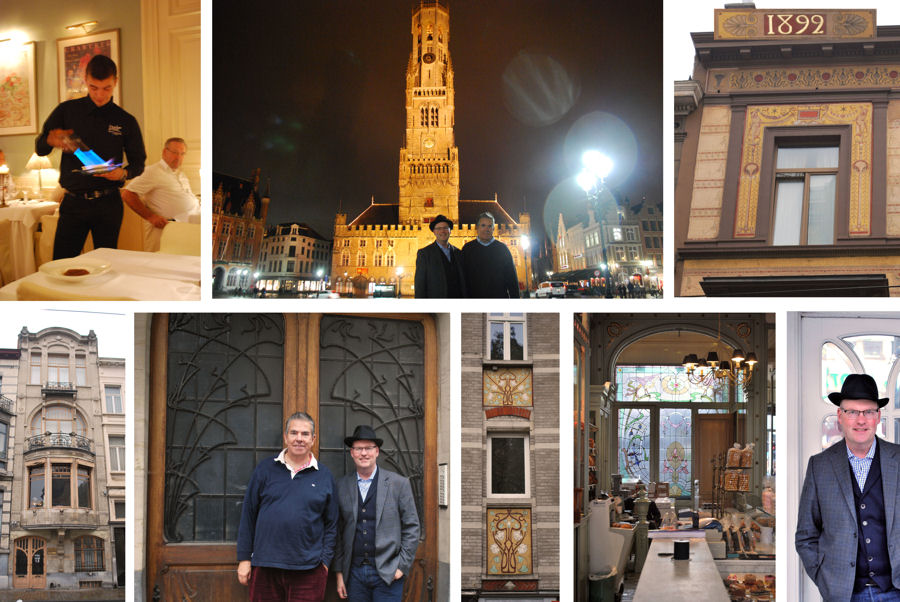 Above: Our last night in Bruges and Art Nouveau hunting in Brussels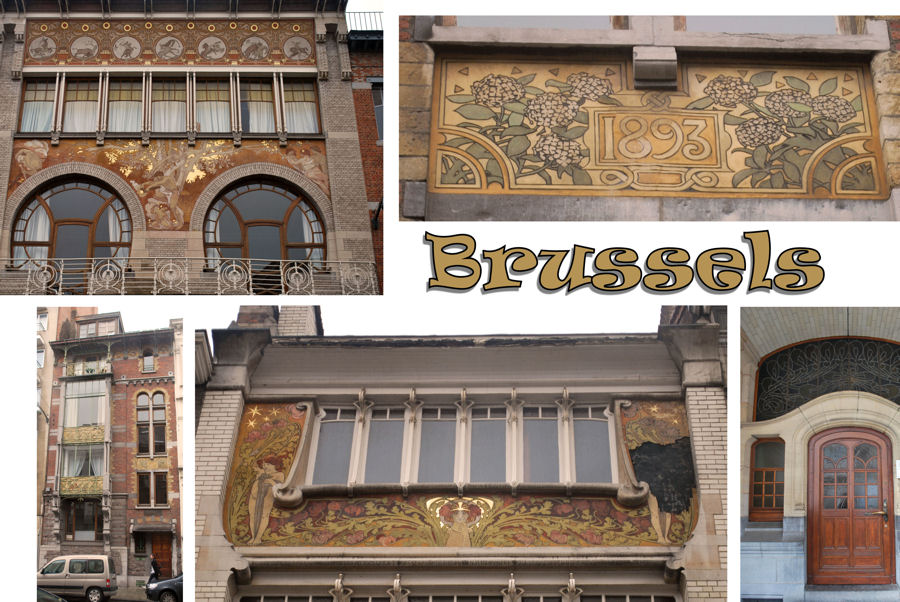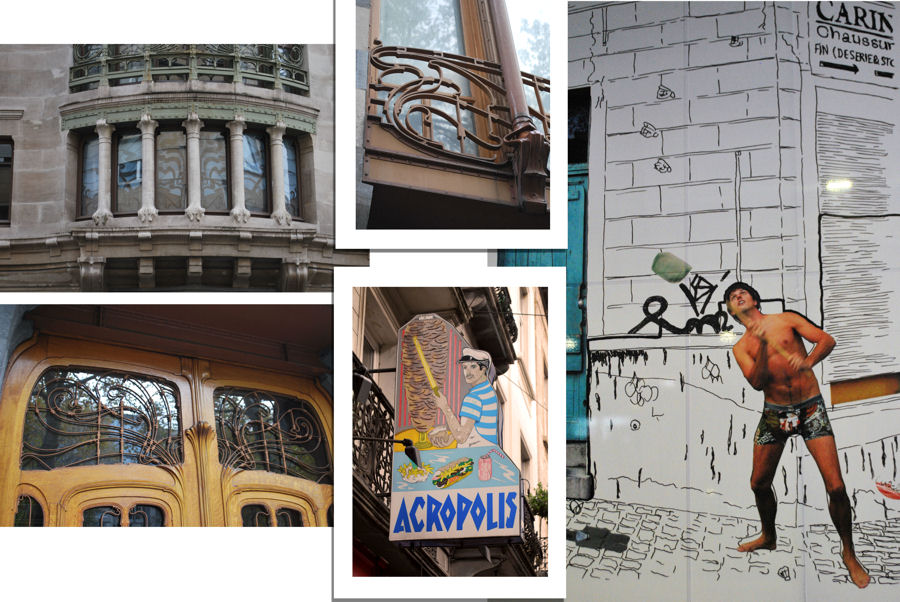 Above: The Horta Museum, a light saber wielding gyros man and some arresting adversting