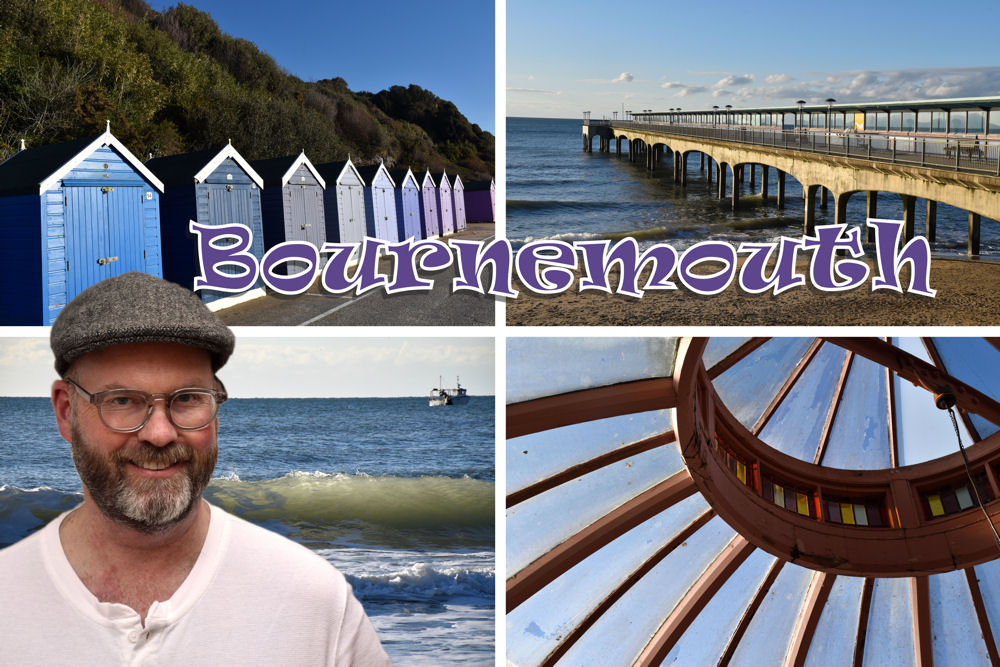 After a month with no camera, it finally came back from repair and we went to Bournemouth for the morning to celebrate.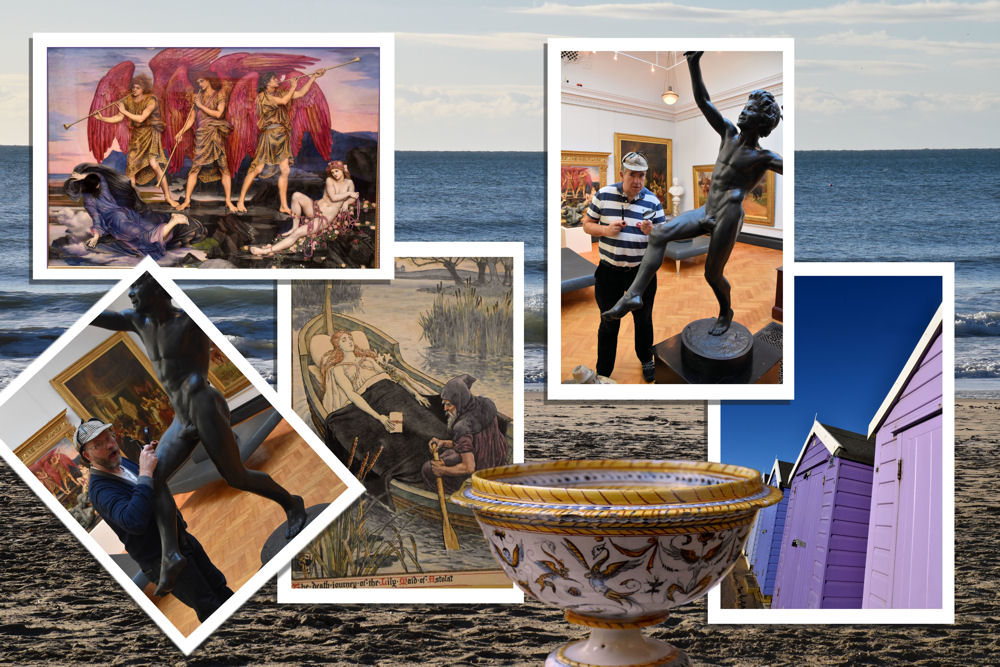 The Russell-Cotes gallery always has things to look at and we enjoyed playing Sherlock with the exhibition A Question of Guilt: A Crime Writer's Collection.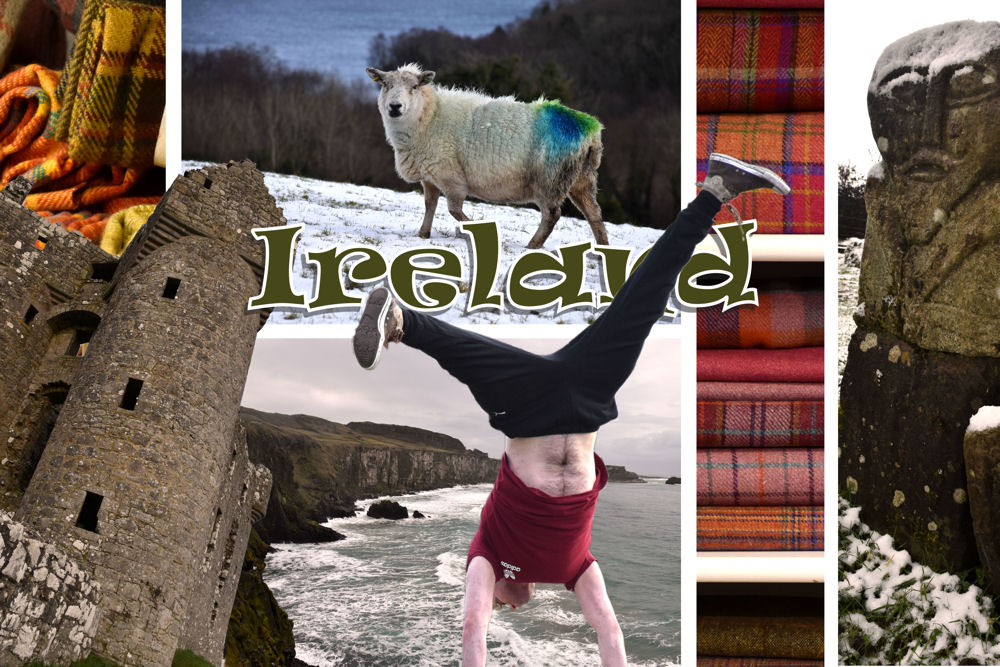 To celebrate Nick's January birthday, we went to Northern Ireland, intending to stay in a Finn Lough Bubble Dome. The dome had to be postsponed, but we still had a wonderful time exploring an ancient country that is only an hour's flight away. Click HERE to see our trip to Dublin in 2007 and HERE to see our eventual bubble dome experience in August, 2018.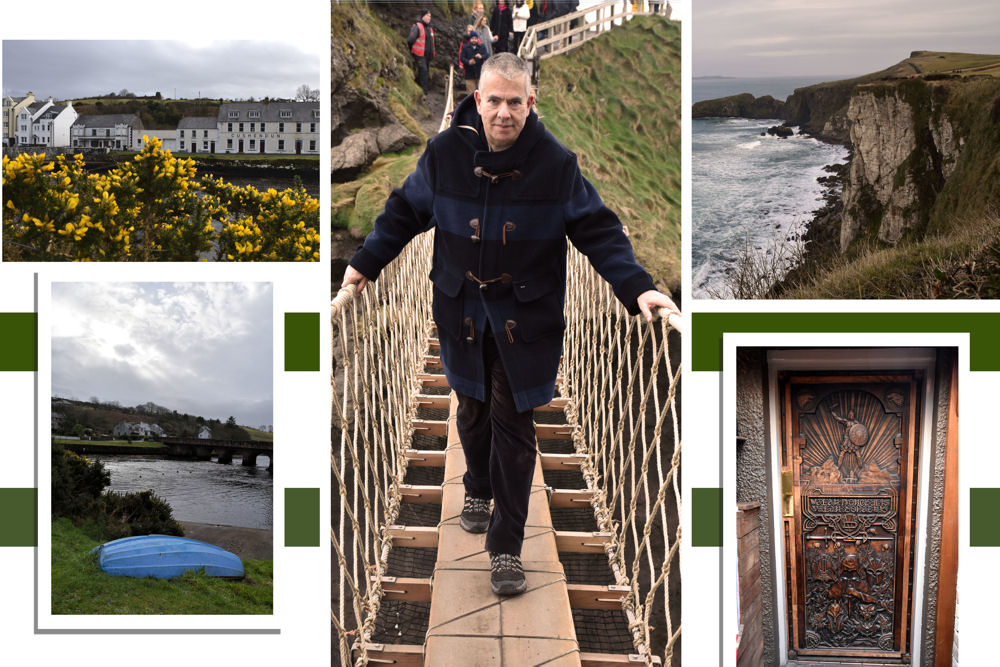 We made our way up the Causeway Coastal Route to Cushendun, where we had steak and Guinness pie at Mary McBride's. The door to the toilets is an hommage to Game of Thrones, carved from an ancient tree felled by the wind.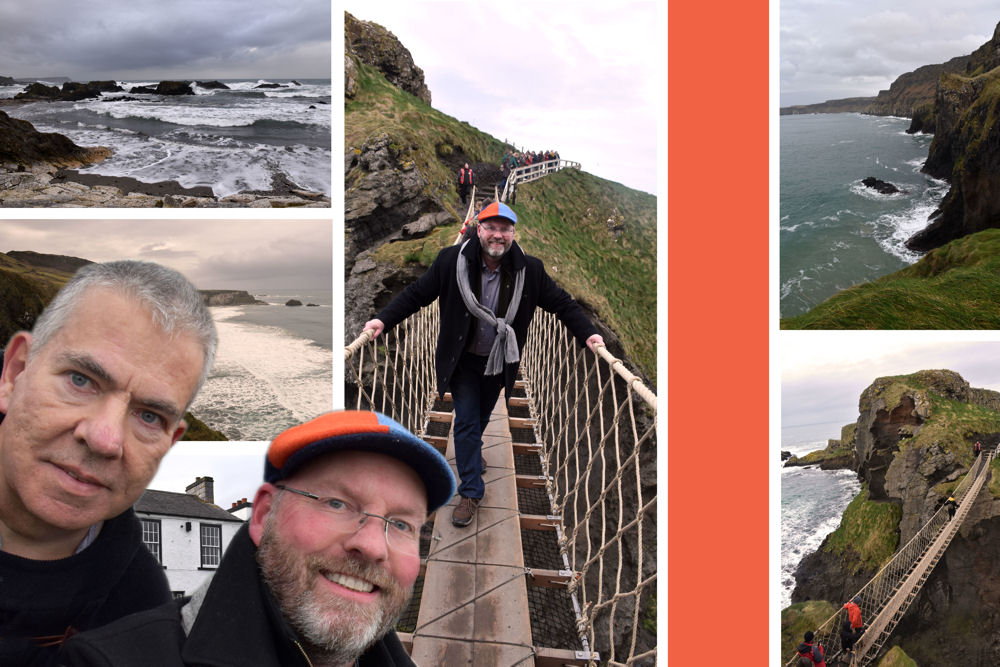 Next stop: Carrick-a-Rede, where the precarious rope bridge should have been scary, but I found it much less so that my recent cathedral spire in Basel. Last sighting of the grey scarf.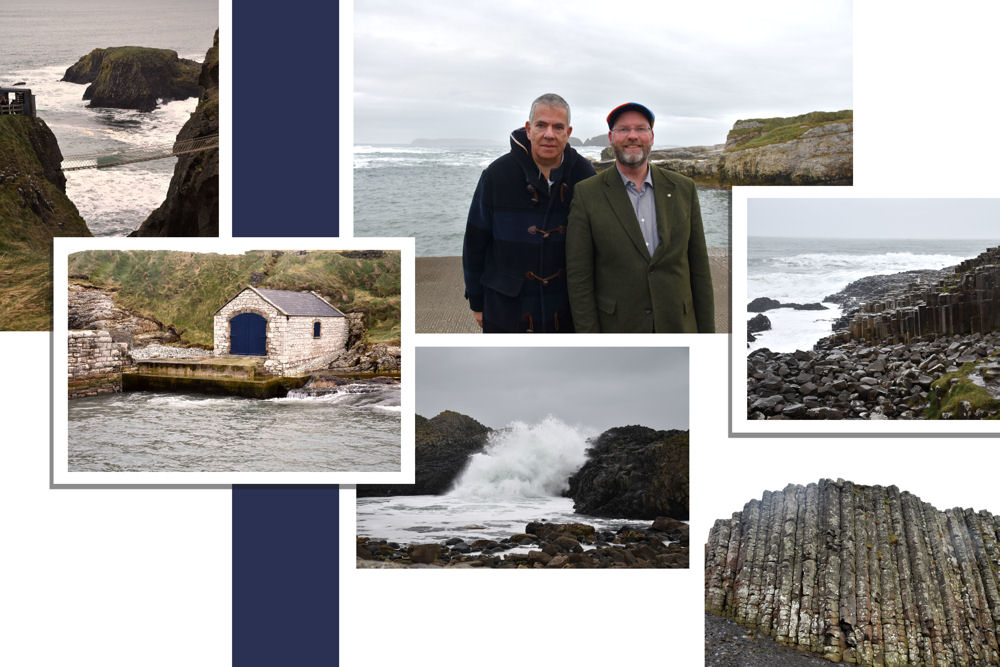 Next came the blustery Ballintoy Harbour and the magnificent but rain-swept Giant's Causeway. We didn't stay long because of the weather, but it was amazing to see.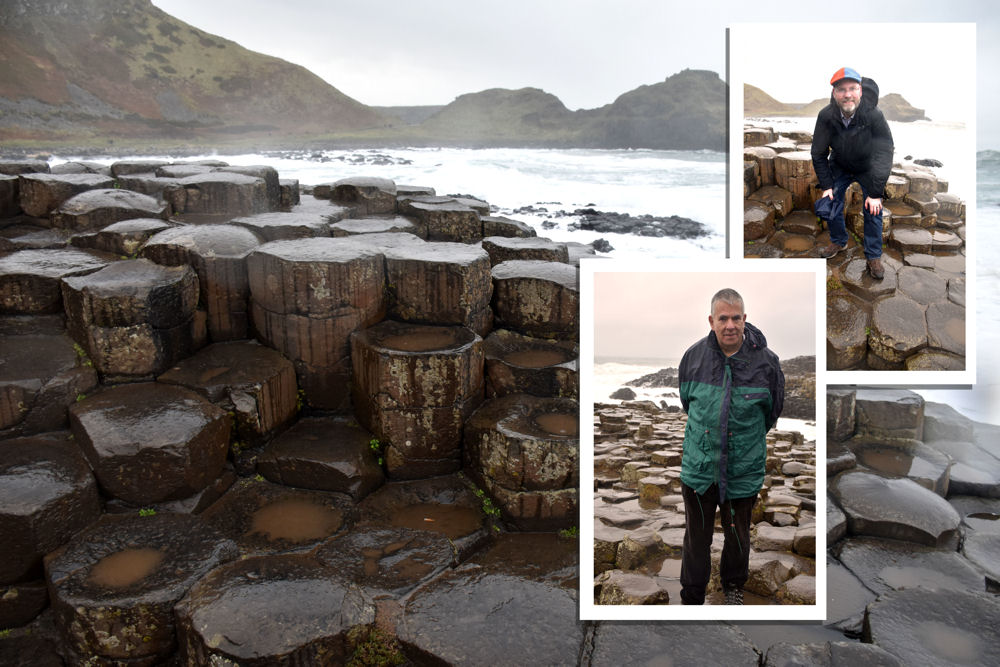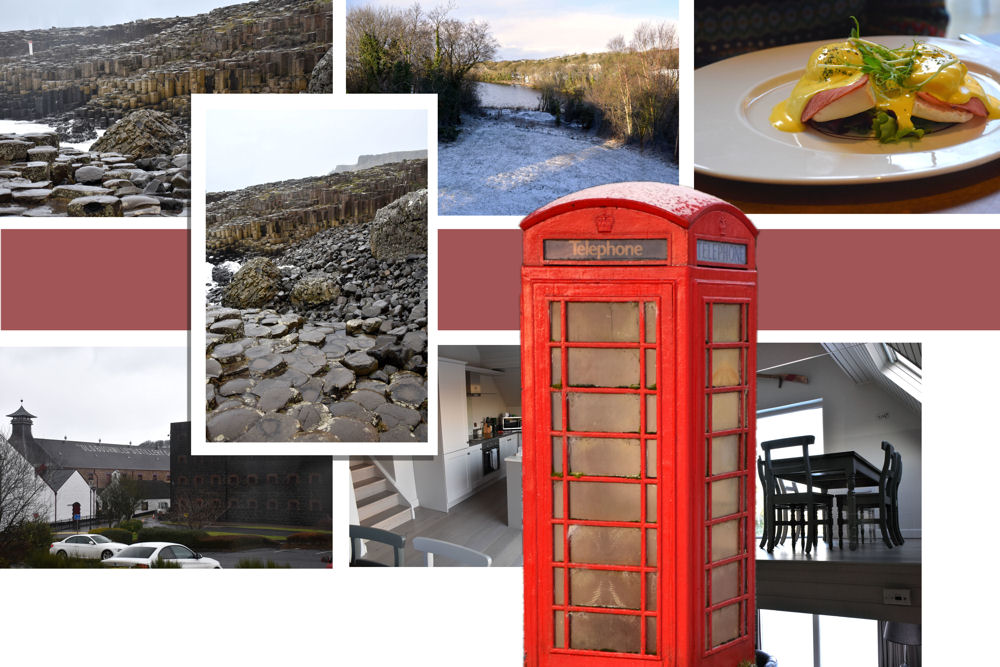 A stopover at Bushmills Distillery for some single malt whiskey and then the drive south to our Finn Lough accommodation. Because of the mix-up with our bubble dome, we were housed in a luxurious three-floor lodge with a wood fire and fully equipped kitchen. Considering the rain and snow we experienced during our stay, I think it was a better deal. On our first night, they brought us a hamper with cheese and ham toasties, butternut squash and truffle oil soup, and a bottle of Bulgarian wine. We were also treated to their spa trail and a delicious evening meal in the restaurant.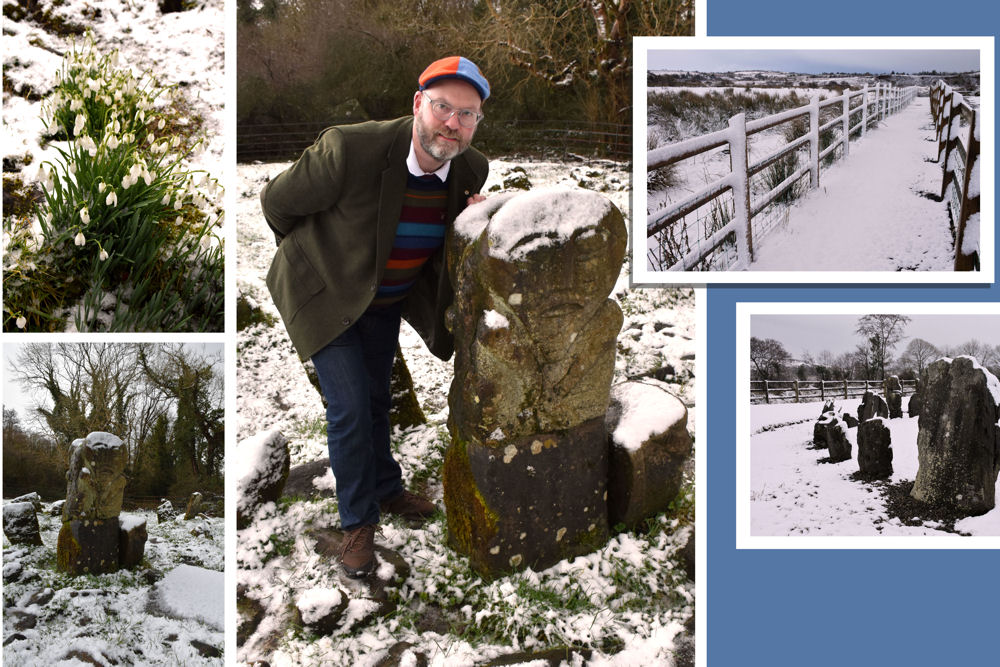 On a mysterious, nearby island was Caldragh graveyard, where we found this ancient two-faced Janus stone. Afterwards, we visited Drumskinny Stone Circle during a beautiful snowfall.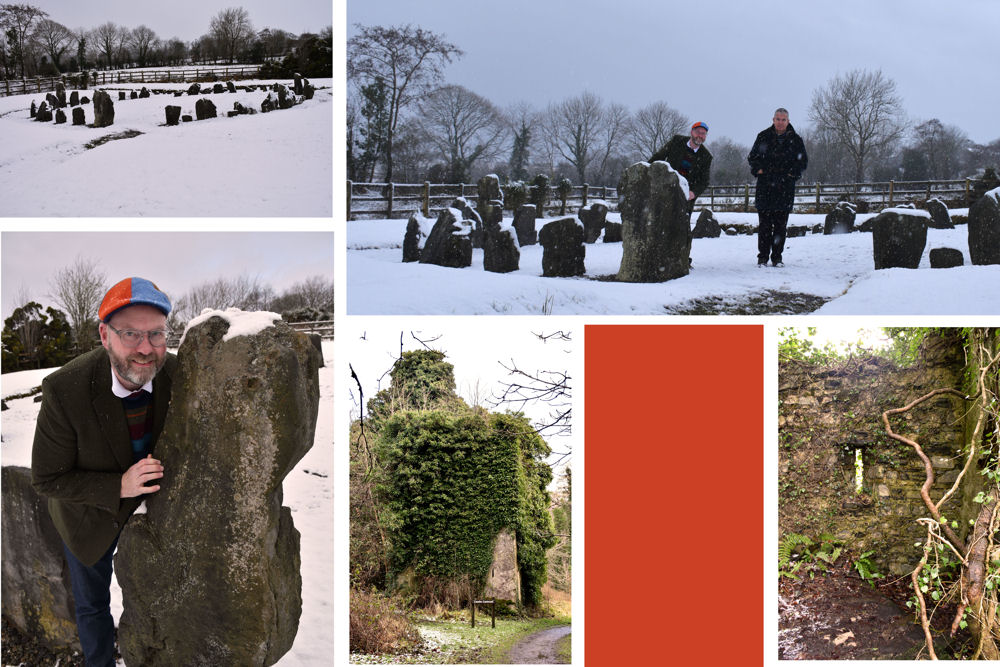 The weather changed completely by the time we reached Castle Caldwell, which had been almost totally covered with ivy,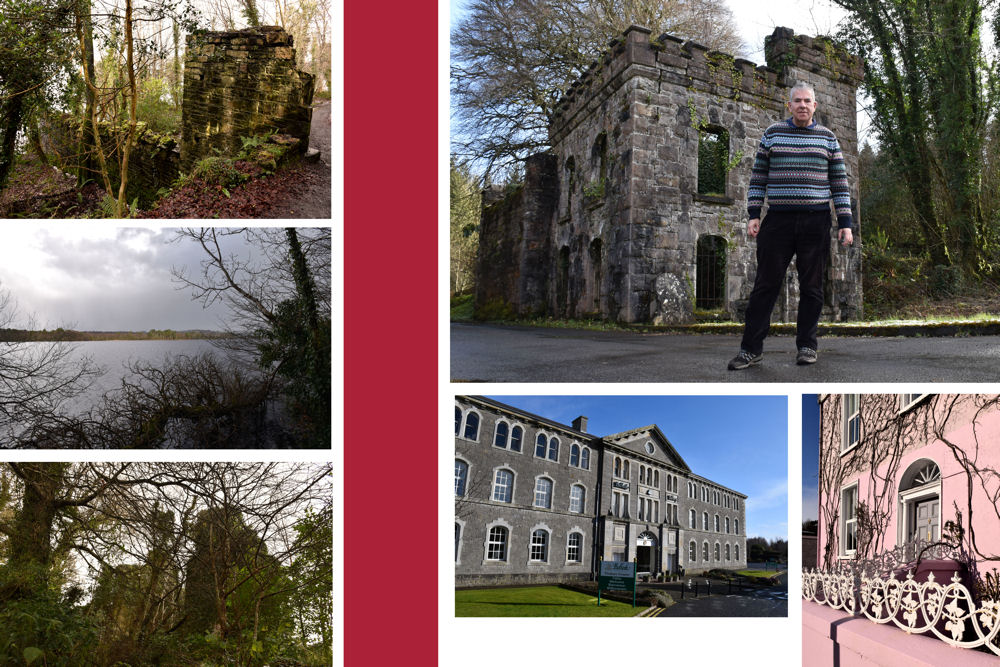 At the front gate of Castle Caldwell lay the fiddler's stone, a monument to a drowned court musician. We had lunch in Belleek, sitting next to the grandmother who supplied the diner's pavlovas and crumbles. The famous pottery factory was closed.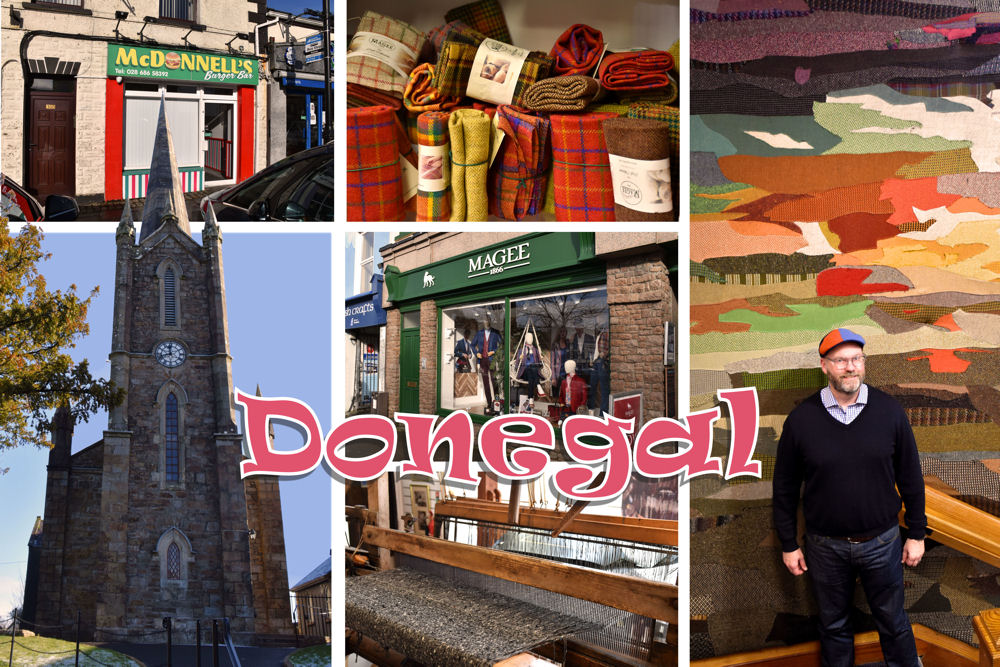 Tingling with excitement over the prospect of tweed, we headed into Southern Ireland to Donegal, where I took the plunge at 150-year-old Magee and commissioned a three-piece suit with snazzy lining. (soon to be shipped).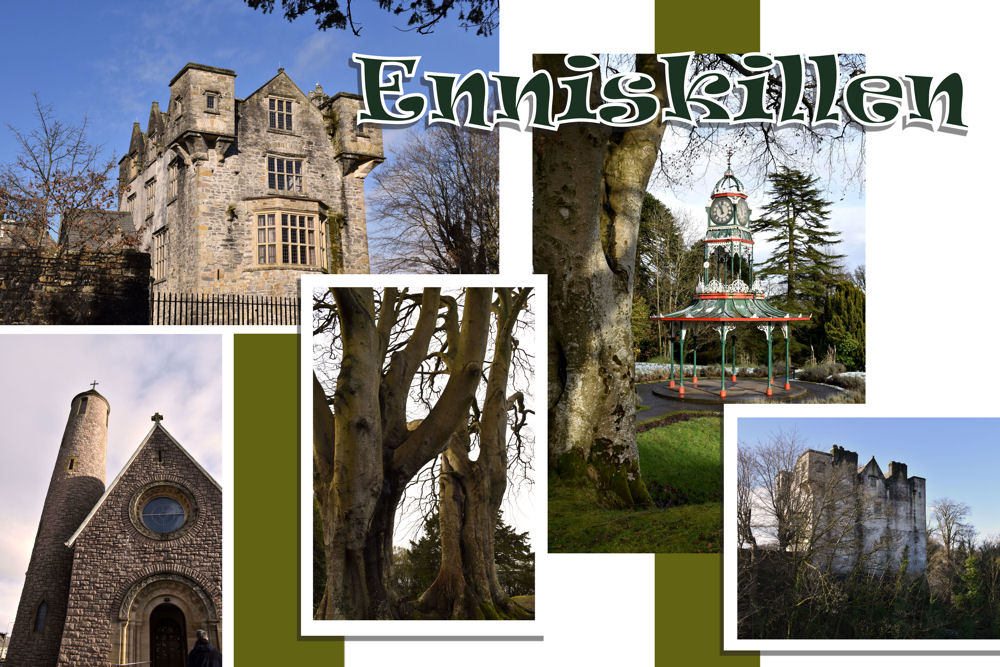 There wasn't much else to see in Donegal, so we headed back over the border to Enniskillen for lunch and more sightseeing.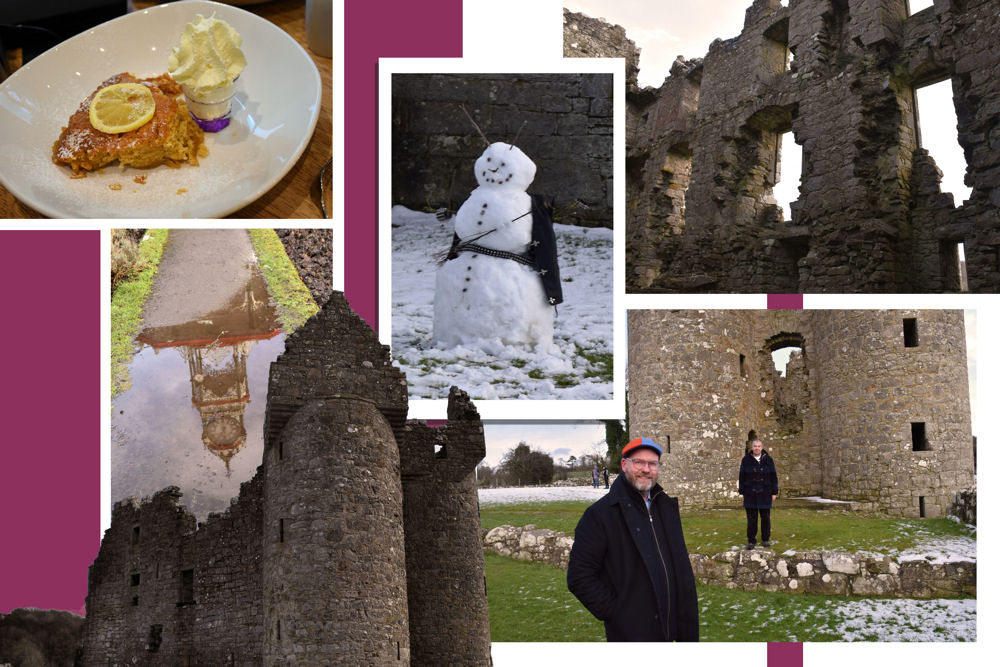 Lunch at The Jolly Sandwich was remarkably good and the butterscotch pudding was worth every calorie. We had time on the way back to stop off at Monea Castle, where the finishing touches were being put onto an unusual snowman.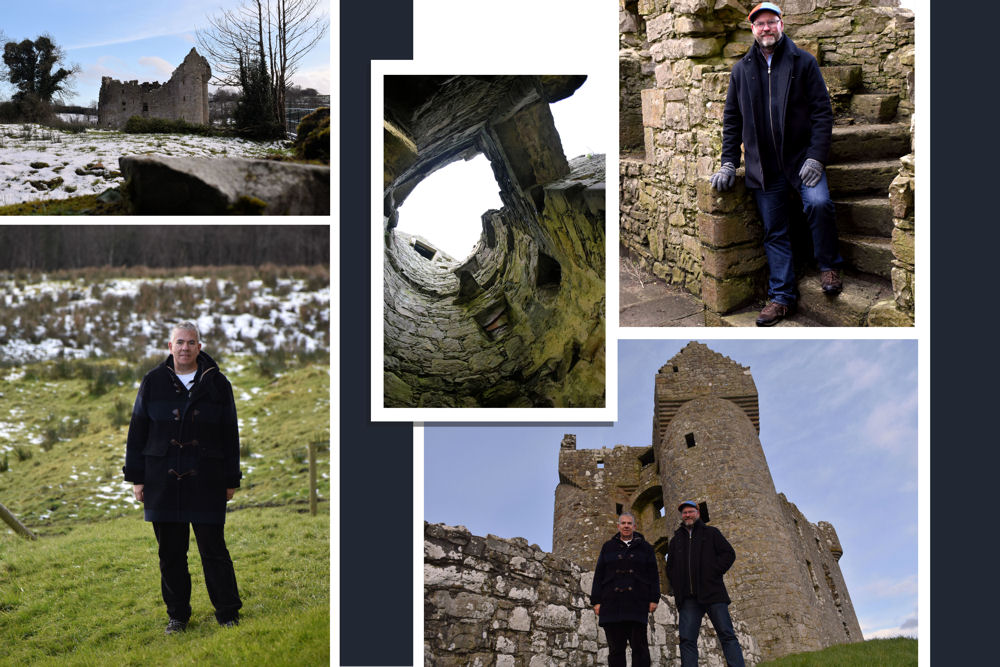 Monea Castle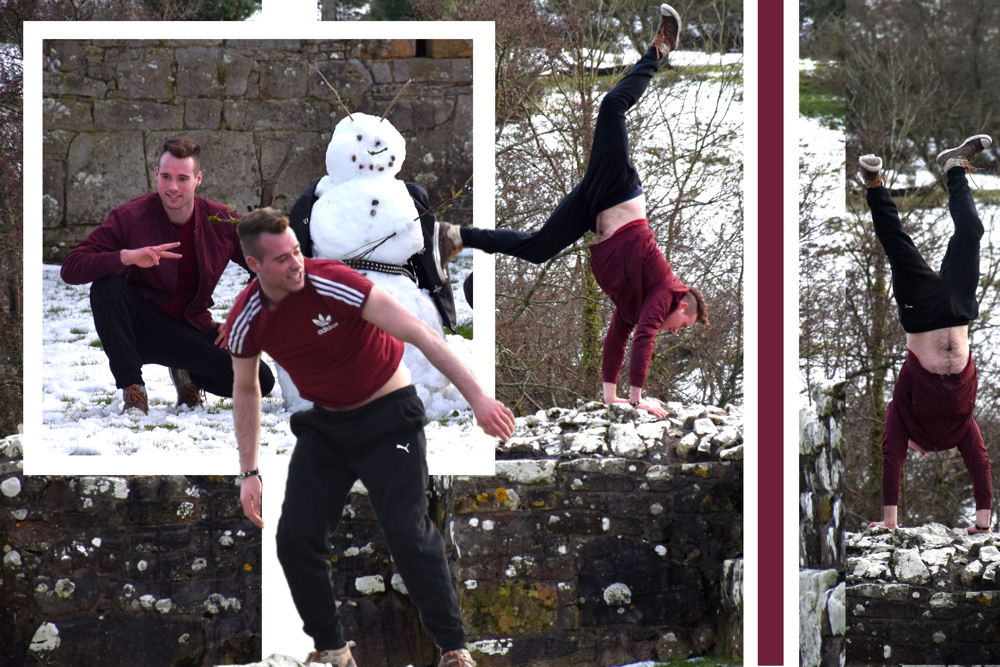 One of the rare photo opportunities I had on this trip to capture a cute Irishman, here seen performing handstands on the castle wall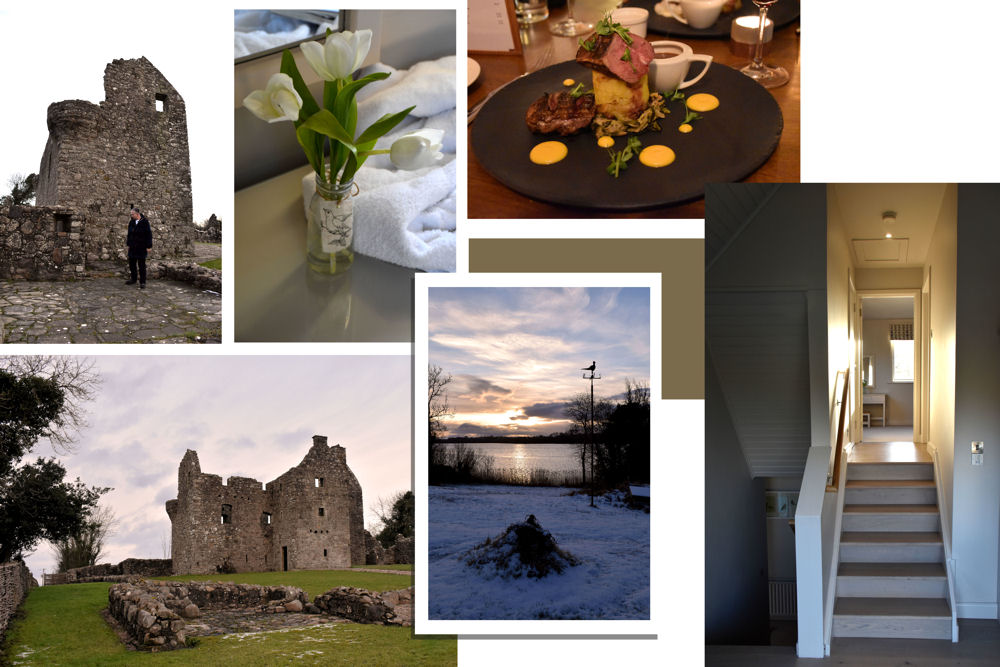 Tully Castle was our final stop before returning back to Finn Lough.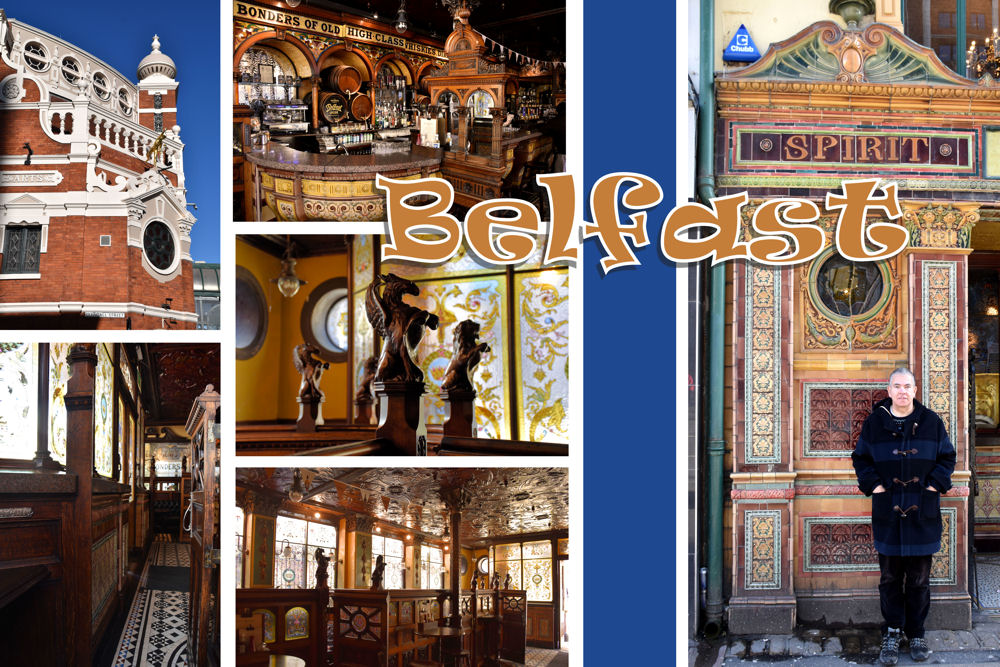 On our last day, we spent time in Belfast before our flight, having lunch at The Crown, a former Victorian gin palace, complete with "snugs" to sit in.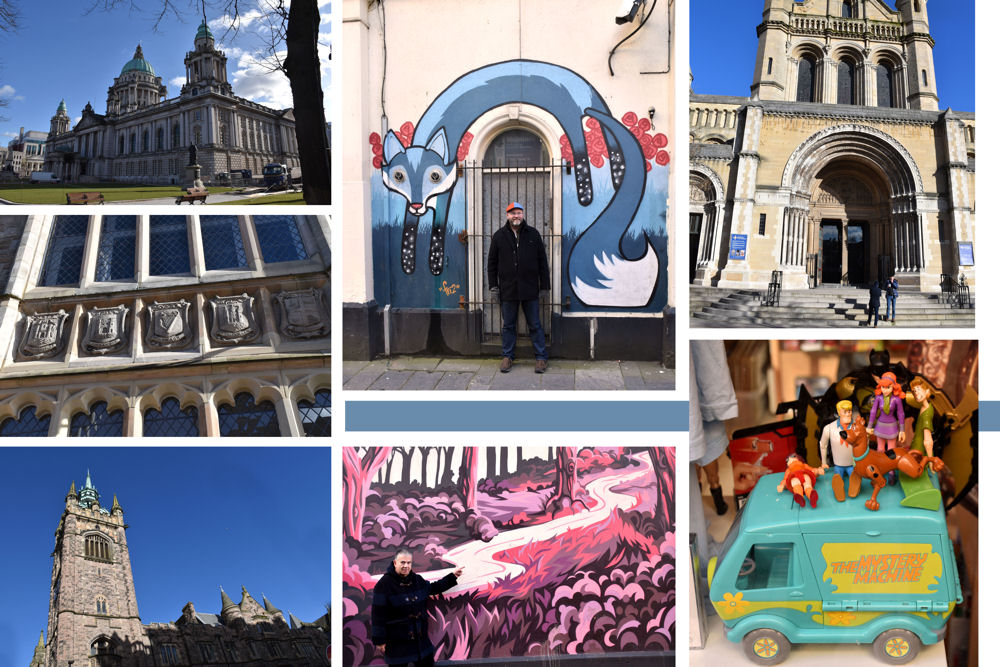 Sights from Belfast, including clever graffiti, the cathedral, and the Mystery Machine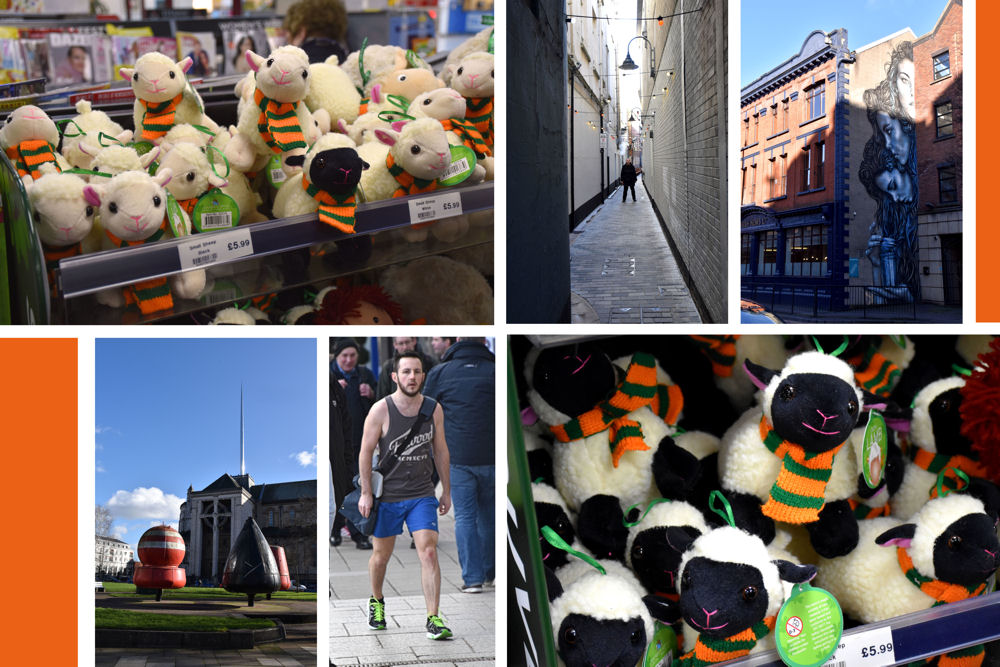 We scoured many gift shops during our visit to find cuddly lambs similar to ours at home and finally found these at the airport. I did consider buying an armload.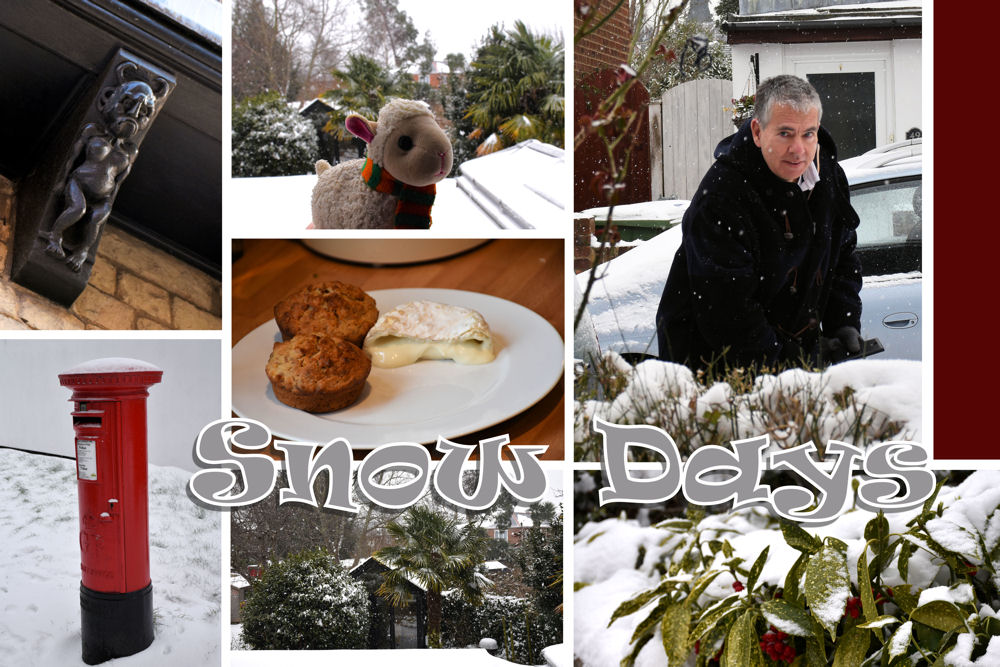 The Sheep did a magical dance, making it snow and cancelling school, thereby giving us a blissful three-day weekend.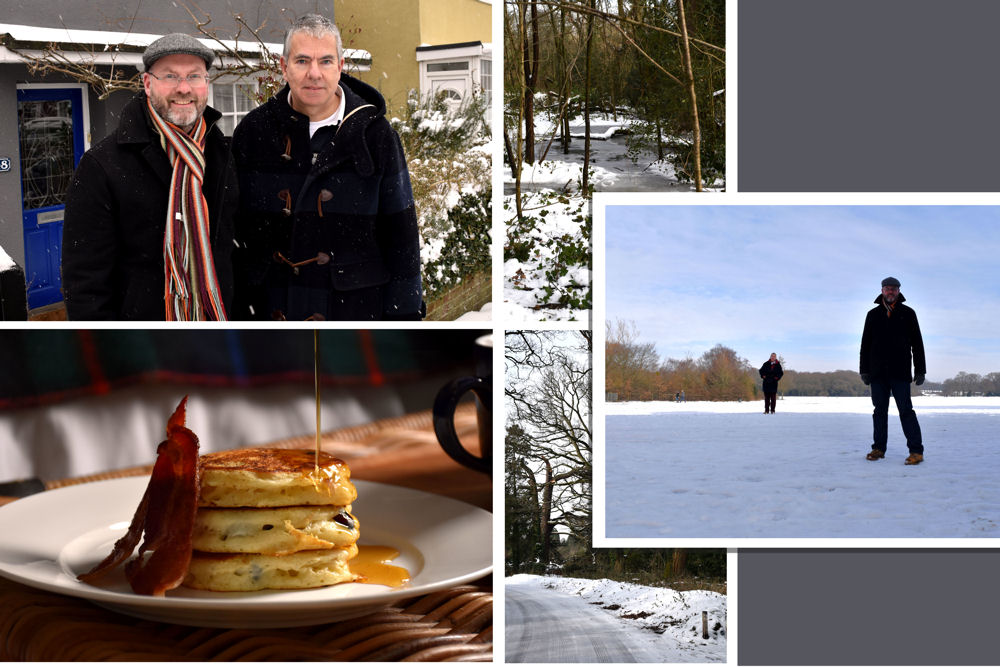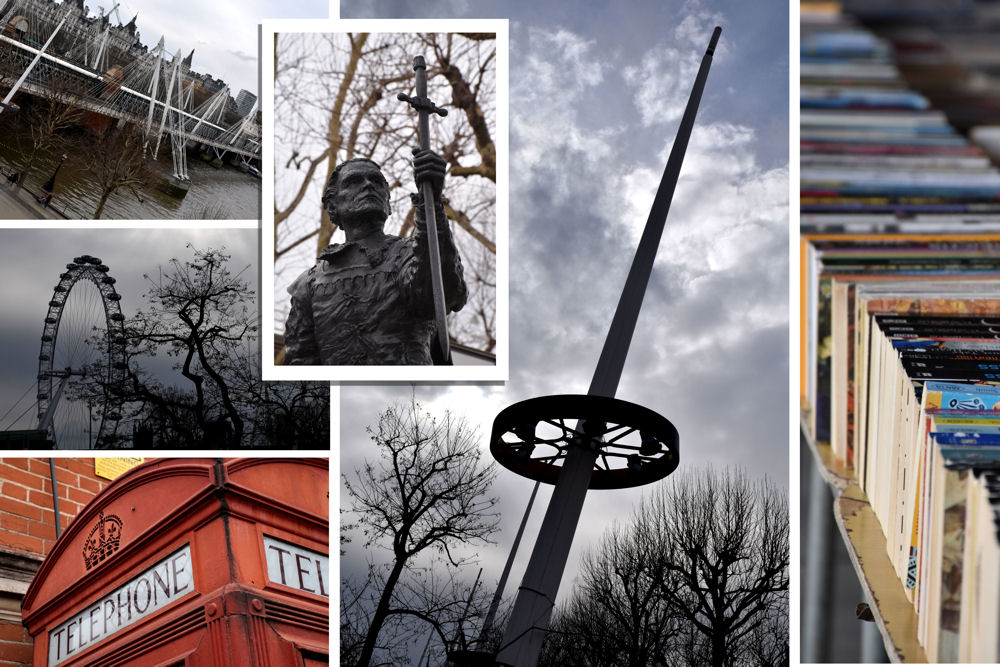 I took a school group on a photogrphy tour in London, near Southbank and discovered lots of things I'd never seen before.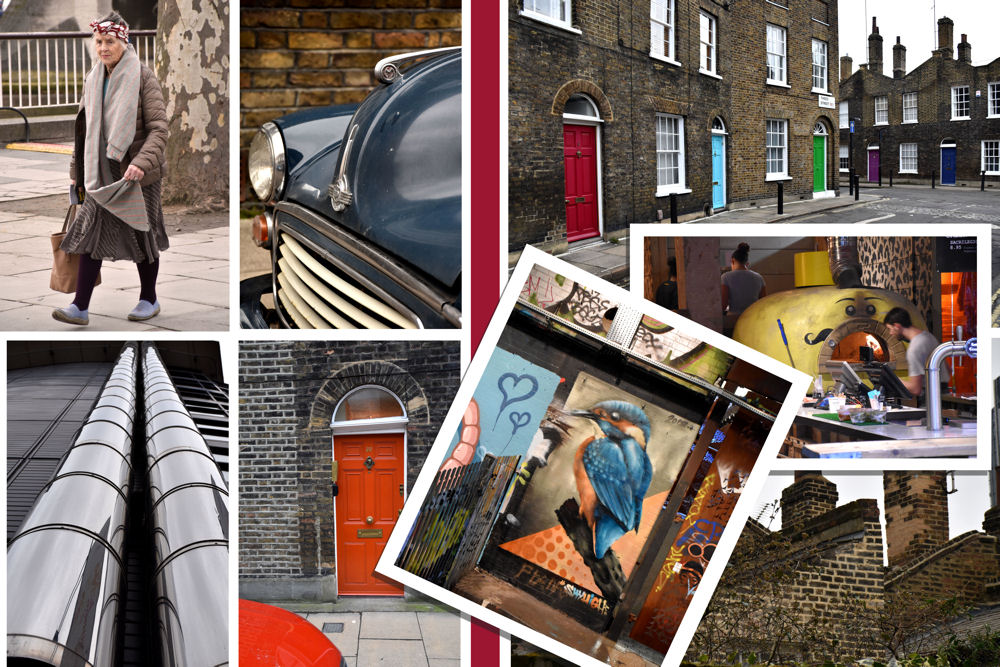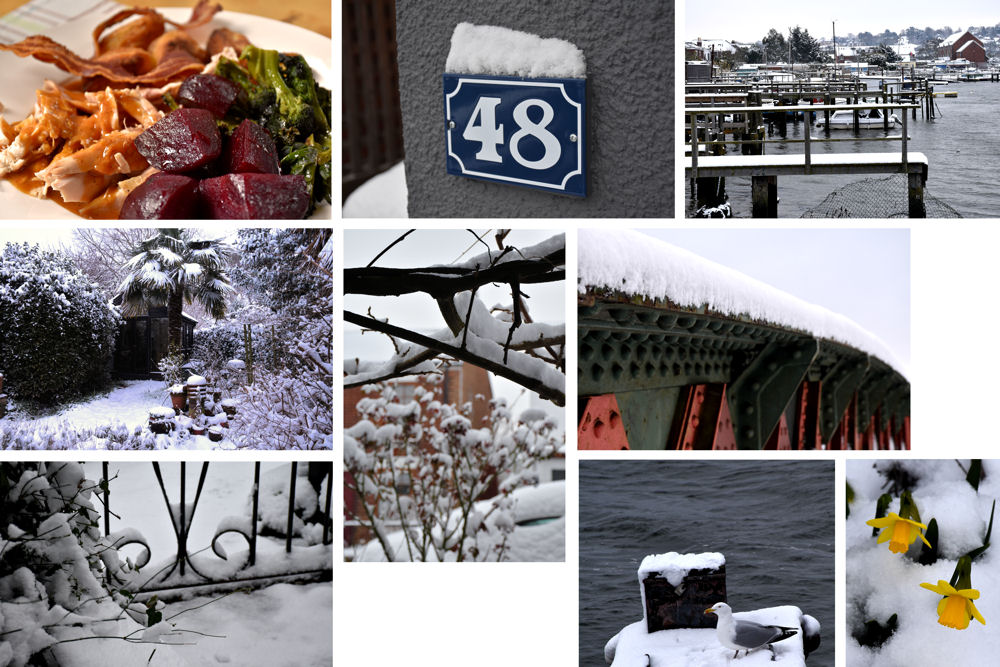 The second snowfall of the year.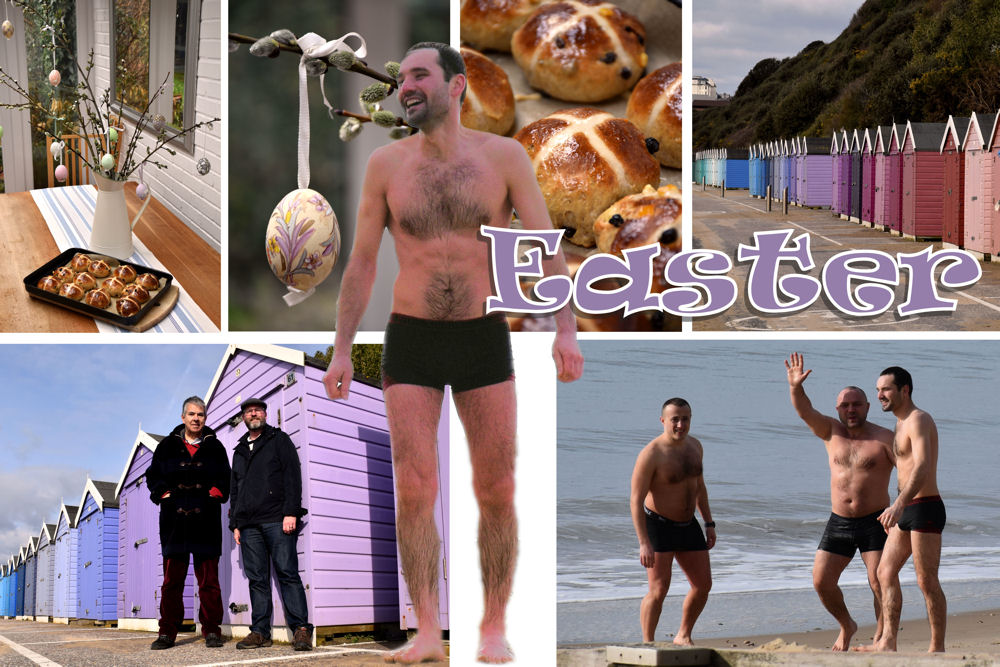 Slightly better weather on April 1st, we headed back to the beach to celebrate Easter. Despite the cold, some brave souls were shirtless.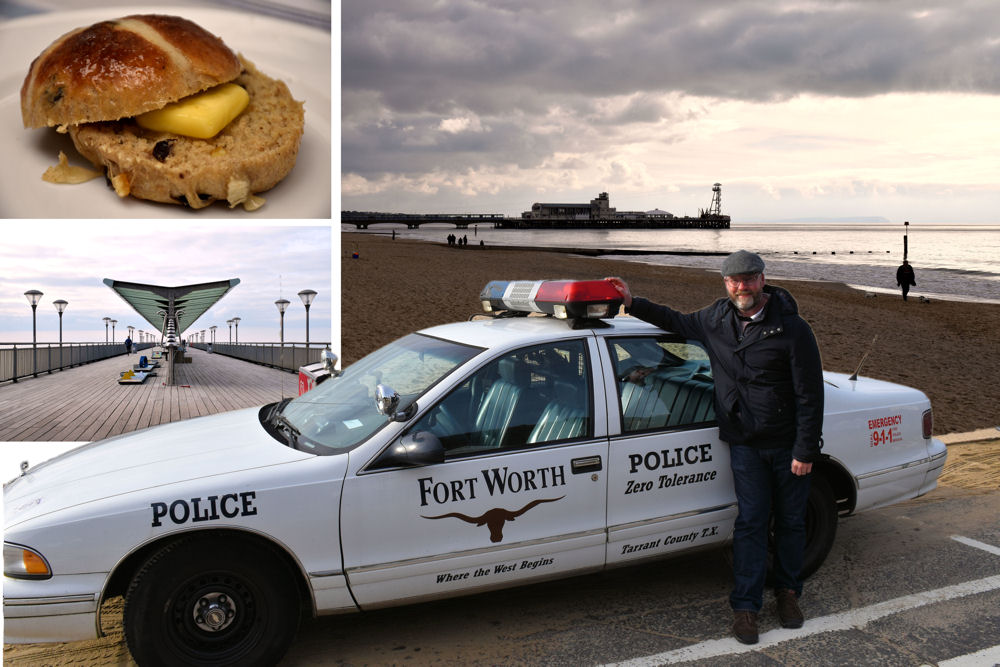 I was surprsed to find this police car parked by the seashore, some 4,735 miles from home.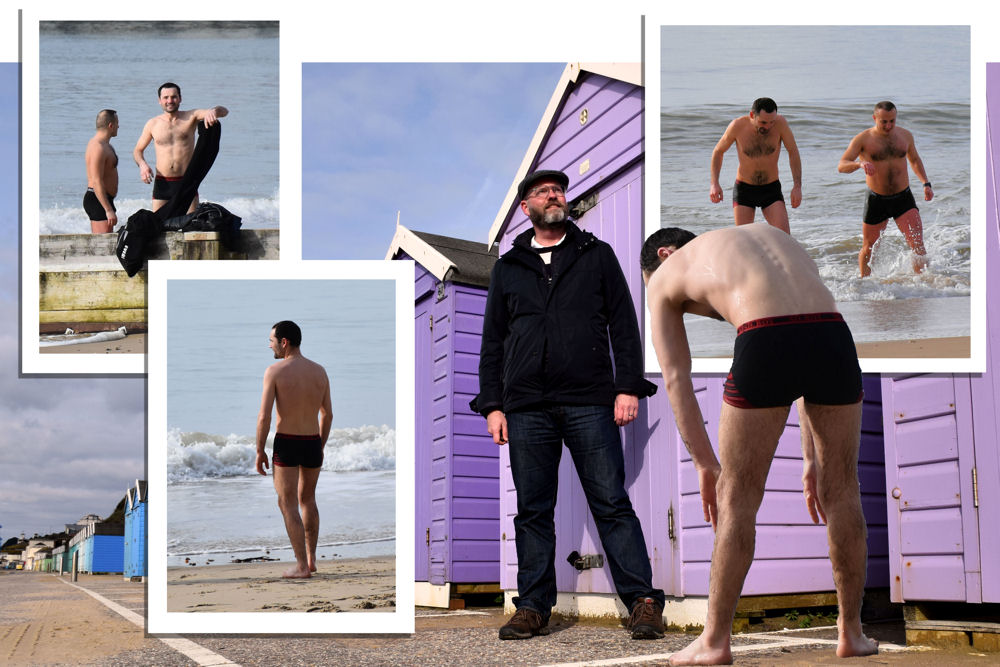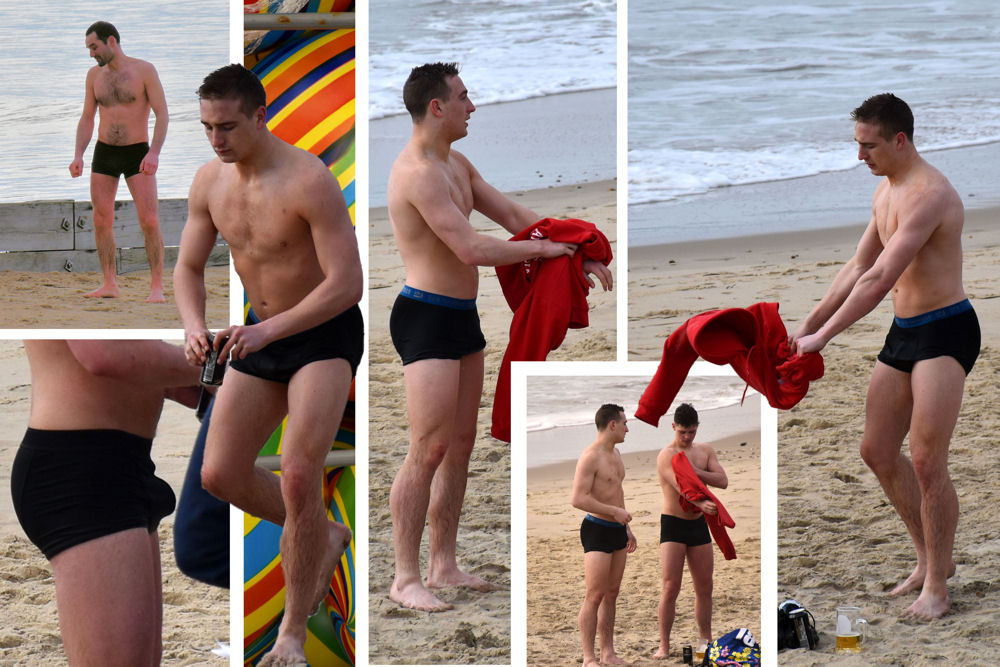 We think this was some sort of 18th birthday party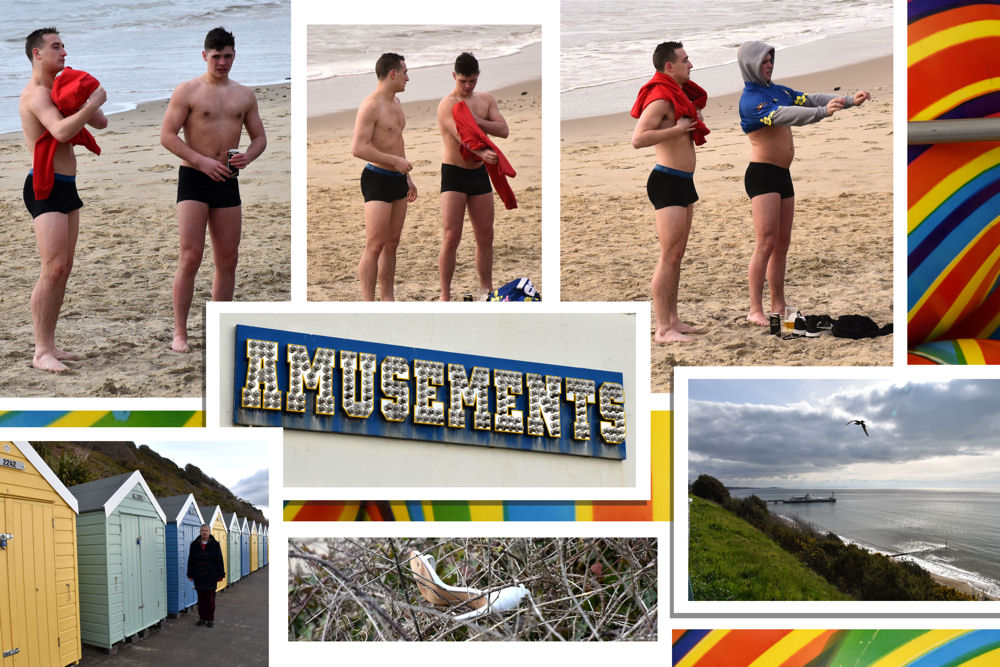 Scenes from Bournemouth, including a Cinderella slipper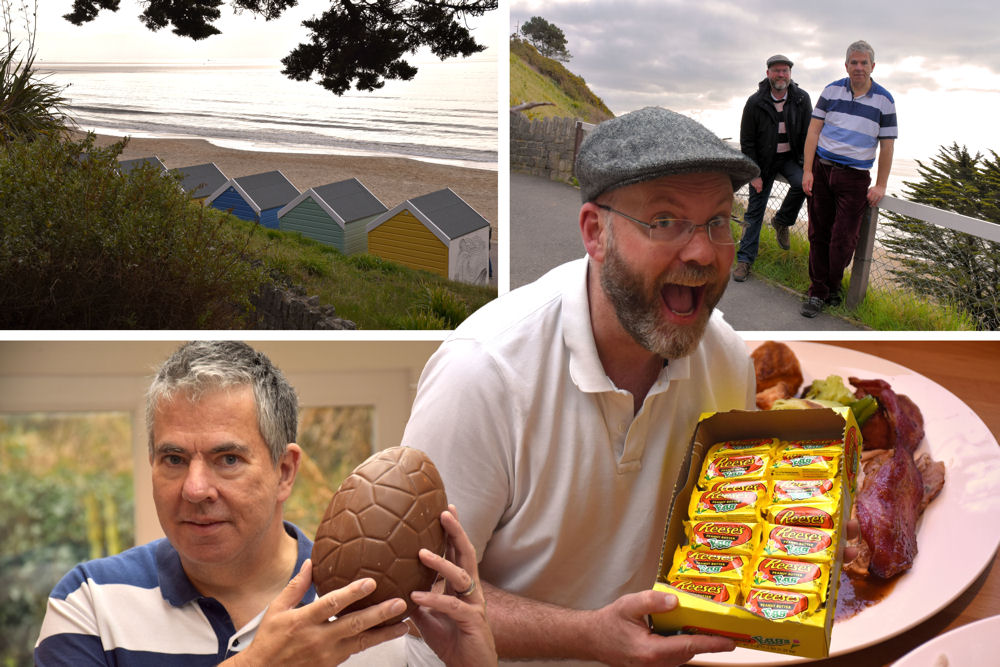 Our Easter haul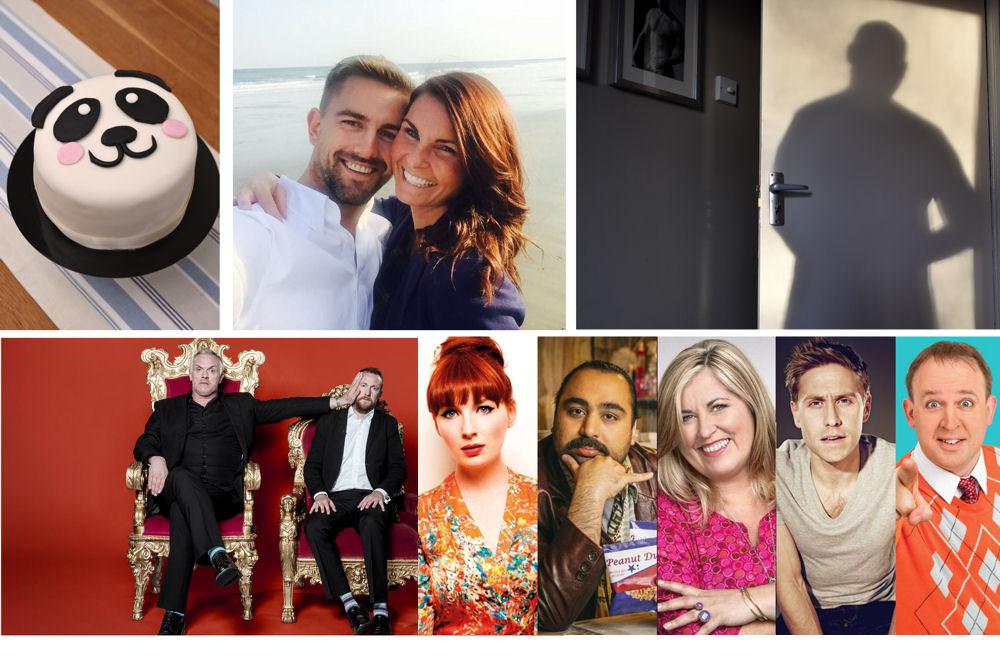 I made a panda cake for a friend (click HERE to see my other cakes), our favourite chef posted a sefie on Facebook, and we drove to Pinewood Studios to see a filming of our favourite bonkers TV show, Taskmaster. This was the penultimate show of Series 6.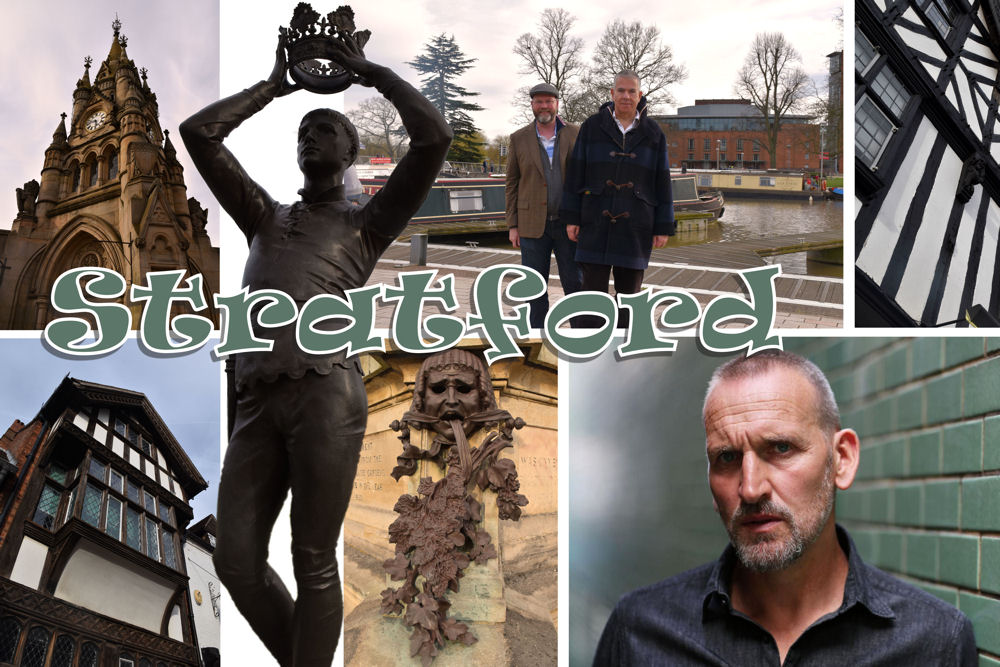 A true highlight of our Easter holidays was going to Stratford-Upon-Avon to see Macbeth, starring Christopher Eccleston. While we were in the area, we saw and did lots of other things, too.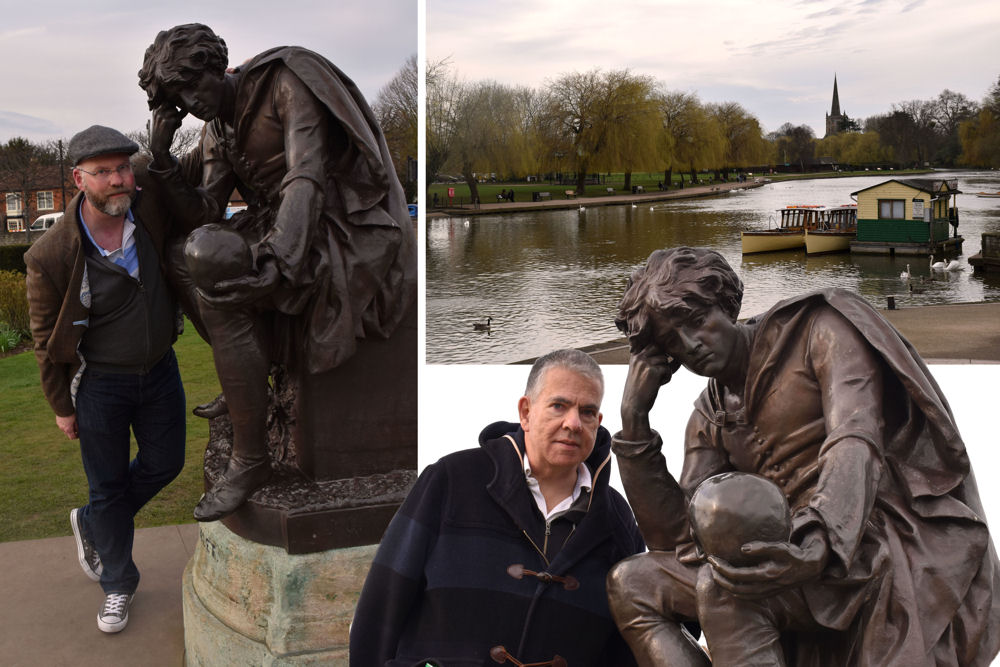 Walking among the states of Hamlet and other Shakespearean characts by the River Avon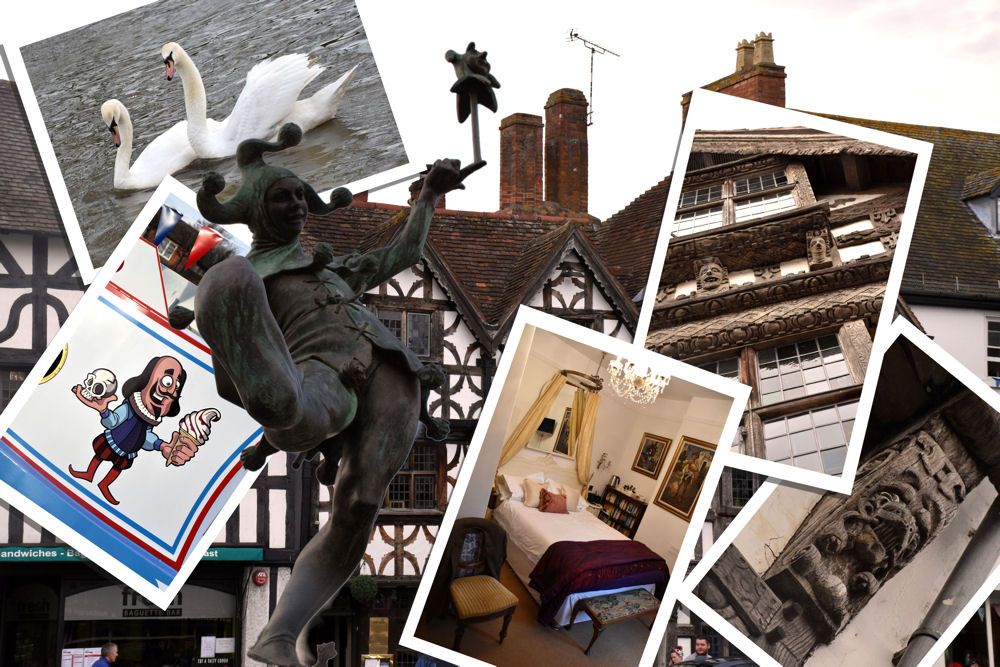 Stratford sights, including a Mr Whippy Bard and our room at the Adelphi Guesthouse. We stayed here in 2013, when we saw David Tennant in Richard II.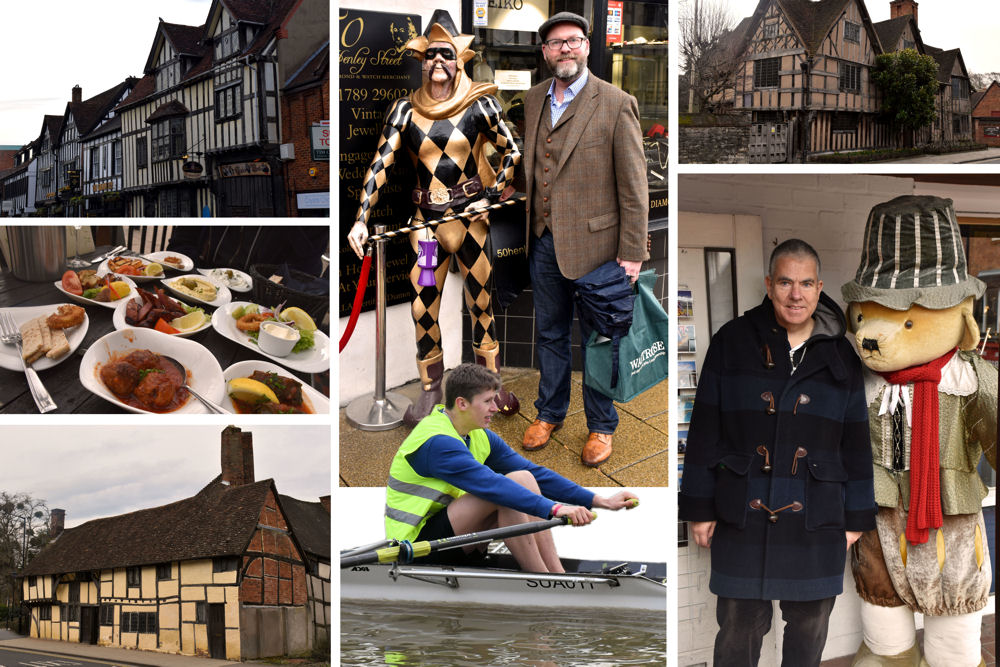 We enjoyed a huge Greek meal at El Greco, like the ones we used to have in Mykonos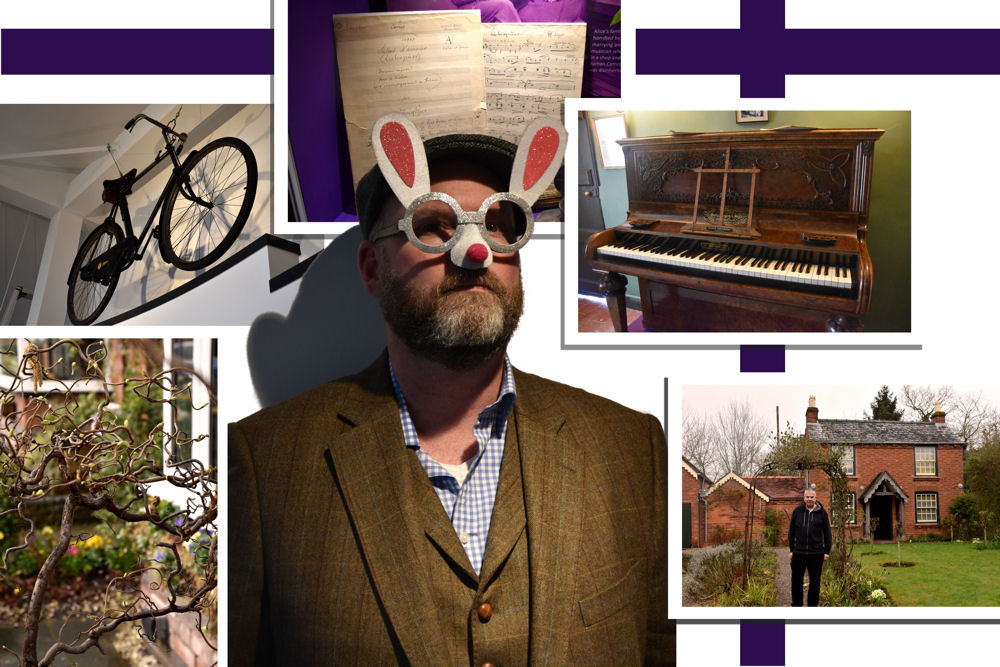 We visited The Firs, birthplace of composer Edward Elgar. There, we saw his bicycle, a piano sold from his family shop, and original manuscripts of The Dream of Gerontius.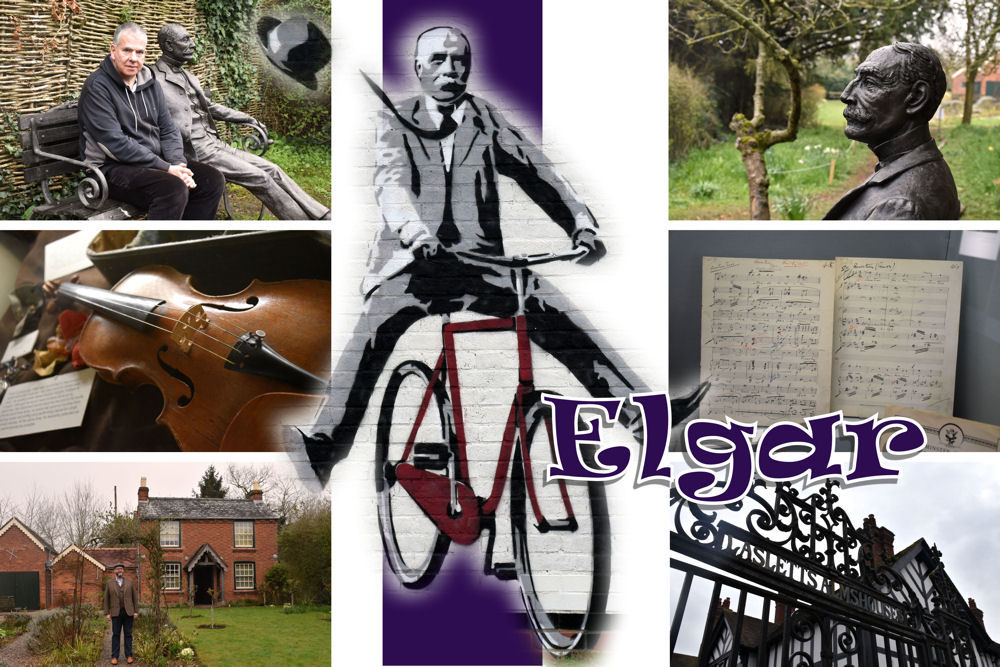 Elgar's violin and more manuscripts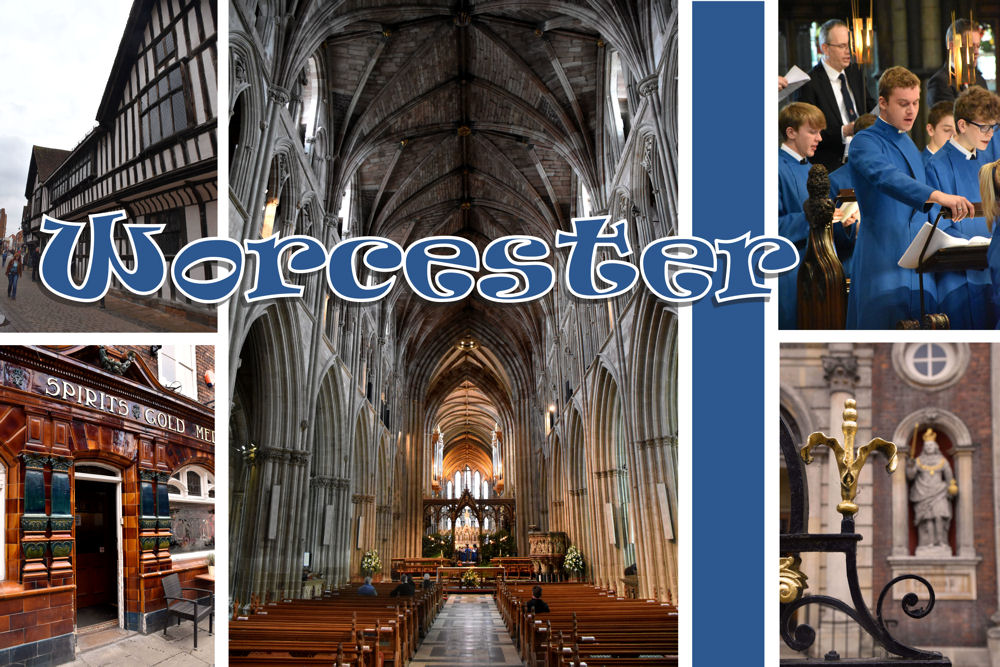 Next, we had lunch in Worcester then visited Greyfriar's House and Gardens and the magnificent cathedral.

King John's tomb is in the cathedral, and there was a choir practising nearby.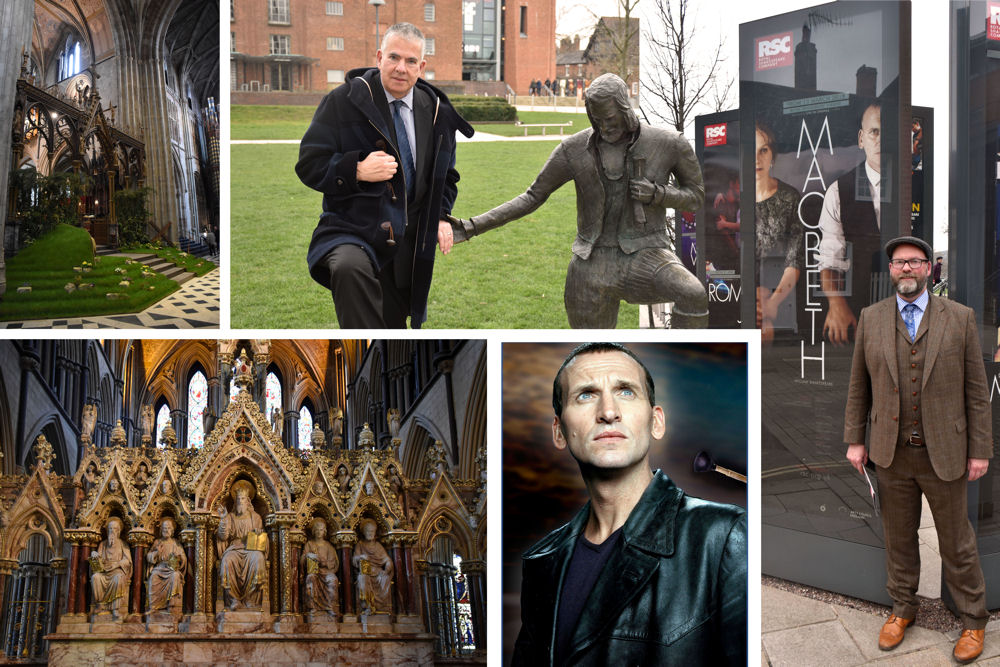 Back in Stratford, we got dressed and took photos in front of the RSC. I got to wear my Donegal tweed suit for the first time.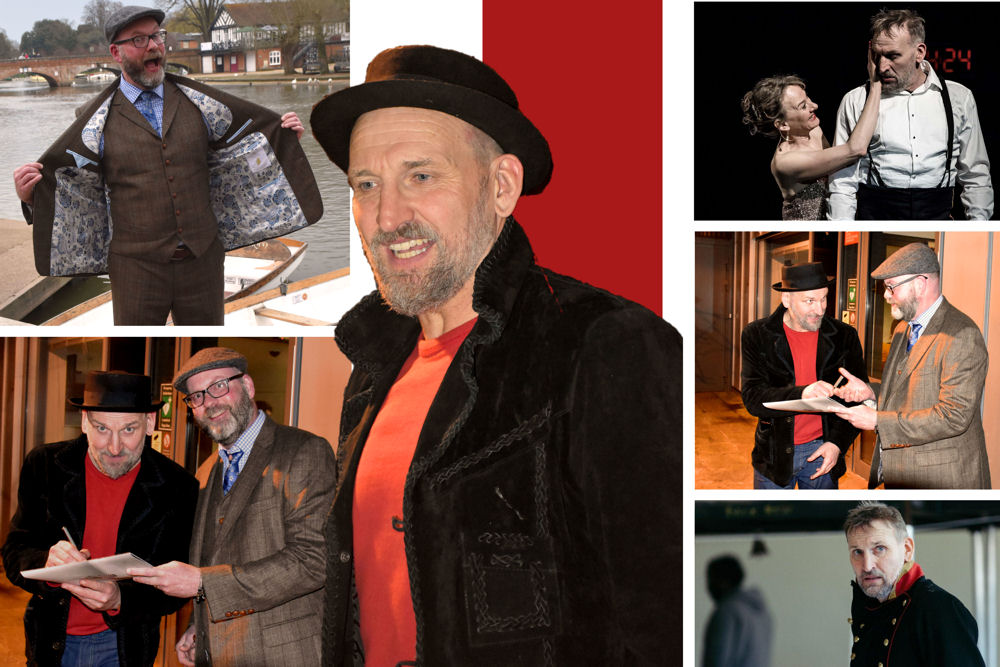 Christopher Eccleston and Niamh Cusak were excellent as Macbeth and Lady Macbeth, and I got both of them to sign my programme. We went to the Dirty Duck afterwards and he sat outside near us talking to another actor friend for the whole evening.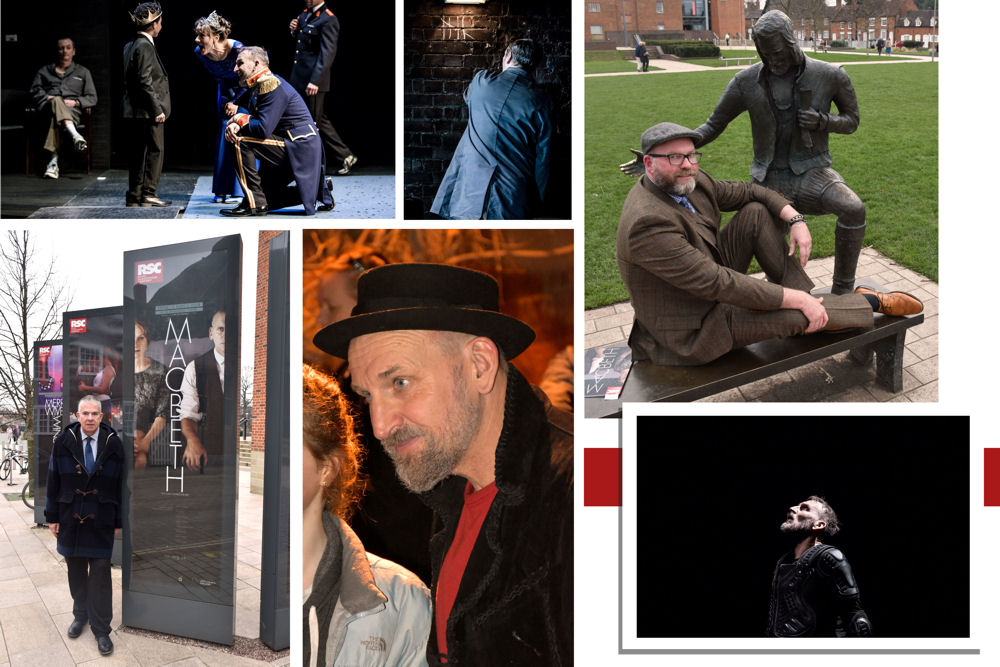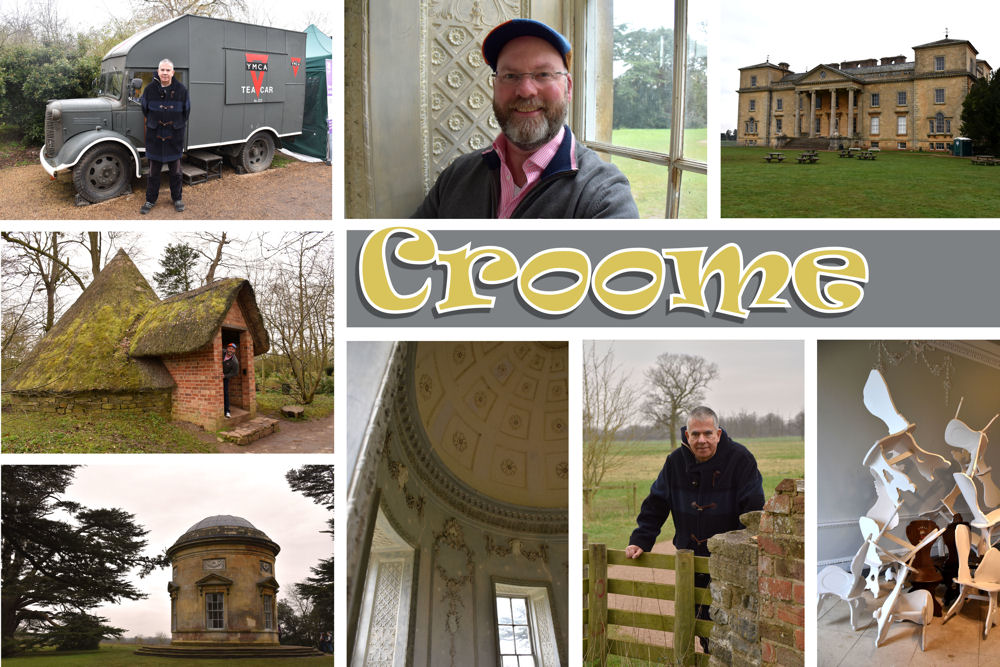 On Sunday, we visited National Trust property Croome, which has an excellent way with presentations.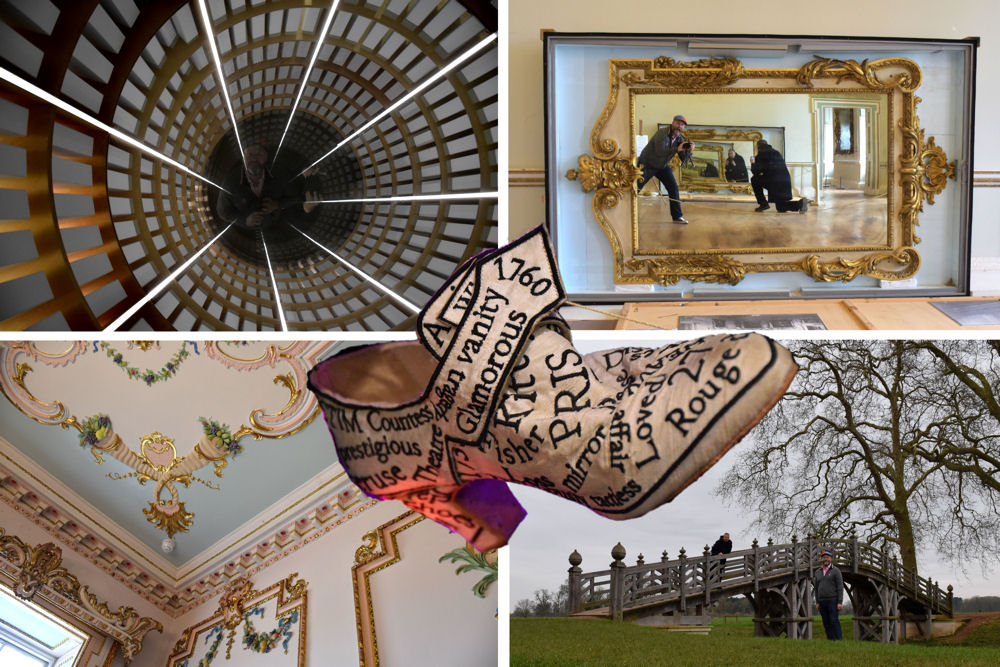 The award-winning archive vortex and sidways mirrors created fun reflections. There was an exhibit of shoes decorated by artists.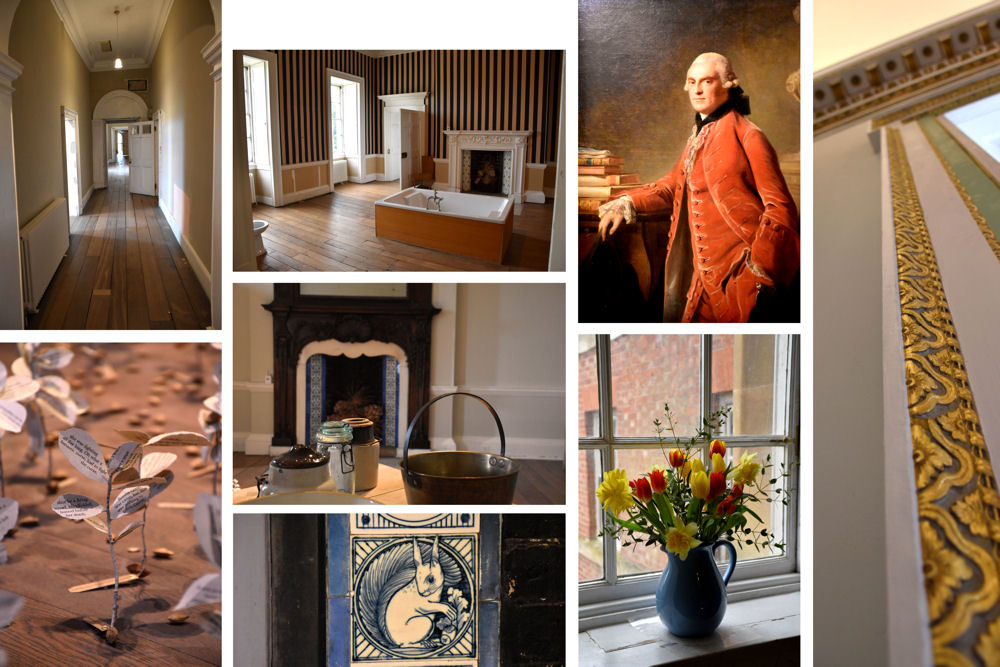 The house looked perfectly suited for an immersive installation, and I enjoyed the "plum line", which highlighted the lives of women in the area.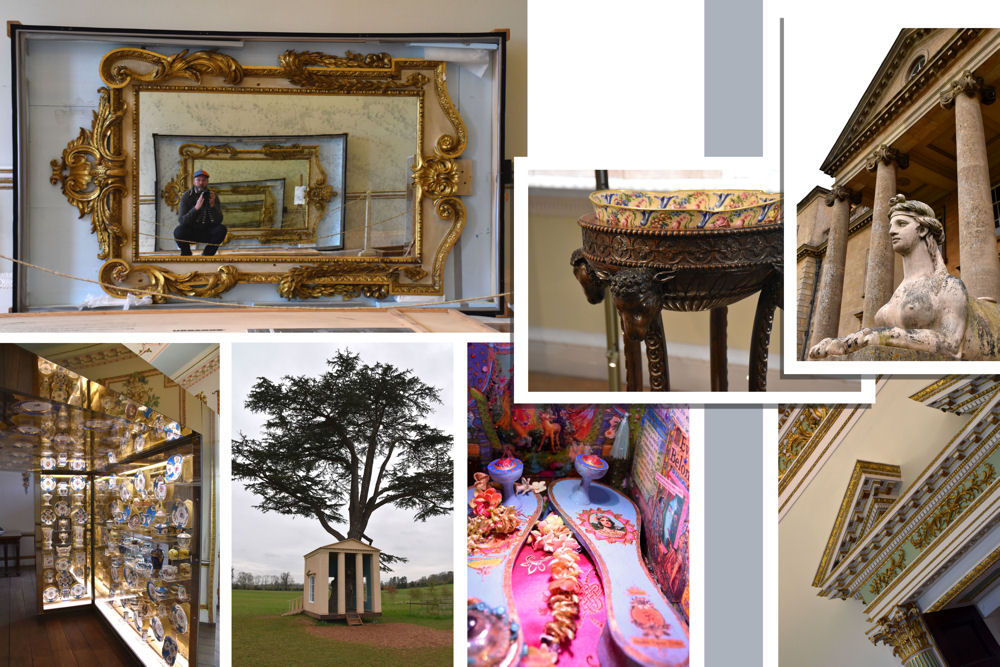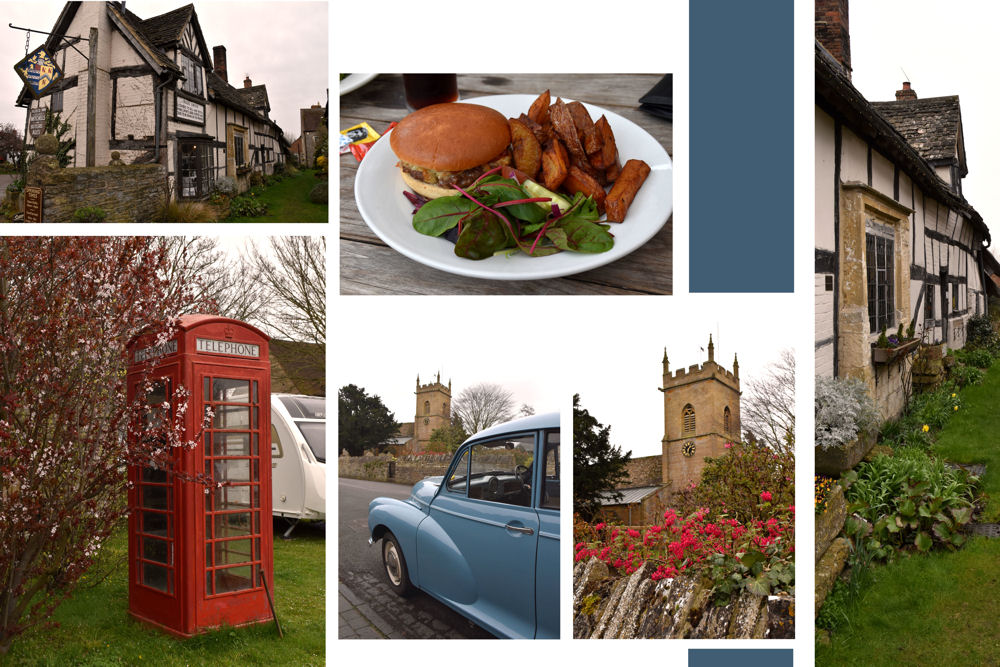 Our final stop was the Fleece Inn, where we had lunch while a Morris dancer group did vocal warmups in the barn.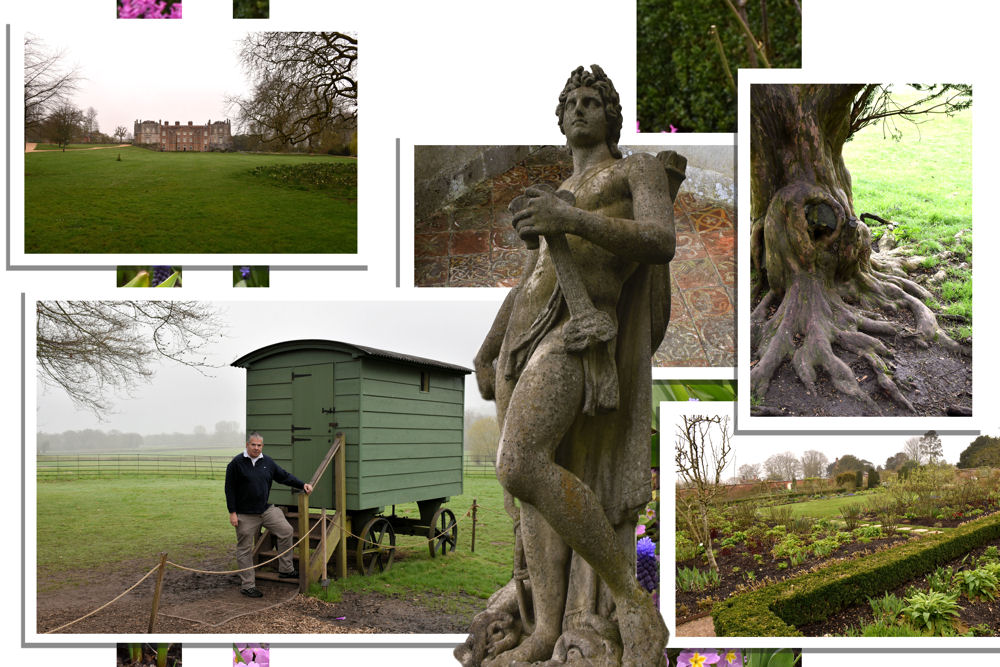 Closer to home, we were the first to arrive at our local National Trust property and had the grounds and walled garden to ourselves for a few minutes.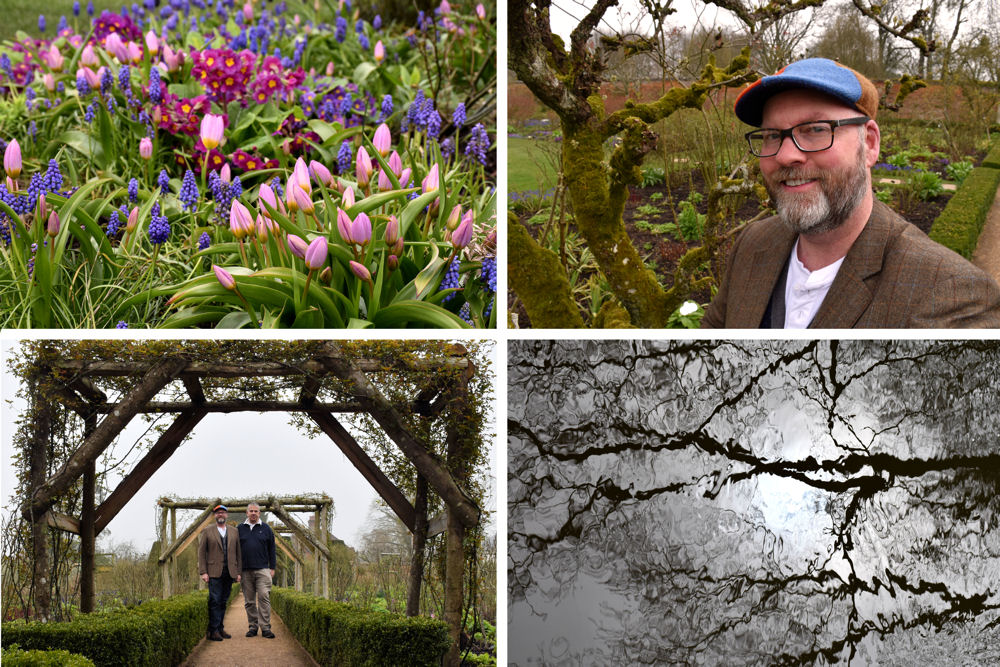 The watery sunshine soon gave way as the fog lifted and we had a sunny afternoon to follow.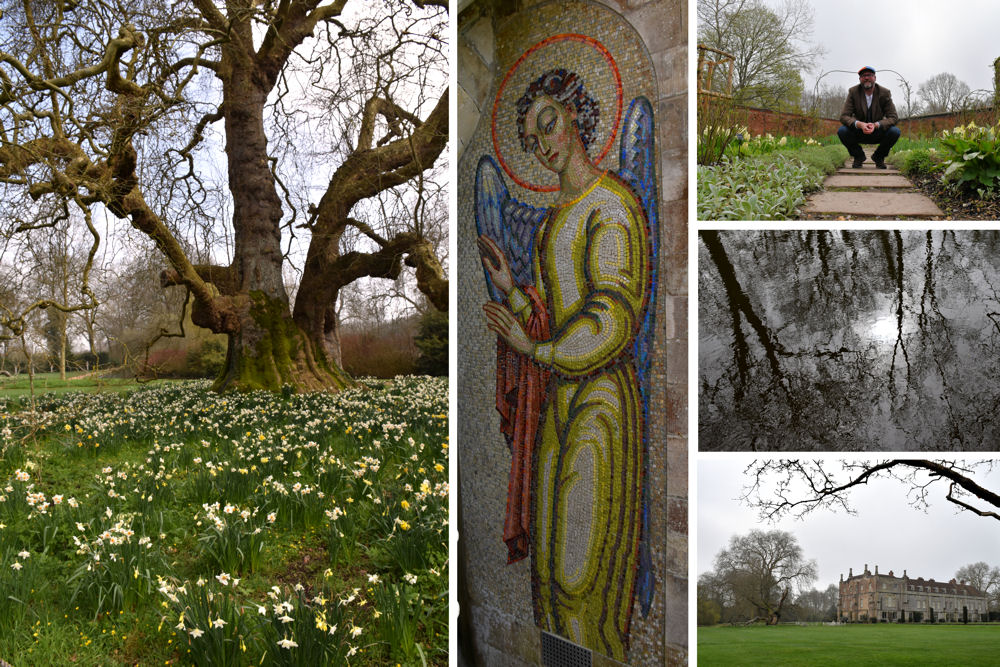 We picnicked under this tree with Tom in 2010 and Phil in 2015. It's roped off now to protect it. I love the hidden mosaic angel by Boris Anrep.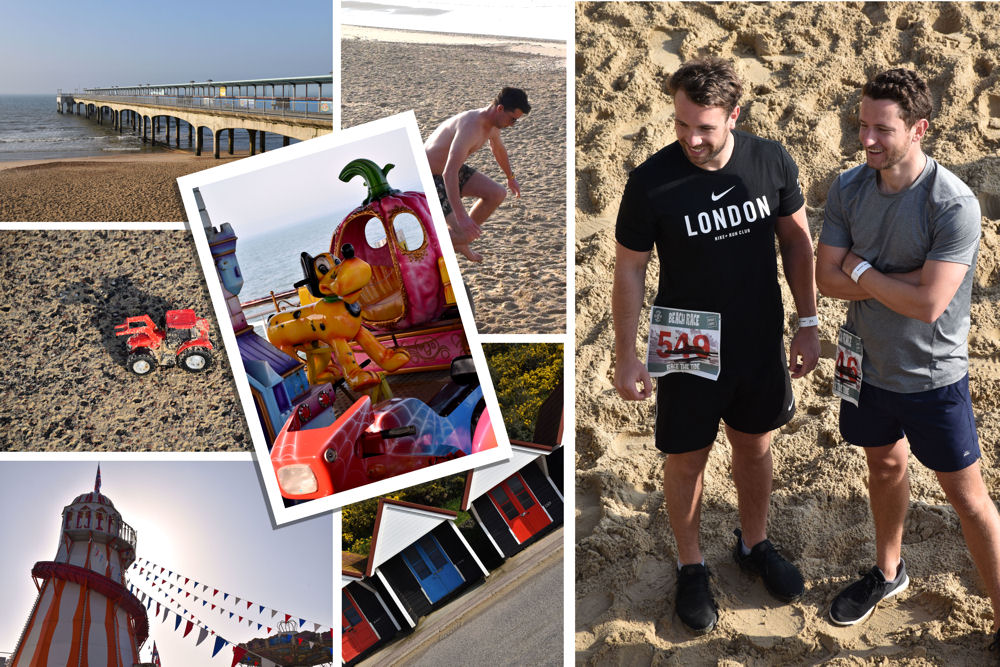 Back to Bournemouth beach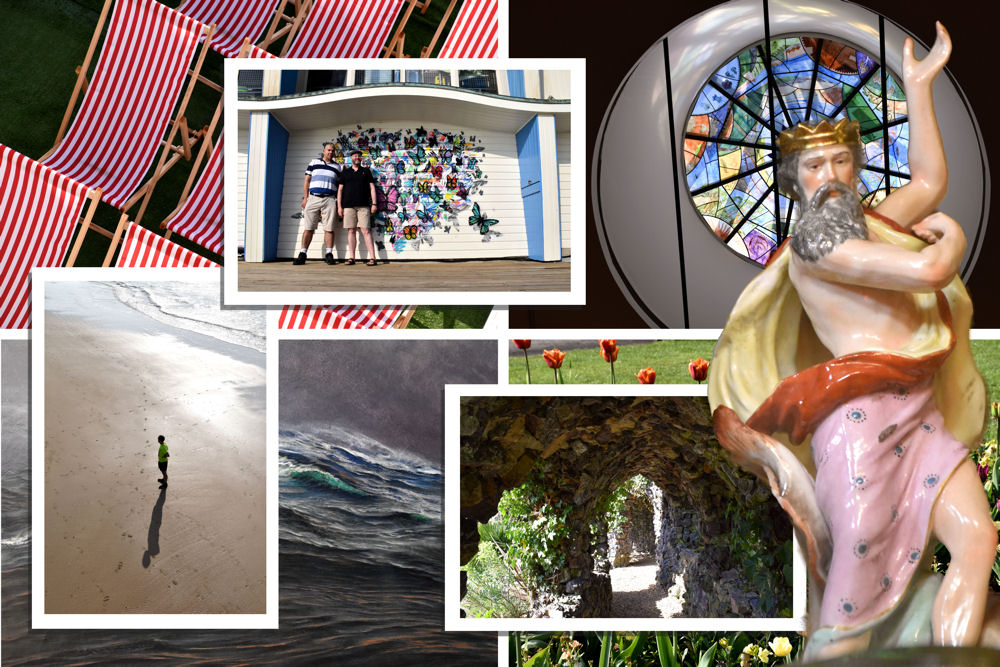 We appreciate having a year's membership to the Russell-Cotes museum. we can dip in and admire a few things and then head back to the sea.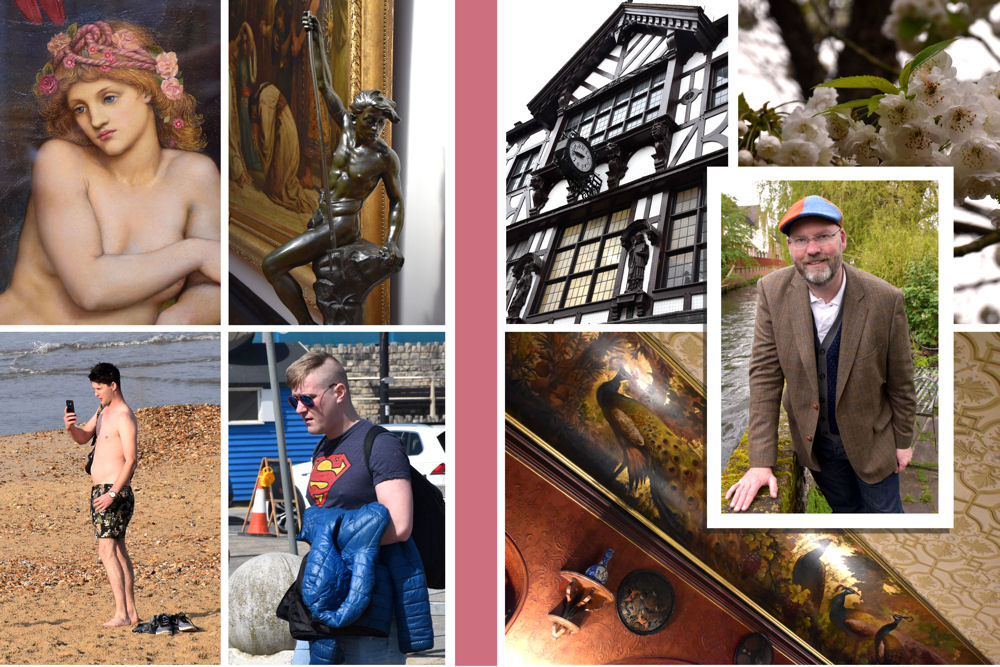 We had never before noticed the peacocks painted on the dining room ceiling. There are photos of Winchester, too. For more Supermen sightings click HERE.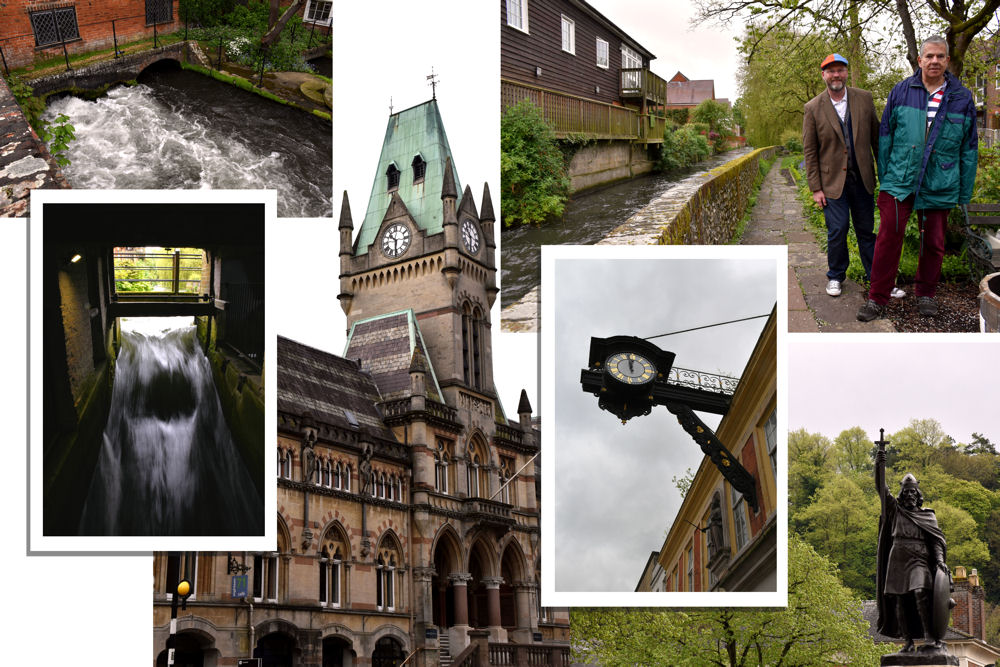 Winchester and its historic mill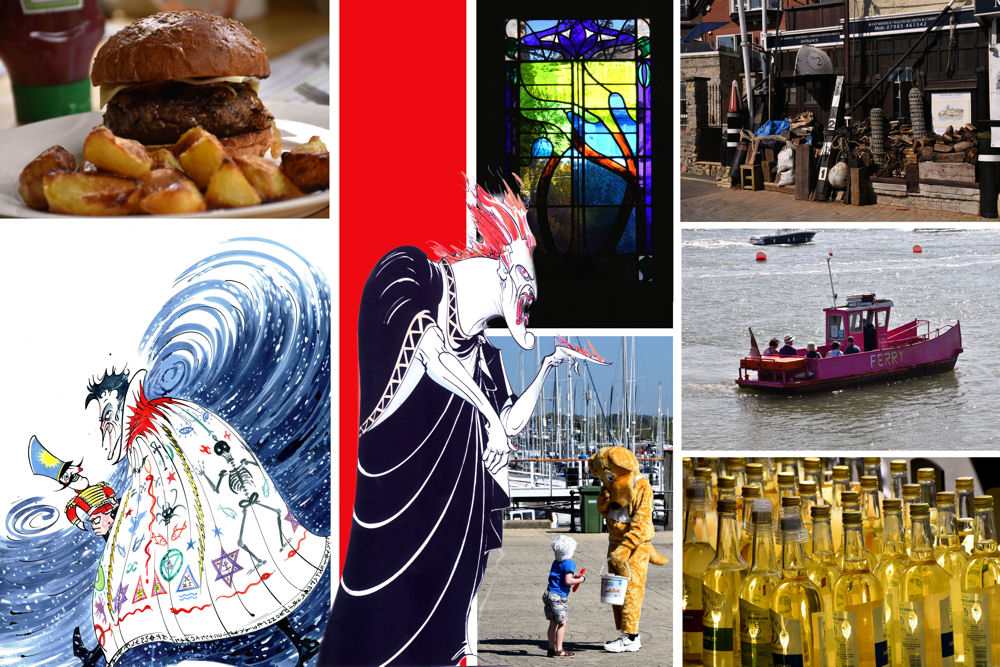 There was a free Gerald Scarfe.exhibition in Winchester and we went to the farmers' market in Hamble-le-Rice.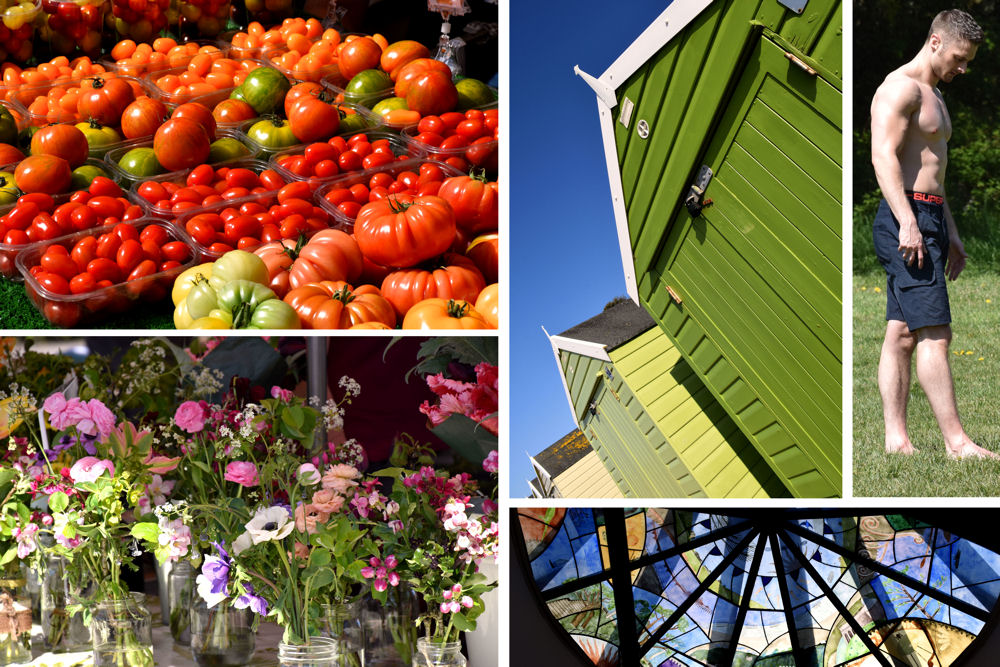 Bank holiday weekend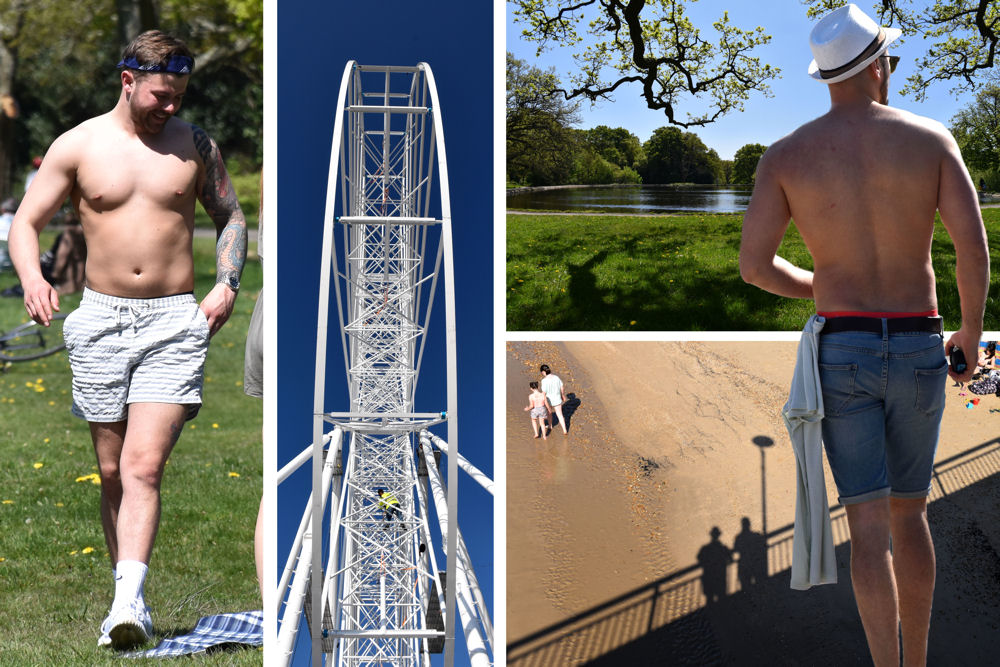 Bournemouth and a picnic on our Common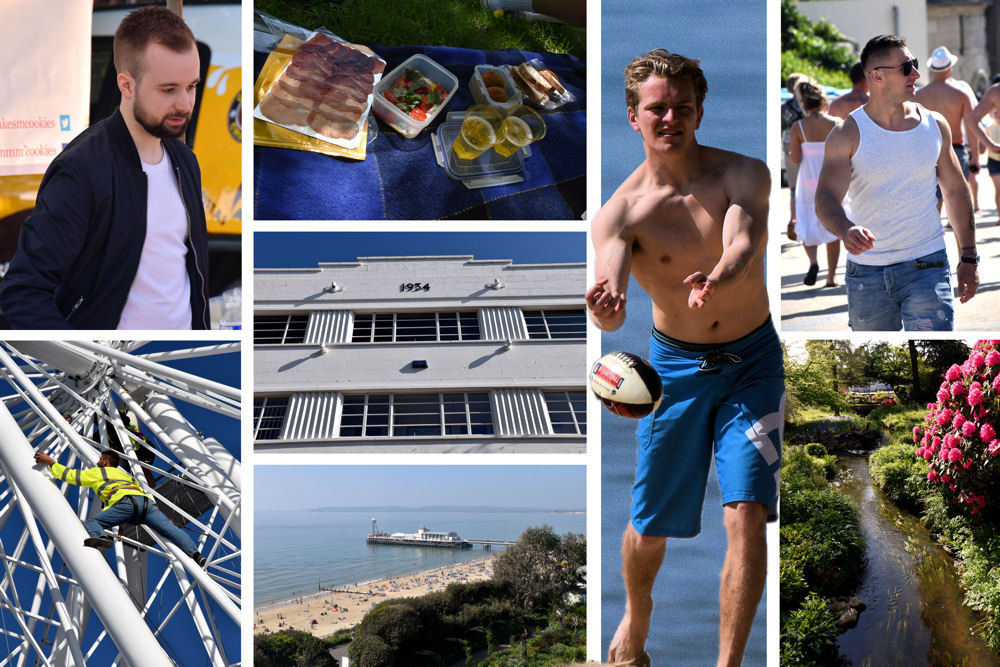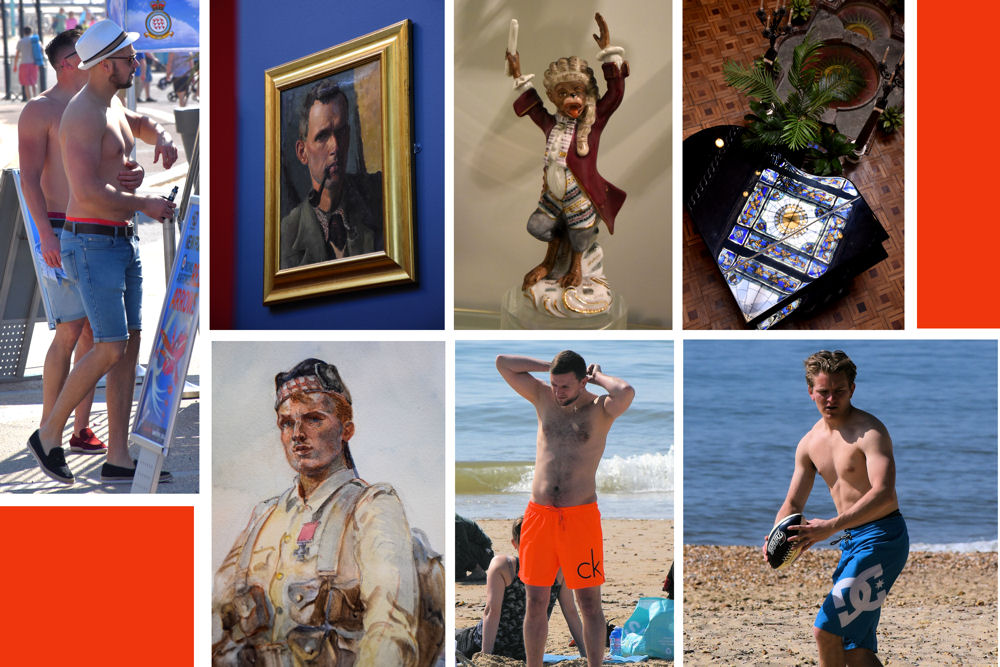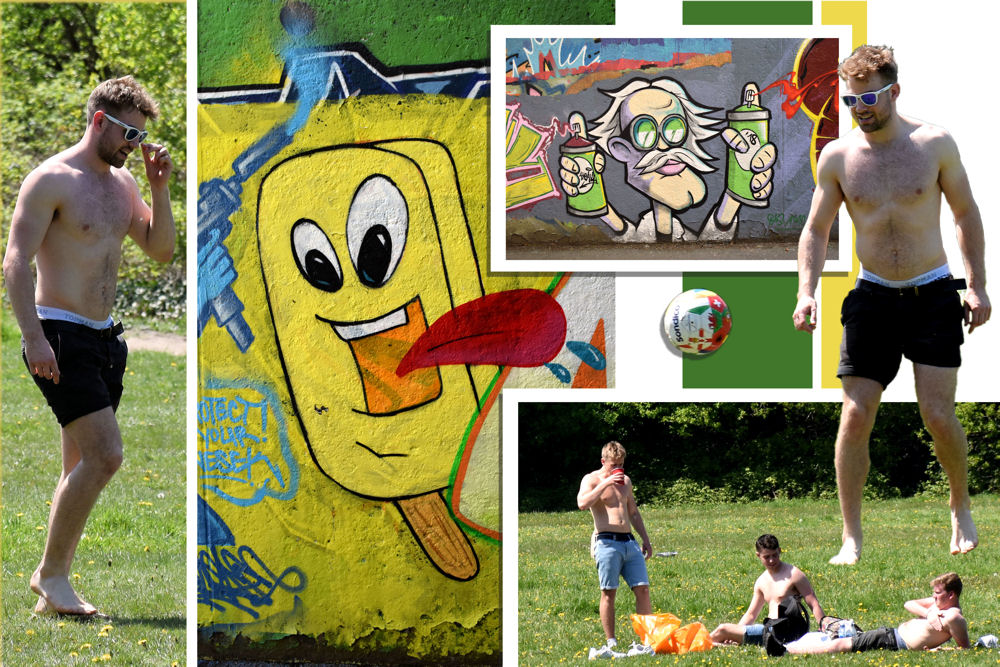 May bank holiday picnic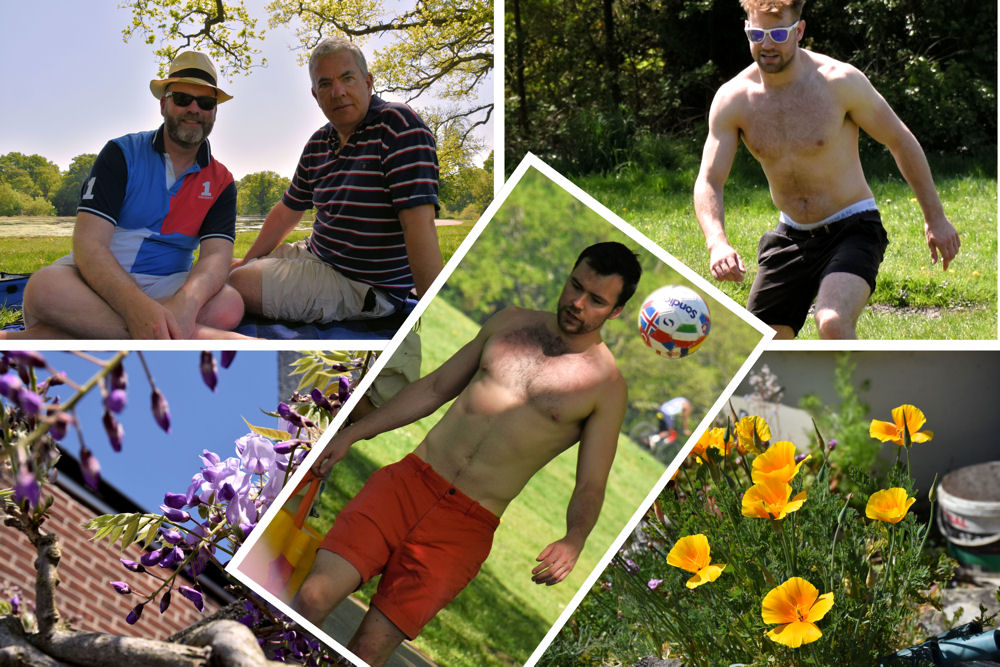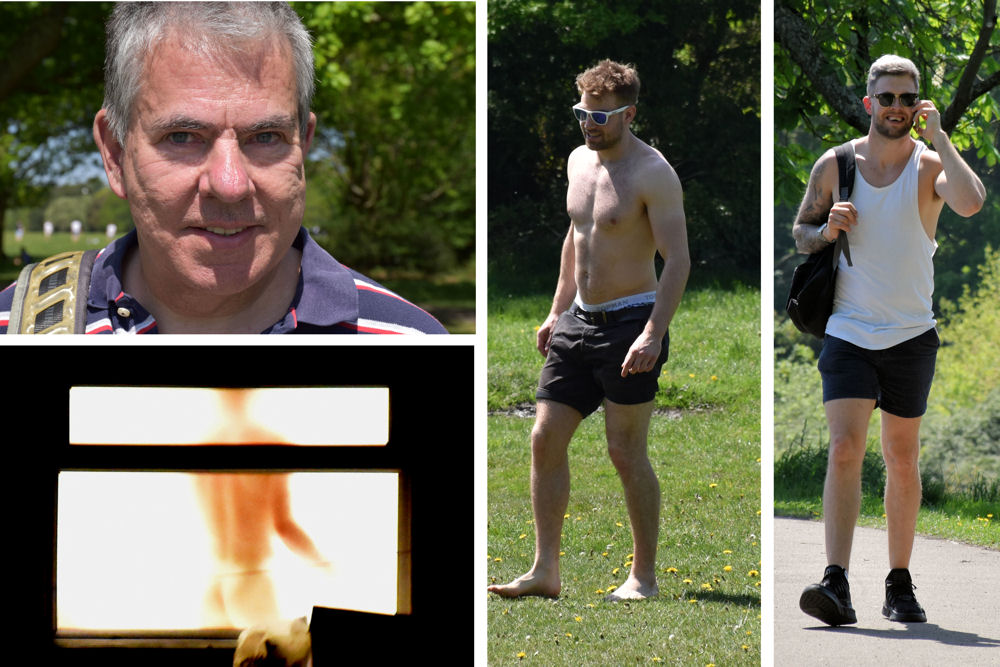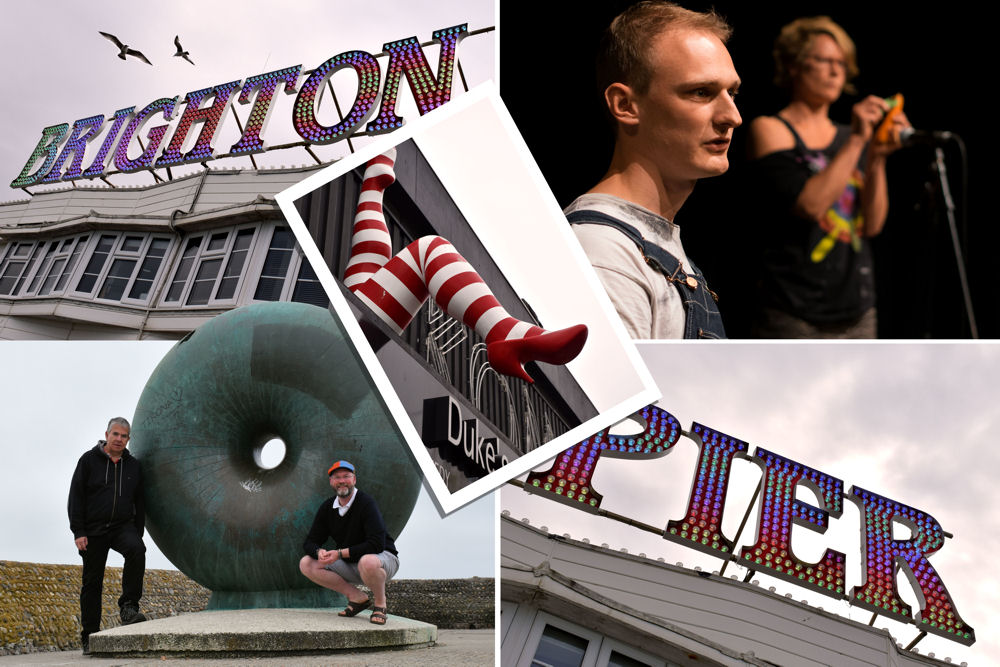 Brighton Festival season! Click HERE to see last year's visit to Brighton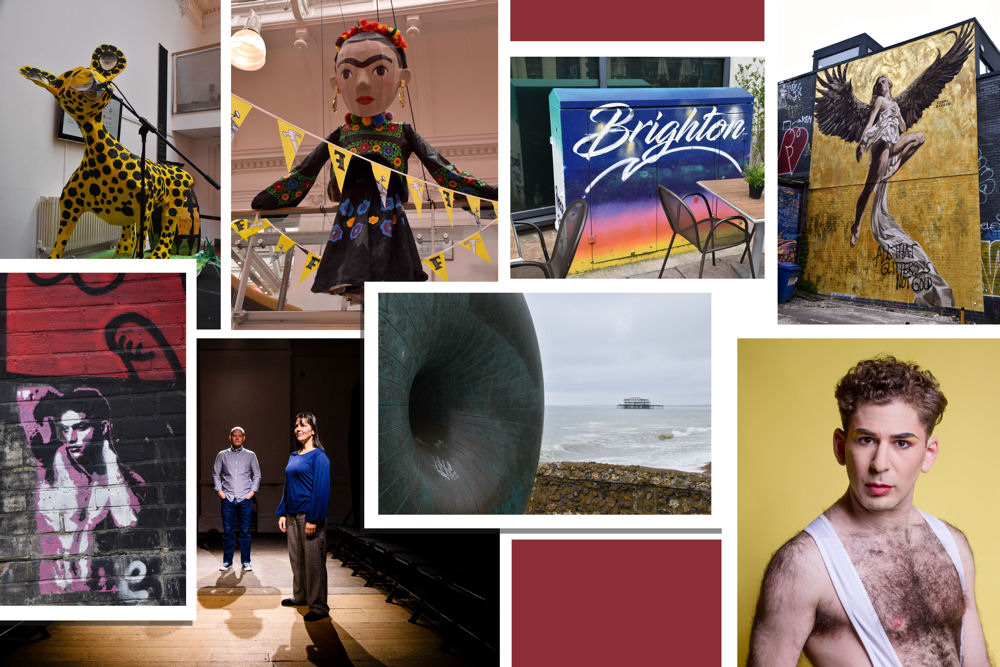 On Friday, we saw A House Repeated, a live interactive version of the text-based computer adventure games I used to enjoy.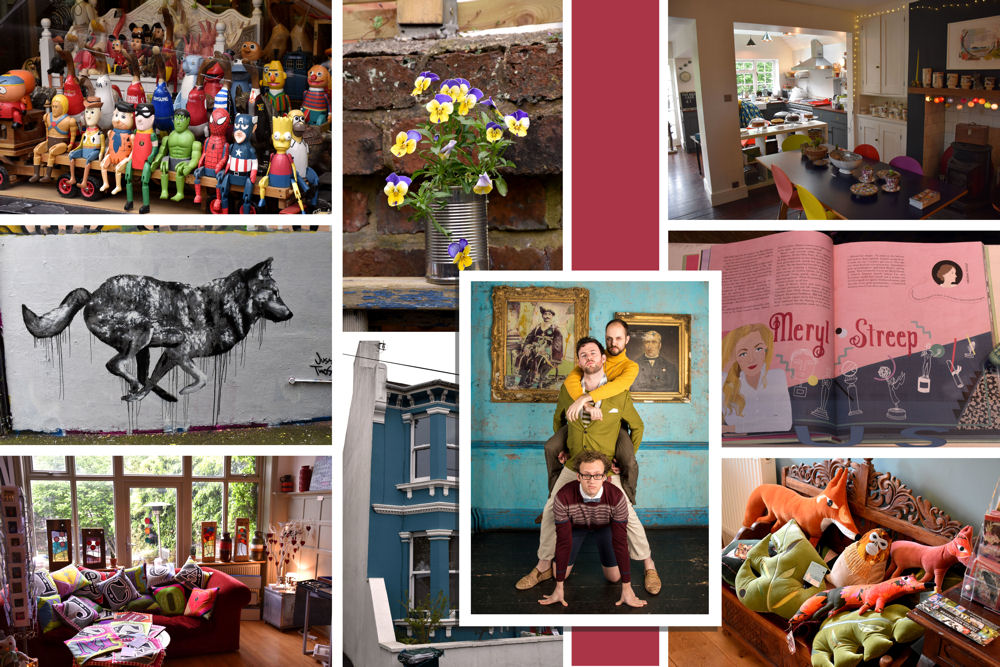 Photos above include wooden figures of many of my childhood favourites, artists' open houses, and the hilarous men from Beasts, who variously sprayed the audience with pastry, summoned Nelson Mandela, attempted falconry, and appeared onstage wearing only a baguette.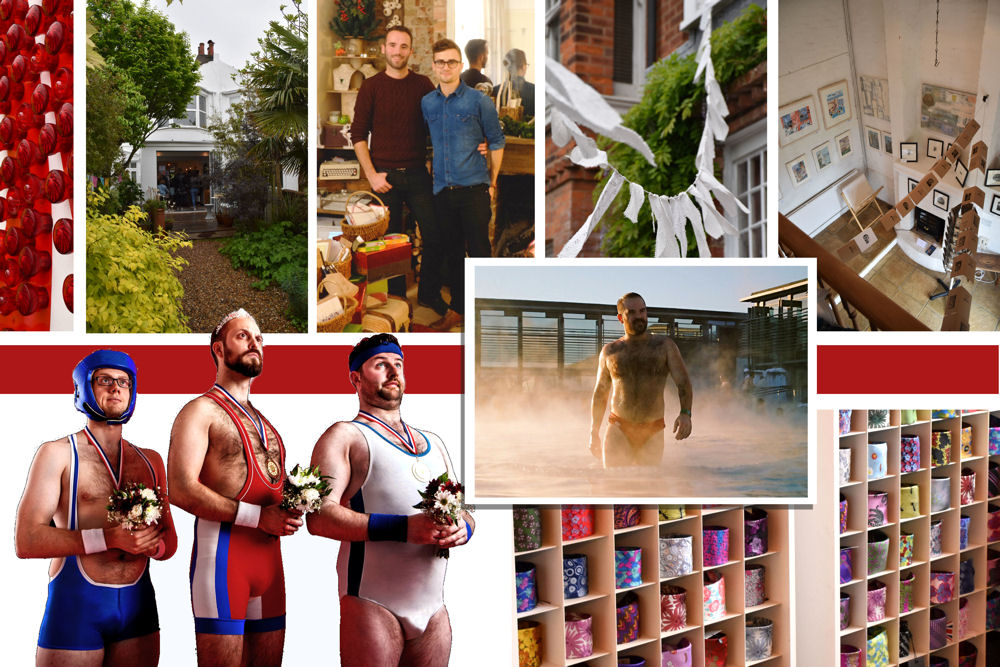 More open houses, including the Rugby Road boys, Dave the Bear, who appeared in the Spiegeltent, my favourite tie shop, and more of Beasts.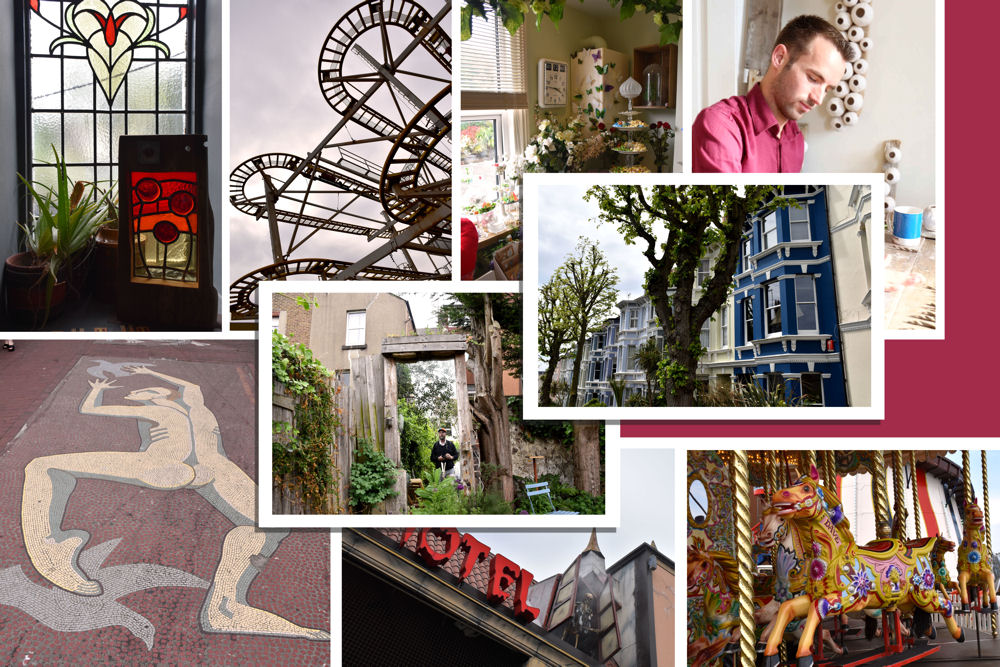 Open houses, Brighton pier, Dave the horse, and the haunted hotel that featured in Midsomer Murders.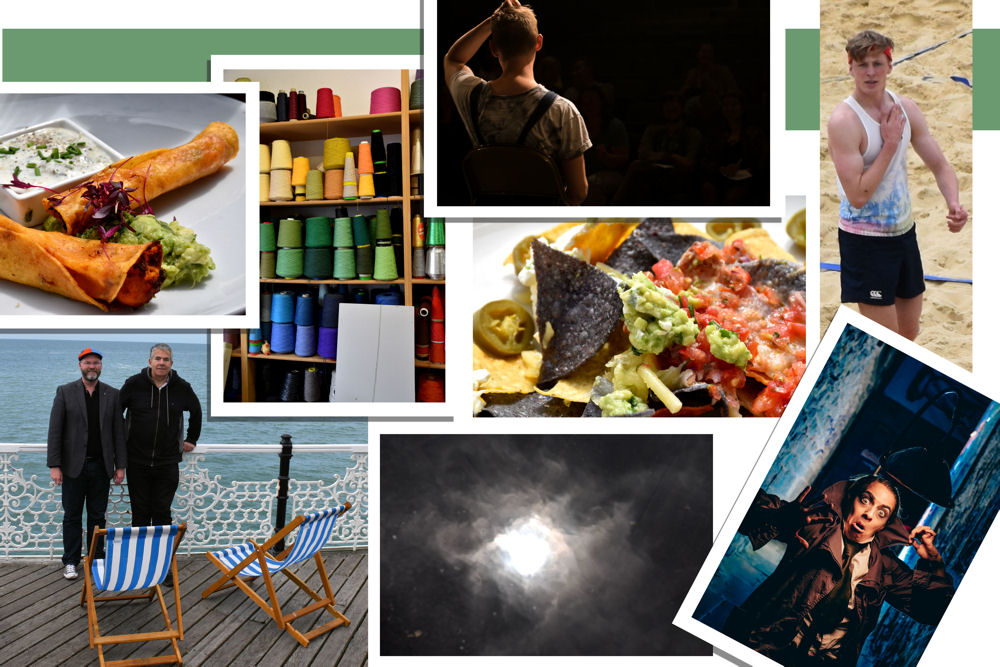 Fantastic Mexican food from Zona Rosa, Kate Jenkins' studio, Five Encounters on a Site Called Craigslist, a beach volleyball player, Butt Kapinsky, and reflections in a puddle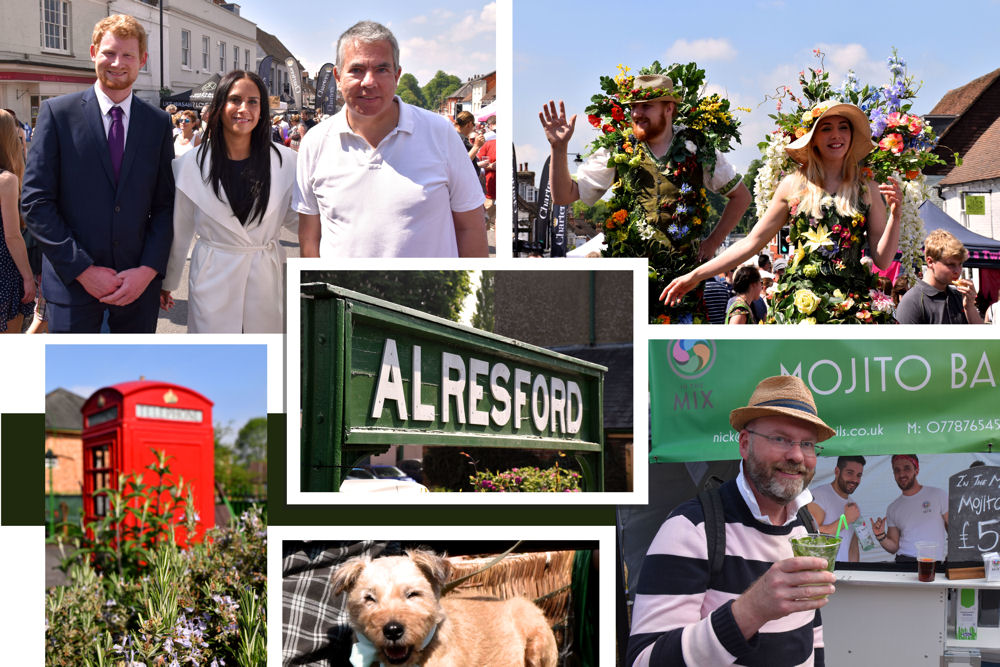 May is watercress festival time in Alresford. This year was the day after Harry and Megan's wedding.. Click HERE to see last year's event.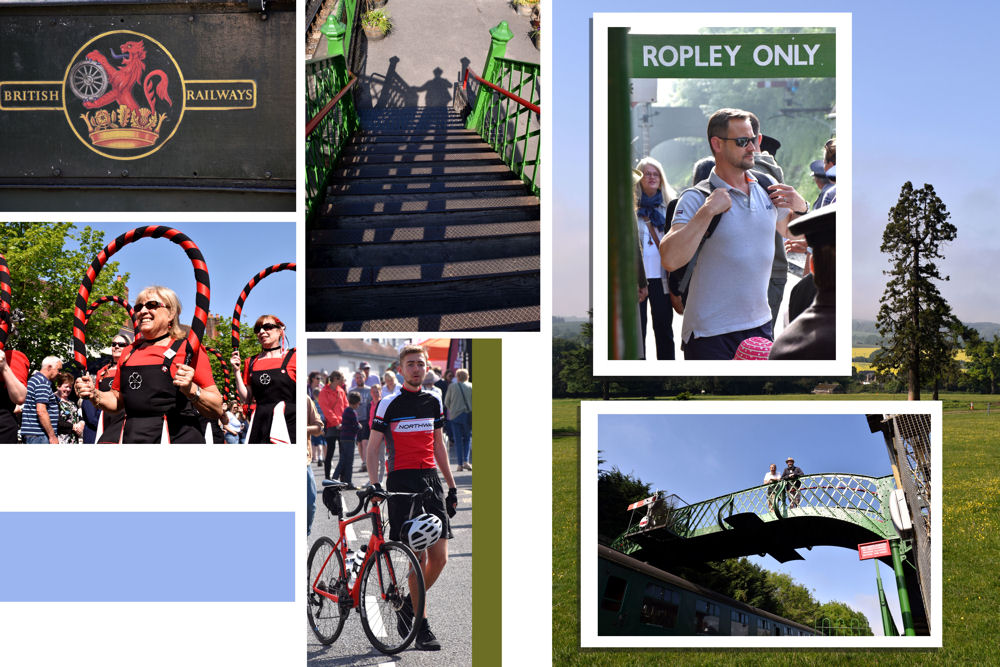 The historic railroad never disappoints.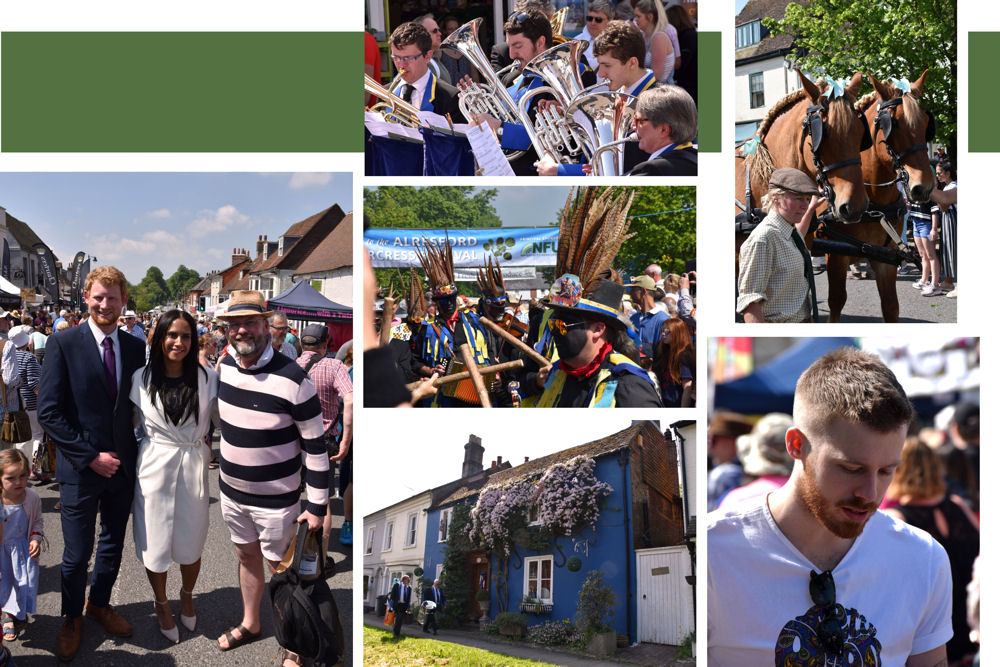 With the royals, plus some Morris men, horses, and cute beards.